If you love to crochet, you probably have a wish list of amigurumi projects you'd like to make at some point. If you haven't already tried, we highly recommend making an octopus. They're fun and easy to make, and it's surprising how quickly they all start to look the same! This roundup will help you find something for your crochet queue: we've got some free crochet octopus patterns to try out! These patterns are great for people looking for a beginners' project or a quick weekend project that yields great results! So, Grab your yarn and get ready to start crocheting!
Crochet Octopus Patterns Free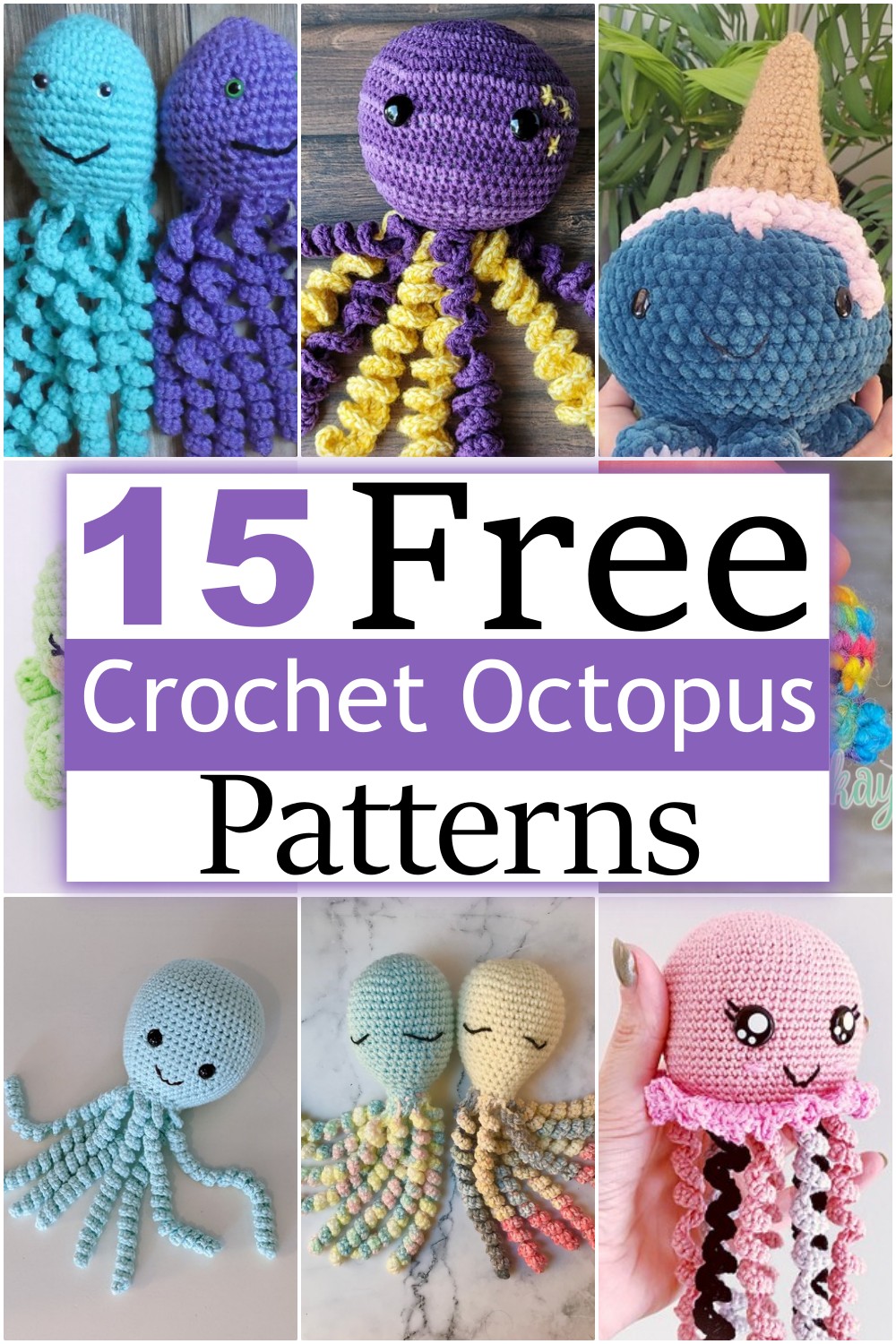 Octopuses are a very popular motif in crochet, especially octopus toys. The octopus's tentacles make it easy to attach yarn too, and small-diameter parts can be made without too much detail, making them a good choice for inexperienced crocheters. They're also great as a decoration or just as a fun toy. So, if you decide to make your own, the article below will show you some unique and free crochet octopus patterns. Some of these designs are simple enough for beginners, while some have more complicated parts and techniques that will challenge experienced crocheters. There is an option for every skill level to try!
Crochet Octopus Free Patterns
It is the time of the year when the needlework world is full of crochet patterns. It seems like everyone has a new pattern for an octopus.
But why? What's so special about these little creatures?
There are several reasons why crocheting an octopus is such a popular idea this time of year.
They're easy to make.
They're colorful and fun!
They're great for kids to make as gifts or to sell at craft shows, bazaars, etc.
They are cute and cuddly, even though they're made of yarn.
You can use them as gifts for people who love octopuses or even for people who don't know that much about them but will learn from these little cuties!
Mini Octopus
This cute Mini Octopus is so fun to make and will brighten up any room with their cheery colors. He's perfect for hanging on a keychain or as a zipper pull for your bag. Once you finish making this Octopus, you'll want to make more. This mini amigurumi is a great way to learn how to crochet an octopus and is perfect for any sea animal-loving crafter! The pattern includes an essential guide to Crochet, as well as step-by-step instructions for the mini Octopus.
Materials
Premier Parfait Chunky Yarn
J / 6.00mm Crochet Hook
Felt Eyes (Tutorial on making them HERE.) My eyes I used were 0.75" in diameter
Poly Fil
Stitch Markers
Scissors
Yarn Needle
Abbreviations
Mc = magic circle / ring
Sc = single crochet
Sc2tog = single crochet 2 stitches together
T = turn
Sk = skip
Sl st = slip stitch
Ch = chain
St = stitch (es)
Preemie Octopus
Do you love the look of octopuses? This baby preemie doll is sure to be a favorite! Preemie Octopus is a crochet pattern that adds a sweet little octopus or dragger to your baby's room. The bright colors and fun feel make this project great for using any leftover yarns. The crochet octopus makes the perfect baby shower gift or newborn baby toy. This Preemie Octopus is made with cotton yarn and has a range of colors. It is crocheted using half double crochet in the round to create the spiral body, then use a running stitch to create the tentacles.
Materials
Worsted weight yarn. (Remember, 100% Cotton is best!)
H8 / 5.0mm Crochet Hook
Poly-fil
Tapestry Needle for weaving in ends
Reversible Octopus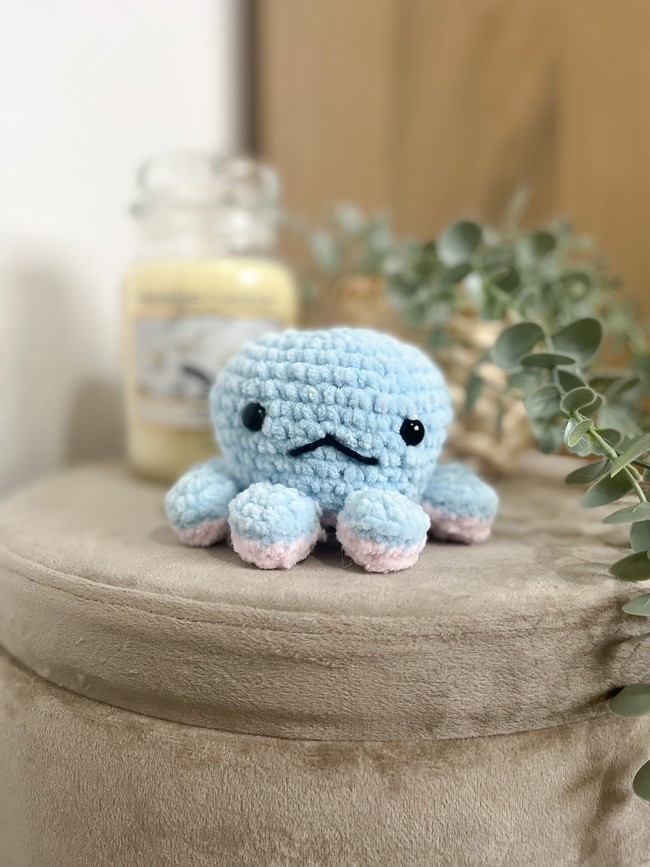 Catch the fishies in this adorable Reversible Octopus! Learn how to make an octopus with this easy-to-follow, full-color crochet pattern. This octopus can be made in any color or combination of colors you like. He makes a fun plushy toy as well as a fun decoration. The tentacles are floppy and will flop around while he is being played with. You can make this adorable octopus in less than an hour. Perfect for beginners, and you'll want to make more than one!
Materials
James C. Brett Flutterby Chunky in 2 colours (I used pink and blue)
4.5mm hook
stuffing (only a small amount for tentacles)
scissors
plastic eyes (4)
sewing needle
Abbreviations
ch – Chain
sc – Single Crochet
st – stitch
inc – increase (2 sc in 1 st.)
dec – decrease (sc 2 stitches together)
Fuzzy Little Octopus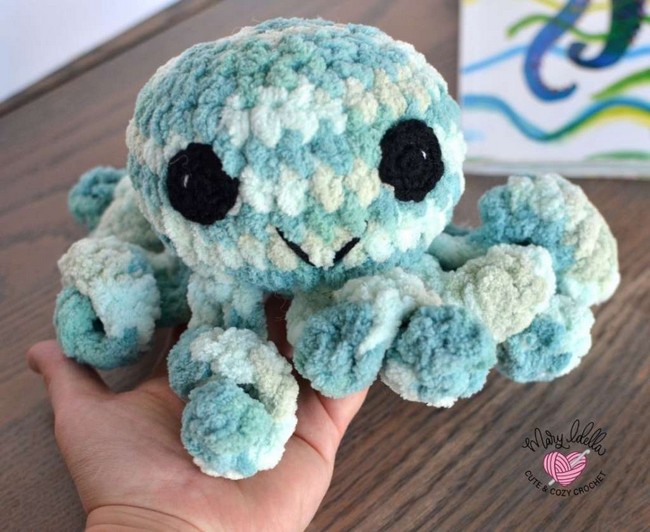 This adorable little octopus will make a fun addition to your craft room or home. This crochet project is a great way to explore colorwork and create a unique statement piece. This adorable little octopus is made using single crochet stitches and a small amount of yarn. It's an ideal project for new crocheters or children wanting to learn, but it looks complicated enough to impress any adult friends. He's the perfect gift for any ocean lover or animal lover.
Materials
-Bernat Baby Blanket yarn (or other Super Bulky, size 6 yarn)
-6.5mm (K) crochet hook
-14mm safety eyes or black medium weight yarn for crochet version
-3.5mm (E) crochet hook (if crocheting eyes)
-small amount of black medium weight yarn (and white light weight yarn if crocheting eyes)
-poly-fil
-yarn needle
Abbreviations
Magic circle
sc – single crochet
sc dec – single crochet decrease
ch – chain
dc – double crochet
st(s) – stitch(es)
f/o – finish off
Otis the Octopus:
If you love the ocean and creatures of the sea, Otis the Octopus is your new crochet friend. This super easy pattern features a simple chunky body and an adorable tiny head with eight legs. Otis the Octopus is an adorable little critter that will entice your child to snuggle, cuddle and kiss him. Crocheted with a soft acrylic yarn, this sweet Octopus will keep your child (and perhaps even you) entertained for hours on end. Make him in any combination of colors for a unique addition to your home or beach bag.
Materials
Hook: Size G crochet hook (size D crochet hook is optional if you want tighter tentacles). This is my favorite crochet hook and yarn needle set I got from WooCrafts. The set is really affordable and comes with 9 different-sized crochet hooks, 8 yarn needles, stitch markers and a cute carrying case.
Scissors
Stitch Marker (optional)
Yarn needle
Poly-fil stuffing
Plastic safety eyes
Abbreviations
Ch = chain
Sl st = slip stitch
SC = single crochet
SCD = single crochet decrease
SC BLO = single crochet in back loop only
MR = magic ring -
Tiny Scrap Yarn Octopus
If you love crochet and octopi, this pattern is for you! It is a lovely little way to use up any tiny scrap yarn you have lying around. This is a great pattern if you want a quick-finished project or are on a scrap yarn budget. The hardest part is meeting his requirements. This is the perfect pattern for anyone who loves crocheting small projects. This guy loves swinging around in the ocean breeze (or air conditioning). He wants to hang out and soak up some sun!
Materials
Scrap worsted weight OR DK yarns in any colors (using DK will make it even smaller!)
Small amount of worsted (or dk) weight black yarn for the eyes
– OR 6mm solid black safety eyes
Crochet hook, Clover Amour, size B, 2.25mm
Polyester Fiberfill
Tapestry needle
Scissors
Stitch marker
Abbreviations
magic ring
rnd, rnds – round, rounds
ch, chs – chain, chains
st, sts – stitch, stitches
sk – skip
sl st – slip stitch
sc – single crochet
inc – work 2 sc sts together into the same st – always in reference to sc
FLO – front loop only
BLO – back loop only
Octopus Ice Cream
If you love ice cream and you love to crochet, this Octopus Ice Cream is perfect for you. This tiny octopus uses very little yarn to make him. Great as a gift or to decorate your house! The Octopus Ice Cream is a fun and colorful pattern to crochet. You will have fun doing this project, which can be displayed anywhere in the house. It's a great way to make your unique gift for any occasion. Have fun with this cute pattern! This free crochet pattern to make a legged octopus stuffed animal is great for any beginner crocheter. It's super soft, squishy, and easy to make!
Materials
Size D/3 (3.25 MM) Crochet Hook
About 50 yds of medium-weight beige yarn for Cone (Red Heart With Love in Tan used in photos)
Less than 10 yds of medium-weight red yarn for Cherry (Red Heart Super Saver in Cherry Red used in photos)
Less than a yd each of medium-weight yarn in black and pink for smile and blush; colors shown are Red Heart Super Saver Black and Pretty N Pink
Optional: less than a yard each of contrast color for sprinkles in multi/rainbow colors or in brown (for mint chip sprinkles)
Yarn Needle
Scissors
Fiberfill stuffing
9 mm Safety Eyes (1 pair per octopus)
Abbreviations
Beg = beginning
Ch = chain
Dec = decrease
Hdc = half double crochet
Rem = remaining
Rep = repeat
Rnd = round
Sc = single crochet
Sc2tog = single crochet 2 together
Sk = skip
Sl st = slip stitch
St(s) = stitch(es)
Chunky Amigurumi Octopus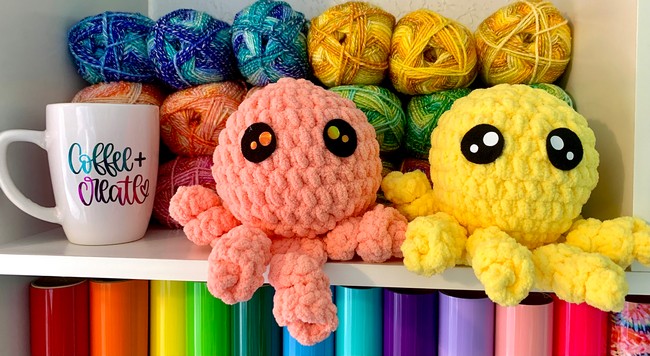 This little guy is a great way to use scrap yarn and practice your crochet skills. He is a quick project that works quickly and makes a cute gift for someone you love. This Octopus is perfect for all the sea lovers in your life (or octopus fans)!!! It is fun and easy to make and turns out so cute! This easy-to-make crochet octopus is excellent for beginners and a perfect project for even the most experienced crocheter. Ideal as a gift or decoration, this Chunky Amigurumi Octopus pattern is sure to bring smiles!
Materials
Bernat Baby Blanket Yarn – I used Buttercup & Coral Blossom
J / 6.00mm Crochet Hook
Polyfill
Stitch Markers
Scissors
Yarn Needle
Abbreviations
Mc = magic circle / ring
Sc = single crochet
Sc2tog = single crochet 2 stitches together
T = turn
Sk = skip
Sl st = slip stitch
Ch = chain
St = stitch (es)
Ivan The Octopus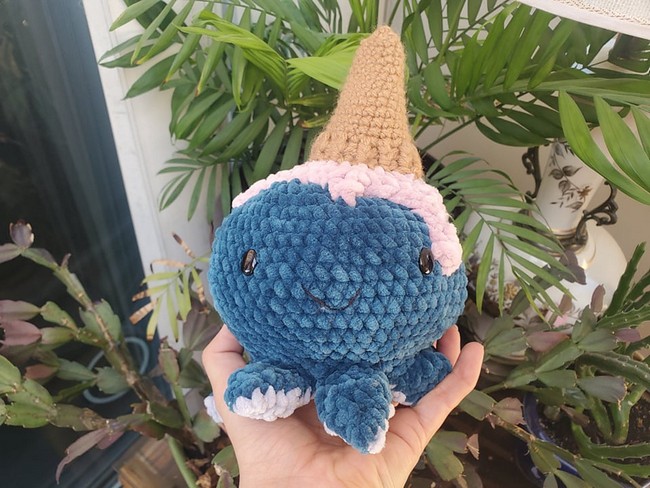 Have you ever wanted to crochet something a little different? Then this pattern is for you. Ivan The Octopus will be your best friend in no time! This easy crochet pattern is an excellent project for anyone who wants to learn or practice their skills in amigurumi, making toys, and fiber art. It can be easily made in one sitting, making it quick and fun to create. This pattern is easy for beginners and suitable for more experienced hand and hooks enthusiasts.
Materials
6.00 mm crochet hook or whatever hook fits your yarn
Tapestry Needle for sewing in ends.
Safety eyes and scrap yarn for the mouth.
Abbreviations
Ch- Chain
Sk – Skip
Slst – Slip Stitch
St (s) – stitch or stitches
Sc – Single Crochet
Hdc – Half Double Crochet
Dc- Double Crochet
Inc – Increase – 2 sts in the same designated stitch
Dec - decrease
Bp – Back Post
Fp – Front post
Sir Tentacles the Octopus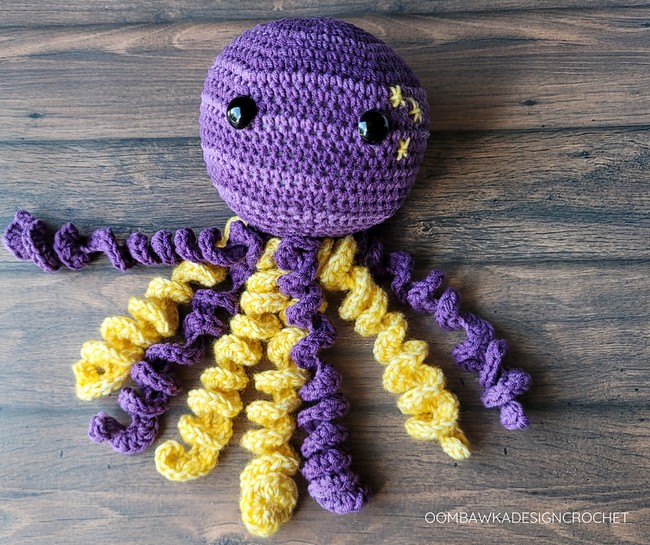 Inspired by real octopuses, Sir Tentacles the Octopus is a fun and quirky crochet toy that would make an excellent gift for anyone who loves cute creatures. It's an easy project that will only take a few hours to complete -- but it will last forever and be treasured as an heirloom. Little ones will love to cuddle up with this soft octopus toy. This little guy makes an excellent gift for anyone who loves tentacles!
Materials
Yarn: Scheepjes Soft Fun (Denim Yarn). 1.76 oz (50 g) and 153 yds (140 m). 60% Cotton, 40% Acrylic. DK Weight Yarn [3]. Scheepjes Stone Washed – River Washed Colour Pack. 0.35 oz (10 g)  and 28 yds (26 m). 78% cotton, 22% acrylic. Sport Weight Yarn [2].
Colors: 1 skein in Purple (Color: 515) Scheepjes Soft Fun Denim and 1 skein in Beryl (Color: 833)  Scheepjes Stone Washed
Hook: 3.75 mm (F). Furls Blue Odyssey
Finished Project Yardage: Octopus: Scheepjes Soft Fun: 1.02 oz (29 g) and 89 yds (81 m). Scheepjes Stone Washed: 0.63 oz (18 g) and 51 yds (47 m).
Scissors, Yarn Needle, Stitch Marker, Poly-Fil, 12 mm black safety eyes (x2)
Abbreviations
BL – back loop
CC – contrast color (Beryl – yellow)
ch – chain
DMR – double magic ring
FL – front loop
MC – main color (Color: 515 – purple)
R – round
Crochet Octopus
Octopus is fun to make and play with and the perfect way to crochet a gift for kids! These adorable stuffed animals make fantastic toys to brighten up kids' rooms. It's a fun and easy crochet pattern that works quickly, so it's perfect for making as an ocean-inspired gift. Add a little whimsy to your decor, or sit it on a shelf or desk as the perfect conversation piece! The tentacles can be made with different color combinations for a unique look.
Materials
1 skein Catania 408 (light pink)
1 skein Catania 222 (bright pink)
1 skein Catania 172 (grey)
1 skein Catania 110 (black)
1 pair of safety eyes 12 mm
fibre fill
crochet hook size 2.5 mm
Abbreviations
mr = magic ring
ch = chain
st = stitch
sc = single crochet
sl st = slip stitch
hdc = half double crochet
dc = double crochet
inc = increase (2 stitches in 1 stitch)
dec = decrease (2 stitches together)
The Color Octopus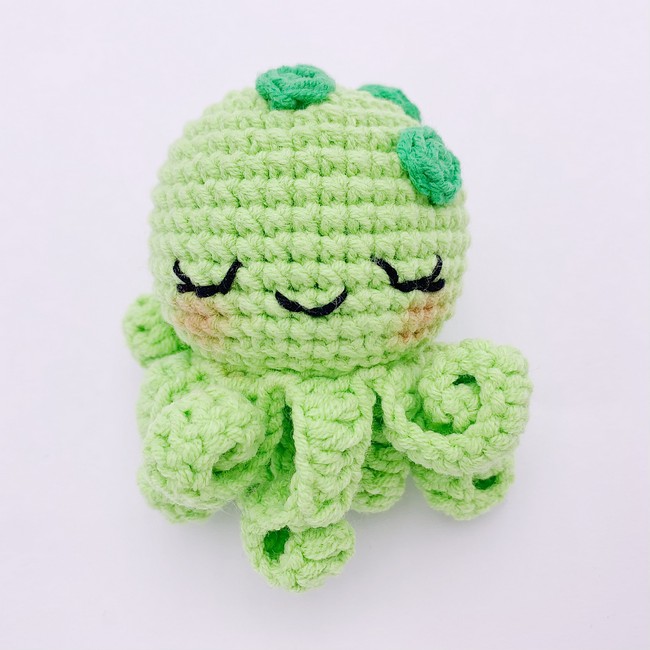 The color octopus is a fun project and easy to make. You can use this pattern to make an octopus in any color or combination you love! This cute crochet octopus pattern is fun for beginners and intermediate crocheters alike. You can make this using any level of yarn with a four ply weight and plastic safety eyes. The design is simple enough that you can complete it in one evening.
Materials
Yarn :  Depends on your choice, I used DK weight yarn (140m/50gr) with different colors. Black thread.
Hook : Size 2.5 mm
Two 7mm safety eyes
Stuffing (polyfill, cotton wool, etc.), needle for sewing, scissors, pins
Pink blush for the cheeks
Abbreviations
ch – chain
sc – single crochet
inc – single crochet increase
dec – single crochet decrease
dc – double crochet
st– stitch/ stitches
sl st – slip stitch
rnd/ rnds – round/ rounds
Cute Octopus
This darling octopus makes a perfect gift for any mermaid lover! There is no better way to start your summer than snuggling with this cute little guy. Make it as an ornament or put it in a glass bottle with a fish inside and make it an adorable aquarium decoration! This lovely little octopus pattern is excellent for crocheters of all levels. It's made with worsted weight yarn and simple crochet stitches, so even beginners can enjoy this cuddly crocheted companion! Octopuses are super fun to make, and they're so soft you could never hold a living one in the same way again!
Materials
Cotton yarn/thread nº4  in the colors of your choice
2.5mm crochet hook
Tapestry needle to sew in the ends
Abbreviations
mc – Magic Circle
sc – Single Crochet
dc - Double Crochet
ch – Chain
slst – Slip Stitch
inc – Increase (2 stitches in the same stitch)
dec - Decrease (turn 2 stitches into 1)
BLO - Back Loop Only
f.o - Fasten Off
Emotional Octopus
The Emotional Octopus is a quirky, colorful, and cute amigurumi crochet pattern. These unique stuffed animals are sure to bring a smile to any face! Amuse your friends and family with the emotional octopus. This little guy is full of personality and loves to be snuggled! Her bright colors give her a little extra flair! You can make your octopus any color, using any yarn you like! Whether a beginner or an experienced crocheter, this pattern is easy to follow and requires minimal sewing, so you have plenty of time for all the stitching.
Materials
 10mm or 6.5mm Crochet Hook (I use the Interchangeable Set to make both!)
 Yarn: Bernat Velvet Plus (Superbulky 6) or
Bernat Velvet (Bulky 5) in two colors/skeins!
 Yarn Needle
 Scissors
 Stitch Marker
 Polyfill
 20 mm or 10mm animal eyeball buttons
 Black yarn for expression
Abbreviations
Ch: Chain
SC: Single Crochet
SC2TOG: Single Crochet 2 Together
SS: Slip Stitch
St: Stitch
Octopus Toy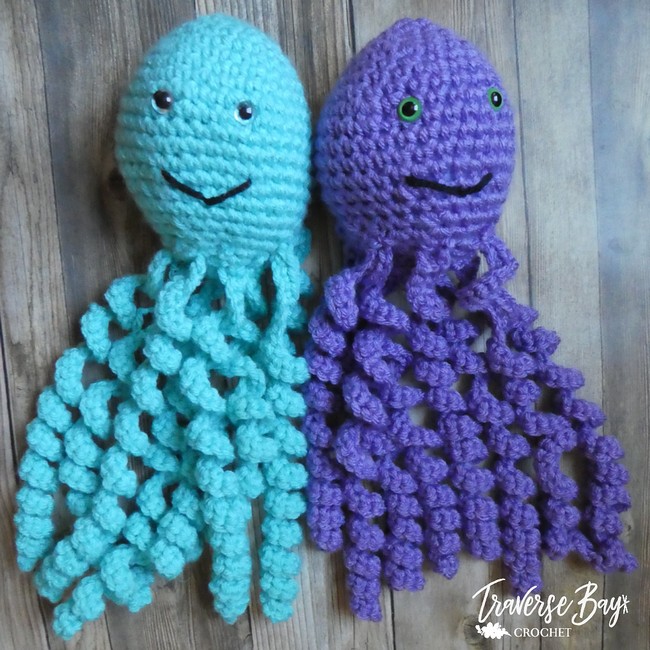 This crochet octopus toy is the perfect addition to your little one's collection of stuffed animals. It's so fun that you might have difficulty getting them to stop hugging it! This item is the cutest octopus toy you'll ever own! With its arms and legs, it can play for hours. This amigurumi crochet pattern is designed to be easy for beginners and experienced crocheters alike. With only basic stitches, this unusual octopus toy with shades and wiggly tentacles will make a fun addition to your stuffed animal collection.
Materials
Size F hook, 3.75 mm
Medium worsted weight yarn (size 4)
Safety eyes such as this set from Amazon:
A small amount of black yarn for the mouth
Tapestry needle
Stuffing
Abbreviations
ch- chain
st(s)- stitch(es)
HK- hook
sc- single crochet
Sc2tog- single crochet 2 together
sl st- slip stitch