8 Free Crochet Crab Patterns For Toy Collection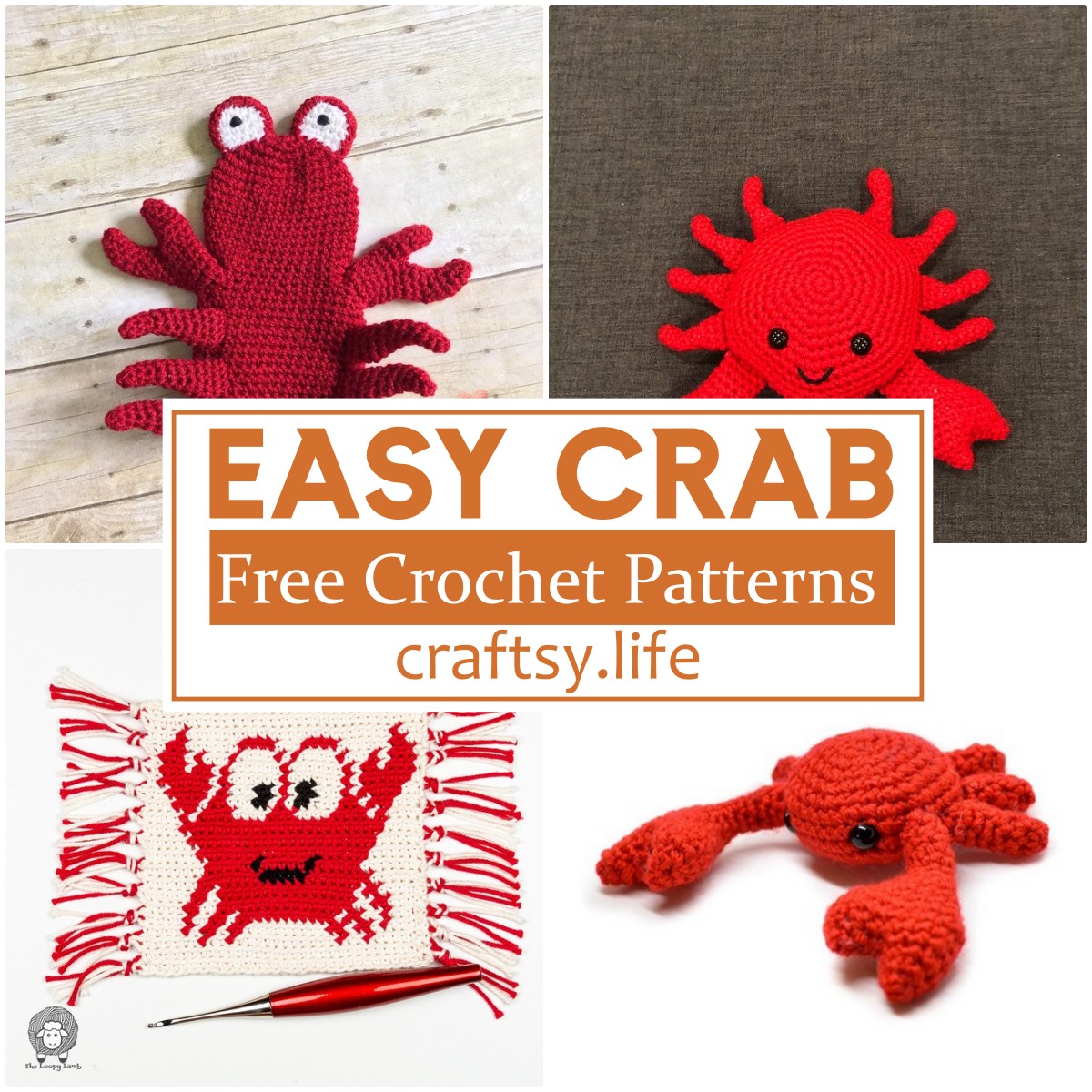 With these crochet crab patterns, you can crochet your favorite sea creatures and fill your home with ocean wonders. From sweet treats for kids to a crabby centerpiece for your next dinner party, no matter what your skill level, you can find a pattern here for any occasion. With these 8 Free Crochet Crab Patterns, your kids can have the best summer. Crochet yourself a crab amigurumi toy or a set for your kid that loves to play with crabs. These small toys can also be used as a pillow; add some stuffing, and you are done.
Easy Crochet Crab Patterns

These Free crochet crab patterns offer a full range of crocheted crabs that are perfect for toys or decorations. These crocheted crabs will be the perfect addition to your home, making it more interesting and charming. These little crabs are halved and sewn together, and then stitches are added to the interior skeleton to form a plush toy. They are suitable for both boys and girls! So, grab your crochet hooks and make these crocheted crabs. They are easy to take care of and won't eat your petunias. You can crochet them in bright colors, or if you want an extra creepy effect, use red yarn–just like real crabs!
Tips For Making Crochet Crab Patterns
Crochet crab patterns are a great way to make a statement, and they are a fun way to use up any yarn scraps. The most important thing when crocheting crab patterns is using the right size hook for the yarn.
Here are some tips for crocheting crab patterns:
Use the right size hook: You want your crabs to be sturdy enough to hold their shape but not too stiff. If you use a too-large hook, your Crab will be floppy and difficult to work with. If you use a too-small hook, your crabs will be stiff and not very flexible.
Use quality yarn: This project must use good quality yarn to avoid breaking easily or becoming stiff with wear. Try to find something made from natural fibers like cotton or wool. These will provide more flexibility without breaking down as quickly as synthetic fibers will over time.
Work with one color at a time – If you want to create multiple colors in each crab pattern, start by working with one color at a time before moving on to another to avoid having loose ends of yarn sticking out of your finished product.
Happy Crab Crochet Mug Rug
Add sealife flair to your kitchen decor with this crochet crab mug rug. Made with Vanna's Choice yarn, it's easy to make and works quickly. You'll love how the rug adds a unique touch to your home! Perfect for a gift or as a mild-mannered houseplant, this Crochet Crab Mug Rug is a fun and easy crochet project suitable for beginners! A great way to celebrate summertime is with some cute crustacean crochet. The crochet crab mug rug-free pattern is super easy and quick to make. The idea is to create a fun and unique way to display your coffee or tea mugs! It makes the perfect gift for any occasion.
Materials
3.5 mm Furls Crochet Hook (or size needed to obtain gauge)<– Save 15% off Furls Hooks when shopping through this link and using the code LOOPYLAMB15 at the check out (#furlsinf621)
29 yds/27 m (0.53 oz/15g) of WeCrochet Dishie in Swan
4 yds/4 m (0.07 oz/2g) of WeCrochet Dishie in Black
21 yds/20 m (0.4 oz/11g) of WeCrochet Dishie in Fiesta Red
Scissors
Tapestry Needle
Abbreviations
BLO = Back Loop Only
CH = Chain
ST = Stitch
SL ST = Slip Stitch
SC = Single Crochet
FO = Finish Off
Mini Crab Amigurumi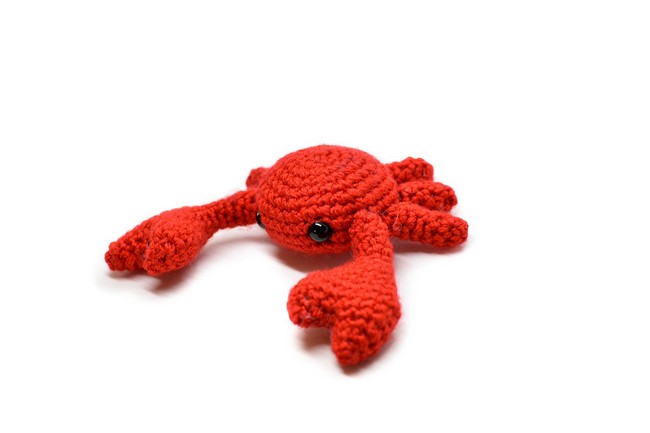 This mini Crab is a great choice for beginners or experts in crochet. It only takes one hook and some yarn to make this little cutie! Crochet mini amigurumi is a beautiful crochet crafting project. It is made of 100% acrylic yarn and works up in no time. The Crab can be used as a keychain or decoration in your fish tank or home aquarium. It is the perfect gift for crab lovers. You could even make a whole crab collection with this pattern, and all this crochet hobby is easy and fun.
Materials
DK weight/#3 yarn (Paintbox Yarns Simply DK or similar): Red
Size C / 2.75mm crochet hook – I highly recommend the ergonomic Clover Amour hooks
Two 8mm black safety eyes
Fiberfill stuffing
Yarn needle
Scissors & pins
Stitch marker – I recommend locking stitch markers
Abbreviations
Mc: Magic Circle
Ch: Chain
Sl: Slip Stitch
Sc: Single Crochet
Inc: Increase
Dec: Decrease – I recommend using the Invisible Decrease
Happy Crab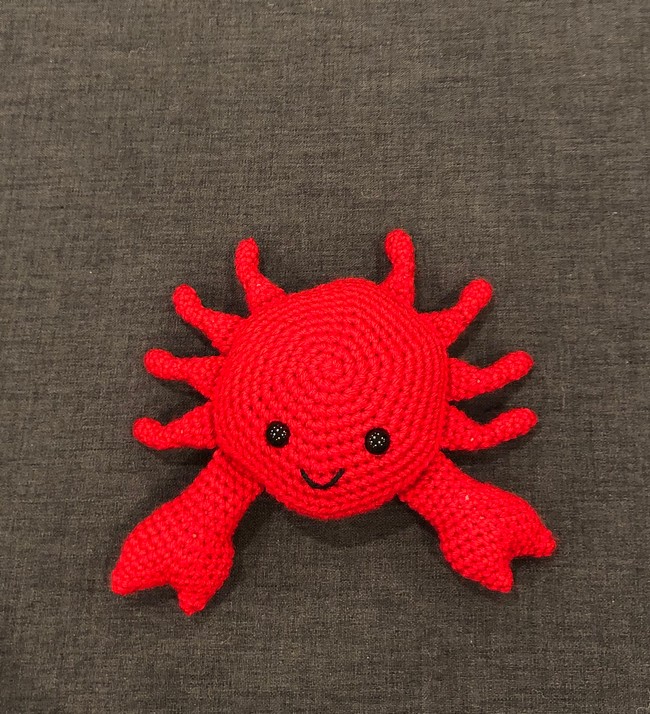 This Crochet Happy Crab would make a great addition to any nursery. He will bring a smile to whoever sees him and even more smiles when he moves! Crochet your happy Crab with this easy-to-follow pattern. This one is so easy to make that you can make a dozen and decorate your home with them! This crochet crab is your new favorite companion for all occasions! His curly tentacles and happy smile will cheer you up when you need it the most. He can be your best friend by your side or wrap him around your wrist, letting him peek out of your sleeve.
Materials
Worsted Weight yarn in Red and a little bit of Black for the smile (I used I Love This Yarn
from Hobby Lobby in Red and Black)
 Size G (4mm) crochet hook
 2 – 12 mm Safety Eyes
 Fiber Fill
 Yarn Needle
 Scissors
 Stitch Marker (It is worked in a continuous round, so this will help you keep track of your
rows)
Abbreviations
 Mr – magic ring (crochet into the adjustable loop)
 st; sts– stitch; stitches
 rnd – round
 sc – single crochet
 inc – increase (make two stitches into the same stitch)
 dec – decrease (crochet two stitches together)
Crab Hand Puppet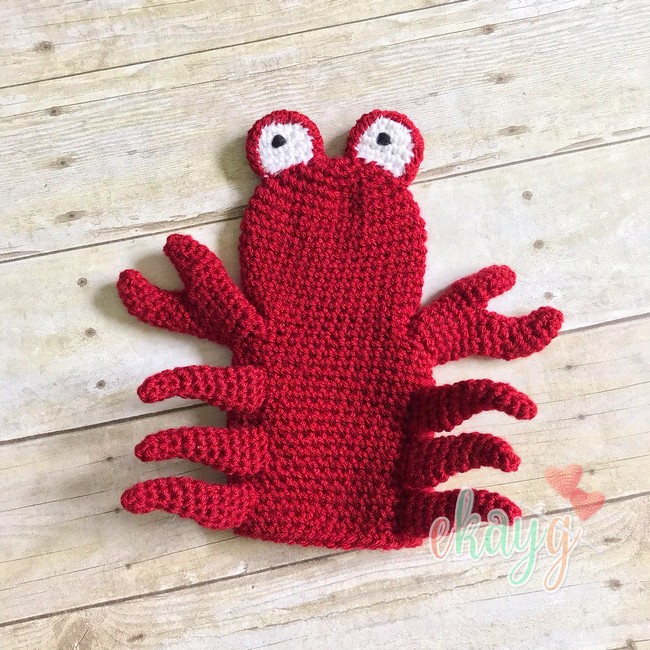 The Crab Hand Puppet is crafted from high-quality acrylic yarn and stuffed with synthetic filling. Your favorite crustacean is ready to dive into your next story! This cute crochet crab hand puppet is easy to work up and makes a great addition to your collection of puppets. This crab hand puppet is a super cute and easy crochet project. It's perfect for beginner crocheters and teaches you everything you need to know about creating amigurumi. It makes the perfect gift for anyone who likes to travel and explore.
Materials
Lion Brand Vanna's Choice, Cranberry – approximately 136 yds
Small amount of worsted weight black and white yarns for the eyes and mouth.
Crochet hook size G – 4.25mm
Tapestry needle
Abbreviations
Magic ring
Rnd, rnds – round, rounds
Ch, chs – chain, chains
St, sts – stitch, stitches
Sl st – slip stitch
Sc – single crochet
Hdc – half double crochet
Dc – double crochet
Inc – increase, 2 sts in same st
Dec – decrease
Mini Crab
The Crochet Mini Crab is a fun and quick project, perfect for summer. It could also be used as a decoration for any beach-themed birthday party! Make your crochet mini Crab perfect for a beachy summer vacation decoration or beach-themed addition to your decor. They are sized so they can be displayed on almost any surface and look adorable when paired together! This mini crocheted Crab will surely add quirkiness to your room and make you smile.
Materials
1/50 skein of Paintbox Yarns Simply DK – a lightweight (3) yarn (above: Vintage Pink)
2g Loops and Threads Classic Fiber Fill
2 safety eyes (7.5 mm)
Size E (3.5 mm) hook
Abbreviations
single crochet; INC = two single crochet in one stitch)
Scuttles The Crab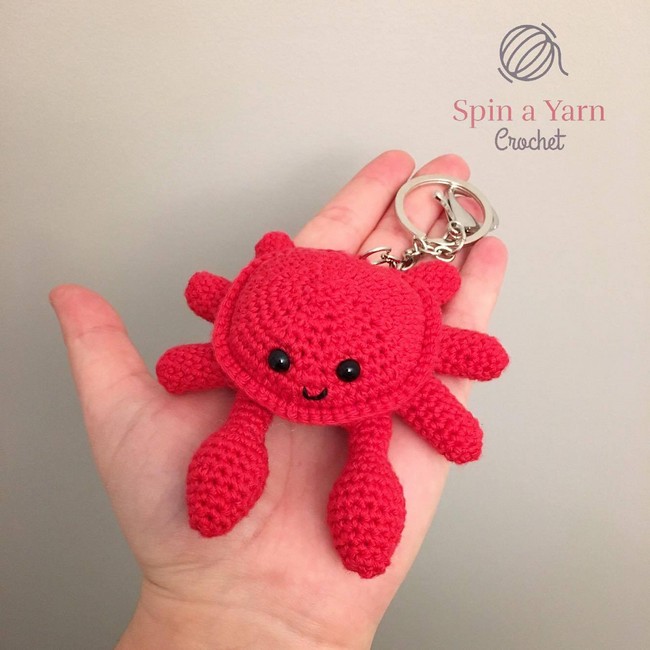 If you love crabbing, Scuttles the Crab is for you! Crochet him and make him your new best friend. You'll always be ready to go on adventures with this little guy. Scuttles the Crab will be the perfect addition to your keys or backpack. This pattern is easy enough for a beginner crocheter and has many details. Still, it's also challenging enough for the experienced crocheter who loves to show off their skills with some color changes and treble stitches!
Materials
I used Lightweight cotton in red for the main color;
Black crochet/embroidery thread for mouth;
2.25mm hook (I use THESE hooks!);
Tapestry needle;
Safety eyes (optional);
Stuffing;
Keychain ring (optional).
Abbreviations
MR – Magic Ring
Slst – Slipstitch
Ch – Chain
Sc – Single Crochet
Inc – Increase. Work 2 sc into the same stitch.
Dec – Decrease. Work 2 sc together. When working in the round, I use the invisible decrease.
FLO – Front loops only
Easy Make Crab Pattern
If you're looking for a challenging but rewarding project, crochet Mr. Crab has everything you want. Once you finish this Crab, you'll be ready to go on an adventure with him on the beach or bring him to the office as a conversation piece! A fun and easy-to-make crochet amigurumi, Mr. Crab, is a great crab toy for kids of all ages! This pattern includes full instructions so you can create your own crocheted Crab.
Materials
I used a yarn that is 100% acrylic, but I believe cotton works, too,
and fits a crochet hook in size 3,5mm/4mm(E/G). 50 grams.
But use the 3,5mm/E because it's wise to use the smaller hook
when making a stuffed animal.
Stuffing
Safety eyes, or thread to sew eyes with.
Scissors, needles, and a crochet hook.
Abbreviations
Ch = chain
St = stitch
Sl = slip stitch
Sc = single crochet
Dc = double crochet
Hdc = half double crochet
Dec = decrease
Hermit Crab with Removable Shells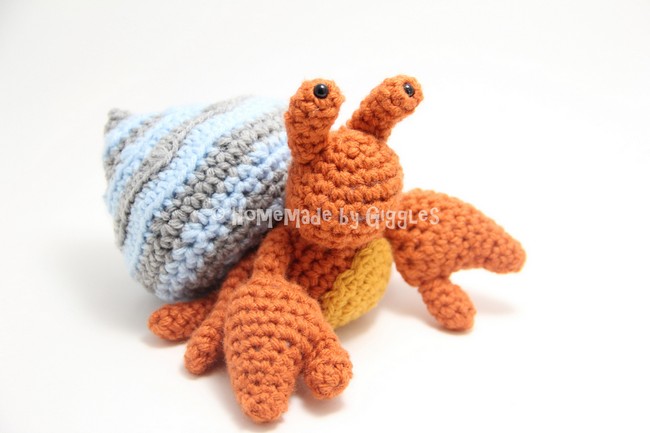 Add a splash of color to your home with this crochet hermit crab by Ana Paula Rimoli. The Crab comes with removable shells and is perfect for display in your living room, office, or wherever you need some cheerful decoration. This incredibly realistic crochet Hermit Crab will be a favorite for young and old alike. It's sure to bring a smile to your face and make you smile. This hermit crab comes with a removable shell – pop the top of his shell off and place his body inside.
Materials
4 mm crochet hook
Worsted weight yarn of your choice, I used Bernat Super Value
2 x 6mm safety eyes
Tapestry needle
Stuffing
Abbreviations
ch – chain
sl st – slip stitch
sc – single crochet
sc2tog – single crochet 2 together
magic ring