Christmas can be a stressful time of year, with family, friends, and coworkers all coming together over the holidays. If you're looking for a way to perk up your home's holiday decor and keep your stress levels down, you can do both with this collection of free crochet Christmas wall-hanging patterns. These patterns are simple enough for beginners to finish in just one evening, so if you've been itching to learn this classic craft and spruce up your home simultaneously, look no further.
Unique Crochet Christmas Wall Hanging Patterns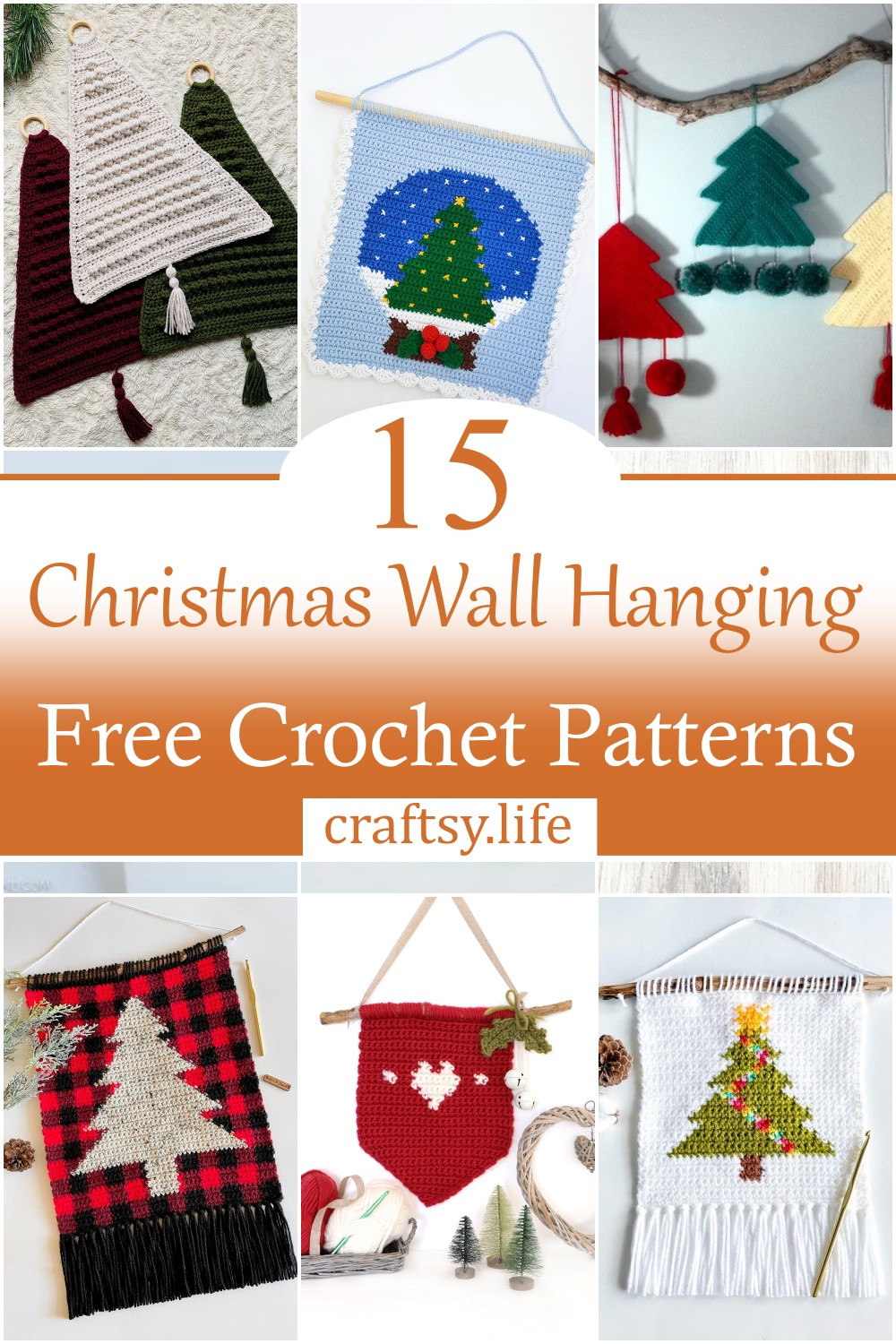 Christmas wall hangings are a great way to showcase your favorite holiday designs. You can also make them in different colors and themes for the other seasons. So if you want to make your home more festive, look at these crochet Christmas wall-hanging patterns below. They will give you plenty of ideas for decorating your home this Christmas. They're all easy enough for beginners looking for small projects or large sufficient for advanced crocheters looking for some variety in their seasonal crafting.
Benefits of Crochet Christmas Wall Hanging Patterns
Crochet Christmas Wall Hanging Patterns are the best way to make your home more beautiful and festive. You can crochet these patterns with your hands and give them as gifts to your loved ones.
The benefits of Crochet Christmas Wall Hanging Patterns:
You can make them yourself.
You can make them quickly.
They are affordable.
They are easy to carry in travel bags or purses.
Plaid Christmas Tree Wall Hanging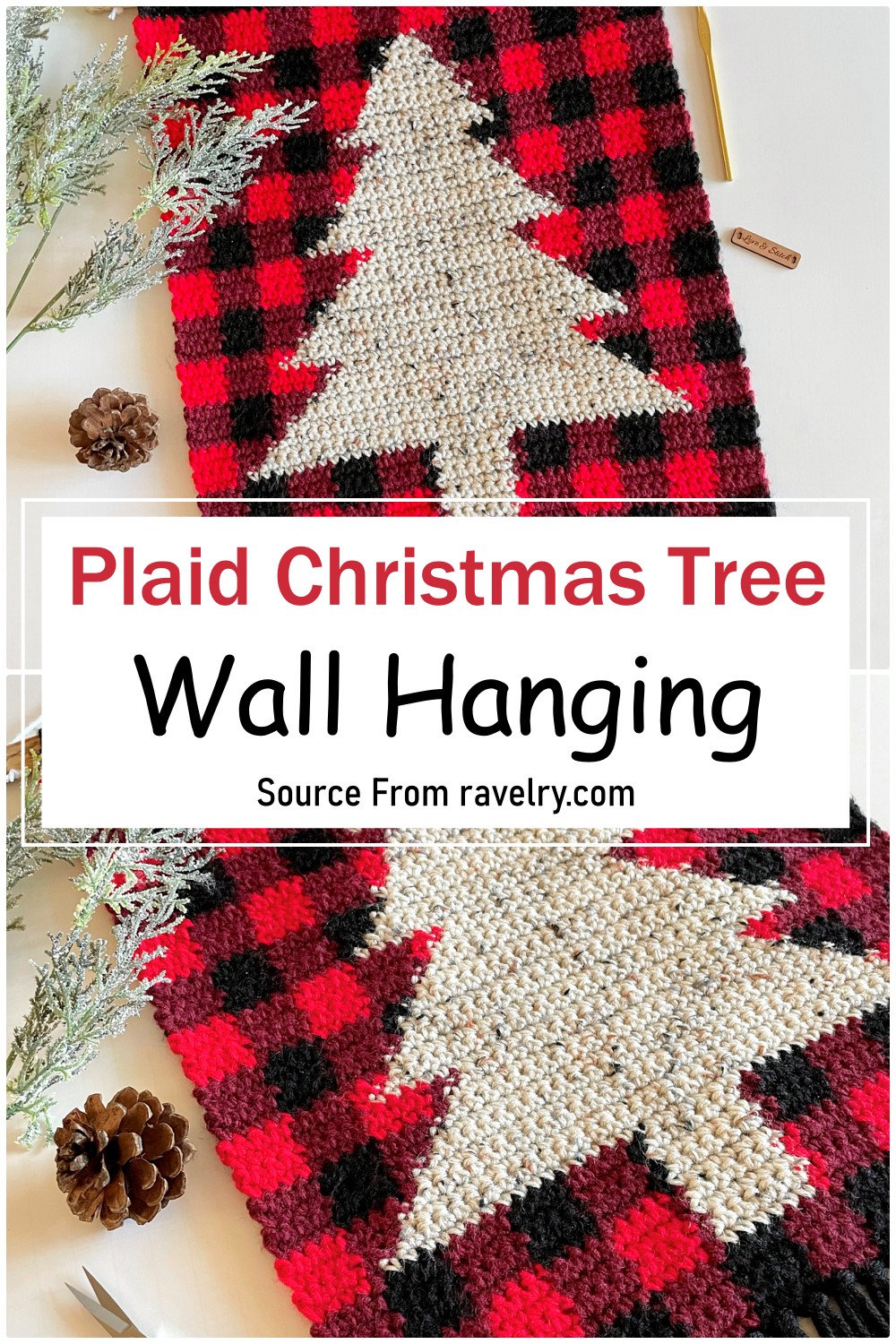 Crochet a fun and festive Christmas tree wall hanging for your holiday home decor. This simple granny square pattern is perfect for Christmas decorating. Each square has plaid lines to create the Christmas tree shape, which will look great on any wall inside your home or draped around a doorway. This is an easy pattern that beginner-level crocheters will enjoy making as well. This crochet Plaid Christmas Tree Wall Hanging is an easy gift everyone will surely treasure!
The Tannenbaum Wall Hanger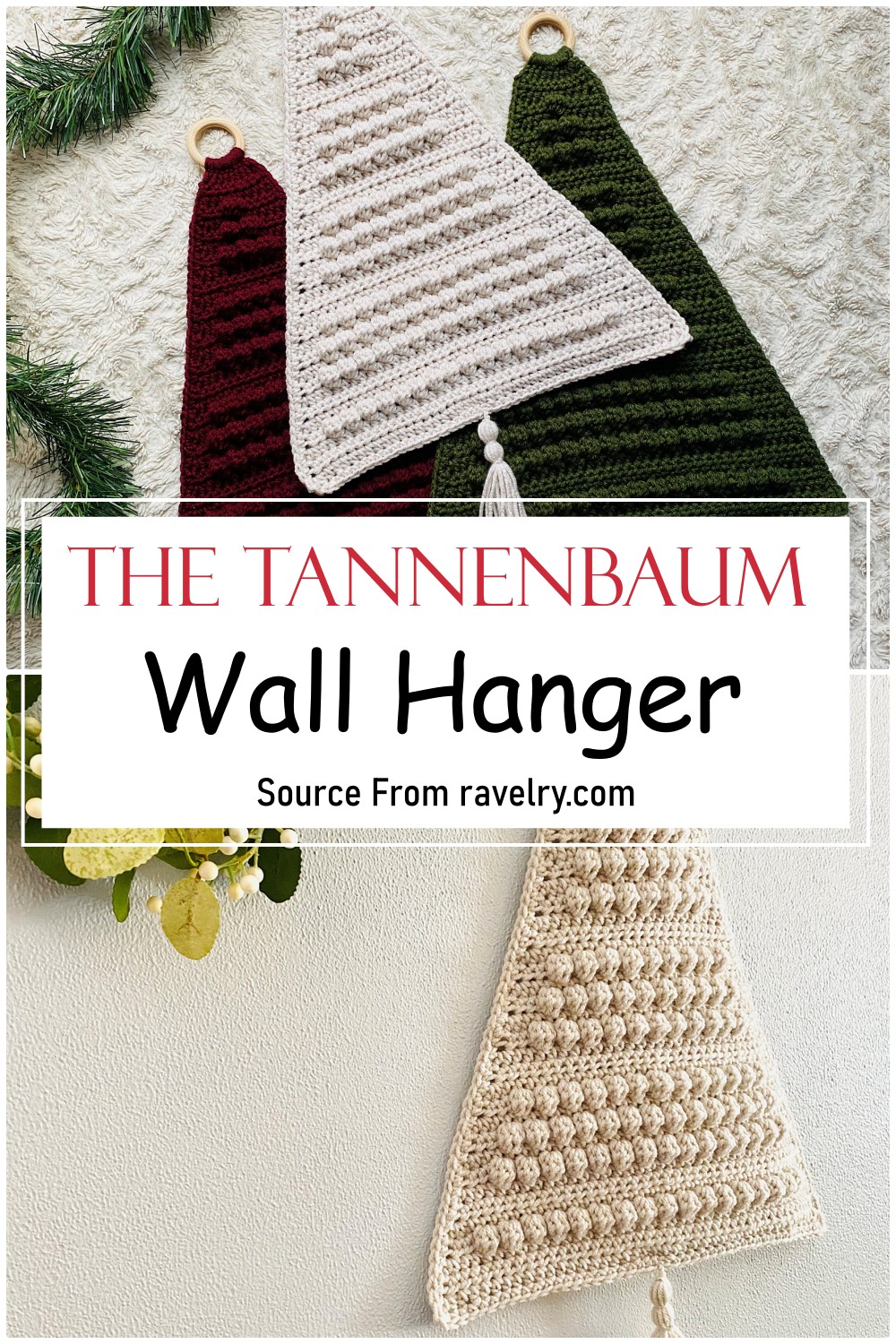 A quick and easy Christmas project, this wall hanger is made from two strands of worsted-weight yarn. The Tannenbaum Wall Hanger pattern has written instructions and plenty of photos to make it simple to follow along. Just perfect for bringing the Christmas spirit into your home! It is made in modern colour combinations and brings a dash of fun to any room in your home. It is made from 100% acrylic yarn with a 4mm hook. This is the perfect crochet Christmas pattern to hang on your wall as an accent or focal point of your holiday decor. Create one for yourself, or share it with a friend!
Crochet Wall-Mounted Christmas Tree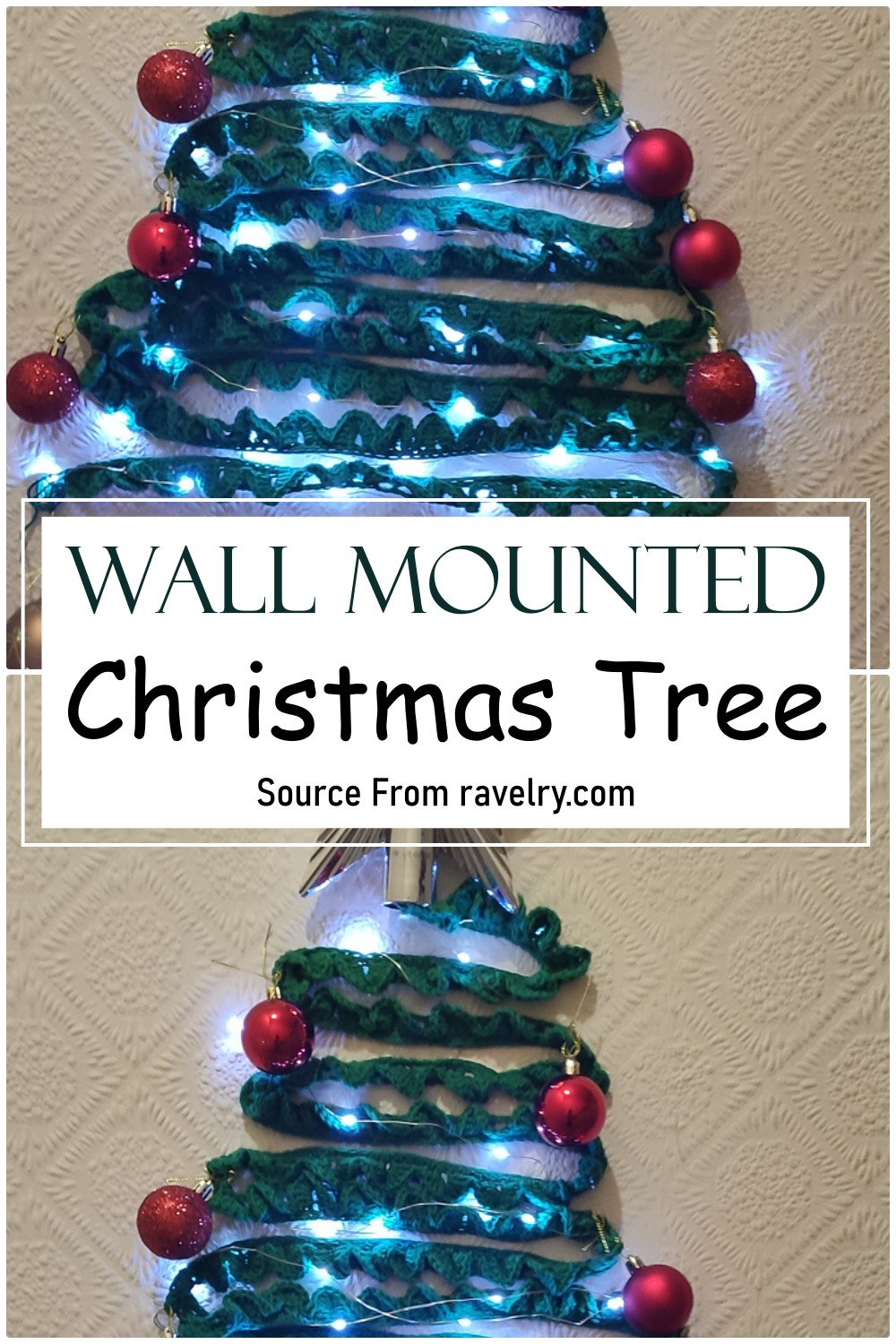 Let your Christmas spirit shine bright with a lighted wall hanging this Christmas. This Wall-Mounted Christmas Tree design features an embroidered Christmas tree topped with a traditional bulb and perched on a bed of twine. LEDs are embedded along the piece's straight edge, creating a relaxing glow throughout the room. Its small size makes it a great addition to any room or office, with the option of hanging it on the wall or placing it on a shelf. It's ideal for displaying at Christmastime or year-round if you're looking for a fun way to decorate your home with an eye-catching display.
Crochet Christmas Glass Water Ball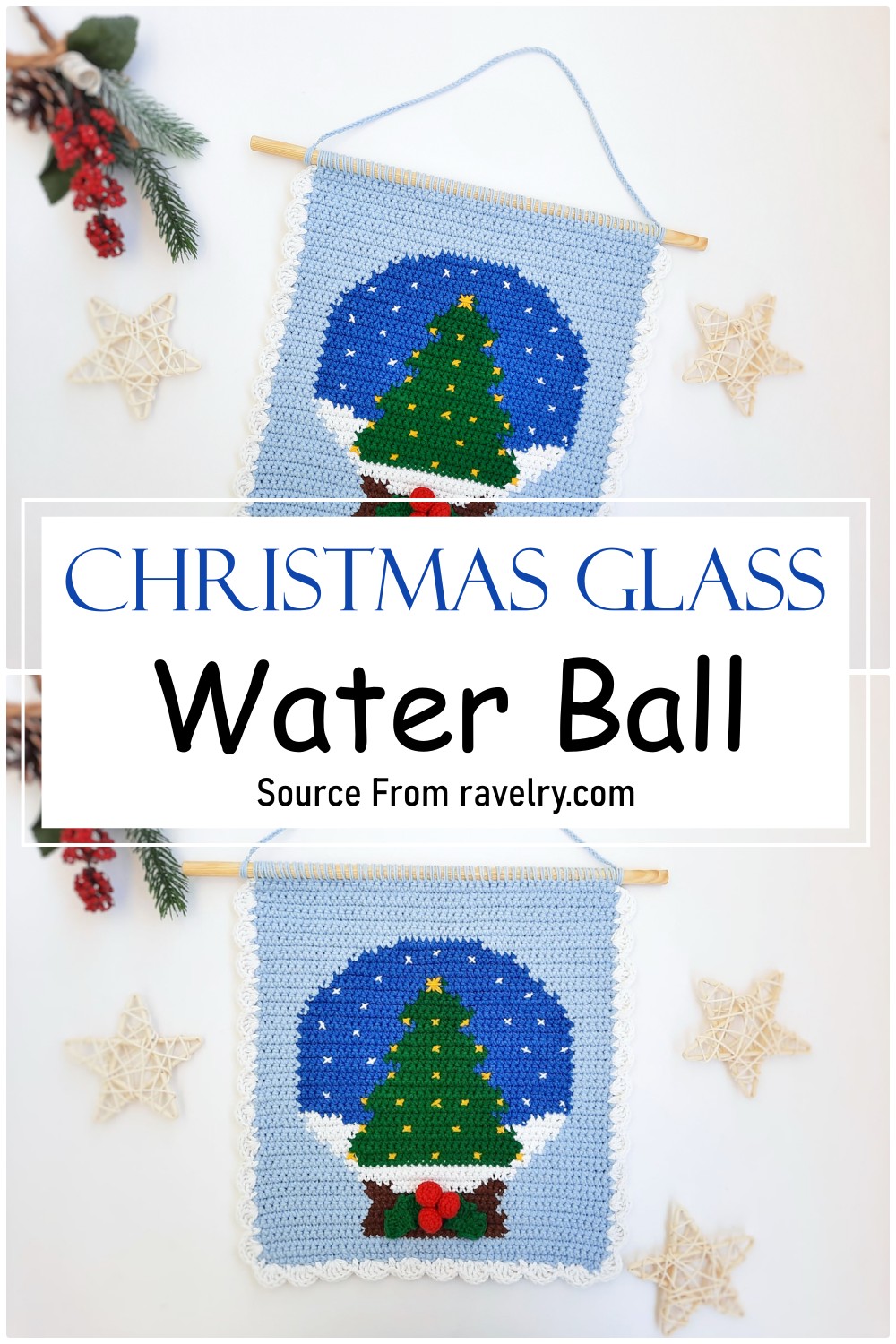 The Christmas Glass Water Ball Pattern is easy to make and a great addition to your Christmas tree. This crochet pattern is designed to use a size 5 crochet hook, but you can use any size suitable for your yarn; remember to stay within the recommended gauge on your pattern! This glass ball wall hanging is just what you need to put a smile on any ole face. It is easy to make and can be done in the afternoon with most beginners. It's a beautiful way to spend time with family and friends and gives the perfect alternative crafting project for when the "big kids" are out of school.
Cosy Christmas Wall Hanging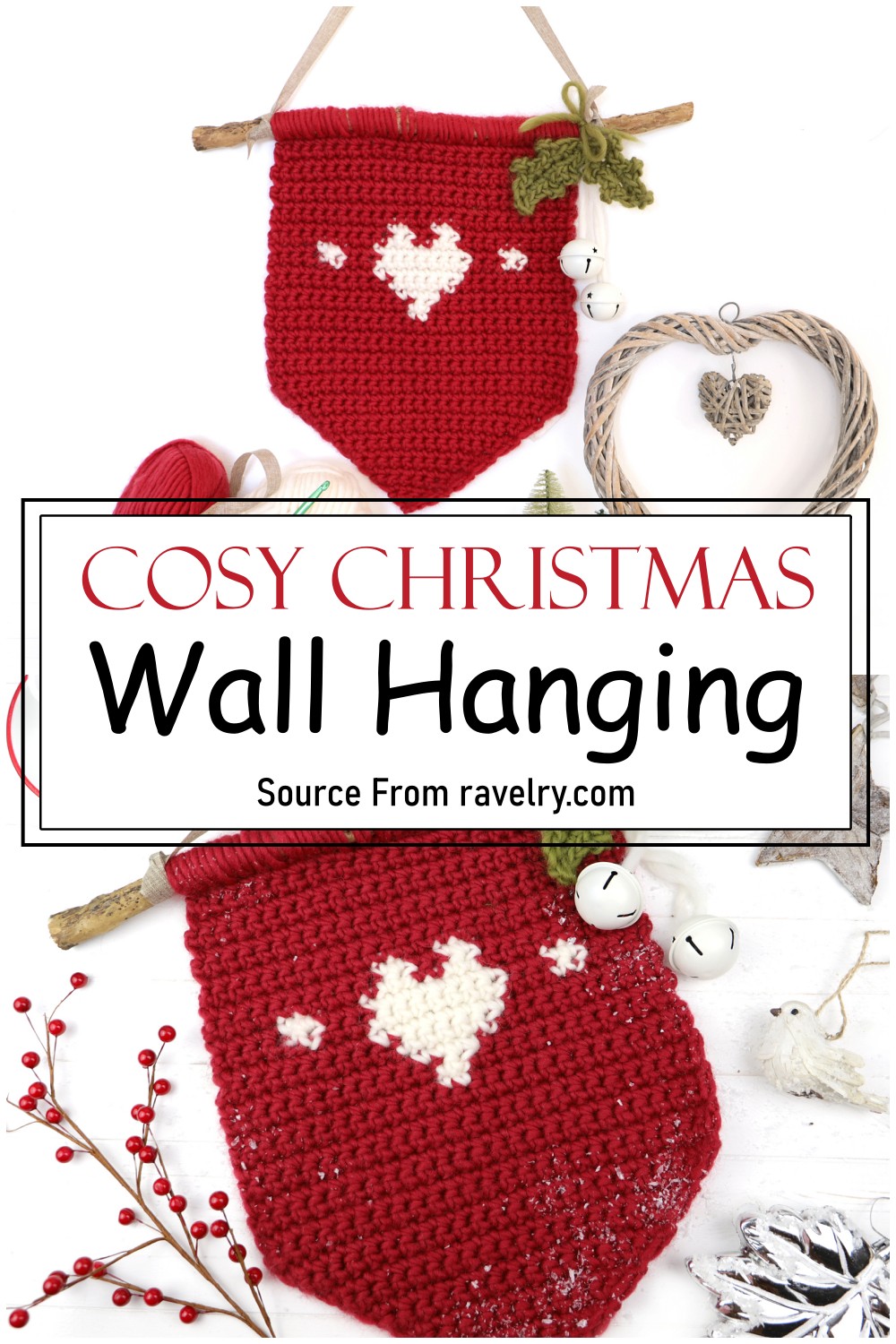 Knit up a cosy Christmas wall hanging that's as warm as it is stylish. This crochet pattern makes a beautiful gift for your loved ones and friends. This pattern is easy to follow, and all the stitches are fully explained. So, with some practice, you'll be crocheting this Cosy Christmas Wall Hanging with confidence in no time. When you're done knitting this stunning afghan, use it to decorate your home or baby's room - or keep it for yourself! The colours of this decorating piece will match well with most room decor, and their bright colours will certainly make you feel merry and bright during the holiday season!
Crochet Christmas Tree Wall Hanging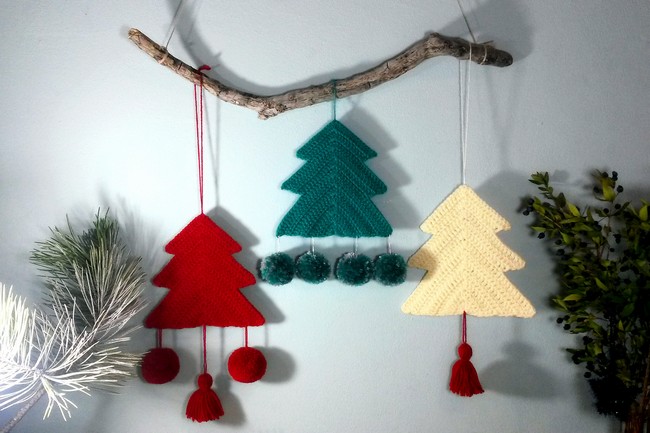 This Christmas Tree Wall Hanging pattern is a simple crochet design that works quickly in different colours. A quick and easy gift idea for home decor, this can be customized to fit any room in your house! The pattern is easy beginner-level, with minimal materials needed. It includes instructions for all the sizes shown, so this will work perfectly as a gift or stocking filler! You'll love how easy it is to create this fun, festive ornament using just the basics of hand crochet.
The Teeny Weanie Christmas Tree Wall Hanging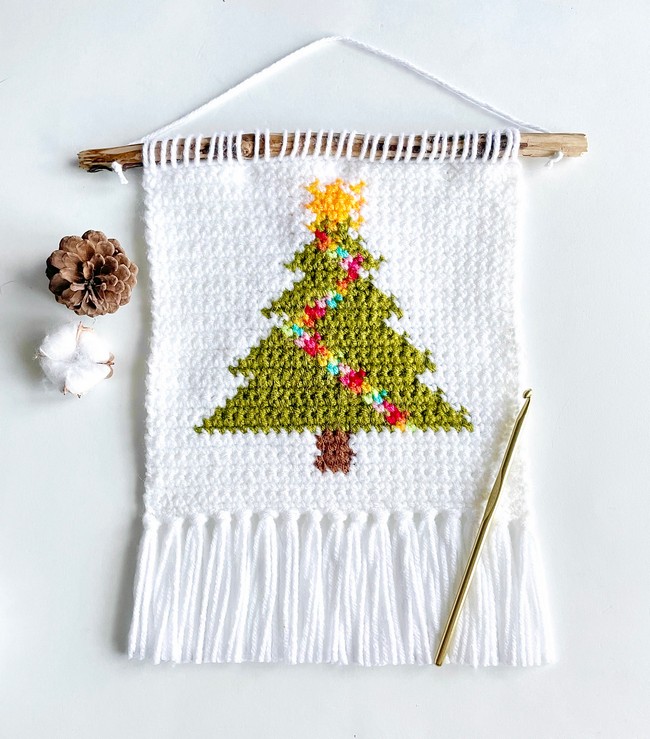 This Teeny Weenie Christmas Tree Wall Hanging is a sweet and simple crochet pattern that lets you create a wall hanging for the holidays. Complete with a mini Christmas tree, adorable pretzels, pinecones, and presents below it, this Christmas decoration will make everyone feel especially festive. The Teeny Weenie Christmas Tree is a super cute addition to any tree and makes the perfect gift for your loved ones. It will surely add a touch of holiday magic to any wall in the house.
The Teeny Weenie Christmas Cactus Wall Hanging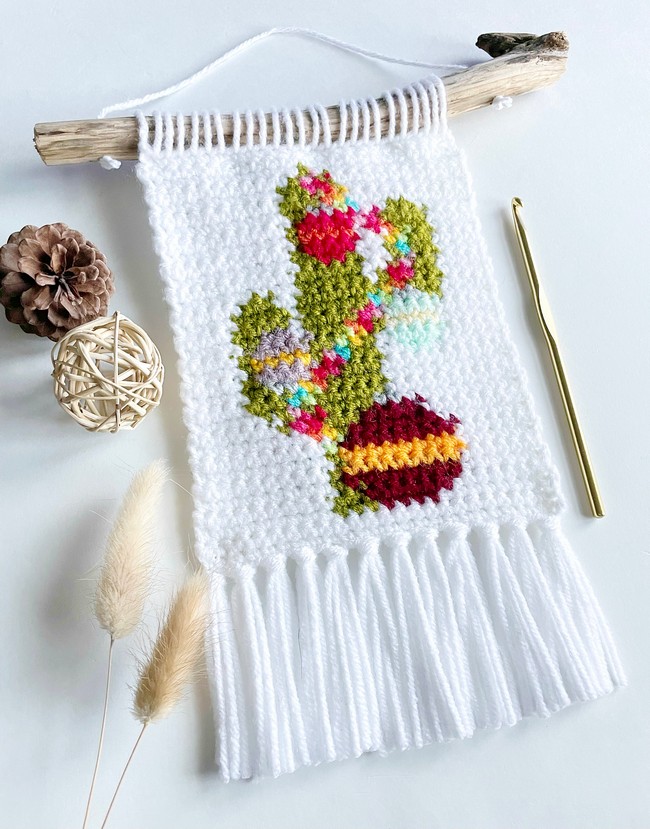 The Teeny weanie Christmas Cactus Wall Hanging is the perfect little decoration to hang in your home this holiday season. With a teeny little cactus and a tiny little star hanging on a little hook, this ornament makes the perfect gift for fellow crafters who want something adorable to turn where everyone can see it! This miniature weanie Christmas cactus is sure to brighten up any Christmas decor. The pattern includes all the information you need to make this cute little plant, and it works up in about an hour!
Christmas Wall Hanging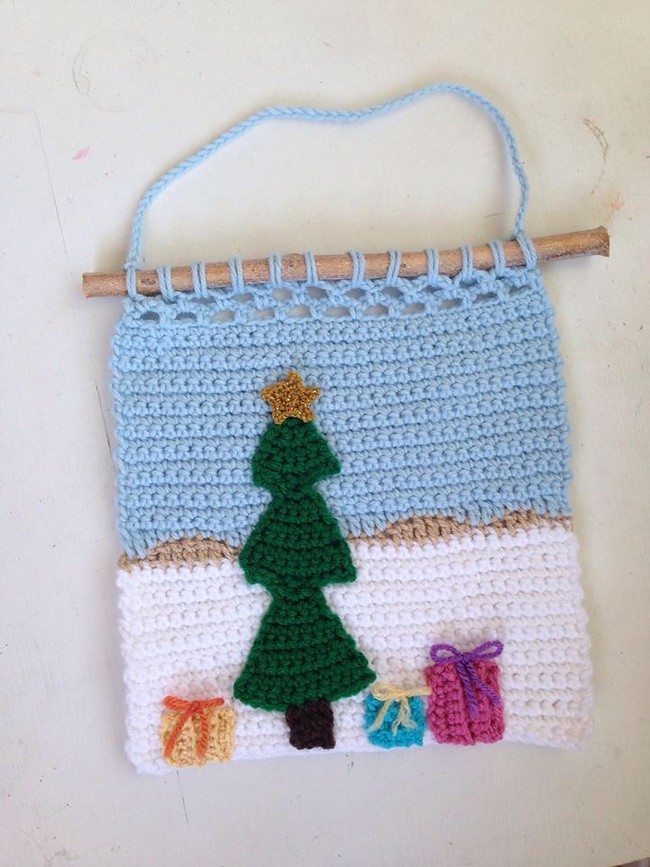 Crochet this beautiful Christmas Wall Hanging featuring poinsettias and pine cones for your holiday decorating. Use it as a Christmas Tree skirt or to brighten up any wall in your home; it's the perfect winter wonderland decoration! This pattern is ideal for the beginner crocheter, so if you're not an experienced crocheter, this is great for learning how to crochet. It's also an excellent project for intermediates who want to step up their game and do some exquisite projects. You will find this pattern easy to follow, and it looks beautiful after finished.
Crochet Christmas Wall Hanging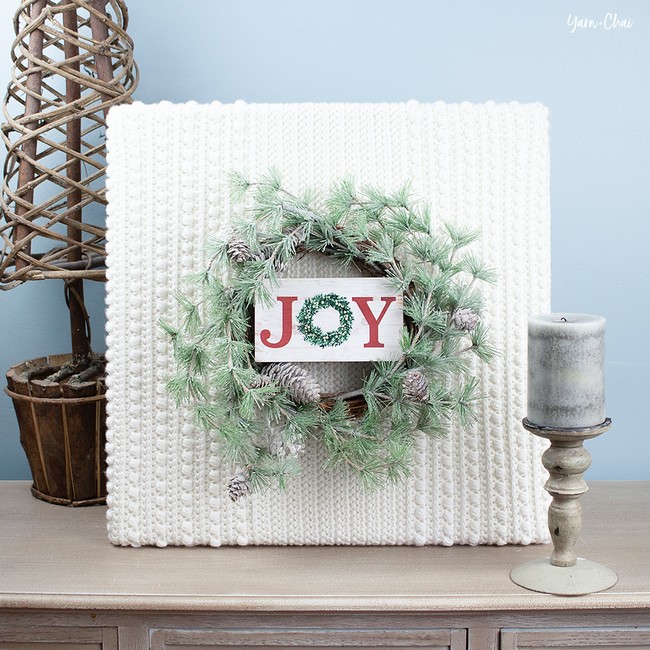 Create a beautiful piece of seasonal decor with this crochet Christmas wall hanging. There's no sewing required, and you can use any colour palette you choose. Crocheted snowflakes, stars and stockings will help to create your wintery backdrop. This Christmas Wall Hanging makes a beautiful addition to your home during the holiday season. It is perfect for hanging on your wall and will add a pop of festive colours for the holiday season.
Mini Advent Tree Calendar Pattern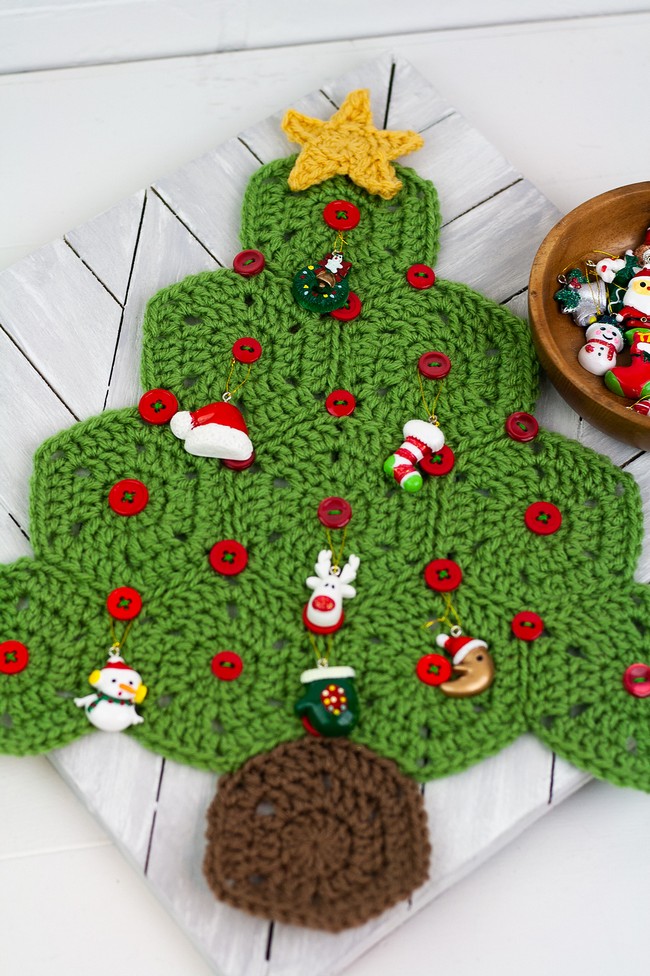 A miniature Advent calendar, this easy-to-crochet tree comes with an adorable Santa and his reindeer. The pretty pattern makes it the perfect tree for hanging on your wall or driving as a gift for friends and family. A simple and fun way to celebrate Advent each day with a little tree for your ornaments. Crochet this Christmas Advent calendar with a bit of yarn, a hook and a lot of love. They are great to share with friends and family or keep for yourself.
Christmas Tree Advent Calendar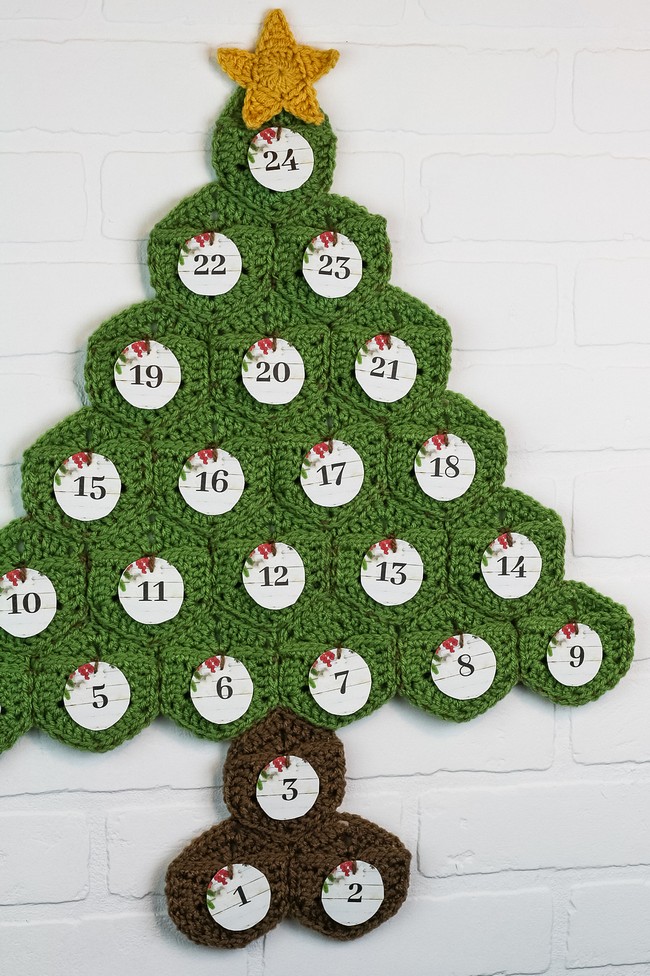 Make this adorable Christmas Tree Advent Calendar to count the days until the big day! It uses beginner crochet stitches and would be perfect for a beginner crafter looking for something to make! This crochet Christmas tree advent calendar is ideal for hanging in your craft room, kitchen, or office. It will bring you joy every time you see it! This pattern includes the directions for a star-filled tree, a tree with lights and even a sparkly snowman!
Holiday Tree Wall Hanging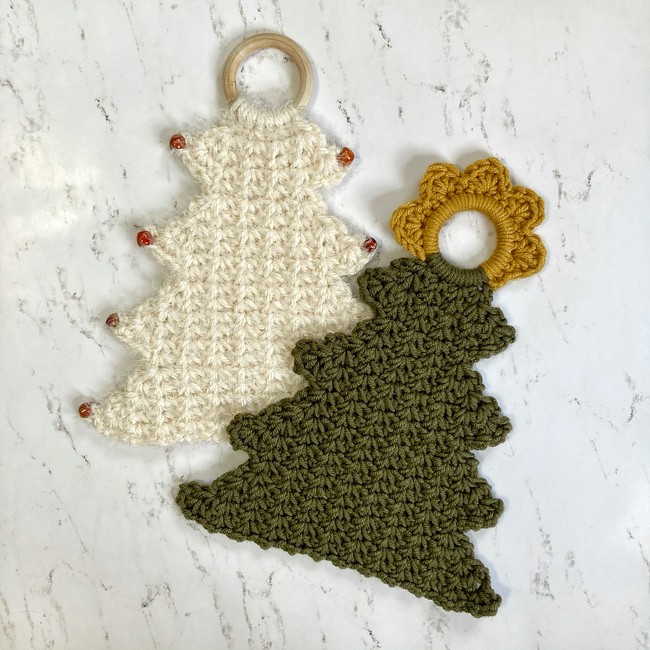 Add a lovely touch to your holiday home decor. This crochet Christmas tree wall hanging is perfect for your mantle or any place you'd like to add a holiday spirit. The pattern is easy to follow and uses basic stitches that any beginner can master. A small amount of yarn and minimal time spent crocheting means you can quickly finish this treasured heirloom piece. Perfect for beginners who want to learn how to crochet, all you need are basic stitches. This fabric wall hanging will bring a happy holiday feeling to any room!
Winter Star Wall Hanging Pattern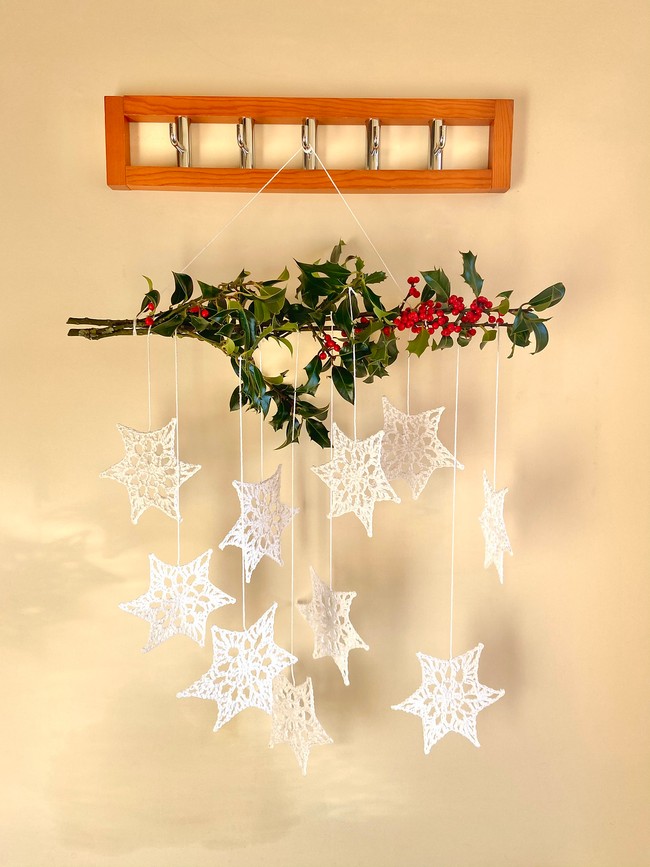 Get into the spirit of the season with this premium bedding set. The soft, cosy colours are perfect for a bedroom or nursery. The Christmas star centre design will add a warm glow to your home during the holiday season. This wall hanging is perfect for Christmas decor and other winter holidays. The stars are only made of single crochet stitches, creating a beautiful texture that will make your home sparkle with joy. Perfect for decorating your home in the winter, this pattern is great for beginner crocheters!
Christmas Tree And Star Garland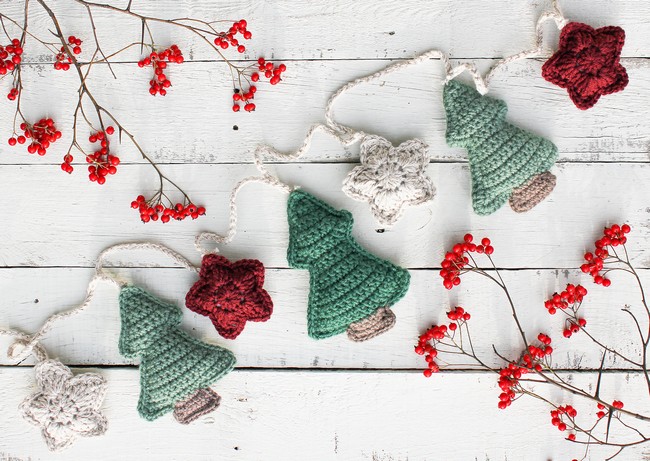 Whether you want to add holiday cheer to your fireplace mantel or make a garland for the Christmas table, this crochet pattern is the perfect way to create a few seasonal decorations that are fast, fun, and easy! This crochet Christmas Tree And Star Garland project is easy and quick for anyone who can crochet! Each piece is made from flat panels, stuffed and joined together, and then attached to a base for hanging. Use them as ornaments on the tree, around your fireplace, as a place setting decor--or string them individually for an easy garland!