These crochet snowman patterns are fun, and they make incredible decorations during the holiday season. This collection of six snowman patterns is perfect for winter wonderland decorating, gifts, or projects. You might even want to use one as a fun decoration for your home or office! These classic snowman patterns are perfect for making winter hats and scarves. The vintage-style designs include everything from snowmen, bears, and snowflakes to reindeer and penguins. Use them as gifts or to create something original yourself!
Crochet Snowman Patterns For Holiday Season

Crochet Snowman Patterns gives you various projects that can be made snowman-style. The best thing is that they are adorable and a good decoration for your house during the holiday season. Snowmen are everywhere during the festive season, but something about handmade snowmen makes them unique. These crocheted snowmen can be used as ornaments on your Christmas tree or as decorative items in your home year-round. They will add a touch of fun and frivolity to your home and help make it a place you want to be all year long.
Tips For Snowman Crochet Patterns
Here's a list of tips for crochet snowman patterns:
Crochet snowmen can be made in any size and shape.
You can make them out of any yarn you like, as long as it's big enough to make the snowman.
You don't have to make them all white; if you want your snowmen to look like they've been around for a while, use some scraps of yarn that are faded or have different shades of gray. The more worn-looking your snowmen look, the better!
Use wool or acrylic yarn for outdoor and washable adventure for indoor decorations (unless you want them to be permanent).
If you're making a large outdoor display, consider using felt instead of yarn -- it will hold up better in windy conditions than other types of materials.
Crochet Snowman C2c Blanket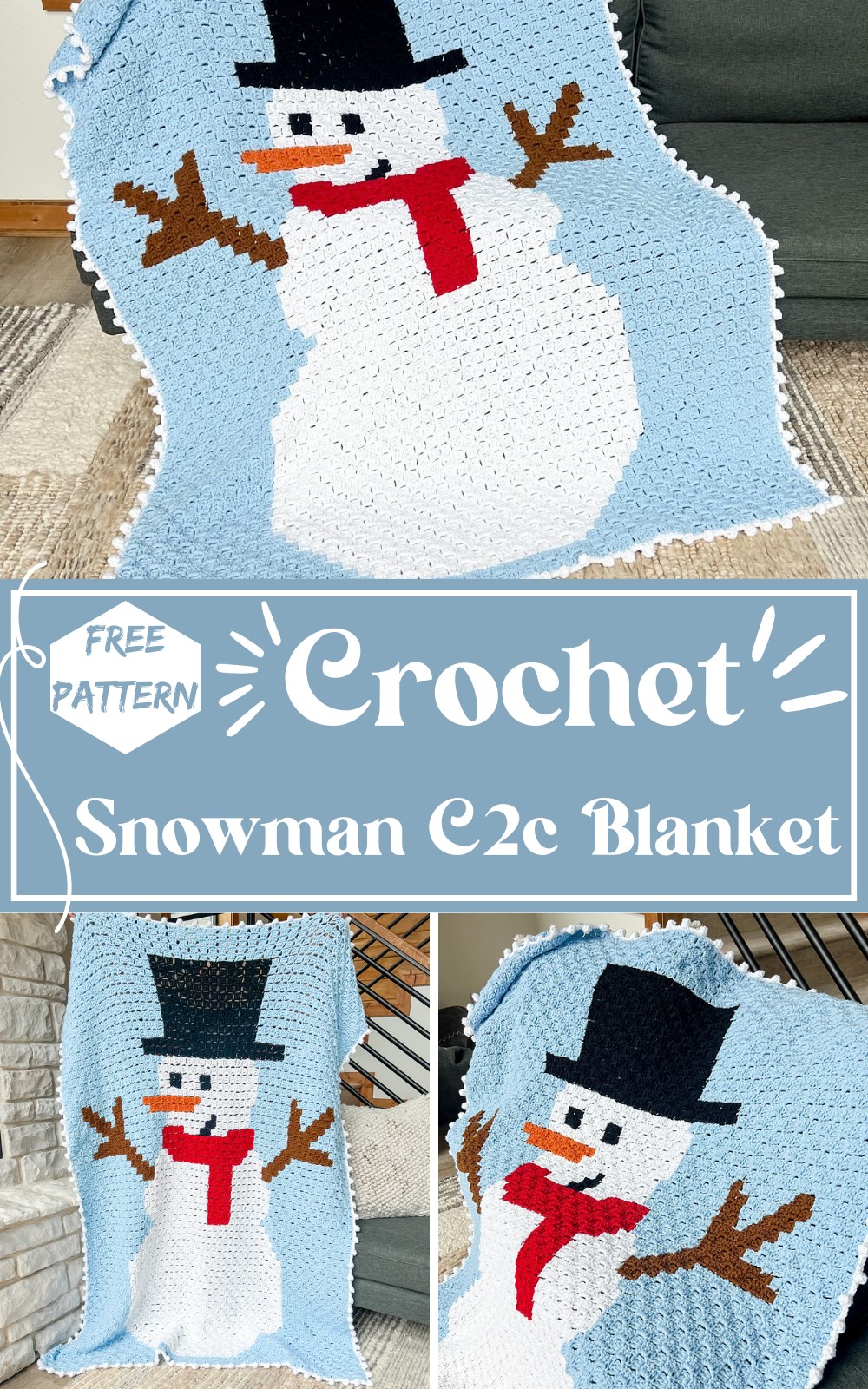 Get your room ready for the winter and other festivals with this crochet c2c blanket. The blanket has a delightful texture achieved through the C2C technique, showcasing a charming snowman motif across the blanket, completed by a dot white border. This crochet blanket uses worsted-weight yarn and is great for a child's room or nursery. It's warm and cozy, perfect for cuddling.
Crochet Amigurumi Snowman With Hat And Scarf
Make a plushy toy for your little child that will keep him engaged all day. The crochet amigurumi has a charming pom-pom hat and a buttoned scarf. Both can be removed and put back on, a feature your child will love. The pattern involves continuous circles worked in the round for the snowman's body and hat and rows for the scarf. However, if making this crochet toy for a toddler, you should sew these accessories.
Crochet Snowman Amigurumi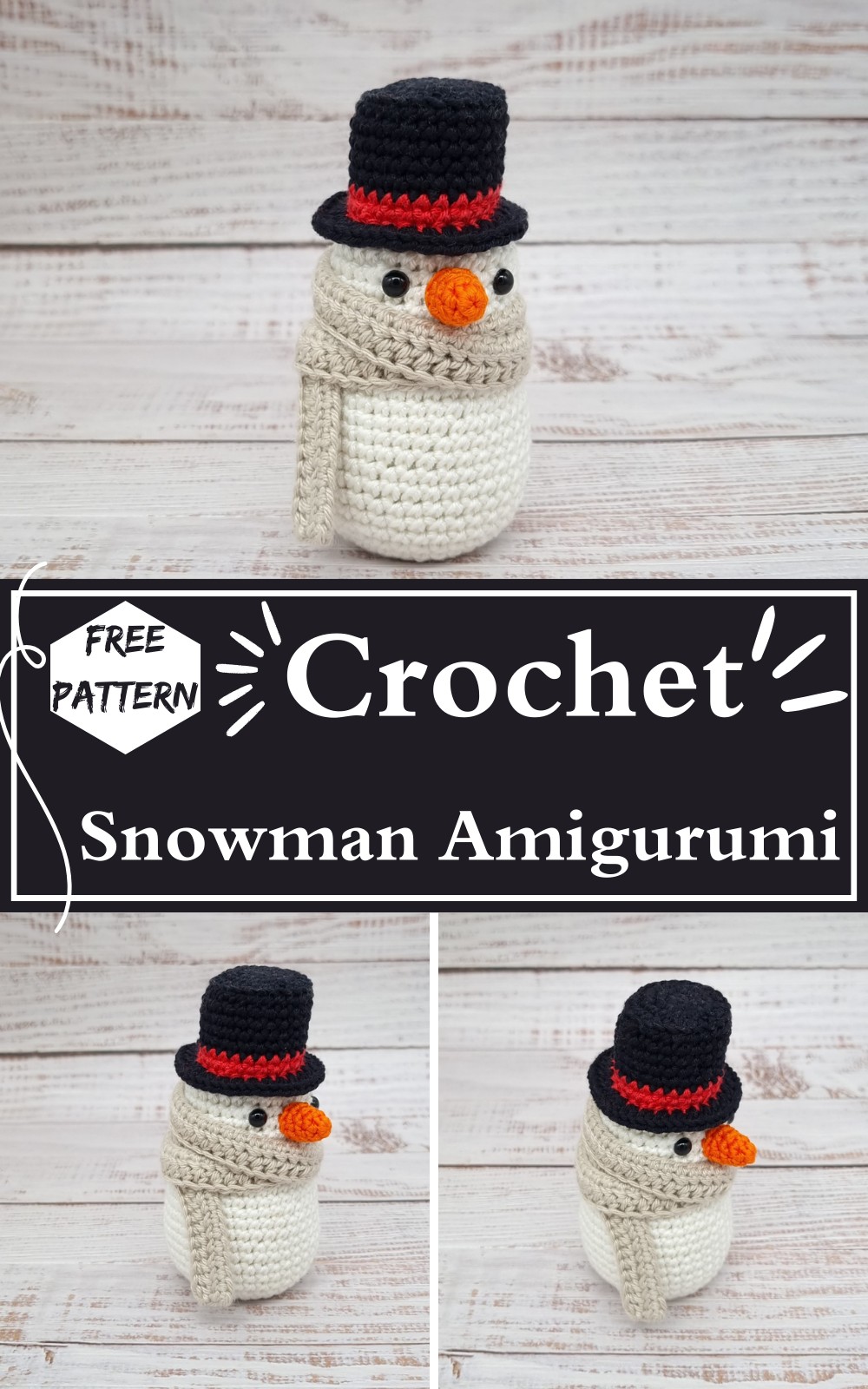 Who won't love this crochet amigurumi? It is donned with a magical hat, a carrot nose, and an adorably wrapped scarf conveying the cold winter spirit. This petite, charming creation is perfect for your holiday decoration or gift to loved ones. The pattern is easy to make and uses rounds throughout the pattern and some basic stitches. Make a small one to make a key chain or a big one as a plushy toy for loved ones.
Crochet Amigurumi Snowman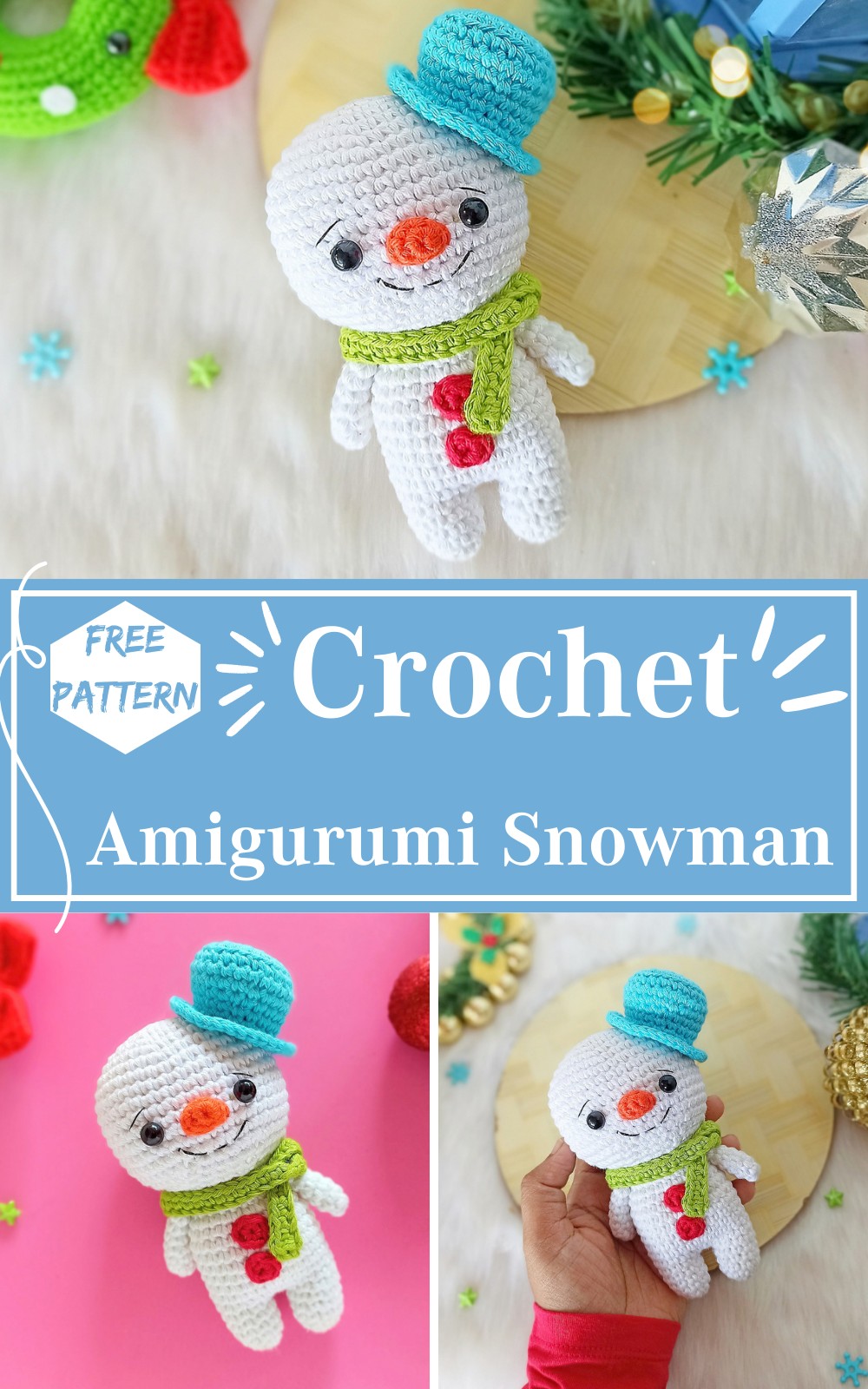 Why not crochet a cuddly and snuggly toy for the special child in your life using this easiest crochet pattern? The plushy toy is sure to delight every child, featuring tiny legs, arms, a cute smile, and a tilted blue hat. Moreover, this crochet pattern offers plenty of customization options, allowing you to adapt to your child's preferences. You can switch up colors, expressions, and accessories, making it a unique creation that reflects exactly what your child adores.
Snowman Kagami mochi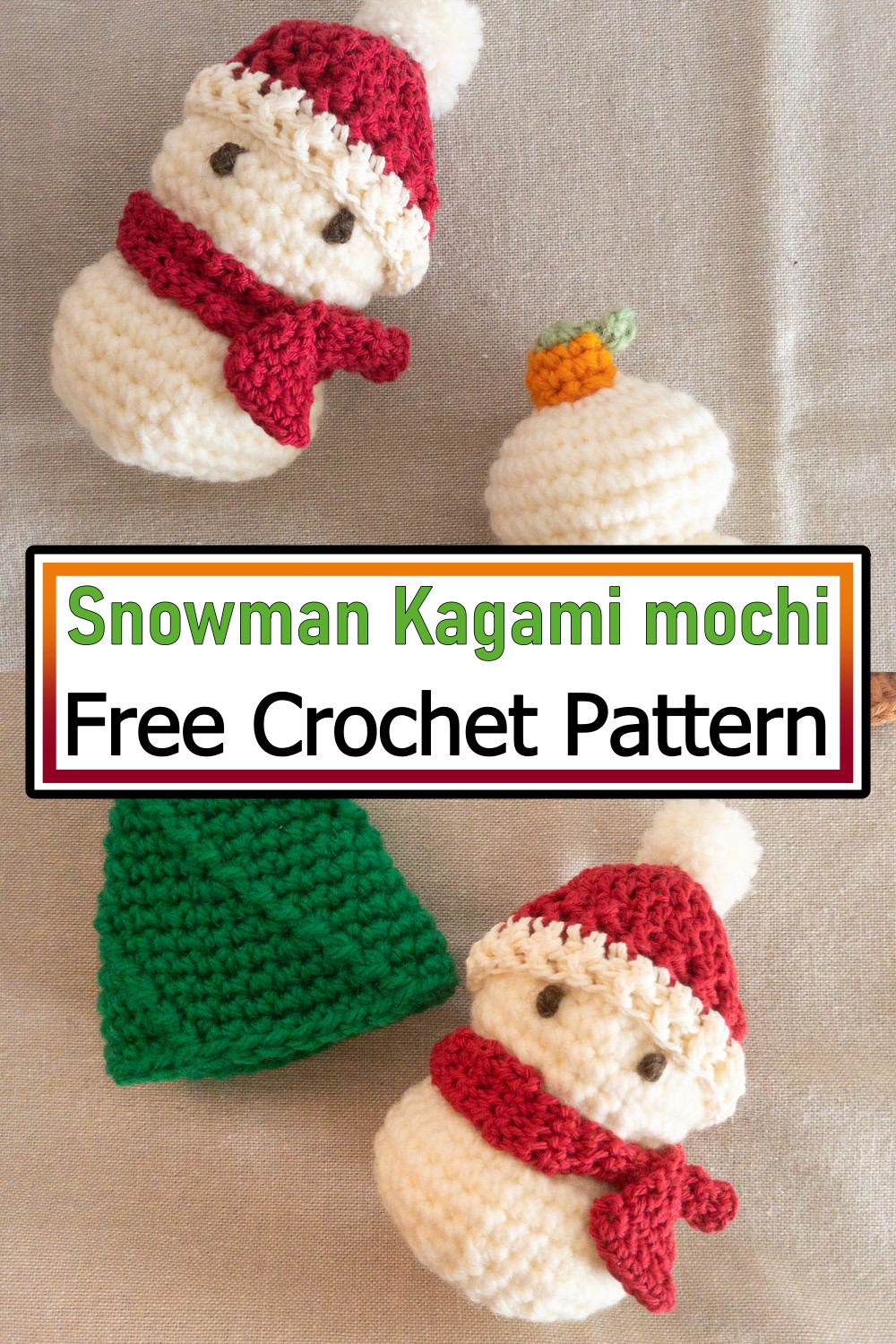 This endearing Snowman Kagami Mochi is crocheted from beautifully soft wool pompom yarn. He wears a scarf and hat, but his big grin shows he is happy to find a new family home! Crochet Snowman Kagami mochi (pancake) is famous during the season. Because this character gives the feeling of warmth to people, it is loved by many people. This craft kit is readily available at reasonable prices. The supply chain for these kits is safe and reliable. You can rely on it for daily use or as a gift idea.
Baby Snowman
Little boys and girls will feel cozy and happy with this crochet baby snowman. The crochet Snowman Hat is made of soft acrylic yarn. Your little one will love the softness and huggability of this crochet Baby Snowman. The perfect addition to any holiday decorating. This Crochet Baby Snowman is an ideal gift for your nephew or granddaughter, who will surely like it. This handmade crochet baby snowman is made of white and grey acrylic yarns stuffed with polyester fiberfill. It's a great decoration for the Christmas tree. It is a perfect addition to any cozy Christmas outfit and can be worn at home or even during winter walks outdoors.
Snowman Pocket Scarf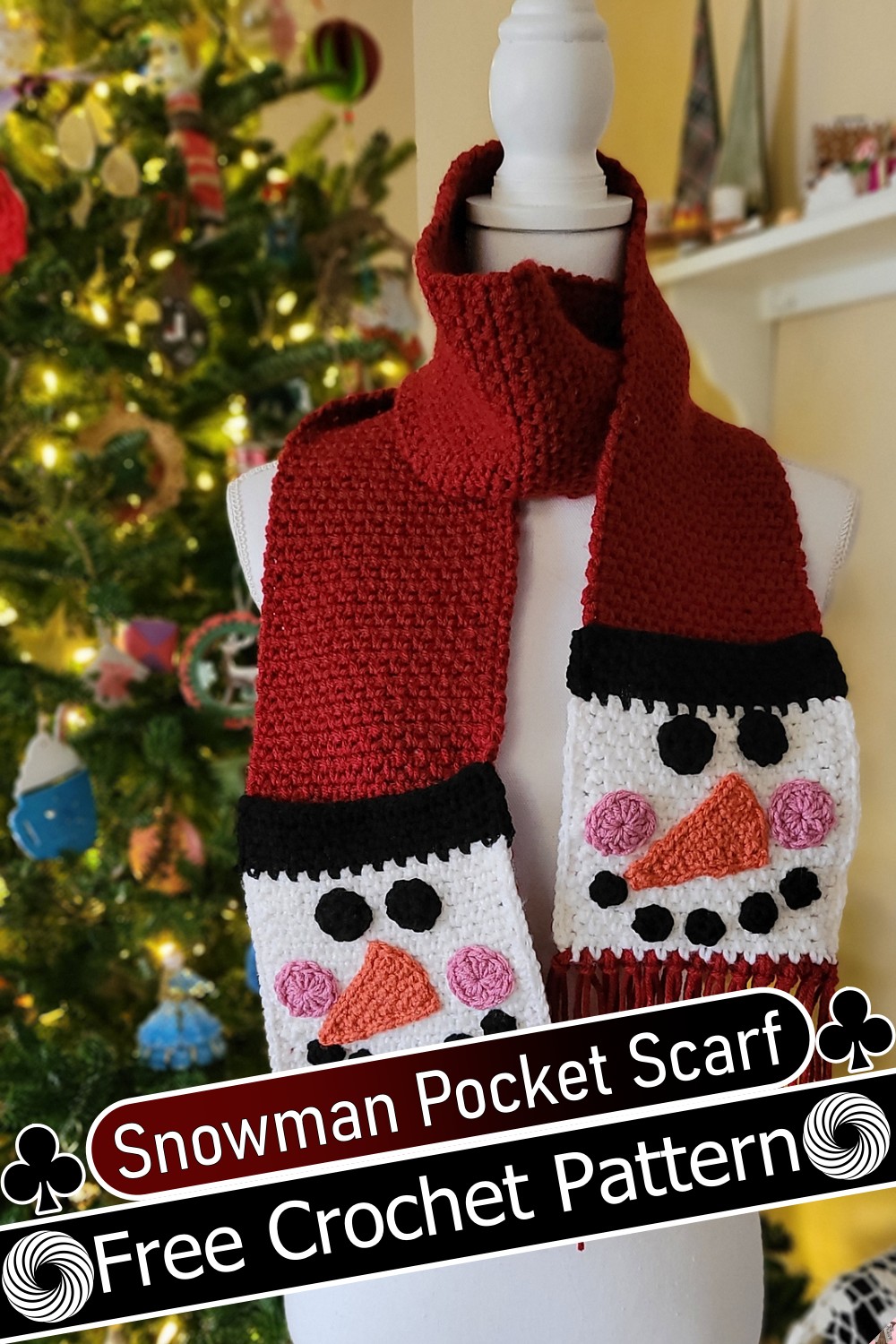 Cute snowman face on the pocket side, perfect to keep you warm as you enjoy your day! The Crochet Snowman Scarf has the cutest crochet topper: a snowman! Wrap it around your neck and stay warm in style this winter. This scarf is available in many different sizes, from choker to infinity length, so that you can pick the perfect one for yourself. This crochet snowman pocket scarf is fun to make and warm to wear. It's ideal as a Christmas gift or to snuggle up on chilly nights.
Crochet Snowman
A cheerful, whimsical crochet pattern for making your very own snowman. Snowman crochet patterns are fun projects. When a snowstorm is rolling in, and all you want to do is stay inside and crochet, this is the pattern for you. He works quickly as long as you have basic crochet skills and knowledge of increasing and decreasing stitches. Once finished, this little guy will look great hanging on your Christmas tree or displayed on a shelf.
Snuggly Snowman Plushy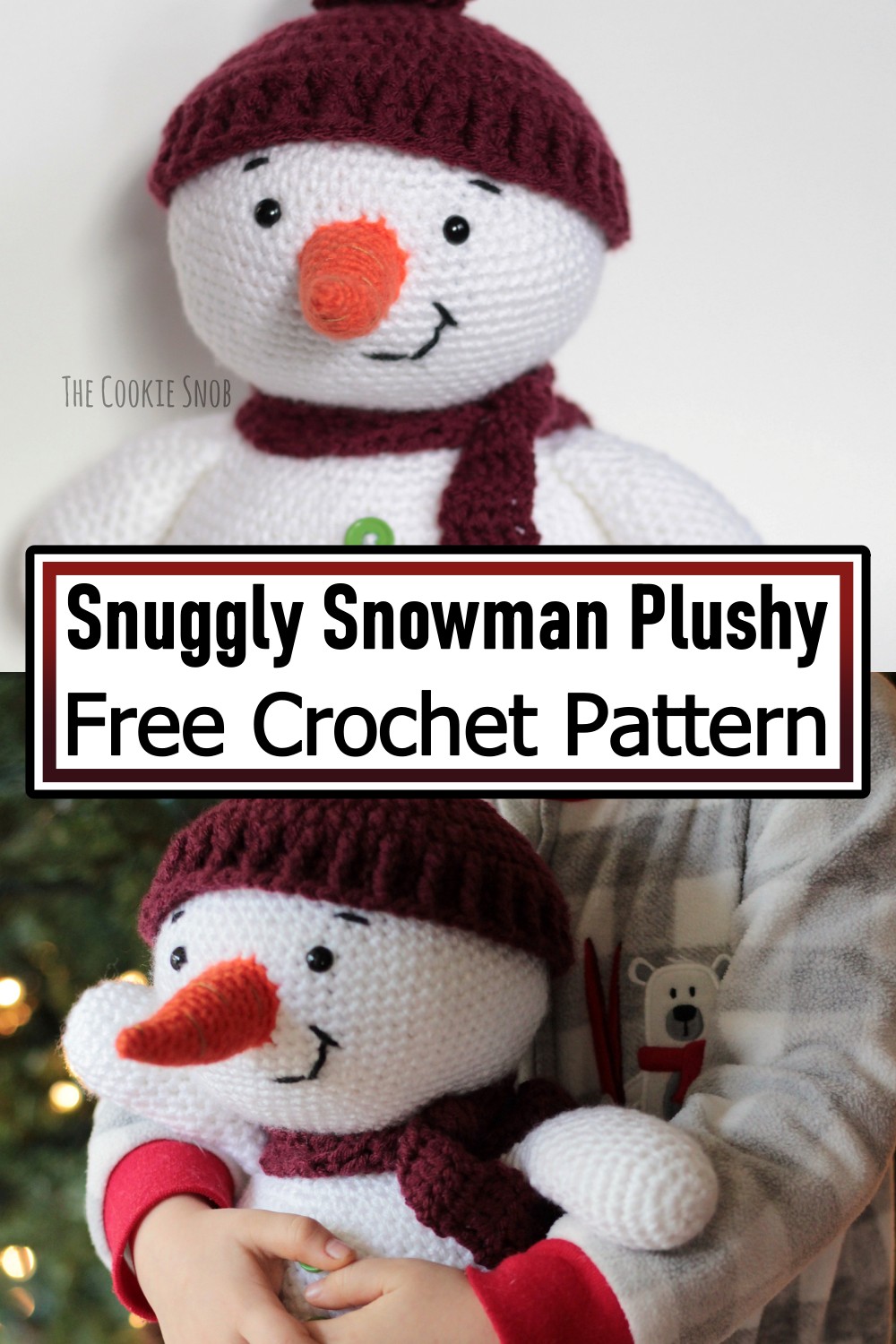 Get warm and cozy with this crochet, snuggly snowman plushy. Made with soft and comfortable material, it's perfect for a cold winter day and night. Its white face is embroidered for an authentic, handmade look. This crochet snuggly snowman plushy is a great seasonal decoration to add to your home, office, or anywhere else that needs a little "snow" and Christmas spirit. The cozy size and plushy softness make it comfortable for kids to sit on their beds or for adults to cuddle up with while reading a book or watching TV during the cold season.
Crochet Snowman Gnome
Crochet a fun little snow gnome adorned with a top hat and scarf. This little Snowman Gnome is excellent for decorating or as a gift for anyone who loves Snowmen. This pattern also comes with step-by-step photos on how to make it. This Snowman gnome is a timeless winter decoration that you can use yearly. It also makes an excellent gift for your grandma and craft enthusiasts. And don't forget to check the rest of our crochet patterns; who knows what you might find?