Christmas trees are not just for the elves and Santa anymore! Instead of stuffing your tree with boring, store-bought decorations, why not take a few hours to crochet some new, handmade ornaments? There are so many cute Crochet Christmas tree decorations that you can make, and they look great with the classic tree. If you're thinking of getting into the holiday spirit but have never crocheted before, don't worry! You'll be able to make all these ornaments with a basic knowledge of stitches. You can create fantastic gifts for your family and friends with practice.
Easy Crochet Christmas Tree Decorations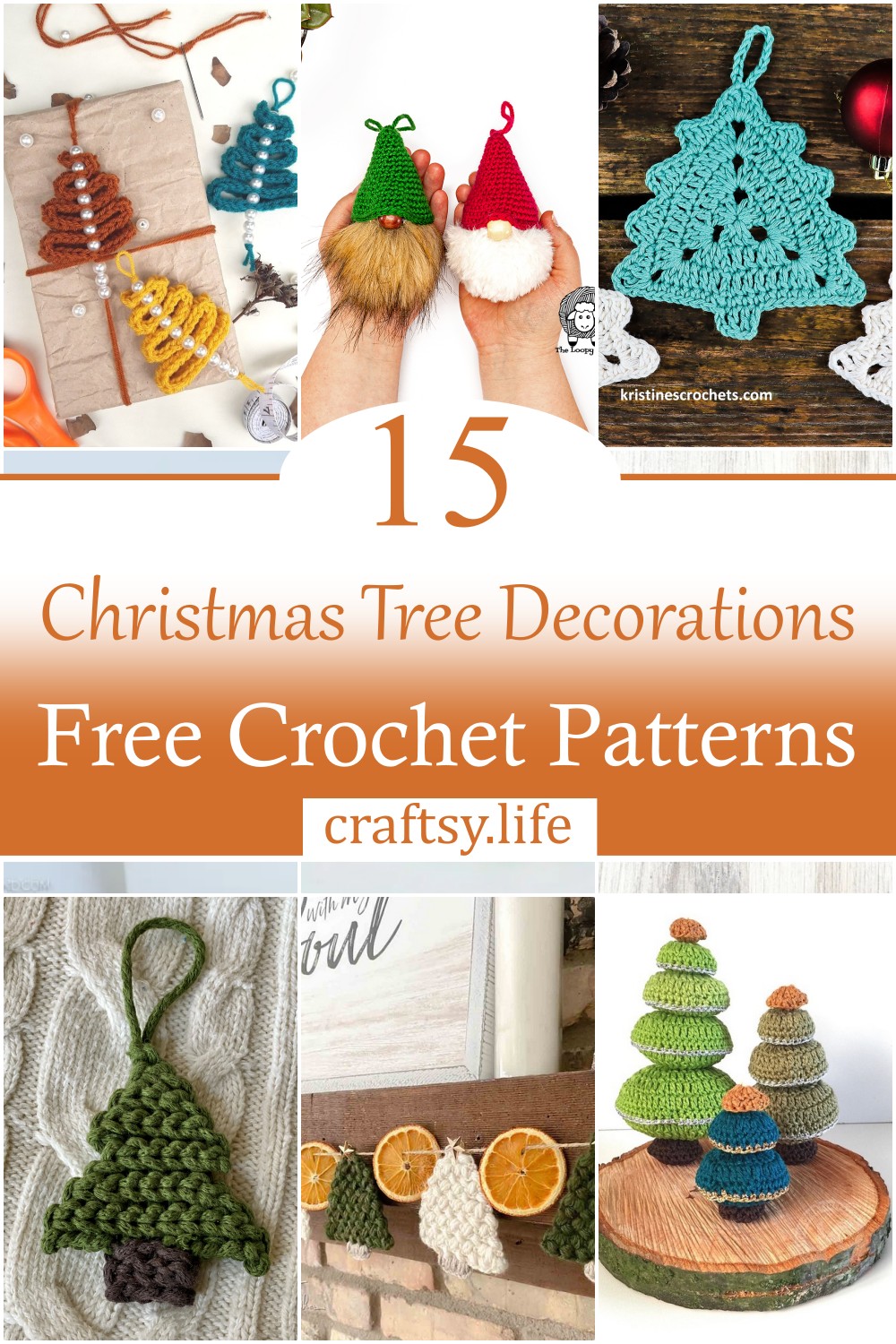 Christmas decorations are often the most colorful items on display during the holidays, and we love to decorate our trees with handmade ornaments. It's always fun to make them ourselves, but sometimes we don't have the time or patience to sit down and crochet something from scratch. That doesn't mean we have to settle for store-bought, though! If you're tired of looking at the same old tree decorations year after year, check out these tutorials for unique crochet Christmas tree decorations. All you need is some yarn and a hook; they'll be ready in no time!
Crochet Patterns For Christmas Tree Decorations
Crochet Christmas tree decorations are a great way to add a little color and personality to your holiday decor. With the correct pattern, it's easy to make crochet Christmas tree decorations that look like they came straight out of a store.
Here are some benefits of crochet Christmas tree decorations:
You can make them in any size or shape you want
They're handmade and unique – no two are exactly alike!
They're easy to customize with different colors and trimmings
They don't have to be round; you can make them in any shape that suits your taste.
Heart Christmas Tree Ornament
Add a pop of Christmas cheer and a little fun to your tree with this Heart Christmas Tree Ornament. It makes an excellent decoration for the season or a sentimental gift idea. The whimsical crochet Heart Christmas Tree Ornament is the perfect accent for rustic holiday decor. Handmade from sturdy cotton yarn in your Red color, it has a loop for hanging and would look lovely on a mantel or tree. It's easy to make and uses only basic stitches, which makes it an excellent gift for any knitter or crocheter. The crochet hearts are worked in the round, making them simple and quick to finish, making it a fun accessory for the tree.
Crochet Christmas Tree
This crochet Christmas tree decoration adds a lovely modern touch to your Christmas tree or any gift you're giving this year. Make this quick and easy crochet Christmas tree decoration in 15 minutes or less! It is a fun project that can make with only one ball of yarn. The tree is constructed from simple stitches and can be used to decorate your Christmas tree or add color to packages wrapped in paper. Besides decorating your Christmas tree, you can use this little guy as a hair bow holder, Cute creative necklace, or bracelet holder. The possibilities are endless!
Crochet Christmas Tree Ornament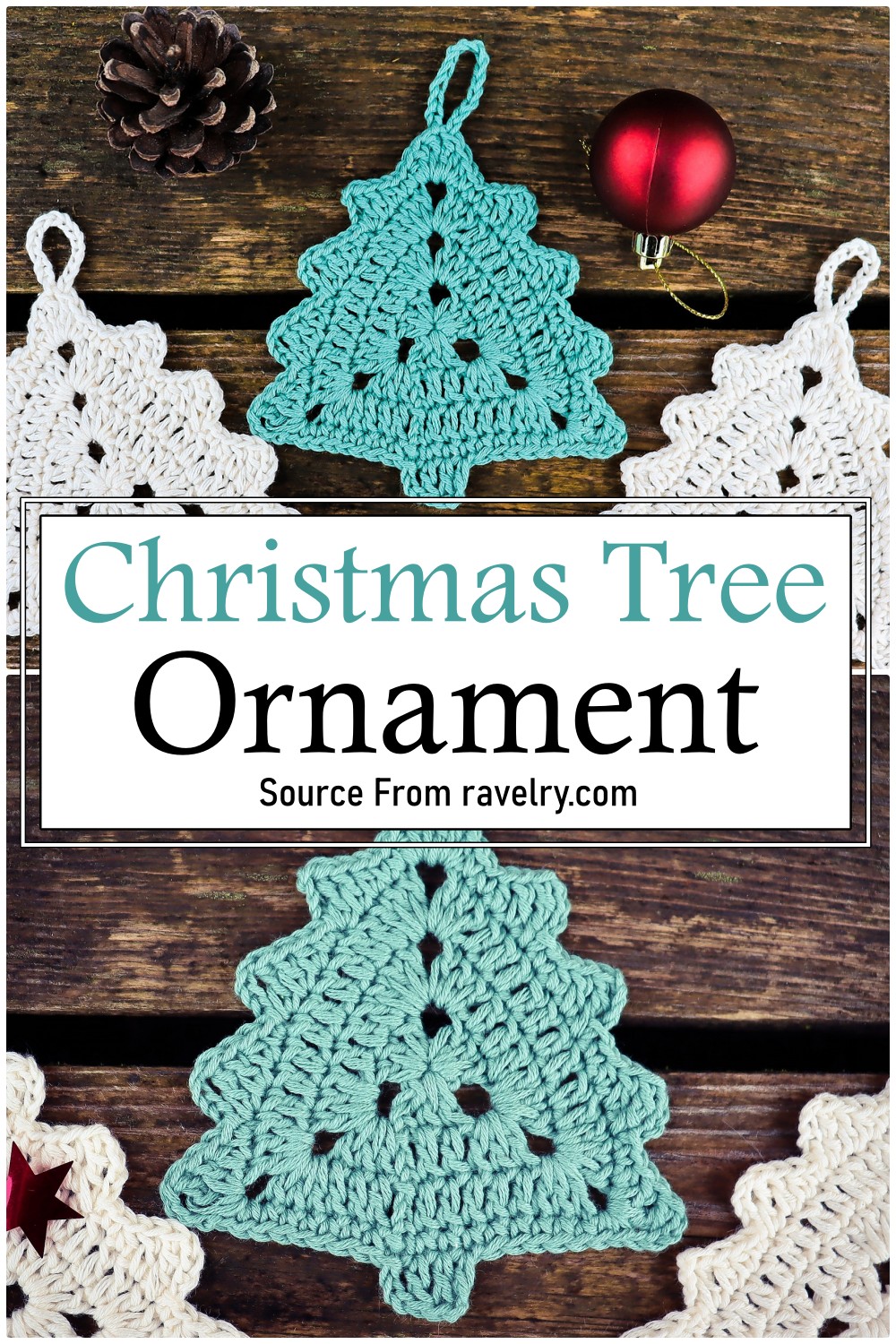 The Crochet Christmas Ornament is a must-have for your Christmas tree! Beautiful and unique, this handmade ornament will be a lovely addition to your holiday decor and welcome any guest who enters your home. This ornament can be hung on a window sill or the Christmas tree, but it also makes one hell of a sweet little pillow if you want to turn it from your bedpost! Crochet a festive Christmas tree decoration with a large crochet hook. This is an elegant and stylish way to dress up at your home at Christmas.
Little Christmas Tree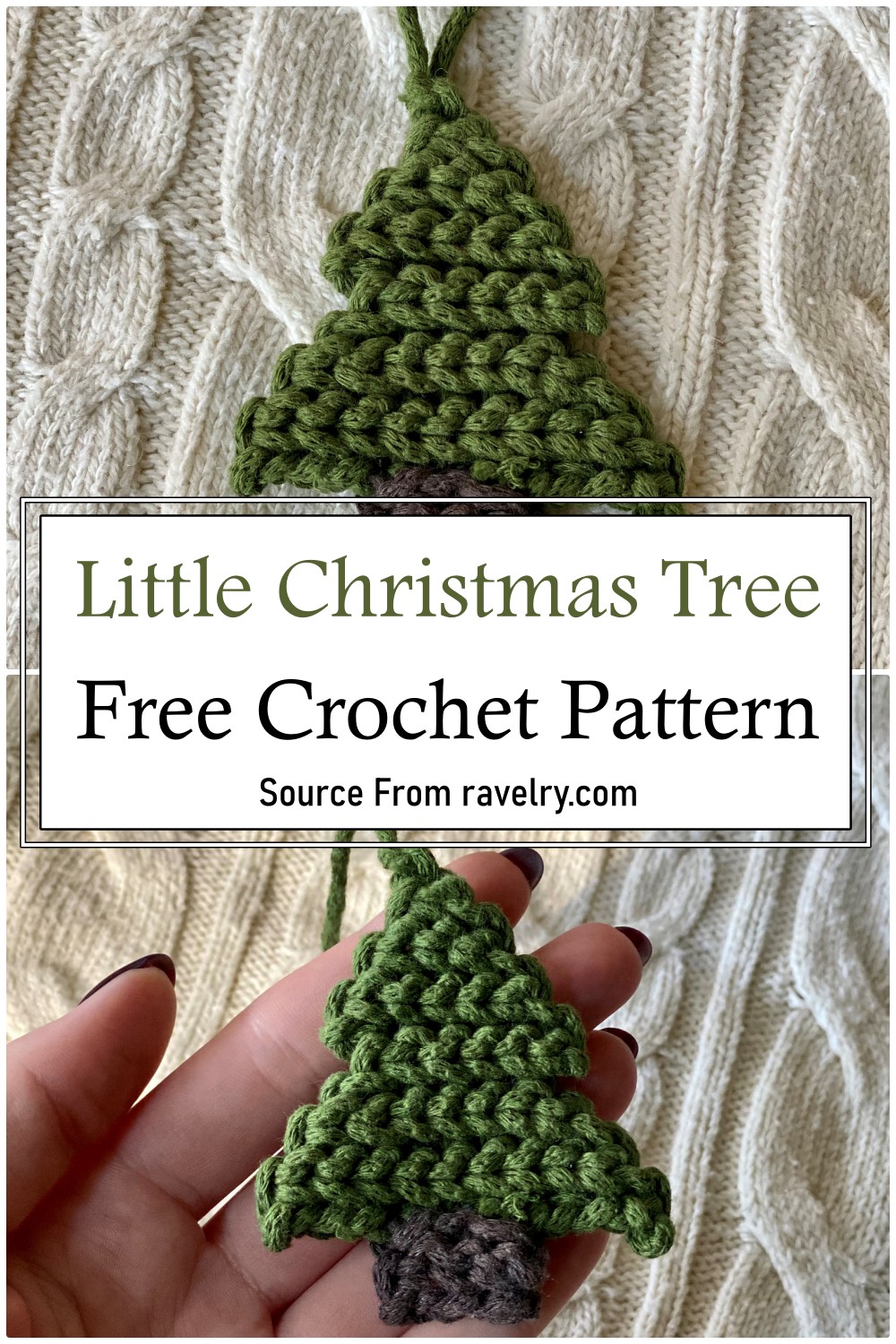 Little Christmas Tree is a fun and easy crochet pattern that makes an adorable decoration for your Christmas tree. The tree is so small that it will fit into any space, even the tiniest apartments! A little Christmas Tree is a charming decoration that can be displayed on any flat surface, such as a shelf or table. With its lovely mix of tones and textures, this little tree would brighten up any room in your home this Christmas. Simple, cute and easy to make – you can do it in an afternoon. All you need are a few hand-crochet stitches!
Gnome Christmas Tree Ornaments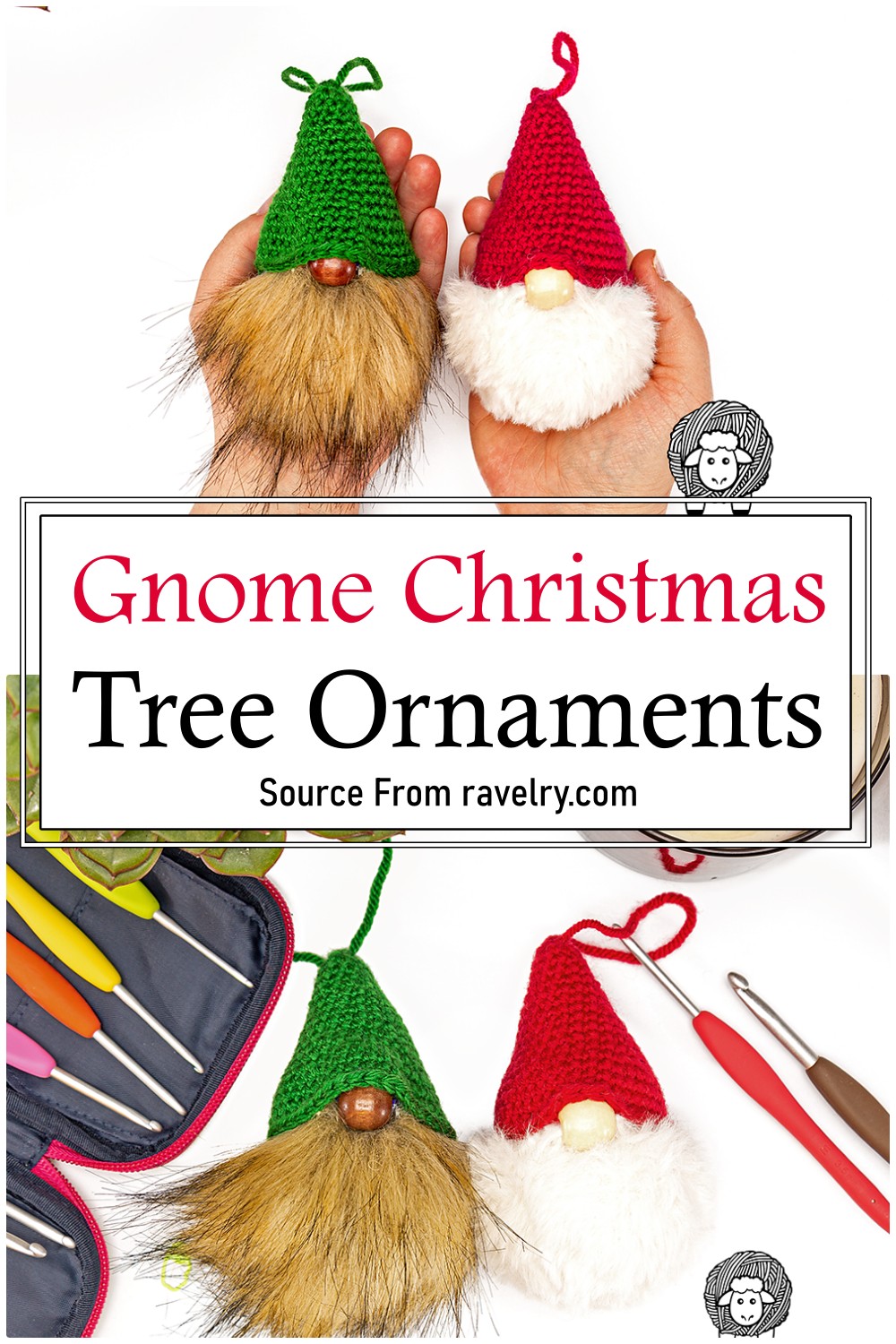 This crocheted gnome Christmas tree decoration is so cute and simple; it's an excellent project for any crochet beginner! These gnome ornaments will also look great on a wreath this holiday season. Make your home stand out this holiday season with these unique and creative artisan ornaments. This Christmas tree decoration will surely spark conversation around any tree, featuring a trio of whimsical gnomes. The perfect decoration for your home, office, or even as a gift! These ornaments will make Christmas an even better time this year.
Cross-stitch Christmas tree.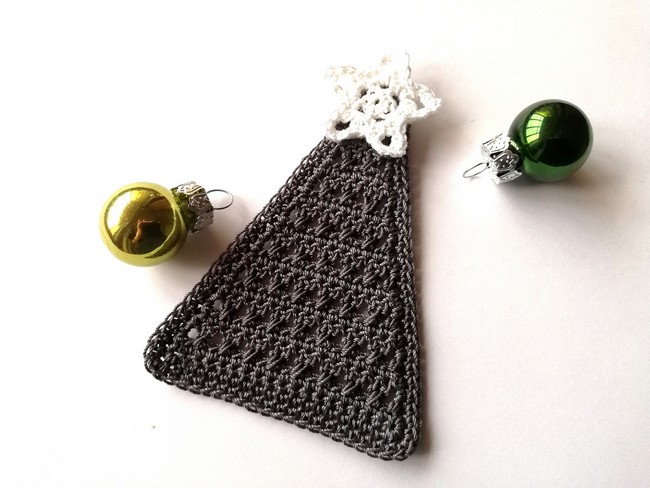 This Cross-stitch Christmas tree pattern is perfect for crocheters who love making Christmas tree decorations or anyone who wants a quick and easy gift. Works up very quickly in bulky weight yarn. This beautiful red Christmas tree is a cross stitch, so it is not just a decoration but also a piece of art. The design is detailed and looks great in any room of the house. Hang it on your tree, door, or around the house to add a bit of magic wherever you want.
Bobbles Christmas Tree Ornament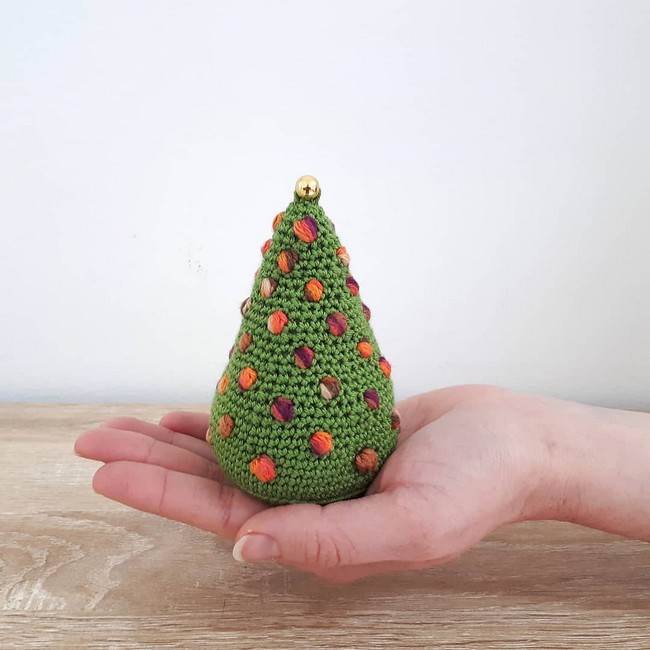 If you're looking for a quick and easy Christmas project, the Bobbles Christmas Tree Ornament may be the answer! This crochet tree ornament features a double-stranded bobble stitch wrapped in homespun yarn - both of which were popular when decorating trees. It's the perfect gift for craft lovers or those who prefer the contemporary design in their home decorations. The pattern is easy to follow, with detailed written instructions and photos. You will need to know how to make basic stitches and a few more complex ones like cluster stitch and puff stitch (which are very simple once you get it!).
Bobble Christmas Tree Ornament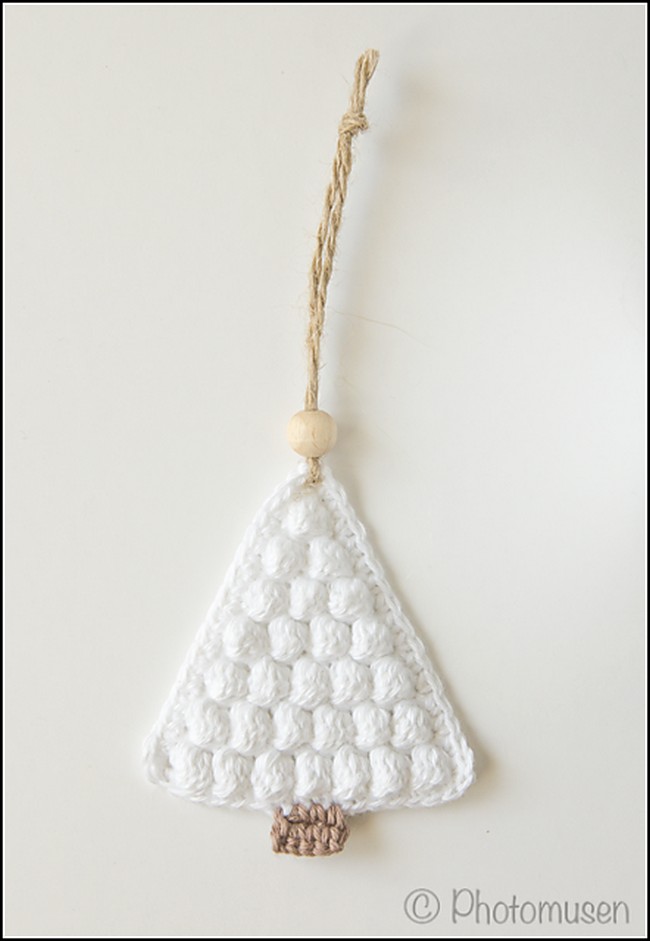 Bobble Christmas Tree Ornament. This cute little ornament is fun to make, very quick, and easy. It's very versatile in that it can take on any theme you'd like by changing colors, styles, etc.....obviously, with different yarns, it would be more appropriate for holiday use than the multi-size afghan wool used, but this could be adapted if you wanted a small one without much effort. Made from a soft and warm patterned yarn, this gorgeous crochet tree will be loved by everyone in your home.
Tree Christmas Stocking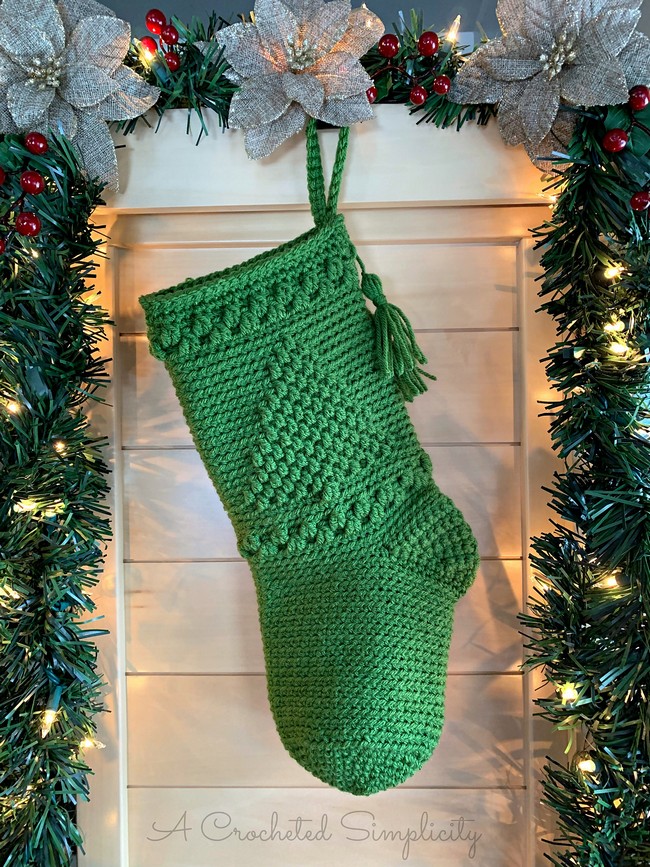 This Tree Christmas stocking is a fun and easy crochet project that doesn't take too much of your time. It's perfect for those looking to make a quick gift or decoration during this Christmas season! This crochet Christmas tree decoration is one of a kind. It's a fun craft with many uses besides hanging on your Christmas tree. This stocking can hang from your backpack, purse, or almost anything it will fit on! Many will love to receive this handcrafted decoration as a gift!
Flat Christmas Trees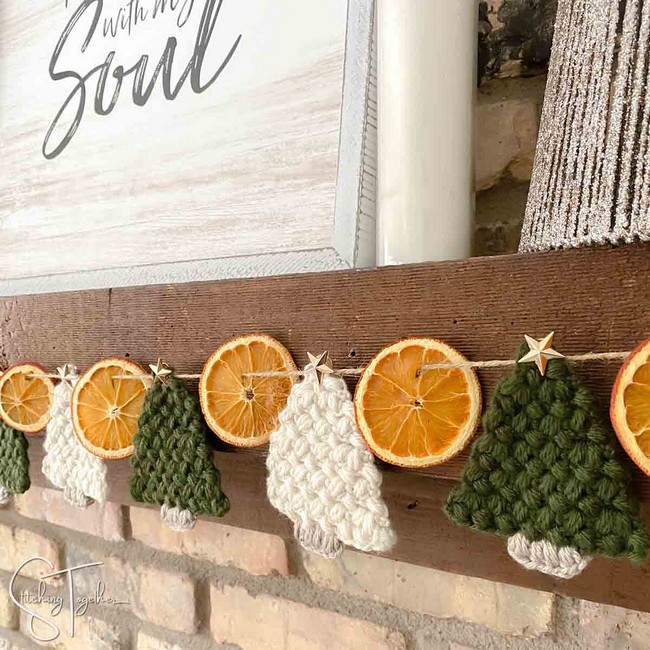 Decorate your tree in style with a handmade crochet tree, the perfect handmade gift for a friend or family member, or you could hang them on your wall as a seasonal decoration. Personalize by using colors that match your decor for year-round use. Crochet Flat Christmas Trees come in various colors and sizes that make each unique. This Christmas tree is made with a large crochet lace pattern. This tree stands out with its individuality and makes a beautiful holiday decoration or gift.
Bobble Tree Sweaters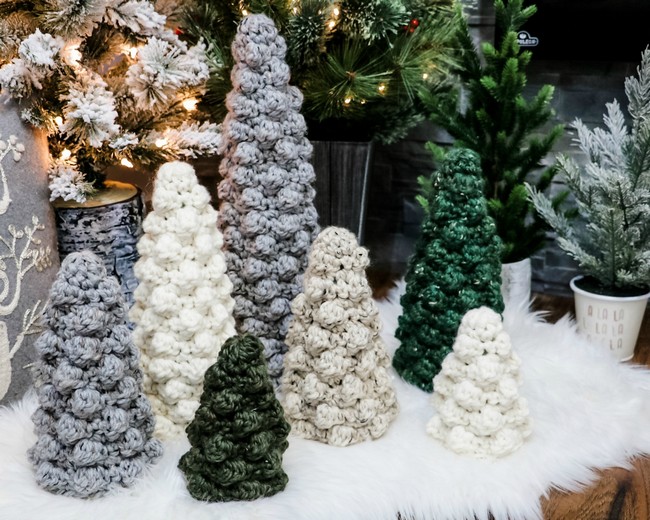 Handmade with love and care, these bobble tree sweaters are a beautiful way to welcome the holidays. The unique design features hand-crocheted details inspired by traditional Christmas sweaters but in a trendy geometric pattern. Each shirt is durable wool yarn and feels like a cozy blanket. This crochet Christmas tree sweater is fun to show off your fashion sense over the holidays. Featuring bobbles and a classic cardigan design, it's super soft and comfy whether you're sipping hot cocoa by a fire or floating down a river.
Bobble Stitch Christmas Tree Trio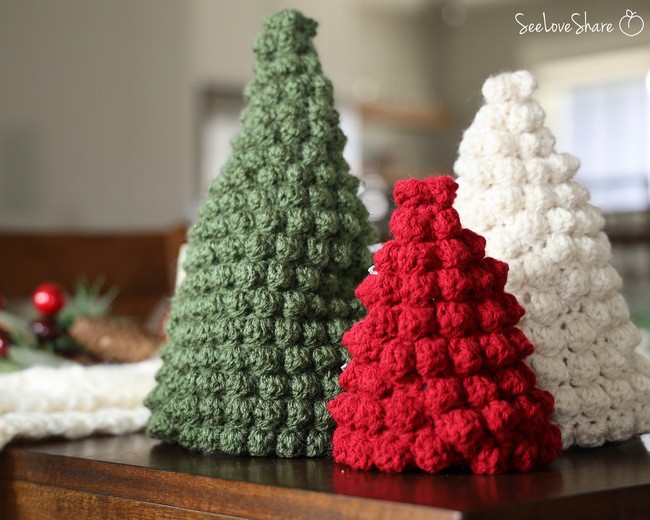 The Bobble Stitch Christmas Tree Trio will add a little fun to your tree this Christmas. With unique color combinations and a classic bobble stitch layout, these trees are great for crochet beginners who want to learn a new stitch while creating something beautiful. make these bobble stitch trees to decorate your home! It's easy and fun, adding a touch of handmade happiness to your home. They are easy to crochet, but it looks like they took much longer than the one or two evenings it did--so don't be intimidated by the large size!
Christmas Tree Decor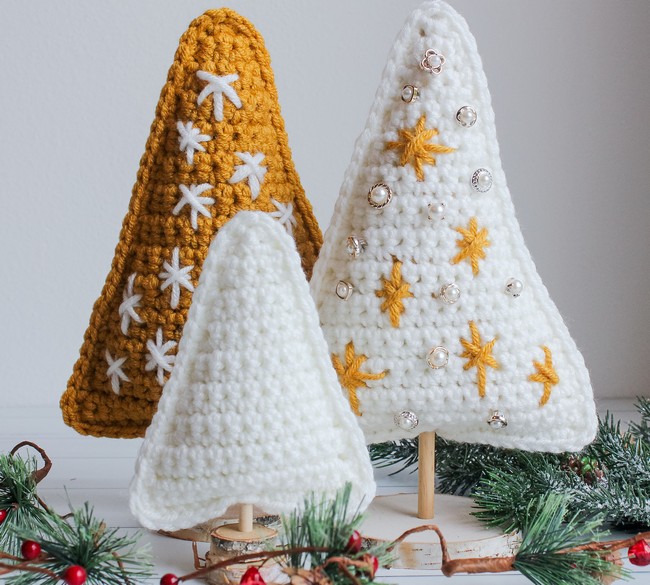 This crochet Christmas tree decoration is a quick, fun, and easy project you can make in an evening. The tree shape is achieved by joining the motifs together in an alternating pattern of small triangles and squares, while the bottom of the trunk and branches form rows of single stitches. Add a beautiful Christmas tree to any room of your home or favorite place in your neighborhood! This is the perfect option if you want to create a quirky Christmas tree this year!
Christmas Tree Ornament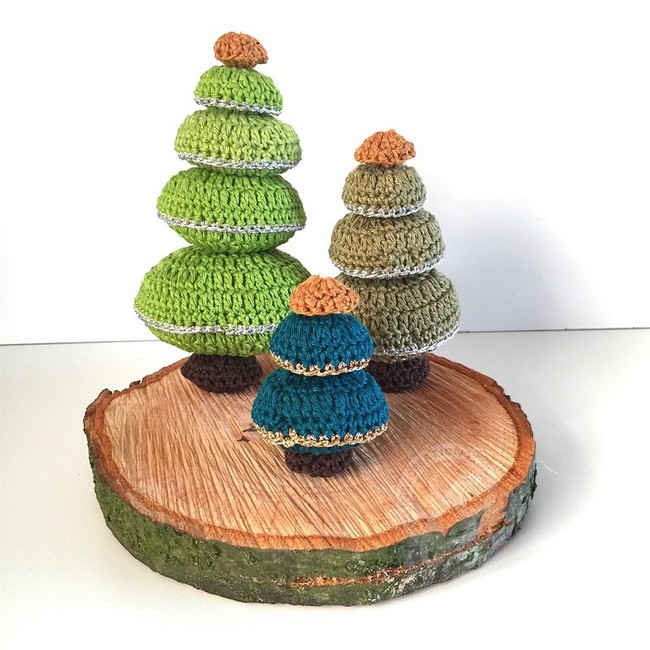 This crocheted Christmas tree ornament is a great way to show off your crochet skills. Use the free pattern provided and make an ornament for your own Christmas tree or as a gift for someone special this holiday season. This fabulous crochet Christmas tree ornament is a fun and easy project for beginners and an impressive holiday gift! The base alone can create a fantastic mantel or coffee table decoration. There are also many variations to this pattern, so you can make it your own!
Christmas Tree Decoration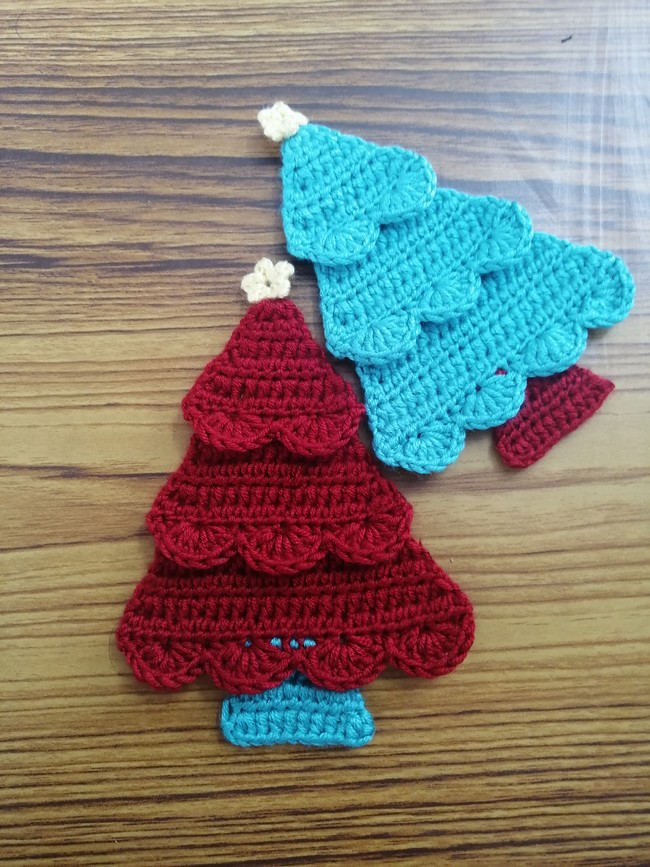 This festive Christmas tree decoration is sure to be on the top of your tree and is great for anyone who loves to crochet. The pattern includes an "extra" version of the ornament, including different colored limbs and leaves, for those who prefer a little more grit in their decorations. Decorate your home and bring in the holiday spirit with this crochet Christmas tree decoration. It's fun, easy, and eco-friendly. This project is perfect for beginners or anyone who wants to create a warm, festive atmosphere during the season!