Crochet Necklace Patterns are so gorgeous. Not only will they catch the attention of others but they will be confused that you made it all by yourself. It is a perfect piece of jewellery to wear when going out or just staying in. There are a variety of different ways that you can make crochet necklaces. You can use yarn, thread, wire, or ribbon. The sky is the limit on what you want to use and how you want to use it. This list of free crochet necklace patterns shows 26 different ways to make a crochet necklace pattern and each one is more beautiful than the next one. You can use these necklace patterns for gifts for friends or family members.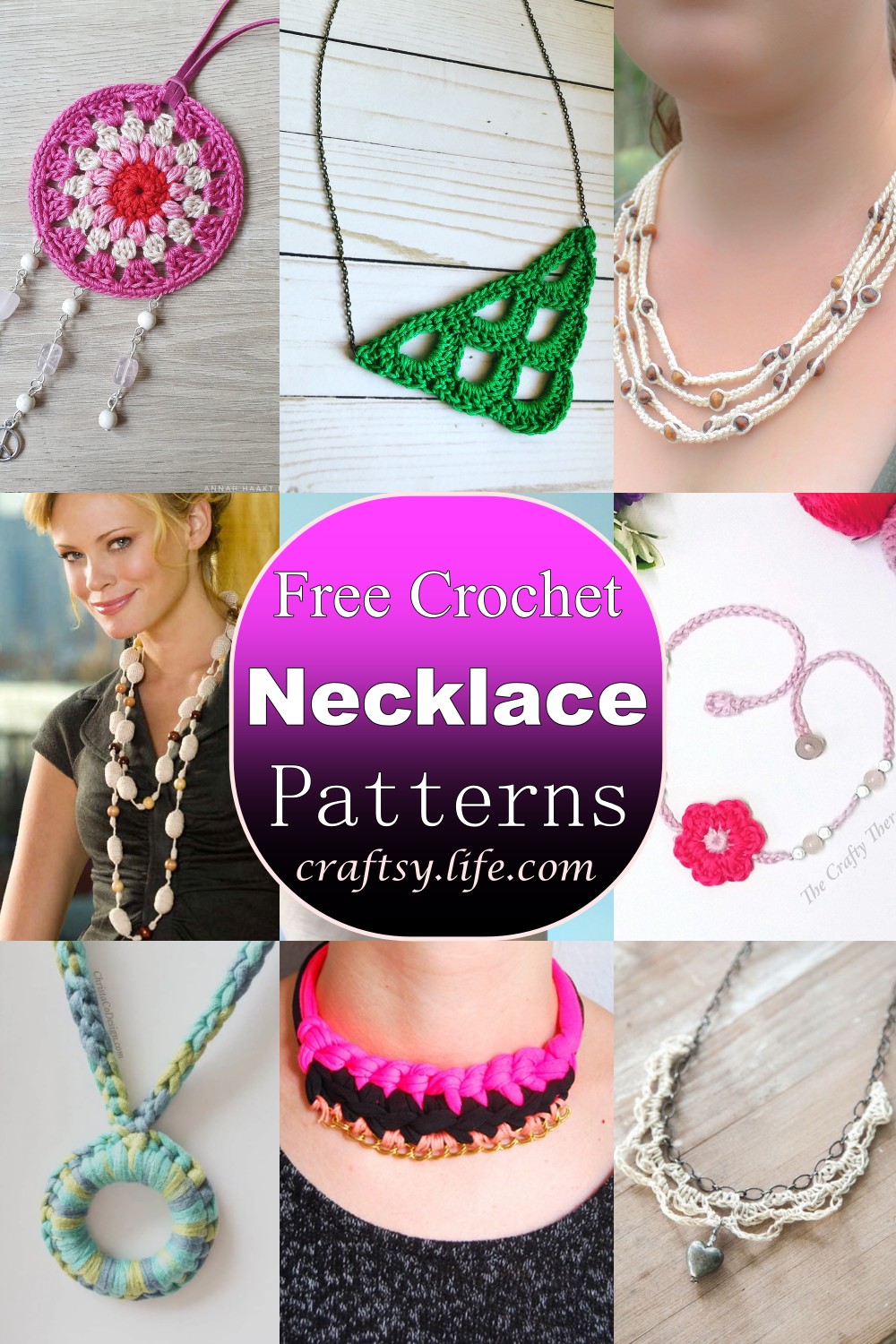 These crochet necklace patterns are so gorgeous that not anyone would guess that they are really your own handmade crochet project. And you would also be able to make more than one, infect as much as you like to wear matching with your dresses. Especially if you love to wear designer jewellery, but still you could not do that just because of high rates, your art will help you come your wish true. And the best part is that you can even use all of your leftover embroidery items such as thread, yarn, ribbons, and wire to make your crochet necklace patterns.
These 26 Crochet Necklace Patterns are absolutely stunning, and you won't believe how easy it is to make them!
How to Crochet a Necklace
A crochet necklace is a great way to accessorize and add a splash of colour to your outfit. You can make a necklace with many different types of materials, but the most common types are cords, beads, and yarn. Here's how you can learn how to crochet a necklace. TIPS:
 Choose a small-sized crochet hook for your project. This will help you work more easily with the yarn or thread that you choose for your necklace.
 If you are crocheting a chain pattern, make sure that the chain stitches do not overlap each other. It's best if they are evenly spaced apart so that they create less bulk when you wear them around your neck.
If you are making a beaded crochet necklace, try using larger beads on top and smaller ones underneath so that they don't get tangled up together while crocheting up the chain stitch portion of your project!
You can use any type of yarn or thread when making this type of jewellery! Just be sure to check the label before using them in case there are any special instructions like "do not bleach" or "wash separately from other items" written there.
Materials Needed For Crochet Necklace Patterns:
Crochet necklaces are fun and simple to make! You can create a wide variety of looks, depending on the yarn and colour you choose.
Crochet hook
Yarn (pick a colour that fits your style!)
Needle for weaving in ends
Spring Blossom Necklace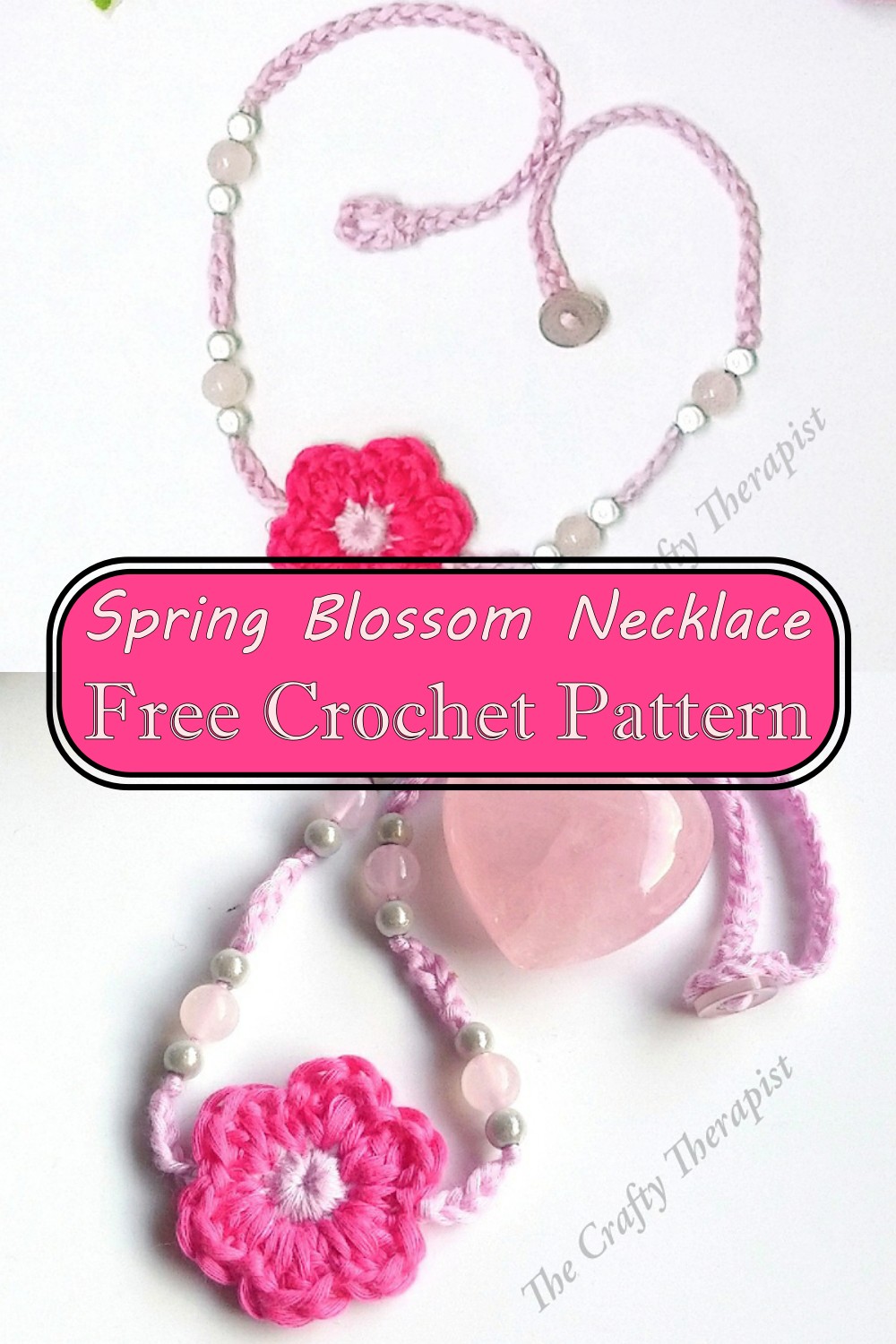 This delicate-looking necklace will make a lovely addition to any spring outfit and it is surprisingly easy to make. With simple button closure, this short-style necklace is perfect to make as a gift or as a quick accessory for yourself. It is easy to adapt to make longer if you would prefer a longer style. Fasten with button closure, it's perfect to make as a gift or as a quick accessory for yourself. Suit any style or color scheme by changing the colors of the flowers.
Ibiza Necklace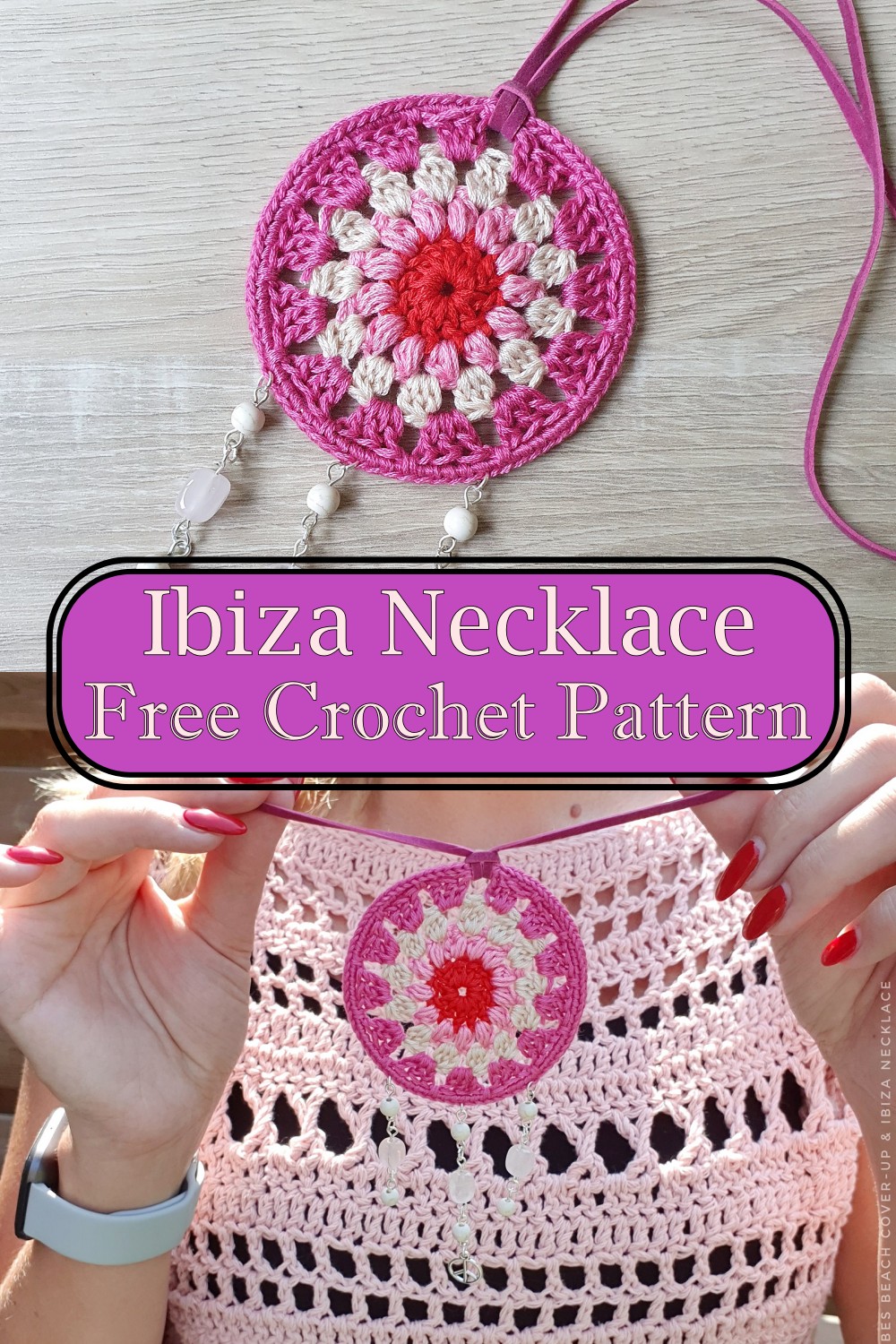 This pattern is suitable for both beginners and advanced crocheters. You are expected to know the basic terms of crochet; this pattern uses only basic crochet stitches as well as a few variations thereof. There are no special or advanced stitching techniques needed. This beautiful crochet necklace will add a touch of boho chic to any outfit. This Crochet Ibiza Necklace is such a fun and easy accessory to make. Wear it with a tee or a dress, either way, you will feel extra special while wearing it! A great accessory that can be part of any wardrobe
Arcade Stitch Bib Necklace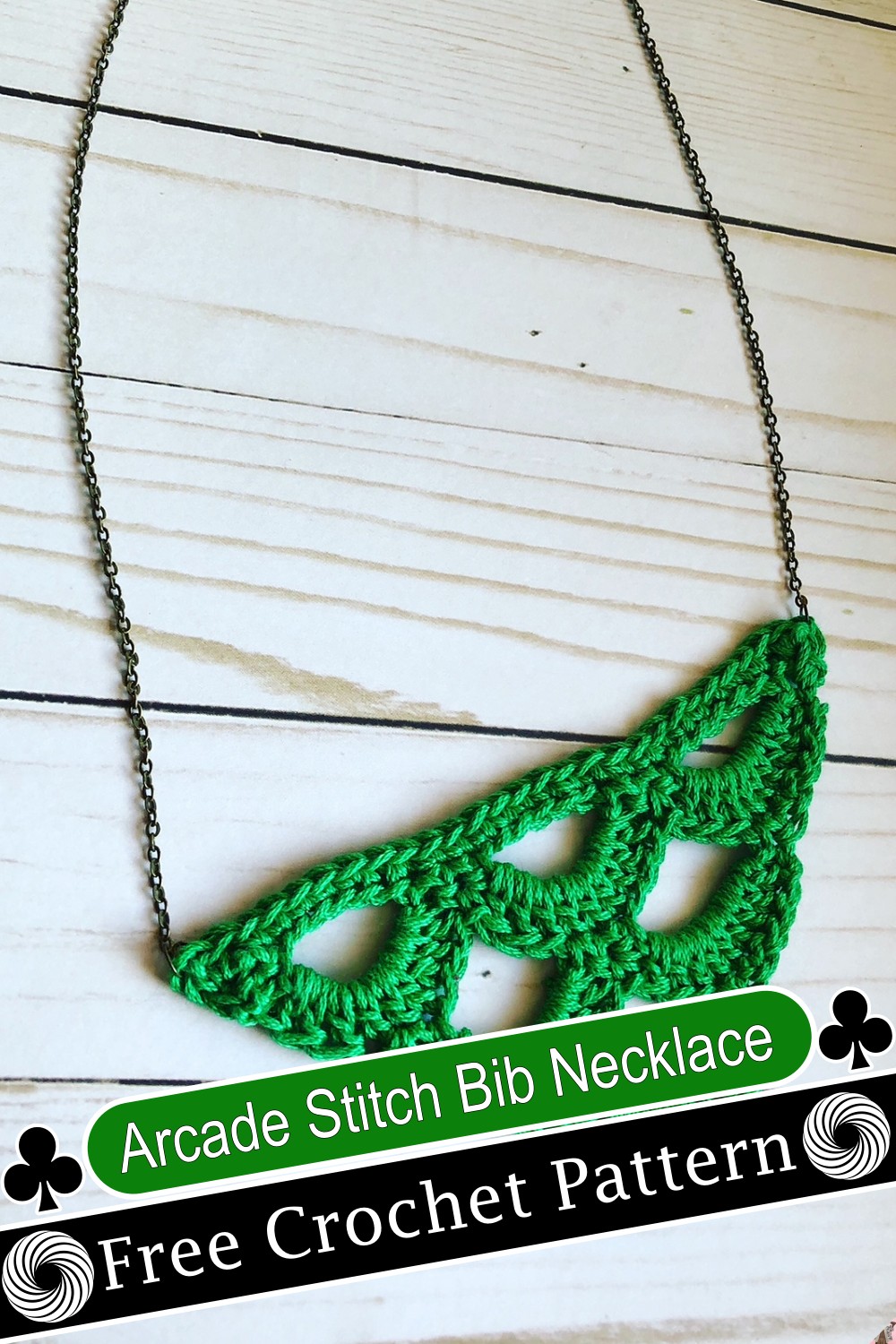 Stand out and create something uniquely you with this Crochet Arcade Stitch Bib Necklace pattern. Add a little crochet flash and applique to your wardrobe with this new Arcade Stitch Bib Necklace. The necklace is made of bib-like pieces of crochet fabric joined together to form the shape. Add just the right amount of sparkle with rhinestones or sequins – or keep it simple with just the crochet look! Show your love of gaming and crochet with this fun little arcade bib necklace. Makes a great gift for any retro gamer.
Bohemian Beaded Necklace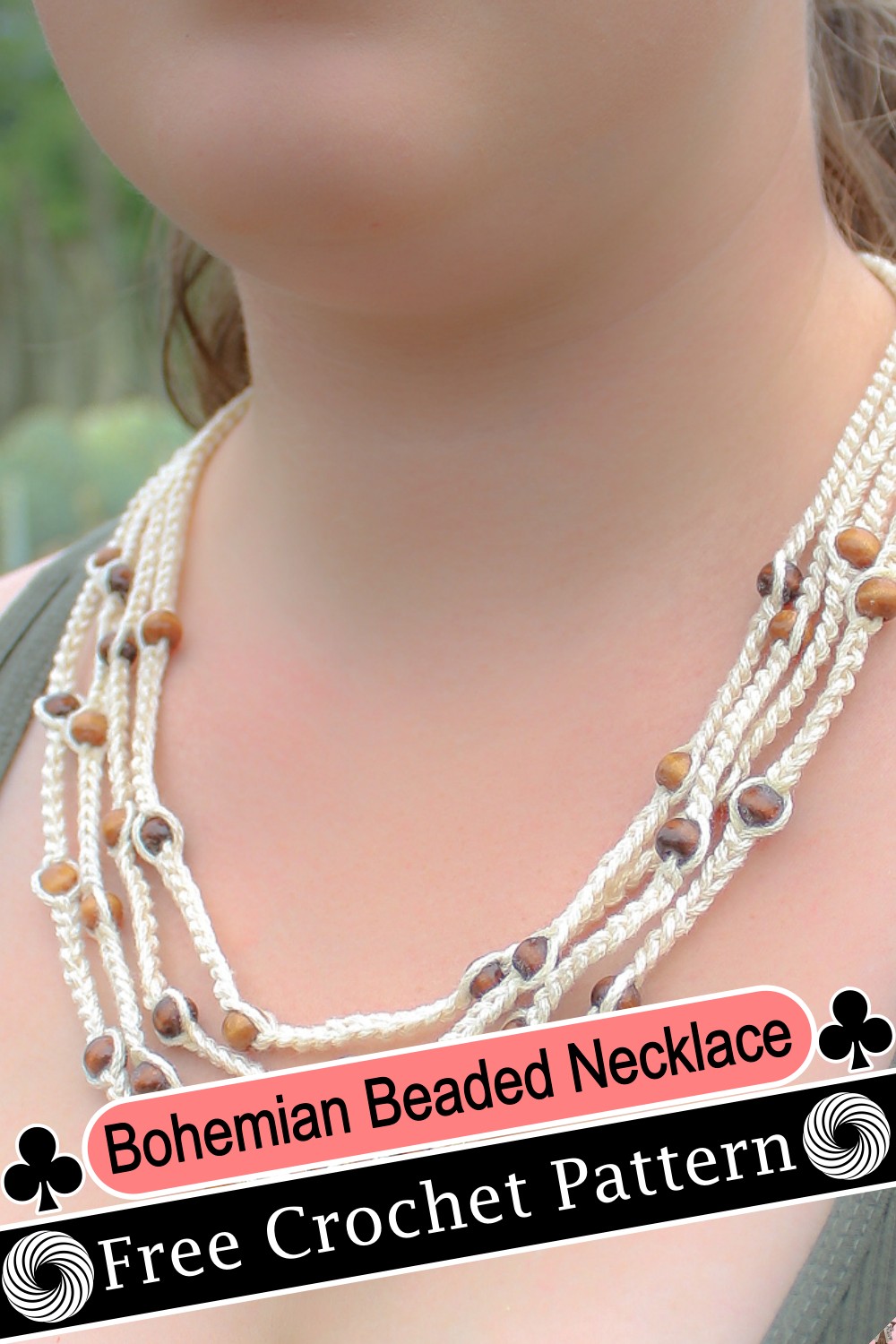 The Bohemian Beaded Necklace is a nature-inspired accessory that is the perfect compliment to almost any outfit. Its neutral colors and natural materials lean towards the bohemian style, but you can use other materials for a more modern look. This pattern is perfect for the beginner that has learned the basics and is ready for a challenge. The necklace has a buttonhole at the very end so there is no need to worry about fastening this beauty. It only takes around an hour to complete!
Crochet Ball Necklace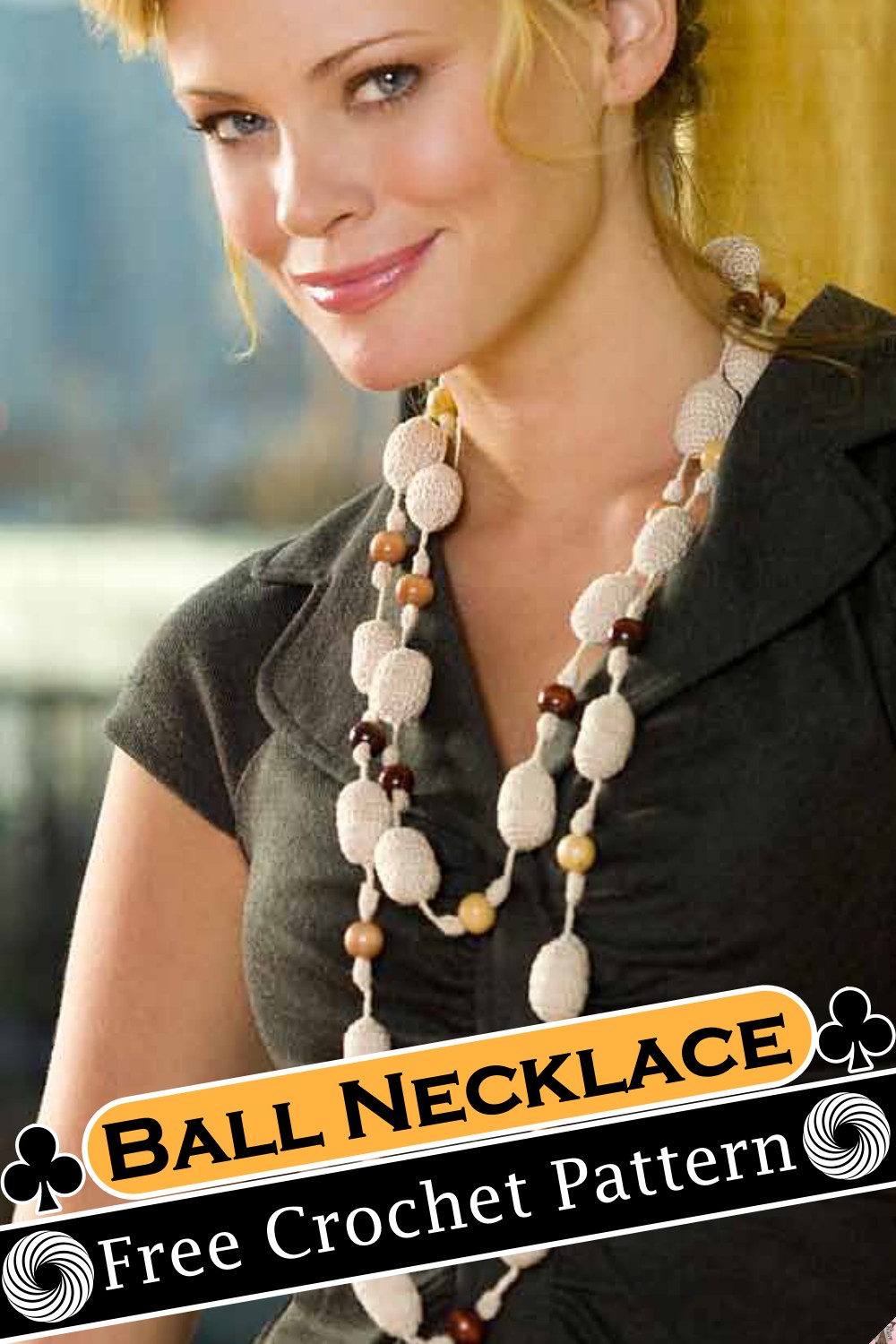 Simple and sweet with a modern spin, you'll love this versatile piece. Add a feminine touch to your look with this beautiful crochet ball necklace. The soft crochet detail adds a bit of texture and charm to your favorite outfit, and the simple chain makes it easy to pair with your other favorite jewelry. The perfect blend of timeless style and bohemian chic, this accessory is sure to become your go-to necklace. Add it as the focal point to your layering necklace collection or let it hang on its own for a minimalistic flair.
Twisted Necklace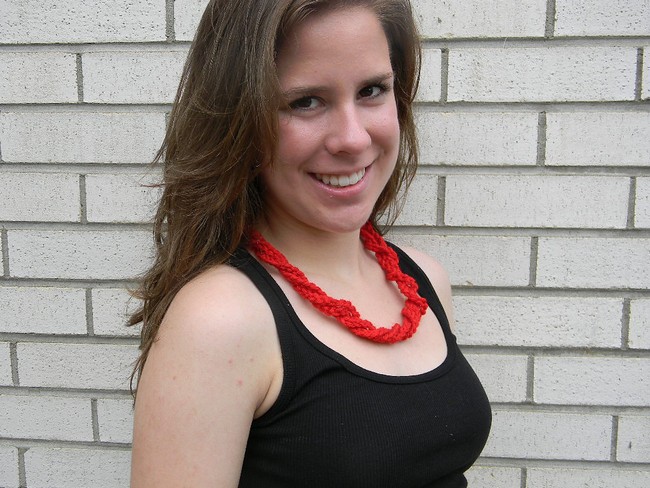 A twisted crochet chain necklace with a lobster closure. A simple necklace with a little twist, this is a simple design that can be worn as shown or crocheted in different colors to suit your style. Easy to make in an evening, this design will have you crocheting in no time. Perfect as an accessory to complete any look. It is edgy, stylish, and eye-catching without clashing with your current outfit or wardrobe. Whether you want to stand out in a group or spice up your business attire for a meeting, this necklace is for you!
Fall Festival Necklace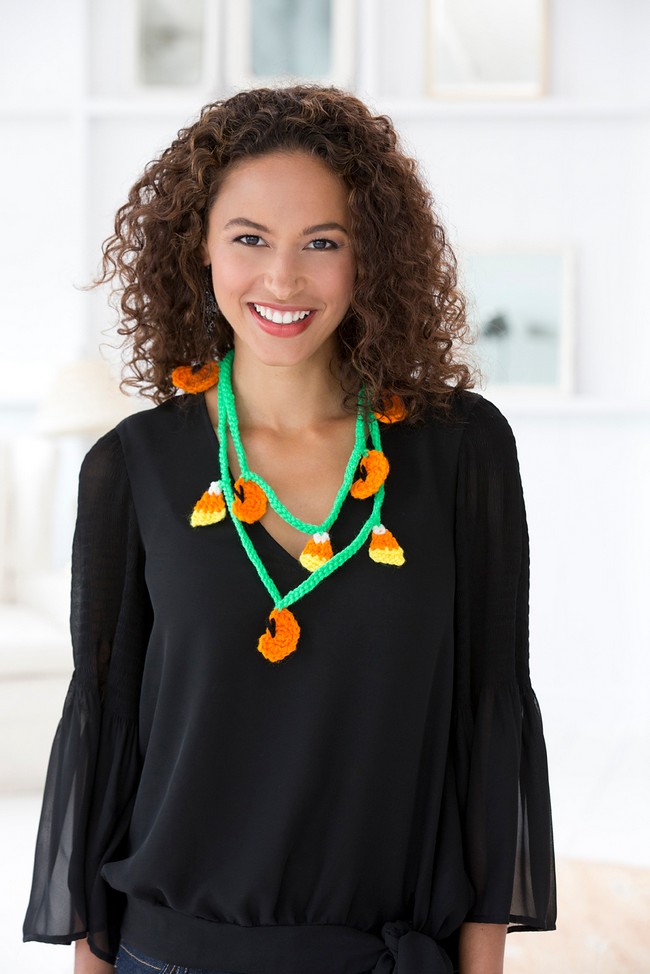 This crochet Fall Festival Necklace looks just like a row of pumpkins, candy corn, and autumn leaves. A quick project made with scrap yarn, it's suitable for any level of crocheter who can sew on a button and weave in a few ends. Welcome to the fall festival with this necklace. Pumpkin and candy corn motifs strung together on a strand of black cotton cord make a charming presentation. What could be more fun than raising the spirits of your friends and family with this spooky fall-themed crochet necklace? Crochet pumpkin and candy corn motifs and then string them all together to make a necklace. It's a wonderful way to use your crochet skills in a be-witching manner.
Loopy Necklace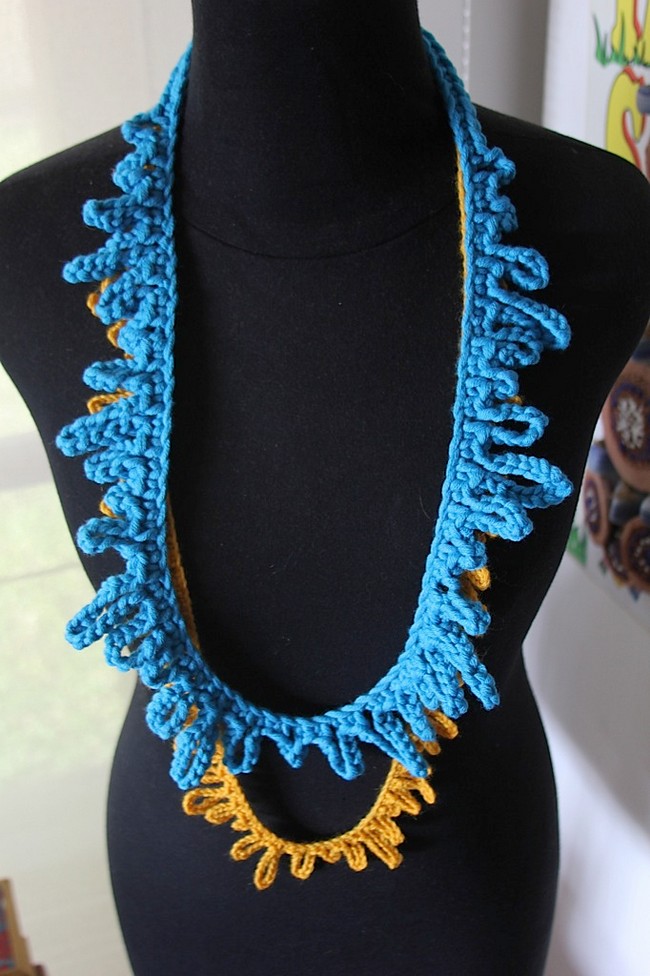 The Crochet Loopy Necklace features a bright and colorful crochet design that is light and airy as a cloud. The bright-colored string design will light up any ensemble. Handmade by artisans in the Philippines, this affordable accessory is the perfect gift for anyone on your shopping list. This necklace is a great piece to dress up any outfit. The brown faux leather details and gold chain give this piece a bit of an edge while the crochet loopy design makes it unique and simple enough to be paired with other necklaces.
Bring the outside in! Crafted entirely of cotton, this versatile necklace can be worn long or wrapped around your neck twice. Delicate yet durable, this elegant crochet necklace is hand-crafted artisanal jewelry at its finest. Featuring crochet flowers and a matching pair of earrings. It works well with strapless dresses. This statement necklace features a series of hand-crocheted blossoms for an artful look. Perfect for work or weekend getaways, you'll be reaching to add this piece to your favorite outfits all season long
Diamond Necklace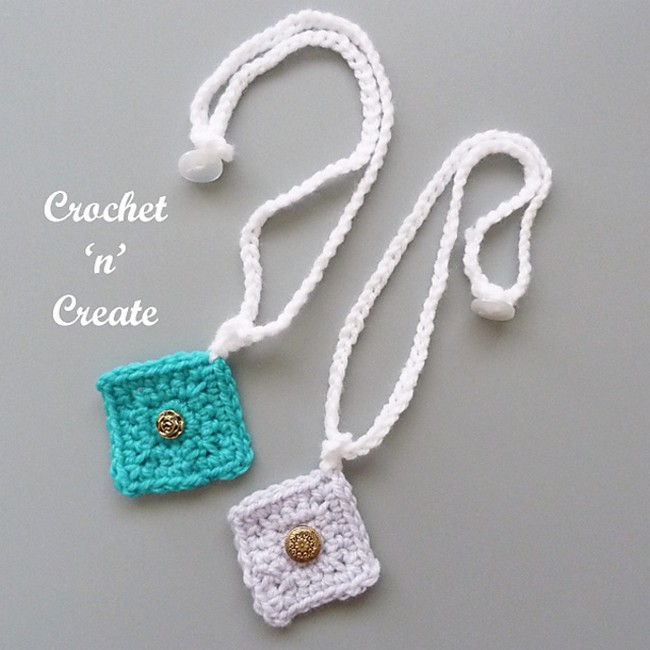 A versatile necklace that would be an easy project for anyone who can crochet a chain and a double crochet stitch. This fun and easy-to-crochet necklace takes no time at all to work up and can be made in any color to match any outfit. Great for any skill level. This crochet diamond necklace is a great project when you don't have a lot of time and you want to be creative. It doesn't take up much yarn and is easy even for younger crafters. Use your favorite color combinations to best suit your outfit. . ln addition, this is an easy crochet project for both beginners and crocheters who want to try something new.
Moonrise Necklace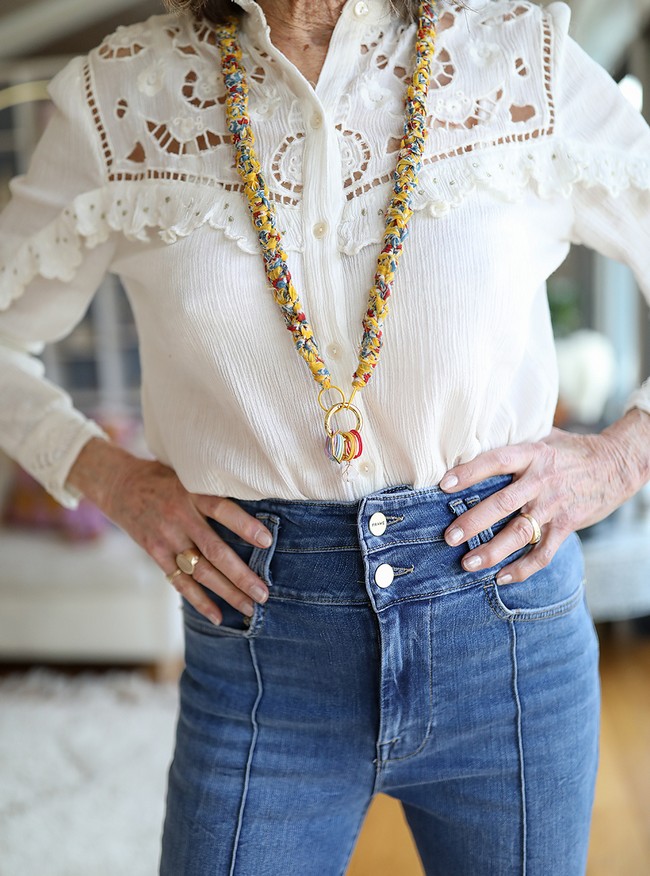 Welcome to the Crochet Moonrise Lanyard Necklace Kit, the perfect project for a busy crafter on the go. Inspired by camp crafts of childhood, this piece will keep your stitch markers nearby at all times. It could also be used as a phone or pencil holder if a crochet hook is attached instead of a carabiner clip. The possibilities are endless with this versatile piece! Personalize this functional accessory with your favorite stitch markers and you'll never lose them again! The carabiner clip on the end makes it possible to accessorize the lanyard with any of your favorite stitch markers.
Beaded Granny Square Pendant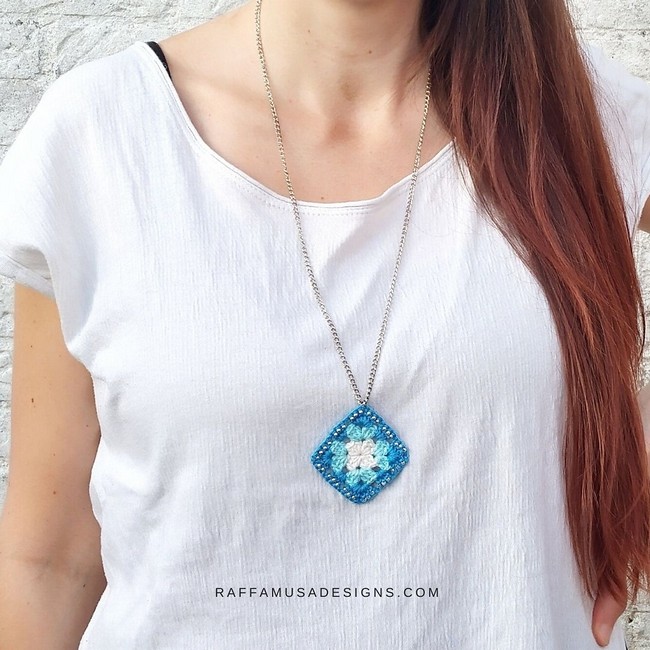 Happy Granny Square Day! If you love crochet and crochet motifs, then you know how much fun it is to make a beaded Granny Square pendant to go with your favorite Crochet Granny Square Fashion or Accessories. You can use any size or shape Granny Square motif that you won't - just be sure to choose a color that will complement the outfits you are planning to wear it with. This pendant is easy to crochet and only takes a little bit of time. It is quick and easy to crochet, so you can make one for yourself and one for your best friend too!
Crochet Twist Necklace: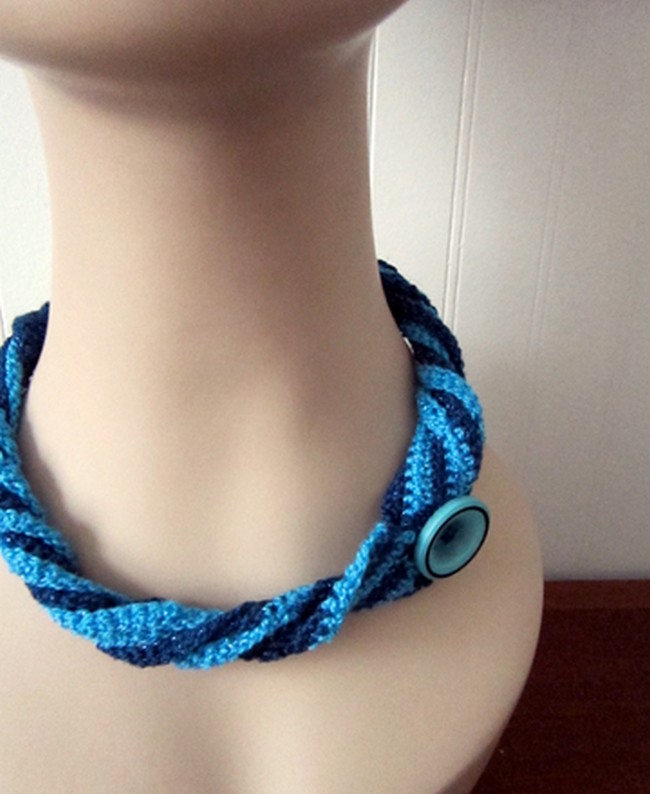 This twisted neckless seems too tough, but actually not you can crochet this for your friends. This crochet twist necklace is another perfect design to make and gift someone. With an easy-to-make pattern, it will come out great in your first attempt only. This crochet twist neckless is very easy to make. It will give an attractive look to you. Color has used sky blue and blue, but you can change it according to your choice. It will give you a very gorgeous look with any outfit you wear. Though it seems difficult to believe, the project is not that tough, and hence you can gift it to anyone without hesitation.
Rose Garden Crochet Necklace: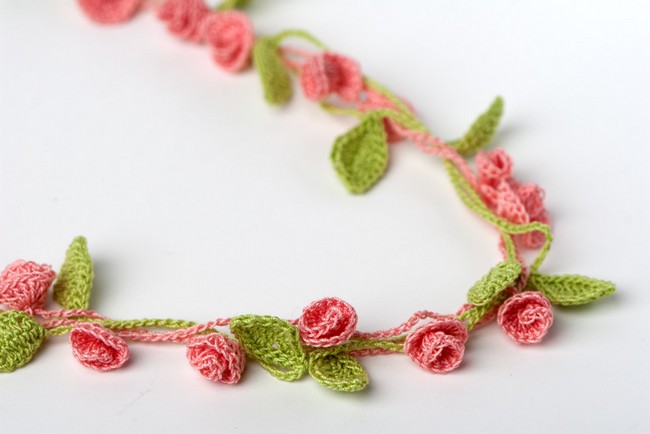 This necklace is really easy to crochet and gives you an elegant look. It works with both summer and fall/winter clothing, depending on the color you use. You can make it in any size you want for a custom fit! It can be used in both seasons with both summer dresses and winter clothes to give you a splendid look! To make this type of crochet necklace you will need cotton yarn in green and red to imitate the color of roses. If you change your color choice, it won't produce the same result. This would make a great gift for friends too, as you can easily crochet flowers and leaves to arrange them.
You Spin Me Round Necklace: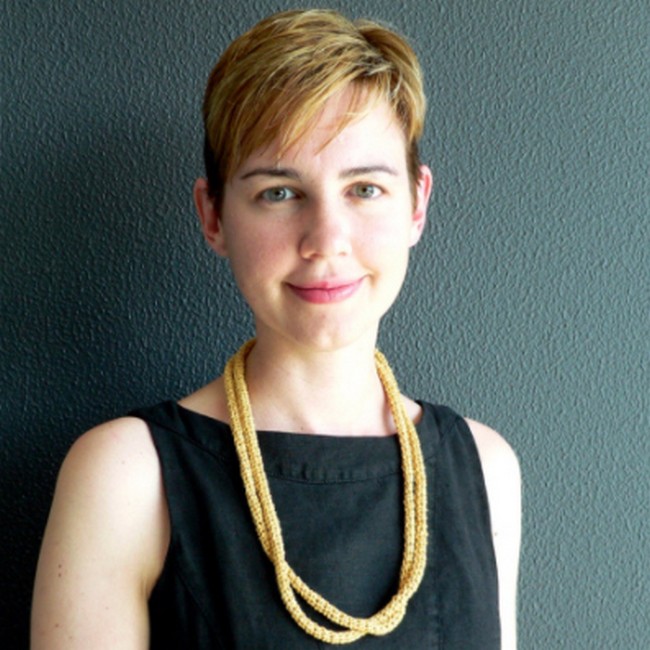 You Spin Me Round Necklace - it's a super easy and elegant necklace that seems tough but actually not. The linen yarn is thin and made from natural fabrics and light-weight, you can spin it in as many layers as you like. Wear it to the office, wear it on your next date, whatever! It all depends on color choice! It is a lovely necklace great for any occasion. Make this with either linen yarn or hemp for a fresher look, or rayon for a more formal look. This is a great project for those who like to spin their own yarn.
Flower Necklace Hawaiian Dream Free Pattern: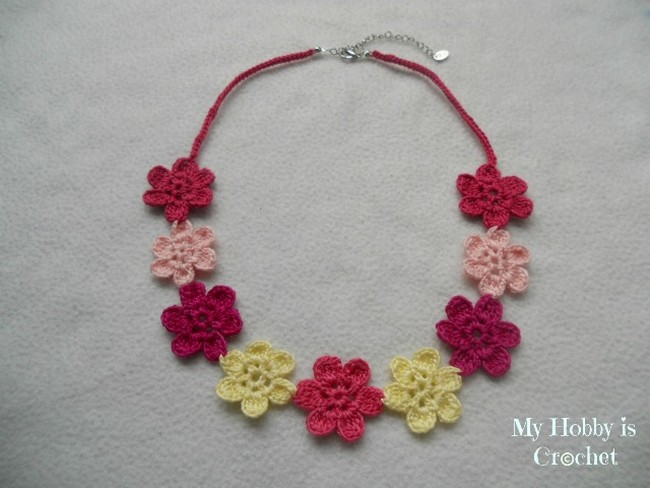 This flower necklace will definitely increase your beauty. A sweet crocheted flower adds texture and color to a simple strand of seed beads. The necklace is made of crochet flowers of varied colors, making it a special one. It can be carried in both summer and winter and matches with all types of dresses. The strand features three flowers, one larger and two smaller, each made with a different stitch. You can make your flowers big or small depending on how many times you repeat the pattern. Crocheters with any skill level can easily make this beautiful flower necklace in a short time.
How To Make A Knitter Chain Necklace: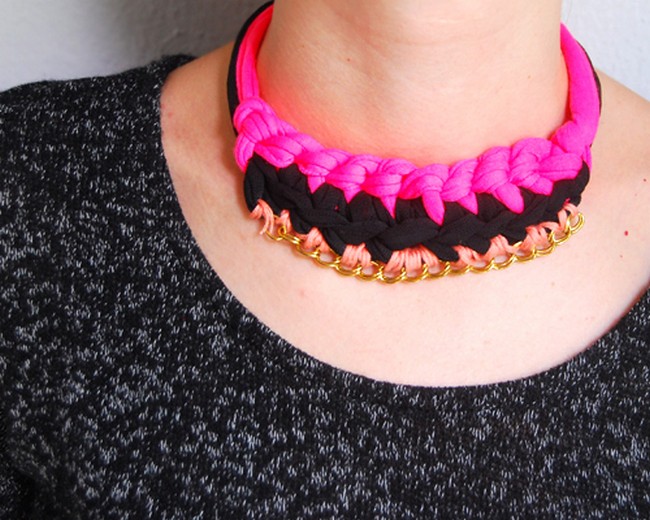 This is a beginner knit level project, but those who are already in the advanced levels they can also try this. This is another knitting chain neckless that is easy to make, and you can crochet this without wastage of so much time and money. The combo of black and pink color is brilliant, and most women like both colors. This is a very simple project to make and it is made with simple yarn of beautiful collar you need a few numbers of cotton yarns to make this necklace. It can be a trendy project for your friends and kids.
Hemp And Chain Necklace: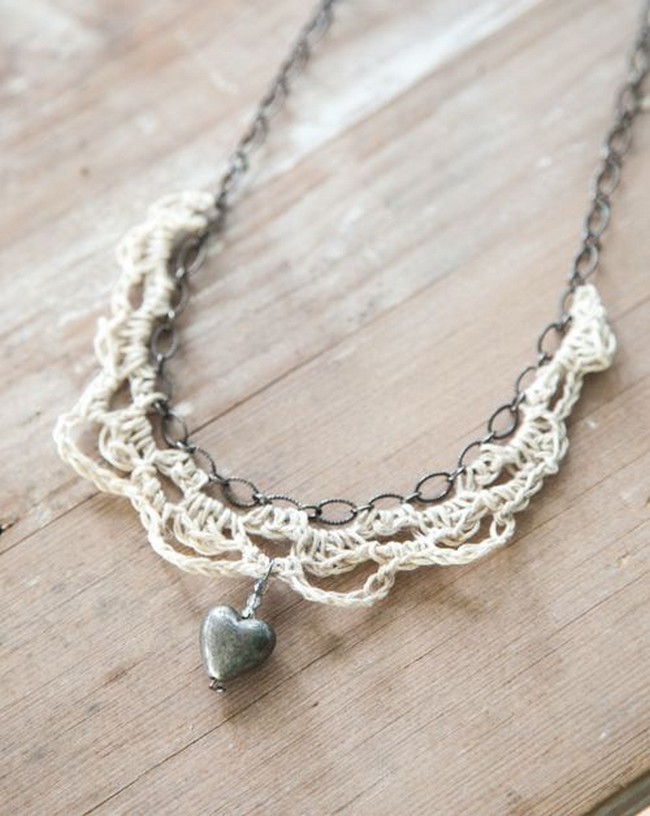 If you want to crochet hemp and chain neckless, then it is the best pattern for you. If you have a heart made up of iron metal then it will only increase the beauty of your neckless. A simple yet stylish way to wear your essential oil diffuser necklace. This necklace is finished with a hanging hemp pouch and can be worn with the hemp pouch alone or with your favorite essential oil-absorbing pad. You crochet around the chain so it can be any length or color you want. You will need a metal heart which you can find in any craft store. This makes a great gift for that girlfriend who has everything!
Colorful Necklace: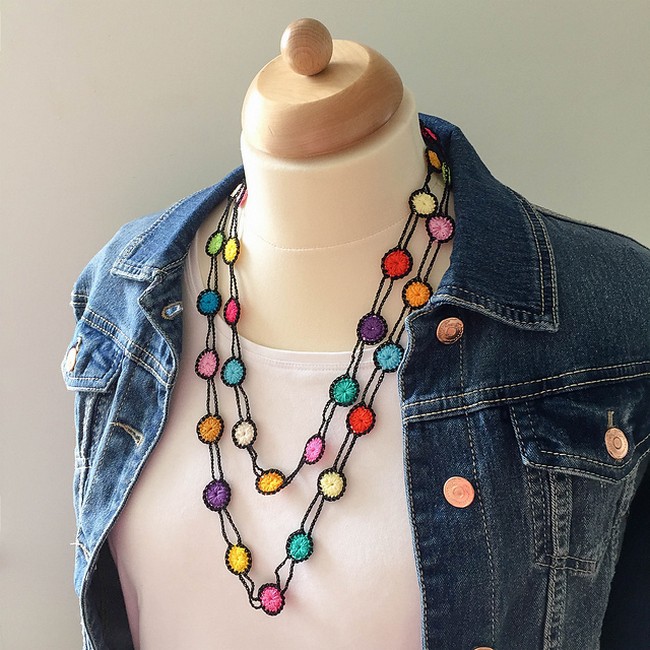 Are you looking for a necklace that can match every dress with your dress? If yes! Then you are at the right place because these necklaces can be matched with each type of dress. You will look very elegant and gorgeous when you wear it. Make the colour pop when you wear this Colorful Necklace. This colorful necklace looks like a chain and it is an excellent project if you are a beginner. This necklace can be easily matched with the dresses of summer and winter. It gives you a fantastic look. This multi-coloured necklace is perfect for adding a little extra flair to your outfit. It's pretty, colorful, and will make you stand out in any crowd!
Crochet Chain Necklace: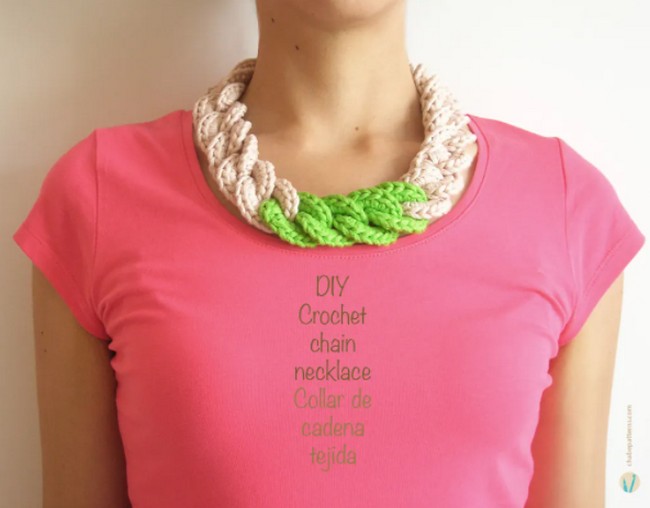 Create a unique fashion statement with this easy to follow beginner-level crochet pattern. Make this necklace in any color to go with all your favorite outfits. You need cotton yarn in only one color, and the finished result is an elegant choker. This style of necklace is great for all kinds of outfits, whether you wear it with a casual sweater or with a formal dress on a special occasion. You will be working with a large hook and super bulky yarn making it go fast and being soft and fluffy around your neck!
Bohemian Beaded Necklace: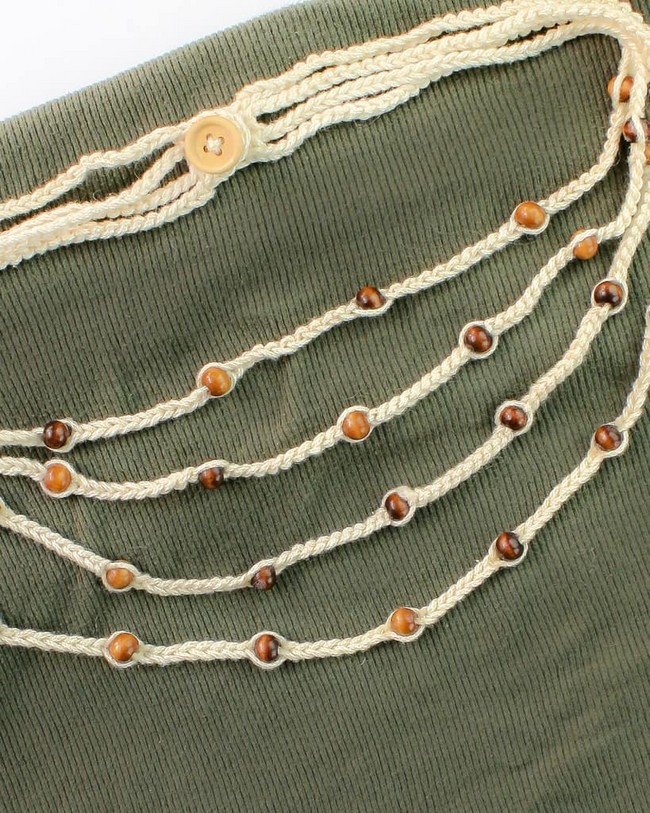 This is one such choker that has great character and is extremely versatile. You can actually create your own jewelry with the help of yarn, thread, and fun beads. It's great for the summer or winter season. You can wear it in any dress and it looks great with any kind of dress because this is a short neckless. Wear it long or wrap it thrice around your neck any way you like to drape it. It looks great when worn with anything, be it a plain white tee or an indo-western outfit.
Crazy Cool Necklace:
Here is another pattern of a handmade and crocheted necklace. This one gives a unique look not only to you but also to the person who wears this. This crochet necklace is absolutely versatile that you can wear it in any season. You can make the necklace more interesting and unique by using different colours. There are a number of styles and patterns that you can use to crochet this crazy cool necklace. It is really easy and fast to crochet this necklace for your own or for a gift for somebody else.
Crocheted Beaded Necklace Pattern: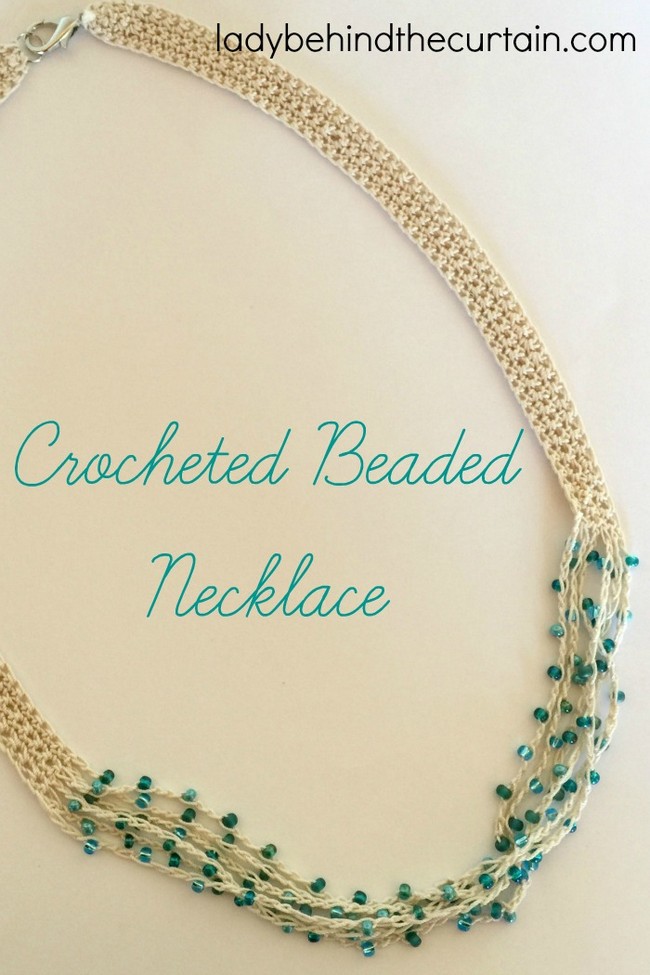 A lovely and delicate necklace for you to make for yourself or as a gift. This pattern is suitable for the intermediate crocheter. You can make long beaded necklaces or short ones by making some changes in the size and quantity of beads used. This pretty necklace can be adjusted to any length and is one size fits all. With slender yarn and the most basic crochet stitches, you'll have a beautiful necklace ready for wear in no time. This would be a perfect accessory for prom, homecoming, or even for your wedding day.
Wood Ring Nursing Necklace: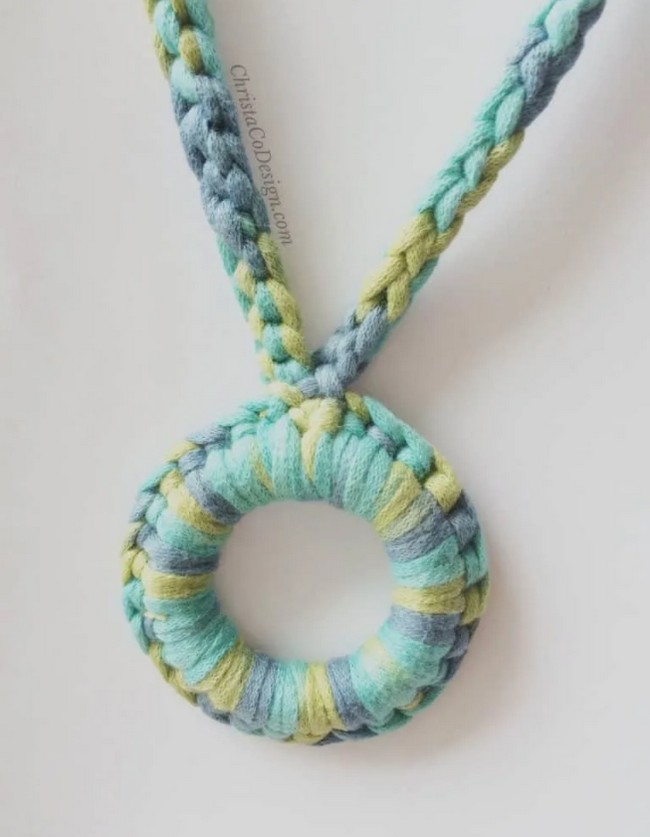 This one is another beautiful crocheted Wood Ring Nursing Necklace for mothers. This would be perfect to wear with your tops and also with any outfit. It is really very lightweight and easy to crochet. You can change the colour of this nursing necklace and give it a splendid look. This beautiful necklace would make a great accessory and it would be perfect for any occasion. It is a perfect gift for married couples, mother's day, engagement or wedding, valentine's day, or any other occasion. It is also the perfect gift for newborns, baby showers, first birthdays, Easter, and all special occasions!
Crochet Chain Link Necklace: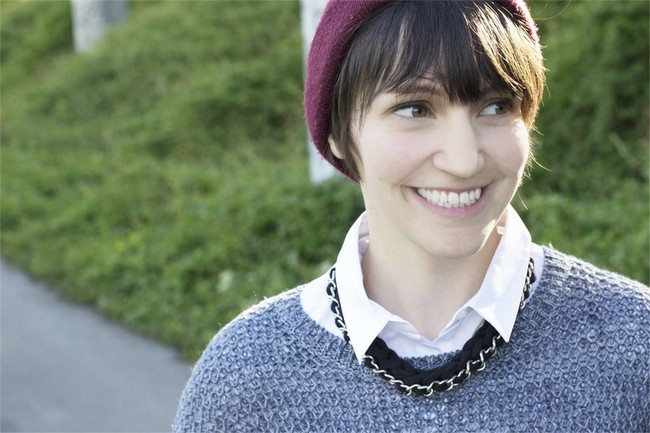 This delightful necklace is made with cotton thread and a silver metallic chain. It creates an exquisite look that enhances your stylish personality. Create a crochet chain link necklace yourself by crocheting over a metal chain. To get started, you will need cotton yarn and an artificial chain. This project is incredibly simple and takes very little time to complete. It is perfect for a girl who wants to try something new but isn't quite ready to commit to making clothing items or accessories that involve sewing.