10 Free Crochet Lanyard Patterns To Use Everywhere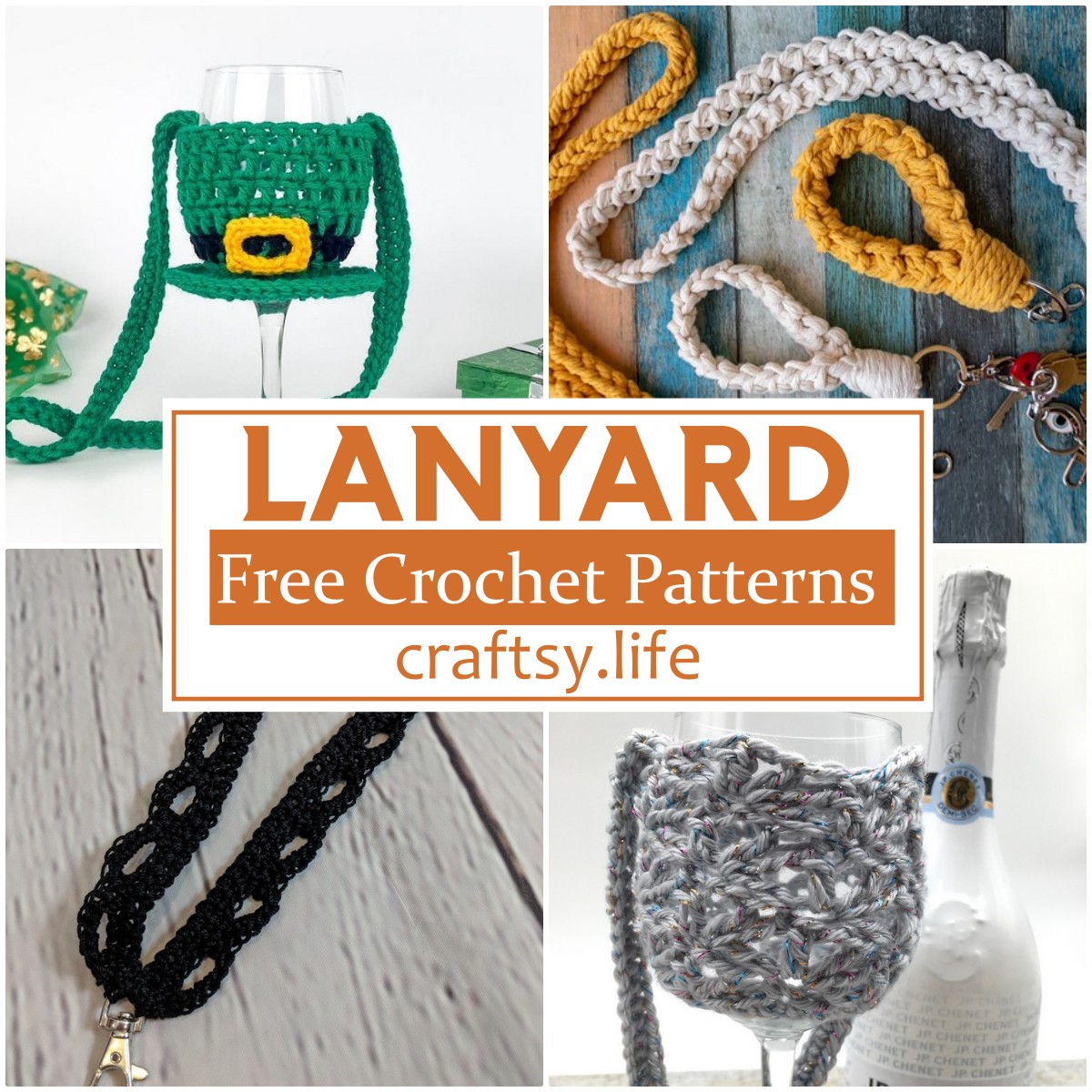 Crochet a lanyard to keep your keys safe, your phone from falling off the treadmill, or your ID badge at the ready. Crochet lanyards are an easy way to add color and style to your outfits. It's time to ditch the basic black or brown lanyard and upgrade to one made with crochet! This collection presents 10 different crochet lanyard patterns that make carrying your ID badge, wallet, or keys a breeze. Learn how to crochet lanyards with these free and simple patterns, from basic weaving stitches to textured mesh and braided laces. A lanyard is a perfect accessory if you take your crochet with you anywhere (and why wouldn't you?).
Crochet Mask Lanyard Patterns

Keep your keys and cell phone safe and stylish with one of our crochet lanyard patterns. These easy crochet lanyards work up quickly and are ideal for beginners interested in simple crochet lanyard patterns. Use them as key chains and badge holders, or carry your cell phone wherever you go. These are great gifts for teachers, friends, or family members who like to show off their love of crocheting everywhere they go! Whether you're looking for a simple design for everyday use or something more intricate for a special occasion, these lanyard patterns give you many options.
Advantages Of Crochet Lanyard Patterns
Crochet lanyard patterns are a great way to create something useful and beautiful. The best part is that they can be used for different purposes and occasions. You can make them as a gift for someone or even use them yourself.
The advantages of crocheting lanyards include the following:
They are easy to make
You can use them as gifts
They are available in many different colors and styles
You can create any design you want
Lanyard Keychain Pattern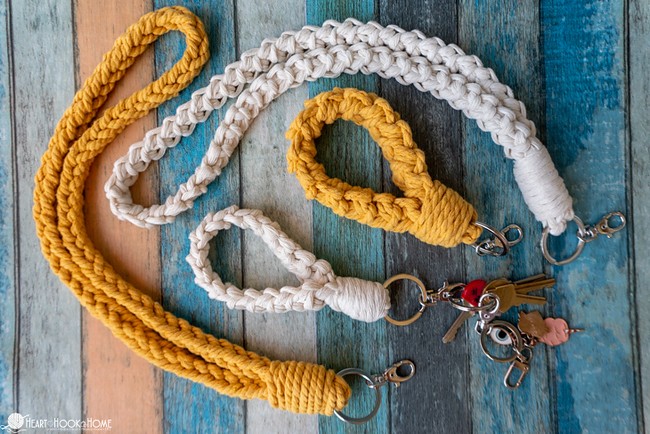 Keep your keys handy with this crochet lanyard keychain. Whether running a marathon or heading out for the weekend, our Crochet Lanyard Keychain will come in handy! Its spring-loaded clamp makes it easy to attach and remove quickly. The keychain lanyard can be easily attached to your keys or backpack, so they are always within reach when you need them. This cute crochet lanyard keychain is the perfect accessory for any handbag! It's fun and functional and makes a great gift too.
Materials
Macrame cord (either twisted or stranded)
-approx. 7 yards for 12″ Lanyard and 11 yards for 32″ Lanyard
Lucet Fork OR a 12mm crochet hook
Easy Mask Lanyard
Keep your mask on and your hands free with this lightweight lanyard that attaches to any mask strap. This pattern is designed to make a crochet mask lanyard that is comfortable to wear. It can be adjusted to any size needed and will fit even the largest masks available on the market. This pattern uses two strands of yarn held together to make a beautiful work of art for your mask! It would be a great gift for someone who loves masks or would love to showcase their mask collection with a unique piece.
Materials
100% Cotton yarn (approx. 30-50 yds total, depending on size & style)

G (4mm) Hook
Scissors
Needle
Lanyard Hooks(8×23 mm) for Style 1
2(20mm) Buttons for Style 2
Measuring Tape
Abbreviations
ST = Stitch

SL = Slip Stitch
CH = Chain
SC = Single Crochet
HDC = Half Double Crochet
YO = Yarn Over
The Linda Lanyard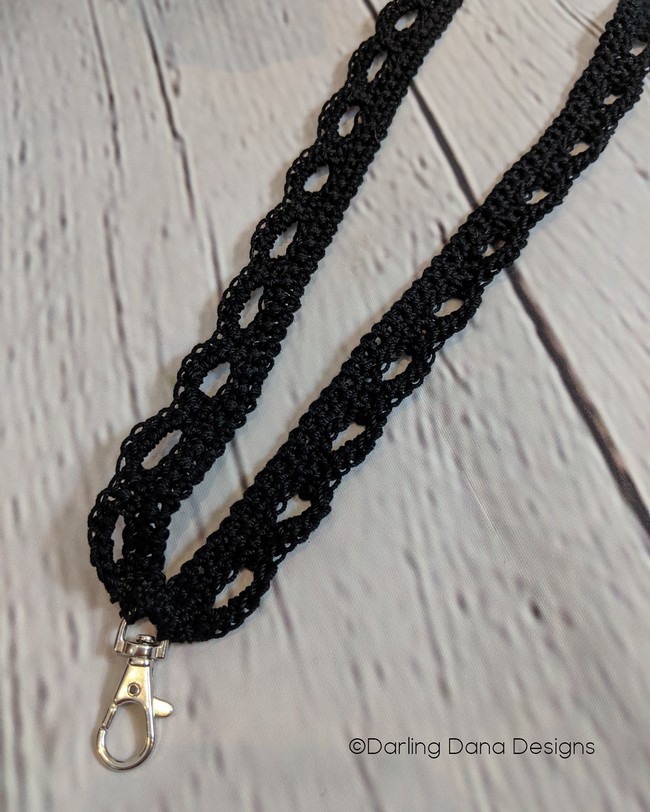 This easy pattern is great for crocheters of all skill levels. This a great gift for anyone you know who loves to stay organized! This unique and stylish crochet lanyard will be your perfect accessory. Attach to a bag or keychain or use around your neck. To crochet this project, you need to make chains and double crochet stitches. This project is great for crocheters of all skill levels and abilities. A lanyard can hold IDs, keys, and other small items. It is a great gift for your friends and family who love crochet!
Materials
Thread- Super Fine (Weight 1) I used Aunt Lydias Crochet Thread Fashion 3 in Black <– Get yours here!
Size 3.5 MM Hook
Yarn Needle
Clasp- I used Hildie & Jo Lobster Clasps <– Get yours here!
St Patricks Day Wine Glass Lanyard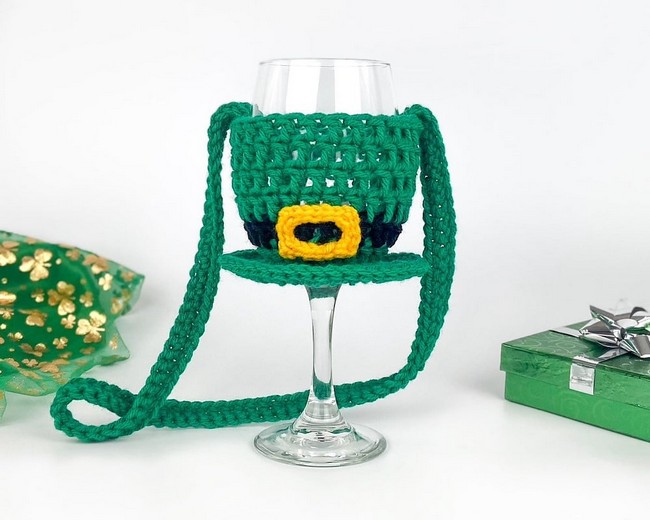 The perfect accessory to any St. Patrick's Day party, this crochet wine glass lanyard will keep you and your drink safe. The lanyard features a cozy button that fits snugly in hand and secures the glass on the wrist strap so it never slips, while the braided cord securely holds all glasses with a hole in the bottom (not just wine glasses). You can wear it for hands-free convenience across your body or shoulder. This easy-to-make crochet lanyard is an essential item for any wine lover! This tie's bright and fun colors make it perfect for St. Patrick's Day, but don't let the holiday stop you from enjoying it all year long.
Materials
Yarn: Any worsted weight (4) yarn.
I used Loops & Threads Impeccable Yarn, Solid. This yarn is medium (4) weight and 100% acrylic. The size is 4.5 oz / 127.5 g. A skein is 285 yd./260m, and you only need less than a quarter skein.
I used the color "Kelly Green" for the main part of the wine glass lanyard and straps, the color "Black" for the hat belt, and the color "Sunny Day" for the hat belt buckle.
Crochet Hook Size: H/8 (5.00mm) for everything but the belt buckle. For the belt buckle: F/5 (3.75mm).
Other: Yarn Needle, Scissors
Abbreviations
st = stitch
sts = stitches
ch = chain
sl st = slip stitch
sc = single crochet
dc = double crochet
Easy Mask Lanyard
This crochet easy mask lanyard is the perfect accessory to help hold your belongings. It can be used at work, school, or just about anywhere! You will be sure to feel stylish wherever you go with this awesome piece. Crochet Easy Mask Lanyard will be a very useful accessory in summer. You can use it as a keychain or as a mask holder. These masks protect from harmful ultraviolet rays and hot air. It will be especially useful if you attend, for example, music festivals – your face will always be protected! The mask is not just an accessory but also a piece of art. This Crochet Easy Mask Lanyard is the perfect pattern for any crocheting and knitting beginner! It's quick and easy, but it also looks great!
Materials
worsted weight yarn
I crochet hook (5.5mm)
2 buttons (about 1/2″-5/8″)
yarn needle
sewing needle and thread
scissors
Vineyard Lanyard
This embossed crochet vineyard lanyard will surely make any wine lover happy. Featuring clusters of grapes, leaves, and a woven ribbon, this simple and beautiful design is an easy way to keep your keys or cards close while being stylish. This pretty vineyard lanyard adds a bit of fun to your next wine-tasting trip. Featuring cute little grapes, leaves, and vines, it's the perfect accessory for any wine lover! A fun and colorful accessory that paints a picture of relaxation and peace, this lanyard features a grapevine pattern throughout and adds the perfect touch.
Materials
Approx.  30 yds worsted weight #4 yarn; I used *Caron Simply Soft Party in Silver Sparkle
US size H/8 (5.0mm) crochet hook. I used my fave *Furls Odyssey Hook
Scissors – These are my fave *scissors!
Yarn Needle – I use these *Clover needles.
Abbreviations
ch – Chain
sc – Single Crochet
hdc – Half Double Crochet
dc – Double Crochet
fan – [dc, ch2, dc, ch2, dc]
sl-st – Slip Stitch
sk – Skip
st(s) – Stitch(es)
You can also see: Crochet Eye Mask Patterns 
Rainbow lanyard and cloud key chain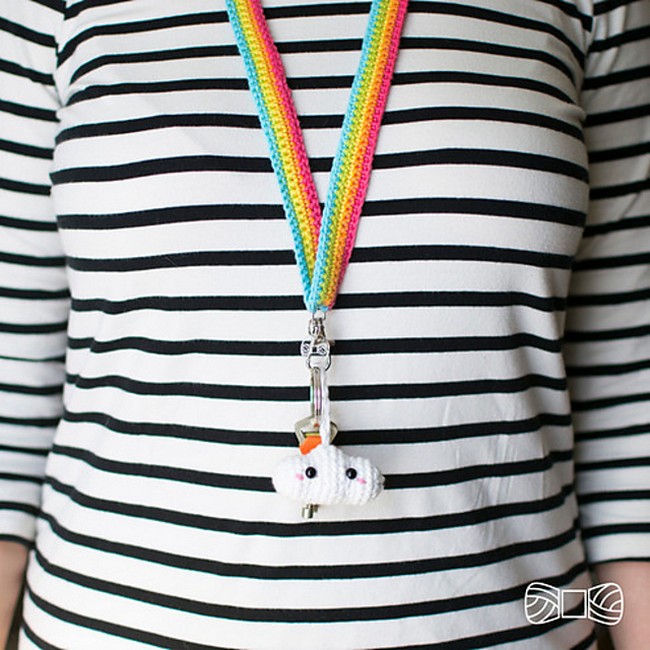 Colorful and lightweight, these accessories will make you happy whenever you take your keys or show off your school ID. This crochet lanyard and cloud keychain are a perfect addition to your keys or purse. You can use them as a lanyard or clip them on your bag. The rainbow-colored lace and the cloud keychain add a fun touch to any outfit, making it easy to express yourself daily! This set includes a colorful rainbow lanyard and a cloud keychain. The cloud keychain is worked in Tunisian crochet using a cotton thread to create a beautiful texture.
Materials
5 / 2 colours of sport weight yarn (50g = 160m), 3.00 mm crochet hook, stuffing, safety eyes (optional), tapestry needle, scissors
Abbreviations
r – row
st – stitch
ch – chain sc – single crochet inc – increase dec – decrease […]x… – repeat instructions in the brackets x-times,
(…) – the number of stitches at the end of the round
Boho Chic Lanyard
The perfect lanyard to keep the keys safe and at hand. This handmade beauty will add a touch of whimsy to any outfit and color coordination. It is made of 100% Cotton and has been professionally dyed, so colors do not bleed when washed/dried. This Boho Chic Crochet Lanyard is a great option for anyone looking to bring some style to their work environment. This lanyard is made with high-quality cotton thread and features an adjustable cinch on the back. It's also easy to clean; wash it in cool water with colors!
Materials
Yarn: Embroidery Floss and fingering weight yarns were used in testing. The lanyard shown in the photos was made with embroidery floss. You'll need approximately 85 yards of your main color and 20 yards of each contrasting color.
Crochet Hooks: B/2.25mm (My favorite crochet hooks are the Clover Amour Hooks, I've never had an ache in my hand since switching)
Scissors
Yarn Needle
Beads (12) 10mm (optional)
Suspender Clips (2) 1″
Abbreviations
ch(s): chain(s)
sc: single crochet
dc: double crochet
sl st(s): slip stitch(es)
Alt-ch3(1): alternate chain 3(1)
st(s): stitch(es)
yo: yarn over
RS/WS: right side / wrong side
Rep: repeat
MC: Main Color (white)  (85 yards)
CA, CB, CC, CD, CE: Contrasting colors listed on the chart.   (20 yards of each color)
Join w/ a sc:
Wine Glass Lanyard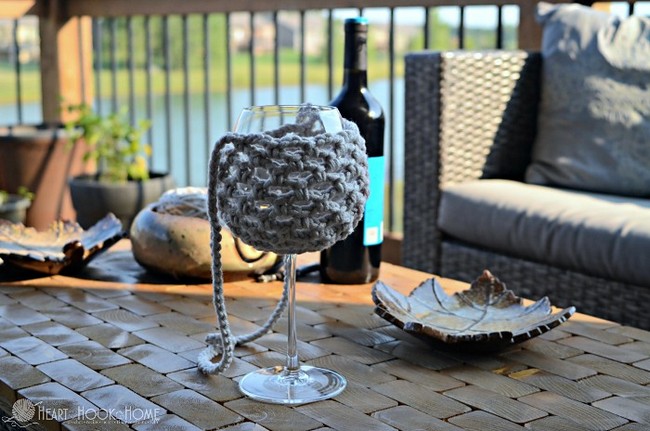 Add some color to your drinking experience with this Crochet Wine Glass Lanyard. The lanyard is attached to a wine glass with mini clips, allowing you to take your drink from place to place without worrying about it slipping away or falling over. It's perfect for poolside drinking and other social gatherings. This crochet wine glass lanyard is lightweight and easily attached to your wrist or around the glass stem. Perfect for the wine lover in your life!
Materials
Crochet hook in size K (6.5mm)
Bulky (size 5) yarn (about 35 yards)
Wine and wine glass
The Ember Ruby Wine Glass Lanyard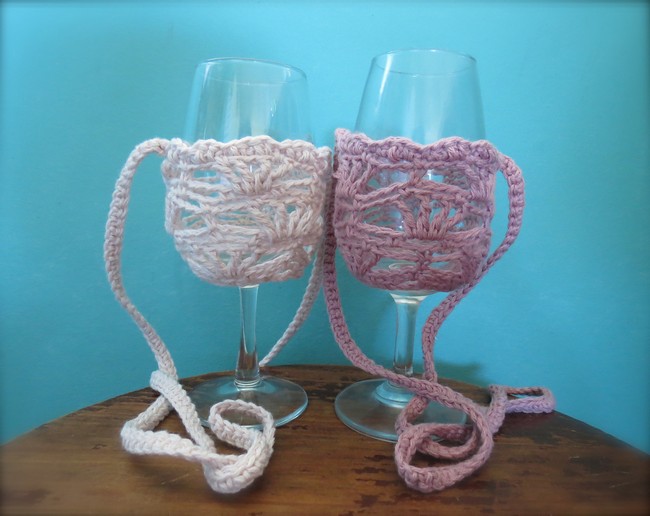 Enjoy drinks on the go with this lanyard that holds your glass in place. Make it a gift or buy it yourself; you'll love it either way. This lanyard is perfect for holding their favorite glass or bottle of wine and also looks great on the wine rack. Made with a durable cord that won't lose its shape, this piece is made to last. The Ember Ruby Wine Glass Lanyard is the perfect way to keep track of your favorite glass at a party and also doubles as a wine glass charm. With one size, it fits most standard wine glasses and champagne flutes.
Materials
3mm crochet hook
Cotton Yarn – I used Moda Vera Jalap-100% cotton-sport weight yarn
Abbreviations
ch=chain
sl st =slip stitch
sc=single crochet
hdc=half double crochet
dc=double crochet
tr=treble