Christmas is almost here, so it's time to dig out your decorations. This can be a stressful time of year for many people as they struggle to develop fresh new ways to redecorate every year. Consider a crochet Christmas pillow if you want something cute and fun to make your home more festive! These adorable pillows are easy to make, and you can customize them any way you like. They make a great addition to your holiday decor and will have everyone thinking of Christmas before it arrives. Use these crochet pillow patterns to make your crochet Christmas pillows.
Best Crochet Christmas Pillow Patterns

Christmas is coming, and it's time to get crafty! Crochet Christmas pillows are a great gift for anyone on your list—and they're even better when you make them yourself. So why not treat yourself? Below are some unique crochet Christmas pillow patterns that are great for beginners, and you can even add a crocheted pom-pom to the top for a quick finishing touch. Anyone with an eye for decorative objects can appreciate the variety of patterns and styles in crochet pillows. They make excellent holiday decorations but are also great year-round additions to any room in the house. Here are some free crochet Christmas pillow patterns to get you started.
Benefits Of Crochet Christmas Pillow Pattern Free
Crochet Christmas pillow patterns are a great way to decorate the home during the holiday season. You can crochet them for yourself or as gifts for your loved ones.
The following are some of the benefits of crochet Christmas pillow patterns:
They're easy to make.
You can use various colors and designs.
They're inexpensive.
You can customize them depending on your taste and preferences.
Crochet Santa Pillow
This crochet Christmas pillow pattern is perfect for anyone who loves to make handmade items for their home. This quick and easy crochet pattern would be perfect for holiday decor or as a gift. It makes a lovely accent when layered with other pillows! This is a fun project while watching Christmas movies; this Santa pillow is perfect for any home! It's a great way to add a touch of Christmas decor. The pattern is suitable for beginners and includes many helpful step-by-step photos.
Snowman Pillow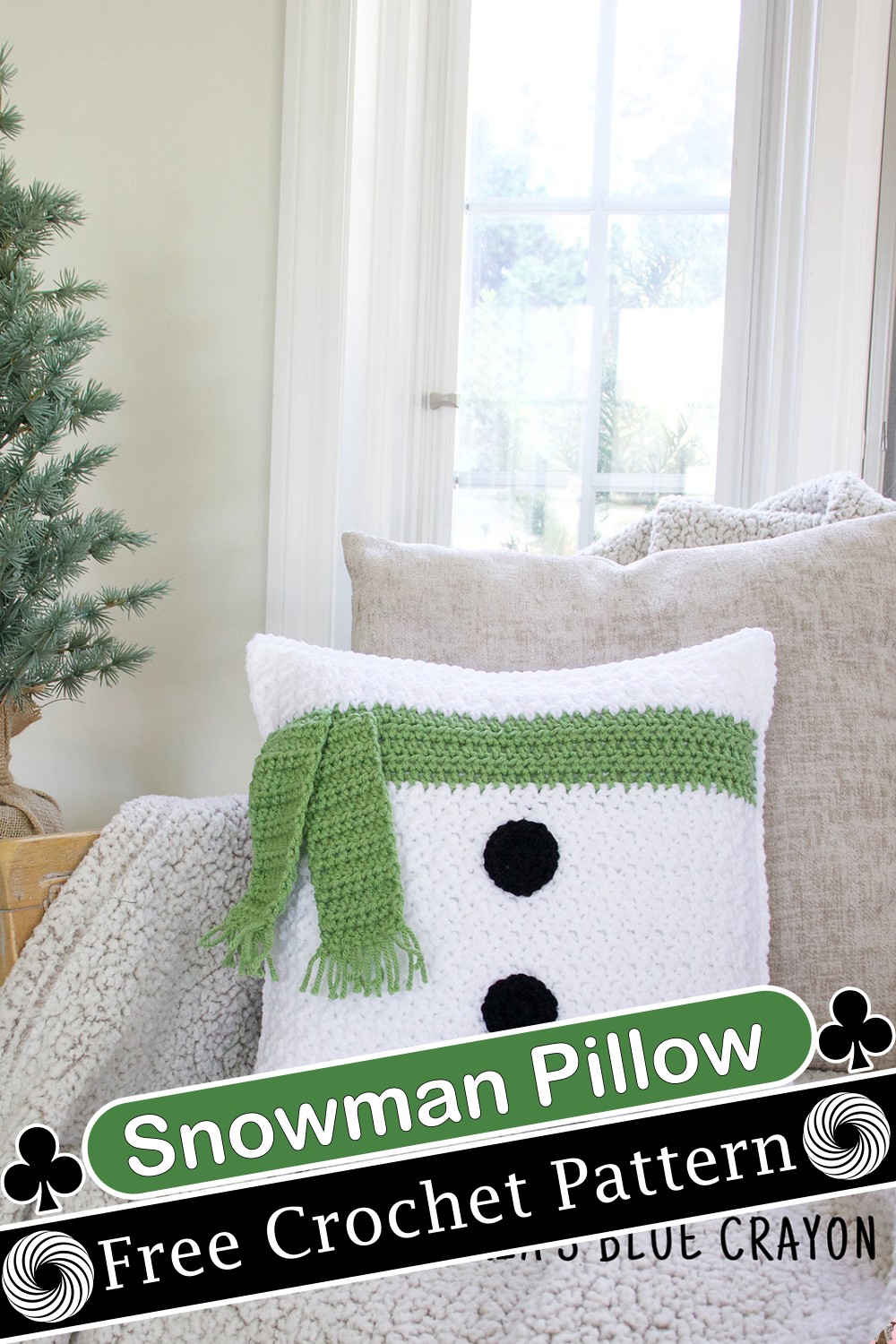 Crochet a cozy pillow for the holidays! This fun and easy crochet pattern is perfect for beginners and can be made in any color you like to give as a gift this Christmas. The snowman pillow cover would do an awesome project to do with your kids. The perfect gift for any festive occasion! This pattern is simple and easy to follow, with detailed instructions and photos. Go through this guide to learn more!
Mini Pillow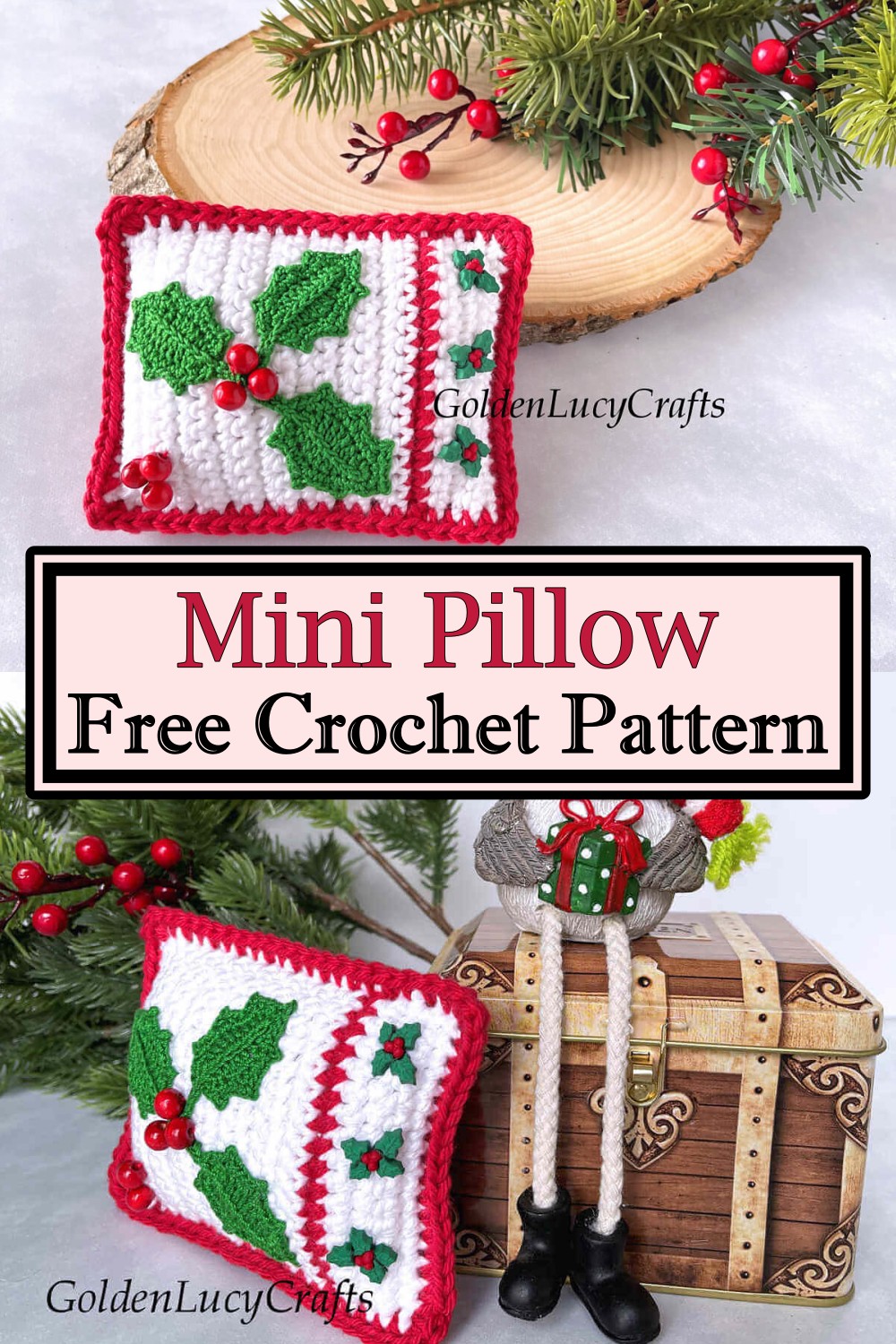 This mini crochet Christmas pillow pattern is the perfect size for a little one's room or a cozy spot to accent your living space. Make these mini pillows in different shades of red, green, and cream with this easy pattern, and create an instant decor wreath by hanging them together on the wall! You can make this fun and easy project in no time with some leftover yarn from your stash. It's a great way to use up a small amount of yarn!
Santa Belt Christmas Pillow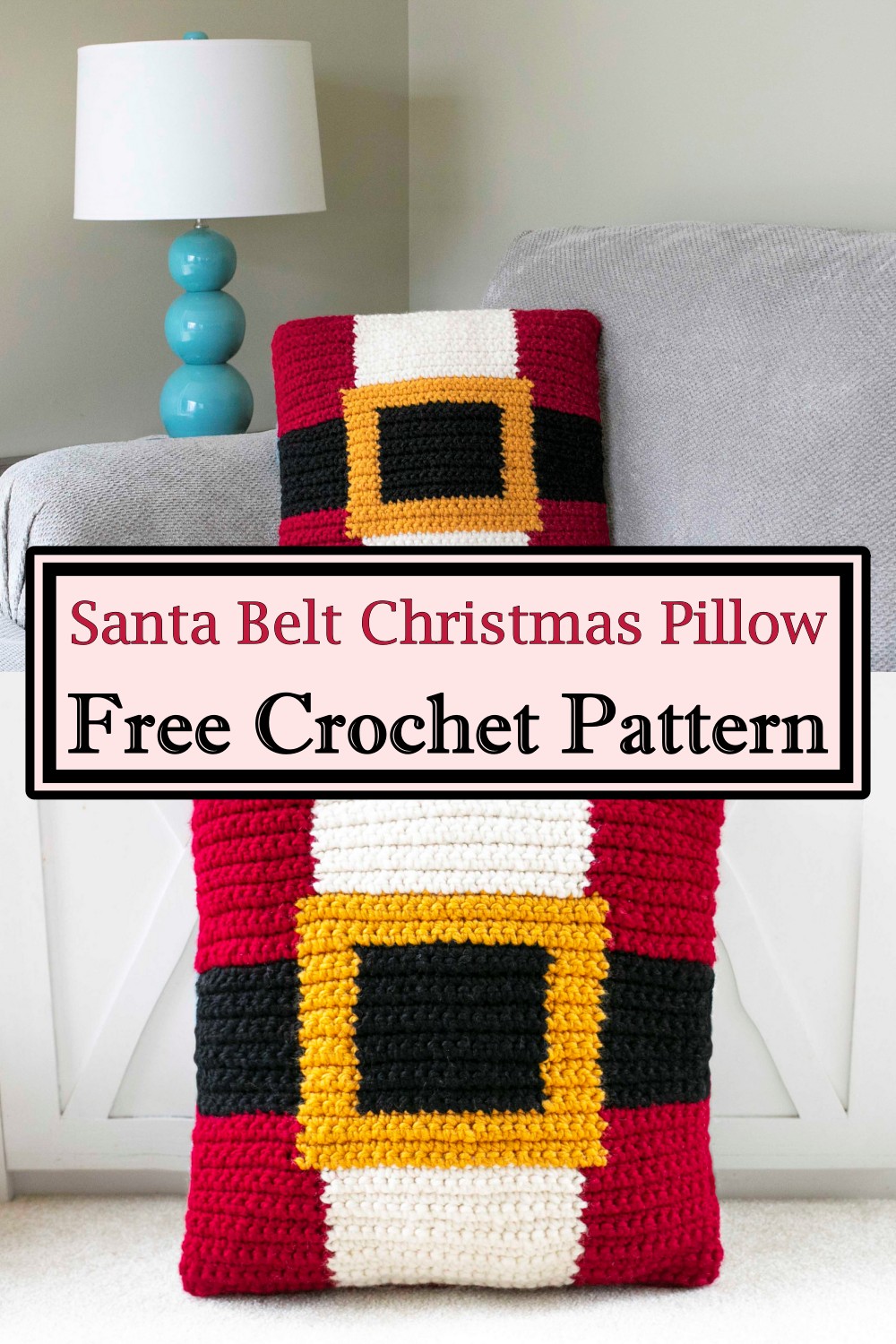 This crochet pattern will help you create a stylish pillow in the shape of Santa's belt, a unique design that will impress friends and family this holiday season. Given the nature of this project, it is ideal for experienced crocheters looking for something more advanced than simple squares or strips. This crochet Christmas pillow pattern is a fun project that makes a beautiful gift. The guide shows you the complete procedure!
Christmas Snowflake Pillow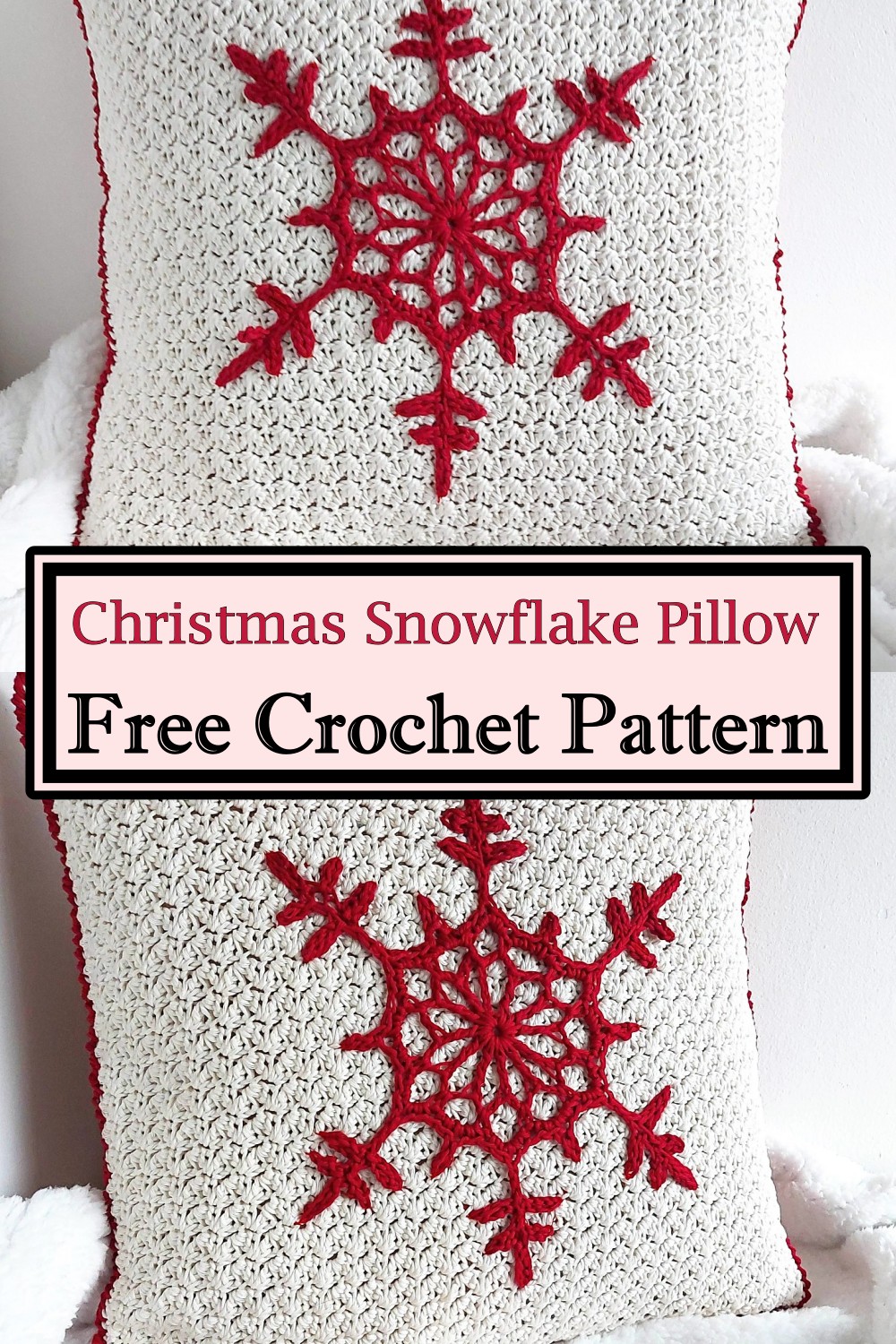 This Christmas Snowflake Pillow would make the perfect gift for friends and family. The design is simple yet elegant. It is the ideal addition to any home or office. So, Create a handmade holiday pillow with this easy-to-follow crochet pattern. You only need to know how to chain and single crochet to create a festive snowflake pillow. This pattern is fast and fun to make and can be customized in any way you wish by choosing your colors and embellishments.
Tree Tassel Knit & Crochet Pillow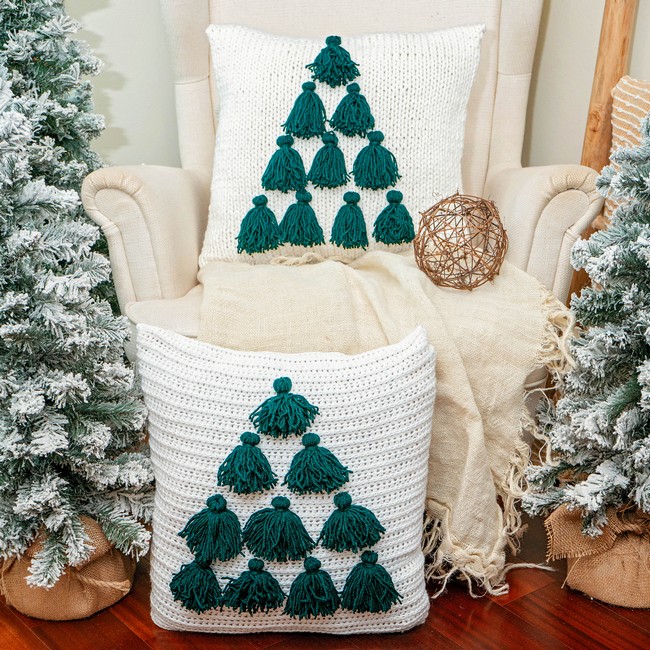 The traditional tree tassel inspires this handmade crochet Christmas pillow pattern. You can make this knitted and crocheted pillow in many colors to match your home decor or your favorite tree color! This crochet Christmas pillow pattern is a beautiful gift for friends and family who love to knit and crochet. The design is easy to understand and quick to make, even if you have never done knitting. This pillow can be used as a cuddle buddy or just as a decorative throw pillow in your home – either way, it is sure to be loved! Make one for yourself, too!
Tunisian Christmas Tree Pillow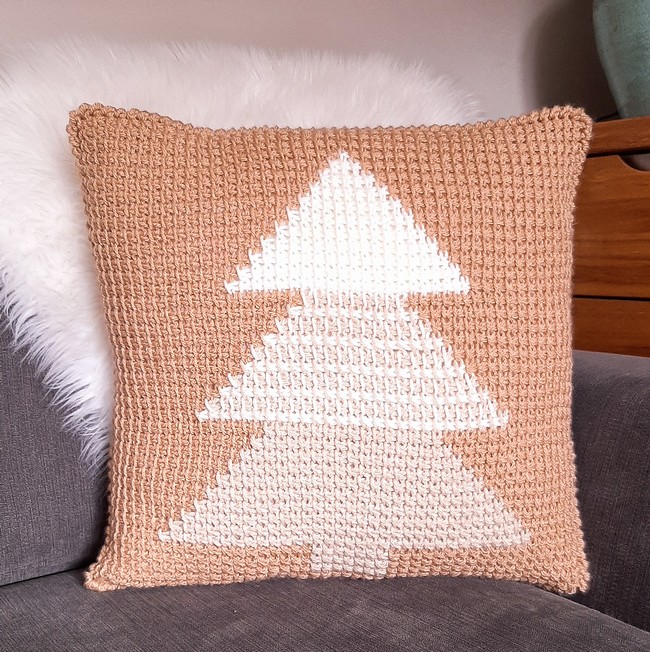 This Tunisian Christmas Tree Pillow is a beautiful addition to your home or a perfect present for the crochet enthusiast in your life. This easy crochet pattern features a Tunisian stitch that creates a unique and fun look at the finished project. Get started today! It's a great project for beginner crocheters looking to try a new hook and gain confidence with Tunisian crochet stitches. The Acrylic yarn makes it a quick project to finish in one evening or over the weekend while watching your favorite movie.
Ho Ho Ho Crochet Pillow Cover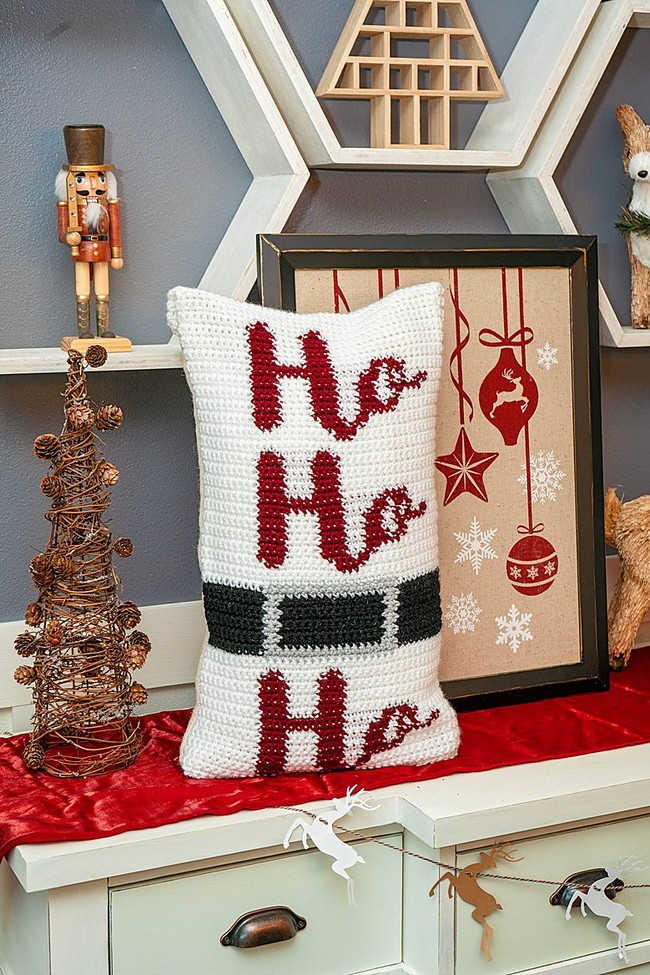 The Ho Ho Ho Crochet Pillow Cover is the perfect pop of color and seasonal decoration for your couch. This quick project can be made in no time and comes together quickly. It features a textured pattern that looks intricate but is easy to make with basic stitches, making it a good project for beginners or experienced crocheters! This is perfect for any festive decor and can be made in just one afternoon. It is quick, fun, and easy to make, so you'll have plenty of time to finish other holiday sewing projects.
Holiday Christmas Throw Pillows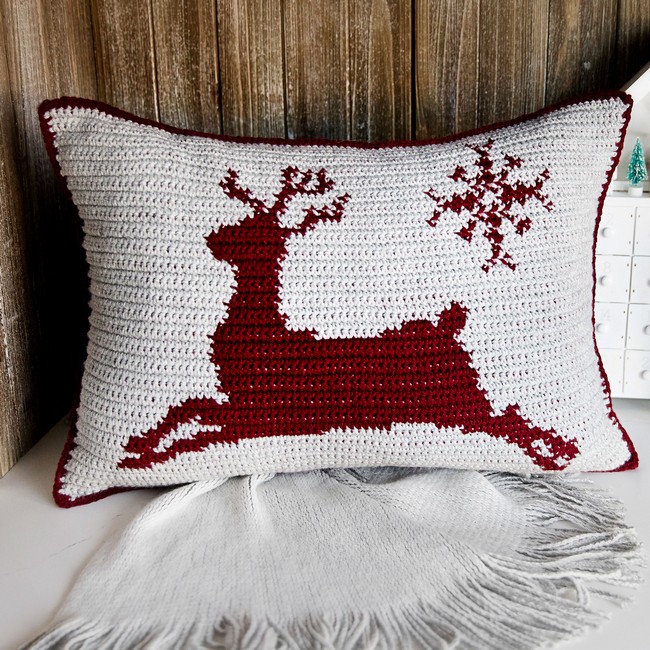 This Crochet Christmas Pillow Pattern is a quick and easy crochet pattern to make for your home this holiday season. These pillows are made with cozy Acrylic yarn that you can use yearly. And because these pillows stitch up in just a couple of hours, you can make them for everyone on your shopping list! This is also great for adding a little holiday cheer to your home! This super simple and easy-to-make throw pillow will bring extra warmth and comfort to your couch, bed, or any place that needs a little pick-me-up.
You can also see: Crochet Texture Pillow Patterns 
Advent Calendar Pillow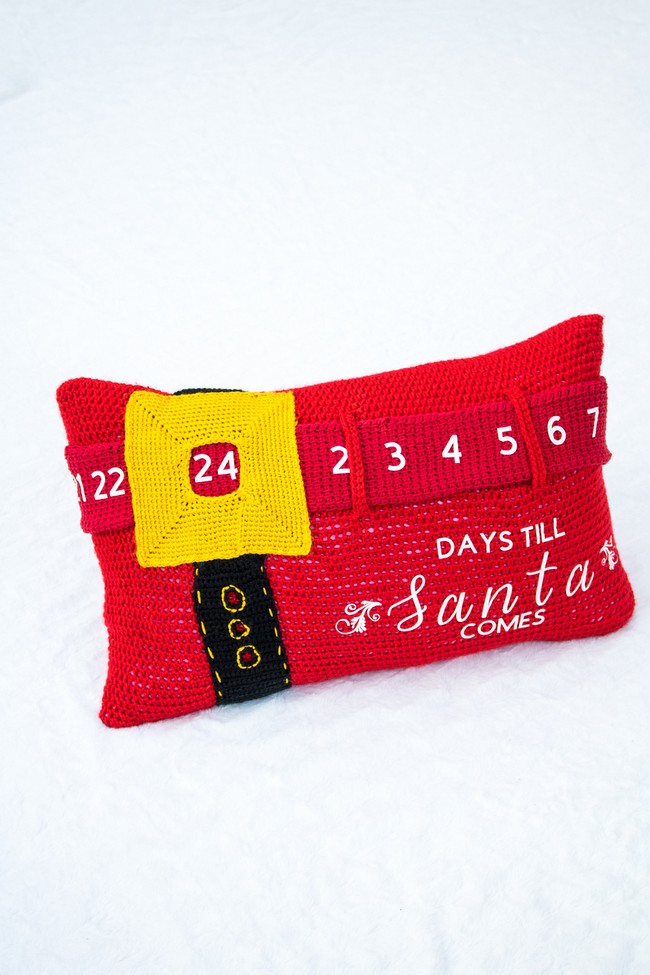 Christmas is almost here, and this Advent Calendar pillow is the perfect way to count down the days until Christmas. You can add the numbers with a fabric marker or use the calendar template. It's a fun crochet project that makes a great family tent craft! It's easy to follow and only involves basic stitches, so it's suitable for beginners. This Advent Calendar Pillow will be the perfect addition to your Christmas decorations this holiday season. You can stitch one each day until December 24th, or maybe do them all at once!
Merry And Bright Pillow
This is a quick and easy Christmas Crochet Pillow pattern. This Merry Christmas Pillow is the perfect addition to your home for the holidays. This Christmas pillow is excellent for a bedroom or living room. It's sure to bring a smile to all that see it! It is a perfect opportunity to use leftover Christmas yarn and make a cute little accent pillow or a pretty holiday decor piece. The pattern includes instructions for making the pillow cover. It is a fun and fast project that makes a beautiful addition to your Christmas decor.
Trim the Tree Pillow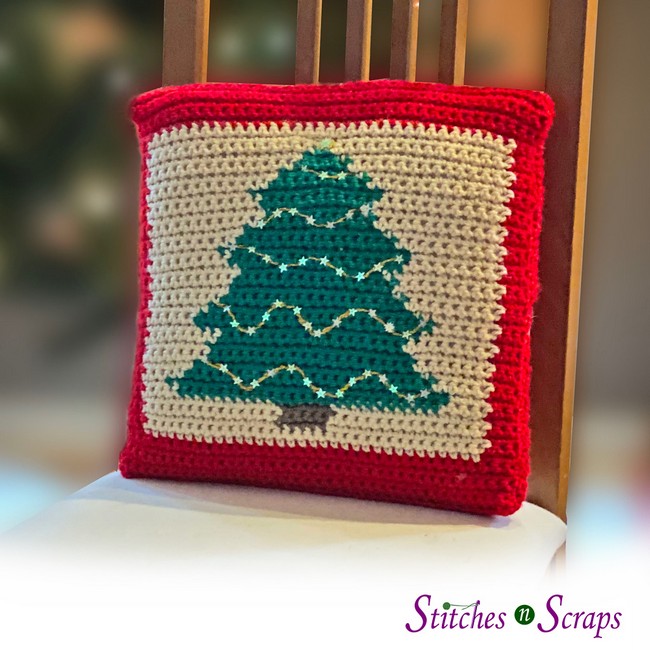 This crochet Christmas pillow pattern is the perfect addition to your holiday decorations. Crochet this fun and festive modern tree pillow featuring all your favorite colors or one color scheme! This pillow will surely bring cheer to any season, making it an excellent gift on any occasion! Make several for yourself and your friends. This pattern is perfect for beginners and includes lots of photos and instructions so you can easily follow along. You'll fall in love with these cute crochet Christmas pillows because they are so fast and easy to make!
Crochet Christmas Bobble Pillow
This Crochet Christmas Bobble Pillow Pattern is a perfect addition to your Christmas home. With easy-to-follow instructions and great pictures, you'll be able to make a lovely, festive decoration for your home. Whether displayed at Christmas or used as a decorative pillow all year round, this crochet pattern will brighten up any room corner. Use this crochet pillow pattern to make your gifts or give them away as a unique handmade Christmas stuffer or Christmas stocking stuffer.
Holiday Camper Crochet Pillow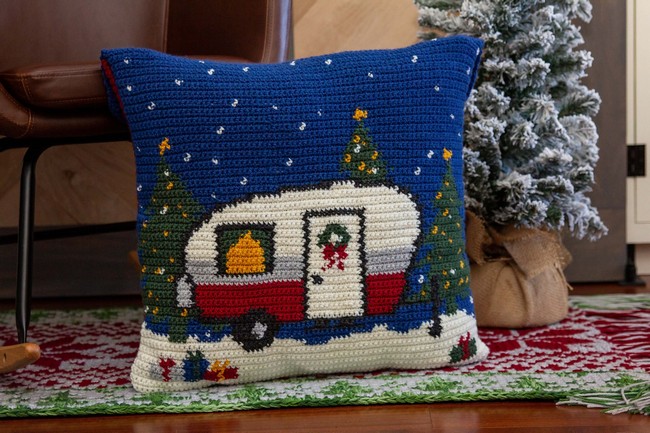 This Holiday Camper Crochet Pillow is perfect if you're looking for a quick, easy, and fun project. It takes less than an hour to make and can be made in any color combination you want. You can use your scrap yarn or buy one color of yarn all at once! The pattern includes written instructions with clearly defined stitches and abbreviations and a crochet diagram. This pattern is suitable for beginners.
Farmhouse Plaid Deer Pillow Cover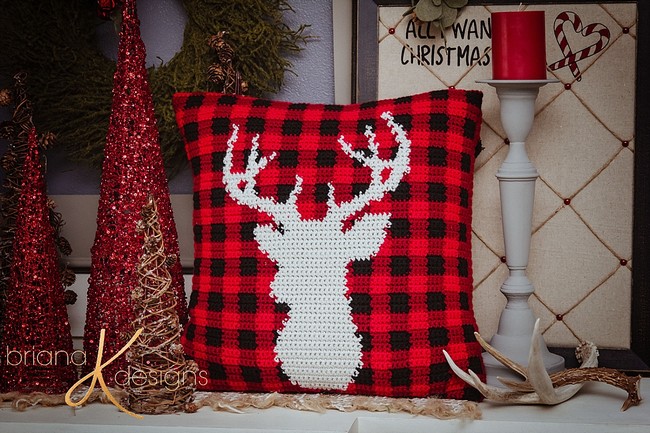 Bring a rustic country look to your home with the Farmhouse Plaid Deer Christmas Pillow. This easy crochet pillow pattern is a fun, modern twist on the traditional crocheted pillow and makes an excellent seasonal home decor piece and gift for your family and friends. So, Make this adorable pillow cover for your holiday decor to add a festive touch to your home as you cozy up on the couch watching your favorite Christmas movie. The pattern includes instructions to make this in different sizes, so it's perfect for everyone!