15 Free Crochet Christmas Wreath Patterns For Beginners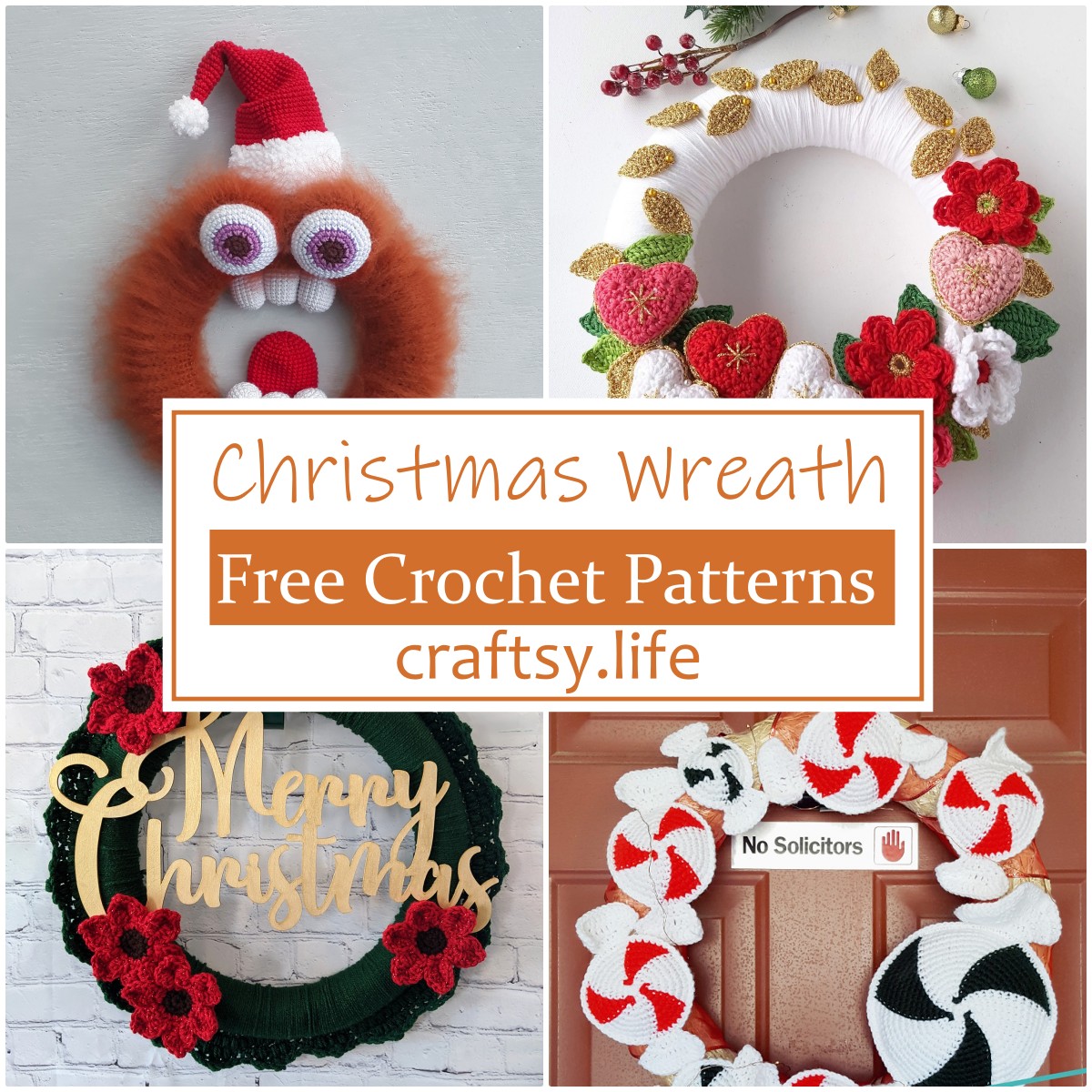 Christmas is the most beautiful time of the year, and it's a great time to decorate your home with fresh greenery. If you are looking for a fun project to do this season, why not crochet a wreath? There are many different types of wreaths that you can make using all different kinds of stitches. These crochet Christmas wreath patterns are a great way to decorate your holiday-themed mantel or front door. These easy and quick crochet Christmas wreath patterns will help create a beautiful reminder of the holidays you can keep for years to come. At the bottom of this article, We have gathered some free Christmas wreath patterns that you can get started on immediately!
Crochet Christmas Wreath Patterns

Crochet Christmas wreaths are a great way to add flare and unique style to your front door. If you're looking for something easy and fun, you'll enjoy crocheting a wreath. Many different patterns are available, but we've narrowed them down to the best Christmas wreath patterns! Crocheted Christmas wreaths are a classic way to dress up the door when it comes time to deck the halls, and there are plenty of options for making your own. Whether you're looking for something traditional, modern, or even a little kitschy, we've covered you with these crochet wreath patterns.
Benefits Of Mini Crochet Wreaths
Crochet Christmas wreaths are great for decorating your home during the holiday season. And they're also excellent gifts for friends and family members who love to crochet.
Here are some benefits of Crochet Christmas Wreath Patterns:
They're inexpensive.
You can make them in any size, shape, or color.
They can be made in any yarn, including bulky and super bulky yarns.
They're easy to customize by adding your own embellishments.
Christmas Wreaths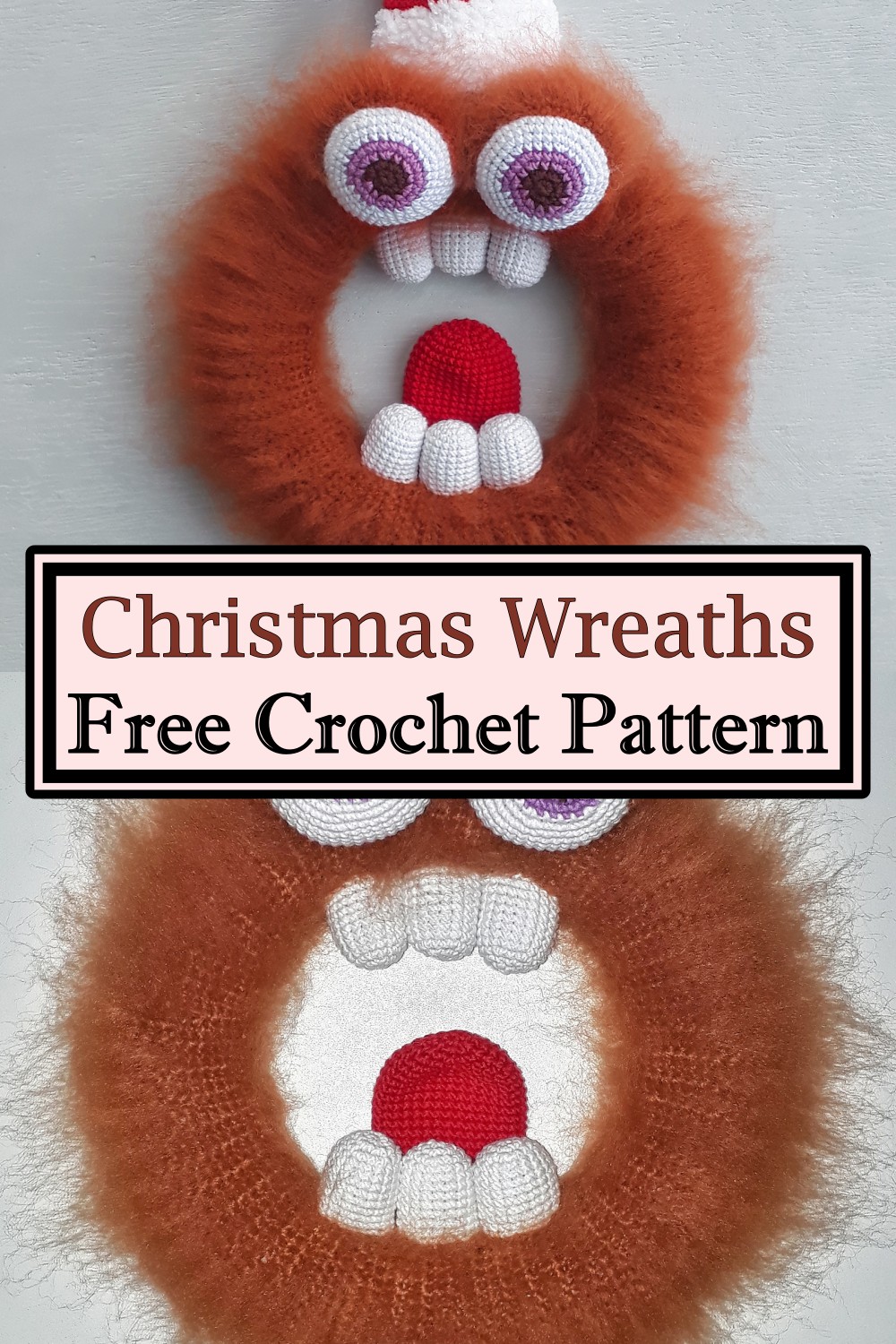 This Crochet Christmas Wreath Pattern is just what you need to add some holiday spirit to your home this season. It's easy to make, quick to stitch up, and can be done in any yarn that you have on hand. You'll also love how customizable it is—make it big or small, use different colors, and even change the embellishments! This easy-to-follow pattern is perfect for everyone from beginners to experts and makes a great gift for anyone in your life that adores Christmas!
Christmas Flower Wreath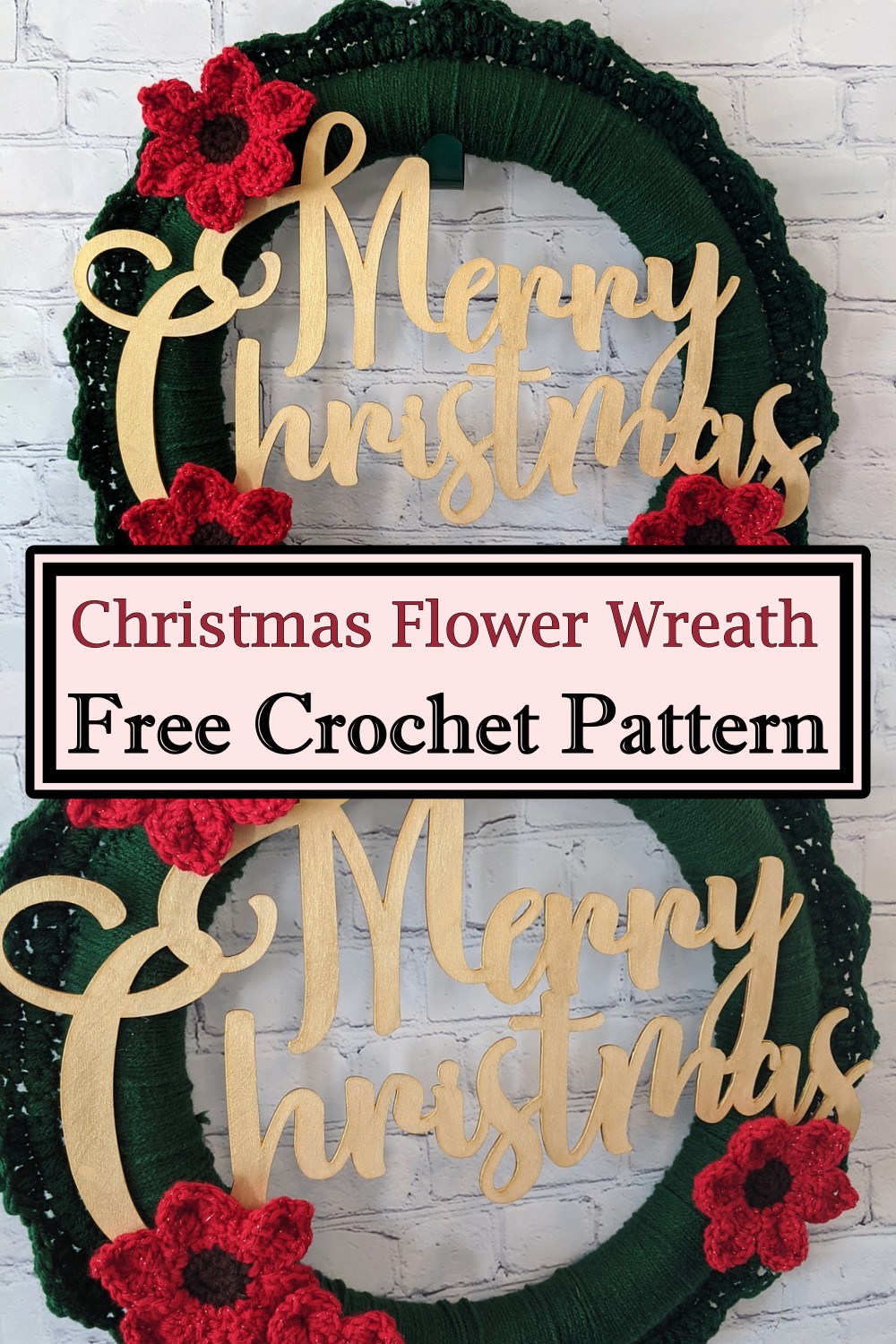 Crochet this lovely Christmas wreath and add a touch of festive cheer to your holiday decor. Use up left-over scraps of yarn to crochet this flowery holiday wreath. It can also be used as a hanging decoration or anywhere you want to add some cheer to your home during the Christmas season. It will look great with any color scheme you have chosen for your holiday home.
Peppermint Candies Wreath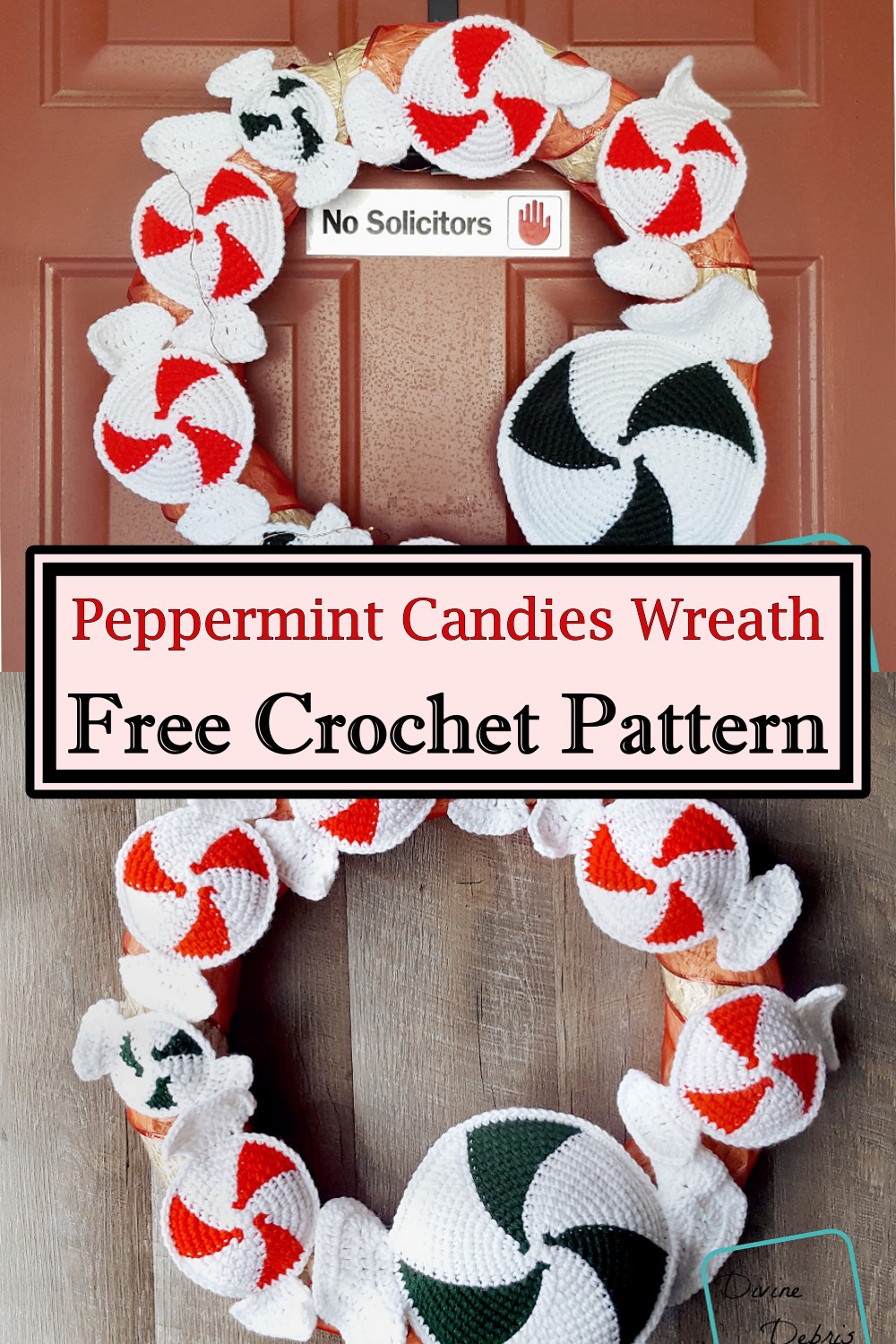 Are you looking for the perfect finishing touch to your holiday decorations? This Peppermint Candies Christmas Wreath is a fun, festive, and easy crochet pattern. This crochet Christmas wreath pattern is the perfect decor for any holiday party or as part of a colorful Christmas door decoration. It features a peppermint candy wreath; this fun twist on traditional wreaths will surely bring a smile to all who see it! Perfect for beginners!
Christmas Holly Wreath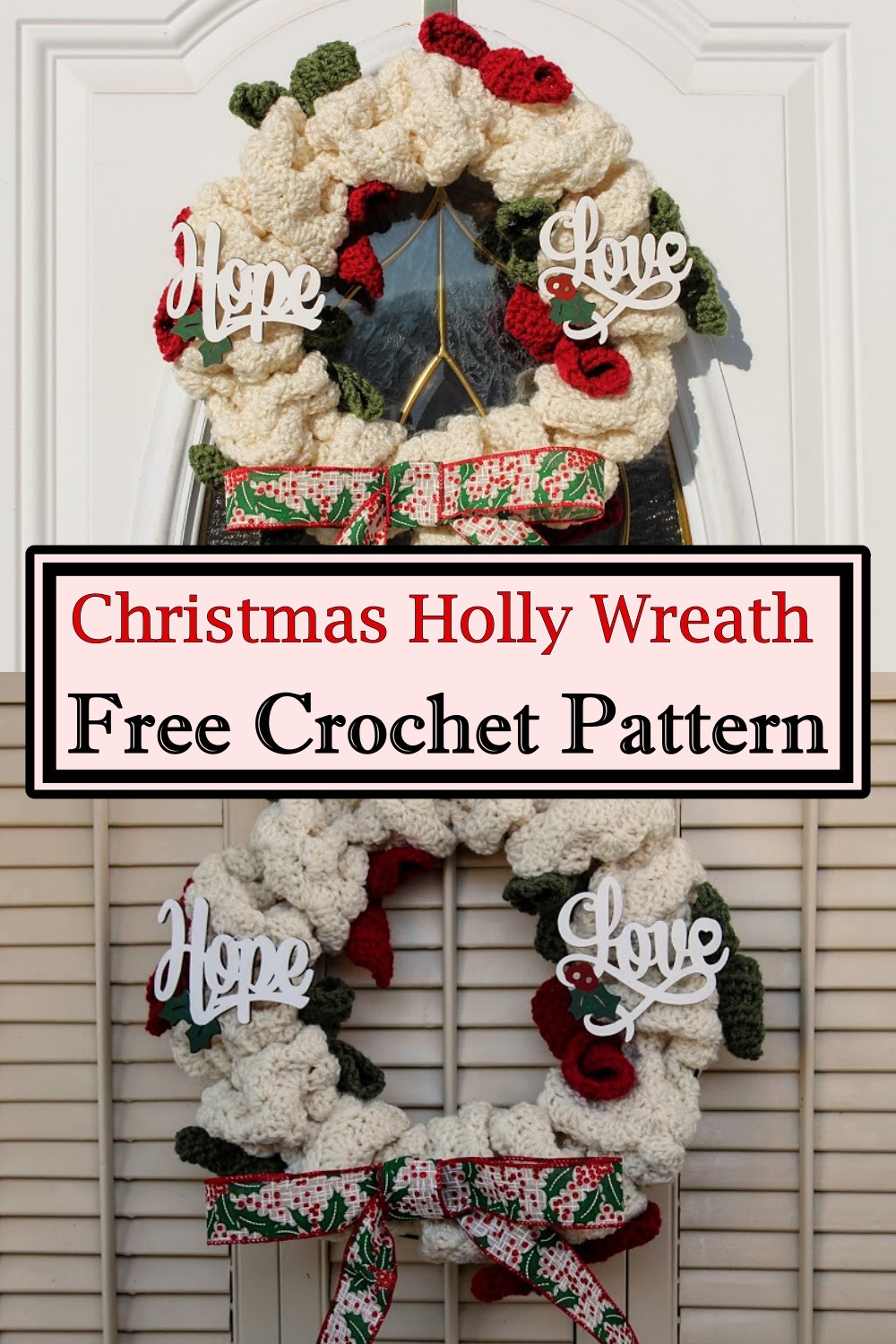 This crochet Christmas wreath pattern is perfect for welcoming your friends and guests. Make it in a beautiful color, like red or green, then hang it on the door of your home. A stunning addition to your home during the winter months, this Christmas wreath pattern is sure to be a conversation piece! This crochet Christmas wreath pattern makes a lovely addition to your holiday decorating. It is easy to work up and includes directions for adjusting the size, so it can be made in any size you choose. Make several at once to give as gifts, or set up your own Christmas wreath workshop!
Floral Heart Holiday Wreath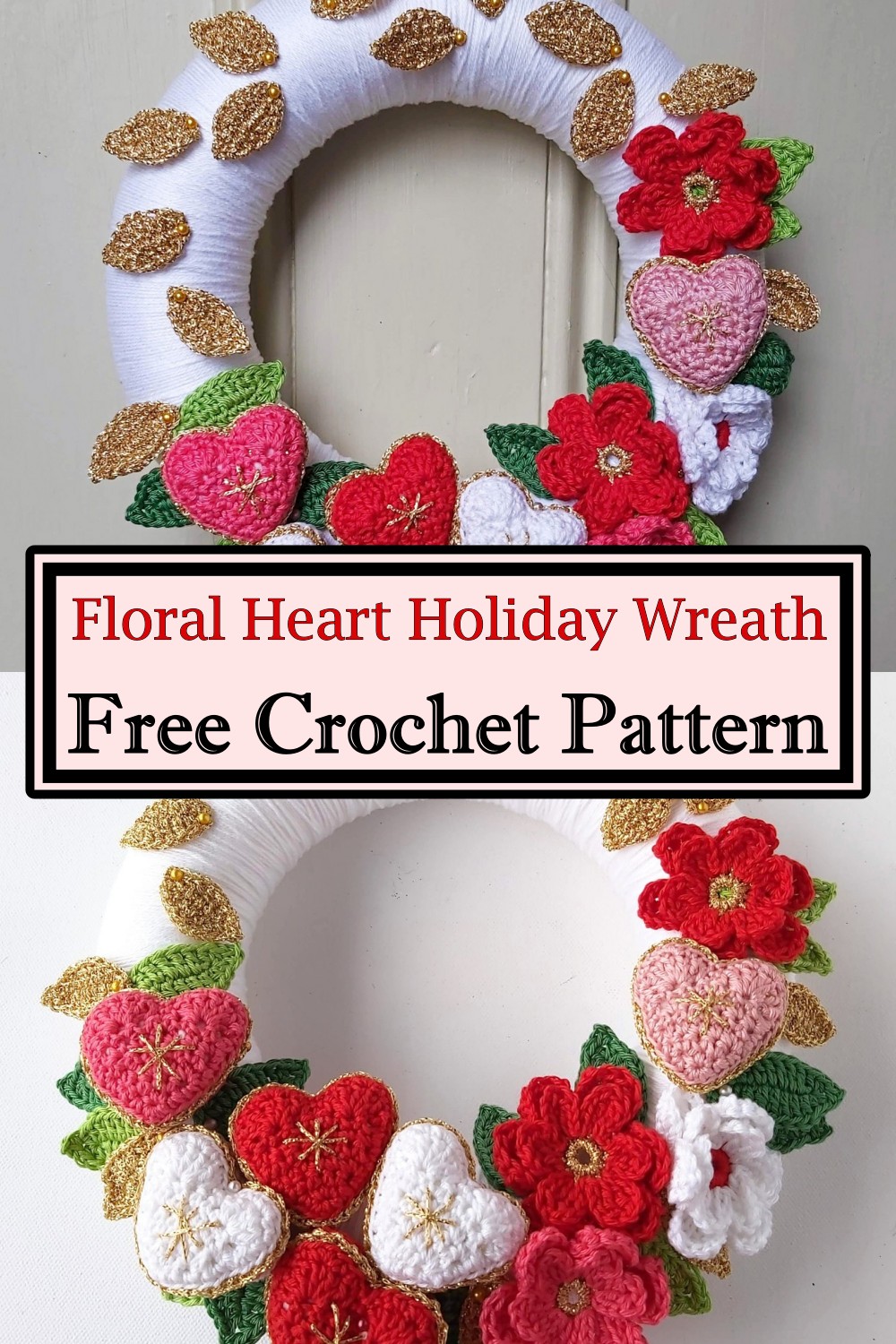 This crochet Christmas wreath pattern is a great way to decorate for the holidays! The floral heart design is beautiful and festive; you can choose your color scheme and embellishments. Each pattern part is customizable, so you can decide how many loops to make for each element. This project also makes a thoughtful gift for your friends or family members who love crochet projects. This crochet Christmas decor pattern features an elegant floral design that is perfect for your home or tree!
Christmas Wreath Ornament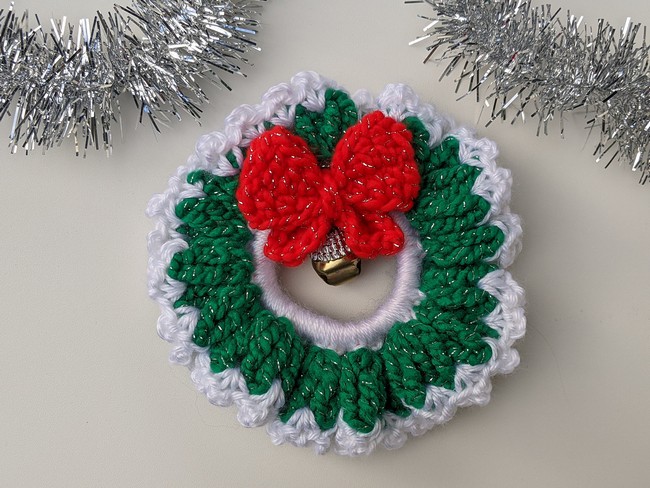 Love the look of wreaths and want to try your hand at crocheting one? This Christmas Wreath Pattern is perfect for beginners. With just a few basic stitches and a few rounds of easy repeats, you'll have a gorgeous crochet Christmas wreath in no time! So, Make this Christmas wreath Ornament to personalize and decorate your tree, home, or office. Use it as is or embellish further! the guide will show you the complete procedure!
Crochet Wreath Ornament
This Christmas Wreath Ornament is so charming you'll want to put it on your tree or add it to the top of a holiday gift. The wreath ornament looks great on its own or can be paired with other patterns from the collection, such as hanging mittens, snowmen and snowflake shawls, and cowls. It's a fun crochet project for those who enjoy working with yarn. This would make an excellent addition to any Christmas decorations or perfect for your front door! Great for yourself or a gift for someone special.
Crochet Christmas Wreath Cowl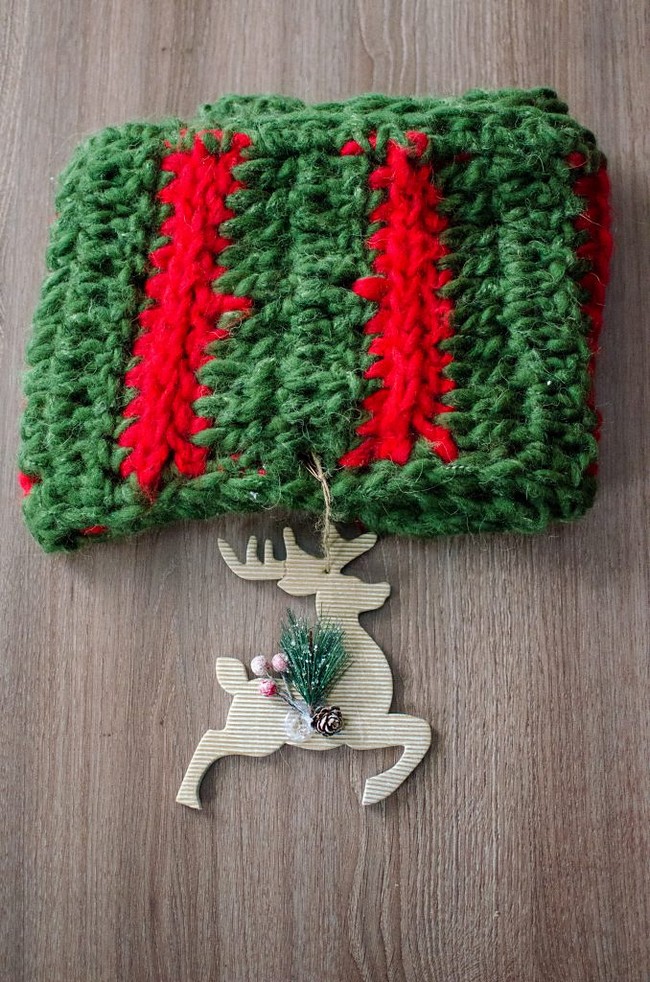 Make your Christmas bright by adding a little crochet Christmas wreath pattern to your holiday decorations. This beautiful Christmas wreath cowl is so fun to make and wear! The design creates a round cowl that looks like a wreath, perfect for winter! Follow the crochet pattern below to make your own. You can also try other versions using varying yarn, hook size, and several stitches. There are endless possibilities!
Chunky Yarn Wreath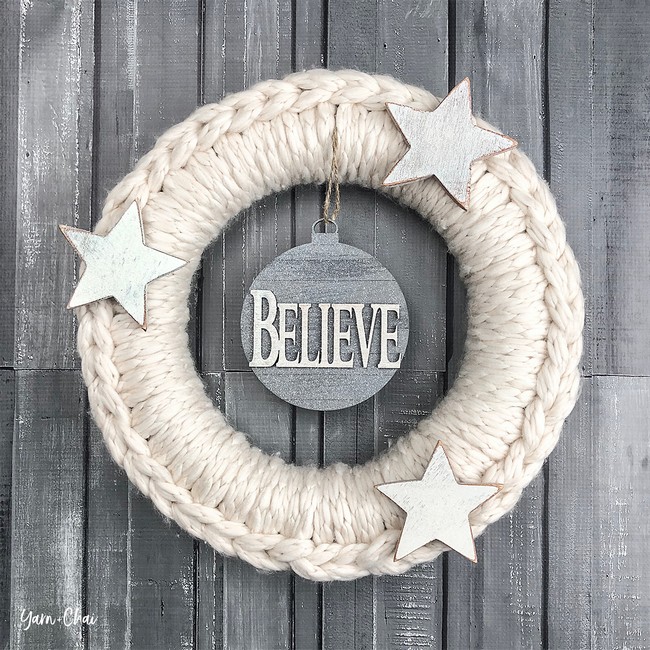 This crochet Christmas wreath pattern is perfect for the front door, a wall hanging, or as a table centerpiece. This easy-to-make crochet Christmas Wreath Pattern is ideal for your holiday decor. Whether you use super chunky or standard yarn, it's an excellent project for all skill levels. It can also be customized with different colored threads and trim to suit your home's unique decor. Learn how to use yarn to create this festive holiday accessory
Mini Christmas wreath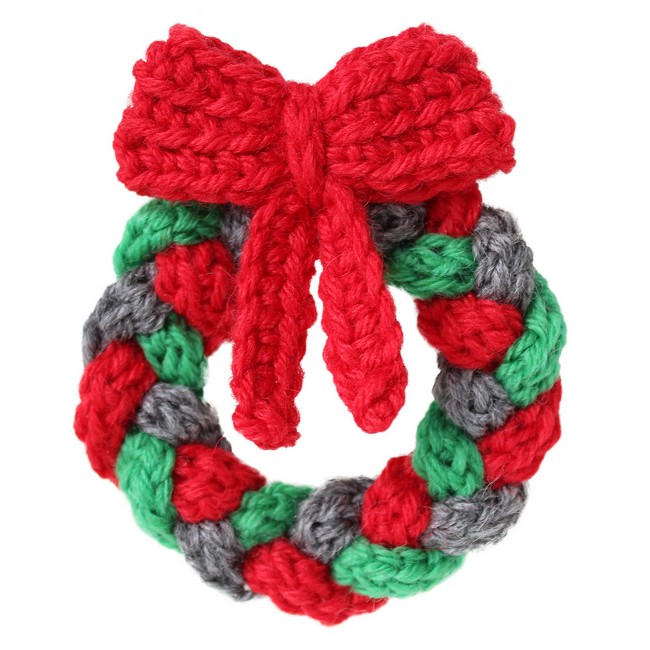 This crochet Christmas wreath is a miniature version of the traditional holiday decoration. It's a fun project for those who love to crochet and are looking for something different than the usual projects. This cute little doily is perfect for holiday decorating or would make an attractive addition to any gift given in December. This pattern is an easy one, and you can use any yarn. The tutorial includes photos and a detailed description with abbreviations. This makes it easy to follow even if you are a beginner!
Christmas Wreath Amigurumi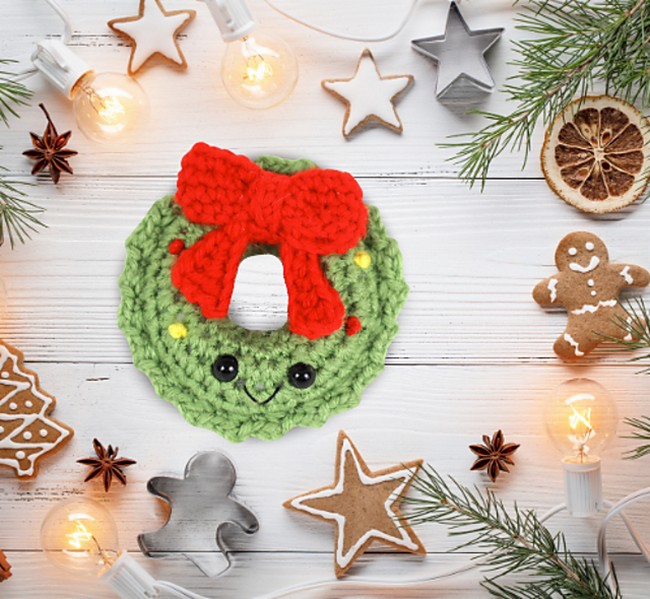 This crochet Christmas wreath pattern is a fun project that can be made quickly and easily. You will love how the colors make this a great accent piece for your home. It's small enough to fit on a tabletop or shelf and big enough to add some color to your home this holiday season. This crochet Christmas wreath pattern is also the perfect decoration for your front door or a special Christmas gift. It's also great to make and display year-round if you love the look of this wreath!
Crochet Santa Wreath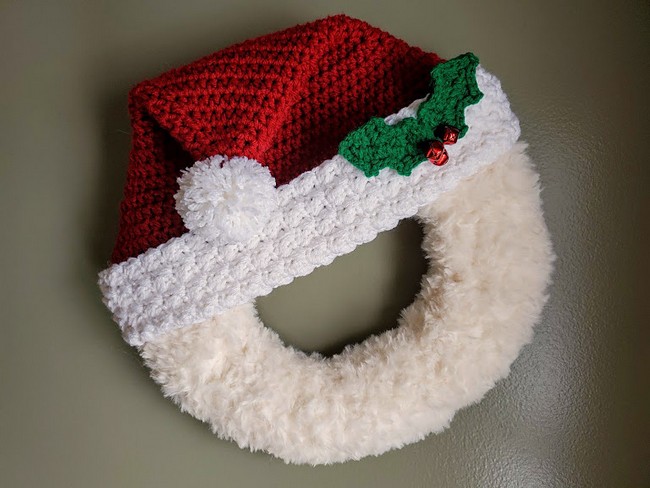 This Crochet Christmas Wreath Pattern is quick and easy to make. With the right tools and basic crochet skills, you can whip up a beautiful Santa Wreath in no time! You will find this pattern helpful when working on holiday wreath projects or as a free printable crochet pattern to decorate your home during Christmas. This crochet Christmas wreath pattern is a fun project for beginners! It's a great holiday craft you can do with the kids or relax and enjoy on your own. Use whatever yarn color you like, and pick your size accordingly.
Wreath Ornament And Coaster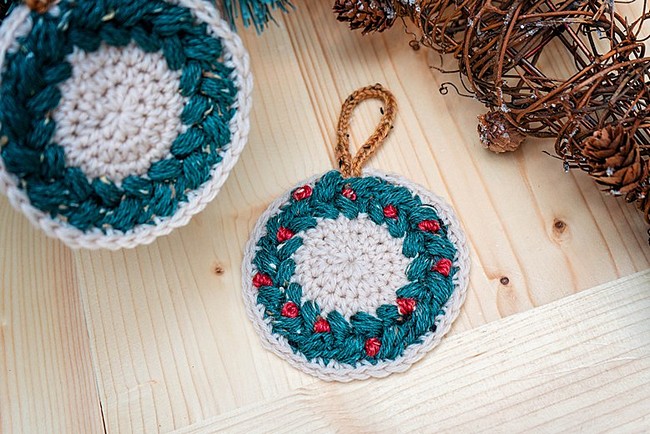 This crochet Christmas wreath pattern is both an ornament and a coaster! It would make an excellent gift for anyone on your Christmas list. The design has step-by-step instructions, so you can create this wreath in any size you want. This guide includes a few photos of the completed crochet Christmas wreath to help understand the pattern. There's no better way to welcome guests than with a beautiful homemade wreath. This fun and festive crochet pattern is designed with only simple stitches, perfect for beginners.
Wreath Bracelet Wreathlet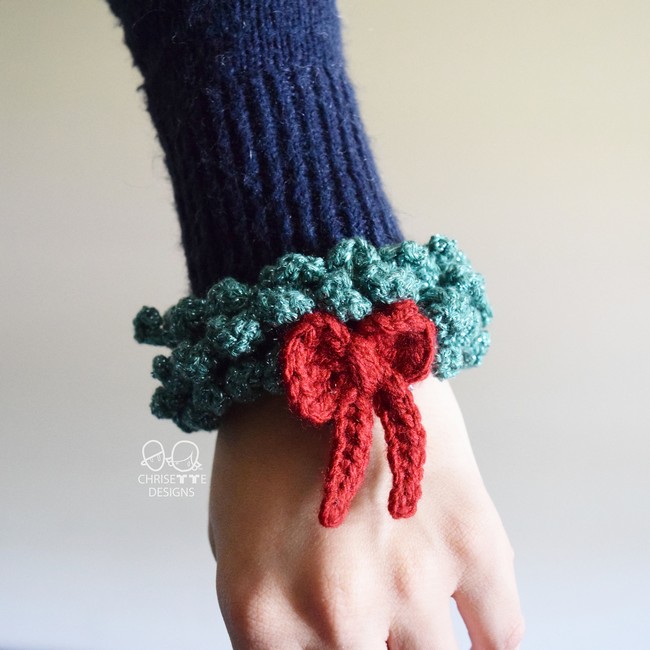 The wreathlet is a smaller version that makes a beautiful bracelet, and it's perfect for gift-giving! This is so easy to make even a beginner can do it. It makes a great gift; the best part is that you can customize it with your choice of colors and ribbons. You will need to know how to perform basic crochet stitches, including chain stitch, single crochet stitch & slip stitch. You can make a wreath/bracelet as small or large as you want, depending on your choice's yarn, hook, and style.
Small Christmas Wreath Ornament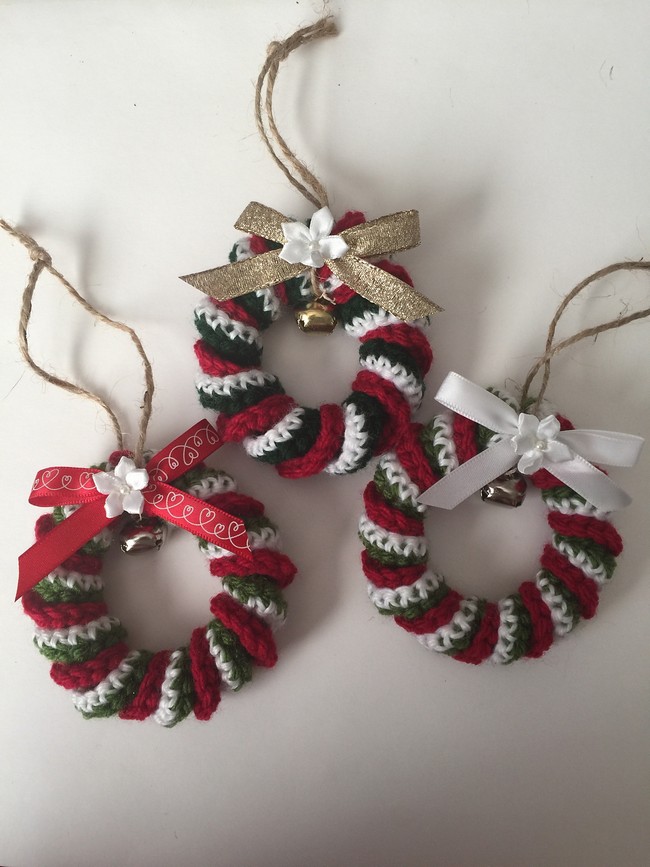 Crochet this beautiful and unique crochet Christmas wreath Ornament. You can make it with any color you want; the options are endless. Recycle your yarn scraps and start making them count. This is a pattern you will use for years to come! This Small Christmas Ornament will make a great gift for family and friends, or why not decorate your own home with it? This only takes a few hours to complete, making it an easy craft for last-minute knitting needs.