Christmas bells are a festive, classic holiday decoration. The jingling of a bell hanging on your home's front door or your tree is a sound that immediately makes you think of the season! If you're looking for something to adorn the branches of your Christmas tree this year, why not try crocheted Christmas bells? Crocheting these seasonal beauties is a great way to add some handmade touches to your holiday décor. There are many ways to crochet Christmas bell ornament patterns—some crocheted bells have ruffles, others have pom-poms attached, and some are made from felt! Whether you can crochet or not, there's no denying how cute and charming these little decorations can be. Here are some unique free crochet patterns for Christmas bells.
Easy Crochet Christmas Bell Ornaments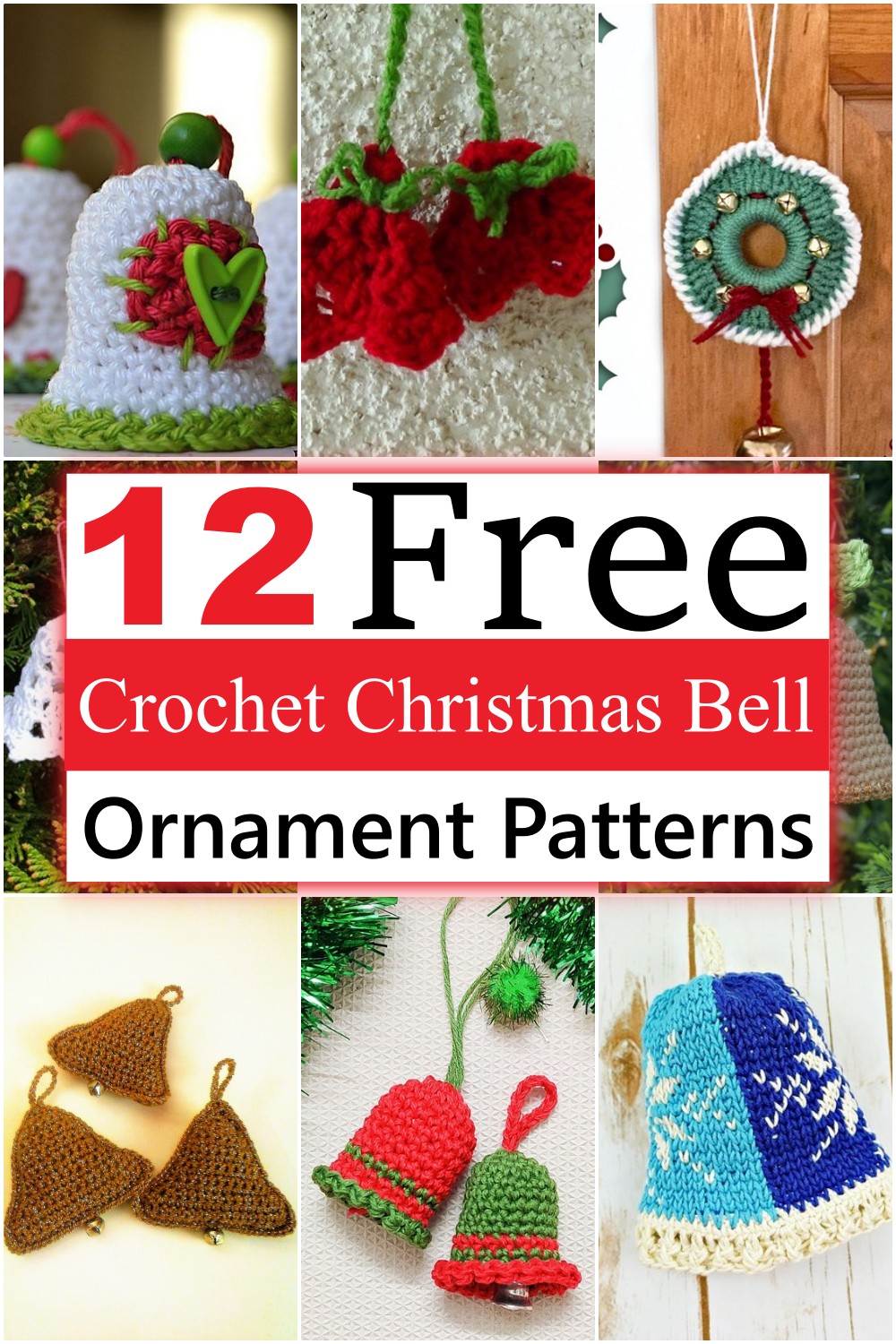 From miniature ornaments to giant, oversized decorations, crochet Christmas bells are a fun way to add some handmade flair to your holiday decor. Bells come in various colors, sizes, and shapes, and they can be used as ornaments on their own or as components of more giant wreaths or garlands. Plus, they're easy to make—many patterns are suitable for even beginning crocheters! Check out these free crochet Christmas bell ornament patterns below, and get ready for Christmas with a little extra glitter.
Tips For Crocheting Christmas Bell Ornament Patterns
Choose a yarn you like.
Use a hook that's comfortable for you to work with.
Do not pull too tight when making stitches; the bell will be stiff and difficult to work with.
If you want to make a chime, use thinner yarn and a smaller hook than the bell itself.
A large bell can be made by joining two or more pieces together at the top with a strong cord or ribbon that can hold its weight without breaking when it's hanging on the tree or around your neck!
Christmas Bell Ornaments: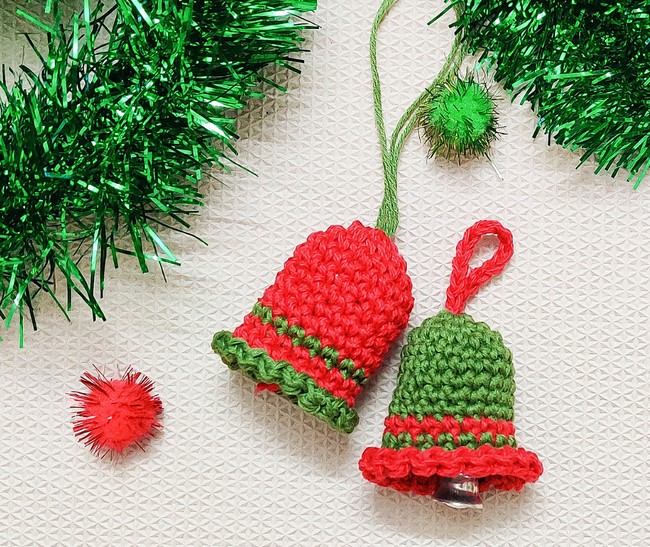 This crochet Christmas Bell Ornaments pattern will teach you how to make Christmas Bell Ornaments with a bell or bead. The 4-ply cotton yarn is soft, and the color looks beautiful on these decorations. The stitches used while creating this lovely ornament are straightforward, and first-time crocheters can make them quickly. This crochet pattern makes a beautiful Christmas bell ornament perfect for hanging on the tree or wreaths. Use a decorative bell or beads to make it unique.
Materials
4 Ply Cotton Knitting Yarn

4 mm Crochet Hook
Decorative Bell or Beads
Crochet Country Bell Ornament:
This crochet bell ornament pattern is perfect for those who appreciate country style and the holidays. With some red, white, and green yarn, you can create a simple Christmas ornament to decorate your holiday tree. It is quick and easy to make; this is an excellent project for beginners. This ornament can be worked up in a day. After making one, you'll want to make them for everyone on your list!
Materials
Crochet Hook – H / 5.00 MM
Yarn- Cotton – Med (4) Sugar and Cream - Holiday Stripes 1 oz.
Yarn Needle
 12 in piece of ⅜ inch ribbon
⅜ in button
Abbreviations
Chain (ch)
Single crochet (sc)
Double Crochet (dc)
Slip Stitch (slst)
Crochet Little Christmas Bell Tree Ornament: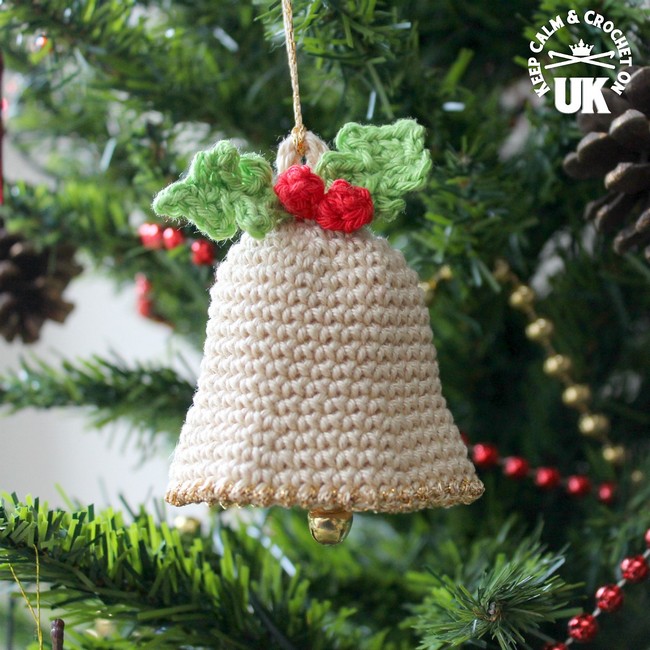 Gather the family and create this adorable Little Christmas Bell Tree Ornament in the spare moments of winter. This little bell ornament will have you in the spirit of Christmas with its jingle bells and crochet design. A lovely little Christmas tree ornament that would make a great gift, or keep it for yourself to hang on your tree. Suitable for all yarns and hook sizes and is simple enough for beginners to complete. They're great for the tree or as gifts for special friends and family.
Materials
9g / 25m of Anchor Creativa Fino Gold or Silver Coloured 4ply Cotton
0.85g / 2.5m of Anchor Gold or Silver Metallic Thread Small amounts of Anchor Creativa Fino Red and Green 4ply Cotton
Pattern will work in other hooks and yarns though the finished size will be different.
Hook: 2.75mm (US size D/3)
1 x 10mm gold or silver jingle bell
Stitch Marker
Scissors
Yarn needle
Abbreviations
st(s) stitch(es)
st  sl               slip stitch
ch(s) chain
dc/sc UK double crochet / US single crochet
rev.dc/sc Reverse UK double crochet / US single crochet
htr/hdc             UK half treble / US half double crochet
tr/dc             UK treble / US double crochet
Crochet Jingle Bell Mini Wreath: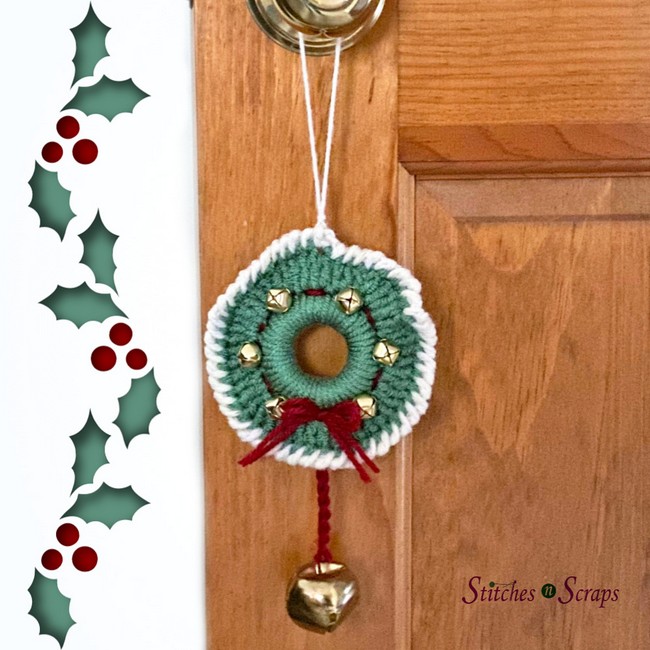 Jingle Bell Mini Wreath is an excellent gift for new and experienced homeowners. It is also perfect for your Christmas decorations or holiday mantel. Jingle bells have the added benefit of creating a joyful noise when moved around or shaken. The pattern includes easy-to-follow step-by-step instructions and pictures of every step in the process so that even beginners can create this beautiful ornament. A great way to recycle those plastic grocery bags you've been saving!
Materials
Yarn: Worsted-weight yarn
25 yds green
10 yds white
5 yds red
Hook: Size H/8 5mm crochet hook or size needed to match gauge.
Notions:
Wood ring (2.25 inches / 57 cm)
6 small bells (⅜ inch / 9 mm)
1 large bell (1.5 in / 38 mm)
Yarn Needle
Abbreviations
ch = chain
sc = single crochet
dc = double crochet
st(s) = stitch(es)
sl st = slip stitch
You can also see: Crochet Christmas Bag Patterns 
Christmas Bell: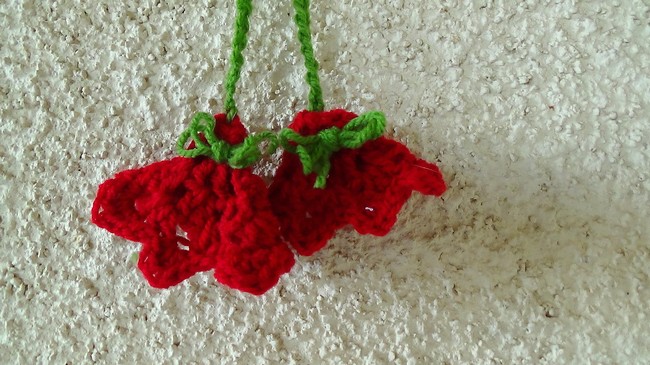 This crochet Christmas bell ornament is a great way to use your junk yarn! All you need is this easy-to-follow pattern, and you'll be on your way to making a handmade Christmas charm that's sure to become a favorite. This Christmas Bell can be made up in about an hour and only requires a small amount of worsted-weight yarn in your favorite holiday colors. The perfect gift for a friend or family member!
Materials
-Paintbox Yarns Simply DK-10mg Mini Ball
-Size G/6 US  (4mm) crochet hook
-US size G/6(4mm) crochet hook
-Worsted weight yarn
You may use your leftover yarn in festive colors like red, green, gold, and white.
Abbreviations
YO=yarn over
Sts=stitches
Ch=chain
Sl st=slip stitch
Dc=double crochet
Rep=repeat
Sk = skip
3D Bell Christmas Ornament: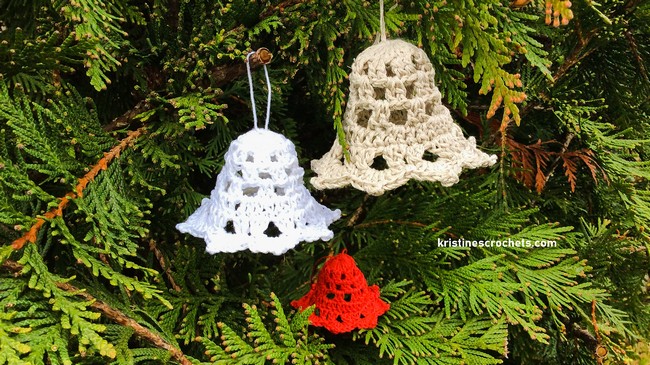 This 3D Bell Christmas Ornament is a quick and easy crochet pattern that is great for any skill level because you may choose to make a simple and elegant ornament in one color or add something extra to it by adding more bells and designs! With its unique design, this crochet Christmas ornament will stand out amongst all the other decorations you're known for. The bells also make an excellent gift for friends and family during the holiday season.
Materials
You can use any yarn and hook size you want.
Abbreviations
st. - stitch
sl st. - slip stitch
ch - chain
sc - single crochet
dc - double crochet
dc2tog - 2 double crochet closed together
ch3picot - ch3, insert the hook into the base st., yarn over, pull the yarn through all loops on hook.
()* - repeat the instructions between the brackets the number of times indicated.
Christmas Bells: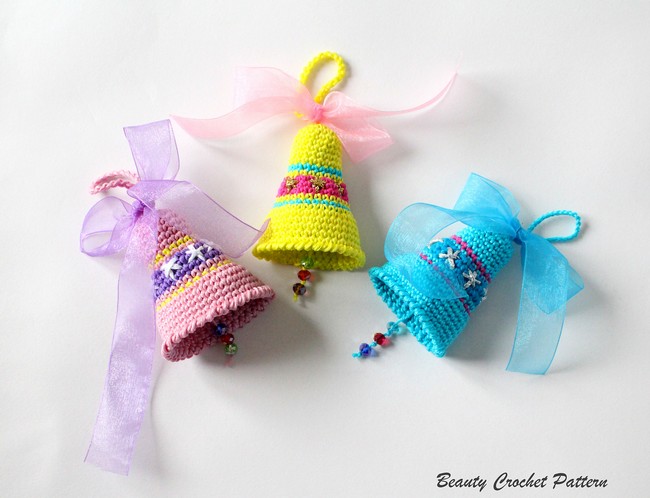 Enjoy crocheting this Christmas Bell Ornament. Make a set of bells and dress up your tree. Pick your favorite colors, make them in different shades, or give them as gifts. This is the pattern for a Christmas Bell Ornament made from sports yarns. The bell is crocheted in a chain stitch, adding a few extra rows for texture. It's finished off with a small piece of ribbon and three beads to give it that extra festive touch!
Materials
Yarn: Sport, 5 ply
Hook: E (3.5 mm)
3 beads for one bell
Small piece of ribbon
Sew needle
Abbreviations
ch - chain
sl st - slip stitch
sc - single crochet
Rnd - round
st/s - stitch/s
CA - main color
CB - 1st contrasting color
CC - 2nd contrasting color
Christmas Bells: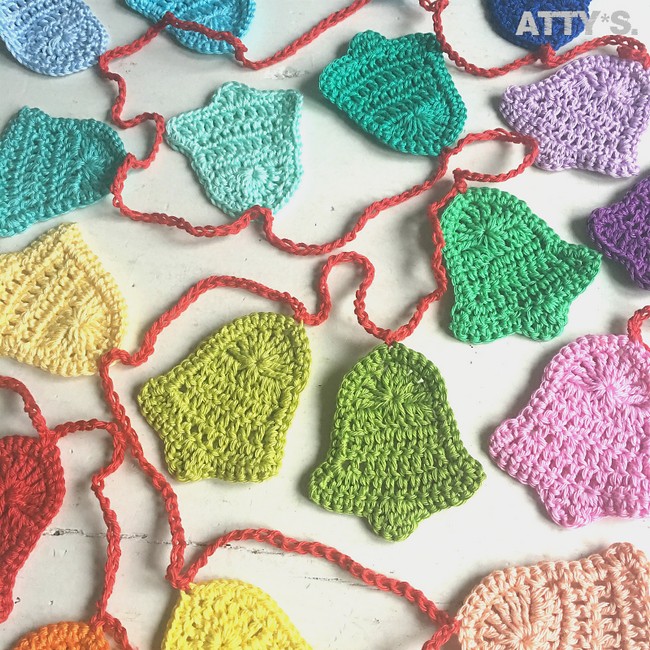 This is a crochet pattern of the Christmas Bell Ornament. Bells are super popular this Christmas season because they look so festive and cheerful! This bell ornament will never go out of style and can be used yearly, adding new memories to that beautiful place where all your memories live. This is an easy crochet pattern for a bell decoration. You can use this bell in any house or garden room. It looks festive and similar to the ones made from paper but eco-friendly!
Materials
I used 100% mercerized cotton by Yarn and Colors with hook 2,5mm.
Abbreviations
st stitch
ss slip stitch
ch chain
sc single crochet
hdc half double crochet
dc double crochet
tr treble crochet
Christmas Bells: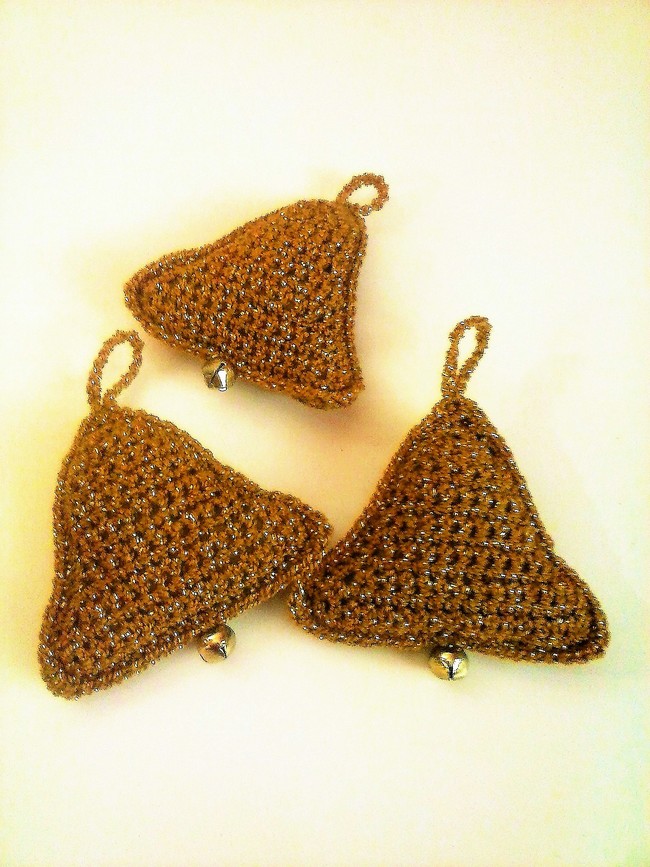 How cute is this little Christmas Bell Ornament? This easy crochet pattern uses sport or DK weight yarn to create a fun, festive, and versatile piece. The ribbons are optional; however, if you are gifting this to someone, adding the ribbon bow makes it more festive! The crochet pattern is written and diagram, with all the materials needed to create the bell ornament. All you need is a few basic stitches, some knitting skills, and some free time to finish this project before December 25th!
Materials
Sport or DK weight yarn in Red and White colors
4mm crochet hook
Fiberfill
Large beads or jingle bells
Ribbon Bow
Tapestry needle
Abbreviations
ch = chain
sc = single crochet
st = stitch
sl st = slip stitch
beg = beginning
(C1) = color 1
(C2) = color 2
Crochet Snowflake Christmas Bell: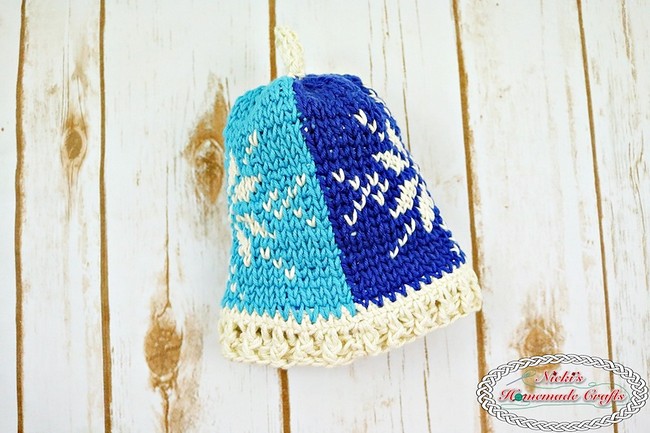 This fun and fluffy snowflake-shaped Christmas bell ornament is an easy crochet pattern to add to your holiday tree. Its knitted body and crocheted embellishments make it a great gift or ornament for loved ones, especially if you embroider their initials on the straps! This yarn has a beautiful shine, works up beautifully, and has gorgeous colors. People of all ages will love to make and wear these fun ornaments.
Materials
Knit Picks Dishie yarn in colors
Swan (white)
Azure (light blue)
Blue
Scissors
5.0mm hook
tapestry needles
small jingle bells
Abbreviations
ch = chain
sc = single crochet
dc = double crochet
FPDC = front post double crochet
BPDC = back post double crochet
wst = waistcoat stitch
sl st = slip stitch
Crochet Simple Christmas Bells: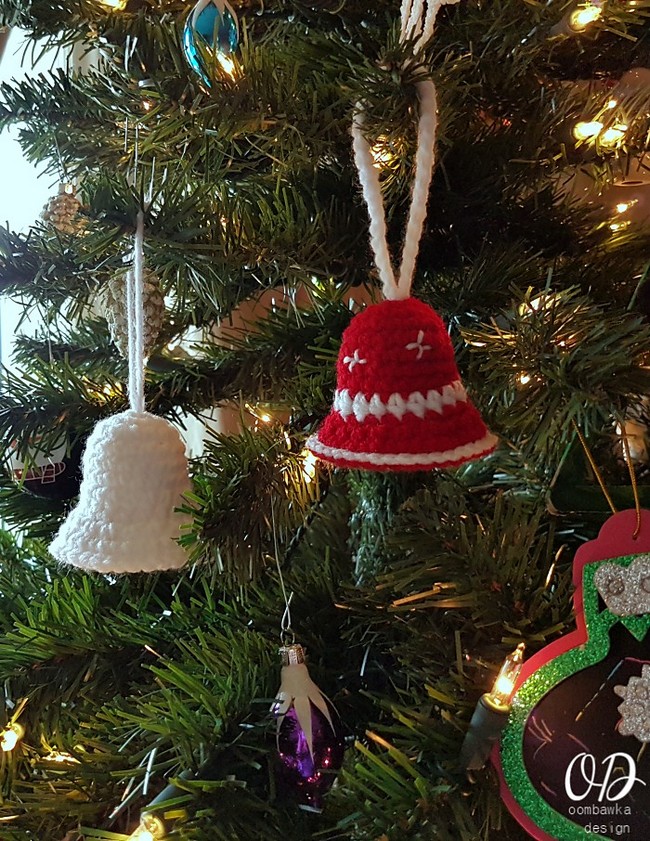 This Christmas Bell Ornament pattern is a simple and quick project. They are perfect for hanging on the tree and can be used as gift toppers or decor for all your favorite Christmas gatherings. Crochet a Christmas Bell in the traditional colors of white and green. Finish the bells with gold thread and sprinkles to resemble a shiny and festive Christmas ornament! This easy pattern is perfect for beginners and can be finished in a few hours.
Materials
Yarn: Red Heart Super Saver, 100% Acrylic, Medium (4), (5 oz/141 g; 256 yds/234 m).
Hook: 4 mm (G) Clover Amour
Scissors, Yarn Needle, Stitch Marker (optional)
Abbreviations
ch – chain
hdc – half double crochet
MR – magic ring (see Double Magic Ring Tutorial Below)
R – row/round
rem – remaining
rep – repeat
sc – single crochet
sk – skip
sl st – slip stitch
st/sts – stitch/stitches
* – Repeat the instructions between the asterisks the number of times indicated. This repeat will contain of multiple instructions.
() – Repeat the instructions between the parentheses the number of times indicated.
[] – at the end of the row – the total number of stitches
Christmas time - bell: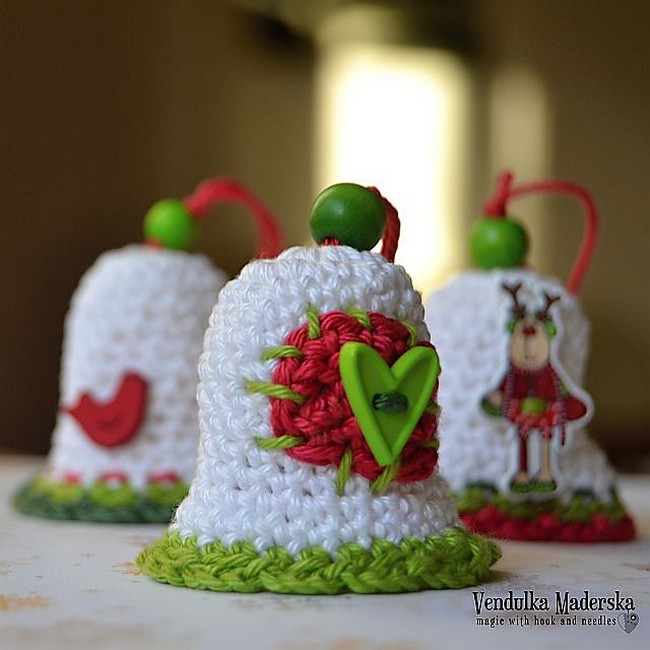 The bell ornament is a beautiful little accessory for Christmas. With the help of this Christmas time - bell pattern, you can create your crochet bell ornaments. You can use explicit materials, such as small jingle bells, Christmas buttons, and wooden beads. If you have an embroidery hoop and needle with a blunt tip, you can decorate anything you want: tree branches, wreaths, and more! They would be a nice gift for someone else, or you may want to make several to hang on your tree or as a unique garland!
Materials
Hook: 3 mm
Other materials: small jingle bells, wooden beads, Christmas buttons, a needle with a blunt tip (tapestry needle)
Abbreviations
Chain (CH)
Slip stitch (SlSt)
Single crochet (SC)
Double crochet (DC)
Increasing (inc): 2 SC in the same stitch