15 Crochet Carrot Patterns For Beginners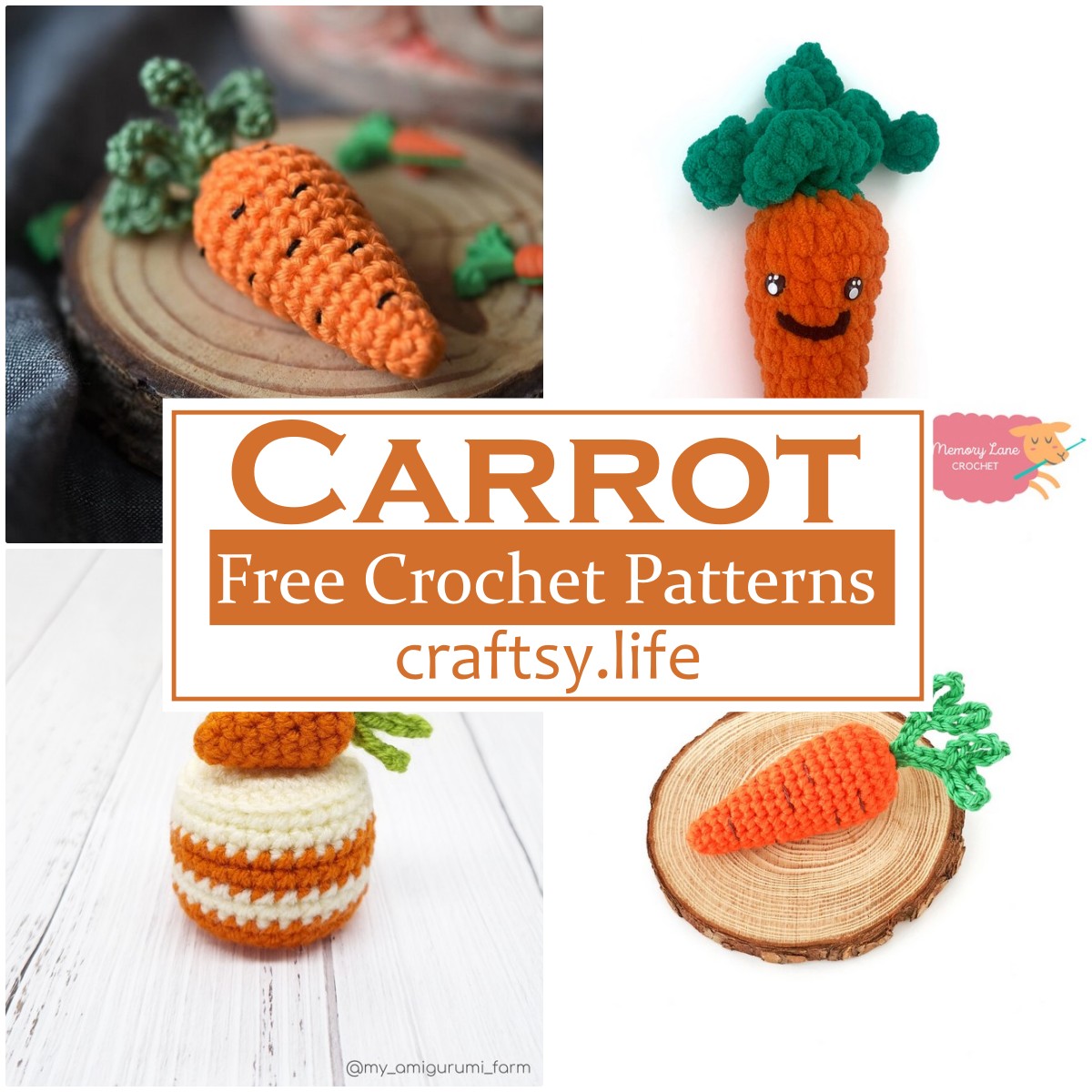 Crocheting is a great way to keep fingers busy, and it's a lot of fun to whip up some cute items for yourself, your friends, and even your pets! Here's a collection of free crochet carrot patterns that are a terrific way to get started on crocheted veggies. All the patterns shown below can be done in any yarn and hook size combination that you like, so you can make them small or large.
Amigurumi Carrot Patterns Free

You can crochet vegetables and fruits of all kinds! Here are 16 unique and free crochet carrot patterns you can use as fun decorations or gifts for foodies! The best part? They're all crocheted using 100% cotton yarn, so they're great for play and napping after lunch! We've also included fun and creative ideas for making vegetable-inspired decorations for your kitchen wall or table centerpieces.
Easy Crochet Carrot Patterns For Easter
Crochet carrots are simple and can be made in various sizes, from large to small. The following benefits will help you understand why crochet carrot patterns are so popular.
Crochet carrots are easy to make. To do this project, you can use simple stitches like single crochet and double crochet, along with slip stitches.
The finished product has a natural look that will blend well with any décor theme or color scheme in your home.
Crochet carrots are inexpensive, allowing you to make several for yourself or as gifts for friends and family members who love handmade items.
Carrot Amigurumi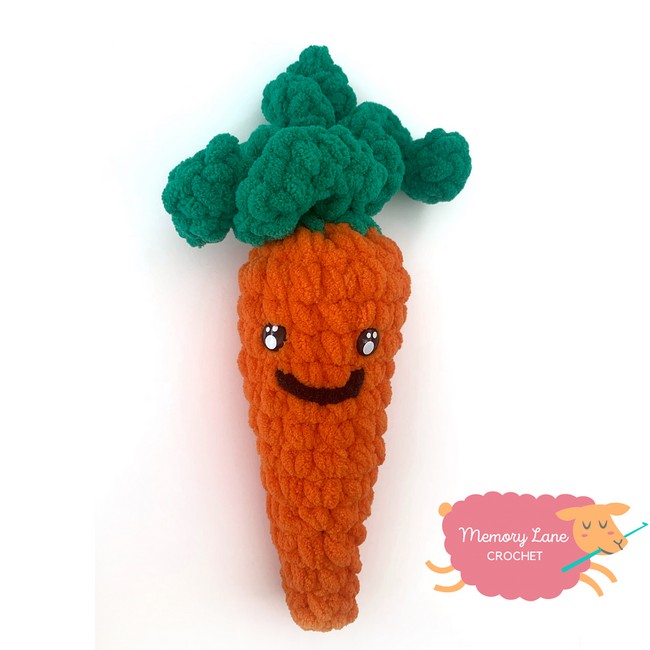 Amigurumi has become a big craze in crochet, and amigurumi vegetables are among the most popular. We have this great pattern for you to make your carrot plush. You can use different yarns and colors to create your variations. Two sizes are available in this pattern to make baby carrots or larger ones. This crochet carrot pattern would be cute for Easter or Christmas. It has a tiny face and crocheted leaves for hair. The crochet carrot is an adorable toy that kids will love!
Materials
Super Bulky / Super Chunky yarn
8mm crochet hook
Scissors
Sewing needle
10mm Safety eyes
Toy stuffing
Abbreviations
ch – Chain
MR – Magic ring
R – Round/Row
sc – Single crochet
2sc – 2 sc in 1 space (increase)
sc2tog – sc 2 together (decrease)
sl st – Slip stitch
st/sts – Stitch/Stitches
Carrot Garland
This is a crochet pattern for a string of carrots, perfect for hanging in your windows, doorways, or wherever you want some springtime greens. Plus, you can make them in any combination of colors you like. Crochet this carrot garland for an Easter or fall wreath or your decoration. You can do the carrots in the orange, rainbow, or any combination you like! These adorable Carrots are the perfect addition to Easter baskets, table decor, and more!
Materials
Worsted weight yarn in your carrot-y colors
Red Heart Scrubby in Green Tea for carrot tops – If you can't find this yarn you can substitute for a lighter weight green yarn. For the rainbow carrots I used a fingering mohair blend, and light fingering wool.
4.5mm crochet hook
small amount of stuffing
Stitch marker
You can also see: Crochet Bow Patterns 
Mini Carrots and Greens
Add a bit of color to your day with these bright little carrots! This crochet pattern for mini carrots is fun and easy to learn, perfect for beginners. They can be made as accents, decorations for your home decor, or even adorable gifts. With only one row of instructions and minimal materials needed, they can be made in the time it takes to watch Netflix. Crochet these little carrots and add greens to your spring and summer table. These would also be perfect for Easter baskets!
Materials
2/0 (2.00 mm) or US B (2.25 mm) crochet hook
Stitch markers
Tapestry Needles
Scissors
Polyester Stuffing
Abbreviations
Ch(s) = chain(s)
Inv Dec = invisible decrease
Loop(s) = lp(s)
Mr = magic ring
Pm = place marker
Rnd = rounds
RS = right side
Sc = single crochet
Sl st = slip stitch
Sp(s) = space(s)
St(s) = stitches
Yo = yarn over
* = repeat instructions following the asterisk.
( ) = work everything inside the parentheses in the next stitch.
Amigurumi Mini Carrot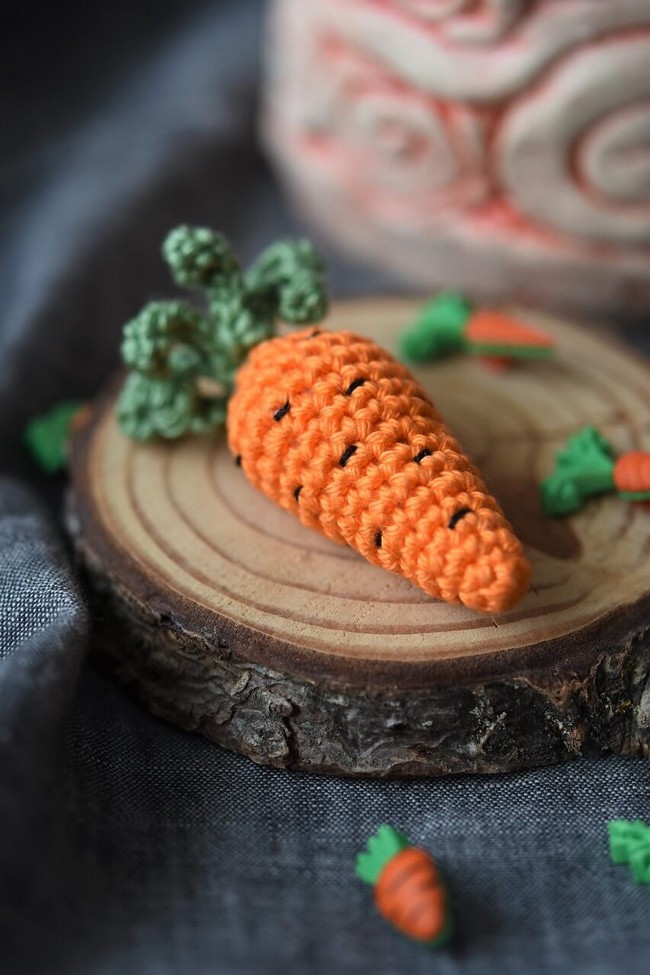 Crochet Carrot Pattern; Amigurumi mini carrot is a great companion for any garden-themed crochet project. It would be great for your Easter baskets or as a table decoration for a spring party. This very simple pattern can be made with two types of yarn and hook sizes, H, I or J depending on your preference. Here is the pattern of a carrot you can use to make DIY vegetable crafts and decorate your home or crafting project.
Materials
Sport (5 ply) weight cotton – for example Scheepjes Catona (50g / 125m) or Schachenmayr Catania (50g / 125m) in orange and green
2 mm crochet hook
polyester fiberfill
black thread
darning and embroidery needle
brooch pin – optional!
Abbreviations
Slip stitch (sl st), chain (ch), single crochet (sc), repeat (rep), stitch(es) – st(s)
Carrot Cake
A healthy and tasty treat for your little ones. Crochet this sweet carrot cake just in time for Easter. Everyone's favorite vegetable gets the crochet treatment! This little crochet carrot makes a great addition to any kitchen or home decor. The pattern can be modified to fit any size of carrot needed. This pattern will make a carrot cake in the shape of a carrot, including a decorative box. This edible crochet carrot pattern is easy to make and a great way to use up the small balls of yarn you have lying around!
Materials
Sirdar Hayfield Bonus DK: Burnt Orange (647), 100% Acrylic, 100g
Cygnet DK: Cream (256), 100% Acrylic, 100g
Stylecraft Special DK: Grass Green (1821), 100% Acrylic, 100g
Polyester filling for toys
Abbreviations
Magic ring (crochet specified number of single crochet stitches into the adjustable loop)
Sc – single crochet
2sc – increase (crochet 2 single crochet stitches into the same stitch)
2tog – decrease (crochet 2 stitches together)
BLO – back loops only
CH – chain stitch
Sl st – slip stitch
F/O – finish off
Work in continuous spiral, do not turn or join, unless stated otherwise
Sewing parts together
Mini Carrot
Now you can crochet your little carrot with this simple pattern! It only takes an hour or two to make, and you can use it as a keychain, brooch, garland, or accessory for other amigurumi in the house. Or maybe you want to make some carrots for a play kitchen? Perfect for Easter too. And yes, Easter is just around the corner—you could even use this little guy to decorate your Easter Bunny!
Materials
DK Weight Yarn in orange and green (I used Paintbox Yarns Cotton DK in Blood Orange and Grass Green)
2.5mm crochet hook
Polyester fiberfill
Brown embroidery floss
Stitch marker, yarn needle, scissors
Abbreviations
ch – chain
sc – single crochet
inc – increase
invdec – invisible decrease
sl st – slip stitch
st/s – stitch/es
[…] – repeat the instructions in brackets
(…) – indicates stitch count at the end of the round.
You can also see: Free Crochet Bunny Patterns 
Easter Carrot Hair clip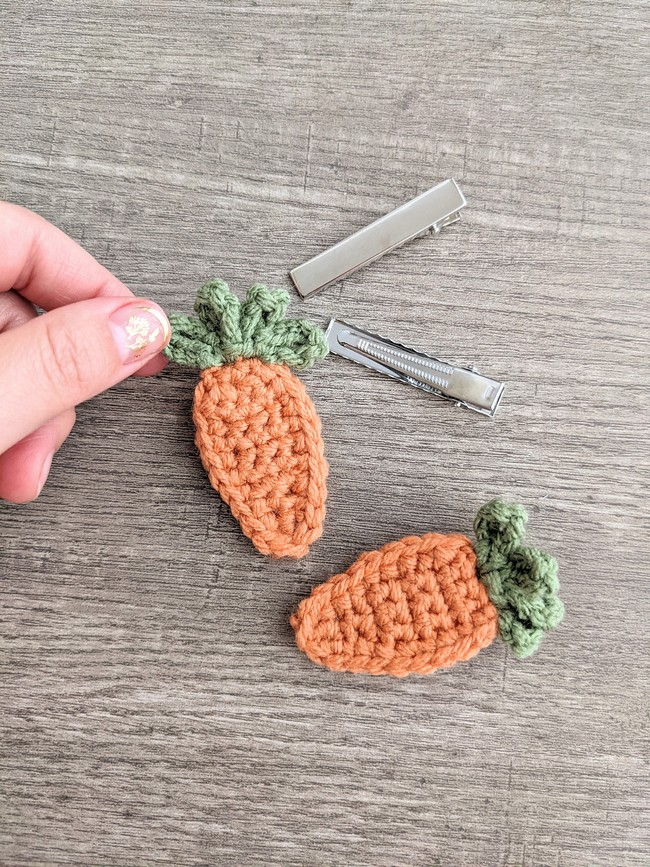 Easter carrot-inspired hair clip. Hand crocheted in fingering weight yarn, this piece is perfect for a day on the town or a night out. It can be worn as a hair clip or headband. Treat it gently to get the best wear from your piece, and avoid putting it in the dryer when drying your clothes. Each item is handmade, so slight variations may occur, but you will always get high-quality fabrication and beautiful design! Make this lovely hair clip using this easy-to-follow pattern. You will love how easy crocheting is with this tutorial.
Materials
E 3.50 mm crochet hook

Medium Worsted weight (#4) yarn

I used :

-Hobby Lobby ILTY Light Sage (green for leafs)
-Hobby Lobby ILTY Dessert Glaze (orange for carrot)

Yarn needle

Scissors

Flat Alligator Clips – 45mm (1.75 in)
Hot glue gun
Abbreviations
CH

 – 

chain

ST 

– stitch (stitch space)

Sl St

 – 

slip stitch

SC

– single crochet

SC INC

 – single crochet increase 

(2 sc in the same st)

Other:
F.O: 

fasten off
Amigurumi Carrot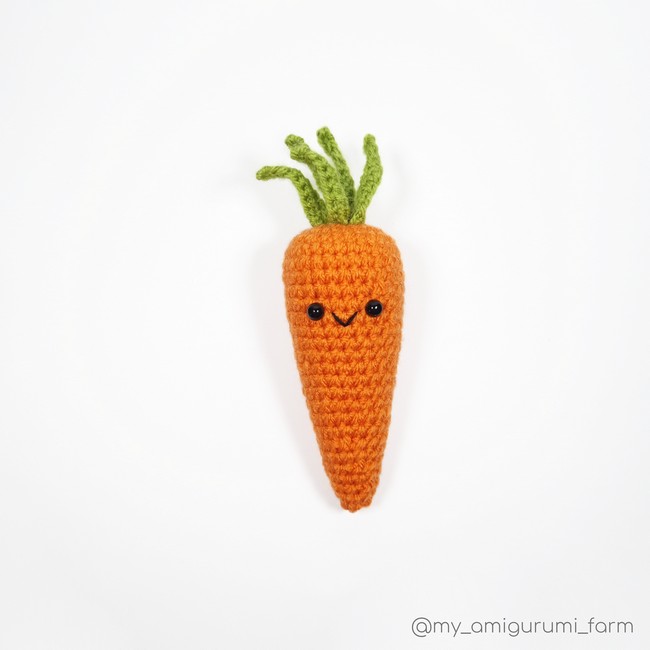 You will love the yummy orange flavor of this crochet carrot, which is perfect for any vegetable display. The eyes and nose add a beautifully cartoonish appearance, which is suitable for children and culinary connoisseurs! The pattern includes easy-to-follow instructions that are written so that even beginners can follow along without any frustration. This little carrot is very sweet. It's the perfect size for snacking. Crochet this adorable carrot in any yarn and any color you'd like. Make one for a friend, so they have their veggie companion to take on a picnic! Get crocheting today!
Materials
crochet hook size 3.0 mm
scissors
craft pins
needle
Stylecraft Special DK: Spice (1711), 100% Acrylic, 100g
Stylecraft Special DK: Grass Green (1821), 100% Acrylic, 100g
A piece of black yarn to make smile
Polyester filling for toys
Black safety eyes x 2 – size 6 mm
Abbreviations
Magic ring (crochet specified number of single crochet stitches into the adjustable loop)
Sc – single crochet
2sc – increase (crochet 2 single crochet stitches into the same stitch)
2tog – decrease (crochet 2 stitches together)
CH – chain stitch
F/O – finish off
Work in continuous spiral, do not turn or join, unless stated otherwise
Sewing parts together
Large Carrots
Just about everyone loves a good carrot. Whether it's for Easter or a garden party, these giant carrots will stand out at any event! Crocheted on super bulky yarn, they're easy enough for complete beginners to crochet. It makes them perfect for kids, and they can be made as a group or do just fine standing individually on a shelf, tabletop, or centerpiece. They would also be perfect for a group that wants to crochet together, with each person working on their carrot. But don't worry if you only have time for one because they are still cute standing by themselves as centerpieces or decorations."
Materials
Crochet Hook, Size E/4 (3.5 mm) and/or G/6 (4.0mm) – see pattern instructions.
Stitch Marker(s)
Scissors
Stuffing
Tapestry needle
Pins
Chopstick, dowel, or something similar to help with stuffing small parts
Red Heart Super Saver (worsted 4-Medium, 100% acrylic, 364 yds/333 m, 7 oz/198 g), Color (A) Carrot, for Carrot #1 used approx. 130, 327 yds/119, 299 m, for Carrot #2 used approx. 100, 249 yds/ m, Color (B) Guava, Carrot Top Greenery: Version 1 used approx. 13 yds/12 m per branch made, Version 2 used approx. 15 yds/14 m per branch made; version 3 used approx. 10 yds/9 m per branch made, Version 4 used approx. 13 yds/12 m per branch made.
Abbreviations
back bar of the ch
ch – Chain
Rnd(s) – Round(s)
sc – Single crochet
sc2tog – Single crochet 2 stitches together (invisible decrease)
sl st – Slip stitch
st(s) – Stitch(s)
[ ] / ( ) – Work instructions between brackets as many times as directed
magic circle/adjustable ring
Amigurumi Carrot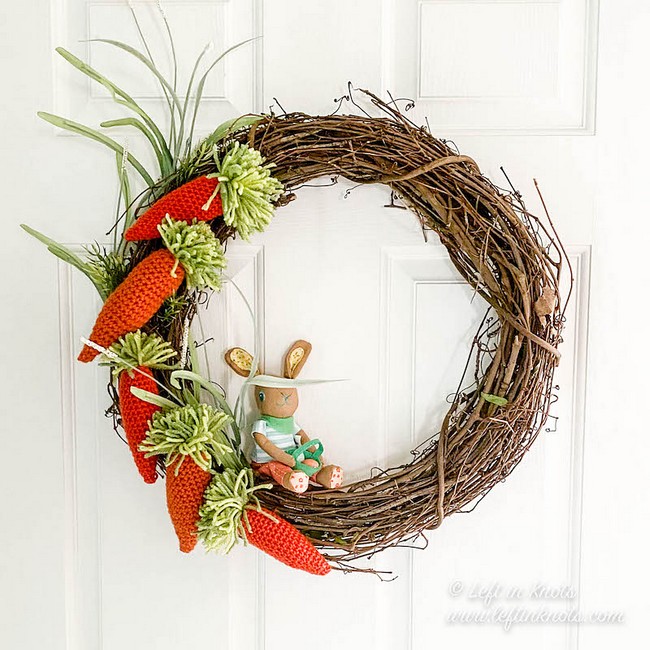 You are going to love this simple amigurumi carrot pattern. This little carrot is just the right size for a school craft project, kitchen decor (or even play food). Amigurumi Carrot is crocheted by using single crochet stitches. It is worked in a continuous round pattern, which can be stuffed as you wish. This pattern will make perfect party favors for Easter or baby showers and wonderful decorations for the front porch during Spring.
Materials
Orange and green worsted-weight yarn
5.5mm Crochet Hook (I LOVE Clover Amour)
Scissors – I always keep these travel scissors in my hook case
Polyfil
Yarn needle
Abbreviations
ch: chain
SC: single crochet
SC2Tog: single crochet two together
Crochet Carrot Garland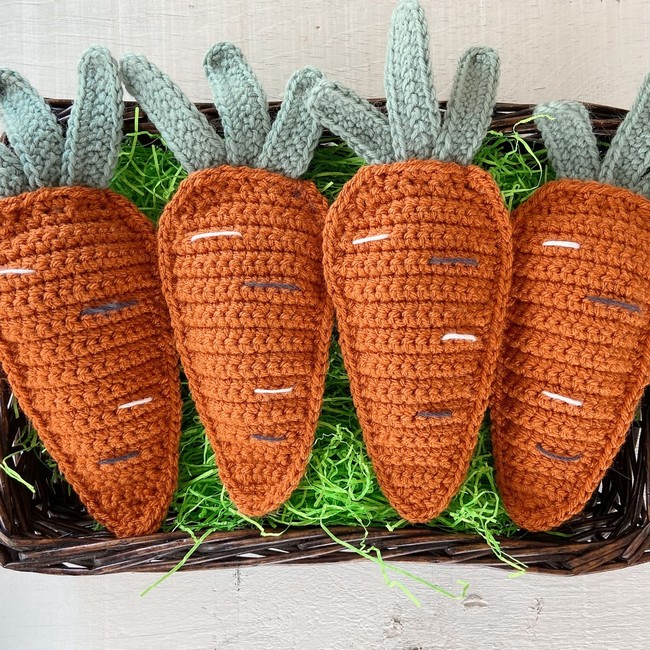 Spring is in the air! You will love using this amazing Crochet Garland as an Easter table decoration. They're versatile enough to be used all season long too. They can add color and sparkle to car windows, Easter, and cupcakes! There's nothing not to love about Spring! This project is perfect for beginners, and it's worked up in only a few easy steps. You can string them up as a garland or put them in a fun crochet basket – the endless possibilities!
Materials
Yarn:
About 40 yards of worsted-weight yarn per carrot. I used Red Heart Super Saver in the color Carrot (haha!) and Red Heart Super Saver in Frosty Green.
A small amount of DK (3) weight yarn in white and/or dark gray for the accent lines on the carrot.
You will also need about 30 yards of worsted-weight yarn for the garland chain if you want to use yarn to string your garland.
Size G (4.00mm) crochet hook.
Polyfil or other stuffing material.
Jute Twine (optional)
Scissors, Yarn needle
Abbreviations
ch = chain
dec = decrease
dc = double crochet
inc = increase
sc =single crochet
sl st = slip stitch
st =stitch
yo = yarn over
Easter Carrot Bag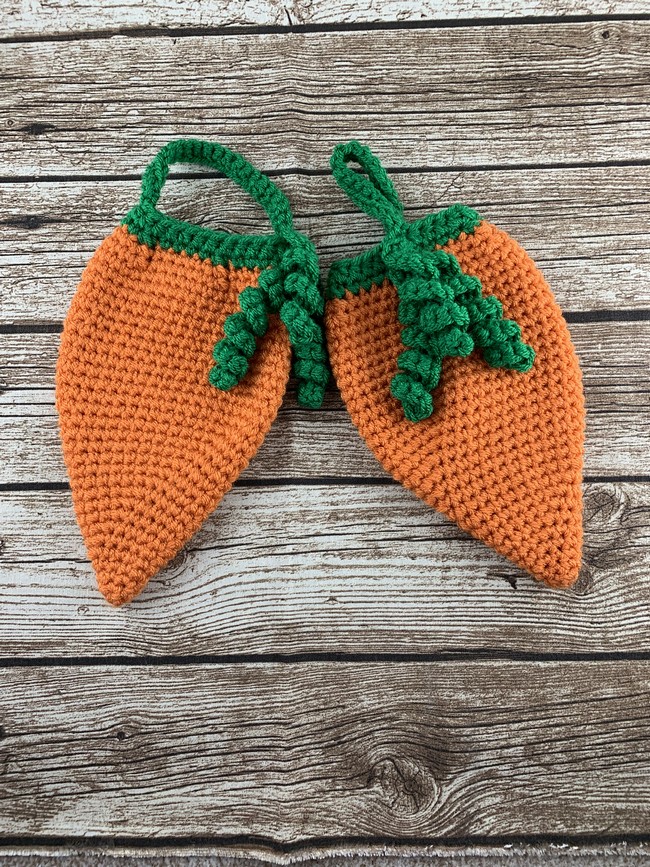 This crochet carrot pattern is a fun and playful way to disguise your Easter eggs in style. The simple design and bright colors make this happy carrot bag perfect for any baby shower or Springtime birthday party. Make it a gift for a friend with kids, or create an Easter surprise for your loved ones. This free pattern will show you how to make the perfect bag and add detailing that brings the carrot to life! Use this pattern to create a unique gift for any child and make them yourself! They are so much fun!
Materials
 DK (8 ply/light worsted weight) Yarn in Orange and Green

I used Stylecraft Special DK in Spice and Grass Green
 5.5mm Crochet Hook
 Scissors
 Yarn Needle
 Stitch Marker | Scrap of Yarn
Abbreviations
 Ch = Chain

 MR = Magic Ring
St(s) = Stitch(es)
Sl st = Slip Stitch
Sc = Single Crochet (UK = Double Crochet)
Hdc = Half Double Crochet (UK = Half Treble Crochet)
Inc = Increase | Crochet two into same st
Dec = Decrease | Crochet two sts together
Carrot Kawaii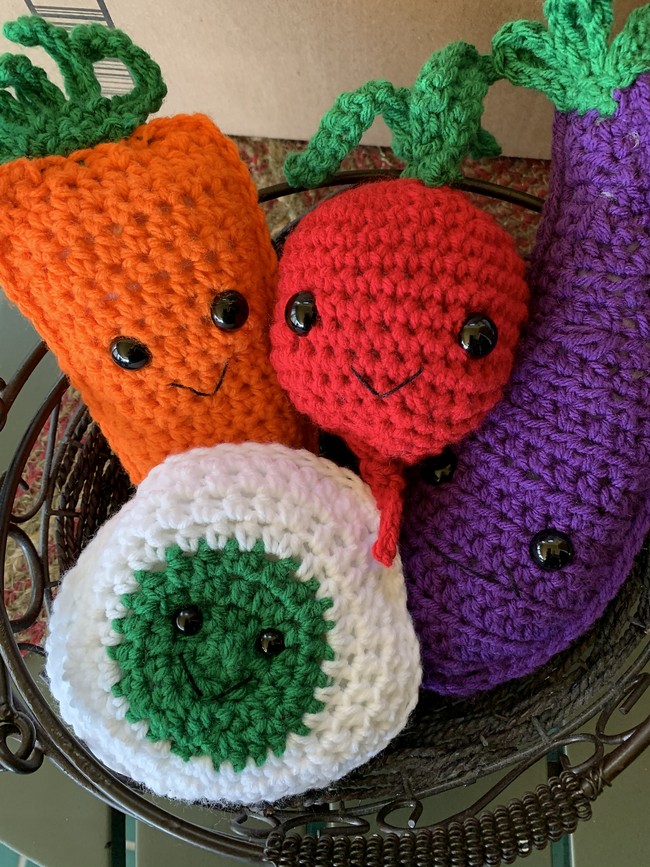 This cute crochet carrot pattern makes the perfect addition to any Easter basket or gift basket. Fun and easy, it's a great project for Easter or Cinco de Mayo celebrations. This crochet carrot applique pattern is perfect for beginners and experts alike. The body of the carrot is worked in single crochet stitches, with increases and decreases to give it a realistic shape. It's worked in eight sections assembled together to create the carrot. This pattern is easy to follow and can be completed by any level crocheter in one sitting. Materials required are yarn, a hook and scissors.
Materials
-5.0mm hook
–#4 Worsted weight yarn in Orange and Green; I used Mainstays yarn brand
–Polyfil
–(2) 15mm black eyes
-a -a small amount of black thread for the mouth
–needle for weaving ends and making the mouth 
Abbreviations
Ch:  chain
St:  stitch
Sl st:  slip stitch
SC:  single crochet
HDC:  half double crochet
FO:  fasten off
Carrot Family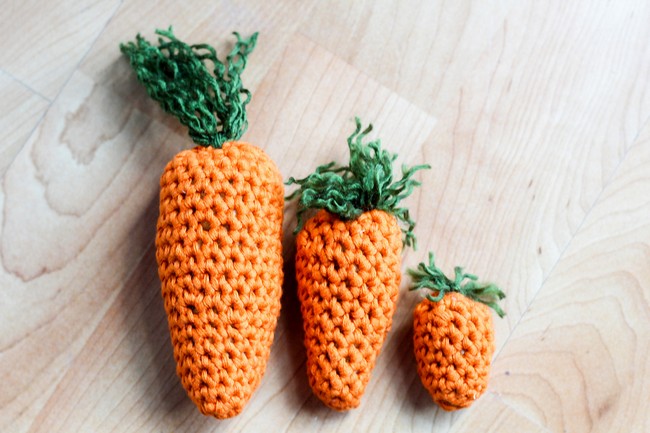 Family Carrots are here, and they are so cute! If you love crocheting, you will love this pattern that includes the whole family. Baby carrots, big carrots, grandma carrots, and grandpa carrots are all included in this fun pattern. This pattern uses a small amount of yarn for each carrot, which is great for leftovers from other projects, scraps, or even some machine pumpkins that have been left over from fall. Crochet this realistic carrot and carrot family to give as a gift or keep yourself. Make a bunch of them add to your home!
Materials
Stuffing for each of the carrots. (feel free to use whatever you have on hand: poly-fill, fabric scraps, yarn scraps etc.)
Stitch Markers
Sewing Needle
Something for the eyes (black yarn, embroidery floss, or ami eyes)
Contrasting yarn for the hair
(optional) blush for the cheeks.
Hook: 4MM
YARN: size 3 cotton yarn
Abbreviations
SC – single crochet
Sc2tog – single crochet 2 together
SL ST – slip stitch
Cottage Garden Carrots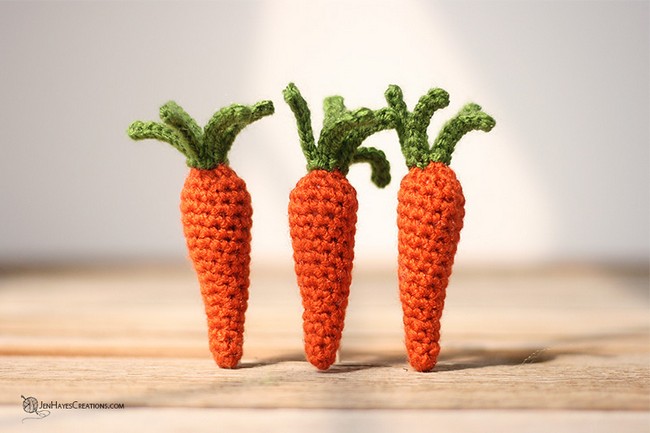 Crochet Cottage Garden Carrots are a fun project for decor, playtime, or to accompany Patrick and Archie, the Cottage Garden Crochet Bunnies. Crocheted with worsted-weight yarn and a size H (5.0 mm) hook, this pattern offers many options to create unique designs that look like they could have been picked from any cozy cottage garden patch. The Carrot's body is flat, but you can add a slight curve to the leafy areas to further the illusion of depth. These crochet carrots will look great anywhere, whether you are using them as a stand-alone crochet project or crocheting them to go with the Cottage Garden Crochet Bunnies in their garden patches.
Materials
Crochet Hook, Size E/4 (3.5 mm)
Stitch Marker(s)
Scissors
Stuffing
Tapestry Needle
Disc Needle Puller (optional)
Safety eyes, 6mm (optional)
Embroidery Floss, black (optional)
Embroidery Needle (optional)
Chopstick, dowel, or something similar to help with stuffing
Lion Brand Vanna's Choice (worsted 4-Medium, 100% acrylic, 170 yds/156 m, 3.5 oz/100 g): Color (A) Terracotta, used approx. 10 yds/ 9 m, Color (B) Kelly Green, used approx. 5 yds/ 4.5 m
Abbreviations
ch – Chain
Rnd(s) – Round(s)
Row(s) – Row(s)
sc – Single crochet
sc2tog – Single crochet 2 stitches together (use the invisible decrease when working in the Rnd)
sl st – Slip stitch
st(s) – Stitch(s)
[ ]/( ) – Work instructions between brackets as many times as directed
magic circle/adjustable ring