Style your favorite hat, headband, or hair clip with these beautiful crochet bow patterns. Crochet a colorful flower for your sweetheart or a simple loop for your little one. Maybe you'll make all three! This collection of 15 crochet bow patterns will be the talk of your next party or get-together. Whether you're looking for a cute hair accessory or want to add some whimsy and character to your everyday wardrobe with an extra touch of flair, these patterns will help you create timeless pieces that work across all seasons and styles. From small to large, these bows would be perfect for any occasion. Perfect as gifts or to decorate anything from dresses to your child's school supplies.
Perfect Crochet Bow Patterns

Crocheted bows are cute, versatile embellishments that can be added to just about anything. From hair accessories to gift wrapping, clothing, baby gear, and beyond, bows are a fun way to add pizzazz to any project. They're also a great way to use up some of your more colorful scraps—with the right color combinations and materials; you can create visually interesting and brightly colored. Most importantly, they're a great way to expand your crochet skills. Working on a crochet bow pattern can be a fun challenge if you're used to crocheting granny squares, hats, or scarves. Most of them use basic stitches like double crochet and treble crochet, but the experience of working with such small pieces can help increase your patience with complex projects like lace doilies or even socks.
Benefits Of Having Crochet Bow Patterns
Crocheting is a great hobby, and crochet bow patterns can be a fun way to express yourself. There are many benefits to crocheting bow patterns, including the following:
Fun and Creative - Crocheting is a fun way to express creativity. You can make unique items that fit your personality and style. It's also a great way to spend time with friends and family.
Easy To Learn - Crochet is an easy craft that anyone can learn. The supplies needed for crocheting are inexpensive, so there's no reason not to try it!
Low Cost - Crochet doesn't cost much money at all. If you're looking for something cheap and easy, there's nothing better than using yarn as a hobby!
Easy Storage - Yarn doesn't take up much space compared to other crafts or hobbies like knitting or painting. You can keep your supplies in one place without worrying about finding storage space for them later when they outgrow their current location in your home or apartment.
Bow Square:
You can make this sweet crochet bow square with a little yarn and the right hook. It's a quick project that makes a great gift or addition to your home decor. The Crochet Bow Square is a great addition to your collection of crochet squares if you love to crochet. This square is made easily using different color yarns, and it's super fun to make! You could use this crochet bow square to decorate anything. This would be perfect for the top of a mason jar, placed in the center of a wreath, or tacked to the top of a Christmas Tree. This pattern is simple enough for beginners and quick enough for experienced crocheters.
Materials
H/5.00mm hook
Approx 35 yards of heavy worsted or aran yarn
Scissors
Tapestry needle(optional, for weaving in ends)
Loveland Lace Bow: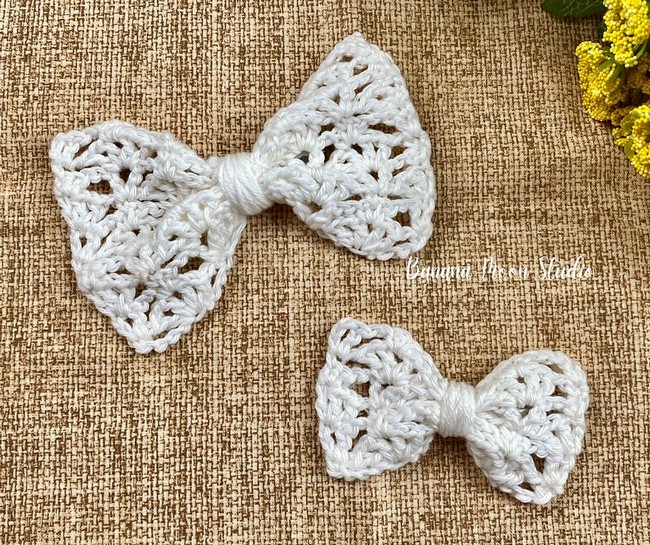 This crochet bow lace is a light and delicate accessory to complete any outfit. It is the perfect length, being a bit longer than the regular bow, meaning that it can be used to cinch up a hair scarf or tie back hair. It is a beautiful piece that'll add a touch of romance to any outfit. This single-layered, simple yet sophisticated complement will take you effortlessly through the seasons. Be your own accessory with one of our handmade crochet bows. A great way to add some spice to any outfit, and perfect for all seasons. This crochet bow features a lacy stitch and won't be too heavy to wear. Attach to your favorite bag or purse, or grab a few extra to organize your jewelry drawer.
Materials
We Crochet Comfy Fingering Weight (75% Pima Cotton, 25% Acrylic; 218 yds; 50 g; yarn weight category 1/fingering/super fine): About 13 [20] yds of #9437 White.
Crochet Hook: E/4 (3.5 mm), or size needed to obtain gauge.
Notions: Tapestry needle, clear-drying fabric glue, alligator clip (optional).
Gauge: 3 pattern repeats x 14 rows = 4 ½ inches
Abbreviations
ch(s) – chain(s)
dc – double crochet
RS – right side
sc – single crochet
sl st – slip stitch
sp – space
st(s) – stitch(es)
Back to School Bows:
These crocheted bows are sure to do just that for the stylish girl who wants to make a statement! Add them to your backpacks, notebooks and bag handles for quick access when you need a little something extra—or just because it's too cute not to wear! Add flair to your little one's back-to-school outfits with these adorable crochet bows! Perfect for girls and boys of all ages, they're quick and easy to make. Made with a simple pattern and materials you most likely already have on hand, they will add the perfect finishing touch to any outfit.
Materials
Approximately 20 yards of DK/light weight yarn. I used Paintbox Yarns Cotton DK. (For the pencil, you'll need mustard, pink, tan, black, and grey.)
G/4 mm or size needed to obtain gauge
Scissors
Tapestry Needle
Measuring Tape
Duckbill clip or nylon headband to attach bow to for wearing
Abbreviations
ch(s) – chain(s)
st(s) – stitch(es)
sl st – slip stitch
hdc – half double crochet
Hdc2tog – half double crochet two together
Big Bow Pillow Case:
Looking for the perfect gift for your crafty friend or niece? This crochet Big Bow Pillow Case makes a great baby shower gift or decorative accent for your home. The plush fabric is made of high-quality materials for extra comfort and durability. This beautiful crochet pillow case is a simple but elegant design that's easy to make. The perfect gift for your mom, sister, or best friend! Perfect for a nursery or anywhere in the house. This crochet big bow pillow case is the perfect addition to your home or as the perfect gift.
Materials
arn: Caron One Pound (100% Acrylic; 812 yards [742 meters]/453.6 grams): 10513 Soft Pink (2 balls)
Hook: US size I/9 (5.5 mm)
Notions: One pillow form (17" wide x 28" long), tapestry needle, three 1" buttons
Abbreviations
This stitch is worked in front loops only. (Insert hook in fl of next st and pull up a lp) 3 times (4 lps on hook), yo pull through all 4 loops. (1 sc3tog made, 2 sts dec'd)
Classic Baby Girl Bow Headband: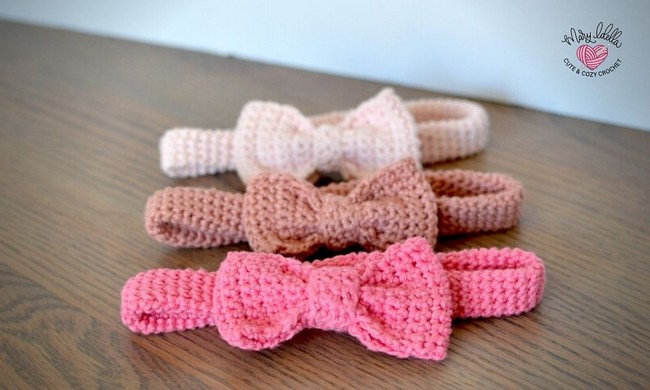 The perfect accessory for baby girls, this crochet bow headband soothes the baby as it keeps hair back and away from their face. Soft cotton and acrylic yarn make it cushiony and comfortable even on sensitive skin. The bow is securely attached with a metal clip; one size fits all babies. Add a pop of color to your little one's outfit with this adorable and trendy headband made with super soft acrylic yarn. It features a classic bow in various colors, making it easy to coordinate with her everyday wardrobe.
Materials
Lightweight cotton yarn in favorite color (I used both Paintbox Cotton DK and Lion Brand Coboo)
3.75 mm (F) crochet hook ( I LOVE these Hooks!)
⅜ inch (9mm) braided elastic (see sizes for measurements)
Small amount of thread
Yarn needle
Sewing needle
Measuring tape or ruler
Abbreviations
ch – chain
sc – single crochet
sc dec – single crochet decrease
sl st – slip stitch
st(s) – stitch(es)
f/o – finish off
Perfect Bows:
Enjoy this crochet pattern for your favorite little girls. These amazing crochet bows are an easy project and can turn out perfect every time. This free crochet pattern includes instructions for flat bows or the perfect scrunchy! If you love crocheting bows and want to save yourself from hours of frustration over a non-scrunchy, perfect bow, these crochet bows are the perfect pattern! Crochet the perfect bow in minutes with this easy tutorial. You will never have to scrunch your bows again because they attach with a toggle and loop you sew on instead! This is a great pattern for beginners who are also learning how to crochet.
Materials
Size G Hook (4.25 mm) (my favorite hooks)
Medium Weight Yarn (Knit Picks Brava and Mighty Stitch, Premier Anti Pill Worsted
Yarn Needle (to weave in ends)
Bow applique:
The Crochet Bow Applique is the ultimate finishing touch for your handmade projects. It's simply gorgeous, so easy to attach, and stays put! Add sweetness to your little one's outfit with this crocheted bow applique. The Crochet Bow Applique is the ultimate finishing touch for your handmade projects. It's simply gorgeous, so easy to attach, and stays put! This unique crochet applique is perfect for layering over your summer dresses. It can be used as a headband, necklace, or bracelet. A special touch to your everyday look!
Materials
- Thin weight yarn of your choice (pink).
- Size 1,25 mm Crochet Hook.
- Scissors.
Abbreviations
Chain - ch.
Slip stitch - sl st.
Single crochet - sc.
Double crochet - dc.
Half double crochet - hdc.
Chain space - ch sp.
Crochet Bow Top: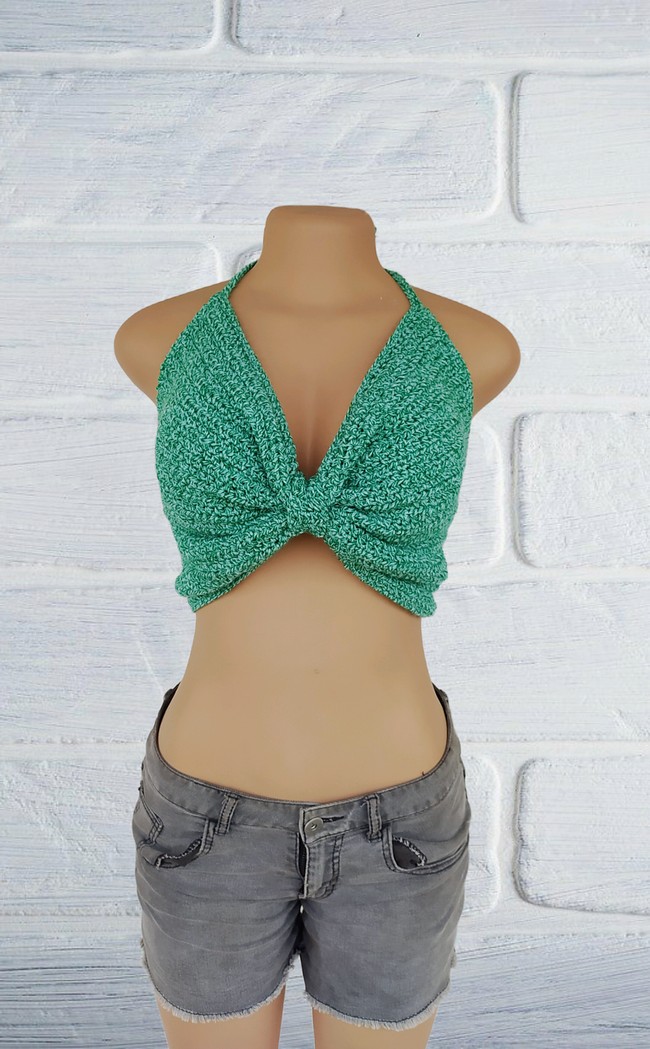 Beat the heat in this crochet bow top. The top is what you get when searching for an easy-to-make summer top that works quickly. You only have to crochet the front which is a basic rectangle while the back is made up of only straps. This is a lovely piece for both on and off-duty wear. Made from soft cotton voile, it's also great for layering over t-shirts or blouses. This crochet top is the perfect project to make while watching your favorite TV show or listening to music. It works up super fast and has a lovely drape. The bow detail at the neckline gives it some extra oomph!
Materials
Dk weight yarn – 100g ball
4.0 mm crochet hook
Stitch markers
Tapestry needle
Abbreviations
Ch: Chain
Sc: Single Crochet
DC: Double Crochet
Slst: Slip stitch
Bow Crop Top:
The Crochet Bow Crop Top is an edgy, sexy piece that will give you an edge. This crop top features a back hook-and-eye closure and a crochet bow detail to add dimension to the top. You'll be sure to turn heads in this crop top! This crop top has a bow accent at the shoulder, with a sturdy three-quarter-length sleeve. It is made from a rayon-blend fabric that falls well and never stretches out. Tie this crochet bow crop top around your neck and you'll be ready for a day of adventure. This top pairs perfectly with yoga pants and flip-flops for a casual look, or dress it up with your favorite jeans for a night out.
Materials
Light/DK (Size #3) Weight Yarn (100% Cotton): 320 (380, 430, 500, 570) (620, 690, 740) m /350 (416, 470, 547, 624) (679, 755, 810) yards of yarn.
4.0 mm Crochet Hook
Scissors
Darning Needle
Stitch Markers
Abbreviations
St(s)= Stitch(es)
Ch(s) = Chain(s)
Sk = Skip
DC = Double Crochet
Rep = Repeat
SM = Stitch Marker
WS = Wrong Side
RS = Right Side
Bow-To-Go Clutch Purse: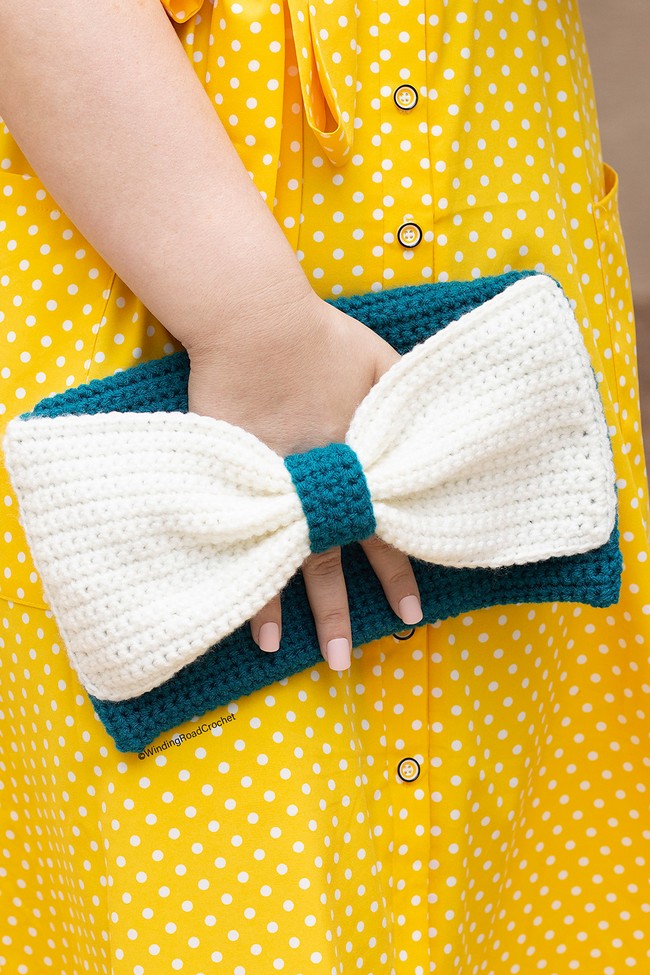 A stylish clutch purse that is a must-have for every girl on the go. It features a cell phone pocket and easily fits your credit cards, ID, and keys. The elastic strap allows you to take it with you on all of your travels. This Crochet Bow-To-Go Clutch Purse makes a fun and quirky accessory your friends will envy. The high-quality materials ensure that each one is made to last a long time, while the unique design means that it stands out from the crowd. It has plenty of space for all your essentials – making it ideal for daily use or special occasions such as a night out with friends.
Materials
1.5-3 oz or 78-156 yds of Red Heart Super Saver, Real Teal, or Flamingo
1-2 oz or 52-110 yds of Red Heart Super Saver, Soft White
Size H 5mm Crochet Hook
Yarn Needle
Scissors
Abbreviations
CH – Chain
SC – Single Crochet
HDC – Half Double Crochet
SLST – Slip Stitch
ST(s) – Stitch(es)
SC2TOG – Single Crochet 2 Stitches Together
Bow Hair Tie: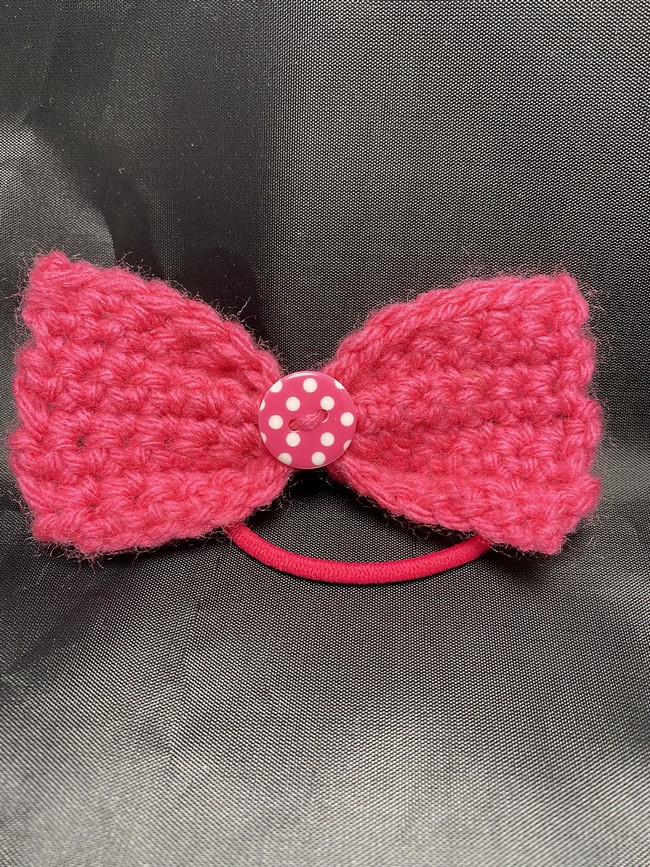 Hair Ties are the perfect accessory for hair! This hair tie is easy to use and is a great alternative to regular old scrunchies. Your little girl will love these cute and colorful crochet bows, which are so fashionable; you'll never know whether or not it's for hair, but don't let that discourage you! The bow makes an adorable hair tie for school or dance class. You'll never want to wear another hair tie when you give this cute little crocheted bow a try. It's adorable and is worth the price!
Materials
5.5 mm crochet hook
 Any color yarn
 Yarn needle
 Hair elastic
Tunisian Knit Bow Coffee Sleeve:
This free crochet Tunisian knit pattern is simple but lovely. It makes a great gift or stocking stuffer. The crochet Tunisian knit coffee sleeve is a great addition to your cup of coffee and can also be used for other drinks. It's crocheted in a delicate Tunisian stitch, filled with cotton, and then topped off with a soft bow made from acrylic yarn. This crocheted coffee sleeve is a fun and comfortable way to keep your hands warm while holding your favorite beverage. This sleeve will fit any cup/mug! It's Lacy, lacy, and more lace!
Materials
Bernat Maker Home Dec Yarn (0.5 ounces)
10 mm crochet hook (with a straight shaft)
Stitch Markers (several)
Scissors I love these for safely working on projects on the go!
Yarn Needle
Abbreviations
Chain (ch)
Forward Pass (FwP)
Return Pass (RetP)
Yarn Over (YO)
Tunisian Knit Stitch (tks)
Buttons & Bows Ear Saver: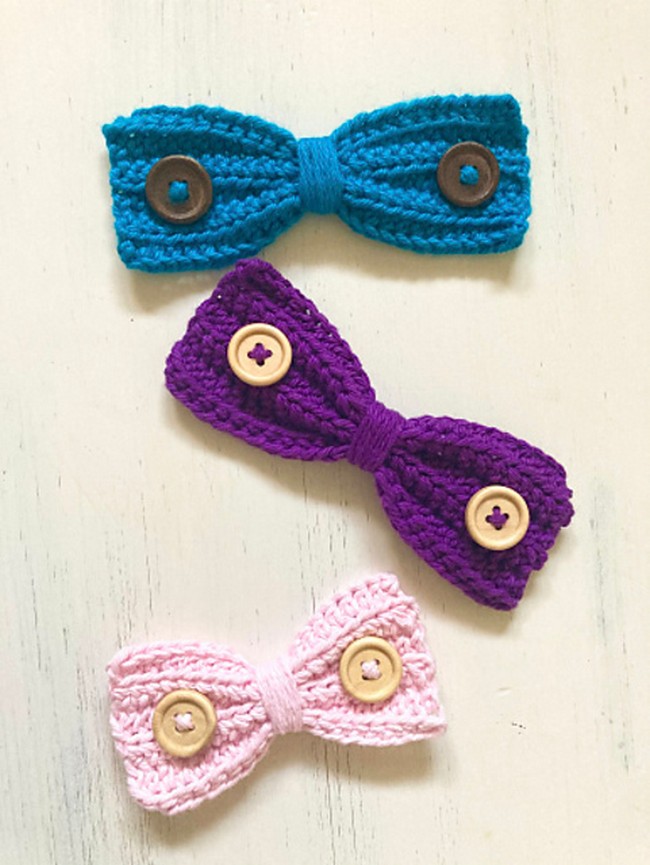 Give your ears a break with these buttons that look like bows. They're an easy and subtle way to dress up any hat, jacket, or bag, so you can continue rocking your favorite styles for years to come. Make a stylish statement with this fabulous crochet button & bow ear saver. The soft, stretchy fabric fits comfortably, and the button holds earbuds in place. The bows are made of a sturdy polyester ribbon that can withstand long hours of wear and tear.
Materials
16 yards (14.6 meters) of medium weight cotton yarn (I'm using Peaches & Creme, as well as I Love This Cotton)
Two ¾ -1 inch buttons (I'm used some wooden buttons I originally found at Walmart, but THESE wooden buttons from Amazon are very similar)
a size G/4.0mm crochet hook (I'm using my favorite Boye Ergonomic Hook)
Needle, to weave in ends and sew on buttons
Textured Bows: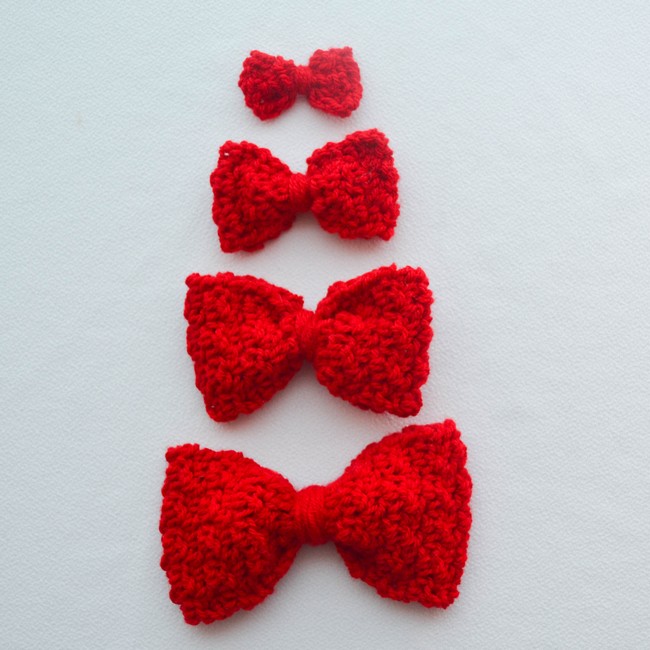 A creative take on a timeless classic, this adorable crochet-textured bow features two simplistic and cute separates that are perfect for everyday wear. Crochet Textured Bows are perfect for adding the finishing touch to your project. They are constructed in such a way that they are flexible and will not break or bend when handled by children. Crochet bows can be made in any size with any loops, so if you need lots of small ones for hair accessories, or one large bow for a headband, you can do it with this pattern.
Materials
4-35 yards of heavy worsted/aran weight yarn.
H/5.00mm hook
Scissors
Tapestry needle(for weaving in ends)
Knit Look Bow: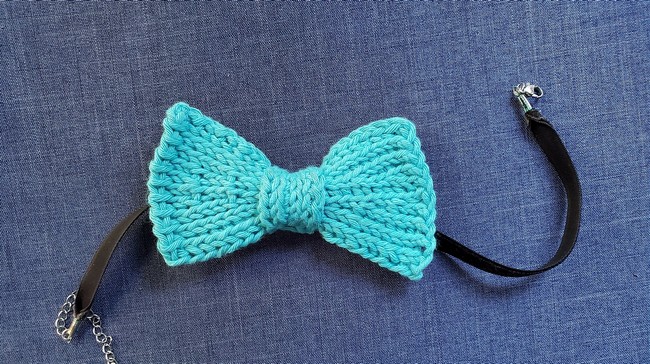 Give your baby girl a stylish look with this crochet knit look bow. Perfect for everyday wear and stylish addition to any outfit, it is made of soft material and provides a comfortable fit for your little one. This crochet knit look bow is a perfect accessory. It goes on the front or back of car seats, high chairs, strollers, and booster seats to keep your little one safe. And it comes complete with a matching bracelet! This gorgeous little DIY accessory is crocheted to give it a look and feel of knitted fabric. It knits up quickly and can be personalized to match any outfit. Whether you prefer a simple string of beads or a mixture of different types, this bow is so easy to customize you'll have no trouble picking out your favorite combination!
Materials
15 g Paintbox Cotton Aran (or other worsted weight yarn)
6 mm hook
Pins for blocking
Abbreviations
ch = chain
st = stitch
yo = yarn over
tks = tunisian knit stitch (insert hook between front and back vertical bars of next stitch, yo, pull up loop)
rtn = return (yo, pull through 1 loop on hook, *yo, pull through 2 loops, repeat from * across.
dec = decrease (skip the next vertical bar)
tfs = tunisian full stitch (insert hook straight from front to back under the horizontal bar directly before the next vertical bar, yo, pull up loop)