Snails are some of the most adorable creatures that crawl on land. Their gentle slithering is as soothing to watch as a bubbling brook or a flowing waterfall. Those who study nature often wonder about the purpose of these strange mollusks, and those who have gardens often find them munching their plants. But no matter their role in our lives, snails are undeniably amazing! The following free crochet snail patterns will help you bring the peace and tranquillity of nature into your own life. Take a moment to stop, breathe deeply, and enjoy the journey with your new friend.
Crochet Snail Patterns Free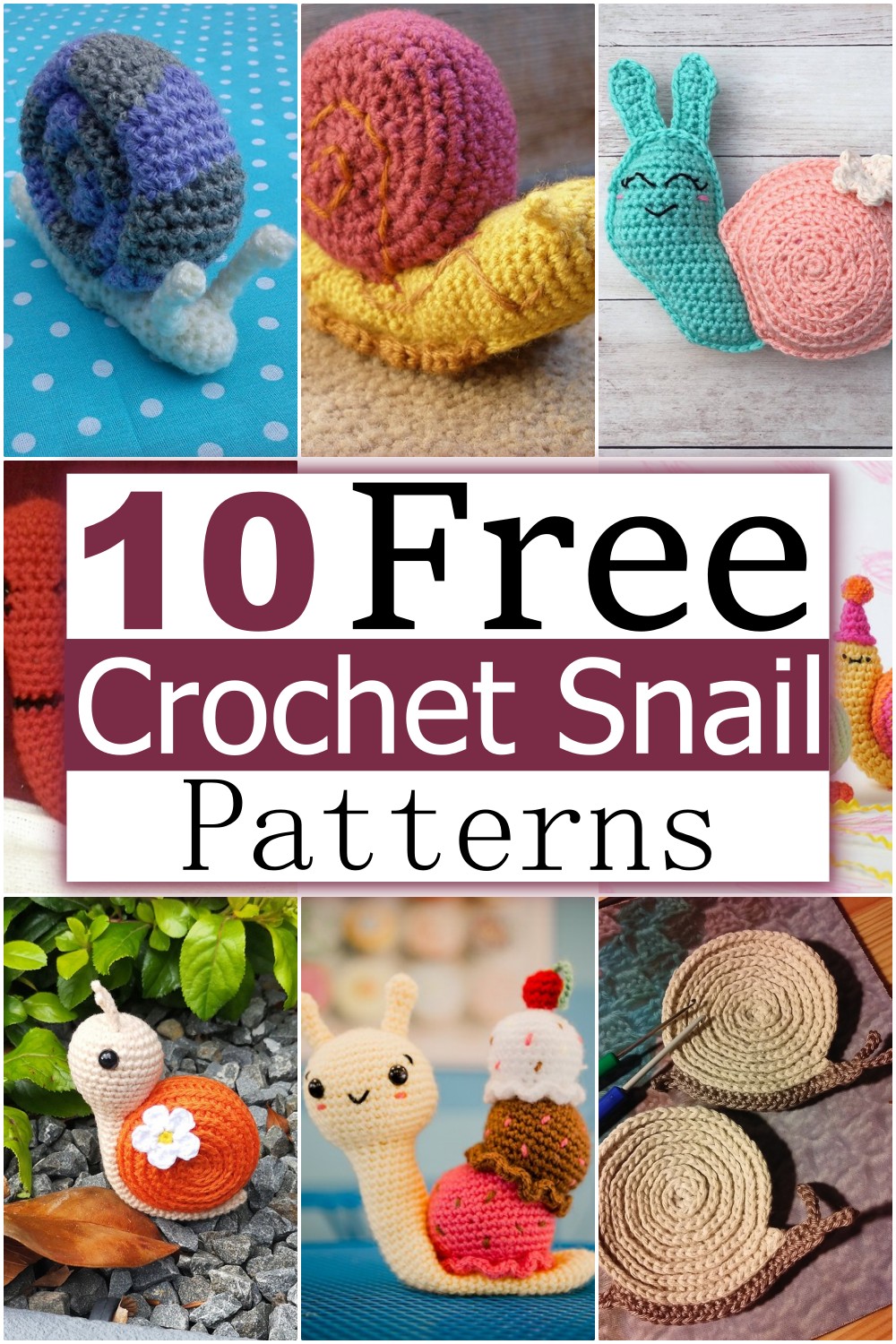 Crocheting is an easy, versatile hobby that can be used to make all kinds of things, from blankets to animal toys. Although you may think that a snail is a complicated and fancy creature, it doesn't have to be! These free Crochet Snail Patterns are simple and cute—they can easily be made in just an hour or two. Crochet snails are perfect for this time of year because they're an easy way to bring a bit of nature inside while also creating a unique, handmade touch that many store-bought decorations can't match. And when you're done, you'll have a fun new friend to keep you company.
Benefits Of Crochet Snail Patterns
Here are some benefits of crocheting snails:
You can use any yarn you want to make a snail. This means you can choose the color, texture, and thickness of the yarn based on what you want your snail to look like. If you're making a snail for someone else, asking if they have any preferences before you start working on your project is best.
Crocheting a snail is easy to practice different stitches and techniques without investing too much time into each stitch. This makes it a great hobby for beginners who want to learn new skills without spending too much time learning how to do it all at once!
Cookie Snail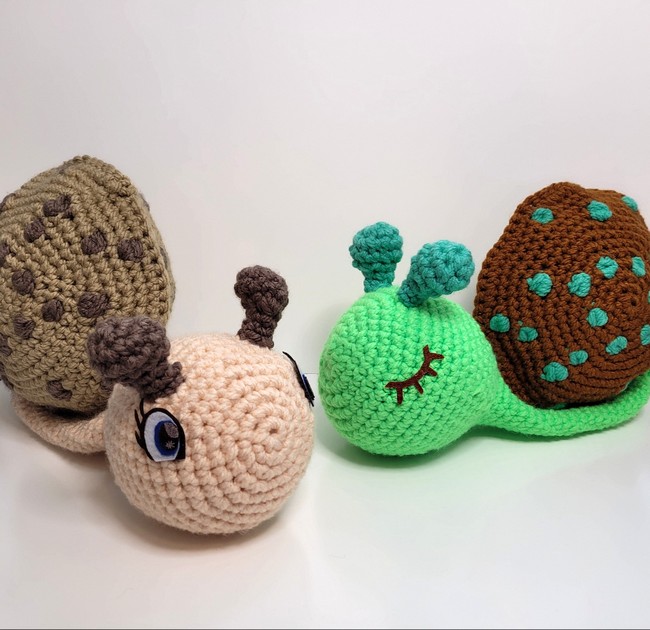 This is an easy crochet pattern for a cookie snail and is a fun crochet project that your kids will love. The crocheted snail shell is formed using different vibrant colors. This is the perfect beginner project for someone just starting with crochet, but it will also be fun for more experienced crafters. Once assembled, the finished product makes a great toy for imaginative play! This project is a perfect addition to your next party as well!
Materials
US Size 8mm crochet hook, yarn needle, scissors, stuffing, felt for the eyes.
Abbreviations
Ch = chain
Sc = single crochet
Sc2tog = single crochet two together
Sl st = slip stitch
Spring Snail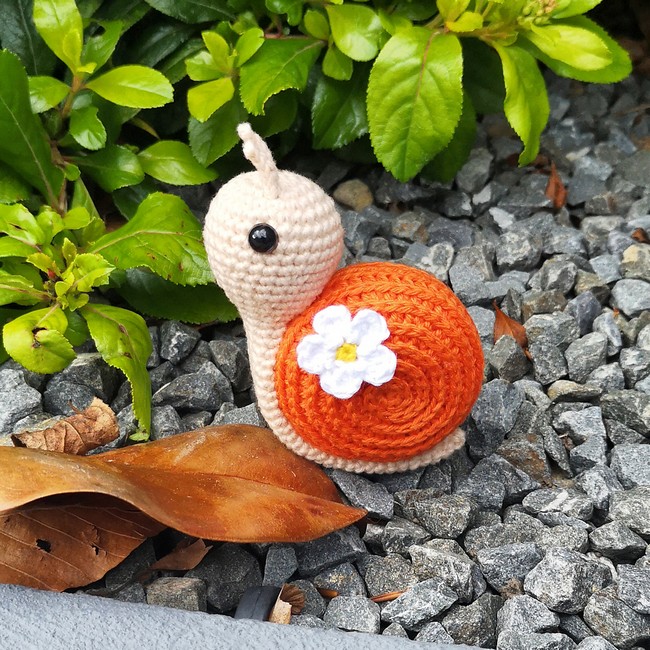 This pattern is for crocheters who are ready to take on a challenge. While it may look incredibly difficult, the detailed step-by-step tutorial will walk you through every stage of creating this realistic snail and is a great way to use up your stash of scrap yarns and see them come alive in this cute spring-inspired snail. It works up pretty fast too! In addition, The pattern includes a full-color picture of the finished snail and plenty of details to help you along the way.
Materials
DK Weight Yarn in beige, yellow and your choice of color for the shell and flower (I used

Paintbox Cotton DK

in light caramel, buttercup yellow, blood orange and paperwhite)
2.5mm crochet hook
8mm safety eyes
Polyester Fiberfill
Stitch marker, yarn needle, scissors
Abbreviations
ch – chain
sc – single crochet
hdc – half double crochet
dc – double crochet
inc – increase
hdc-inc – half double crochet increase
invdec – invisible decrease
sl st – slip stitch
st/s – stitch/es
(…) – indicates stitch count at the end of the round
[…] – repeat the instructions in brackets
Deadpool Snail
Do you love to crochet and just like Deadpool? If so, then this Crochet Snail Pattern is perfect for you. This easy pattern will create a cute, easy-to-stitch snail that any Deadpool fan would love to have in their collection. It's such a cute and versatile amigurumi pattern. You can change the color as you wish or use a different yarn. It is up to you to decide what your little snail needs!
Materials
Worsted Weight Yarn:  White, red and black
G crochet hook
Craft foam:  White and black
Craft glue
Polyester Fiberfill
Tapestry needle
Happy Rainbow Snails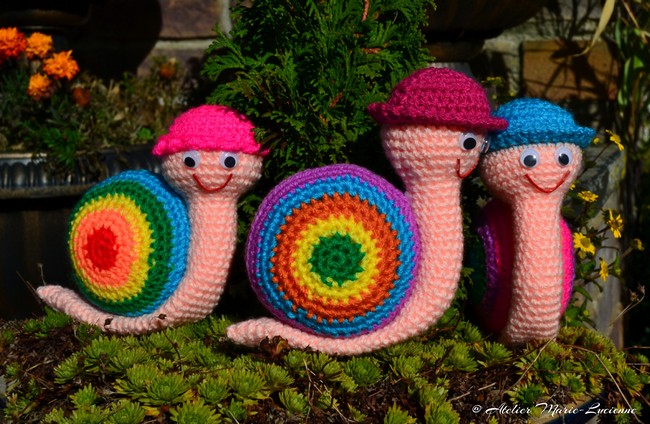 Let's make these cute snail friends for your children or grandchildren. Crochet them any size you want, or keep them small for a fun toy or decoration. These little guys are so sweet and huggable; they are perfect for snuggling up during a movie marathon on the couch. Keep someone close to your heart with these unique snails as a gift. They are happy and colourful and make a great garden decoration or housewarming gift.
Materials
- yarn and matching hook (I took Stylecraft Special DK and an N°4 hook)
- a pair of scissors and a yarn needle
- filling
- a pair of eyes
- hot glue gun
- a tiny end of the leather
Abbreviations
- ch = chain stitch
- dc = double crochet
- dc2tog = 2 dc together (reducing one)
- mc = magic circle
Laci the Banana Split Snail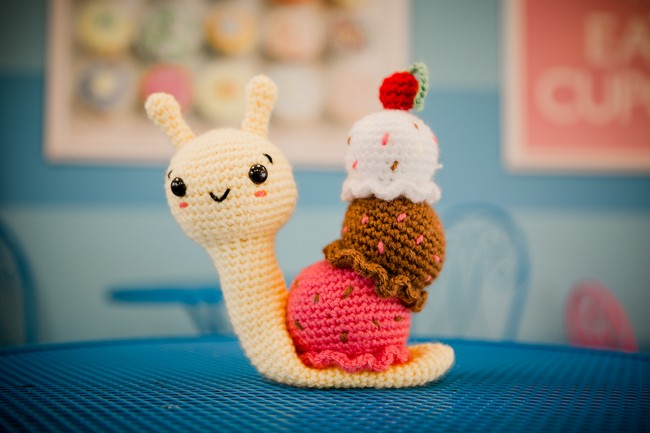 With delicate eyelashes and a cheerful smile, Laci is the cutest little snail you've ever met. She's perfect for various occasions, from baby showers to birthdays, but she can also stand in for a pin cushion or as an office mascot! Give her as a gift to someone you know who loves crochet or patterns with animals! This pattern takes you through all the steps of making a crochet snail, including getting those cute little eyes in place and adding a little face.
Materials
12mm safety eyes (2 of them)
Darning needle
Fiberfill
Scissors
Pins
4mm Furls Odyssey Hook
Abbreviations
Sc- single crochet, Inc- Increase (2 sc in the same stitch), Dec- Decrease, FLO- Front Loop Only, *- repeat around the row, (  )- number of stitches at the end of the round
Snail Amigurumi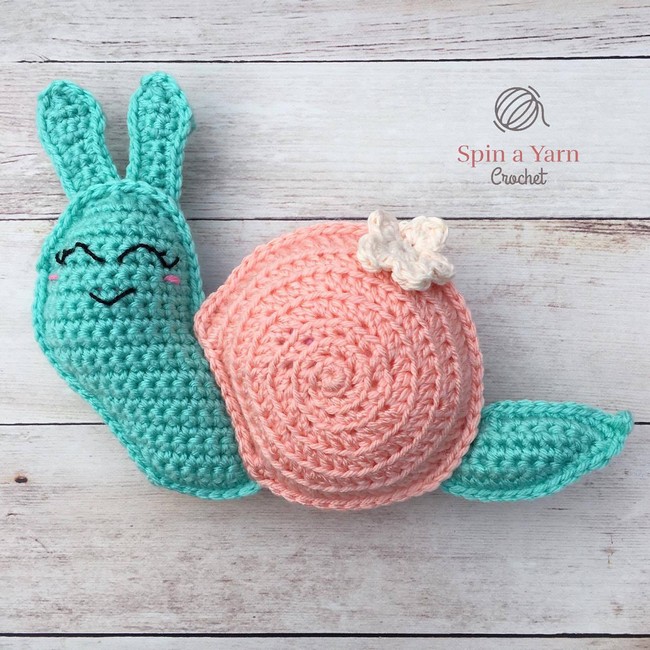 This Snail Amigurumi-free pattern is easy to crochet and will take you less than an hour to make. The crochet snail is the perfect gift for any beach-loving family member or friend. The construction techniques make it very easy to alter the size of your new friend, meaning you can make them as large or small as you like! This is a free crochet pattern so that you can create one immediately!
Materials
3.25mm hook for main (I use THESE hooks!);
3.5mm hook for flower;
Loops & Threads Colorwheel in Light Coral (50g);
Loops & Threads Colorwheel in Bright Mint (50 g);
Lightweight cotton yarn in pink for the cheeks;
Bernat Handicrafter in Chamomile for flower;
Black crochet thread for mouth and eyes (I use THIS kind!);
Stuffing;
Tapestry needle
Snail Coaster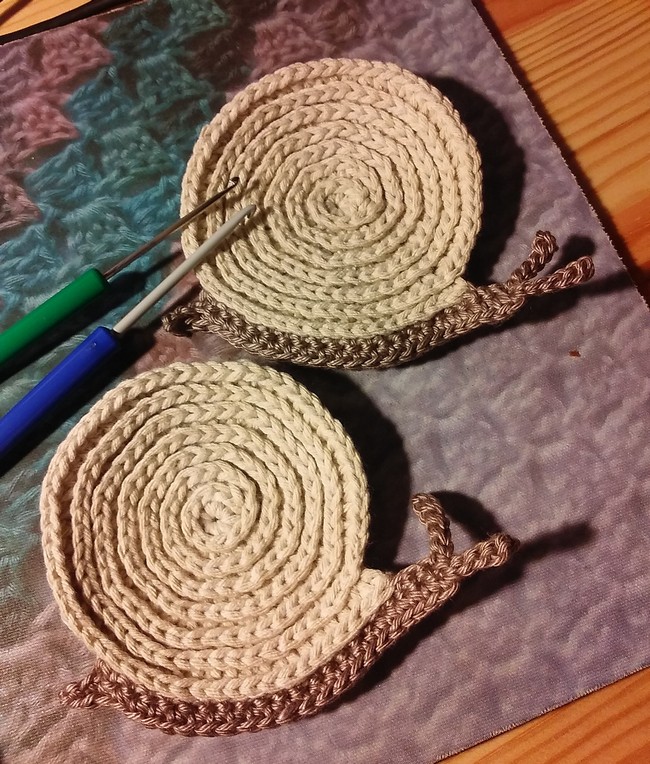 This is the cutest crochet snail pattern around! Crochet your snail coaster to decorate the table at your next party. This crochet snail pattern is easy to follow and produces a fun edging to your coaster. You will need to know how to work in the round, single crochet, and slip stitch. All instructions are included with this free crochet crab pattern. This snail coaster is easy to make and a great gift.
Materials
Worsted weight yarn in shell and body colors (you only need a little bit, so this is a great stash buster)
Size H (5.0mm) crochet hook
Stitch marker (optional)
Tapestry needle
Abbreviations
st(s) = stitch(es)
ch = chain
ss = slip stitch
sc = single crochet
hdc = half double crochet
hdc inc = work 2 hdc in the same st
Party Snail Amigurumi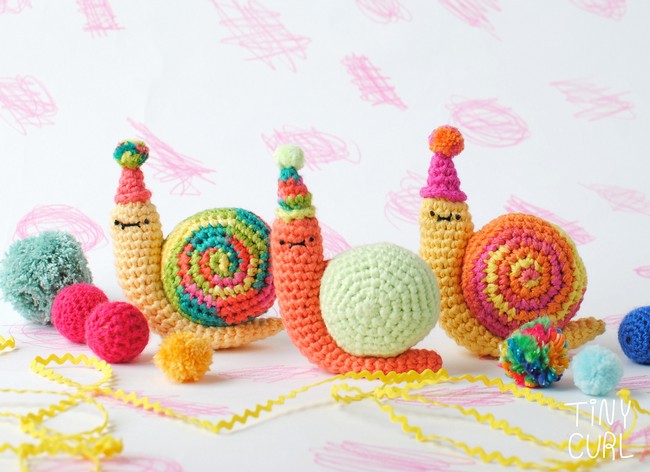 The perfect addition to a nautical-themed party or beach wedding, this crochet snail will make a fun theme decoration! This pattern is suitable for beginner crocheters and advanced intermediate crocheters. It requires using single crochet stitches and front post treble crochet stitches, but these stitches are explained in full in a detailed photo tutorial within the pattern. This adorable party snail is quick to crochet and perfect for baby shower favors or an Easter basket surprise!
Materials
Medium-weight yarn (worsted, aran, or 10-ply) in 3 colors
2.75 mm C hook (you can also use a 3.25 mm D hook for a slightly larger snail)
Toy stuffing
Black cotton embroidery thread for the face
Nylon heavy-duty thread or fishing line (for pompom)
Tapestry needle
Embroidery needle
Scissors
Stitch marker
Abbreviations
rnd(s) – Round(s)
ch – Chain
st(s) – Stitch(es)
sl st – Slip stitch
sc – Single crochet
inc – Single crochet increase (also sometimes called sc 2 in 1 st)
inv dec – Single crochet invisible decrease
FLO – front loop only
[ ] – Repeat the steps between the asterisk for the specified number of times
( ) – The number of stitches you should have at the end of each round
Finish off – Knot your yarn close to the piece and weave through the sts in the last round
Snail Or Slug Amigurumi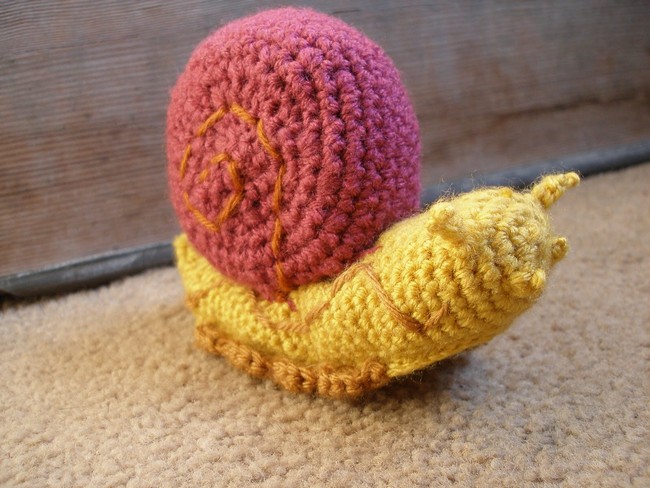 Are you bidding on a Crochet Snail Pattern? This pattern features a snail, which can easily be turned into a slug. What's great about this pattern is it has directions for both the snail and slug versions of this fun little creature! It's really quick to make and would be great for any age. This is easy to make, perfect as an easy beginner's project, and fun for anyone who loves slugs and snails. Make one for your child, friend, or child you love!
Materials
F/5/3.75mm hook, worsted weight yarn 4 colors, fiberfill or other stuffing, yarn needle.
You can also see: Crochet Mini Amigurumi Patterns 
Crochet Snail
This little crochet snail pattern will bring joy to your little one. Snails are a symbol of good luck, happiness, and new beginnings. This snail can be made in any color you like to match the room decor, and it is perfect for kids of all ages. So, Crochet this adorable Crochet Snail with this easy-to-follow Pattern! You will enjoy making this as it is easy, fun, and quick, and you can customize the colors of your choice.
Materials
a n°4 hook
a n°3 hook
a yarn needle
several colors of wool
stuffing wadding
Abbreviations
ch = chain stitch or chain stitch
sc = single crochet
sl = slip stitch
1inc = increase: crochet 2 sts in the same stitch of the previous row
1dec = decrease: work 2sts together