Crochet skirts are a fun and summery way to spice up your wardrobe. They're so easy to make, with just a few basic crochet stitches and the ability to read patterns. These amazing crochet skirt patterns inspire you to try new shapes and styles! Crochet skirts can be worn to work or play. They're perfect for the office in the summertime, but they can also be paired with boots during winter. A crochet skirt is also an easy item to customize. You can change the length and width or add a slit by modifying your chosen pattern. Check out this list of 10 free crochet skirt patterns below for fun options.
Crochet Skirt Patterns For Ladies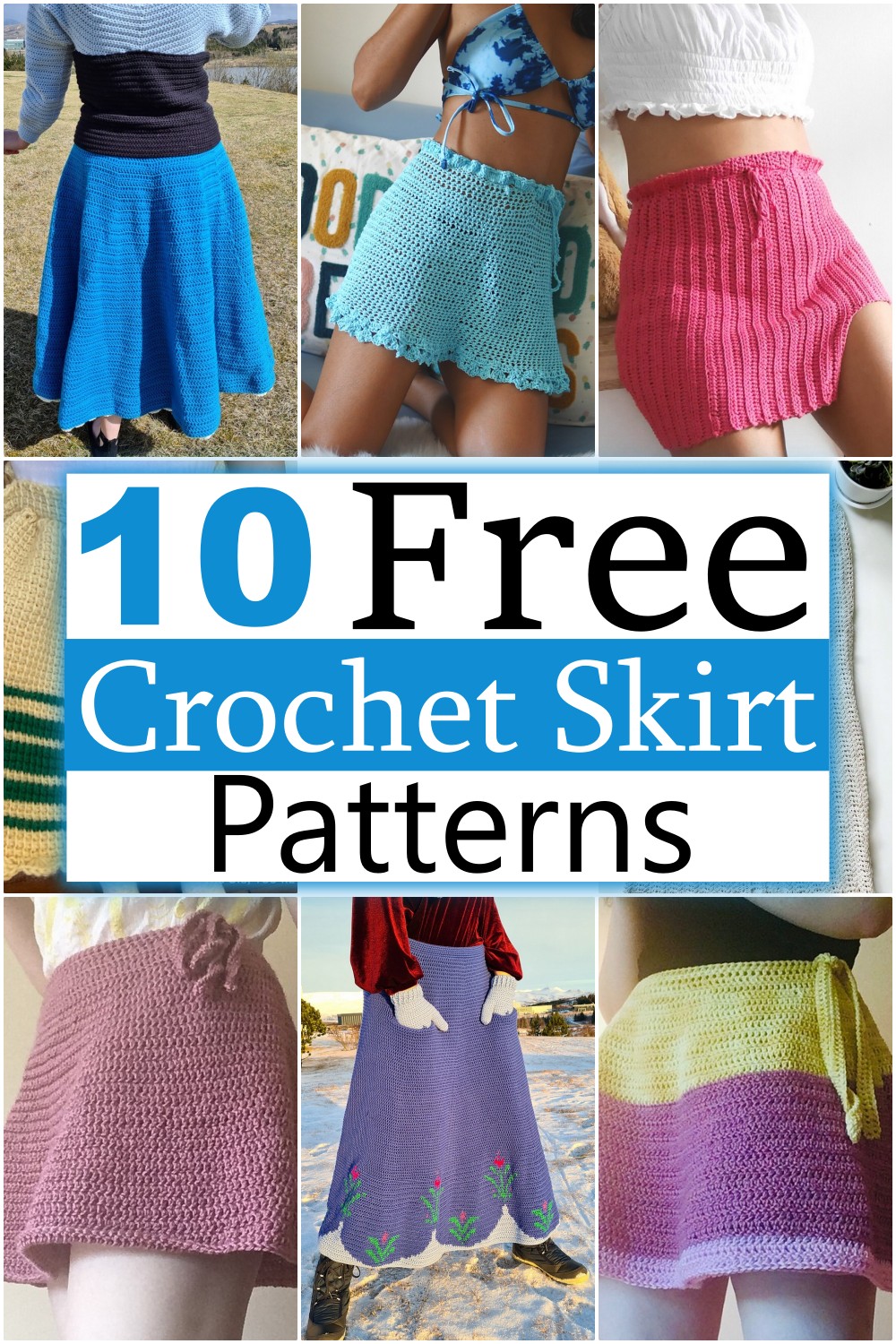 These skirts are the perfect addition to any closet for any season. They are the perfect thing to make when you are in a hurry and need something special to wear! Crochet skirts are so quick and easy to make. Most of these skirts can be made in one day, making them the perfect weekend project or a last-minute gift. You can create beautiful heirloom pieces using simple stitches like single and double crochet. These below skirt patterns offer a variety of looks sure to suit anyone's taste. From fun and flirty to elegant, there is something for everyone!
Benefits of Crochet Skirt Patterns
Crochet skirts are a great way to add some flare to your wardrobe. The different colors and patterns make it easy to match your outfit with your chosen skirt. This article will discuss some of the benefits of crochet skirts, including:
They are affordable.

You can make them yourself.

They have many styles and colors available.

They are easy to clean.

 
Bohemian Skirt:
This Bohemian Skirt is a beautifully crafted, elegant, and comfortable crochet pattern. The crochet skirt Will add personality to your wardrobe, as it looks great with a t-shirt or sophisticated blouse. You can wear it over leggings, heels, and a pair of boots or sandals for a night out with friends or on a beach holiday for that bohemian look. This crochet skirt pattern is an easy-to-read, simple-to-follow guide for beginners or anyone looking for a fun new project. It will take a short time and can be made in any colorway to suit your fashion sense.
Materials
Yarn weight: Size 10

Color: Natural

Hook: 2.5mm

Waistband Gauge: 10 Hdc Sts x 11 rows = 1.3"x 4"

Cable Stitch Gauge: 3 CB St x 10.5 rows = 4" x 4"

No. balls: 

XS[S/M/L/XL] [2XL/3XL/4XL/5XL] – 

2.2 [2.4/ 2.7/ 3.0/ 3.4] [3.8/ 4.0/ 4.2/ 4.6] These are estimations only, based on a height of 5'2 – 5'5 (157 – 167cm) and size of
1000yrds/skein.

Tools: tapestry needle, measuring tape, scissors, rubber band, decorative beads
Princess circle skirt: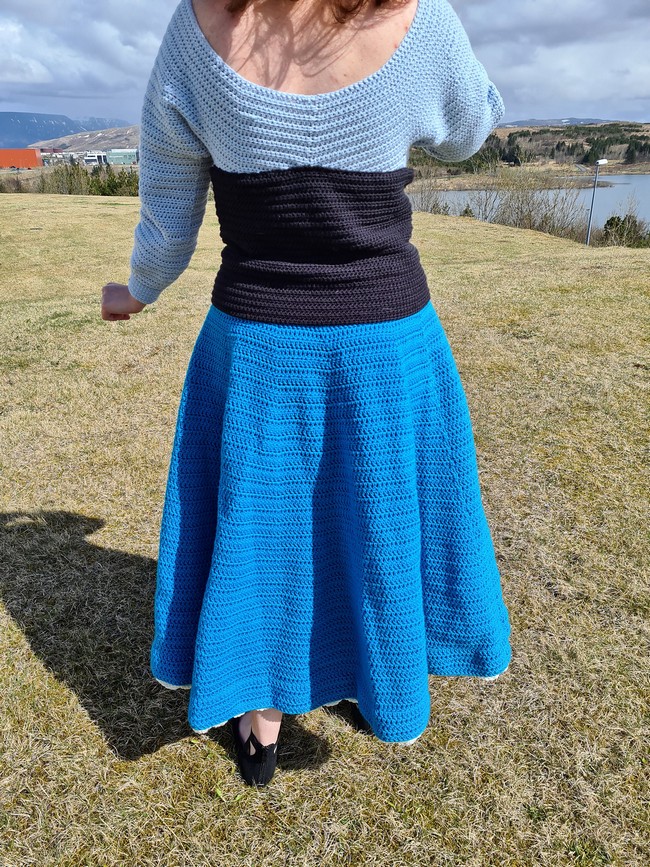 The Princess circle skirt is a fun and easy-to-crochet dress-up skirt. The skirt has a semi-circle shape, but its simple design makes it quick to crochet, and you can make one in any color or color of your choice! The pattern has two ways of making the waistband: one is the traditional tie waistband, and the other is snap on, snap off, depending on your preference. This skirt can be worn for everyday wear and school or playtime activities. This Princess circle skirt is fully customizable, so you can make it to fit any size. It is crocheted top-down, in one piece. If you follow the pattern, it will be a lot easier than you think.
Materials
5.5 mm hook
1600g DK yarn in blue
200g DK yarn in White
I used Ice Yarns Saver
Yarn needle
Stitch markers
Scissors
A length of (sturdy!) elastic that fits around your waist +2cm/1"
Sewing needle and thread
Abbreviations
Chain (ch)
Slip stitch (sl st)
Single crochet (sc)
Double crochet (dc)
Double crochet increase (dc inc)
Front loop only/ Back loop only (FLO/BLO)
Wrong side/ Right side (WS/RS)
Child's Petticoat: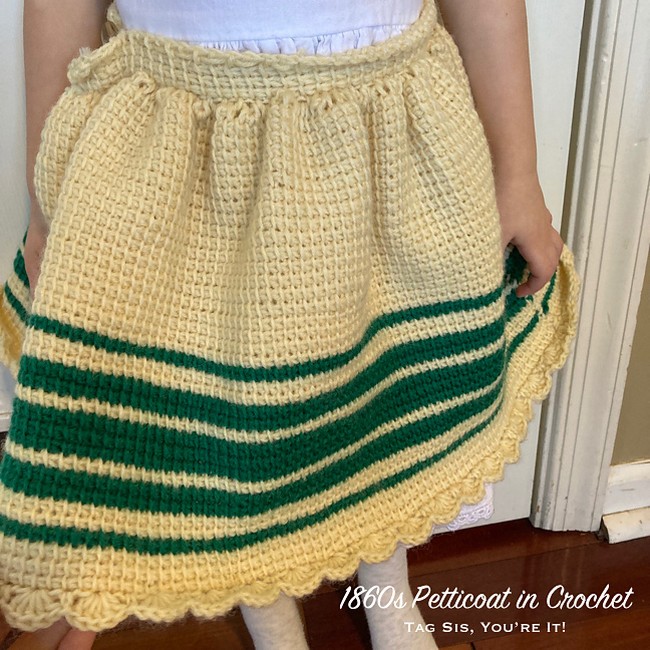 A quick yet detailed pattern to create a toddler-size petticoat in crochet. This step-by-step tutorial will show you how to crochet a child's petticoat, which is perfect for dresses and frocks. The dress adds the perfect volume and flounce to your little girl's dress. This pattern is great for beginners, but don't be fooled by its simplicity; this dress will make any tutu look more magical than ever before! With this pattern, you can make an apron with crochet straps or a long skirt for a little girl. If you prefer an elastic waistband, check out this petticoat pattern.
Materials
Tunisian Crochet Hook, size J
Crochet Hook, size J
4+ skeins Patons DK, cream
1 skein Patons DK, in each contrast color
Height waist skirt cover-up: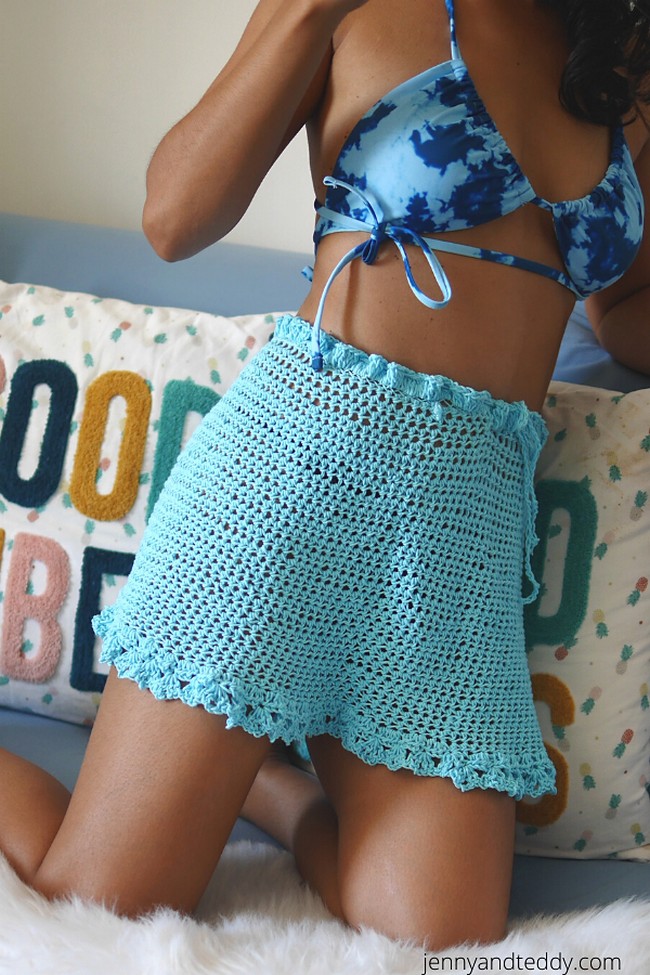 This is the perfect cover-up for a summer day. It's so light you can wear it open or closed for the breezy air flow on a hot day. This skirt is great for those who love to crochet, and it's not too hard to follow the pattern. The only hard part is it takes time because you have to wait for your item to dry. This skirt can be worn in many different styles, depending on the occasion, personal style, and the weather.
Materials
The example fits my waist size 28 inch. ( easy to adjust to any size)
I used cotton dk weight yarn /3 light
I use around 700 yard
– 4.0 mm crochet hook
– Sewing yarn needle
-2 stitch marker
Abbreviations
-dc which mean double crochet
-Blo which mean crochet in back loop only
-hdc which mean half double crochet
-sc which mean single crochet
-ch Chain
-slip knot
-sk  mean skip stitch
–Fancy lace crochet stitch
Thistle Mini Skirt: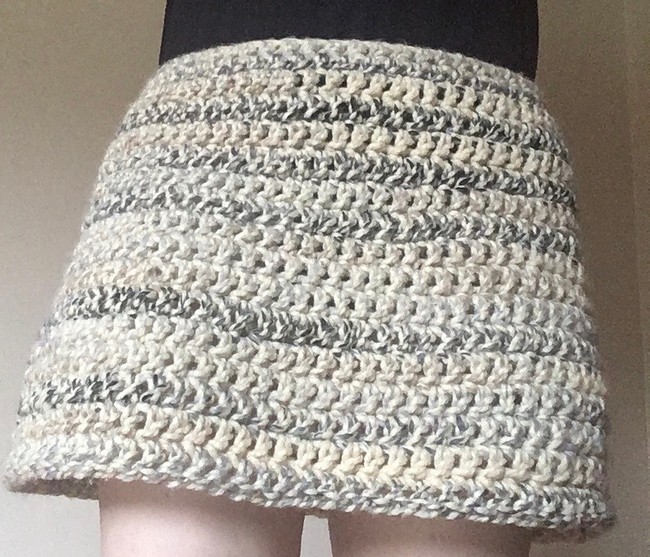 The stylish Thistle Mini Skirt crochet pattern covers a woman's waist and hips. It has a beautiful cut and a very comfortable fit; due to its elasticity, you can create any style you need with this Skirt. A fun and versatile skirt cover-up that is easy to crochet with basic stitches. Crocheted side-to-side, with a pretty scalloped edging and a wide waistband. This Skirt will look great paired back with your favorite summer top/dress or can be worn alone. This pattern has very easy instructions, detailed techniques, and clear images.
Materials
Super bulky yarn (180, 200, 215, 230, 245, 260, 276, 295, 310, 325, 340 yards)
Size P crochet hook
Yarn needle
Stitch marker
Abbreviations
Sl st – slip stitch
Sc – single crochet
Hdc – half-double crochet
Dc – double crochet
Dc 2 – double crochet in each of the next two stitches
2 dc – double crochet twice in the next stitch, one increase
You can also see: Crochet Christmas Tree Skirt Patterns 
Primrose Skirt:
This crochet Primrose Skirt pattern is the perfect feminine addition to any spring wardrobe. With its flowy silhouette and soft, sophisticated style, this skirt will make you feel like a million bucks! It can be made in any size. It's breezy, feminine, and fun! Made with chunky yarn and cotton thread, it is crocheted in one piece, so no sewing is necessary. The high waistline makes it flattering to most figures, although it looks best with a longer-length top.
Materials
Worsted weight yarn (420, 460, 500, 540, 580, 620, 660, 700, 740, 780 yards)
Size H crochet hook
Stitch marker
Yarn needle
Abbreviations
Dc – double crochet
Sc – single crochet
Hdc – half-double crochet
Sl st – slip stitch
2 dc – one increase, double crochet twice in the same stitch
Easy slit skirt:
This cute little crochet skirt is easy to wear, and you will be making it over and over again. This skirt pattern uses medium-weight yarn and is suitable for beginners learning new stitches. You will need a 5mm crochet hook, size 6 needles (or whatever size makes a loose stitch), a needle for weaving in ends, scissors, measuring tape, or a ruler. This easy-to-make slit skirt pattern is a must-have for any woman's wardrobe. The skirt is made from cotton yarn and has a cute slit on both sides, making it perfect for almost any occasion.
Materials
– I used cotton DK weight yarn 900 yard for size fit up to waisted line 28 inches hip 35 inches.
– 3.5 mm crochet hook
– Sewing yarn needle
Abbreviations
-sc which mean single crochet
-dc which mean double crochet
-hdc which mean half double crochet
-blo which mean crochet in back loop only
-ch Chain
-slip knot
-sk  mean skip stitch
Marigold Wrap Skirt: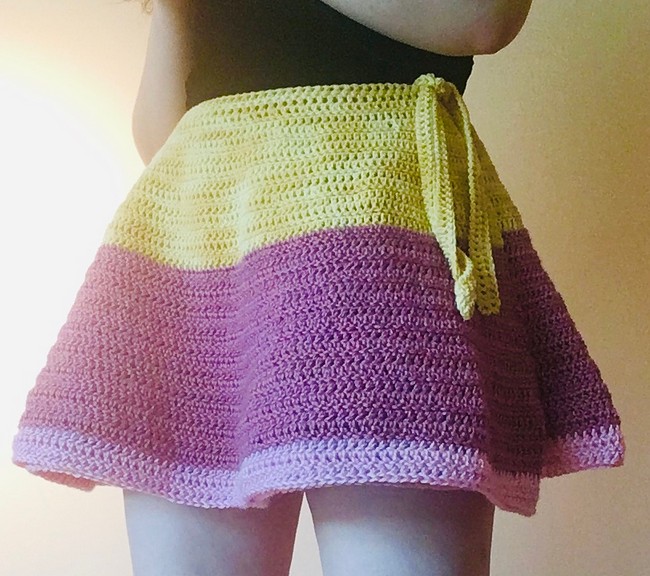 This Marigold Wrap skirt will add a touch of sunshine to your wardrobe! Made with bright pink and yellow yarn and featuring a simple scalloped pattern, this crochet skirt is a fun project to work up on your own or with some friends. The bright colors and pretty scallop design make for a skirt that is perfect for the summer! The free, easy-to-follow crochet pattern uses bulky yarn and size H hooks. This skirt is the perfect summer garment for any season.
Materials
Worsted weight yarn – 690 (750, 810, 870, 930, 990, 1050, 1110, 1170, 1230) yards
Size H crochet hook
⅞″ diameter button
Yarn needle
Abbreviations
Dc – double crochet
Sc – single crochet
2 dc – one increase, double crochet twice in the same stitch
dc 2 – double crochet once in each of the next two stitches
Pleated Skirt:
Perfect for spring, summer and fall! Make this pleated skirt to wear over your favorite shorts or dresses. It's the perfect pattern for beginners who want to try a new technique. This pattern is for a skirt with a pleated back. This skirt can be made in any color. It's so easy to do you'll have fun crocheting all the way! It's perfect for beginners who want to try their hand at crochet clothing or for more advanced crocheters who don't have time to mess around with endless swatching.
Materials
Dk weight yarn
5.0 mm crochet hook
Scissors
Stitch markers
Abbreviations
Ch: Chain
Dc: Double crochet
Slst: Slip stitch
Fpdc : Front post double crochet
Bpdc : Back post double crochet
Princess skirt with pockets: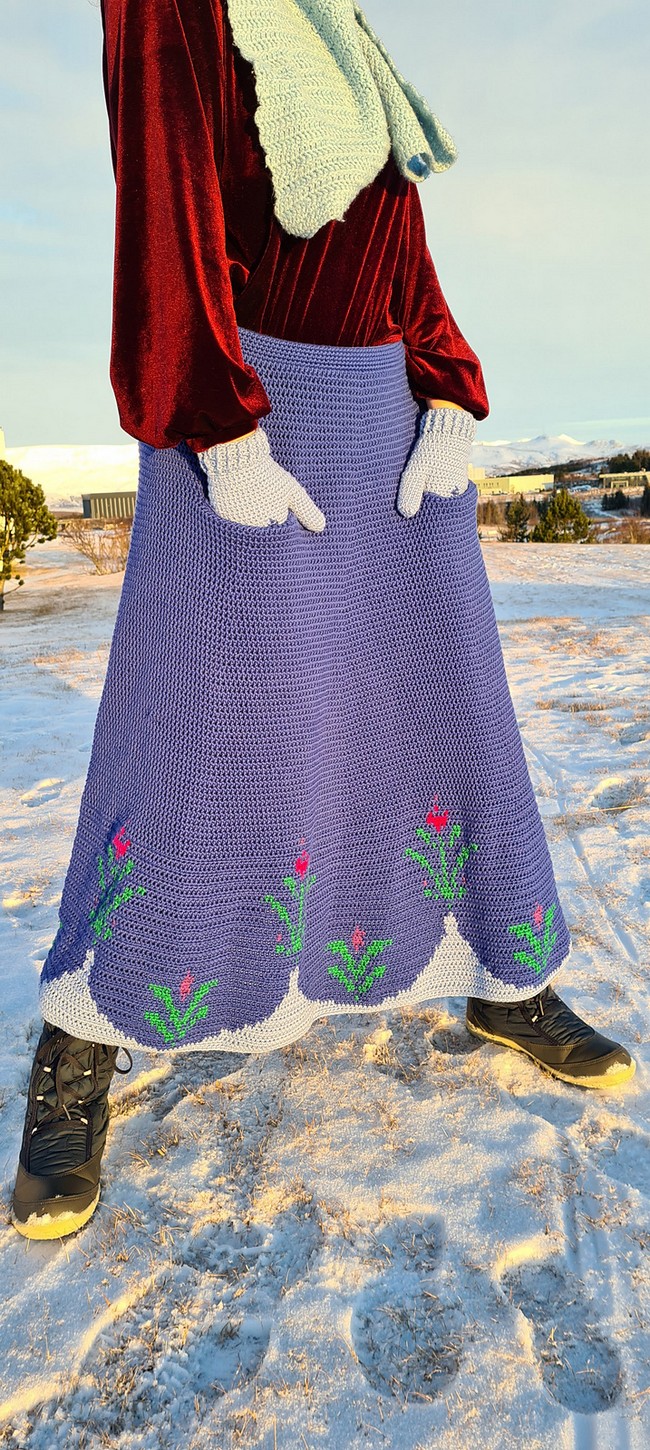 The most beautiful and easy to slip on, super soft and lovely skirt you've ever owned. The top is roomy and wide, below the knee length, perfect for any occasion! Inspired by the princess style, this beautiful crochet skirt is made with several different crochet stitches. Not only will it keep its fashion sense, but it will also have pockets to put everything in. Simple, elegant, beautiful princess skirt: Perfect for any girl or woman who loves to look amazing in her outfits. A great addition to your wardrobe!
Materials
4 mm hook
1200g DK yarn in blue
200g DK yarn in light blue
I used Ice Yarns Baby Summer
For the design, 200g of DK yarn in green, 50g purple and 50g pink
Yarn needle
Sewing needle and thread
Stitch markers
Scissors
A length of elastic that fits your waist size + 1cm/ ½"
Abbreviations
Chain (ch)
Slip stitch (sl st)
Single crochet (sc)
Half double crochet (hdc)
Half double crochet increase (hdc inc)