36 Easy Free Crochet Scarf Patterns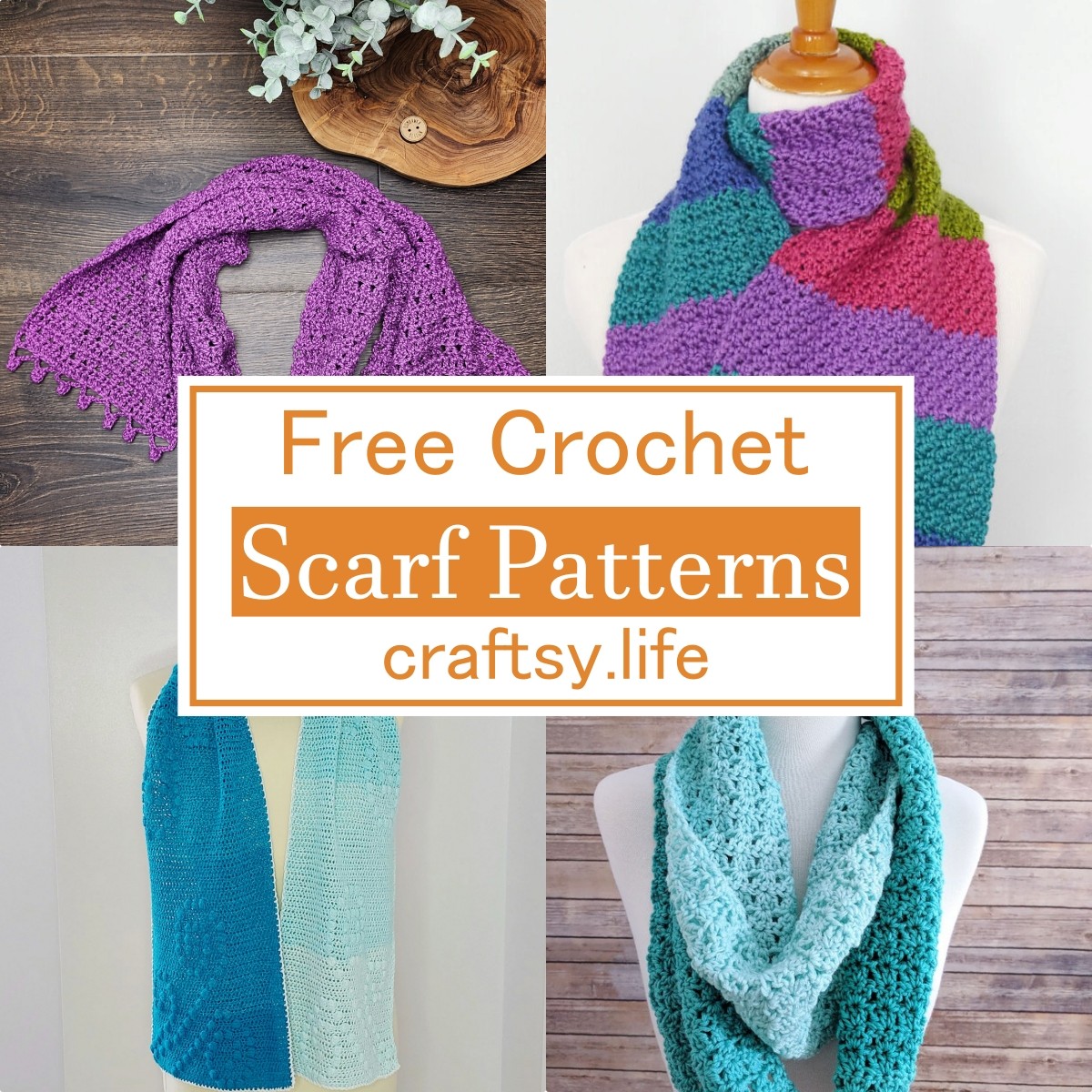 You don't have to be crafty to crochet; you need a willingness to try it. If you have already picked up the basics of crochet but are looking for new patterns that don't require an advanced level of skill, then this list is perfect for you! Make a cozy scarf in your favorite colors with these crochet scarf patterns. Beginning crocheters can also choose from various colorwork scarves and accessories like cowls and fingerless mitts. No matter what you're looking for, find the perfect crochet scarf pattern at the Yarn Company!
Crochet Scarf Patterns
There are so many crochet scarf patterns available! What's a girl to do? There are so many fantastic designs out there—and the thing is, there's something for everyone. It's all about knowing what you want from your project and finding a pattern to fit that ideal. That sounds like a bit of an oversimplification, but it isn't. There are so many kinds of scarves and shawls that you can make something that truly fits you, both in style and practicality. Let's look at the different projects you could make using just one skein of yarn.
Whether you're a beginner or an advanced crocheter, there are plenty of free crochet scarf patterns for everyone. This collection includes simple scarves, textured scarves, and more!
You Can See:
Crochet Breeze Scarf
It's the perfect accessory for your spring wardrobe, matched with almost anything – from an all-blue look to a splash of color. Wear it with dressier outfits or your favorite sweatshirt for an extra layer of warmth. Scarf patterns are available in one size, with a width of 23cm and a length of 244cm.
Easy Crochet Griddle Scarf
Easy Griddle Scarf is made with colorful stripes of light worsted yarn. It is a fun, simple project that crochets up quickly! It creates an attractive accessory worn as a headband, neckerchief, or tie. This versatile project is incredibly soft and lightweight, making it a great choice for warmer weather. The Easy Griddle Scarf is a one-row repeat pattern using single and double crochet. The scarf is crocheted flat in a rectangular shape.
Mosaic Infinity Scarf Free Pattern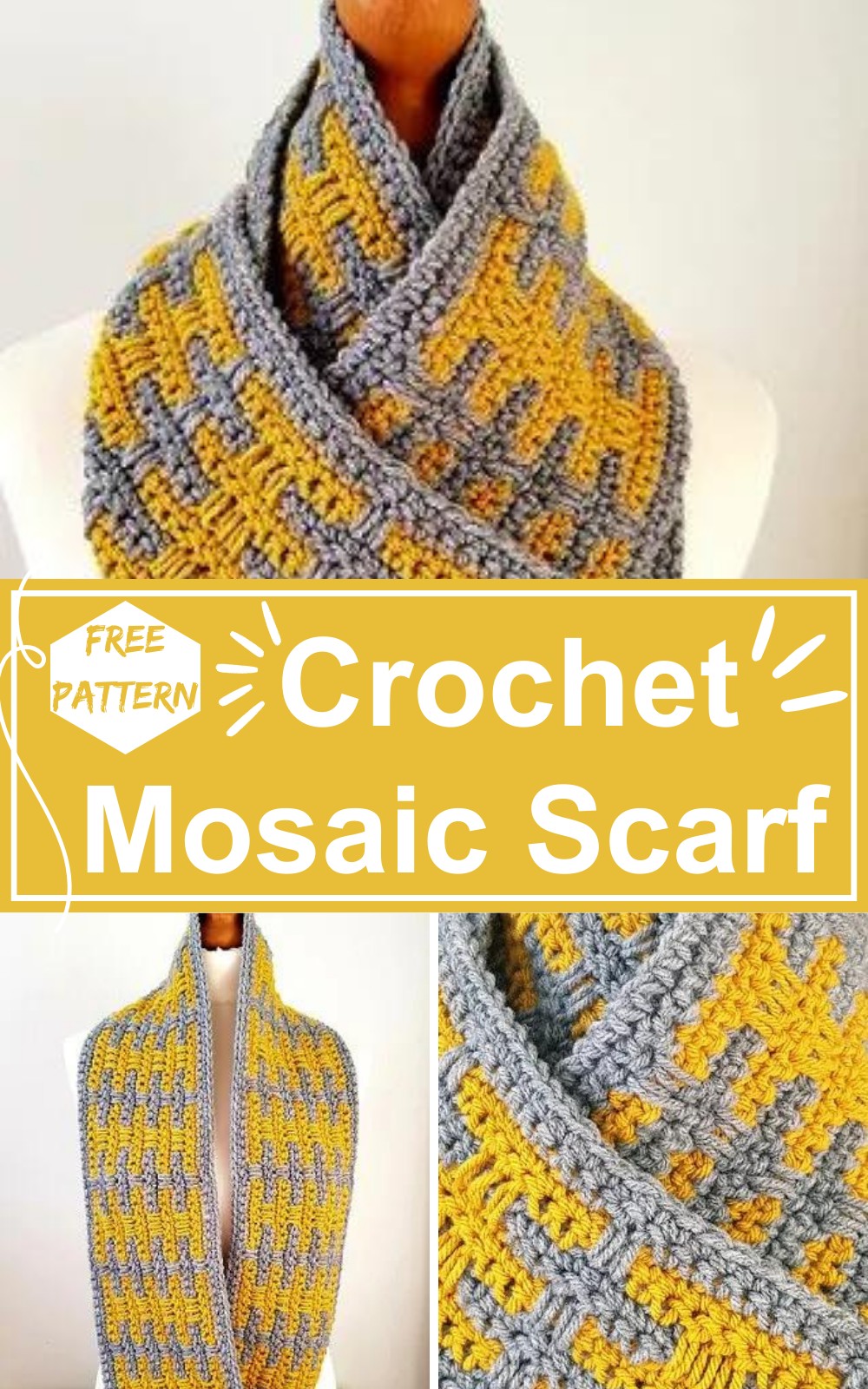 With its beautiful stitchwork, this beginner-friendly scarf is a fun and unique project! Working with two-color yarn creates a subtle texture that works perfectly with the chunky weight of the yarn. This pattern is great for a crochet gift or even to practice the Mosaic technique before doing something more ambitious.
Monet's Garden Scarf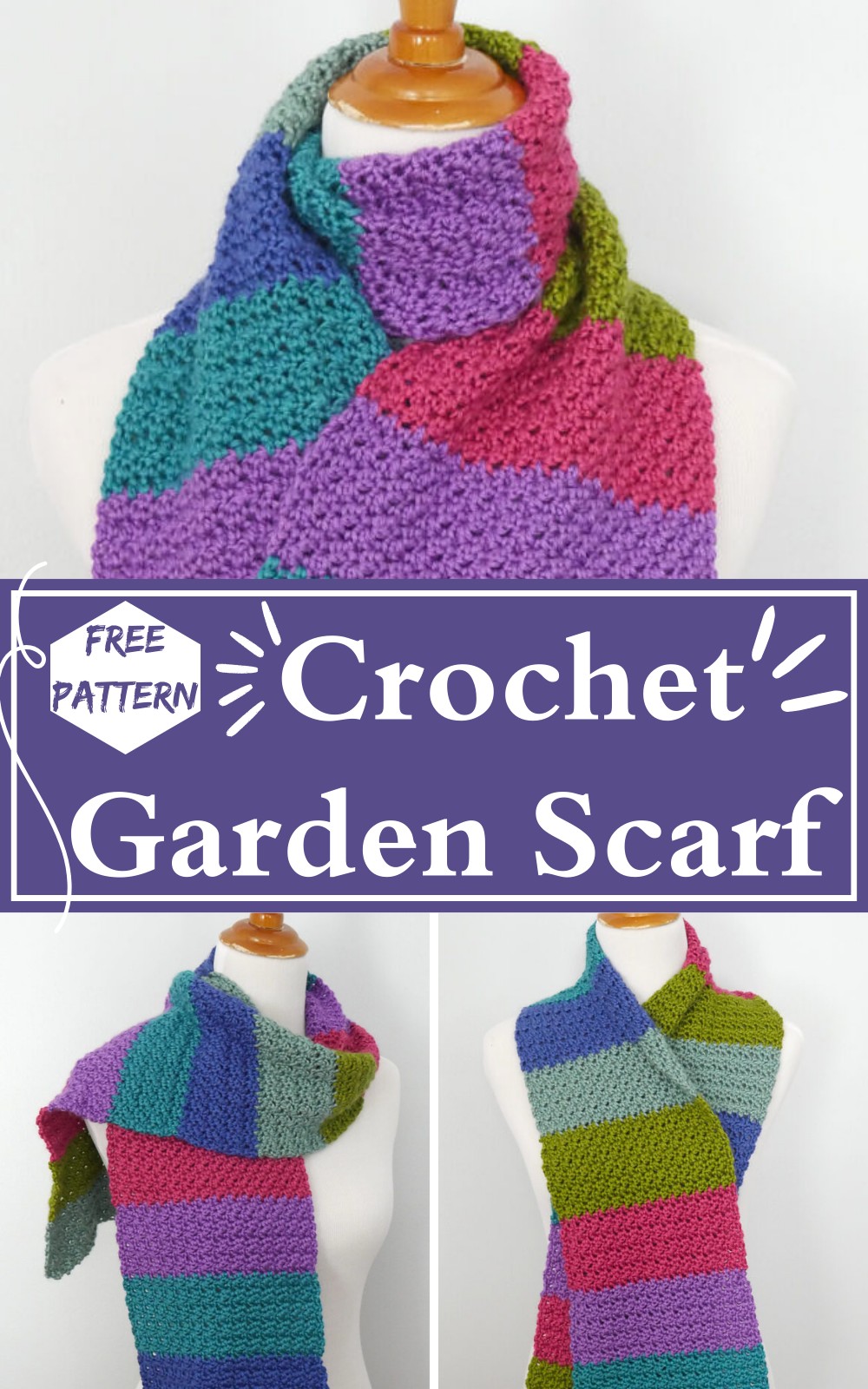 Add a pop of color to your winter wardrobe with this Monet's Garden Scarf. Measuring 9′ x 60″, this scarf  made of worsted-weight yarn and features vivid design that captures the beauty of Monet's garden at Giverny. This scarf will surely become one of your new favorites, made with color striping for a soft, thick texture.
Crossing The Gap Scarf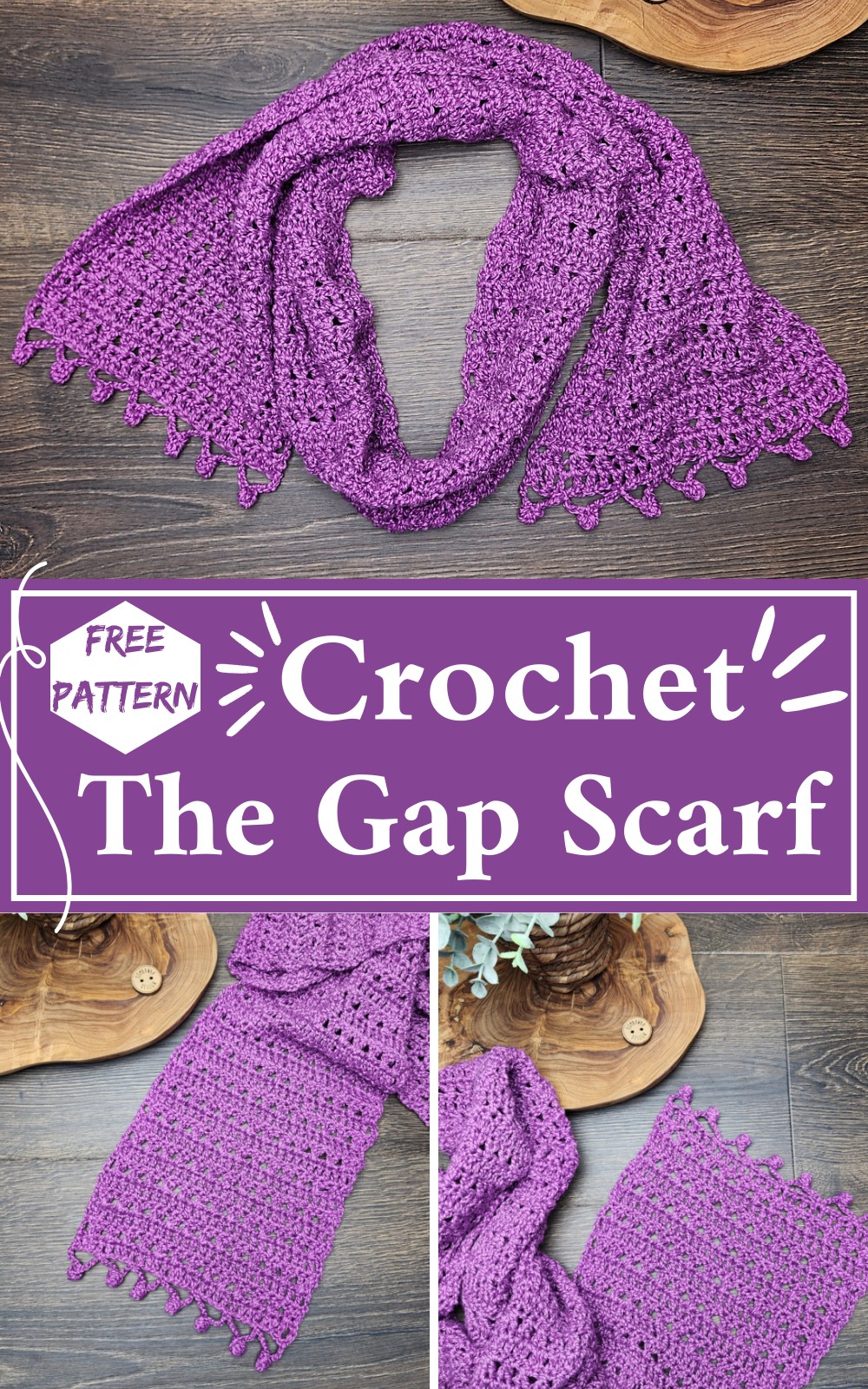 With only two stitches and ease of use, this scarf pattern is perfect for beginners. The Crossing the Gap Scarf featured double crochet and crossed double crochet stitches that create a beautiful texture. This simple but beautiful scarf will add style to any outfit and keep your neck warm on those chilly days.
Heartbeat Scarf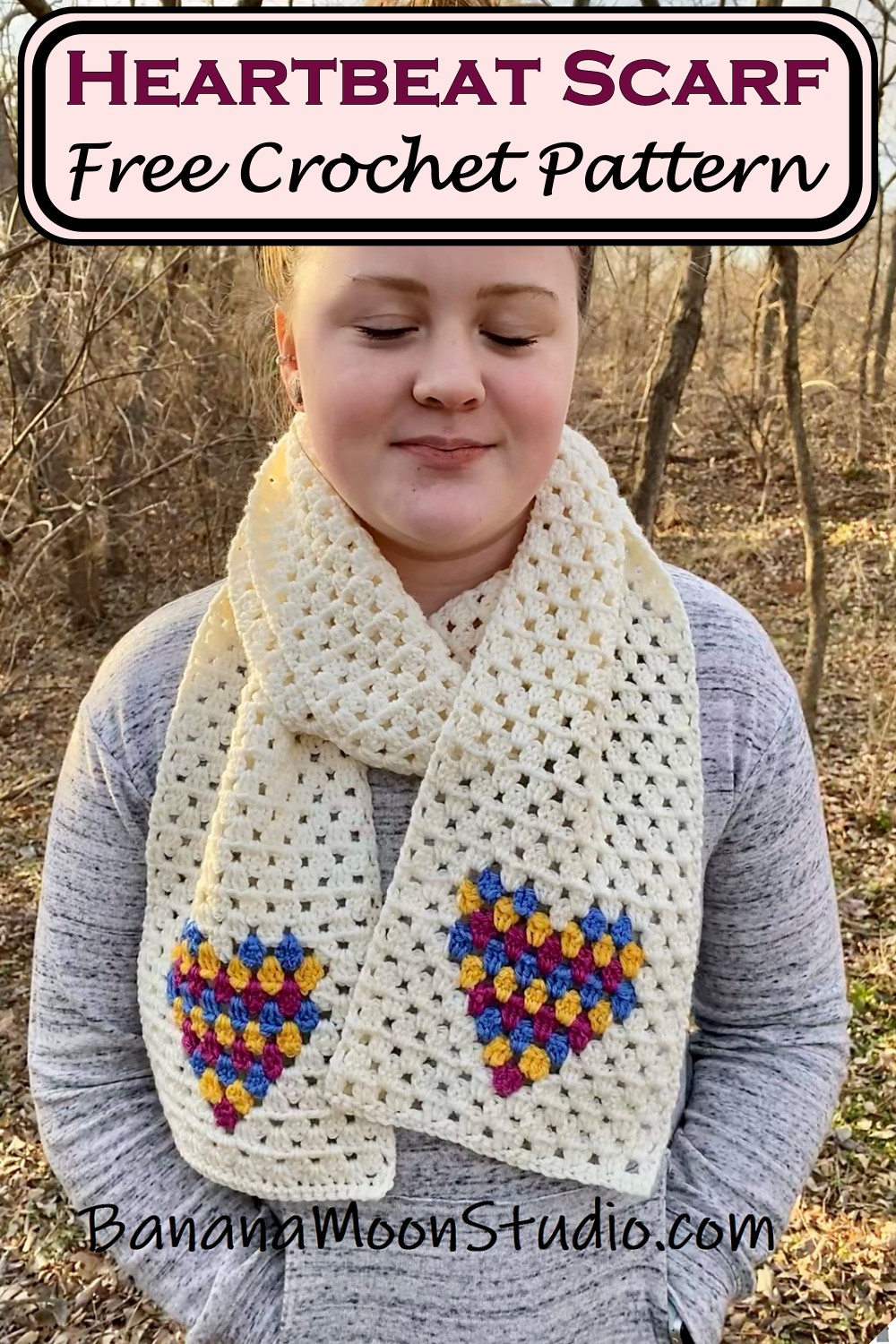 Do you have a stunning heart? If you do, then we have something perfect for you. Get ready to express your love and passion with this Crochet Heartbeat Scarf that is all about your love. This crochet heartbeat scarf pattern has been designed in such a way so that the heart looks dimensional, just like our real hearts do, and you can crochet it with the help of cotton yarns, which are easy to carry and use at all times. The Heartbeat Scarf is a great winter project. It's warm and comfy and goes with anything from jeans to a dress. Plus, it makes your heart beat faster every time you wear it!
Ridge Walk Scarf
Take a walk on this Crochet Ridge Walk Scarf. It's sure to take your outfit from ho-hum to glam, no matter where your day takes you. The Crochet Ridge Walk Scarf is a classic accessory for any winter stroll. Paired with jeans and boots, it adds warmth and keeps you from flying away. It is a classic accessory for any winter stroll. Paired with jeans and boots, it adds warmth and keeps you from flying away.
Diversion Scarf
Crochet Diversion Scarf makes a great addition to your warm weather wardrobe, or wear it when you're looking for something lightweight and easy to pack in your suitcase. The crochet stitch is often associated with lace, but this scarf will be a fast handmade project that is light, airy, and soft! Wrap in your favorite colors this fall and winter with our crochet diversion scarf. The bulky fringe and easy work with yarn make this the perfect accessory for walks in the woods, farmer's markets, bonfires by the beach, or staying cozy at home.
One Skein Granny Rows Scarf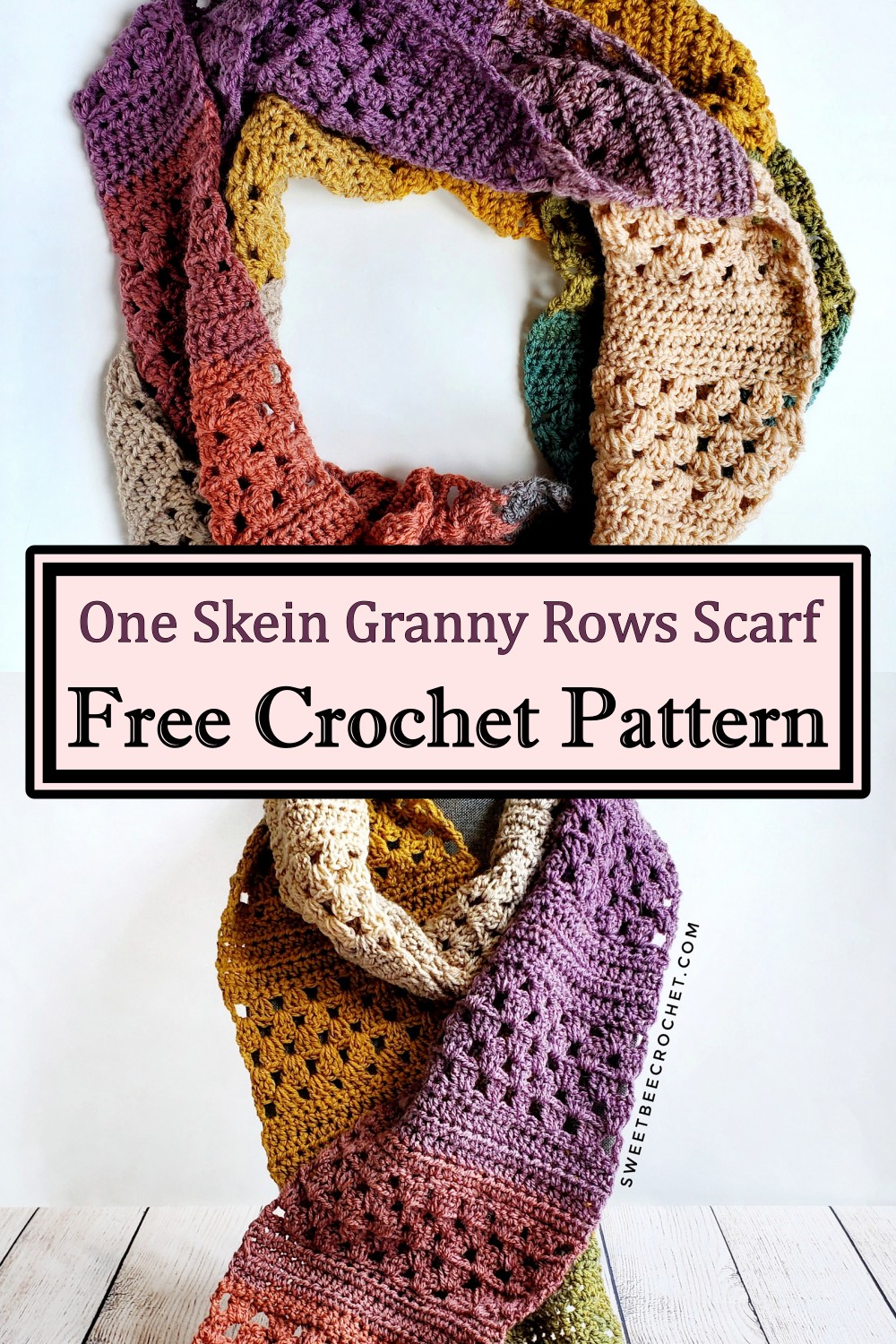 Beautifully simple and feminine, this scarf is ideal for slipping over your shoulders to add a touch of elegance to any outfit. Crochet One-Skein Granny Rows Scarf designed by me is crocheted using one skein of bulky yarn. Scarves are a perfect winter accessory, especially if you don't have much money to spend on items like this. Simple stitches and techniques are used in the pattern to create this beautiful scarf. The pattern includes photos and full-color charts that show you exactly where to put your hook at each step so you won't get lost while working on it. This quick-to-knit scarf is worked from end to end with no seaming required, making it perfect for last-minute gifts!
Heart You Scarf Free Crochet Pattern: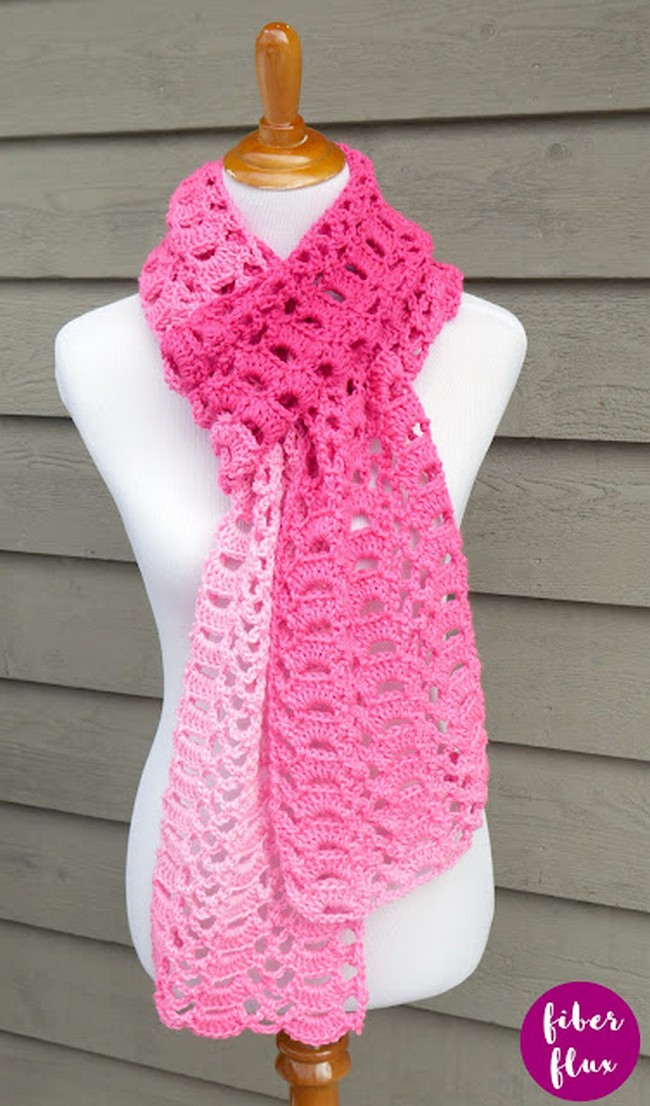 Are you looking for a scarf that simultaneously makes you look stylish and cute? Then this is the perfect pattern for you. This scarf pattern is amazing, and the colors of this crochet scarf provide an attractive look to your personality. This is a great crochet pattern for winter. The bold colors make this scarf stand out, and the fading pink makes it even more special. And the best part? You can make this scarf for yourself to stay cozy and warm in all the elements of nature!
Snowberries A Luxurious Winter Scarf :
Looking for an elegant and cozy scarf crochet pattern in winter? Get this snowberries luxury pattern. This beautiful, soft scarf pattern will give you a warm look at any special event. It can be wrapped around your neck, shoulder, and forehead to keep you warm and cozy. This Winter Scarf Crochet Pattern will become your favorite accessory because you can wear it to any party or event and make your look more stylish. It's a great way to practice crochet skills. With this pattern, you can create a gorgeous scarf in just one day!
Buffalo Plaid Scarf: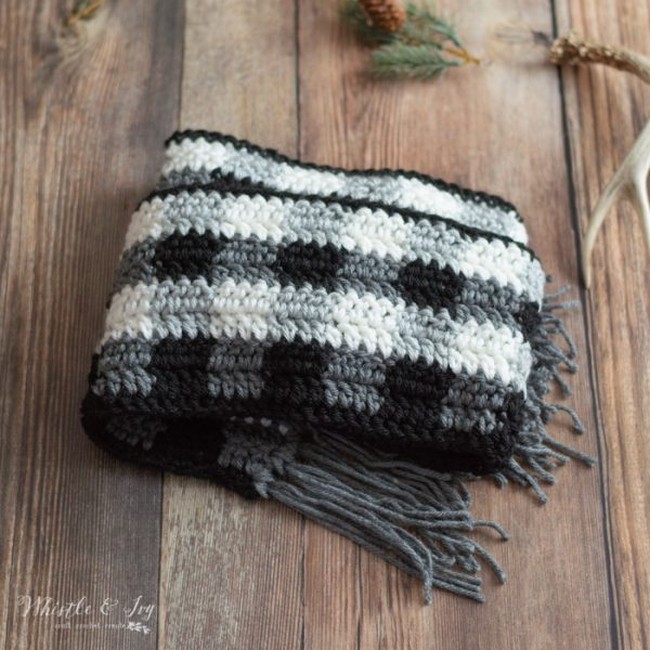 If you want to crochet a scarf that both men and women can wear, here is the perfect pattern. This free crochet buffalo plaid scarf is a good choice for beginners and advanced crocheters. If you have extra time and want to spend on self-improvement, this is a great pattern with simple stitches and easy-to-follow instructions. You will need a yarn with different colors, but if you don't have one, then use only black, gray or white to get perfect results. Show off your style and comfort with this free crochet pattern. It features Plaid stitch and is perfect for beginners, and it's a great addition to any outfit!
Moss Stitch Scarf: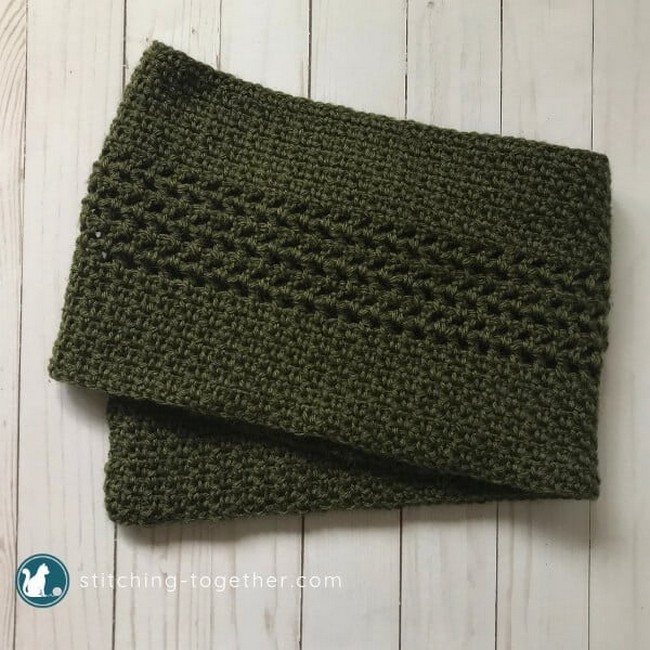 This Crochet pattern is a great project for the beginner to advanced crocheter. It's a useful, tasteful and easy accessory to have. The moss stitch used in this scarf is simple and beautifully textured. You can customize this design by changing the color or number of rows. Also, use your favorite thread weight for this project. It comes in sizes ranging from toddler to adult, so you can use this pattern repeatedly by changing yarn weight and hook size.
Bonfire Crocheted Scarf Free Pattern: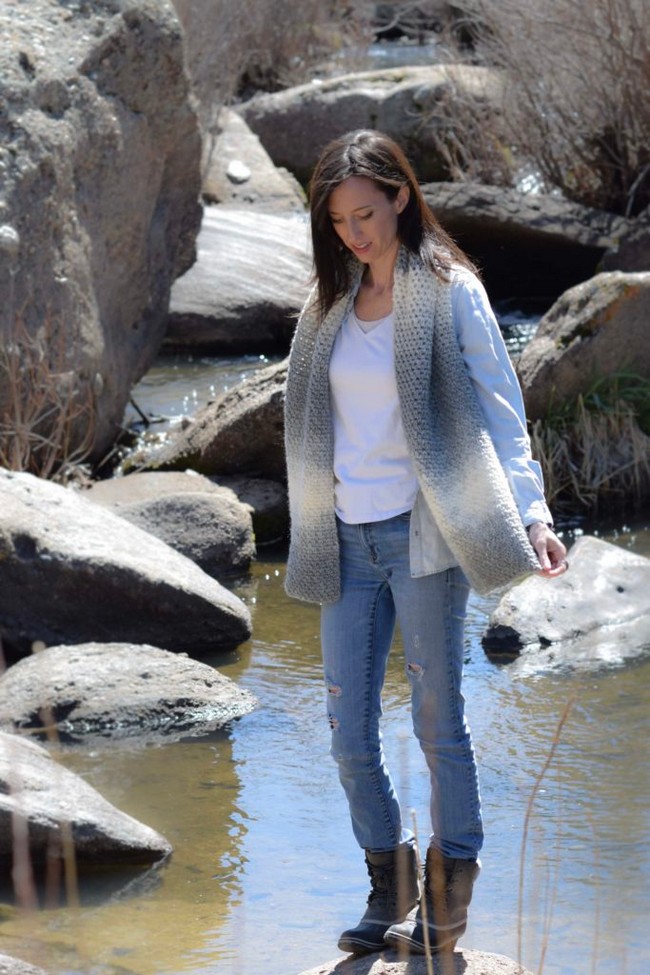 The Bonfire Crocheted Scarf Free Pattern is the perfect crochet scarf for this fall and winter season. This easy pattern can be made in a couple of hours with your choice of yarn from lionbrand.com, using only one skein of Lion Brand Scarfie yarn. This stand-out scarf will surely keep you warm throughout the chilly seasons! It is a joy to work with and creates a lightweight, drapey fabric that works quickly — perfect for those last-minute gifts. Make yours in casual shades of blue for an everyday piece or ornament it up with fun pops of color for extra visual interest.
Rustic Lace Scarf: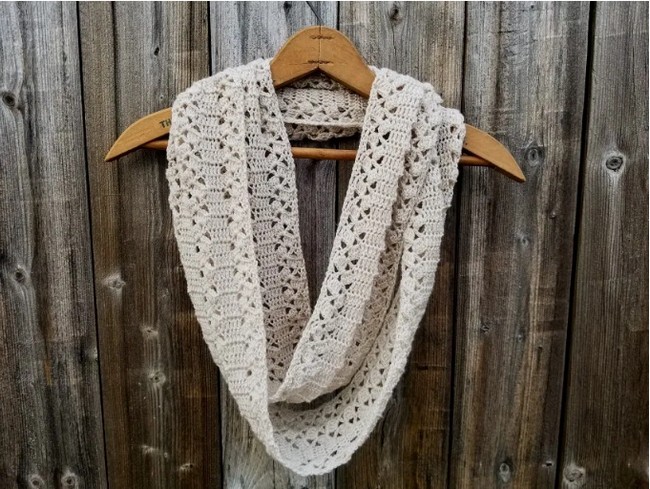 This free crochet lace scarf pattern design is a perfect accessory for any summer outfit. It can be worn as a wrap, headband, or shawl. This stylish scarf can be made in any color to match your wardrobe! This crochet scarf pattern is perfect for all seasons and occasions. It's the perfect accessory to pair with your favorite casual outfits but can also be worn as a layer over a dress or blouse for a more polished look. The yarn used in this pattern is very soft and drapey, making it a flattering piece.
Luna Chevron Scarf Crochet Pattern: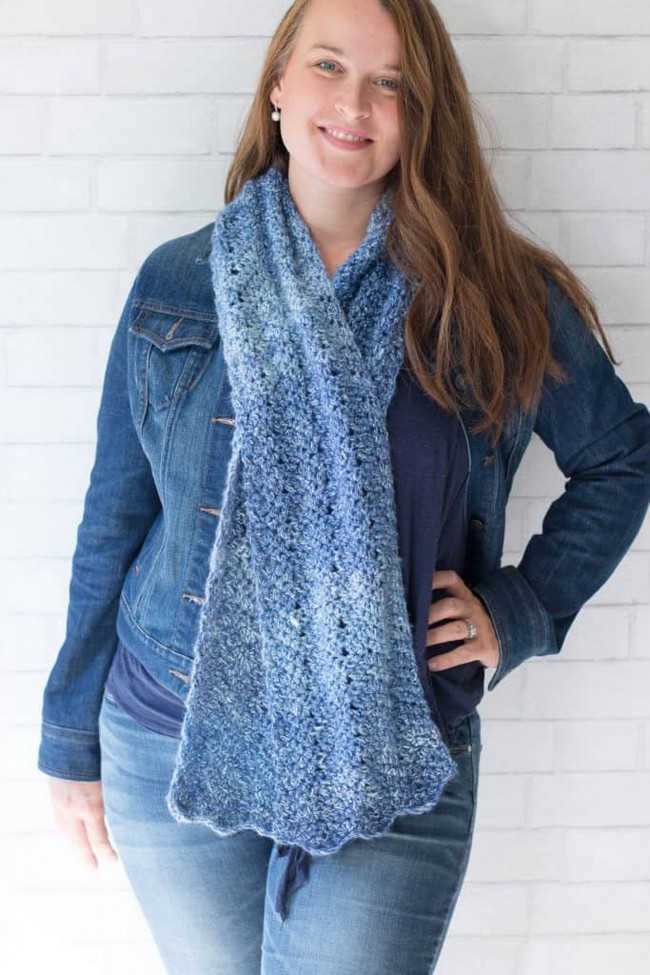 It is very easy to make this scarf. You can choose your favorite color. The beauty of this pattern is that you can choose many different color options; each one will look amazing and beautiful. This is an easy pattern for crocheting a triangle scarf. It is worked in a repeating pattern of rows, and each row adds length to your scarf. I hope you enjoy making this. The chevron stitch can be found in any yarn shop as it is a very popular stitch. You can wear it with your casual dresses, jeans, and more. This is the perfect scarf for you who want to make scarves quickly.
 The Hopewell Scarf: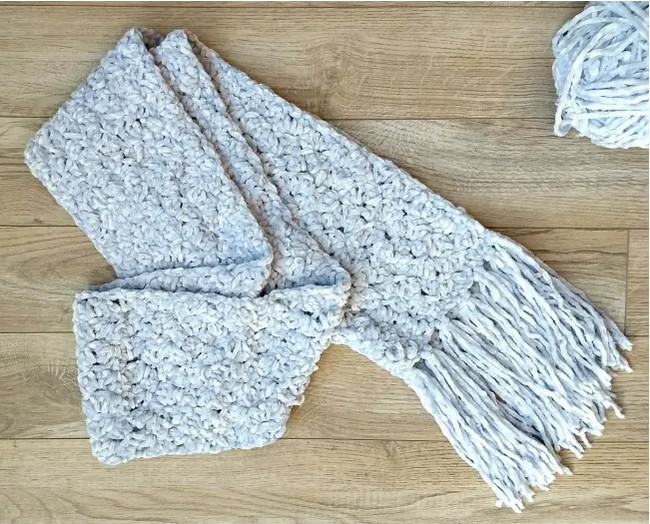 This crochet scarf pattern is a unique and stylish design that will add elegance to your outfit. It is made using a worsted weight yarn, which makes it soft and warm to wear. You can choose any color pallet you like or use the ones in the picture above. You can also make it extra long to wrap around your neck or shorter if you like. This is an easy crochet pattern that beginners can handle as well. No complex stitches or techniques are required to make this scarf; it also looks beautiful, warm and cozy.
Mermaid Vibes Scarf Pattern: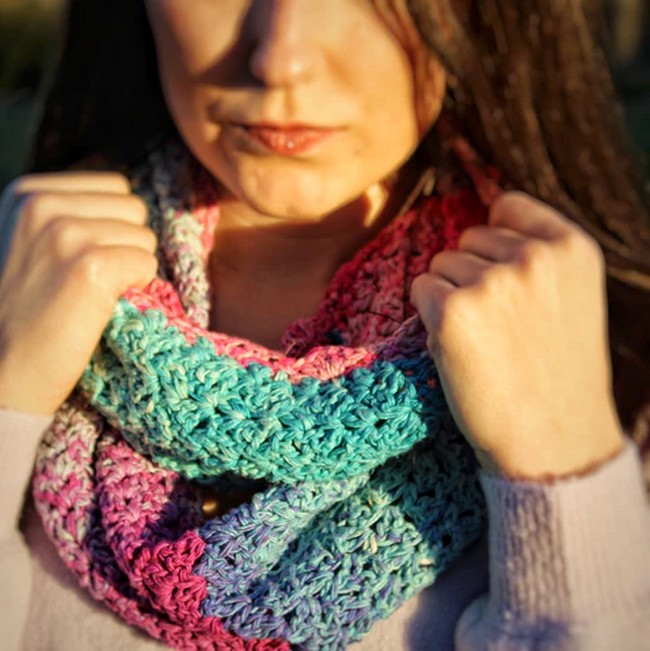 This infinity scarf crochet pattern is a perfect blend of just the right combination of colors. The exceptional design and unique style will make it one of the unique accessories ever. You can wear this infinity scarf with every dress, which is also comfortable to carry. It will keep you warm and cover your neck and shoulders completely. You need cotton yarn for this crochet pattern; you can choose different colors according to your desire.
Pretty In Pink Crochet Scarf: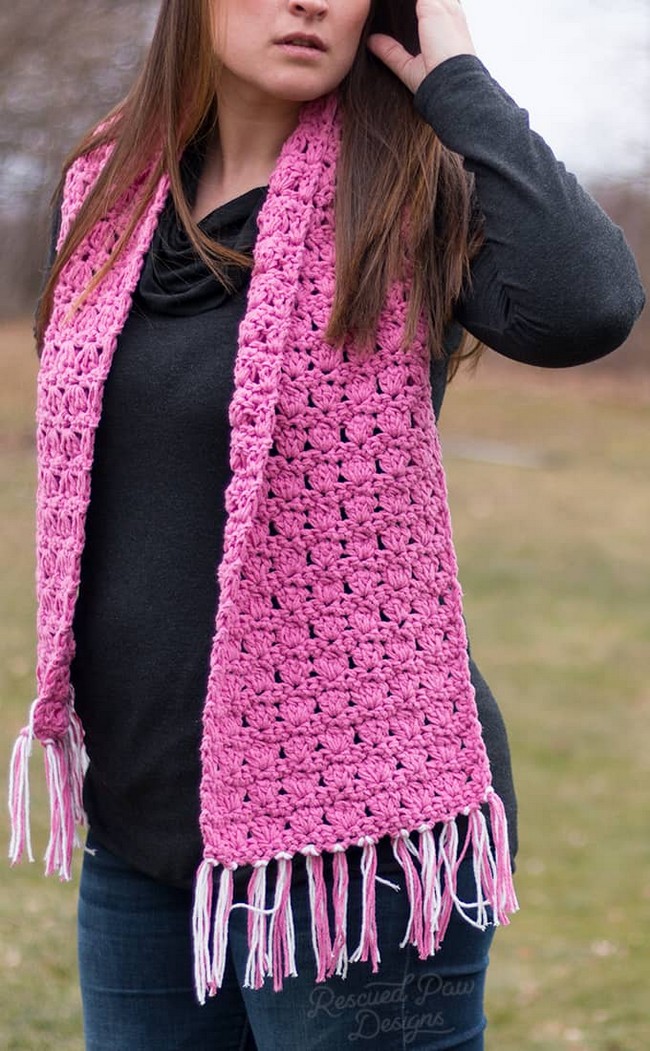 Looking for a gift that is at once simple and elegant? Want to make something special, but have no idea where to begin? Here's your answer: the Pretty In Pink Crochet Scarf. With a beautiful scalloped edge, this scarf can be finished in as little as one afternoon! Work around and around and around with colorful yarn tones you love, or mix it up! This is so pretty and feminine. If you are looking for a great deal of pink stuff, this is it! It looks well made, and the fabric isn't thin or cheap. You can't beat the price either!
Andy Button Scarf Pattern: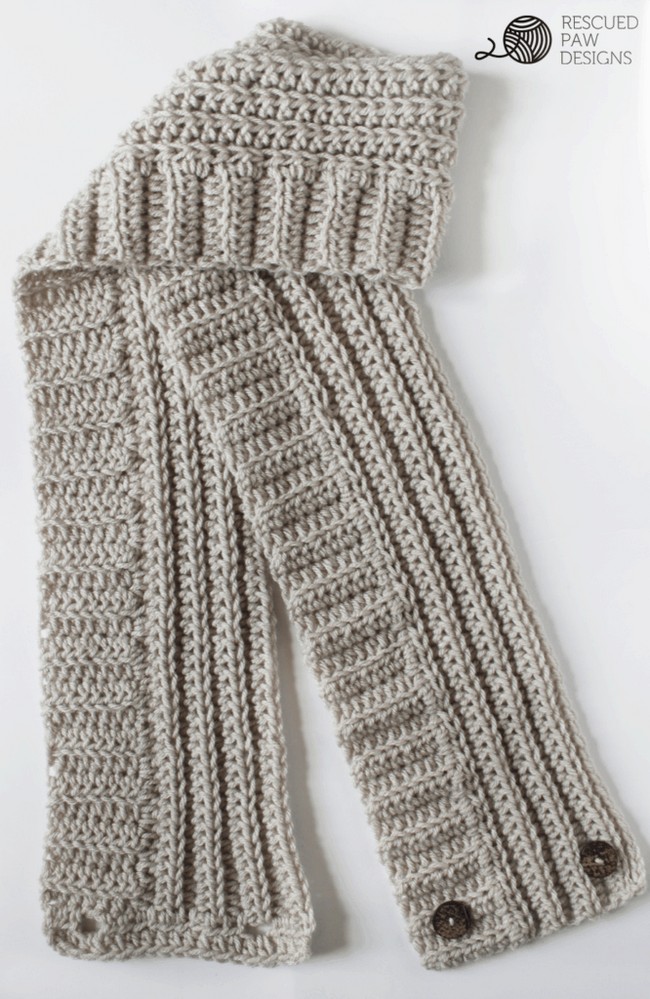 This crochet pattern by Crafty Nest makes this Andy Button Scarf for the winter months. This scarf is easy to make and can use any color yarn you prefer. This scarf pattern is easy to make for stashing your yarn and buttons. Pick your favorite colors and patterns to create a new look every day! The Andy Scarf pattern works quickly in super bulky yarn and is sized for adults, teens, or children. Using stash items and buttons that are just too cute to leave behind is fun.
Candy Kisses Triangle Scarf Crochet Pattern: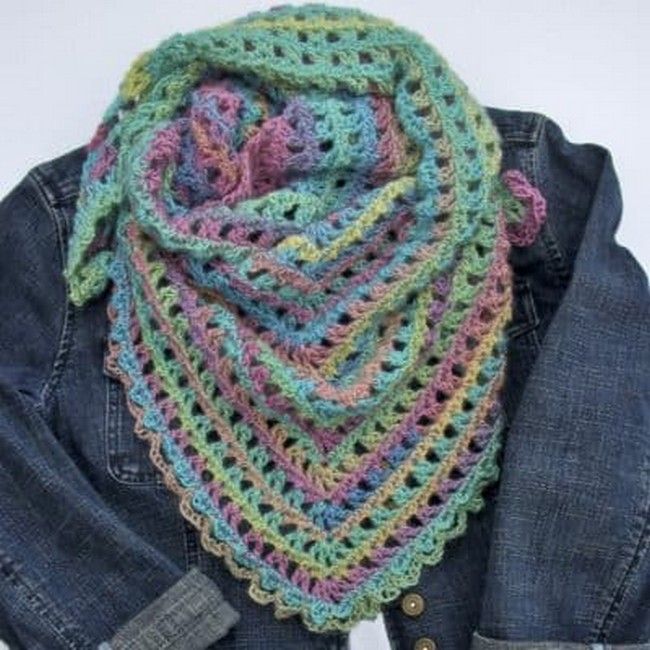 Have you been missing crocheted scarves? If yes, you can get it back with this pattern. The Triangle Scarf crochet pattern is unique and easy to make. It has different color options, and you can add creativity to it. With this Candy Kisses Triangle Scarf Template, you can make a colorful triangle scarf that is easy to crochet. You need a red heart cotton yarn to make it. It will be easily matched with all dresses. It keeps you cozy and warm in winter. This is a cute and easy-to-crochet Candy Kisses Triangle Scarf Pattern. It's very colorful and looks good with almost any outfit.
Super Scarf Free Crochet Pattern: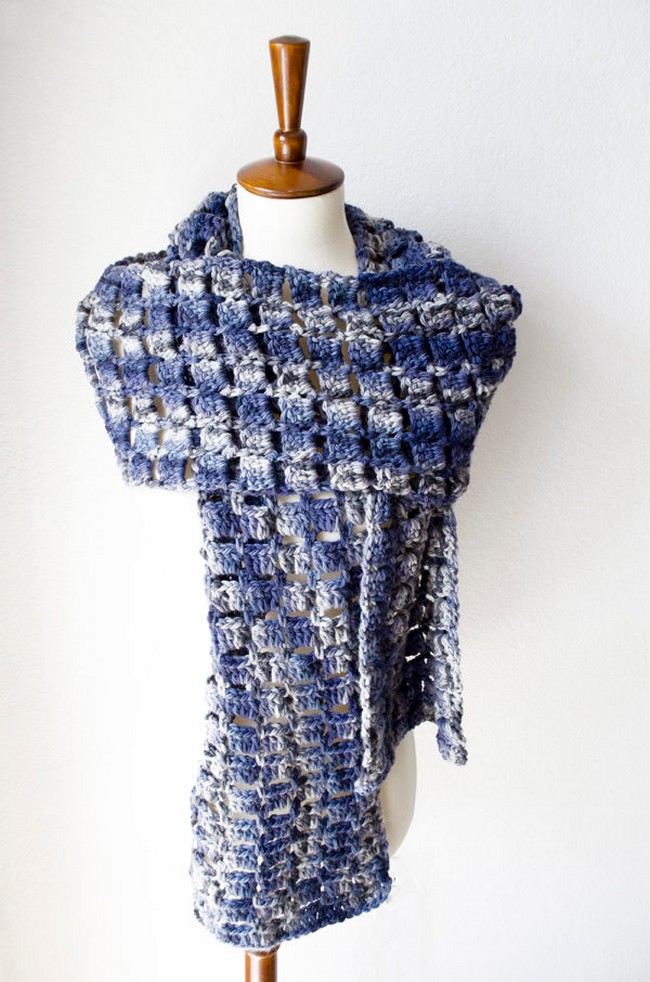 If you love the beautiful look of cabled blankets and sweaters but aren't a fan of the bulk, grab your hook and start crocheting this Super Scarf! It has all the benefits of a bulky scarf without being too bulky — it's soft and cozy, warm enough to keep you comfortable even in chilly weather. It is an easy crochet pattern you can make if you are a beginner crocheting. The scarf will keep you warm and cozy during winter, and it's a good project for a beginner of all ages. Take it with you on your next trip, or maybe even show your skills as a crafter to friends or family members.
Desert Winds Scarf: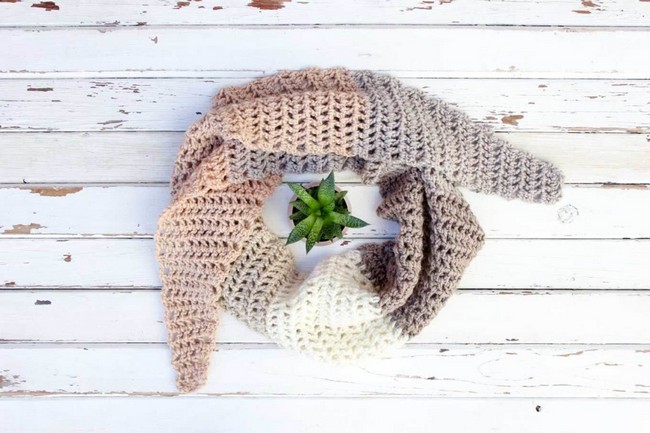 This project presents you with a cute and easy-to-make crochet scarf pattern. It's perfect for beginners interested in learning the basics of crocheting but will also appeal to those who want to create something simple and stylish. It is perfect for spring or even the summertime when it's cool at night! The Desert Winds Scarf is a quick and easy crochet pattern. It works in a garter stitch with a repeating motif, which is great for practicing your colorwork technique. This scarf can be easily sized up or down using different yarn weights and hook sizes.
Mint Circle Scarf Crochet Pattern: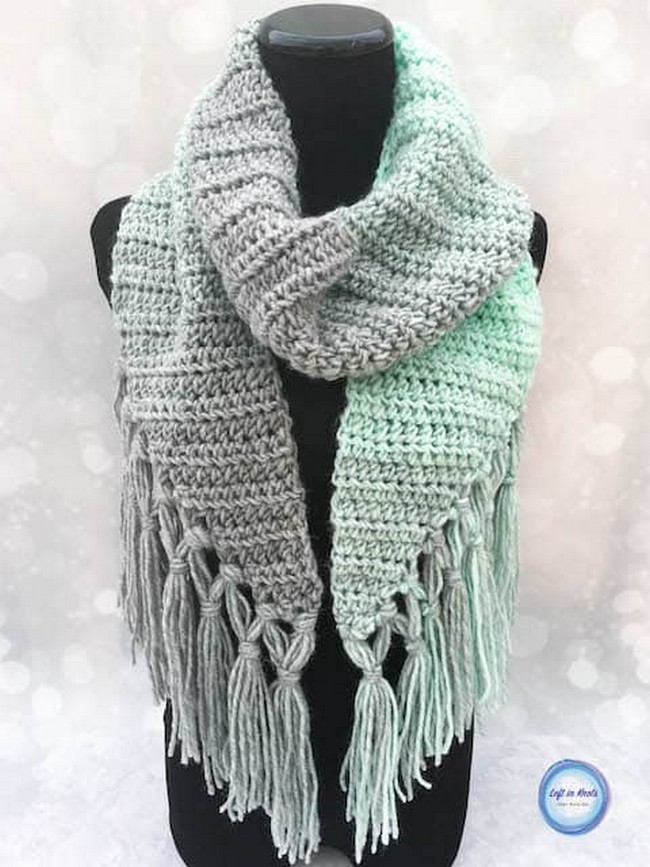 Crochet this beautiful crocheted scarf in no time at all. The design of this circle scarf makes it look like a piece of art and is easy to carry on long walks. This Mint Circle Scarf is perfect for any woman, and you can decorate yourself with this lovely and elegant scarf. It matches all outfits so that you can wear it during winter and summer. This increases your beauty and gives you an elegant look, so if you're looking for a nice crochet project, this is perfect!
La Vie En Rose Ladies Scarf: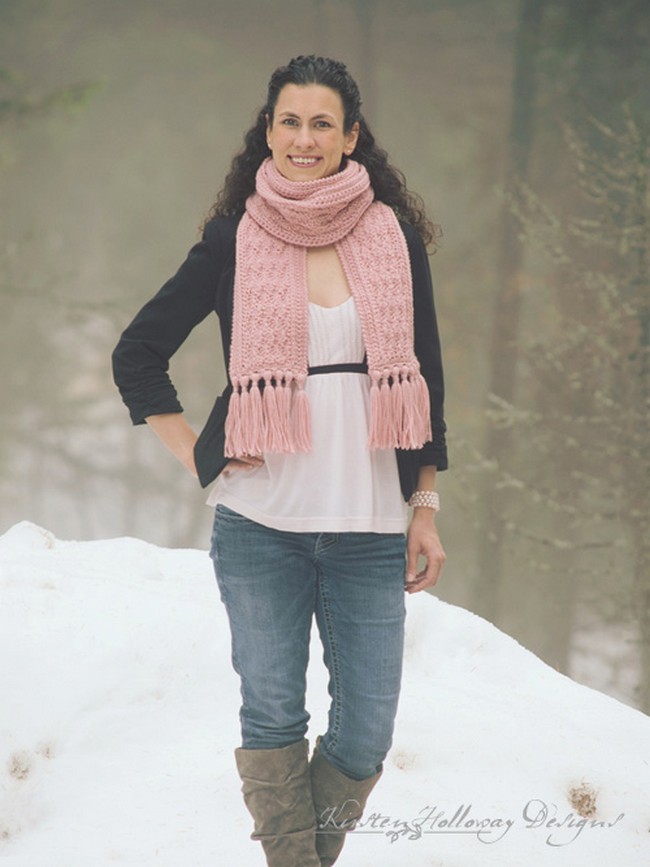 This la vie en rose ladies' scarf is a simple yet stylish accessory that makes you look more beautiful. This versatile scarf can be worn as an infinity or everyday wear. You can wear this with formal outfits and casual looks as well. Made of cotton yarn, it is soft and comfortable to wear. It is made with cotton yarn and pink color, giving an elegant look. You will get a fantastic project if you are the best crocheter. You can change the color of this scarf if you want.
Island Lace Scarf:
This is one of our favorite crochet patterns! The lace pattern works up incredibly soft and airy, while the variegated shades of yarn make it extra special to look at. And you won't believe how fast this pattern can be crocheted once you know how! It's perfect for beginners who want to try some lace stitches but are scared off by the prospect of a big project. This makes a great scarf, wrap, or even a shoulder or bag accessory. This beautiful scarf is a perfect accessory for women who love fashion and want to look stylish. It's a bright, colorful scarf that will make you look elegant, stylish, and charming from all sides.
Cherished Moments Scarf: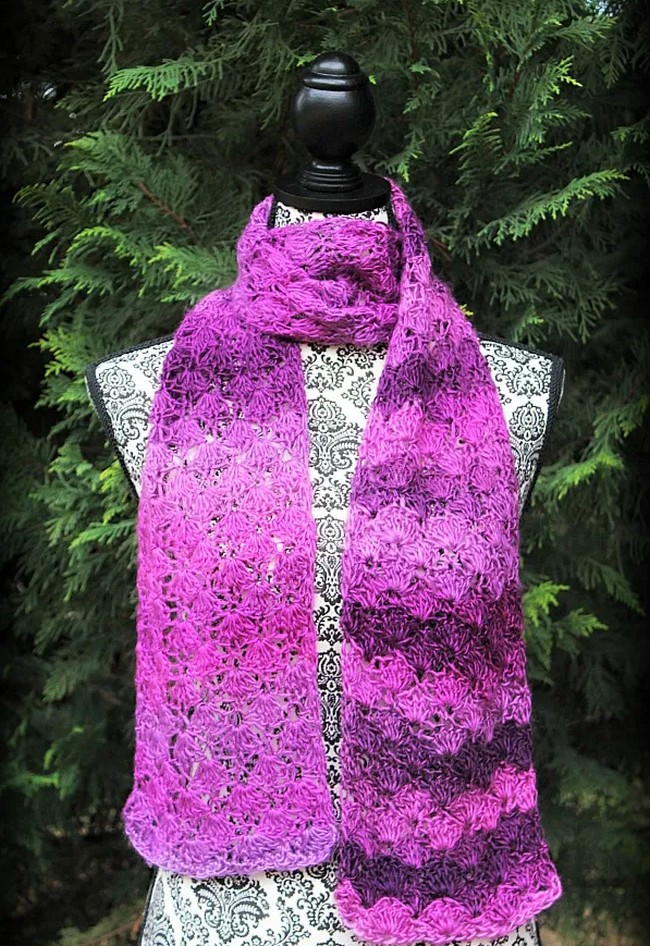 Add a splash of different colors to your everyday outfits with this luxurious and richly-colored Cherished Moments Scarf, part of the Crochet Cherished Moments collection. Crafted with premium yarns and an elegant semi-sheer look, this lovely scarf can easily be worked into your wardrobe rotation with any color top or sweater. This beautiful crochet scarf is sure to be a cherished moment. It is made of acrylic yarn, so it's soft, and warm, and glides nicely over your skin. This scarf will look great with every outfit and every season. Remind someone you care about with this wonderful gift.
Homespun Free Crochet Scarf Pattern: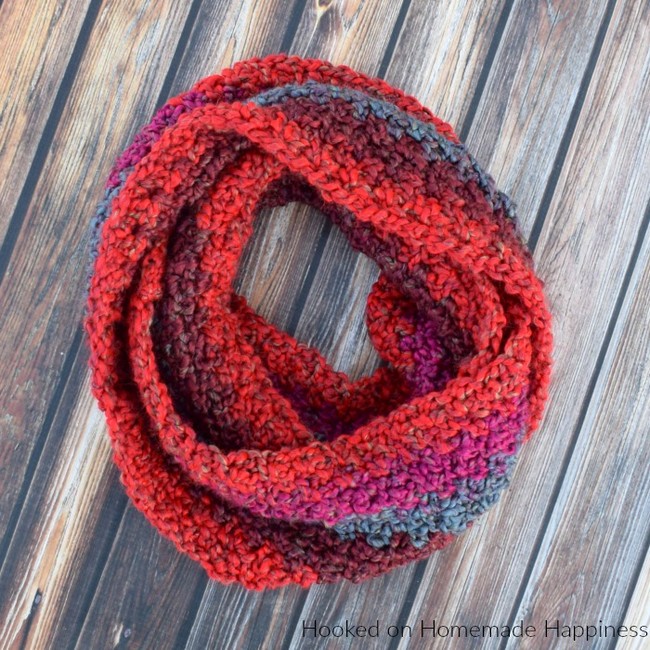 The Homespun Free Crochet Scarf Pattern by Red Heart is a lovely throw that is simple enough to make with just a few crochet stitches. It's perfect for scarf beginners, but it's also fun to make with more experienced crocheters who can add color stripes and other touches to create their unique look. This beautiful scarf is the perfect accessory to complete any outfit and makes the ideal gift. The Homespun Scarf is made using Homespun yarn, which is perfect for this project because it has thicker fibers than other types of yarn.
Free Crochet Diamond Scarf Pattern: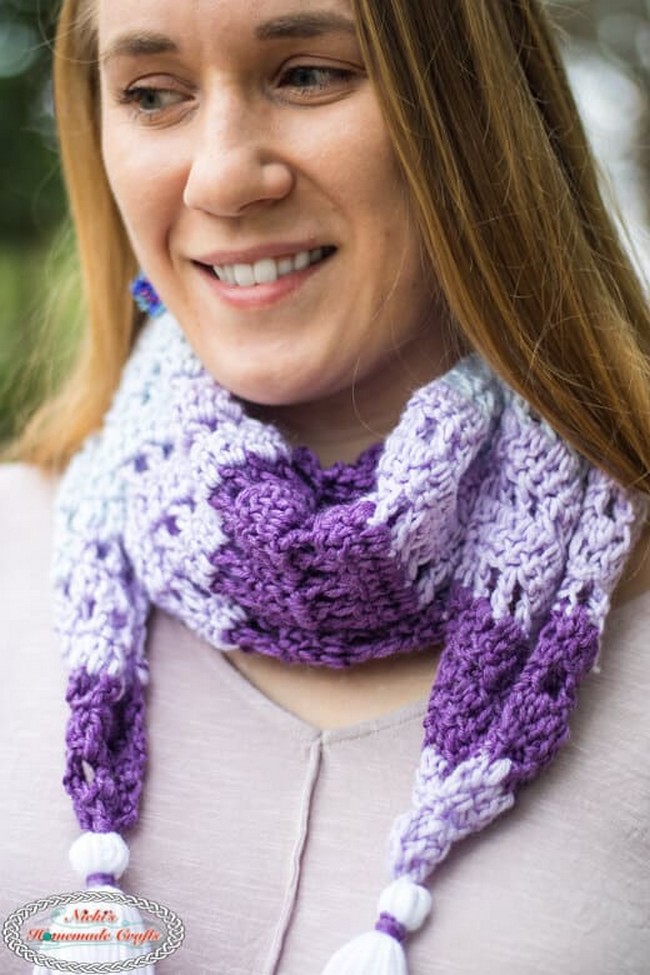 This simple crochet scarf pattern is a great way to improve your skills while making something beautiful. The Crochet Diamond Scarf Pattern is an easy project if you use this free crochet diamond scarf pattern. This simple accessory can fit any outfit as a gift or sale. This scarf is light enough to make it a year-round accessory and warm enough to keep you cozy in the winter. It's versatile, too, making it perfect for wearing with your winter coat or summer shift dress.
Laura Fringe Infinity Scarf Pattern: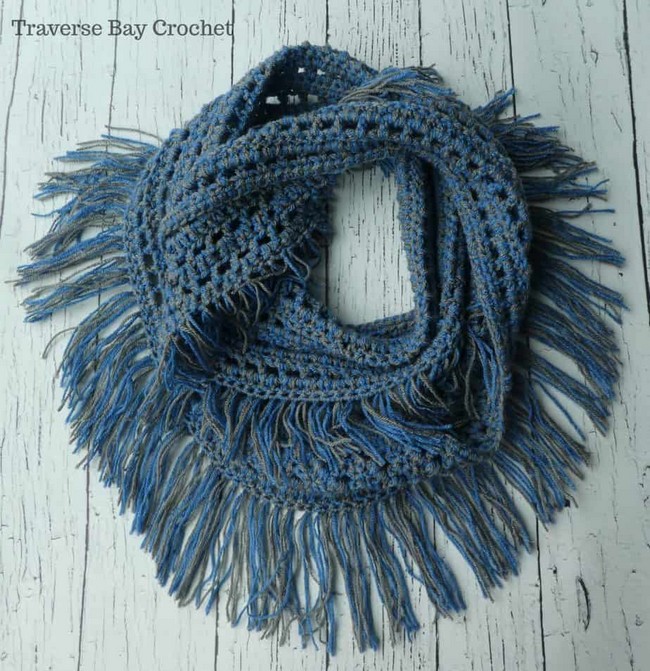 The Crochet Laura Fringe Infinity Scarf pattern is a must-have for every woman. It's a great beginner project and will make you feel proud. This scarf is perfect to wear in fall, winter, or springtime. If you sometimes have chill or cold hands, throw it over your neck as it will keep you warm and glamorous. The fringe part of this crochet infinity scarf will add plenty of volume and visual interest for a sophisticated look. This crochet is worked in the round with no seaming, so it's a quick and easy project for beginners!
Easy Puff Scarf Pattern: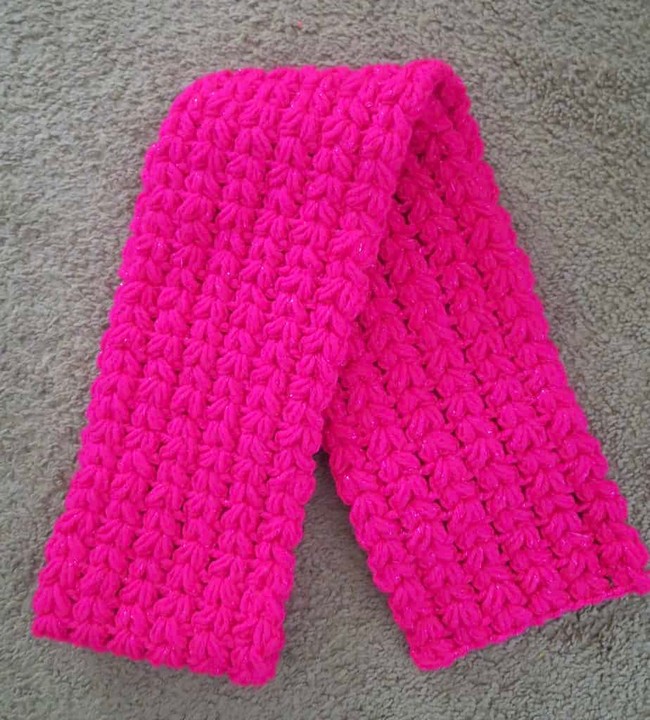 Crochet this quick project in a few hours, and you'll have a stylish accessory that goes with everything. The easy-crochet puff stitch creates an elegant fabric, while the generous length means it can be wrapped around your neck as a fashion statement or left loose for warmth. This simple scarf is the perfect winter accessory for a stylish woman. This super simple and easy-to-crochet puff-stitch scarf will be your go-to fall accessory! Super cozy and stylish too!
Waves Scarf Pattern: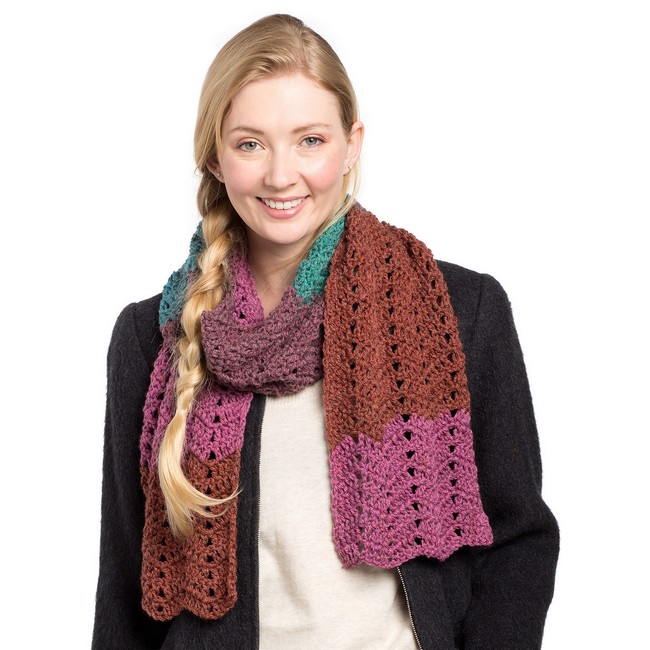 Whimsical, delicate, and airy, this Crochet Waves Scarf Pattern is the perfect accessory for spring. With its lacy vine design, you can use a lighter-weight yarn to create a drapey scarf ideal for warmer days. This crochet pattern uses the "wave" stitch. Crochet Waves Scarf Pattern is a beautiful piece of art you can wear daily. The scarf works up quickly and looks amazing in any color choice. You will want to make more of these than one! This design is completely customizable, so grab your hook and work on this must-have accessory.
Indigo Scarf Free Crochet Pattern: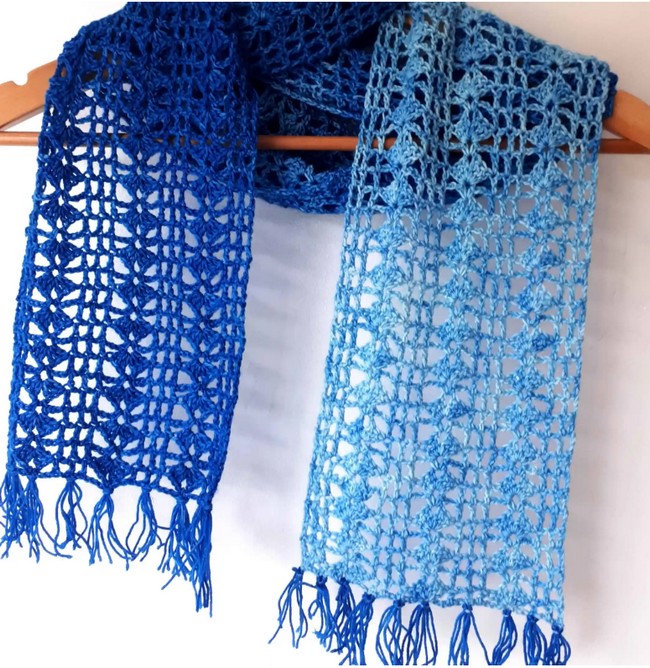 Crochet a gorgeous crocheted scarf this winter! This free pattern is perfect for beginners and experienced crocheters alike. It's warm, lightweight, and so flattering to the wearer. This Indigo Scarf Free Crochet Pattern is the perfect accessory for your fall wardrobe. Crocheted with Cascade's Spa and Sport, this soft and cozy scarf is sure to be a favorite in your winter wear collection. This is a beginner's crochet scarf pattern, and it's well-written. It uses basic stitches, but it has a beautiful design, and it feels so go to have something handmade like this in your closet!
Green Meadows Crochet Scarf Pattern: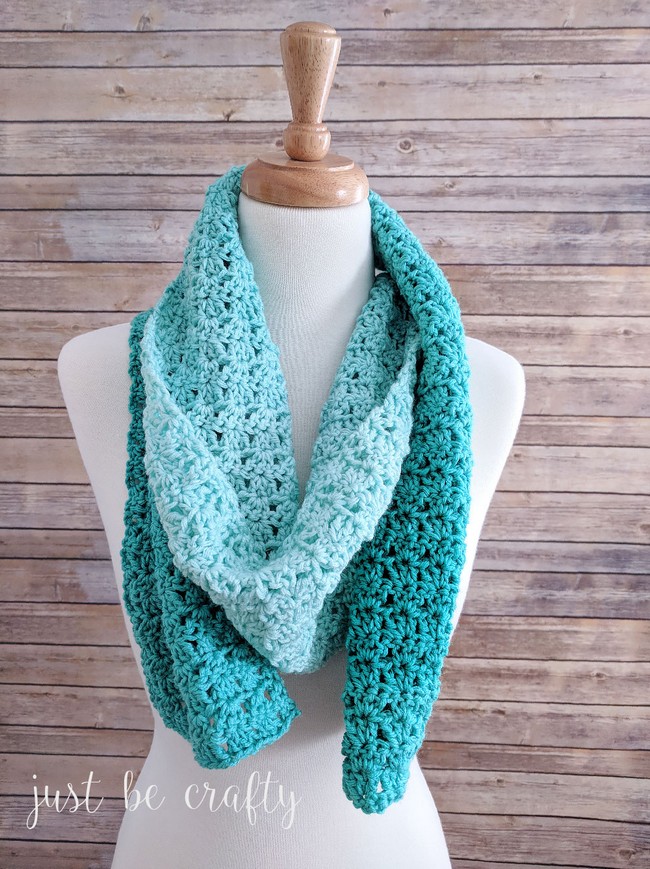 Get cozy this season in this lovely scarf. The pattern is written so you can easily modify the dimensions to create the desired length. This free crochet pattern will show you how to make this beautiful long scarf in beautiful shades of green. It's made from the softest yarn, making it the perfect item for any season, and the crocheted ends work well with multiple outfits! This is a straightforward, easy-to-follow crochet scarf pattern. It's worked flat and then sewn together at the end for a chain stitch edging effect. A simple and elegant scarf perfect for winter wear!
Easy Crochet Scarf Free Pattern: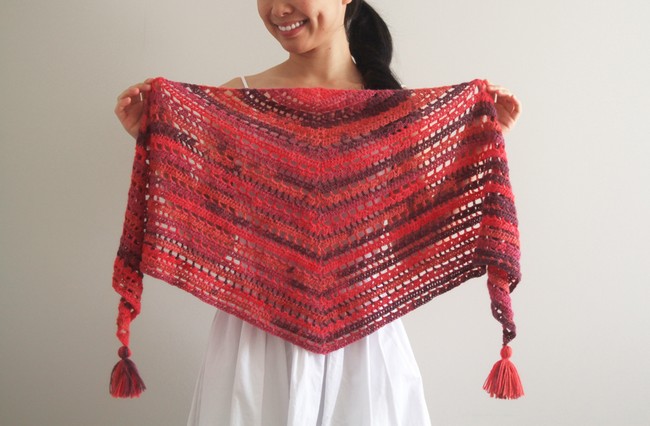 Are you looking for a super simple yet very classy project? Then this easy crochet scarf-free pattern is perfect for you! This is a beginner-friendly scarf that will impress everybody around you, even the most seasoned crocheters. It is a gorgeous free crochet scarf pattern that uses worsted-weight yarn. It's quick to crochet and makes the prettiest fall accessory. This scarf can be crocheted in different yarn colors, making it easy to match any outfit. It takes less than $10 to make this beautiful scarf, including the cost of yarn!