Not only is it the Christmas season, but also the crochet season! We've rounded up some adorable and easy-to-follow patterns for you to try this holiday season. Whether crocheting a gingerbread man cookie cozy or a cute crocheted stocking, these patterns will surely put you in the proper holiday spirit. These amazing crochet reindeer patterns are sure to light up the season! There's something for kids, adults, and even pets. No matter what kind of Reindeer you want to create, there is a pattern here that will surely make you smile. These adorable Free Crochet Reindeer Patterns will make your holiday decorations stand out.
Crochet Reindeer Ornament Patterns

These unique crochet reindeer patterns bring a holiday spirit to your home or office. From ornaments to decorations, these crochet reindeer will surely please all ages. These adorable little Reindeer are perfect for decorating the tree, your mantle, or hanging from the ceiling. They will be an excellent project for beginners, too! The only bummer is they don't come with lights in their antlers. This collection of crochet reindeer patterns offers plenty of inspiration for your holiday creations. Whether you are looking to make a few ornaments as a gift or create an entire village of reindeer, this list provides you with links to some incredible patterns that will help you find the right one.
Tips For Crocheting Reindeer Patterns
Crochet reindeer patterns are a great way to add holiday cheer to your home. These adorable little critters are fun, easy to make, and great gifts for kids and grown-ups.
Choose the right yarn
Get help with the eyes and nose
Use buttons or beads for hands and feet
Crochet Rudy the Reindeer: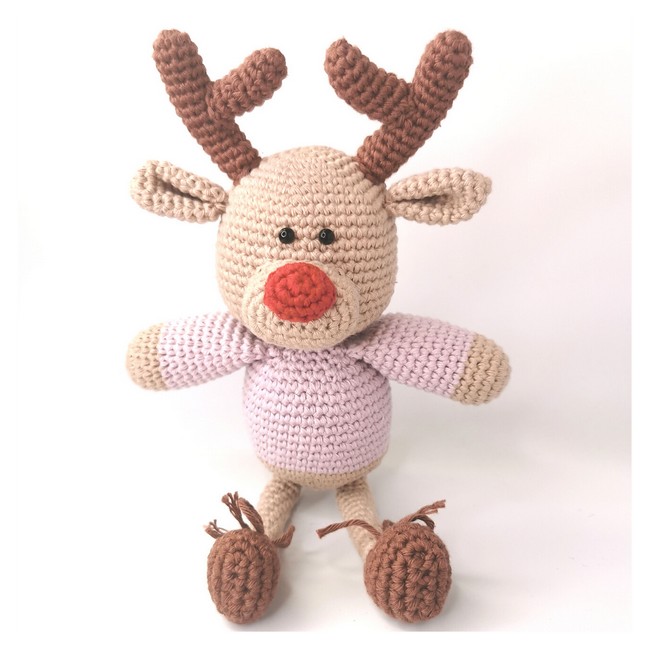 Rudy is a fabulous crochet Christmas ornament. He's also perfect to be placed as a light across the room, above display shelves, or in other areas of your home or office. Create your very own Rudolph with this crochet reindeer pattern. All you need is a bit of yarn and two eyes; your finished Rudolph will be ready to take on Santa's sleigh! This Rudolph the Red-Nosed Reindeer amigurumi crochet pattern is a gift that keeps giving. He is crocheted in red, white, and black with a bit of nose light up on the tip. His antlers are designed to be multicolored, so they look more realistic, and his eyes even glow in the dark.
Materials
Yarn: Aran / Worsted Weight Yarn in the following colors:
Crochet hook: 3.5 mm (US E/4)
Stuffing
Needle
Scissors
Pins
Stitch marker
Safety eyes 8 mm (Option 1)
Black embroidery thread (Option 2 - if you'd prefer to embroider the eyes)
Abbreviations
R# - Row/round number
st - Stitch
ch - Chain
sl st - Slip stitch
mc - Magic circle
sc - Single crochet
inc - Increase
dec - Decrease
FLO - Front loop only
[...] x ... - Repeat the sequence of stitches in brackets x-times
(...) - Total number of stitches at the end of each row/round
Reindeer Ornament Pattern: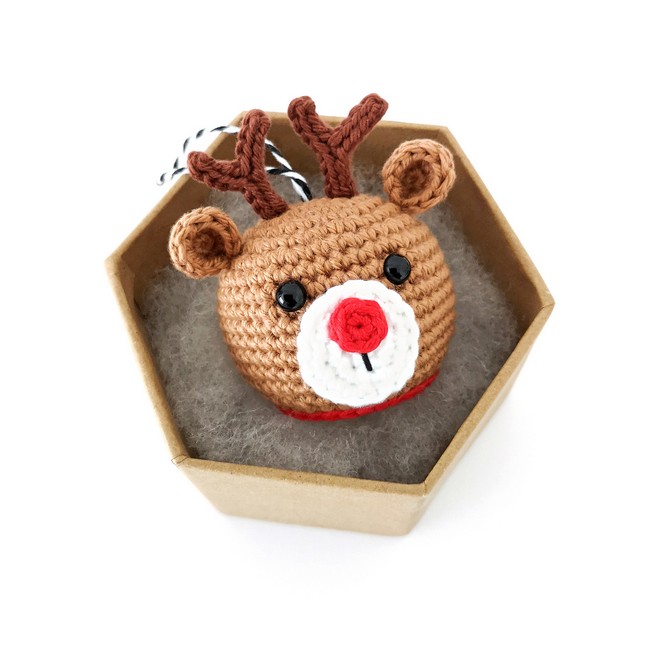 This crochet reindeer ornament is the perfect addition to your holiday decorations. The pattern is easy and only requires fundamental crochet skills. This crochet reindeer ornament pattern is the ideal way to add a touch of festive fun to your home during the holidays! You can make these adorable little guys in the afternoon. They are great for making a holiday wreath or just hanging around the house as cute decorations. This crochet reindeer ornament is a fast and easy project that will add some holiday cheer to your home. It's even beginner friendly!
Materials
DK Weight Yarn in light brown, dark brown, red, and white (I used 

Paintbox Yarns Cotton DK

 in Soft Fudge, Coffee Bean, Pillar Red, and Paper White)
2.5mm crochet hook
6mm safety eyes
Polyester fiberfill
Black embroidery floss
Stitch marker, yarn needle, scissors
Yarn/twine for hanging
Abbreviations
ch – chain
sc – single crochet
inc – increase
invdec – invisible decrease
hdc-inc – half double crochet increase
dc-inc – double crochet increase
sl st – slip stitch
st/s – stitch/es
[…] – repeat the instructions in brackets
(…) – indicates stitch count at end of round
Crochet Chubby Reindeer:
This chubby Reindeer has a big heart and is ready to be your new best friend. This Reindeer is plump, round and cuddly. This adorable little Reindeer is a fun crochet pattern for all skill levels. This chubby Reindeer will be a huge hit in your house, decorating mantles and tabletops during the holiday season." The design includes all the materials you need to create your chubby Reindeer. This pattern only uses basic stitches and techniques but is suitable for beginner crocheters. He's full of love and brings out the best in all around him, plus he makes an excellent home décor accent or centerpiece for your holiday table.
Materials
2mm crochet hook
3ply 100% cotton yarn in 5 colors (I used light and dark brown, green, red and yellow).
Stuffing material
Scissors
Sewing needles for the eyes.
Or, you can use safety eyes! The position is at the end of this post.
Christmas Reindeer Treat Basket: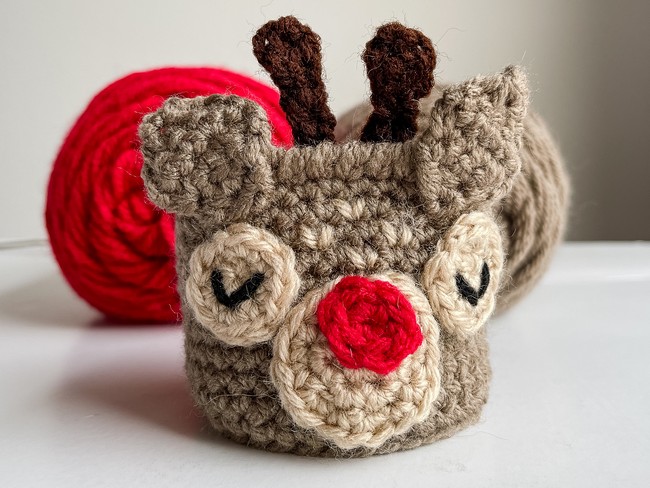 Beautifully boho, this crochet basket is a great way to hold your treats or present them. It makes a beautiful Christmas decoration as well. The reindeer pattern is easy to follow and makes a great gift for any crocheter. It's time to celebrate Christmas with your crochet supplies. This Reindeer Treat Basket is fun, easy to make, and perfect as a gift. It can be made in any color and is also suitable for all ages, whether you're an experienced crocheter or a beginner. Perfect for stocking fillers, present fillers, secret Santa gifts, or any occasion!
Materials
Size I (5.5 mm) crochet hook
Stitch Marker
Scissors
Tapestry needle
Abbreviations
MC = magic circle
ch = chain
sc = single crochet
st(s) = stitch(es)
sc2tog = single crochet 2 sts together (see special stitches section below)
BLO = back loop only
rsc = reverse single crochet (see special stitches section below)
WS = wrong side
RS = right side
Reindeer Hot Pad: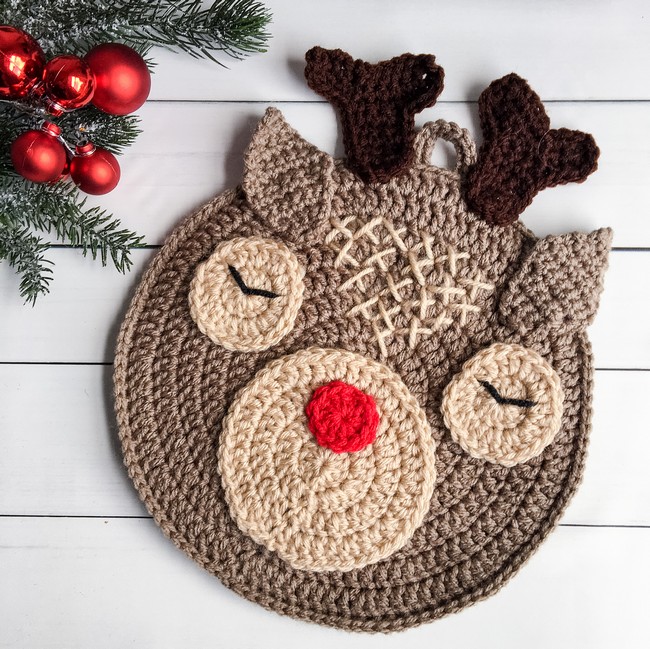 This Reindeer Hot Pad Crochet Pattern will keep your cookie sheets and dishes looking beautiful on cold winter mornings. Make an adorable crochet reindeer to protect your hands from hot dishes and cookware. The pattern makes a handy kitchen hot pad, placemat, or Creative table runner. Crochet this adorable reindeer hot pad to help keep a nice warm beverage warm! This crochet reindeer, hot pad pattern, adds a festive touch to your kitchen tasks. The hot place uses single crochet stitches and protects your hands as you prepare holiday meals. This is one of your favorite crochet patterns to make with scraps!
Materials
Size I (5.5 mm) crochet hook
Scissors
Tapestry needle
Abbreviations
MC = magic circle
ch = chain
sc = single crochet
dc = double crochet
st(s) = stitch(es)
sk = skip
sc2tog = single crochet 2 sts together (see special stitches section below)
WS = wrong side
RS = right side
Reindeer Amigurumi:

Are you looking for a fun and quick crochet project to make this holiday season? If so, then you're in the right place! This adorable Crochet Reindeer amigurumi pattern is packed with holiday cheer and makes the perfect gift for anyone on your list. It is ideal for kids but also adults. It's a great way to get your hands busy over the holidays and at Christmas. This crochet Reindeer amigurumi is adorable and looks cute in any Christmas ensemble! The pattern comes with 8 different color options to choose from. Amigurumi (crochet toys) make the perfect last-minute holiday gifts, especially for kids of all ages.
Materials
Yarns – brown (B), dark brown (D), red (R), green (G)
white glue
polyester fibrefill
small bell
8.0 mm safety eyes
size 8 (5.0 mm) crochet hook
Abbreviations
ch = chain
st = stitch
sc = single crochet
hdc = half double crochet
sl st = slip stitch
inc = single crochet 2 into the same stitch
dec = decrease over next two stitches (single crochet 2 stitches together or use invisible decrease)
Aspen the Reindeer: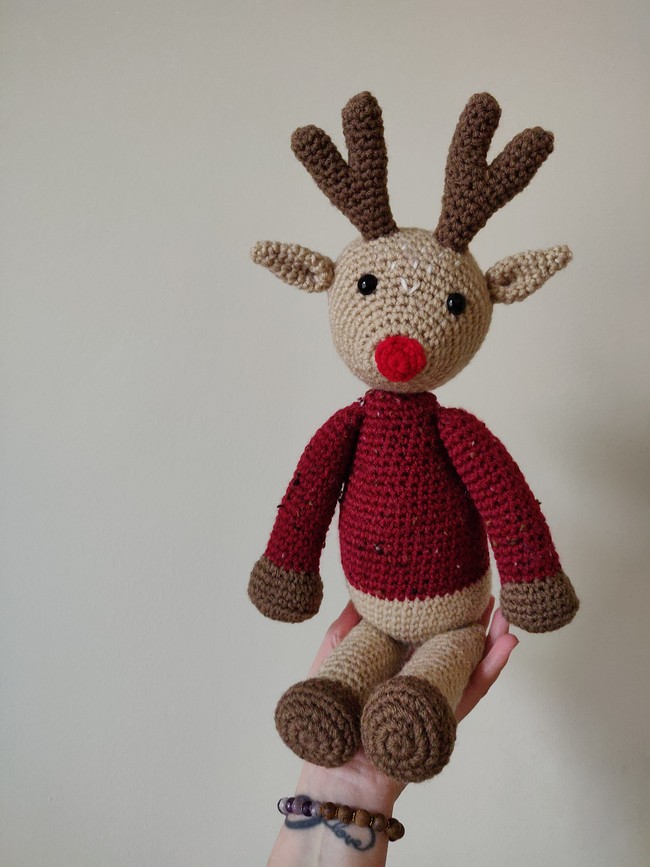 Aspen will be your child's best friend this season! They'll have fun with this holiday crochet pattern, perfect for beginners. Your kids will love their new Aspen the Reindeer! This adorable Reindeer is a crochet pattern for a fun holiday decoration or gift. You can use any size of yarn and appropriate hooks... smaller for a keyring, more significant for a decoration. The result will be an adorable mini reindeer that you can use on many things… wreaths, cards, ornaments, and more!
Materials
E – 3.50 

mm crochet hook

Medium Worsted weight (#4) yarn

Yarn needle

Scissors

Stitch markers (highly recommend this extra piece of yarn works great)

12 mm black safety eyes

1 button Approx 1 inch ( Have fun with this one!)

Poly-fil
Abbreviations
CH

 – 

chain

ST 

– stitch (stitch space)

Sl St

 – 

slip stitch

SC

 – single crochet

SC INC

. – single crochet increase (2 sc in the same st)

INV SC

 – invisible single crochet ( decrease using FLO)

FLO

 – front loop only

BLO 

– back loop only
Tiny reindeer: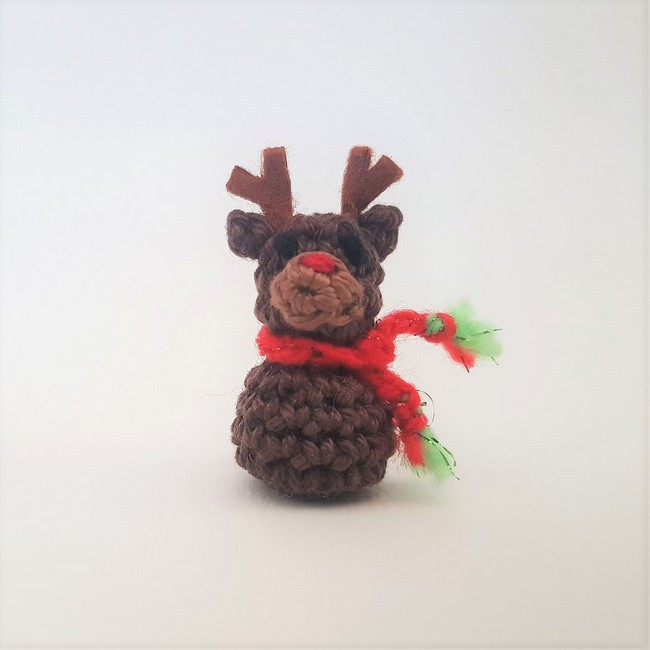 Crochet Tiny reindeer is the perfect knitted gift for someone or yourself! This is a sweet little pattern for making your tiny crochet reindeer. It's a quick and easy crochet project that makes a lovely gift for anyone who loves crocheting or appreciates handmade gifts. This is an easy, beginner-level project. This little Reindeer is a perfect handmade gift for your loved ones this Christmas. You can build your family or make more extensive versions of these Reindeer.
Materials
Dark brown yarn (I used Scheepjes Catona 162 Black coffee)
Light brown yarn (I used Scheepjes Catona 503 Hazelnut)
Little pieces of red and black yarn
Yarn in 2 colors of your choosing for the scarf (I used red and green glitter yarn)
Brown felt
Fabric glue
Crochet hook (I used a 2.5 mm hook)
Filling
Yarn needle
Abbreviations
sc – single crochet
inc – increase (sc2 in one stitch)
dinc – double increase (sc3 in one stitch)
dec – decrease (go from 2 stitches to one),
slst – slip stitch
BLO – work in back loops only
FLO – work in front loops only
Rudolph the Red-Nosed Reindeer:
Looking to get into the Christmas spirit? Learn how to crochet beautiful bows, create Rudolph's face, and finish your Reindeer with a sweater. This adorable Reindeer is sure to bring some holiday cheer! This crochet pattern is perfect for someone looking to make their first Reindeer. Rudolph is made using basic stitches and doesn't require any shaping or partial pieces. Create a whole sleigh full of Reindeer with this easy crochet pattern. Rudolph the Red-Nosed Reindeer will be adorable as a part of your holiday decorations, or give him away to your favorite little person this Christmas!
Materials
Approximately 200 yards of #4 medium yarn in medium brown (I used Red Heart Soft yarn in Toast, but use any brand you like)
Small amounts of yarn in dark brown, white or cream, and red
Felt in white or cream, dark brown, and black
D-3 / 3.25-mm hook
FiberFil stuffing
Scissors
Yarn needle
Stitch markers
Abbreviations
st – stitch
ch – chain
ch st – chain stitch
sc – single crochet
hdc – half-double crochet
dc – double crochet
tr – treble crochet
sl st – slip stitch
(inc) – increase; perform two stitches in the same space/stitch
(dec) – decrease; see "notes" above
sc2tog – single crochet 2 stitches together; this is a decrease
Rudolph the reindeer:
If you grew up watching Rudolph and his other reindeer friends grace your television screen, this crochet pattern is perfect! Make Rudolph and all his friends a beautiful centerpiece for your holiday decorations. Brighten up this Christmas season with your own crocheted Reindeer! You can be sure everyone will love Rudolph, the ideal gift for the holidays. This adorable little guy will be a great friend for everyone, and he can keep watch over your Christmas tree, bring some cheer with you through winter, or just as a spring decoration.
Materials
Crochet hook 2.5 mm
Sports weight yarn
Tapestry needle
Yarn used in this pattern: Schachenmayr Catania. Colors: The main color is light brown (25 g), brown (10 g), white (5 g) red (5 g)
12 mm safety eyes
Stitch marker
Abbreviations
Ch–chain
R–row
St–stitch
Sc–single crochet
Sc dec–single crochet decrease
Sc inc–single crochet increase,
two single crochet in one
stitch
Mr–Magic ring
Rnd – Round
Sl st. – Sl st
Dc – double crochet
Little Sitting Reindeer: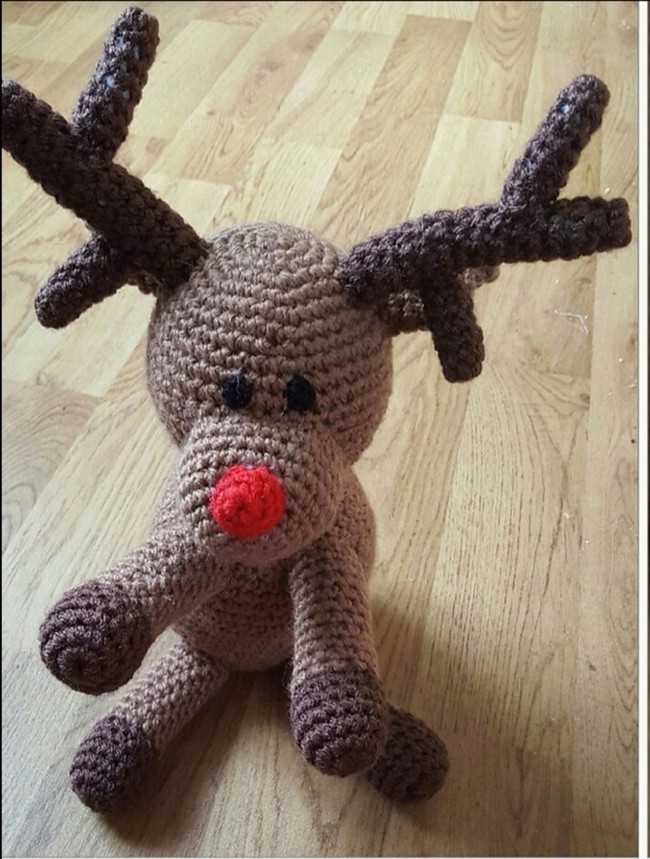 This Christmas, give yourself a chance to crochet a little sitting reindeer that makes an ideal Christmas decoration on your tree or even as a gift for friends and family members. This little sitting reindeer is the perfect winter decoration for your home. It is crocheted using soft, fuzzy yarn and has a cute face that your kids and friends will love! If you follow the pattern closely, you can make it in about 5-6 hours, including assembly and drying time.
Materials
Abbreviations
Sc = single crochet
Slip st = slip stitch
2sc = 2 single crochet into the same stitch
2tog = sc the next to stitches togethe
Rudolph Ornament:
Celebrate this Christmas with your household reindeer! This fun, easy pattern is ideal for beginners and seasoned crocheters alike. This crochet reindeer pattern is quick and easy to make, even for beginners. You can use it to make a Rudolph ornament or gift box or hang it on your tree as a paperweight. Get creative with this pattern by using different yarn colors or adding white fleece ears and antlers to make it look more like the traditional Santa's reindeer mascot!
Materials
3.25mm hook for main (I use THESE hooks!);
Red Heart Super Saver in Cafe Latte;
Bernat Super Value in White;
Caron Simply Soft in Harvest Red for nose (It's so shiny! Perfect for Rudolph);
Bernat Premium Tweeds in Chocolate Tweed for antlers;
Black Crochet thread for eyes and mouth;
Stuffing;
Tapestry needle.
Abbreviations
Ch – Chain
Slst – Slip stitch
Sc – Single Crochet (again, in rows with color changes, sc stitches will be indicated with the Colour Legend letter instead of "sc")
Inc – Increase. Work a regular sc increase
Dec – Decrease. Work a regular sc decrease
Hdc – Half double crochet
Oshawott Otter Reindeer Pokemon: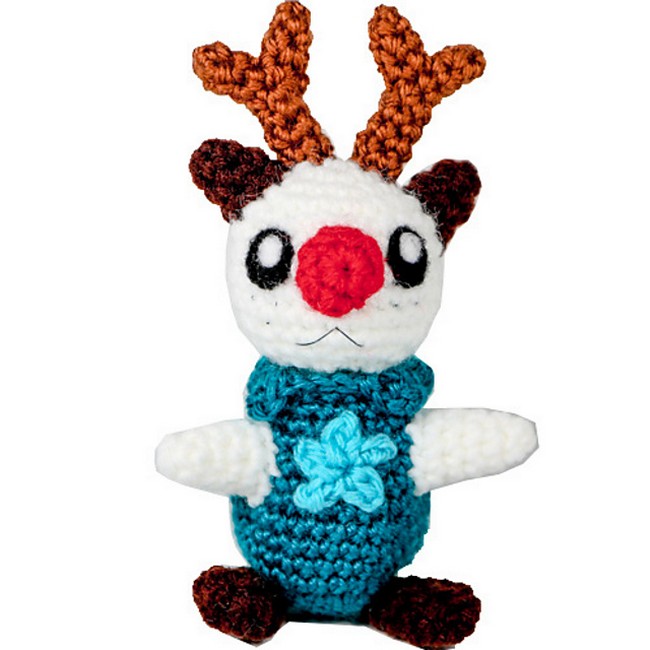 Crochet is a Reindeer pattern that looks like Oshawott, one of the most popular Pokemon. This cute Crochet Oshawott Otter Reindeer Pokemon is an excellent addition to any knitter or lover's collection. Crochet this easy pattern as an ornament for your Christmas tree, or attach a yarn loop as a doorknob hanger or scarf. Your favorite Pokemon is here to join your Reindeer Collection. Oshawott Otter is a fun and easy-to-make toy. This pattern includes instructions for the Oshawott Reindeer and a free printable tag!
Materials
White, Red, Dark Brown, Light Brown, Light Blue, and Teal yarn
3.5  mm crochet hook
Fiber-fill stuffing
Black and white felt and felting needle (for eyes)
Black embroidery thread and needle (mouth, freckles)
Scissors, yarn needle for assembly
Abbreviations
R(#): Round number
MR: magic ring
Sc: single crochet
dc: double crochet
inc: increase (2 sc in same stitch)
dec: decrease (decrease 2 sc into one)
I recommend using Invisible Decrease
tch: turn chain
sl st: slip stitch  -ch: chain – f/o: fasten off
ch: chain – f/o: fasten off
Christmas Reindeer Tree Decoration: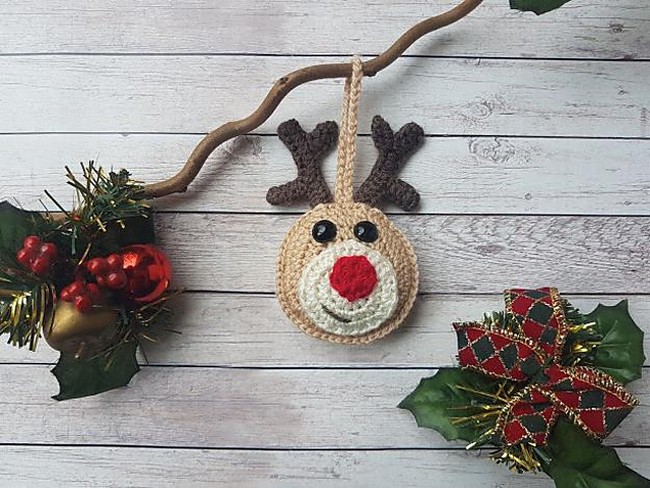 This super-cute crochet amigurumi reindeer is the perfect decoration for your Christmas tree this year. It is so easy to make that you can whip up a herd of them in no time! With the adorable antlers and Santa hat, this Reindeer will be the star of any Christmas scene. The crochet Reindeer pattern is a fun winter craft project for the whole family. Use this free crochet pattern to make your own adorable miniature reindeer for the Christmas tree, stocking, or gift decoration!
Materials
Your chosen DK yarn
Hook – 3mm
2 x 12mm safety eyes
Stuffing
Tapestry Needle
Scissors
Abbreviations
Ch – chain.
Sl st – slip stitch.
St – stitch.
Sc – Single Crochet – insert hook, yarn over, pull the loop back through the stitch (two loops on
hook), yarn over, and pull through both loops on the hook.
Hdc – Half Double Crochet – yarn over, insert hook, yarn over, pull the loop back through the stitch
(three loops on hook), yarn over and pull through all three loops on the hook.
Reindeer:
Are you ready for the holidays? If you know someone who loves crochet and enjoys making little critters, then this pattern is perfect for them! This crochet reindeer pattern is a simple to make and fun craft for kids, who can decorate the Reindeer with felt or fabric for a beautiful Christmas tree decoration. This cute little gift would make a delightful present for any child who loves making crafts and creating with their hands! Make this adorable crochet reindeer featuring an easy-to-crochet body with a cute little nose and ears. Crochet eyes, mouth, and scarf details, then stuff your Reindeer with small toys to make it extra huggable.
Materials
Worsted weight yarn
G/G+ (4.0mm or 4.5mm) crochet hook
Yarn needle
Scissors
Stitch marker
Stuffing
Safety eyes* (or yarn to embroider eyes)
Yarn for nostrils or a safety nose*
*Safety eyes and nose are not recommended for children under 3.
Abbreviations
Sc – single crochet
MR – magic ring
Inc – increase
Dec – decrease
Slst- slip stitch
" – inch
Hdc – half double crochet
Ch – chain
St – stitch
*repeat from *