20 Free Crochet Mouse Patterns For Kids Toys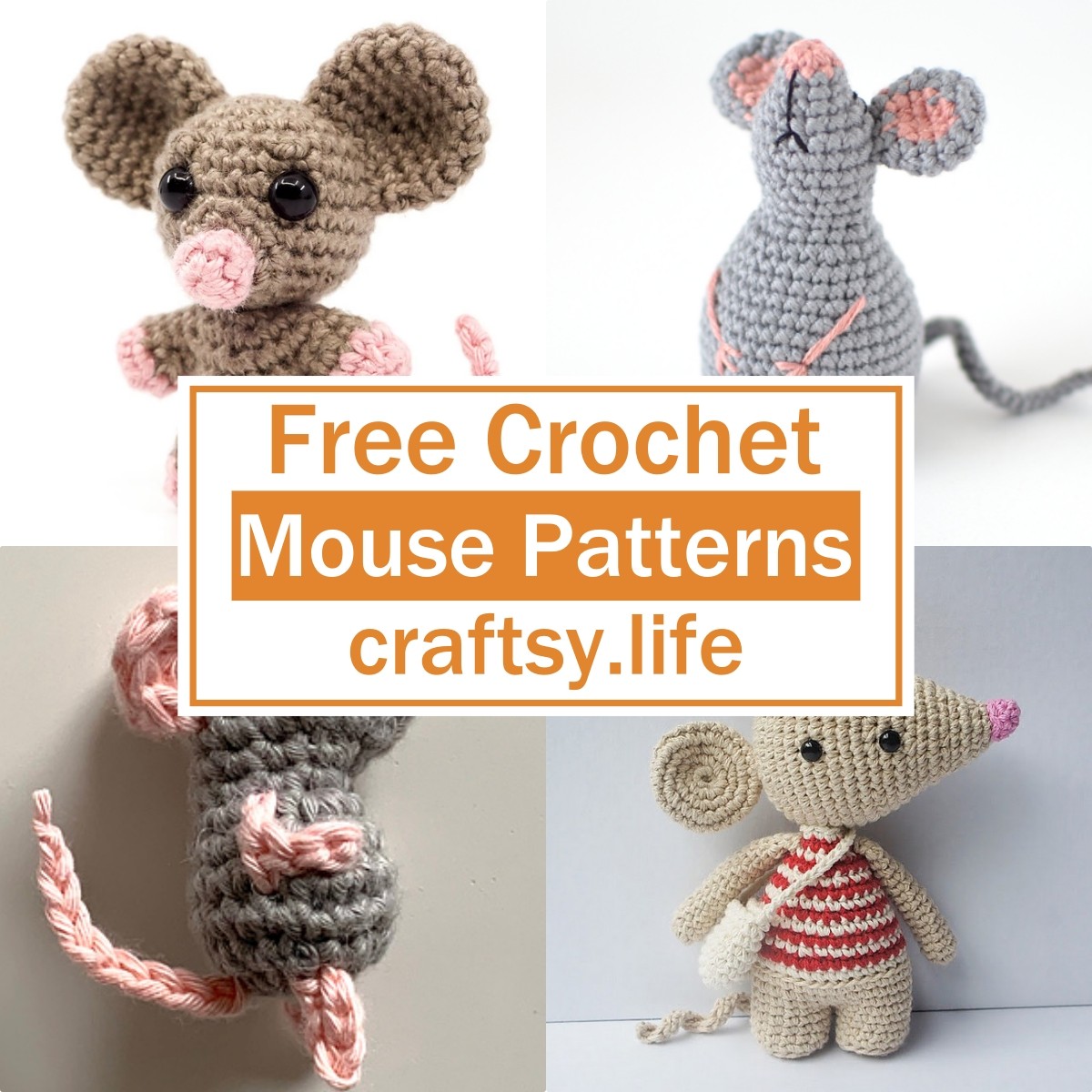 If you're an animal lover, you can have fun creating these adorable Free Crochet Mouse Patterns as toys for kids or even as pets in and of themselves. And while they're all cute in their way, some of the designs might be a little spookier than others—perhaps one might be perfect for Halloween! Make a batch of these cute crocheted mice to give as gifts or to keep for yourself. These patterns suit beginners and come in various colors, sizes, and styles. These little critters are plenty of fun for the hand-crocheting enthusiast and offer an opportunity to show off your creativity. Some are designed to look like your typical mouse, but others are more unusual and cartoonish.
Easy Crochet Mouse Patterns

Cute and cuddly, these crochet mice are easy to make and the perfect gift idea for any occasion. Kids will love them, and adults might want to collect them. They're a great addition to nursery décor; you can use them as toys, ornaments, or decorations for your home. These crochet mouse patterns are free for personal use. There's nothing quite like the thrill of making something yourself. It's a fulfilling feeling knowing that you have hands-on involvement in the process and you can see your crafty style come to life as you make it. If that appeals to you, look no further than the crochet world. Plenty of patterns are available for all sorts of mice, and they're all super simple to make!
Supplies You Need For Crochet Mouse Patterns
To make a crochet mouse pattern, you must have the right supplies. Here is what you need:
Yarn – You can use any yarn on hand, but I recommend using worsted-weight yarn. This will give your mouse more substance and help it hold its shape better. I would avoid Red Heart Super Saver Yarn, which tends to be too thick and stiff for most crochet mice patterns.
Crochet Hooks – You should use an H hook when making these mice because they are small and can be made quickly with this size hook. You don't need anything fancy either – buy one at your local craft store or online at Amazon or Etsy.
Stuffing – Many different types of stuffing work well for making crochet mice patterns, so it's up to you which one you want to use. I prefer Poly Pellets because they keep their shape well and don't get lumpy when used over time as fiberfill does. However, if you don't want to buy them from a craft store, some people have also had success using cotton balls or scraps of fabric for stuffing.
Crochet Micro And Mini Mouse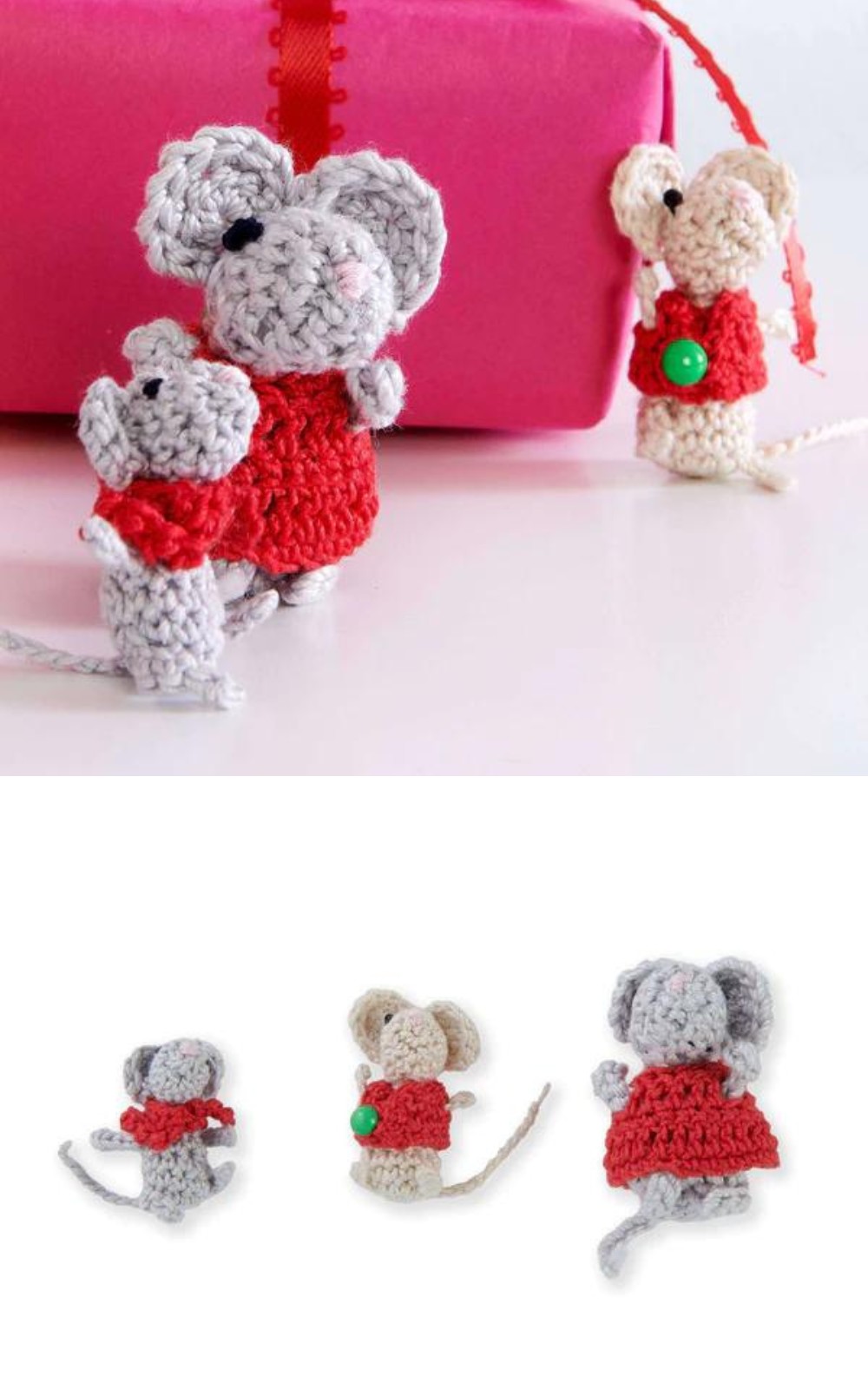 It's time to crochet! Mice are fun to make and easy to follow along with the pattern. With just one and two skein of yarn and some basic crochet stitches, you'll make this adorable toy in no time. They could be used as toys (mini mice), pincushions (micro mice), or simply as decorative objects in different places of the home. This is an intermediate-level crochet pattern that comes in three sizes."
Crochet Pocket Mouse Doll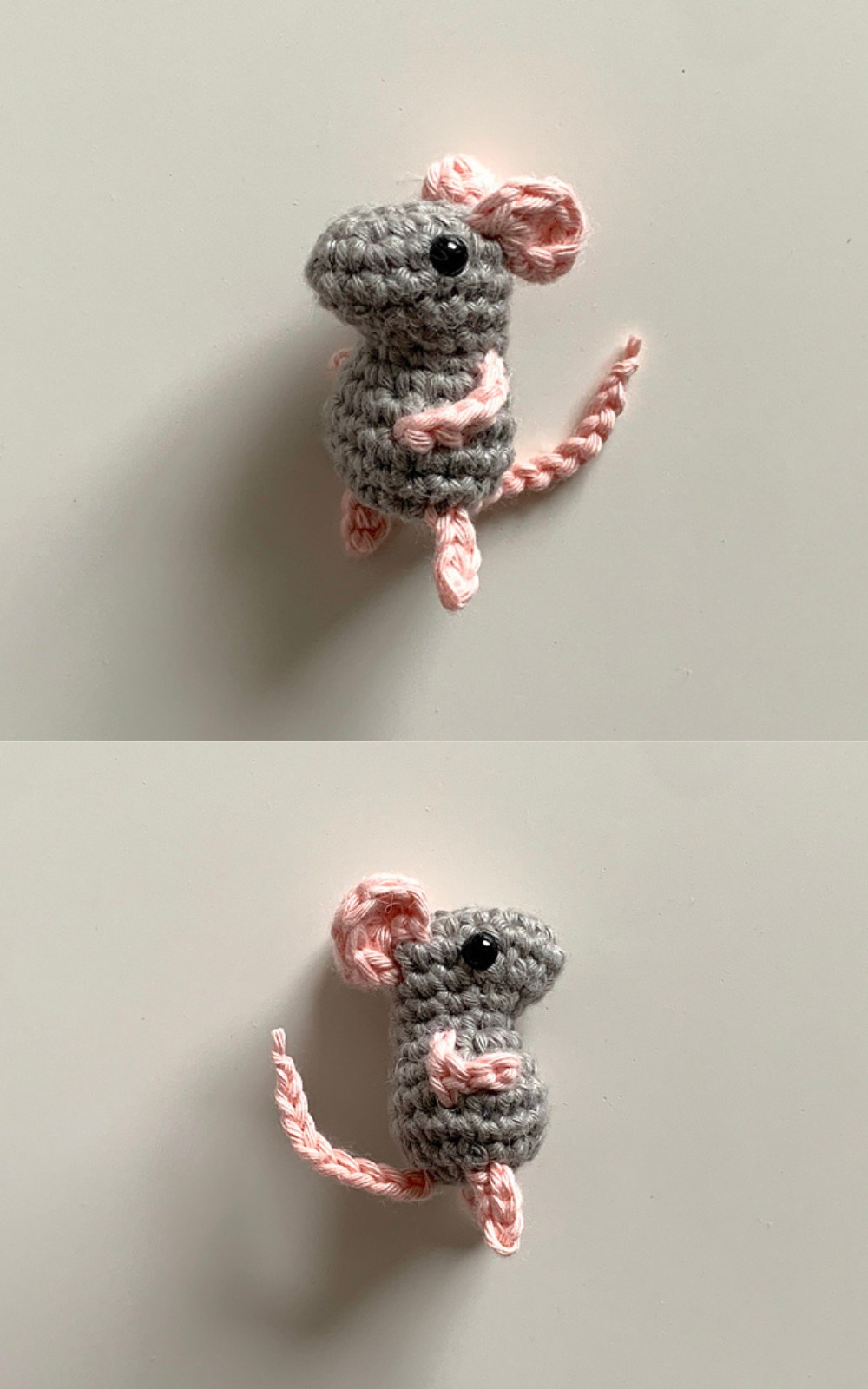 Crochet Pocket Mouse Doll is an adorable tiny pocket-sized mouse, great for small hands. This adorable amigurumi mouse is a stash-buster project that does not need any sewing. Use your scrap yarn and have fun with this easy crochet pattern. The Crochet Mouse Doll is perfect if you're looking for a cute keychain or backpack accessory.
Crochet Mini Noso Mouse Amigurumi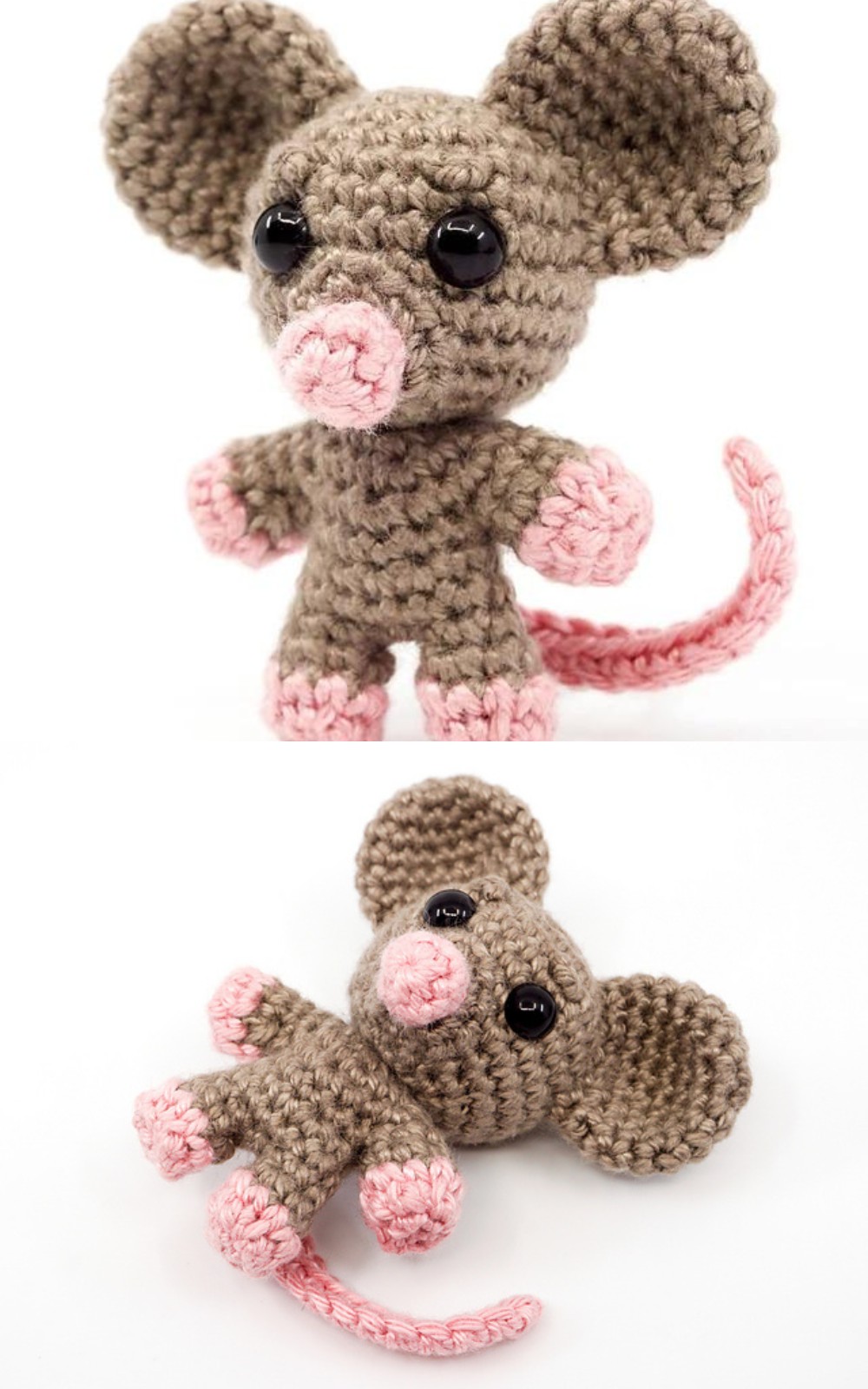 This crochet mini Noso mouse amigurumi is the perfect cuddly companion for any kid who loves animals. It's made of soft cotton yarn and stuffed with polyester filling. This mouse quick and fun project that works quickly in spiral rounds with chain and single crochet. The finished project measures approximately 6 cm, making it an ideal toy for anyone looking to make a quick gift!
Crochet Little Mouse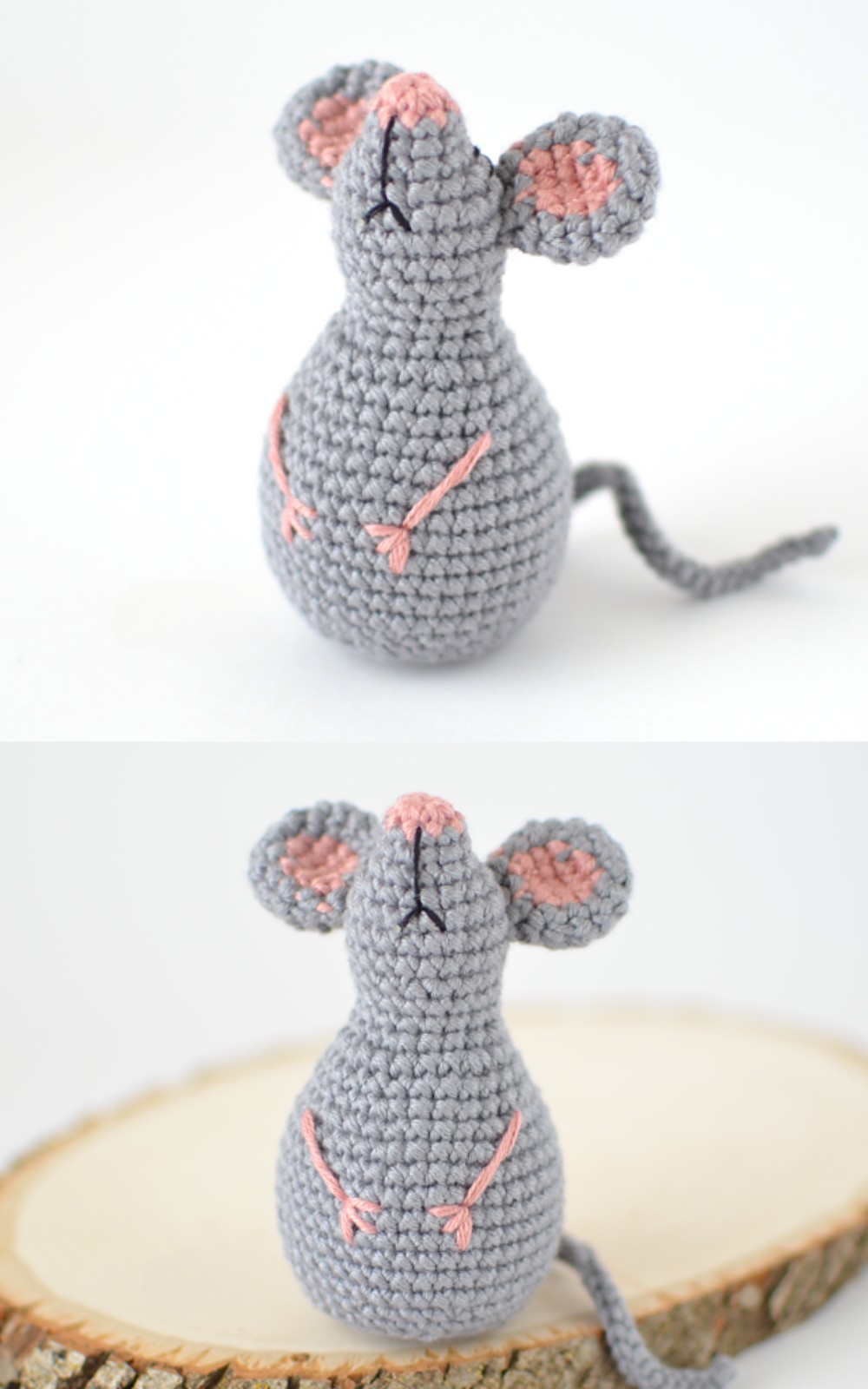 Add a touch of cuteness to your home decor and kids' nursery with these lovely little crochet mice. Featuring a sweet little mouse, this crochet pattern perfect for creating a unique and adorable mouse to add to your amigurumi collection. Crochet this little mouse that works in 3 pieces and uses Classic Cotton Threads and a 2.75mm crochet hook.
Crochet Zodiac Mouse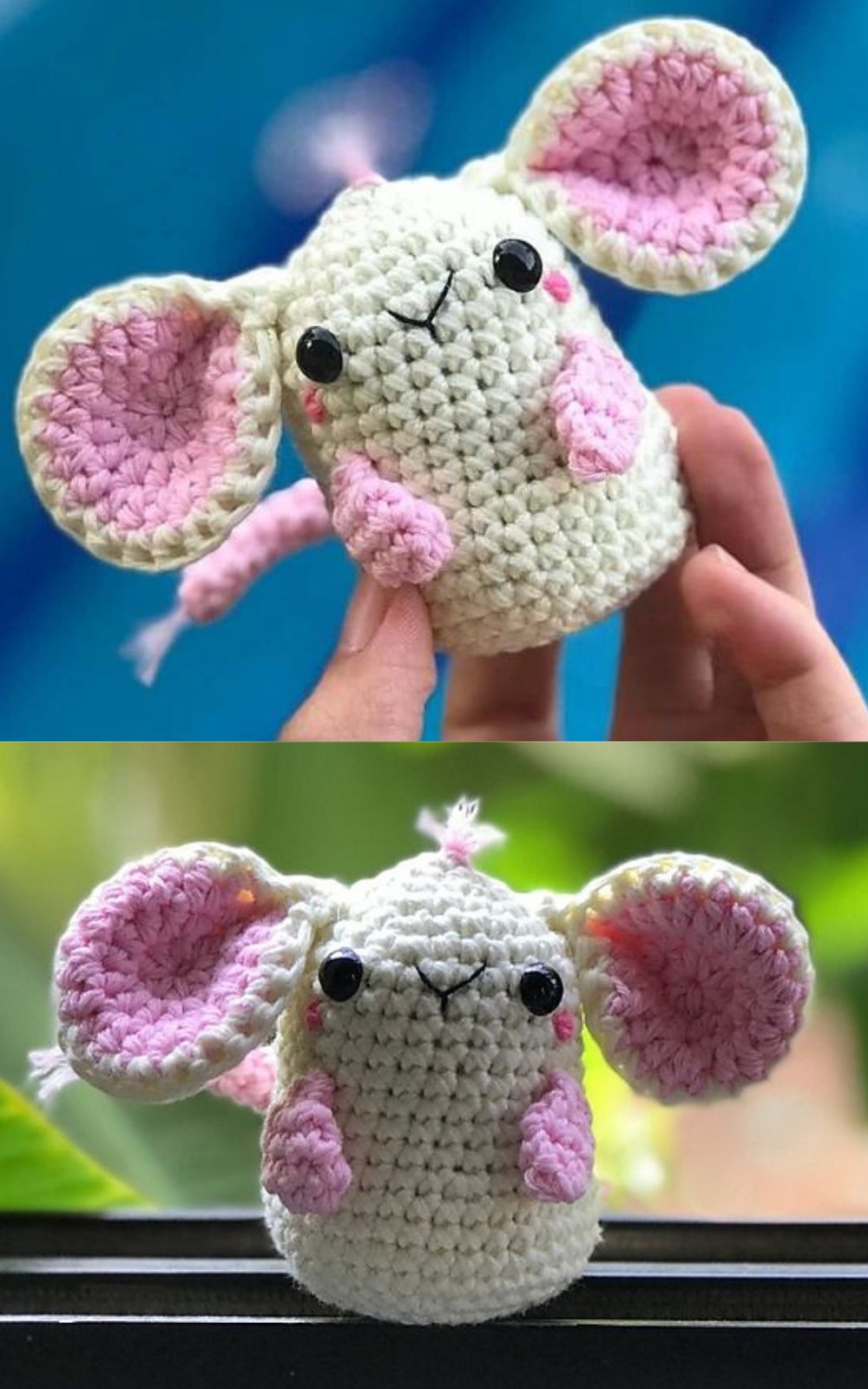 Crochet Zodiac Mouse designed for beginners, but with its cute features, even experienced crocheters will have fun creating this mouse! Its large ears and small eyes give it very realistic look. The Crochet Zodiac Mouse uses natural materials and is finished with soft, cuddly fur, making it perfect for children to hold. The pattern includes photos of each step to make it easy to follow.
Amigurumi Christmas Mouse: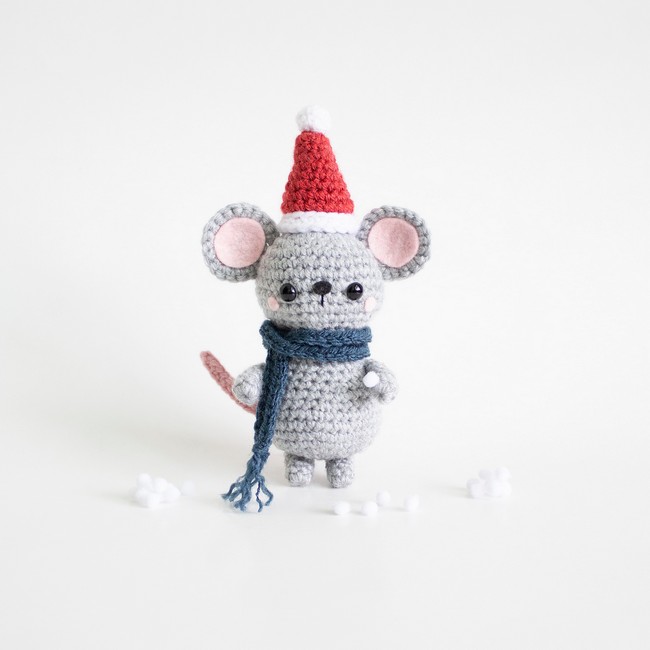 Crochet Christmas Mouse is for everyone who wants to crochet something for Christmas. Amigurumi toys look cute and lovely, but there is no need to speak about their ease of use. Crochet Christmas Mouse is great as gifts or hanging on the tree! This mouse is fun to make, and even though it's small and not super complicated, it's still a nice challenge. With his red hat, scarf and mittens, he'll look great as part of your Christmas décor or as a gift for a child!
Materials
Worsted weight yarn: Lion Brand Vanna's Choice in the colors: Silver Heather (Gray), Pink, Orion Blue, Chrysanthemum (Red), and White (Can be purchased here)
Size E/3.5mm Crochet Hook
One pair of 8mm safety eyes
Black embroidery floss and needle
Black and pink felt
Polyester fiberfill stuffing
Yarn needle
Scissors
Stitch marker
Straight Pins
Hot glue gun
Abbreviations
R – Round or Row
Sc – Single Crochet
Inc – Increase
Inv Dec – Invisible Decrease
Ch – Chain
Sl St – Slip Stitch
BLO – Back Loops Only
St/s – Stitch/es
* – Repeat the directions in between * and * as many times as stated.
( ) – The number inside will indicate how many stitches you should have at
the end of each round.
Mabel the Mouse: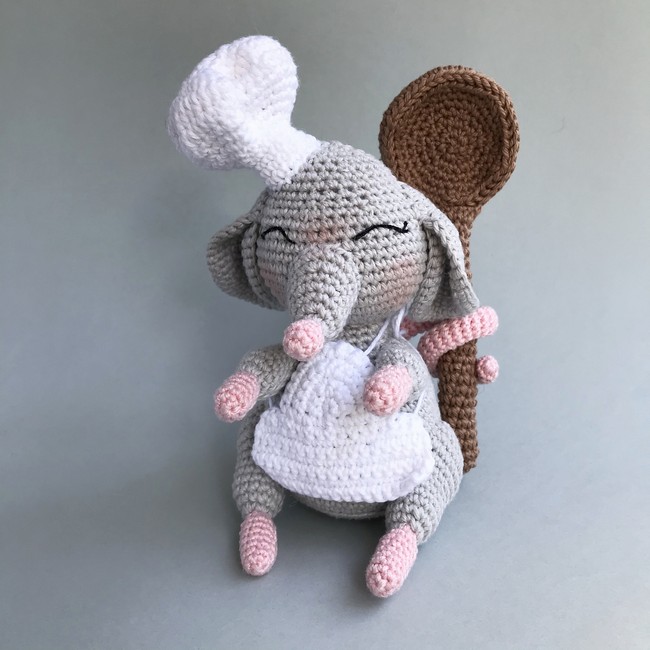 Crochet Mabel the Mouse is a sweet and charming little friend that makes an excellent gift for yourself or someone else! Meet Mabel the Mouse, who loves to play outside with her friends. This sweet, cuddly character is made using the crochet round method and includes a full photo tutorial to create your own little monster. It is a sweet handmade gift for a child. Any child will treasure this soft cuddly toy. It makes a great newborn baby shower gift.
Materials
4 ply Cotton Yarn – I have used Yarn and Colors Must-Have in Limestone, Pastel Pink, White and Teak
Toy stuffing
Black embroidery thread
Tapestry needle
Pipe cleaner or craft wire
2mm crochet hook
Pins for sewing
Scissors
Abbreviations
Sc- single crochet
Ch- chain
Rnd/Rnds – round/rounds
Inc- increase
Dec- invisible decrease
BLO – back loop only
Hdc – half double crochet
Slst- slip stitch * – section to be repeated the specified amount of times
() – total number of stitches
Note – please work the pattern in a continuous spiral unless otherwise indicated.
You can also see: Crochet Cat Patterns 
A Mouse and a Cookie: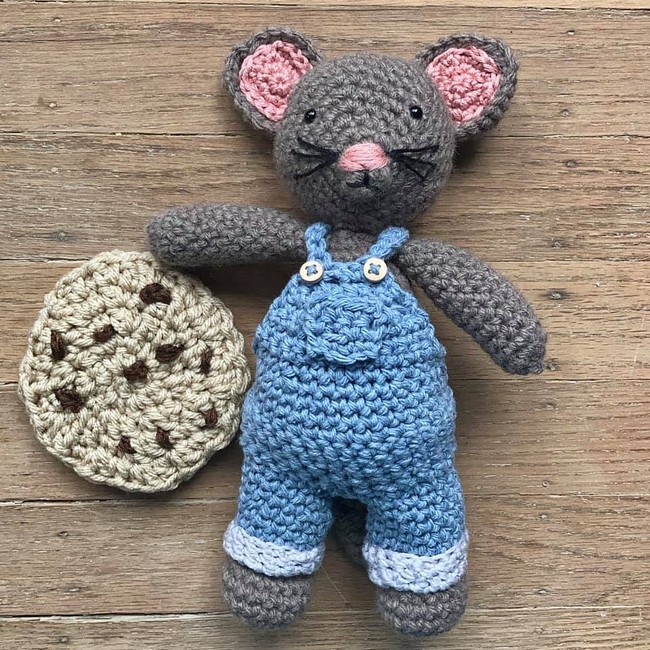 Crochet A Mouse and a Cookie is a fun and easy crochet project for beginners. Perfect for holiday gifting and party favors, this chunky figurine makes the perfect gift for anyone who loves handmade items, and a little squeaker inside will delight toddlers! It's the perfect gift for kids of all ages and will surely put smiles on their faces. Featuring a sweet little mouse and his cookie, this adorable amigurumi pattern is perfect to crochet up for your little ones.
Materials
Hook: 4mm
Yarn: any worsted (weight 4)-I used Lion Brand Pound of Love in Taupe (weight 4) for the mouse's body, Lion Brand Coboo (weight 3) in Mauve for the ear center and nose, Coboo in Silver (weight 3) for the overall cuffs, and Lily's Sugar and Cream in Denim (weight 4) for the overalls, Caron One Pound in Lace for cookie (weight 4)
Small buttons for overalls
6mm or 8mm safety eyes or embroidery thread
Embroidery thread in black for mouth and whiskers and brown for chocolate chips
Fiberfill
Abbreviations
Magic Ring/circle
Single Crochet Two Together (Sc2tog)
Increase (Inc)
Chain (ch)
Stitches (sts)
Single Crochet (Sc)
Double Crochet (Dc)
Mouse King Hand Puppet: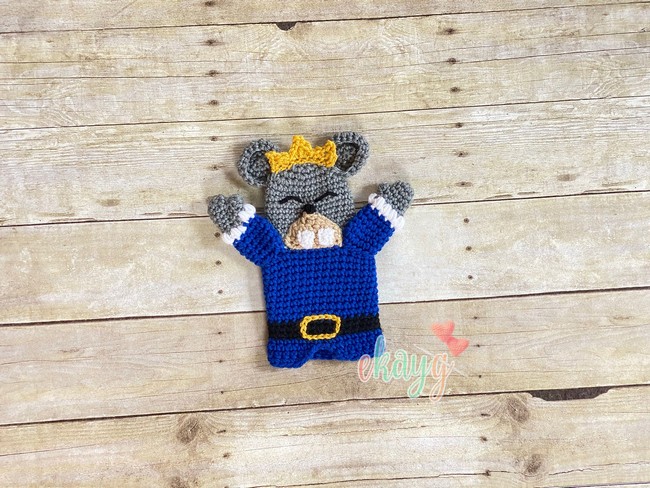 This Crochet Mouse King Hand Puppet is the perfect addition to your child's puppet collection. It makes the perfect birthday or Christmas gift for the little ones in your family. Crochet Mouse King Hand Puppet includes two crochet hooks and instructions for both left and right-handed crocheters. This Crochet mouse king hand puppet is delightfully cute. The squeaker makes it easy to cuddle and carry around, so you can always have fun with your mouse friend.
Materials
Worsted Weight (4) Yarn
Red Heart Super Saver Yarns
THE HOOK NOOK CROCHET HOOK, size H – 5mm (I LOVE the hooks from the Designer Interchangeable Hook Set)
Stitch marker
Tapestry needle
Scissors
Abbreviations
magic ring
rnd, rnds – round, rounds
st, sts – stitch, stitches
sl st – slip stitch
sk – skip
sc – single crochet
hdc – half double crochet
dc – double crochet
inc – increase, 2 sts in same st
hdcdec – half double crochet decrease
Amigurumi Santa Mouse: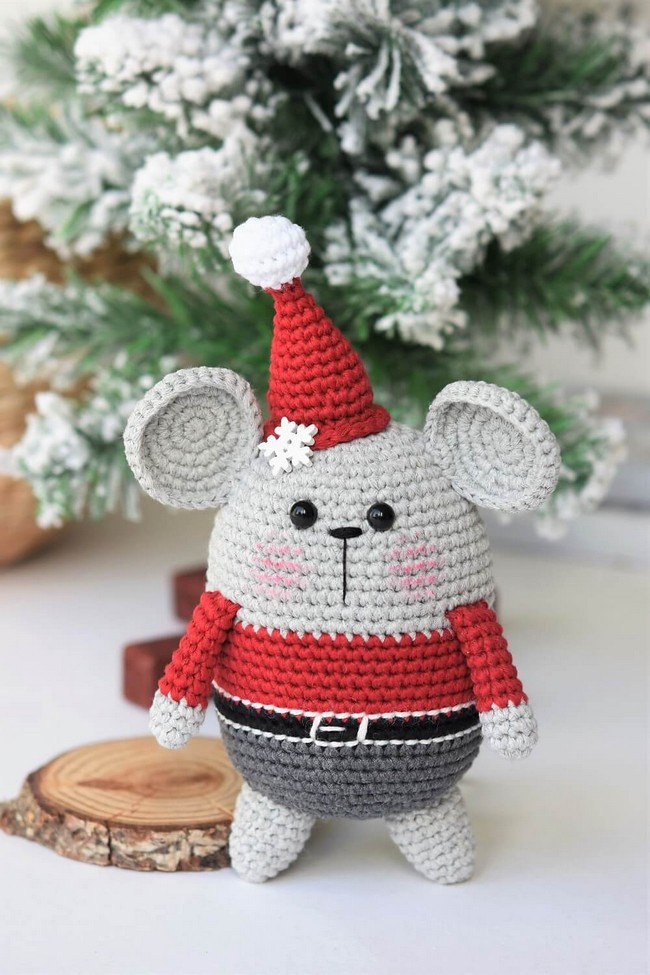 Crochet this adorable Amigurumi Santa Mouse and give your friends and family the gift of joy. It is the perfect addition to any Christmas tree for a little girl. This cute mouse has rosy cheeks and wears a red pom-pom hat. She is easy to make, taking only 2 hours to make from start to finish. This amigurumi pattern also includes a small pom-pom bag so your mouse can carry treats around with her! The pattern is easy to follow and has a clear picture guide with the steps, making it easy to do while watching TV. This pattern is suitable for beginners.
Materials
Sport or DK weight (fine or light) cotton or wool in 5 colors – gray, red, white, black, and blue.
Crochet hook 2.5 mm (or in accordance to the yarn you use)
Polyester fiberfill
Black safety eyes, 6 mm if using Sport or 8 mm is using DK yarn
2 small buttons or a snowflake button
Darning needle
Abbreviations
Slip stitch (sl st), chain (ch), single crochet (sc)
Repeat (rep), stitch(es) – st(s)
Lisa the pumpkin mouse: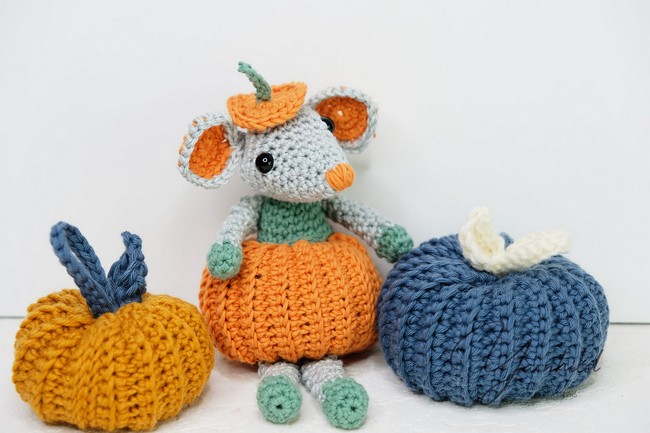 Lisa, the pumpkin mouse, is a little friend with a big personality. Decked out in a white striped hat, black button eyes, and finished with colorful details like embroidered lips, you'll love snuggling this cutie tight. Crochet Lisa, the pumpkin mouse, is made with a soft, cozy, bright orange yarn. She has a cute little face and one black button eye making her irresistible. Add fun seasonal flare to your home decor by adding this cozy pumpkin mouse to your favorite couch spot, or take her with you while you're trick or treating.
Materials
– Sports weight yarn in grey, orange and green. You'll need about 25 g in orange and 25 g grey and 10 gram in green.
– Crochet hook 3.0mm (or fitting for the yarn).
– Filling materials.
– Scissors
– 8 mm safety eyes
Abbreviations
Ch        –           chain
R          –          round
St         –          stitch
Sl st     –          slip stitch
Sc        –          single crochet
Sc dec  –          single crochet decrease
Sc inc   –          single crochet increase, 2       single crochet in one stitch
Mr       –          Magic ring
BLO      –          back loop only
Kindly Lion and Mouse:
Get ready to cuddle up with this adorable crochet lion! The Kindly Lion and Mouse are very kind so that they will keep a smile on your face all day. They are also so soft and comfy that you'll want to take them everywhere. These sweet friends are great for the young and old alike! Crochet Kindly Lion and Mouse is a soft and colorful add-on to your home, nursery, or office space. This set is a great gift for kids and adults alike, who can use it to learn how to crochet or enjoy your beautiful design!
Materials
Crochet Hook, Size B/1 (2.25 mm)
Stitch Marker(s)
Scissors
Stuffing
Tapestry needle
Pins
Disc Needle Puller (optional)
Glue to stiffen the mouse's tail (optional)
Safety eyes, 4 mm
Embroidery Floss, Black and Pink (for the mouse)
Embroidery Needle
Chopstick, dowel, or something similar to help with stuffing small parts
Paintbox Yarns Simply DK (light 3-Light,100% acrylic, Approx 302 yds/276 m, 3.5 oz/100 g): Color (A) Mustard Yellow/Col. 123, used approx. 45 yds, Color (B) Champagne White/Col. 102, used approx. 6 yds, Color (C) Coffee Bean/Col. 110, used approx. 6 yds, Color (D) Soft Fudge/Col. 109, used approx. 15 yds, Color (E) Slate Grey/Col. 105, used approx. 5 yds
Abbreviations
back bar of the ch – horizontal bar on the backside of a ch
bo – Bobble (described below under special stitches)
ch – Chain
Rnd(s) – Round(s)
sc – Single crochet
sc2tog – Single crochet 2 stitches together (invisible decrease)
sl st – Slip stitch
st(s) – Stitch(s)
[ ] / ( ) – Work instructions between brackets as many times as directed
magic circle/adjustable ring
You can also see: Crochet Snail Patterns 
Sleepy Baggy Lovey: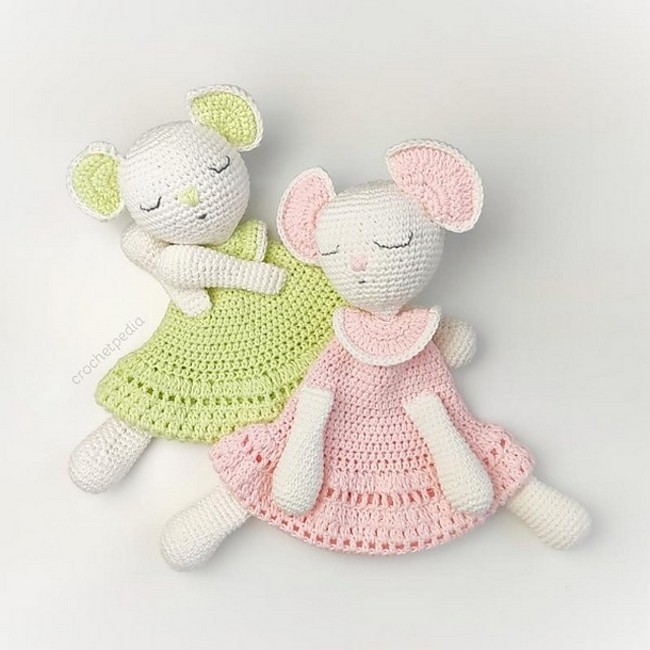 Soothe and entertain your child with the Crochet Sleepy Baggy Lovey. The soft, huggable design offers comfort to babies, who will love its plush fabric, long drops, and crinkle sounds. This blanket is also great for teaching cause and effect – your baby can shake or tug on it to make sounds while they play. It is the perfect gift for a new baby or toddler. The lovey helps keep babies comforted so they can get the rest they need, and it's a unique way to show off your child's personality with bright colors or an interesting stitch pattern. Both adults and little ones will love this blanket!
Materials
yarn: Stenli Baby Cotton Candy – to make one toy, you need 2 skeins in total;
Green version: Milky Ecru (no. 172) and Reseda (no. 20)
Pink version: Milky Ecru (no. 172) and Pale Pink (no. 55)
filling
crochet hook 2 mm
tapestry needle
scissors
stitch marker (optional)
sewing needle and a little bit of grey thread or yarn for embroidery
Abbreviations
magic ring
slip knot
chain (ch)
single crochet (sc)
half double crochet (hdc)
double crochet (dc)
inc = increase with sc, hdc, dc
dec = decrease with sc, hdc, dc
slip stitch (sl st)
Minnie Mouse Ears: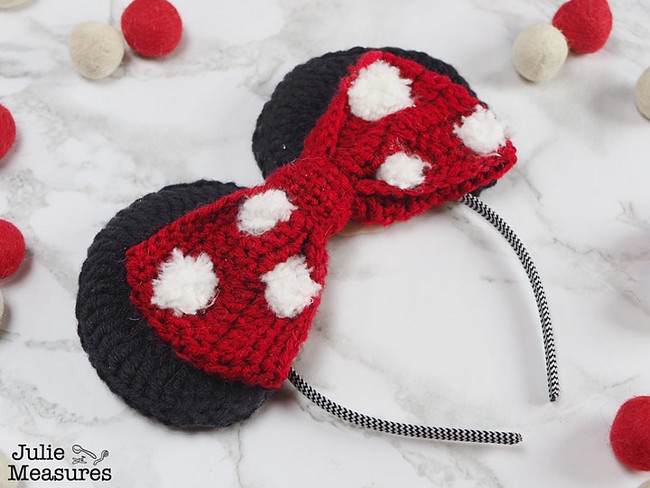 If you love Minnie Mouse, you'll love this Crochet Minnie Mouse Ears Hat. Great for fancy occasions or just a picture-perfect look! These Crochet Minnie Mouse Ears are the perfect accessory for your favorite Disney fan! Not only are they adorable and soft, but they're also super easy to make. Make them in time for Disneyland, and you'll be ready to spend the day at a parade! Easy and fast to crochet, these ears are a perfect accessory for wearing on your next trip to Disneyland! This is a great project for beginner crocheters!
Materials
Red yarn
Black yarn
White pom poms
Crochet hook
Yarn needle
Headband
Hot glue
Maya and her mouse friends: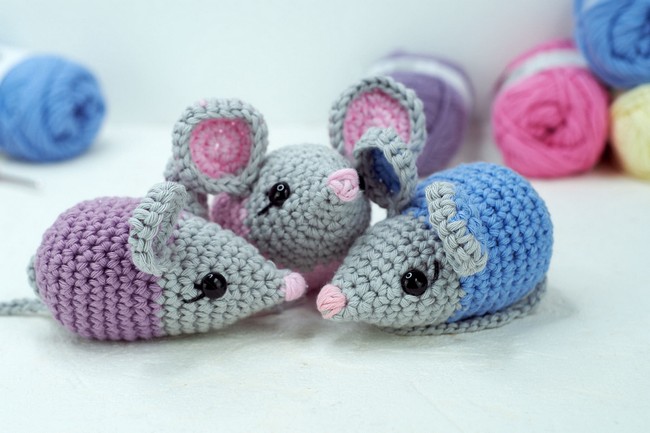 Meet Maya, a curious little mouse. She lives in the house with her friends, who all live harmoniously. These little mice are easy, quick to make, and perfect for using up those yarn scraps. There are no limbs, only the ears and tail to sew on, so if you hate sewing on many parts, this is for you! These little mice are easy, quick to make, and perfect for using up those yarn scraps. There are no limbs, only the ears and tail to sew on, so if you hate sewing on many parts, this is for you! They are cute companions for your dolls, stuffed animals, or a sweet present for a friend.
Materials
Sports weight yarn or worsted weight yarn. I used Hobbii 8/8 Rainbow yarn. Two colors; grey = A, and blue/pink = B
Small amounts of pink and black yarn.
Filling materials
Crochet hook 3.5 mm
Scissors and stitch marker
Safety eyes 10 mm (use smaller if you use thinner yarn
Abbreviations
Ch        –           chain
Rnd      –          round
St         –          stitch
sl st     –          slip stitch
sc        –          single crochet
sc2tog –          single crochet decrease
sc inc   –          single crochet increase, 2 single crochet in one stitch
mr       –          magic ring
Yo        –          yarn over
Mouse Granny Square: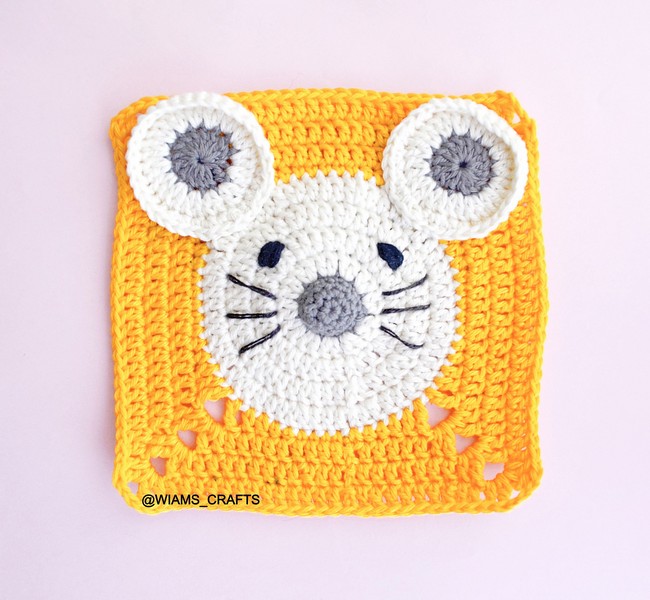 This crochet mouse granny square is the perfect addition to your next project. Make one to complete the afghan or another project, or a few to create a gorgeous scarf or blanket. This crochet mouse granny square is perfect for your next crochet project! Whether you're a beginner or a skilled crocheter, this little guy is sure to be a crowd-pleaser. This cute little mouse is crocheted in the granny square style. Make a whole family of mice to keep your house safe and sound. Or add them to a larger design.
Materials
Yarn: schachenmayr, catania 100 % cotton (50 g / 125 m), one skein of colors: pearl white, gray and yellow, few meters of black.
Black embroidery thread.
Crochet hook, size 3 mm/ US D 11.
Abbreviations
ch: chain.
st: stitch.
sl st: slip stitch.
sc: single crochet.
hdc: half double crochet.
dc: double crochet.
tc: treble crochet.
Minty, the tiny mouse: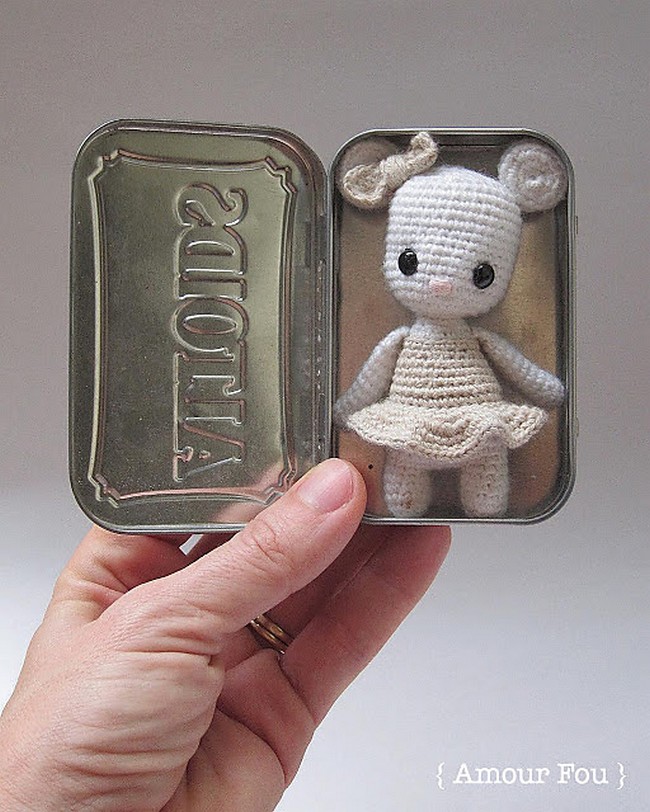 Crochet this Minty the Tiny Mouse crochet pattern to make a tiny mouse amigurumi! The finished project is cute and has two little hands and two feet. A very fun pattern for a beginner crocheter! Crochet Minty, the tiny mouse: is a lovely little build who's fun to make and play with. Quick to stitch up, he looks great in yarns of all colors and textures. It's best to use a fine to medium-weight yarn for this project – darker tones work best for the main body and tail, and lighter shades for his face and ears.
Materials
– 1.50 mm crochet hook
– 100 % cotton yarn for a 1.50 mm hook
– A pair of 6 mm safety eyes or yarn to embroider them
– Tapestry needle
– Polyfiber fill
Abbreviations
st = stitch
ch = chain
slst = slip stitch
sc = single crochet
Pérez, the tooth mouse: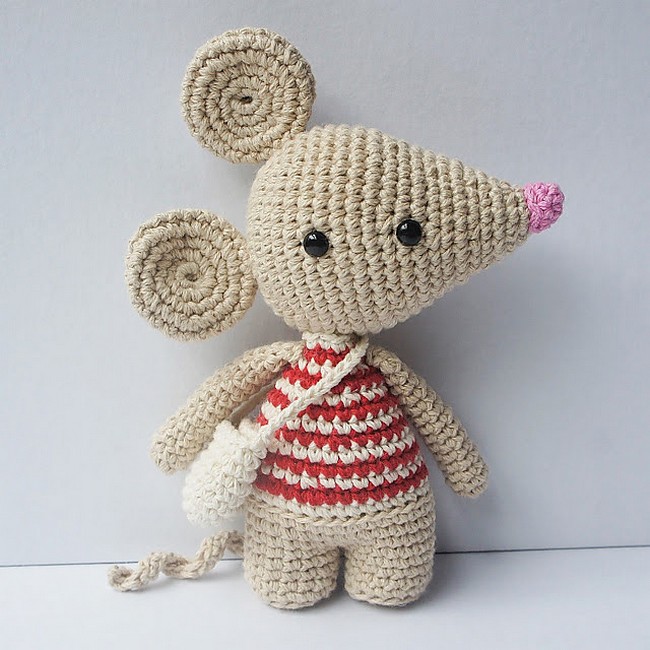 Perez is a tooth mouse who lives under the big lamp! He helps you smile and protects against toothache. This crochet doll is made from organic cotton, stuffed with soft organic wool, and perfect for sensitive little mouths. A cute crochet pérez, the tooth mouse in a toothbrush holder that you can personalize with colors and patterns. Create a tooth mouse with your children to make their dental visits fun. The mouse makes teeth feel natural and soft, so your child is not scared of the dentist. Crochet Pérez can also be used as a puppet, toy or ornament for your child's room.
Materials
– 3.00 mm crochet hook
– 100 % cotton yarn for a 3.00 mm hook
– Tapestry needle
– A pair of safety eyes
– Polyfiber fill
Abbreviations
st = stitch
ch = chain
slst = slip stitch
sc = single crochet
increase = 2 sc in the same st
Tim, the little mouse that lives in a tin: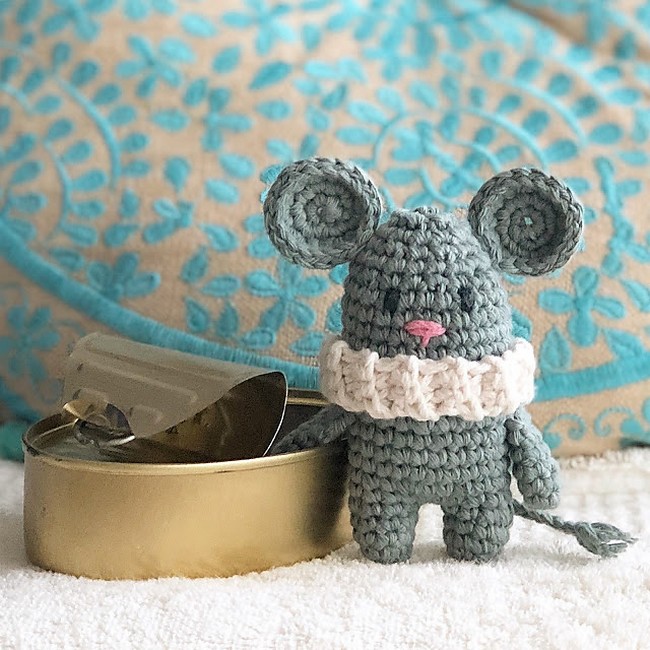 An adorable little mouse who lives in a tin. This gorgeous little crochet tin toy is easy to make and would be great as a gift. Crochet Tim, the little mouse that lives in a tin. He walks along the rim of his tin home, pretending that he's been around for a hundred years or even more. Crochet Tim doesn't mind if you spill a little tea into his tin house or put him on top of your honey jar to see if he can see the bees making their sticky sweet!
Materials
– 3.00 mm crochet hook
– 100 % cotton yarn for a 3.00 mm hook
– Polyfiber fill for stuffing
– Tapestry needle
Abbreviations
st = stitch
slst = slip stitch
sc = single crochet
Mouse Amigurumi: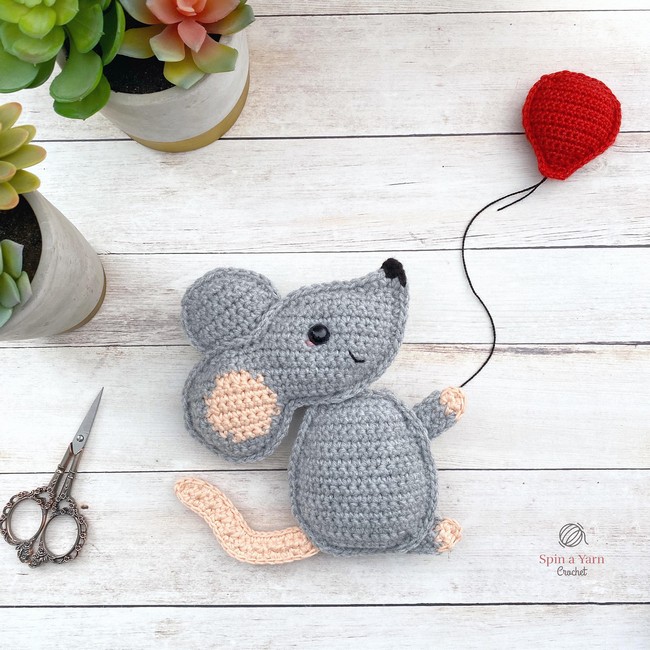 He is so cute; you could think he is real. But don't try to touch him. Because you will only encounter big ears and a tail that the eyes can't see! This crochet mouse amigurumi would make a cute addition to your desk, bedside table, or wherever you want to add some cuteness to your life. This cute little crochet Mouse amigurumi can be a great decoration for your home. It will also love you a long time and make you feel happier 🙂
Materials
3.25mm hook (I use THESE hooks!);
Loops & Threads Impeccable in Pale Gray for main (less than 100g);
Caron Cotton Cakes in Coral for ears, tail and tips of paws (this is a very thin worsted weight so I doubled up the yarn. If you are using a regular worsted weight, you do not need to double up) (less than 50g);
Bernat Super Value in Black for nose;
Black Crochet thread for mouth;
12mm Safety Eye;
Stuffing;
Tapestry needle.
Abbreviations
Ch – Chain
Slst – Slip stitch
Sc – Single Crochet (again, in rows with colour changes, sc stitches will be indicated with the Colour Legend letter instead of "sc")
Inc – Increase. Work a regular sc increase
Dec – Decrease. Work a regular sc decrease
Hdc – Half double crochet
Dc – Double crochet