Looking for some cute and vibrant artsy items to decorate your empty rooms or kitchen? Your search ends here, amazing, unique, eye-catching, and beautifully outstanding crochet cat patterns are here to make you feel excited. Choose among them and make it right away. You won't stop yourself from completing just one once you will get started with these easy yet beautiful crochet cat patterns. These 25 Crochet Cat Patterns are fantastic gifts for any occasion as well as an artful addition to your home décor. The felt hearts on the paws of these kitties give them a fancy look and make them look even cuter than ever. So, start crocheting free crochet cat patterns and amigurumi for your little ones, friends, and beloved family members to use as toys for their little kids, display on your showcase, or present them to others.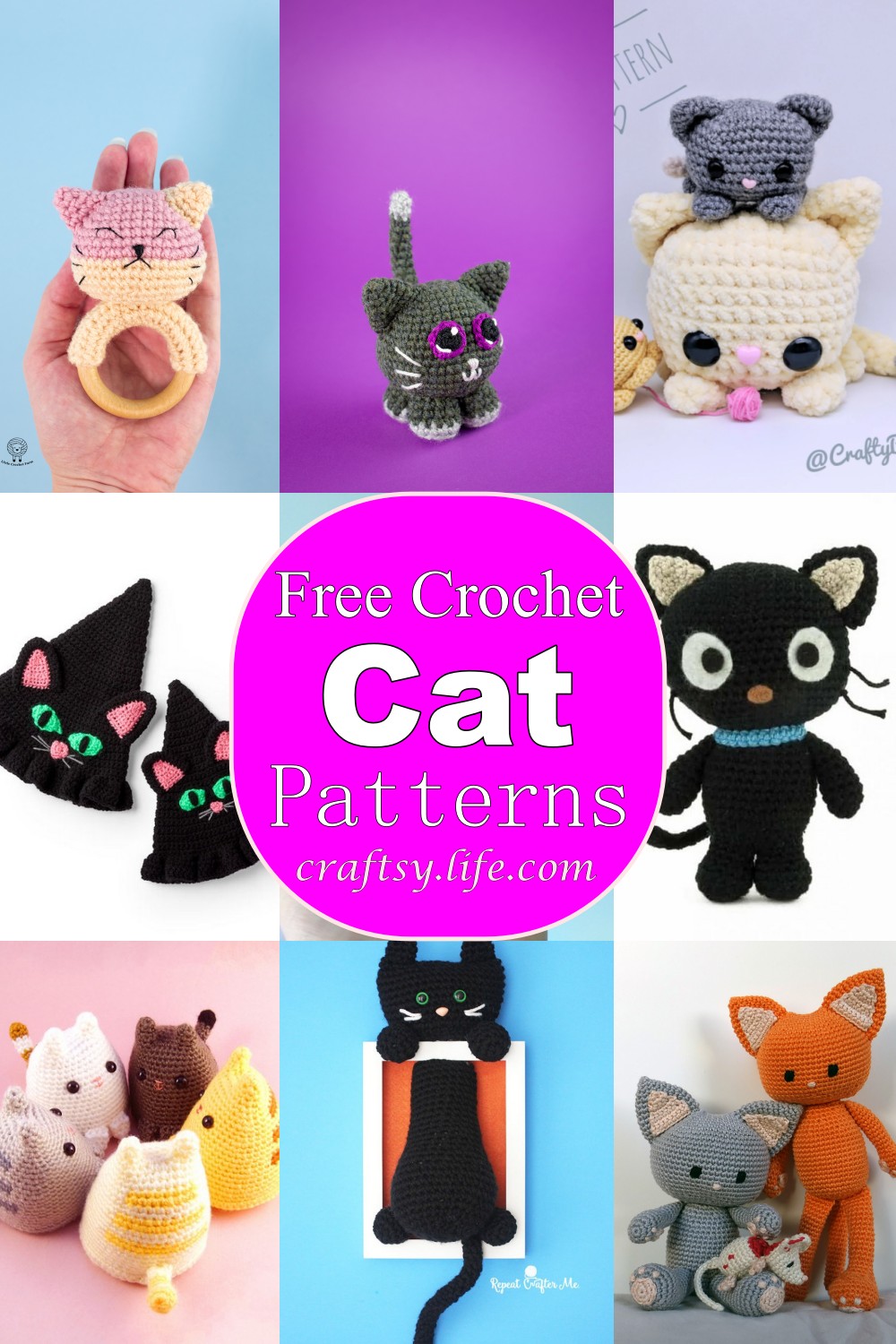 If you want to gift some handmade gift on Christmas or any other occasion, then nothing is better than a crochet toy animal made by yourself. Moreover, they also make great gifts for your little ones. You can even present them at baby showers or birthday parties. And if you have enough experience in crocheting, then try making these 25 Free Crochet Cat Patterns for charity purposes for those who need them most. So, scroll down and check out the list given below and click on the link attached below each picture to get access to the complete free pattern and tutorial from where it is available!
There are 25 fabulous Crochet Cat Patterns that look super real and some that are just downright adorable, they make great gifts, or you can keep them for yourself.
Interesting Features Of Crochet Cat Patterns:
Have you ever wondered why people like to crochet cat patterns so much? Here are some of their favorite features:
They are cute and simple.
It's fun to see how your cat reacts when you show him your finished project.
You can use them as gifts or decorations in the home.
If you're looking for a project to do with your kids or grandkids, these adorable crochet kitty patterns are sure to be a hit!
You can find many different types of crochet cat patterns on the internet. Some of them include: A basic pattern that includes all the necessary stitches (e.g., single crochet), and instructions for making your own yarn balls and cat toys;
A more advanced pattern with more detailed instructions and pictures;
And lastly, you may choose from one of many different styles such as those featuring kittens, cats in sweaters or other clothing items, etc.
To get started, you will need:
Yarn in your choice of color (any type is fine).
Crochet hook – size H/5.00mm or larger.
A pair of scissors or a yarn cutter (optional).
A ruler (optional).
A large needle with a blunt end for weaving in ends.
Stitch markers (optional).
Yarn needle for sewing on eyes and nose.
A crochet hook for attaching the eyes and nose.
If you don't have any of these items, you can use anything that will work as long as it has a hook on one end and a loop on the other. For example, an empty soda can works great! Just make sure to cut off both ends of the can first so there are no sharp edges.
Cat With Dead Mouse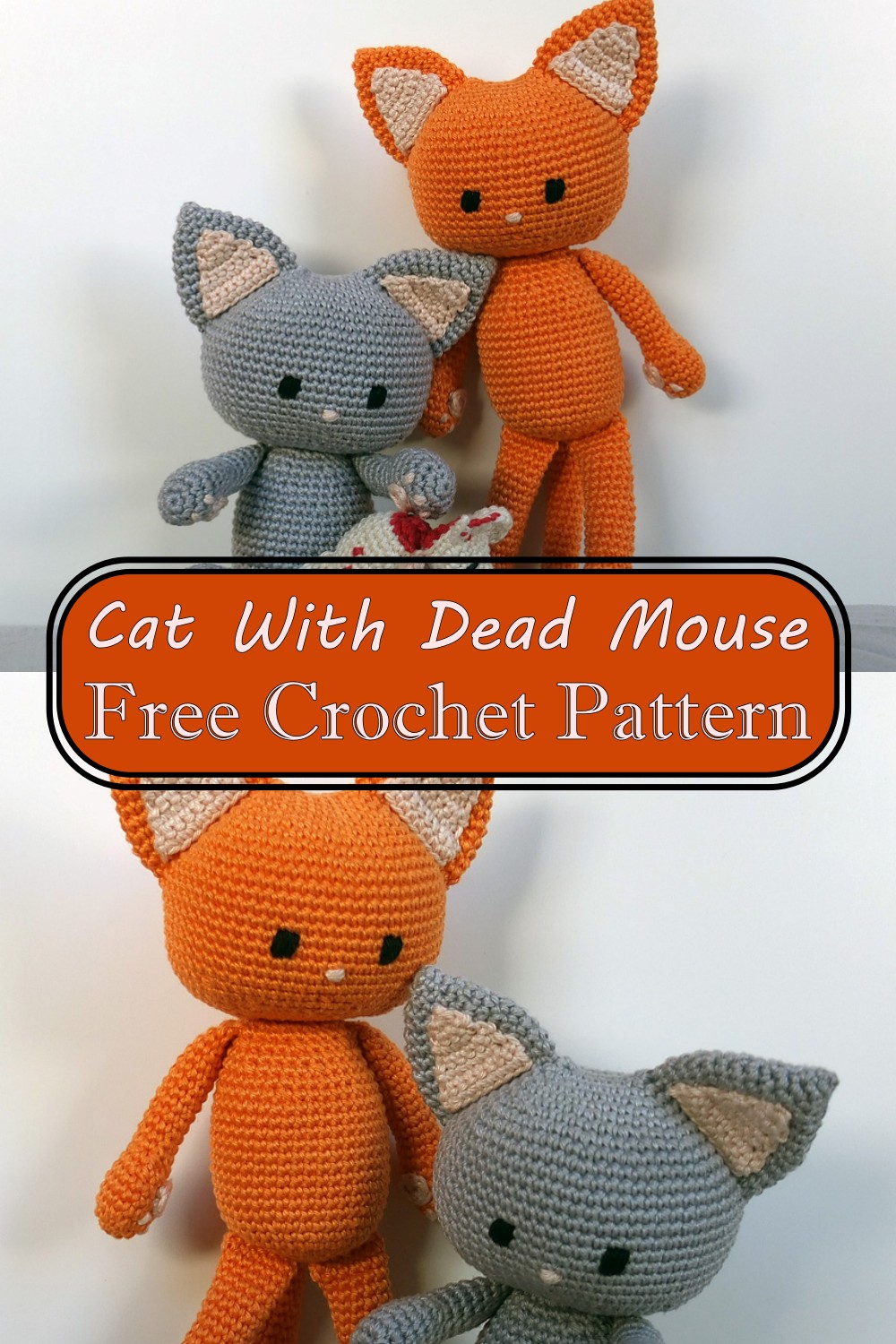 Playful and quick to make, this pattern makes a perfect gift for cat lovers. Your cat will love this toy! Make one now and surprise your kitty with the mouse. Crochet it in any yarn color you like. The crochet cat with a dead mouse pattern is a detailed yet beginner-friendly pattern, using a magic ring as the start of the project. Make this cute amigurumi cat and mouse duo to keep you company in the day. A crochet cat pattern that can be made in hours, this cute kitten is just full of personality!
Chubby Black Cat
Cute and cuddly, this small stuffed animal Black Cat amigurumi will quickly become your favorite toy. This Crochet Chubby Black Cat is a cute addition to your home and one that will put a smile on your face every day. It is the perfect DIY gift for cat lovers and it's a great project if you want to learn how to crochet stuffed animals. Decorate your home with this beautiful Chubby Amigurumi Black Cat. It's the perfect gift or keepsake for every cat owner or collector of cute and quirky things. It also can be a decoration in a nursery/child's room, or on your desk at the office.
Sleepy Cat Teething Ring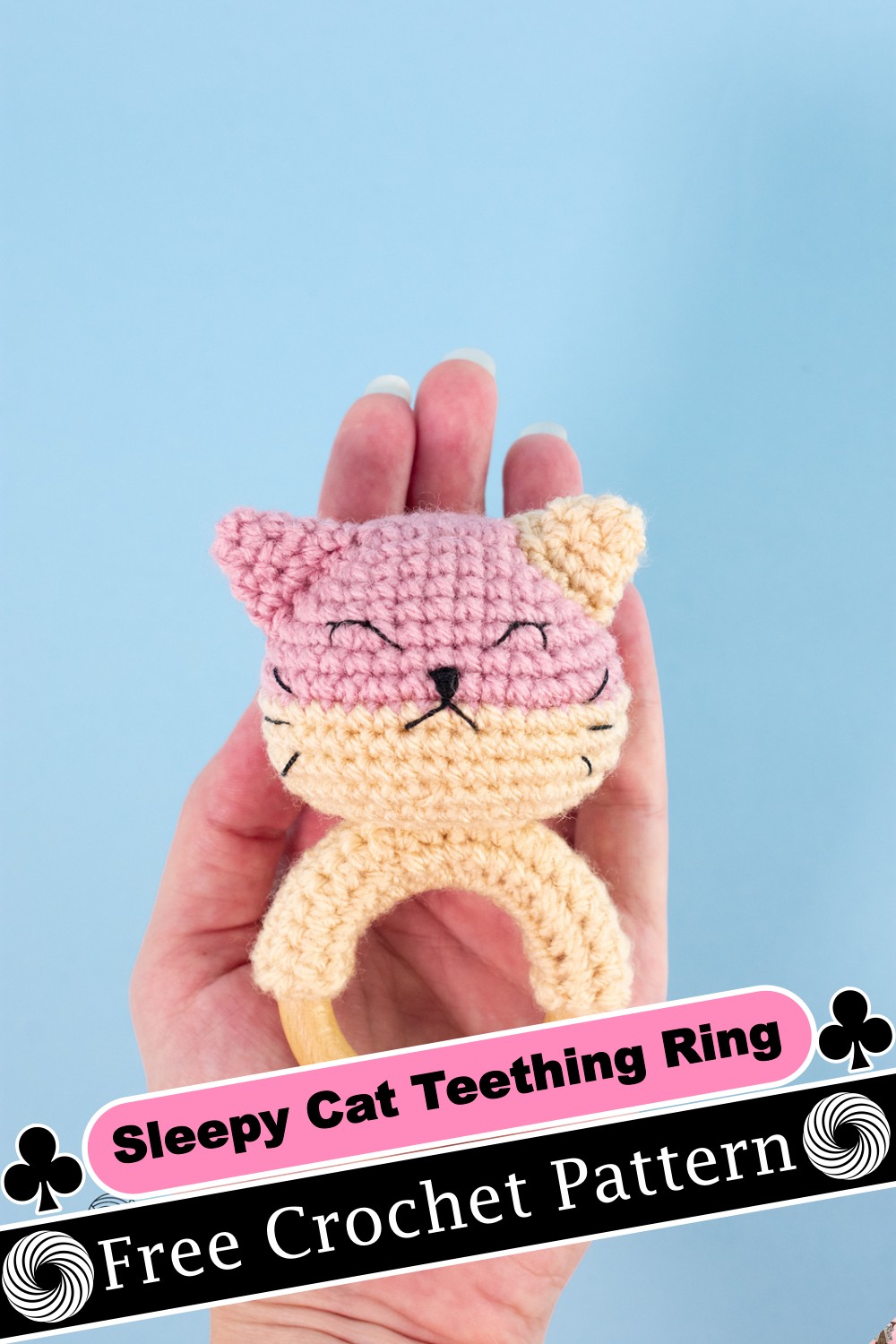 This crochet toy will become the favorite of your baby. It's very soft and pleasant to the touch. This cute sleepy cat teething ring will soothe those sore little gums, and make a beautiful addition to the nursery. The Sleepy cat amigurumi it's part of the Baby toys Collection. This Sleepy cat teething ring it's the perfect gift for all new parents. It is also perfect for baby shower gifts, newborn gifts, and perfect for boys and girls. Easy to clean and grab by infant's tiny hands. The mom will be happy that her child does not cry and does not eat his hands and legs.
Potato The Cat
Is it a potato? Is it a cat? It's both! Meet Potato the Cat! This little doll is worked in continuous rounds, with a few decreases to shape him up and make his sock-like arms and legs. Create a cat friend with this free amigurumi crochet pattern. This cute little cat is perfect for beginners, or anyone who wants a cuddly friend to crochet quickly. The pattern is worked in all one piece, except for the tail, and the yarn choice makes it a quick project that's fun to make. You'll want to make him again and again, plus he's an adorable gift for the cat lover in your life!
Amigurumi Tabby Cat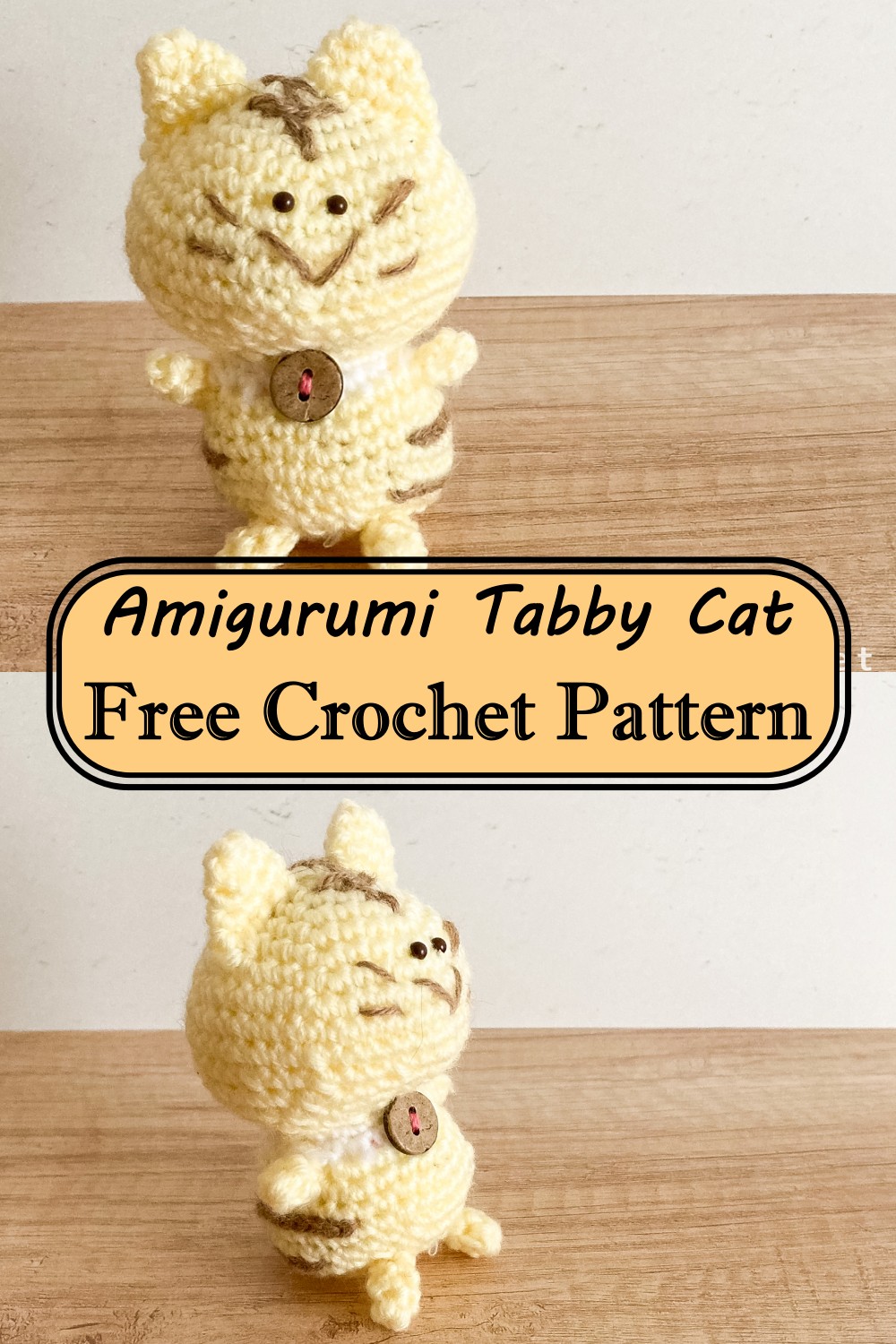 Looking for the perfect gift? This crocheted cat is full of personality and will look charming in your home or as a present. Whether it's for a friend or for yourself, this adorable hand-crocheted tabby cat is the perfect addition to any home! Perfect as a Christmas ornament, this little guy is made of soft plush yarn and filled with polyester fill stuffing. This crochet kitty will make a wonderful gift or addition to your life. Handmade with excellent quality yarn, polyester fill stuffing, and leather eyes and whiskers this will make the perfect present for yourself or a loved one.
Nyu The Cat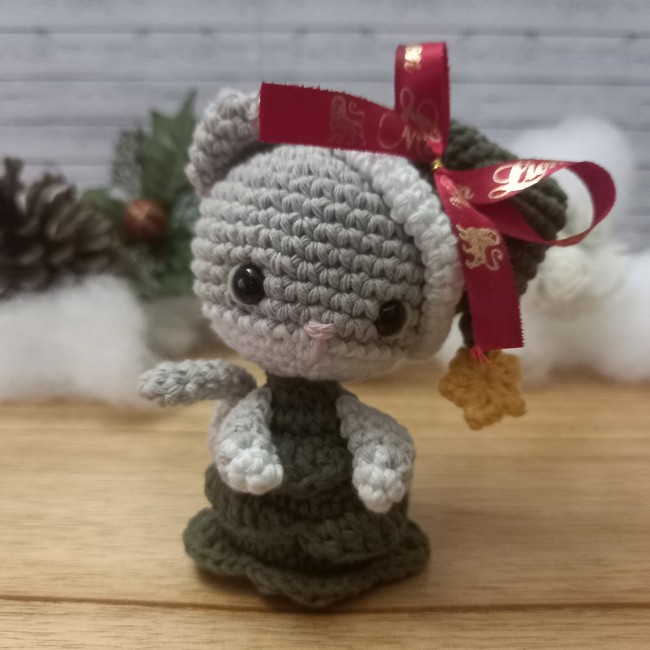 The amazing embroidered hat is perfect for those who want to add some fun to their style. This adorable cat hat is perfect for Halloween or any other day! It's also super cute as a baby shower gift! Living with a cat isn't always easy, but this little guy makes it so much sweeter. The beanie features an adorable embroidery design of the most adorable cat in town - Nyu the Cat. The beanie is made with 100% acrylic yarn, which means it's machine washable and dryer safe!
Honey Cat
Crochet a sweet little amigurumi Honey Cat! With this pattern, you'll learn how to crochet your own adorable kittens! This adorable kitty doll is the perfect gift for the cat-lover in your life. She's a snuggly pal and her sweet face will bring a smile to even the toughest days. This little crocheted cat is sweet, innocent, and oh-so-cuddly. Make one or several of these cute kitty. It's adorable as it is or adds lots of different accessories to suit any occasion. This kitty has tons of character and she's sure to make you smile.
Amigurumi Katze Kathi Cat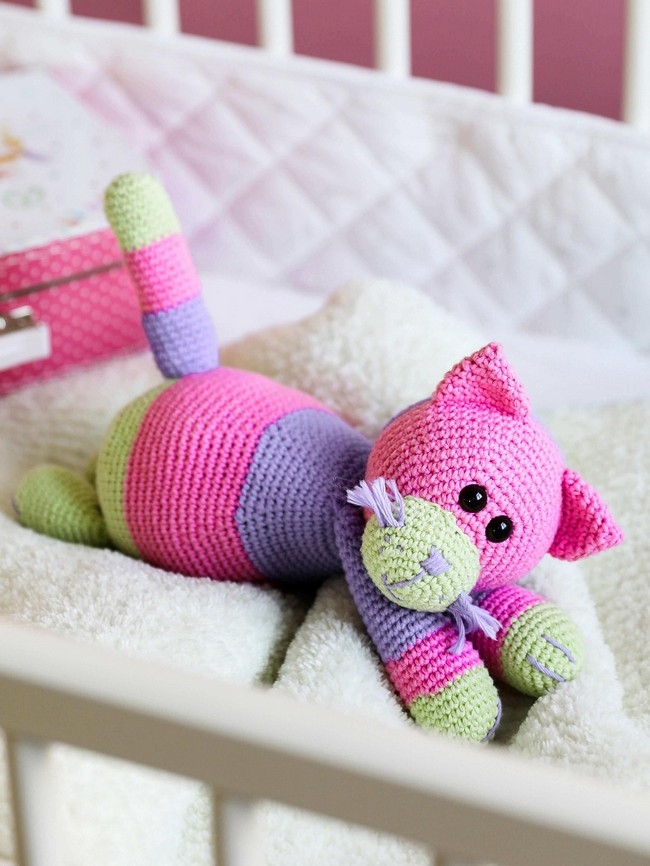 "This little one is so very sleepy. Handmade crochet Amigurumi Kathi - the perfect cat for every cat lover as a gift! Each cat is one of a kind and different but still has its own charm. It's huggable and soft and even made with the best yarn quality by hand. The Kathi Cat Amigurumi. Here is Kathi the cat crochet Amigurumi, a very cute and sleepy little one. She is handmade with cotton yarn and stuffed with non-allergenic polyester toy stuffing. She can fit in the palm of your hand! Adorable for lovers of mini toys and cats! She is so very sleepy and loves to curl up on the couch.
Cat Butt Coasters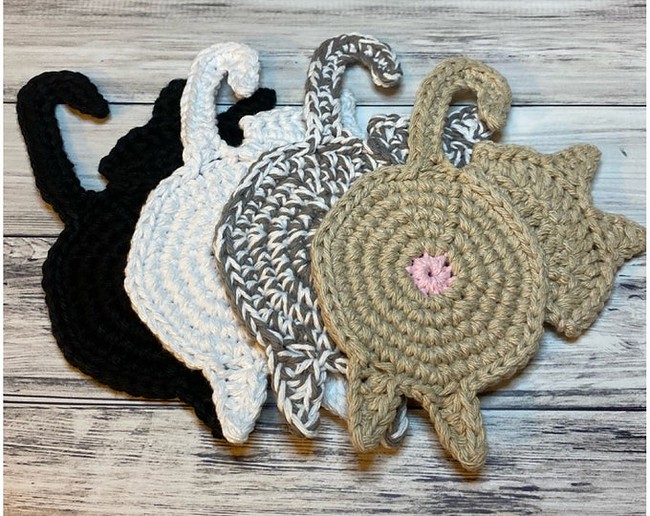 Crochet Cat Butt Coasters are a must for cat lovers. Whether you're drinking wine, coffee, or hot chocolate, who wouldn't want to set their cup down on a cute kitty bottom? Also makes a great hostess gift.If you love cats as much as we do, then we know how important it is to have cat butt coasters in your home. Not only are they cute in a playful way, but also very practical. If you have visitors, these clever little booties will definitely get a conversation going, and who doesn't love talking about cats?
Crochet Halloween Black Cat Hat Pattern: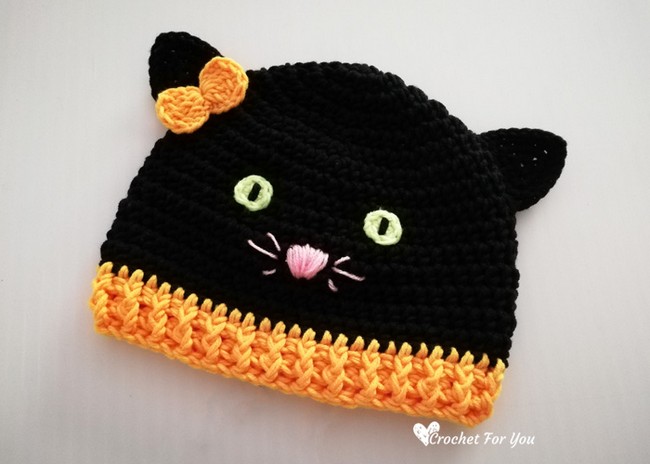 This sweet little cat hat has a pretty bow, and would be perfect for your little princess! Crocheted in a large-gauge yarn with a big hook, it works up quickly and uses very little yarn. Crochet Halloween Black Cat Hat Pattern It's an amazingly looking hat for your little one. If you want to decorate the room for your princess, then this is the best choice for you. You can make it easily and quickly. You can adjust its size according to the age of your baby. Let's move on to its features!
Crochet Pattern Chococat: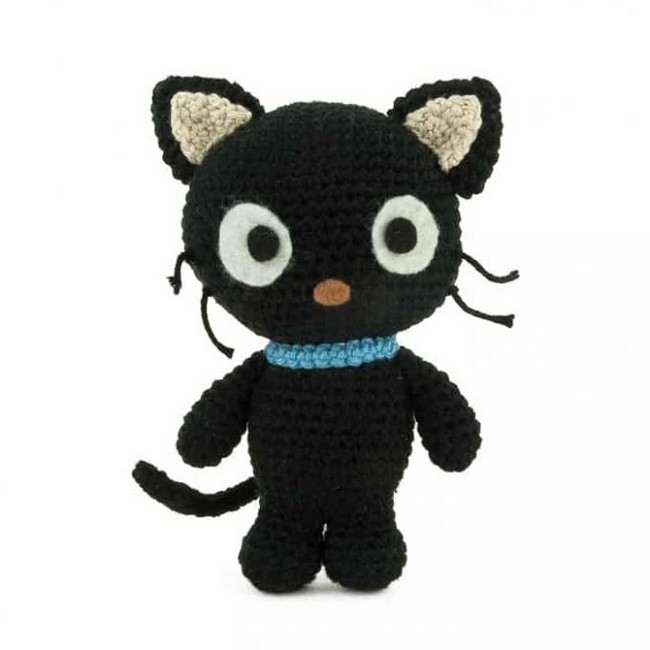 This is a gorgeous crochet pattern choco cat, suitable for a cat-lover baby. This is a gorgeous crochet pattern choco cat. The black color is stunning and gives a gorgeous look to your baby's room without spending much. You can easily it as a gift for your friend's babies. This pattern is also a fantastic gift for someone who wants to learn crochet and needs help making their first project. Even if they've crocheted before, this is a perfect present to remind them of the amazing feeling of creating something with their own two hands.
Cat Stressball Pattern: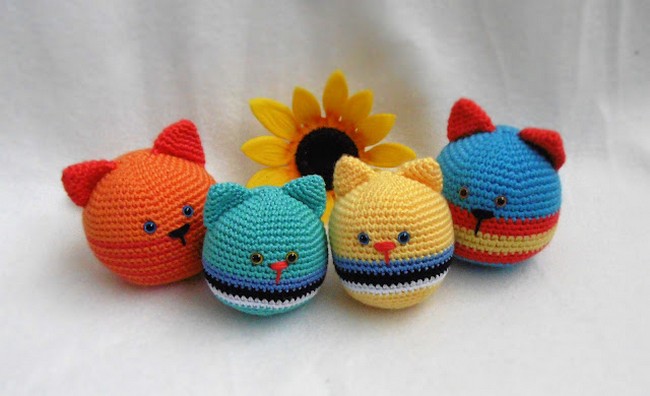 Elegant cat stress ball with a perfect shape, a cute accessory for your cell phone, bag, car, and anywhere to look unique. You don't need to practice crocheting a lot, you can make the it effortlessly. This is a super quick toy. You can make it in just half an hour. There are no packing or shipping and related problems at all. This will help you to save your time and money as well so that you can enjoy the maximum benefits of this project. A wonderful gift for your loved ones. It will bring happiness to them and make them happy.
Cube Kitty Cat Amigurumi Pattern: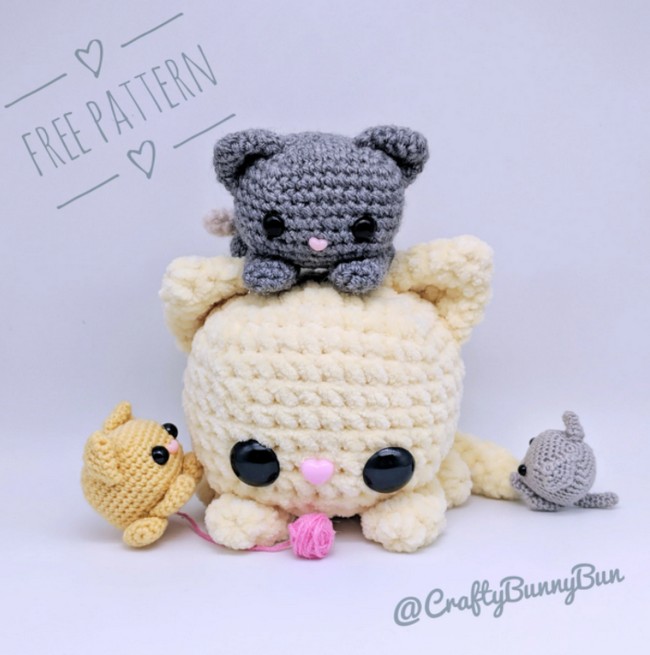 This cube kitty cat amigurumi pattern is also super cute and perfect for a baby room. The little kitties are made from velvet yarn and look so fluffy! It is considered a beautiful toy for small girls and kids. Moreover, the baby girls with pinkish skin love to play with this cat, which gives an amazing playful experience. The kids feel comfortable while the cat touches their bodies because it is made up of velvet yarn. Any girl who has skin like this cat loves to play with it more than others.
Crochet Large Ami Cat Pattern: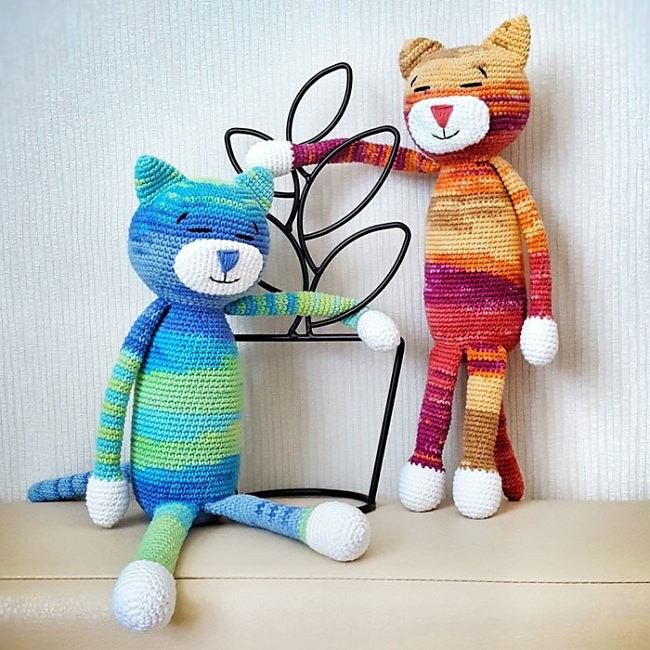 This is a large crochet cat pattern. This is a great project for someone looking to learn how to make an amigurumi cat. This crochet pattern is a larger version of a more petite kitten. The Ami cat comes in three sizes, from baby to full grown. You can work with the blend of different colored yarn to make your long-leggy crochet cats look more admirable. You can easily change the color of your Cat's eyes and nose by using different colored yarn. It's the perfect size for anyone who loves cute little cats. Crochet it up today!
Free Crochet Pete The Cat Amigurumi Pattern: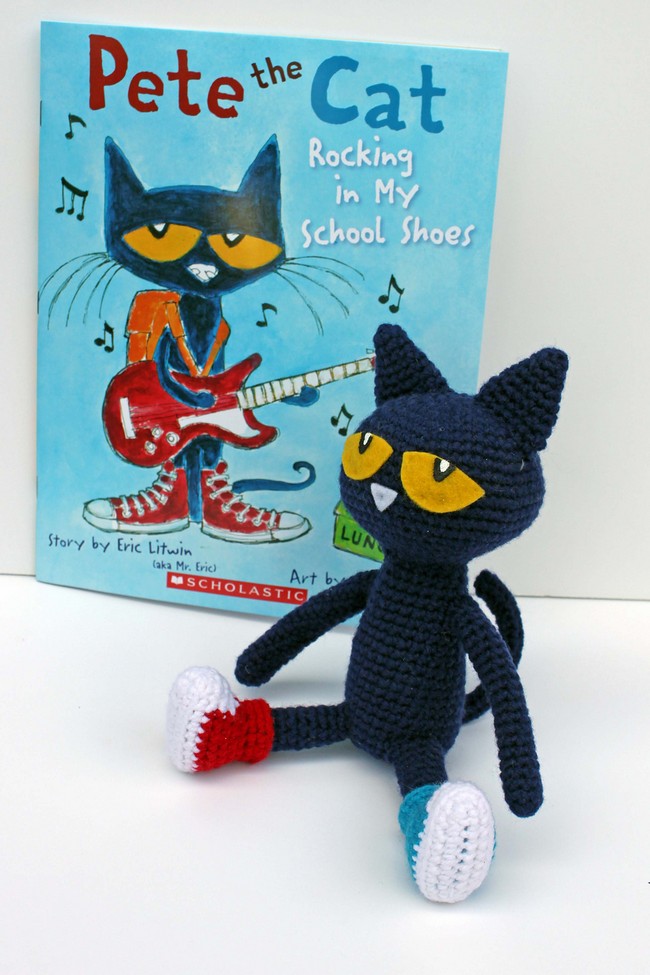 You don't want to miss out on the chance to crochet your very own Pete the Cat! This adorable amigurumi kitty cat is the perfect gift for any cat or animal lover. Make the perfect amigurumi cat stuffed animal that will sit up on its own. This is certainly a beginner's crochet pattern that anyone can easily follow. This free cat crochet pattern makes such a beautiful, decorative piece and you'll be overjoyed with how simple it was to make! Don't let this cute crochet project pass you by! You'll be smiling from ear to ear as you crochet this fun and fairly easy amigurumi kitty cat.
Crochet Witchy Cat Hat Pattern: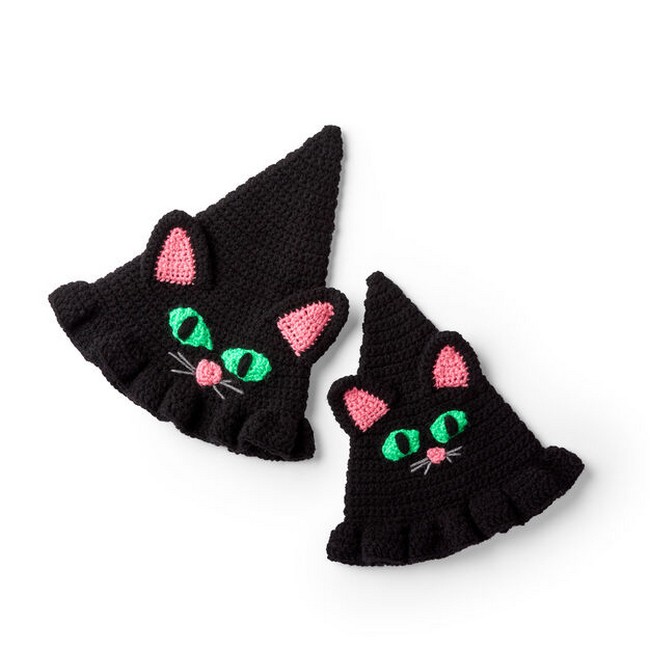 Do you enjoy crocheting in your spare time? If yes, this pattern is the one for you! Perfect for any feline fan. This witchy cat hat pattern offers an adorable option to add to an already existing witch's costume or paired with other gear for a unique costume. It's fun and easy to make with simple crochet techniques that you can use on other projects, too.
With Halloween right around the corner, kids are already making costume plans. Adults are not left out when it comes to dressing up in a cute witch's outfit. This crochet cat hat will make a great addition to your Halloween costume this year! The Cat Hat is decorated with cute eyes and nose appliques, but what makes this hat truly unique is its green pointed brim.
Crochet Fat Cat Stuffie Pattern:
This adorable Fat Cat Stuffie, which is worked in the round with single crochet and mostly in one piece, will make any child smile. This crochet pattern is the perfect stocking stuffer or last-minute gift! Crochet this adorable little cat with the detailed photo tutorial, and a few supplies. It's worked almost entirely in the round using single crochet so it's easy to make and fun to do; stitch it all up in an afternoon, then sit back and watch your cuddly creation curl up for a long nap time! Worked in rustic Baby Velvet and Crushed Velvet, it's so snuggly and satisfying you might find yourself cozying up to it too after you're done!"
Crochet Dumpling Kitty Cat Pattern: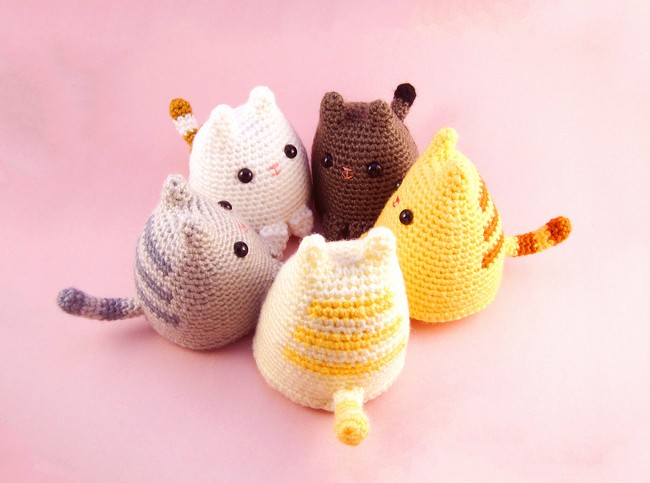 Dumpling Kitty doesn't look like much, but she'll come a-runnin' at the sound of you opening a treat bag. She'll sit on your couch, lap, or shelf and wait for you to come home from work. Dumpling kitties are perfect companions for nap-time or study-time--they're cozy friends that don't eat too much nor make too much mess. We call them dumplings because they have nice round bodies...a handsize little ball full of love. These unique crochet dumplings are fun to make! They're small and cute, but sturdy enough for everyday play.
Crochet Cat Pattern: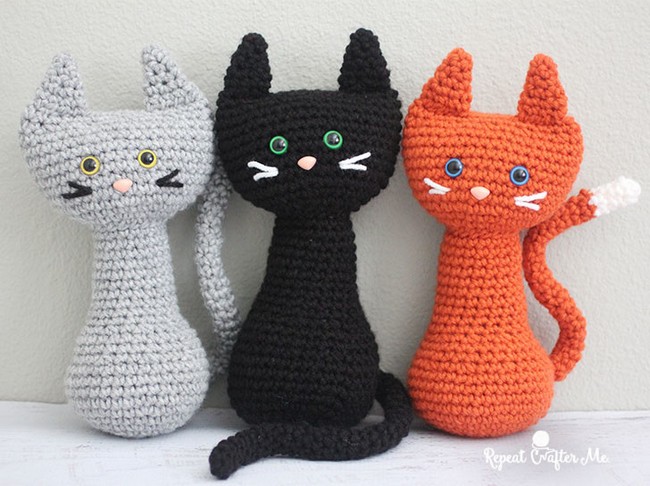 A handmade ornament or amigurumi figure is a great gift for your loved one! This crochet cat pattern is perfect for you if you are looking for an authentic knitted kitty with a flat base so she can sit easily. The Tipsy Kitty has been created in different colors, making each crocheted kitty unique. This little tipsy kitty is the perfect small project that will work up quickly for last-minute handmade presents or just to brighten someone's day. She makes a great gift for cat lovers and works up easily in your favorite colors.
Crochet Cat Shadow Box Wall Art Decor:
Decorate your wall with this super cute and fun wall hanging that features a couple of playful cats in shadow box art frames. Bring the fun of Halloween to your home decor with this cat shadow box wall art. This cat is made entirely using single crochet stitches and is designed to stand on its own. It looks amazingly gorgeous and will get you hooked from start to finish. You can use any types of yarn that you have in your stash. Happy crocheting! No need for a frame or wire, this crocheted wall art can be hung on the wall as a work of art. A great gift for the cat lover in your life. Or just a great gift for yourself!
Crochet Amigurumi Pattern Cat With Kitten:
Adorable crochet amigurumi pattern, perfect for any lover of felines and cats. This super cute cat and three kittens are only a few of the amazing designs you will be able to make! Find the perfect pattern for each of your pets—no matter how big or small they are—and show your love with a beautiful handmade amigurumi. The pattern is designed to be simple and clear. Intermediate level, but with clear step-by-step instructions you'll be able to make this kitty in no time.
Crochet Amigurumi Kitty Cats Pattern: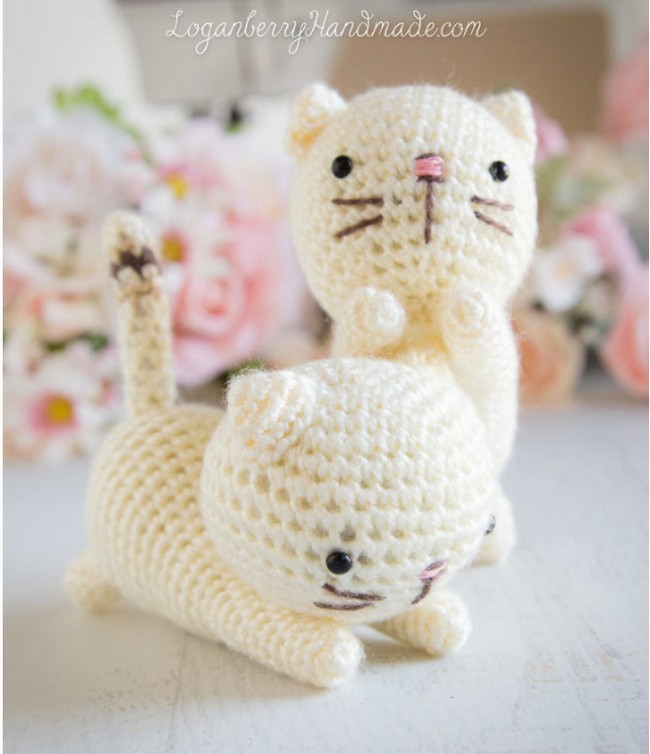 This special pattern allows you to make a litter of adorable crochet kittens. When your child sees these little guys, he or she will be thrilled that you put in the time to create a family of snuggly cuddly kitties that are all their own. If a real kitten is in the near future, you can use these little guys as toys to play with so that your pet won't become too overwhelmed with lots of toys right away. It's an excellent and easy pattern for beginners, as well as being a fun and fast pattern for the more seasoned crocheters.
Crochet Cutest Cat Amigurumi Pattern: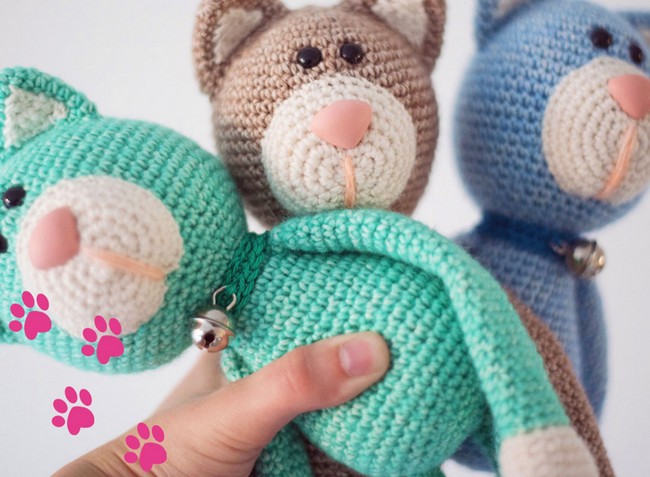 Crochet these cute little amigurumi cats. They are very easy and fun to crochet. This pattern even comes with a blank face so you can use your imagination to make your own facial expressions. These cute animals are made of yarn and colors charming, a yarn that is used for amigurumi's a lot because of its sturdiness. It looks nice and will definitely appeal to all children! These Cat Amigurumi Patterns are incredibly quick to crochet as they are worked in the round without any joining of pieces.
Superstitious Black Cat Wreath:
Dress up your home for Halloween with this fun crochet kit! Get everything you need to create a spooktacular wreath to display on your door, including polyfill stuffing, a wreath base, and the crochet pattern. The superstitious Black Cat Wreath is an ornate way to celebrate Halloween. Crochet a charming black cat to place on top of any round wreath, complete with a bow tie and earflaps. Black Cat Wreath Crochet Kit includes everything you need to create your own wreath, including yarn, polyfill stuffing, plastic eyes, plastic nose, beads, hook, needle, and wreath base. Make a festive statement for Halloween with this black cat wreath!
Glam Black Cat Hats:
This hat is a super cute and simple design that's easy to make. Easy enough for beginners but with fun, interesting stitches so you have a good time stitching away at it. It is also great for an advanced crocheter who wants to make something fast or has leftover yarn from another project. The best thing about this pattern is that you can use any yarn weight & gauge you want! This hat is unique because it looks great during the day and at night, with lights. Just make sure you hold the flashlight far enough away so it lights the entire project. People will think they are looking at a real cat when they see how cool this hat is!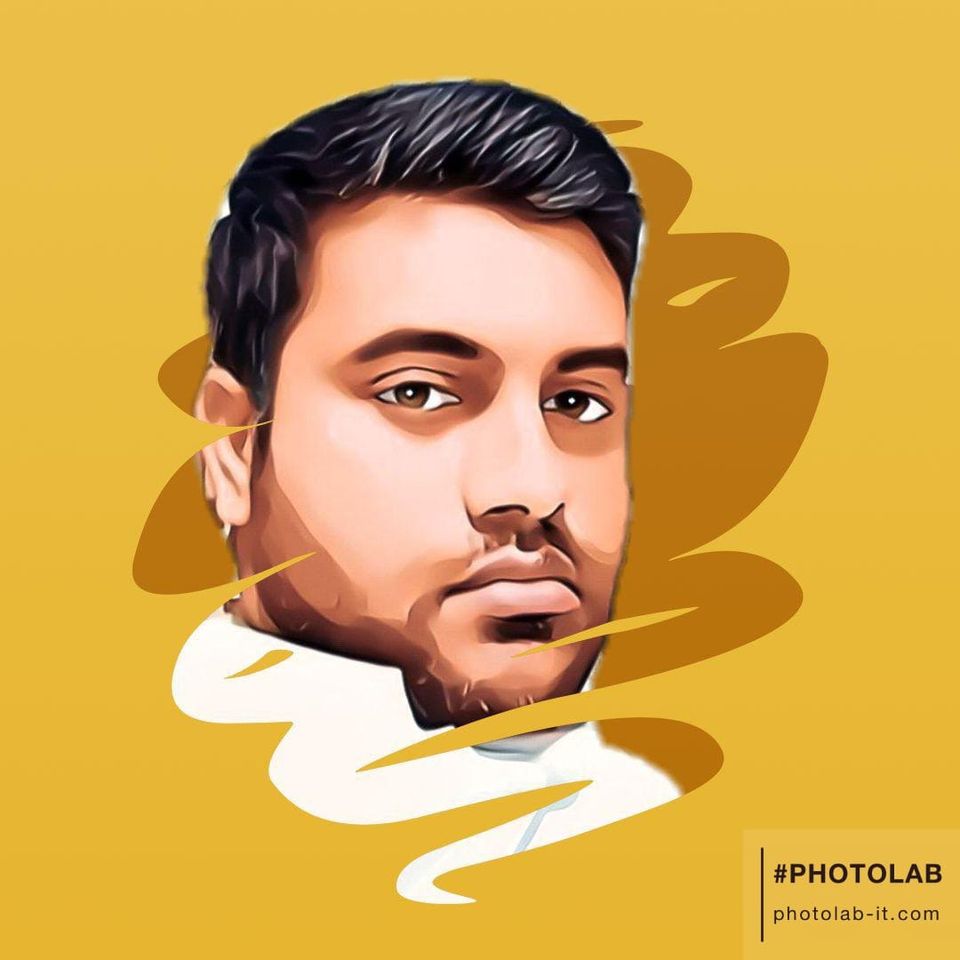 I am Raza, a crafts expert with 6 years of experience. I run this site for DIY lovers to provide the most exciting projects and ideas for your home, office, and everyday life. See More