Crocheting fringe is a fantastic way to add extra pizzazz to your projects. It's also an enjoyable craft that's easy to do and can be done in any season. It makes for great handmade holiday gifts, mainly when using suitable materials. Whether you're looking for a way to add some pizzazz to your crochet or a quick and easy way to use up some of your yarn, these simple Crochet Fringe Patterns are a versatile way to get creative. It can be used alone or with other stitches to create simple and complex patterns and works quickly. The best part is once you learn the basic design, you can customize it in various ways. It's one of those simple things that can go in every direction, so grab your hook and give it a try! You'll never want to stop crocheting fringe once you've started!
Crochet Fringe Edging Patterns

Crochet fringe is a great way to add a little extra something to your projects. It can be sewn on or tied around the edges and looks friendly with almost any type of fabric or yarn. You can make fringes from any yarn, but the size of the fringe will vary depending on the thickness of the yarn. Thicker strings make heavier strands, while thinner ones give you much fine lighter strands. Crocheted fringe works quickly, so if you've got some extra yarn that you don't know what to do with, try making a few balls of fringes for different projects!
Benefits Of Crochet Fringes
The trend has been around for a while now, but it's not just for accessories — fringe can be added to anything from swimsuits and dresses to shirts and skirts.
Here are some benefits of Crochet Fringe Patterns:
It's versatile. You can use it as an accent or make it the star of your outfit with large pieces that take over the entire garment.
It's easy to make. You only need a few basic crochet stitches — chain stitch, slip stitch, single crochet, and double crochet — so even beginners can try this project successfully!
You don't have to worry about matching colors with fringe because they come in every color imaginable!
Crochet Running Rings Fringed Vest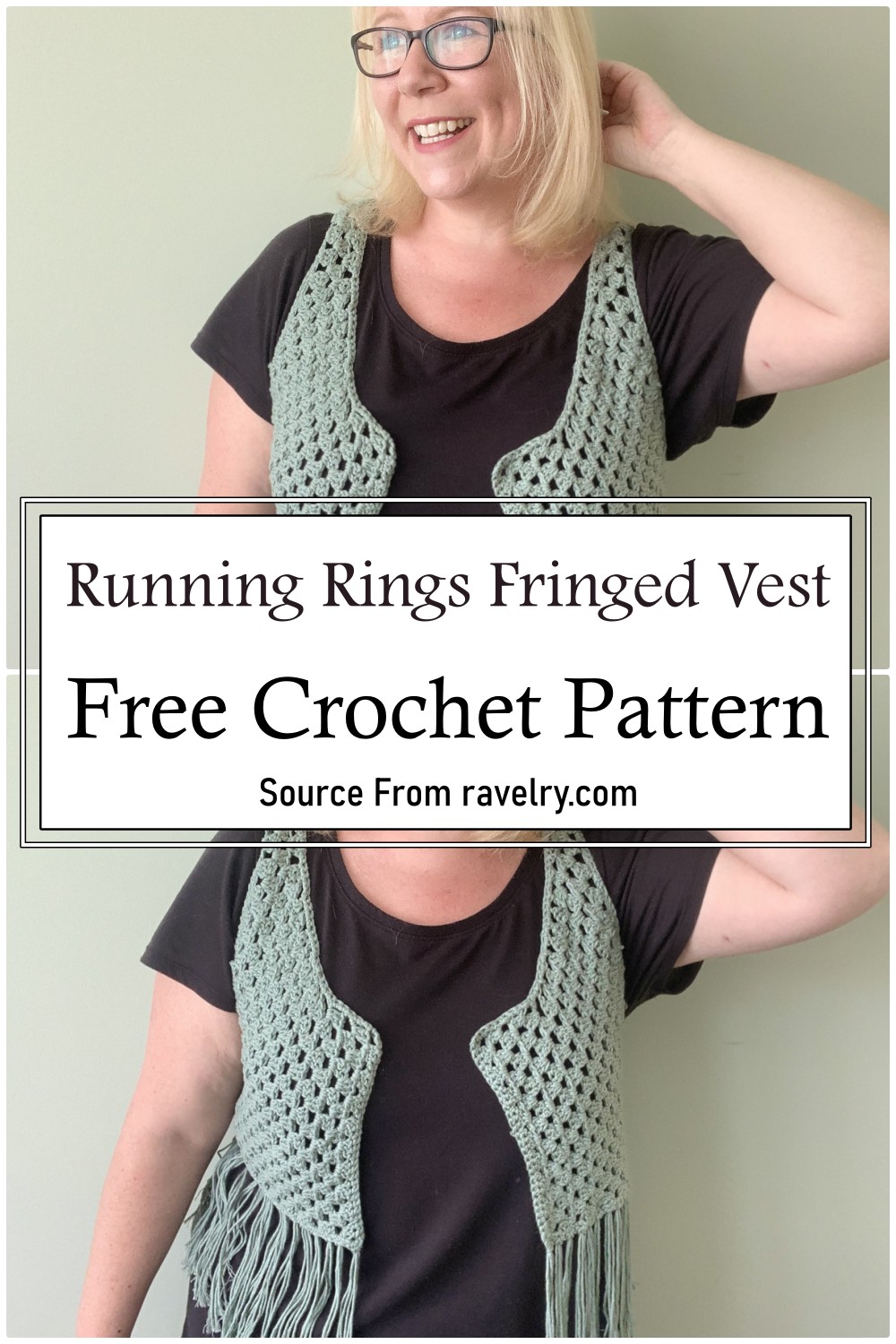 Something about the fringe makes this vest look so stylish and cool. You will love wearing it with my short skirts or shorts and boots. It just looks so feminine, right? This Running Rings Fringed Vest can be knit in any weight of yarn, but you may want to choose a thicker yarn to make the edging easier on your fingers. The fringe provides an eye-catching and exciting pattern to your look. It is completely reversible, so no matter how you wear it, you will be ready to show off your skills!
Crochet Frosty Fringe Basket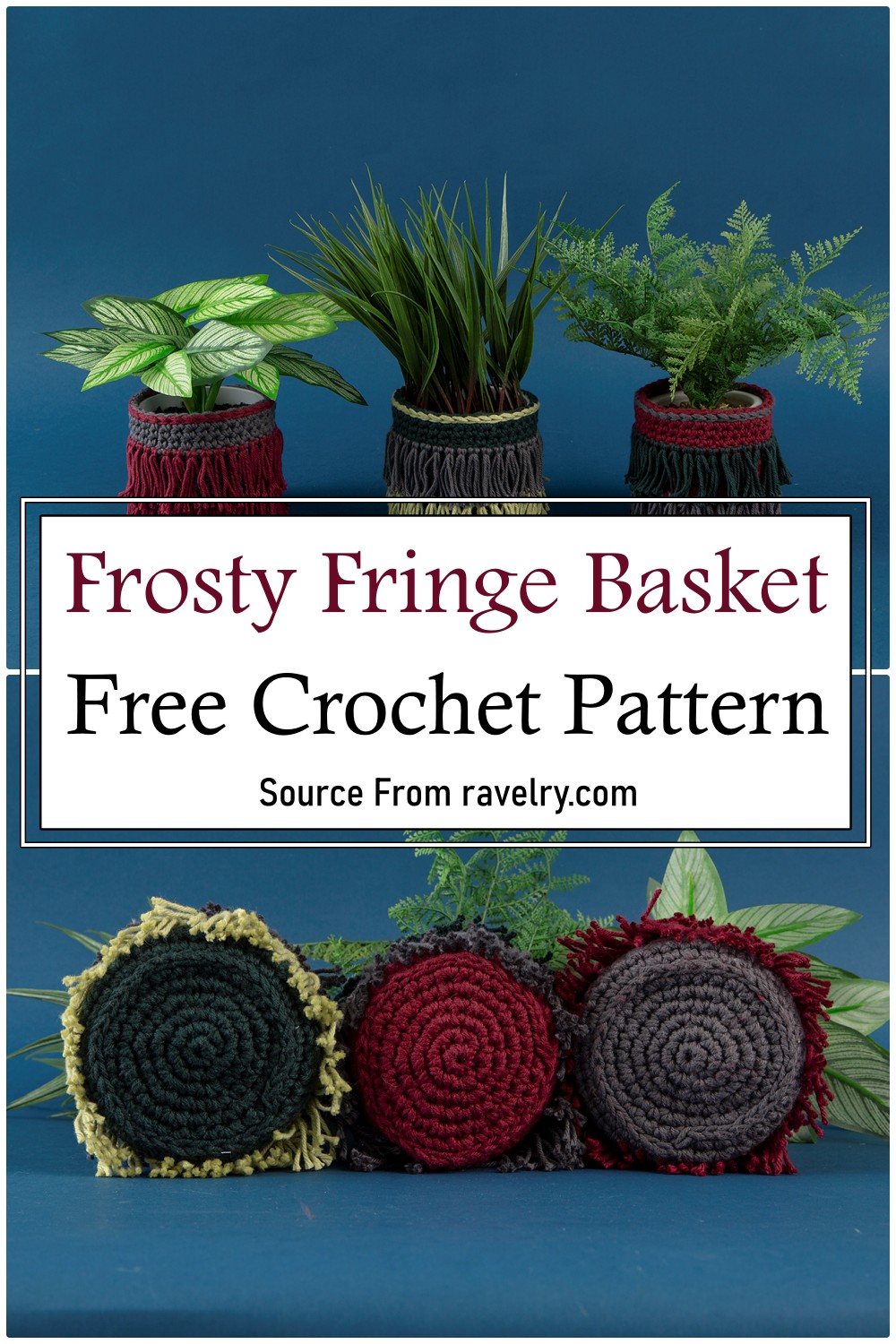 Create a one-of-a-kind fall accessory with Frosty Fringe Basket! This crochet pattern is perfect for beginners looking to add a touch of beauty and warmth to their homes. The basket can be used as storage for a variety of things. Whether you're organizing your linens, storing bath products, or creating a new plant shelf, this project will add a special touch to any room in the house. It's easy and fun to make you enjoy learning this new pattern.
Minty Meadows Fringe Cowl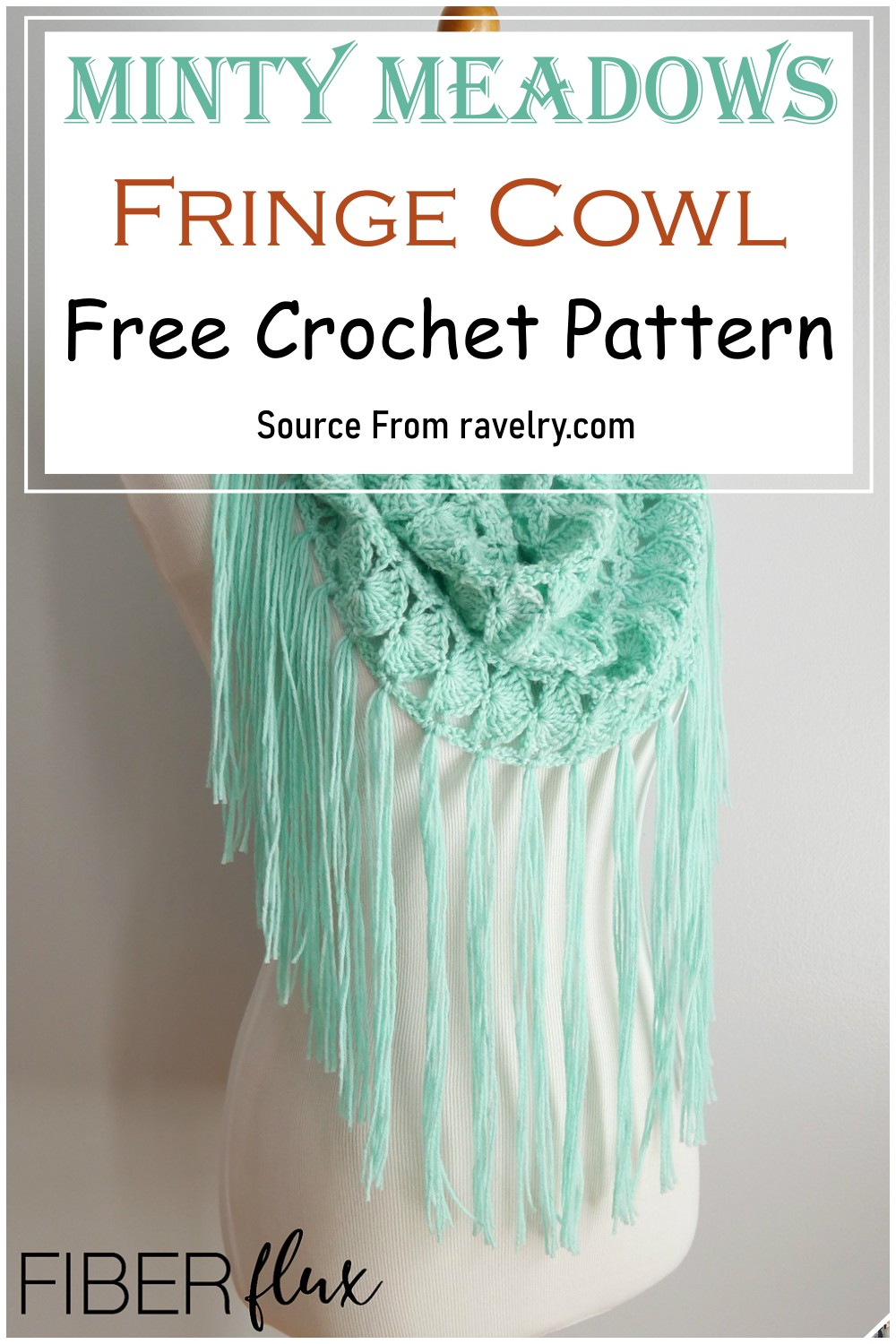 Make your fringe cowl by using this crochet fringe pattern. You can pick any color or combination of colors. This easy fringe pattern is one that you'll use over and over again! This cowl is the perfect addition to your wardrobe! It adds an amount of style and warmth to any outfit. Minty Meadows Fringe Cowl is a quick and easy crochet pattern, perfect for beginners, and will help you make your own while learning a few new crochet techniques.
Crochet Fringed Rainbow Wall Hanging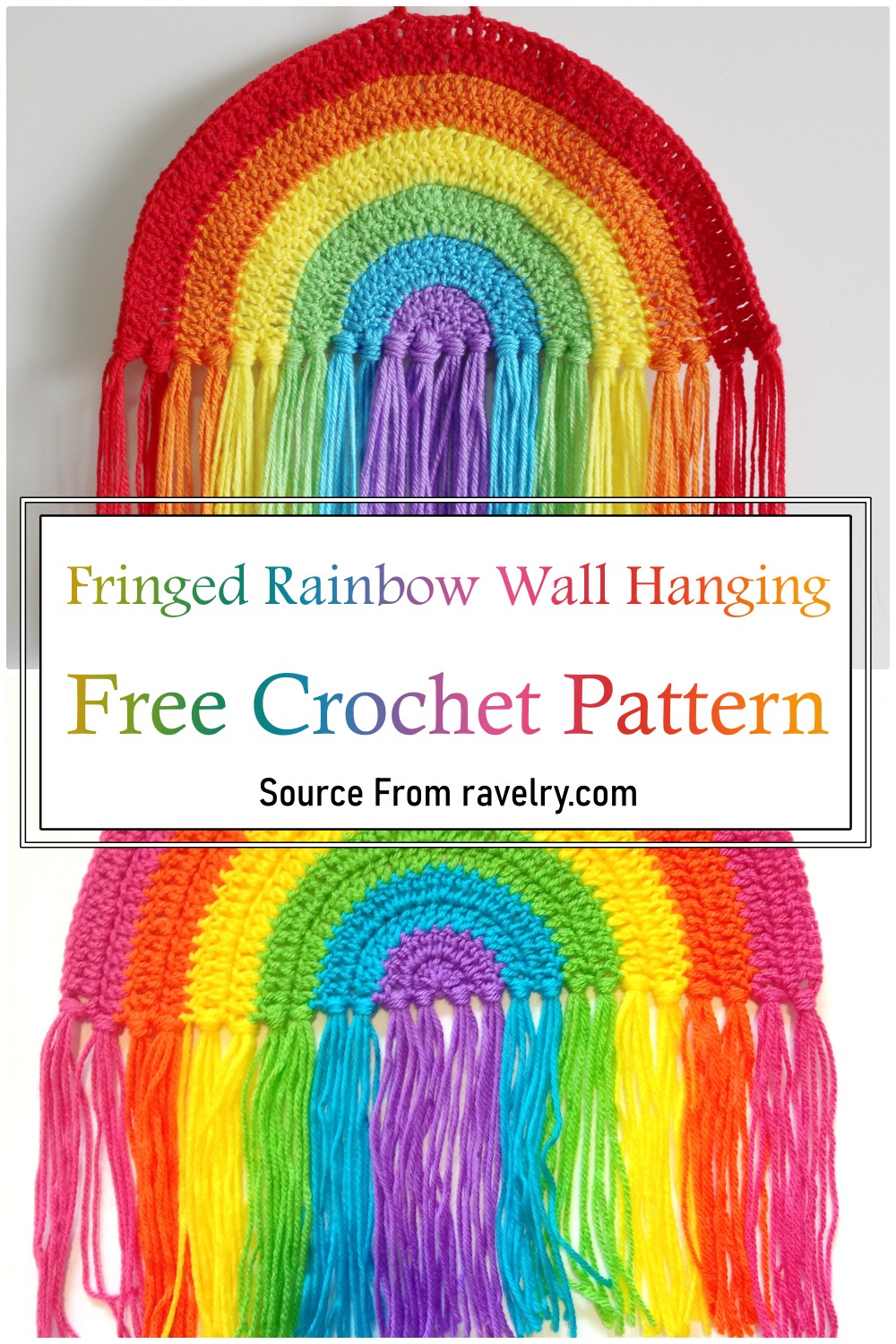 This Fringed Rainbow Wall Hanging is a great way to add color, texture, and life. Make it your own by changing the colors of the yarn to create the perfect accent for your living space. This fun and easy wall hanging can be made with any yarn, but the fringe makes it so lovely. With bright hues, it's an easy crochet project for beginners and advanced crocheters alike. The fringe is easy to make and adds depth and dimension to this simple pattern.
Crochet Fringe Pocket Scarf
The Fringe Pocket Scarf is an excellent project for any beginner to learn how to double crochet. It's simple and casual but also makes a fun, fashionable accessory. The fun fringe gives it an extra flair! This scarf is easy to crochet and perfect for anyone short on time but still wants a cute and stylish accessory. It can be easily customized to fit you by changing the length and width of the rows of stitches! Create a long rectangle with textured stitches at the beginning and end. Fold to form pockets and add fringe along one side.
Crochet Ava Fringed Poncho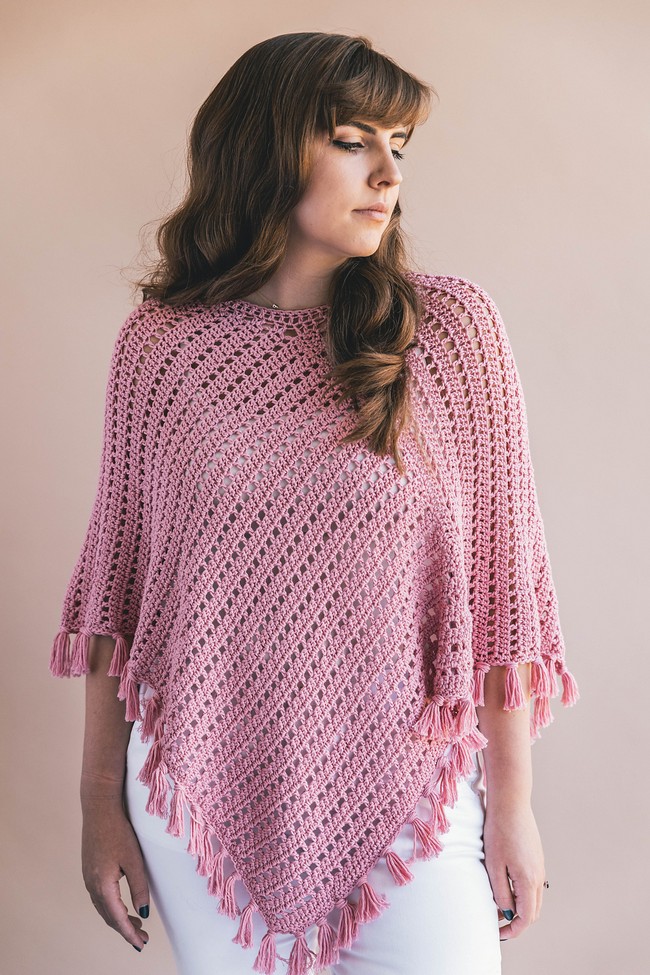 A perfect size, a lightweight adult-sized poncho that is easy to wear! Cozy and warm yet light enough for summer nights. It can be crocheted up on the weekend and makes a fantastic gift for any occasion. This Ava Fringed Poncho is easy to make and a great way to change your look. The tasseled fringe makes this poncho fun and unique. You can dress it up or down, depending on the occasion. This one size fits all garment is perfect for any body type!
Crochet Festive Cranberry Fringe Cowl
Create a statement with this winter-inspired cowl! Thanks to its easy construction and festive fringe, this cowl will make a great gift. A fun and easy-to-make pattern, the Fringe Cowl is made using just one ball of yarn! It's a quick project for your collection. This crochet pattern tutorial includes various styles and techniques to keep you interested. This cowl can be worked in any color you like!
Lush Fringe Blanket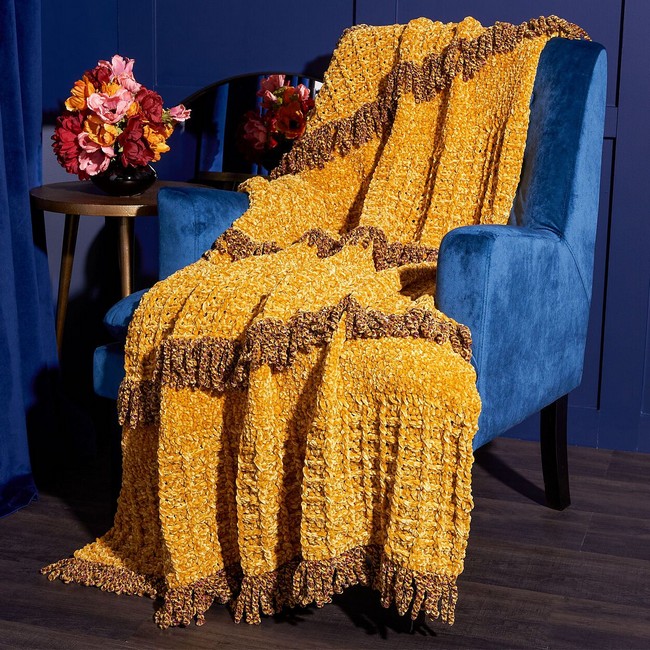 This crochet Lush Fringe Blanket is a foolproof project for a new crocheter. A harmonious blend of Bernat Velvet and Bernat Velvet Twist creates a textured, plush fabric that's durable enough to withstand everyday use and soft enough for chilly nights. Crochet it for the perfect size to cuddle up with, or use fewer colors to make a smaller throw. Perfect for a neutral space that needs a little extra oomph, pair it with an accent pillow or two for an even bohemian vibe.
Fringe Party Blanket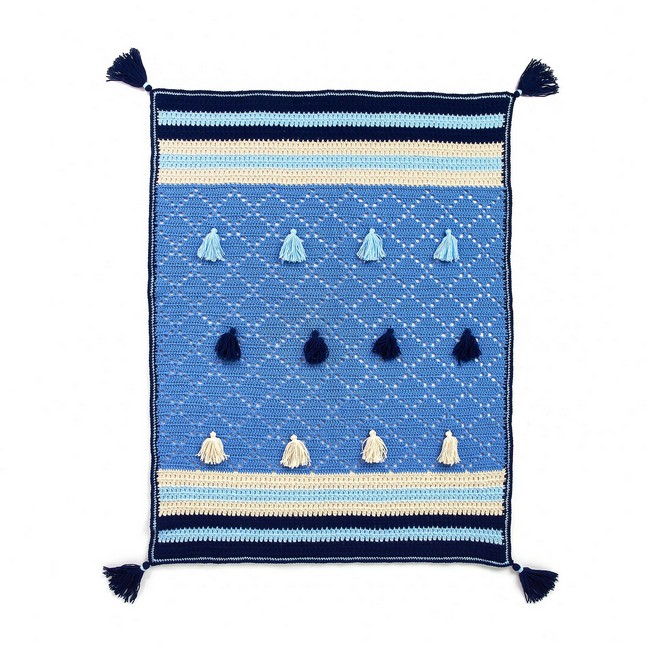 The Fringe Party Blanket is a modern take on the traditional granny square! The Fringe Party Blanket will make it a bit more fun, no matter where you are or what you're doing. Create an easy-to-stitch blanket for any occasion. The Simple Stripes Crochet Fringe Blanket is a lovely crochet blanket that can be made in almost any color with stripes to match any room decor or occasion. Using double crochet and chain spaces, this blanket is simple to make and lovely to look at.
Fringe Tank Top
A timeless classic, this versatile Fringe Tank Top design works beautifully with just about any top. And adding a little fringe to your look is the perfect way to nail the trend going strong all year long. Fringe Boho Top is the ideal crochet garment for your wardrobe. Make it in a color that coordinates with your favorite skirt or shorts for daily wear, or dress it up with our Red Cami, White Shorts, and Blue Heels. This crochet fringe pattern is a fun, stylish way to keep warm. You can also wear this tank over a tee or even as an undergarment in the colder months.
Fringe Clutch Purse
Add a unique bohemian flare to your life and make your custom purse with this simple, fun, fast project! A perfect piece to toss into your bag on the go, no matter what you are doing. This Fringe Clutch Purse is an ideal project for those who want to learn how to crochet the fringe through the front loop. The fringed clutch purse is great for adding a decorative touch to your look! The pattern can modify to create the different length of fringe or to make the fringe longer, wider, or more fluffed up by adding more rows of chains between each fringe stitch row.
Fringe Barefoot Sandals
Add fun to your next vacation with these cute, fast, and easy Fringe Barefoot Sandals! With this crochet pattern and a little yarn, you can make these unique sandals to fit any size foot. These would be great for kids too! Customizing the length of the straps allows you to fit your comfort level. These barefoot sandals will be ready with the easy-to-follow crochet pattern. If you are a beginner, no worries! This beginner pattern is great because it includes photos to help you along your way. It only requires a few supplies, so go ahead and give it a try!
Waterfall Fringe Cushion
The waterfall fringe cushion is a modern take on an age-old craft that beautifully complements the rest of the Fringe range. Made with cotton yarn and a double-sided design that's sure to be noticed. This gorgeous cushion features a waterfall fringe detail created by crocheting the fringe from the edge of the fabric. The fringes are worked in one color, making them stand out beautifully. This cushion would be perfect as an extra accent on your sofa or chair or even on an ottoman or footstool in your home
Fringe Beach Bag
Add a little beachy chic to your crochet collection with this pattern. You'll love creating this beautiful fringe beach bag with its easy-to-follow diagram! The fringe beach bag is so easy to make you'll want to make one for all your friends. This pattern includes a detailed photo tutorial that shows how to make it, along with instructions for making your fringe. You can crochet in the round, and it requires a small amount of yarn. This easy crochet pattern makes a fun beach bag. The fringe enhances the look and adds a bit of flair to your projects.
Popping Fringe Wall Hanging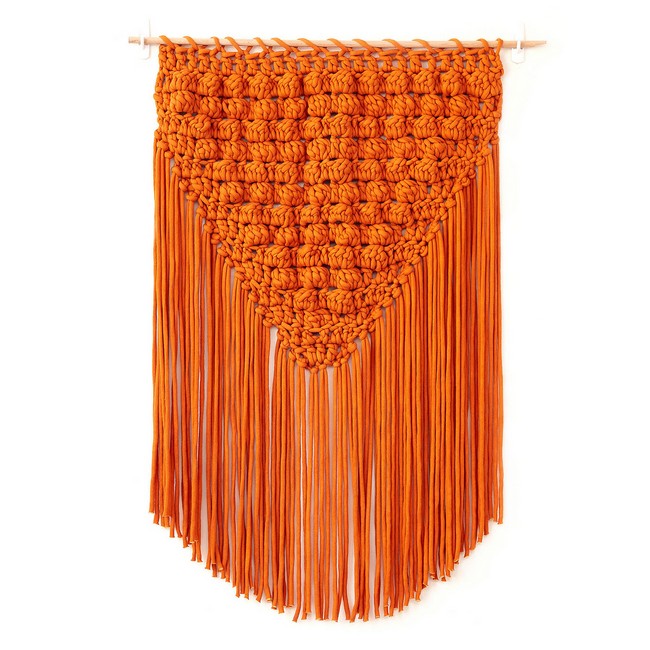 Crochet a pop art-inspired fringe to hang on your wall. With its beautiful variation of colorful yarn and luxurious fringe, this wall hanging is fun to make and unique. The modern look makes it perfect for any room in your home. This Popping Fringe Wall Hanging easy pattern would also make the ideal gift for anyone into bright colors! The detailed design description includes all you need to make this fun wall hanging with stylish fringe. Includes a color photo, complete materials list, and step-by-step instructions with illustrations.