Butterflies are indeed among the prettiest and cutest bugs in the world. And they come in a lot of bright, vibrant colors and patterns that have inspired many artists to create their art replicating butterflies. You can also take ideas from them while recreating different crochet butterflies. This beautiful collection of 25 Crochet Butterfly Patterns has everything in it ranging from simple flutterby wings to add onto other projects to stunningly detailed little wonders only meant to be admired. Butterflies are lovely and fun to crochet, whether you're aiming for realism or cartoony cuteness. You will find crochet patterns for all skill levels, from simple slip-stitch patterns to more challenging intarsia designs. Refer to our thorough tutorial for some guidance if you need it. Also, these projects make great gifts for nature lovers and young girls who love insects!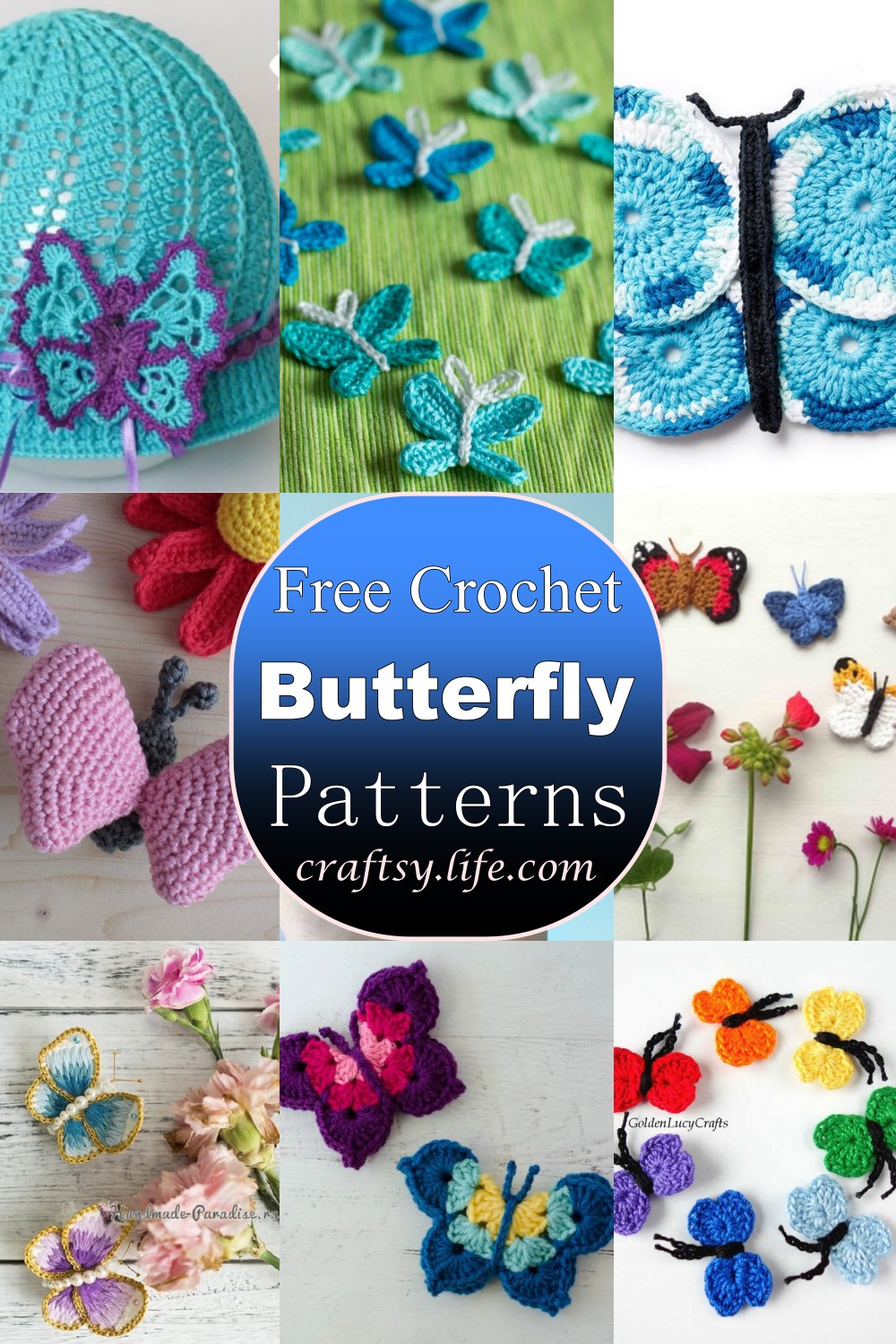 Making crochet butterflies is a fun project for both kids and adults, and you can make them in different sizes and colors. You can use these cute crochet butterfly patterns to decorate your home, embellish clothing, create beautiful hair accessories for little girls, or even make a cute brooch to pin on! Plus, they are perfect for using up all your leftover yarn from other projects. If you're looking for some amazing ideas to make crochet butterfly patterns this spring or summer season, then here you're at the right place. We have rounded up 25 Free Crochet Butterfly Patterns that will help you add a touch of cuteness and softness to your home decor and other accessories.
With these 25 Free Butterfly Crochet Patterns, you'll be able to add a touch of spring to your home decor or outdoor decorating.
Tips To Crochet Butterfly Patterns:
Are you looking for a fun, easy, and fast way to add some pretty accents to a garment, scarf, or blanket? Crochet butterflies are just the thing! Not only are they a great way to use up leftover yarn, but lots of them together make great decorations for parties and weddings. Here are some tips for crocheting butterflies:
Use a small hook (size D or E) and thin yarn for a delicate effect, or a larger hook and thicker yarn for a bolder look.
You can crochet your butterflies in whatever color you like, or use different colors of yarn for the body and the wings.
If you want to change colors from one row to the next, simply drop the old color at the end of the row and pick up the new color at the beginning of the next row.
Be sure to save any leftover bits of yarn after you finish crocheting your butterfly. You can use them to make more butterflies later!
Why You Need To Crochet Butterfly Patterns:
Nothing says spring and summer like butterfly patterns. It's incredible how much we love these little creatures. There are so many different types of butterflies and they are just so darn cute! You love watching them flutter around in the garden.
Butterflies represent life, positivity, and joy. These creatures remind us to be full of life and to find happiness in the beauty of the world. They are also a symbol of rebirth and renewal, which is perfect for spring and summer when everything is blooming.
Because butterflies are so beautiful, there is no wonder why we want to wear them too! These crochet butterfly patterns all look like real butterflies, but with a handmade touch, you can wear them everywhere.
You can also add butterfly accents to your accessories as well. I've put together a list of amazing crochet patterns that use adorable butterflies in them. They're all easy DIY projects that you can wear all season long!
Small Butterfly Keychain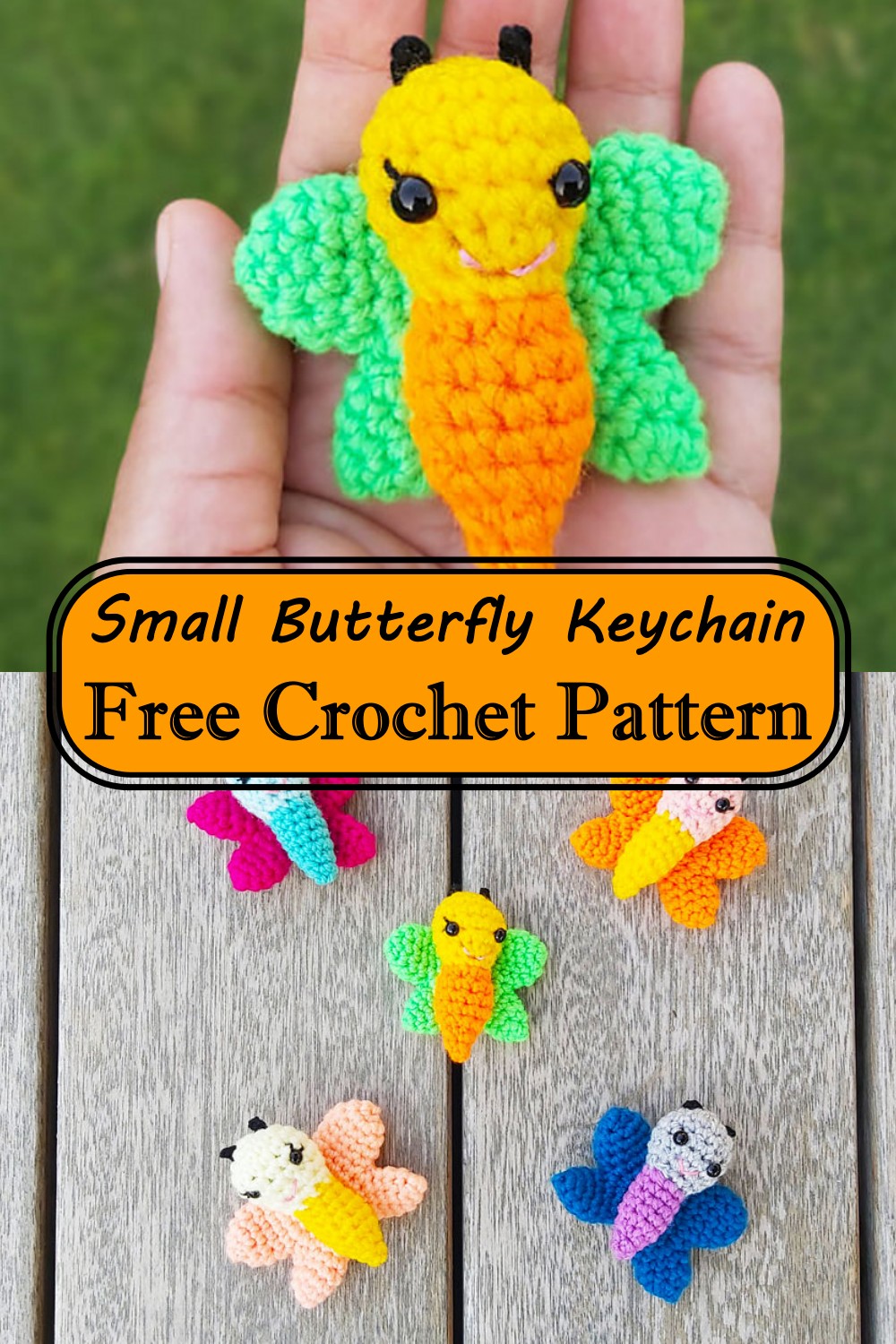 This is a very easy crochet butterfly pattern, making this perfect for beginners and pros alike. Creating a beautiful butterfly in just a few hours and working up to 15 butterflies in just one day makes this a great project for creating last-minute party favors and embellishments, or to use up some interesting yarn scraps in your stash! You will create this little butterfly using the magic ring in multiple colors, chain stitches, single crochet stitches, double crochet stitches, and slip stitches. This crochet pattern is a perfect beginner project. It can be used as a gift tag or embellished upon any item you choose.
Valentine Butterfly
Express your love with a loaded amigurumi butterfly. What can be better than that? This little bug is sure to please your valentine with its cuteness and softness. This sweet little fellow works up quickly and is a great way to show your love to a special someone on Valentine's Day. You will have fun choosing among all the possible color combinations and facial expressions! It's simple, quick, and a lot of fun. Perfect as a brooch or hair accessory to give to someone you love.
Ellie The Butterfly Amigurumi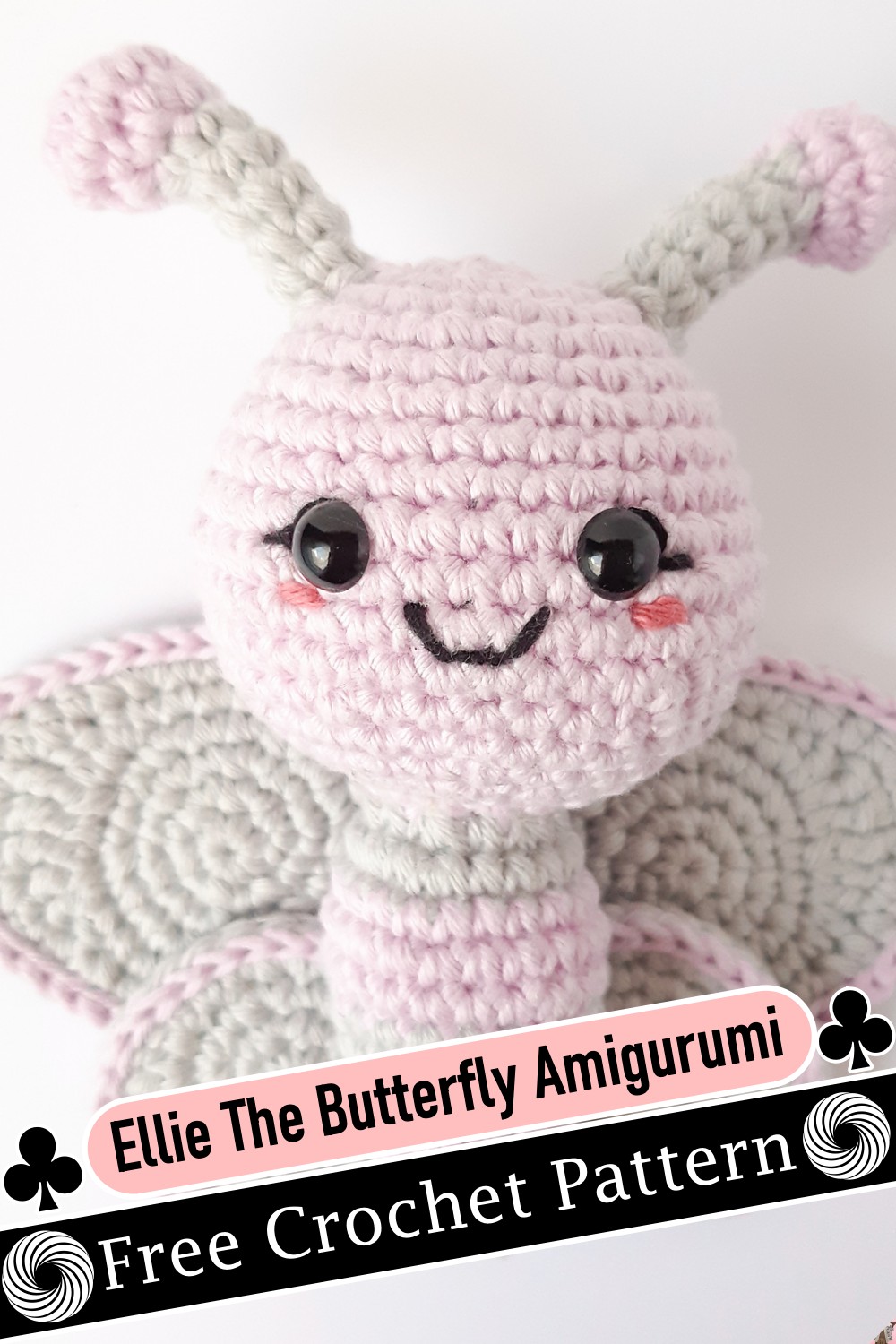 Meet Ellie the Butterfly! She's ready to be made into a new friend. She is brilliantly colorful, so charming, and sure to be a favorite with both young and old. She would make a great gift for a best friend or that special someone who needs some color in their life! Just add your own safety eyes and crochet about a quarter of an inch through her body. You can also sew on accents, like antennae and eyelashes, with embroidery thread and a needle. This means that Ellie makes a perfect gift for any age – if you don't want to add safety eyes, just crochet the eyepieces together and you'll have a pillow ready to stitch together!
Bella The Butterfly Rattle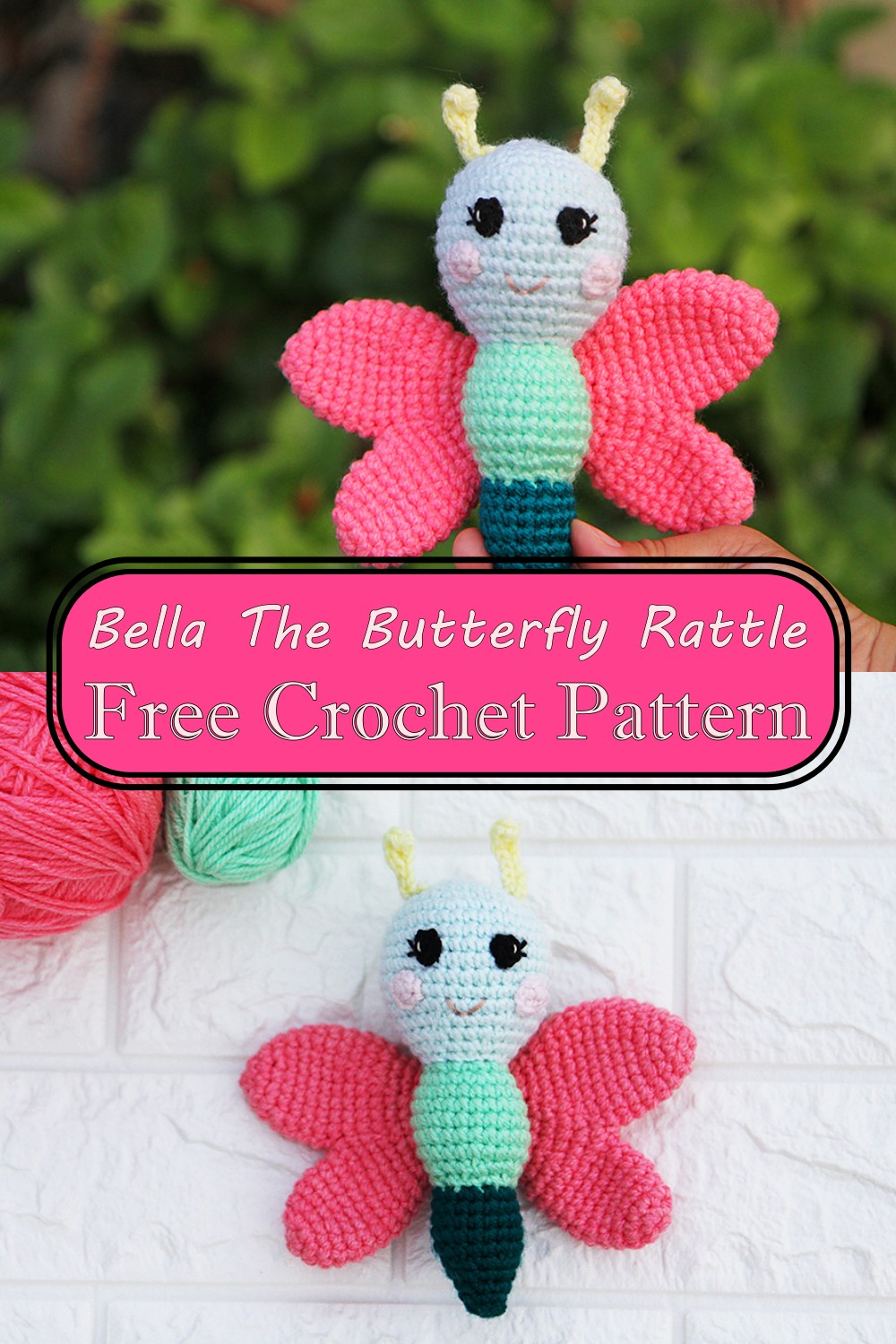 A perfect little make for Spring in this free crochet butterfly rattle pattern! This crochet butterfly rattle can be used as an amigurumi butterfly toy. This pattern works up fast and is a good beginner amigurumi pattern. This cute butterfly will add color and a touch of playfulness to the baby's room or make for a great addition to a baby shower gift.
This pattern uses basic stitches, making it a really quick project. This makes it the perfect little gift for expectant mothers who will adore the quaint and sweet toy! The hands-on work needed for this free pattern also makes for charming heirloom toys that can be passed down from one generation to the next.
Bella The Butterfly Appliqué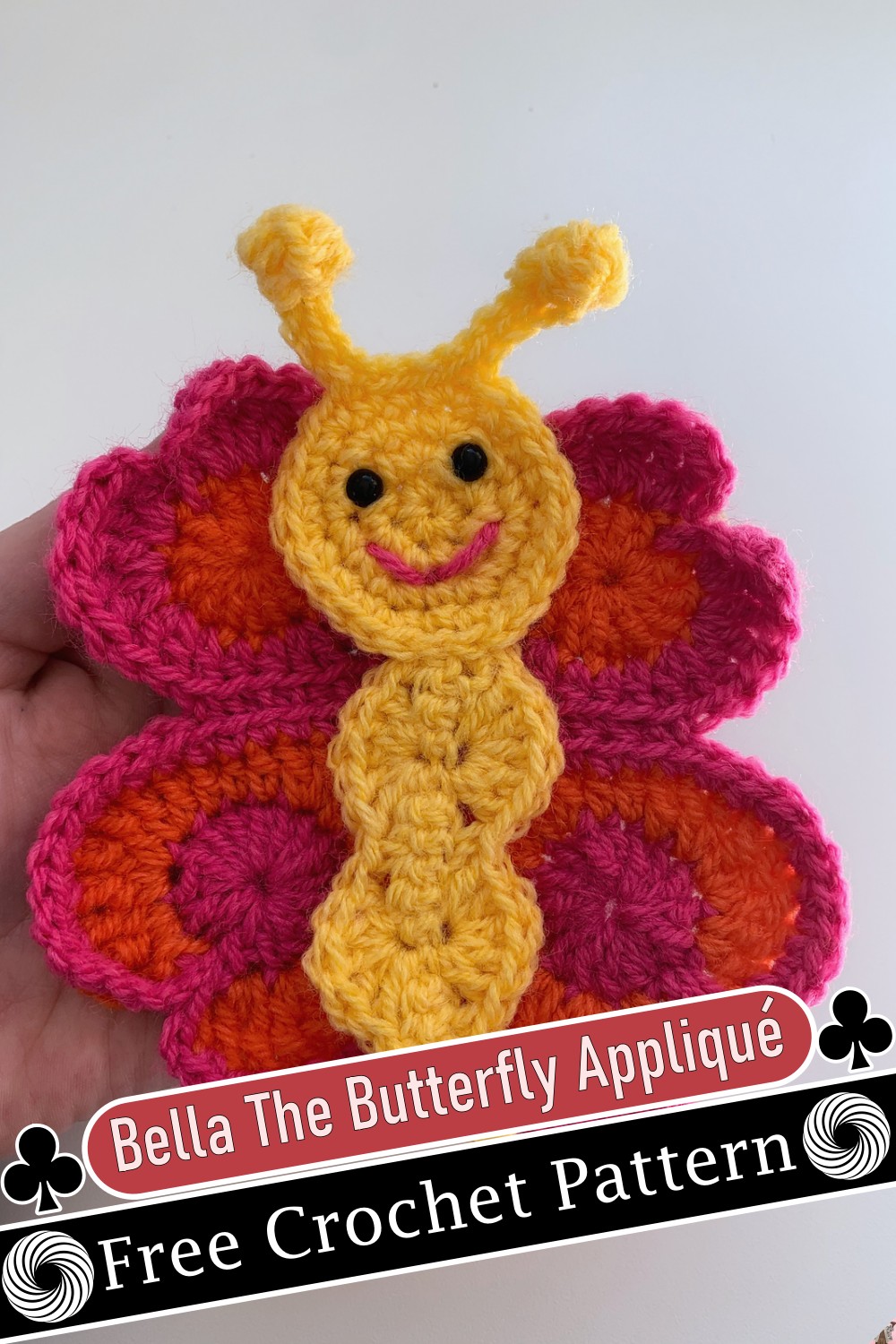 What could be more gorgeous than to crochet a butterfly and attach it to your creations?! the crochet appliqués can be used in different ways. The appliqués can decorate a bag, hat, or your home! You can use it to decorate baby blankets, bibs, nappy covers, dresses, and even toys. Make your kid's school bag, t-shirt, or anything look much prettier with Crochet Bella the Butterfly Appliqué and make your kid be happy! So very easy to do and you can use so many bright colors to make them even more fun. This baby pattern can be used to make an ornament or appliqué, but it's also attractive sewn as a part of a blanket. Use these baby patterns to get creative!
Crochet Butterfly
Brighten up your home with this beautiful butterfly decoration. Lit from within, its translucent body and wings will create a magical glow in the garden at dusk or be used as a feature in your home. It offers a unique way to light up your home, party, or event by radiating a warm glow from within the body of the crocheted butterfly. They are also great for decorating your garden or patio. Your guests will love the soft illumination of these enchanting butterflies. The little butterflies come in a variety of colors, sizes, and features that add a capricious touch to your life.
Butterfly Pals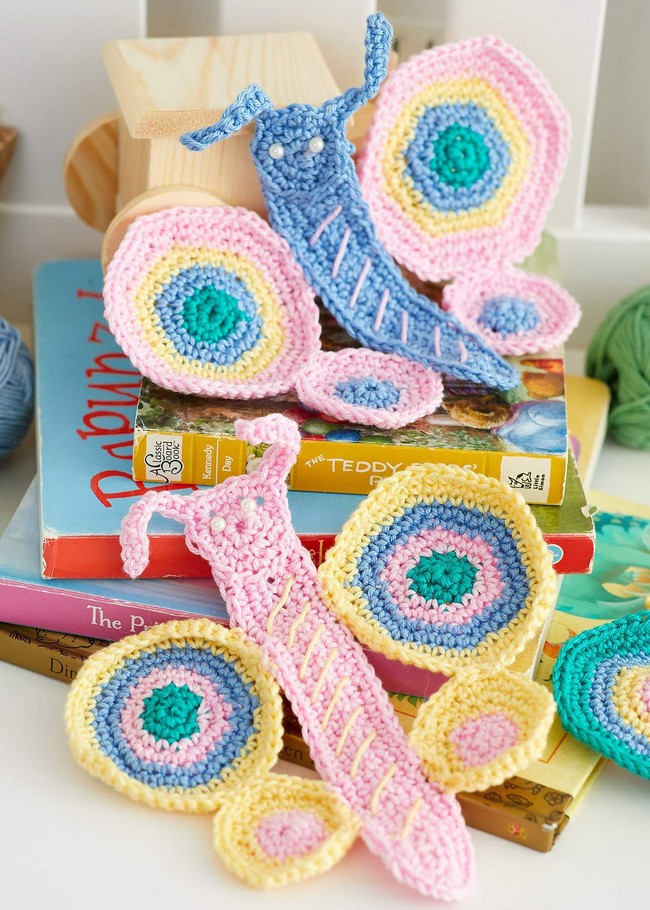 Butterfly Pals is a crochet pattern designed to make two sweet but simple butterflies. Fresh, flying colors take the wing in this fun-to-wear wardrobe. Each piece is a crochet breeze to assemble because you're working with chunky-weight yarn, a larger hook, and only basic stitches. Plus, each butterfly body is worked in one piece from the antennae to the wings; the legs are crocheted onto the body at the end. You will love them on their own as toys, keychains, or zipper pulls. Or cluster several together as hanging decorations in your home.
Bria The Butterfly Amigurumi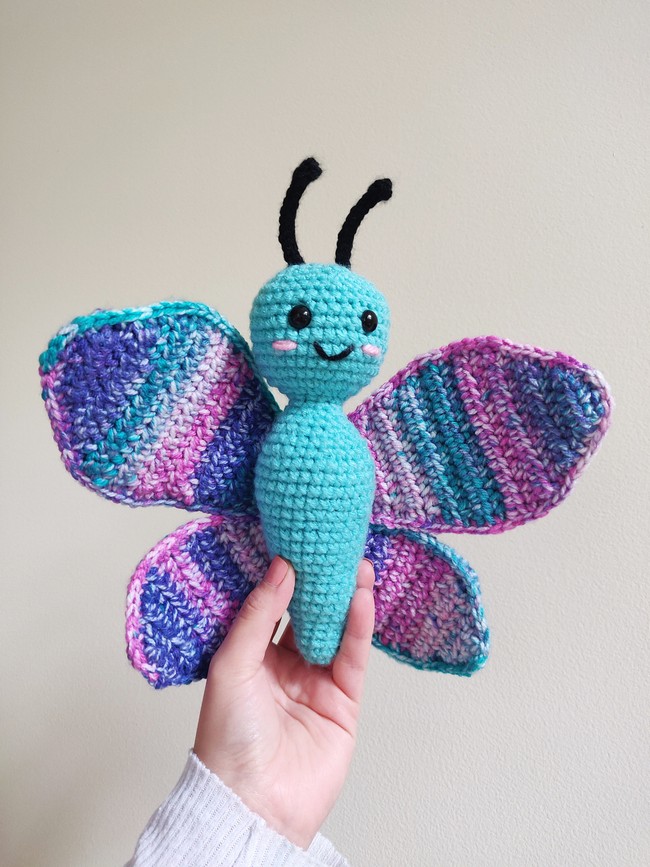 Flying from flower to flower, Bria the Butterfly is recommended for intermediate amigurumi crocheters. Her body and legs are made in one piece with double-ringed magic circles for the wings and antennae. She's right at home fluttering in your garden! A fun and unique crochet amigurumi butterfly pattern perfect for spring! Full of pictures to help guide any beginner through the whole pattern. This amigurumi doll is plush, cuddly, and oh so adorable. She is a fun amigurumi pattern to challenge your skills and pretty quick to make up so she would also be great for gift giving too!
Betty The Butterfly
Looking for a sweet little amigurumi butterfly to crochet? You're in luck! With this crochet butterfly pattern, you can create your own adorable little butterfly doll (or two or three!). This betty the butterfly works up fast, so grab this crochet toy pattern now and start crocheting! This crochet butterfly toy is easy to make and it even contains a small rattle so babies will love it! A happy-go-lucky insect that loves to flit about, Betty enjoys the company of her friends and family. She will happily settle on your shoulders if you catch her eye!
Stella The Amigurumi Butterfly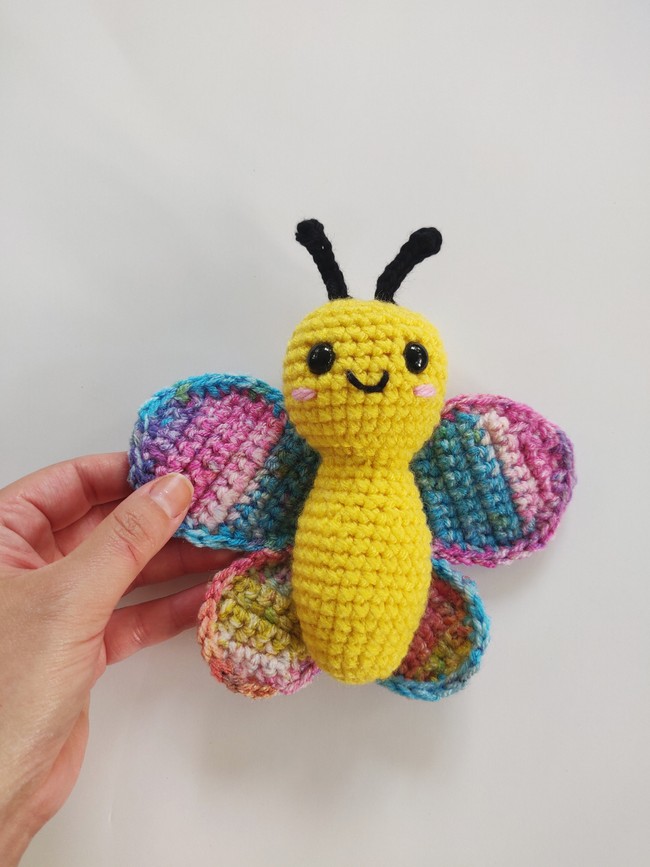 Meet Stella the Amigurumi Butterfly, she is a fun and quick crochet project. Whether you're new to crocheting or a seasoned pro, this crochet pattern is sure to be your new favorite! This super adorable butterfly crochet toy is perfect for baby shower gifts, Easter baskets, birthday gifts – or even just to add a little extra magic to any room in your house.
Stella the Butterfly Amigurumi is a great pattern for a child to learn how to crochet small pieces. She is made of several small pieces and then assembled together through sewing or crochet, depending on the parts involved. Don't be afraid to make this cutie your own! Add safety eyes or embroider eyebrows, eyelashes, and smile; add freckles on cheeks or elsewhere; sew or weave in two or more colors of hair; add wings in a contrasting color!
Butterfly Mug Rug
This Butterfly Mug Rug is a delightful summertime decoration piece that can be used as a place where your coffee mug and plate can rest whilst relaxing on the front porch in the sun or shade. A lovely butterfly motif to embellish the center of this pretty cup or mug rug brings in color and cheer. You can choose the colors for this cup or mug rug to suit your preference as well as the room decor. It is perfect not only as a coaster under your cup or mug but also as a nice and colorful decoration in any part of your house or kitchen!
Mini C2C Butterfly Blanket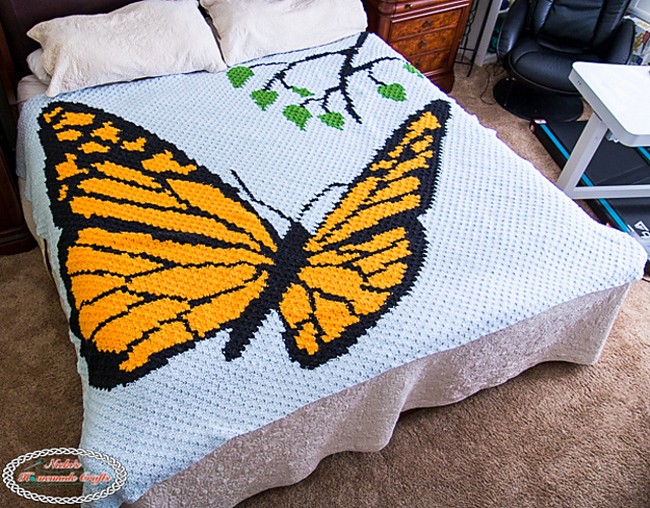 This Mini C2C Butterfly Blanket is a beautiful addition to any room! It looks amazing draped over the back of a couch, chair, or bed! It is colorful yet subtle and is sure to become a favorite blanket in your household! If someone in your life loves butterflies, then they'll absolutely adore this one-of-a-kind blanket. The mini c2c crochet technique uses only half double crochet stitches to create the mini c2c squares. This project uses self-striping yarn to create a unique look. It will be perfect to wrap your little one in. It is soft and cuddly and has just the right amount of bright colors to make it doable for a boy or a girl. It's sure to delight!
Crochet Brooch Butterfly With Embroidery:
The butterfly has many dimensions, so it is beautiful. This brooch is also designed with many colors and effects that make you look more stylish. You need a purple butterfly that is lighter in color, and you can also add beads if you want to make it look better. Most people love butterflies. This can be a great gift to your loved ones. Giving this symbolizes a new life and new beginning, it will surely bring the recipient joy.
In the winter days, when the Christmas season is near. Some you want sunshine and pleasant summer days, but if you make butterflies then no need to think about the spring and summer seasons because you can enjoy in winter.
Butterfly Applique Free Crochet Pattern: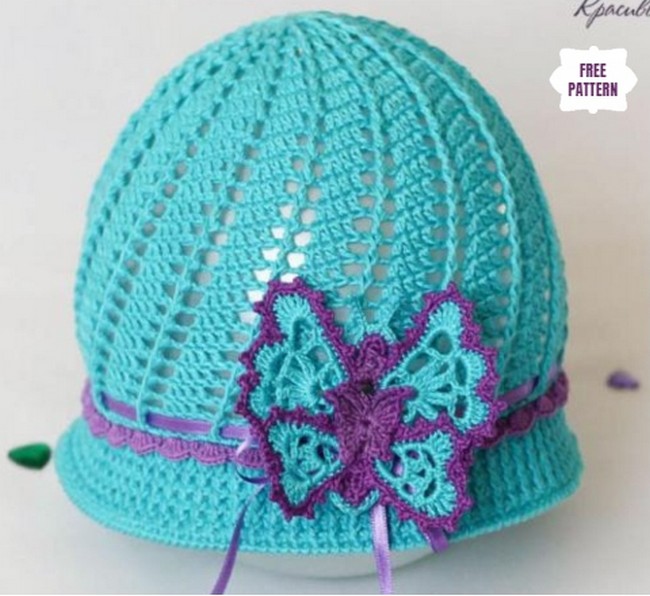 A simple way to embellish almost any crochet project is with an applique. Appliques are super easy to crochet and are a great way to personalize your crochet items with very little work. You can add a lot or a little, or even change the colors to suit your project. This pattern uses a fun chain stitch to create the butterfly wings, and it has only 2 rounds! This is a beautiful butterfly, and you can use it as a brooch, or to decorate a key chain or a mirror. You can also add these butterflies to your afghan squares.
Crochet Butterfly Pattern: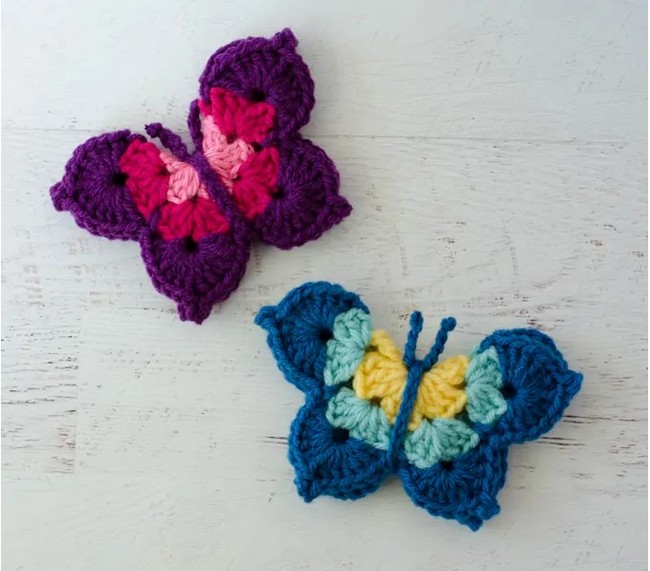 Transform your wall decor with Crochet Butterflies. You can crochet butterflies using different colored yarns. They look very cute on the wall of the bedrooms. You can also make a garland by making these butterflies and hanging them on your balcony doors. They give an appealing look to your home. These butterflies are easy to make with some simple stitches, and you will enjoy making them with so much fun. You can make a whole pack of them to decorate your child's bedroom and restyle them for festive occasions by just changing the color. These butterflies are quick and easy to make and look great in multi-colors!
Butterfly Crochet Dishcloth:
This Butterfly Crochet Dishcloth pattern is a great choice for your kitchen setup. The bright color of this dishcloth looks very pretty to increase the beauty of your kitchen as well as it will make a stronger and softer feel during your use. Besides, it is so easy to crochet that you can complete it in an hour or two. Most importantly, this pattern comes with a video tutorial to make it easier for you. Imagine the peaceful feeling of this beautiful butterfly anytime, anywhere in your home. This elegant crochet dishcloth is also a perfect gift for any occasion! Perfect for all occasions, this will add style and sophistication to any kitchen setting.
Amigurumi Butterflies Pattern: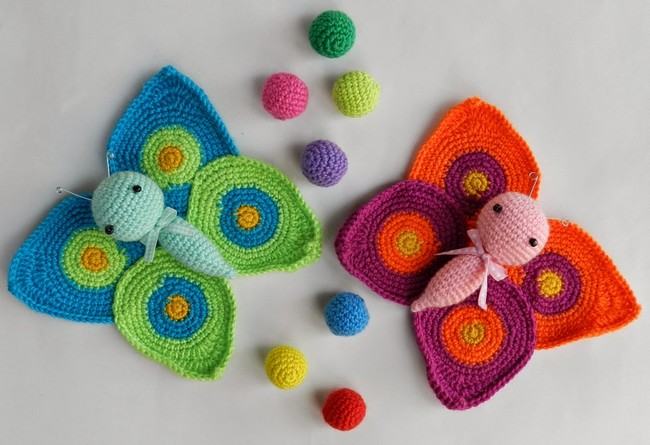 Butterflies are some of the most beautiful and magnificent insects in nature. A crochet butterfly pattern that is easy to make, these are not too big or too small, but just the right size for a little pay attention. Such an easy pattern for you if you want to make a gift for someone or give some favorite items at a party. You can attach them to hair clips or headbands, glue them to picture frames, and make them into magnets, or garlands. They are also great toys and perfect as decorations in your child's room.
Crochet Butterfly Lovey: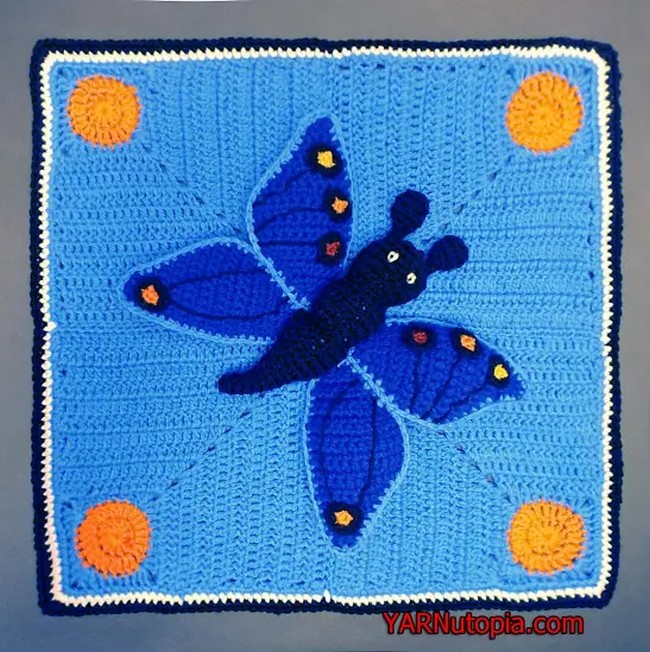 Make your child happy with this beautiful Butterfly Crochet Lovey! It's perfect for snuggling and super soft. Your kids will love having this butterfly crochet pattern in their backpacks or on their beds. This crochet handmade product is a crochet butterfly, Dragonfly made from cotton yarn. This beautiful dragonfly or butterfly will be a great gift for any occasion and makes a beautiful decoration for your home. All my butterflies and Dragonflies are made in a smoke-free home. It is a soft, and wonderful accessory for any nursery and baby gift! Snuggle your little one safe and warm in this darling cocoon!
Crochet Butterflies Pattern: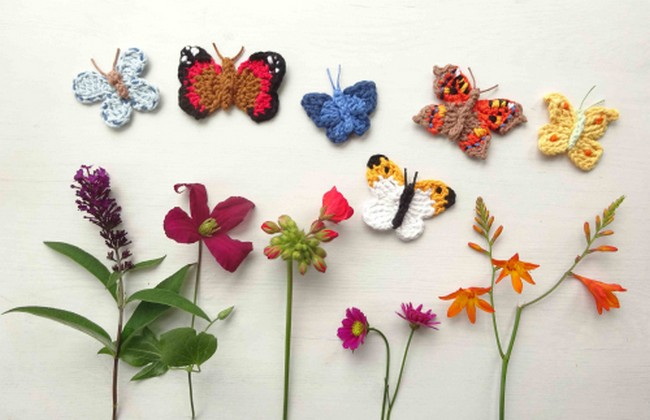 Make a cascade of colorful butterflies to decorate around your house. Use them as a mobile or to hang in a window, put one on your favorite lampshade, or use several to create a centerpiece for your dinner table. This colorful pattern can be easily adapted to just about any size yarn you have on hand by simply changing the size of the crochet hook you use. The butterflies are worked from the outside in with no sewing needed! Not only does this pattern give you full instructions for sizes-small, medium, and large, it also includes photos and tips for creating your own style by combining any or all of the elements of each size butterfly.
Butterfly Applique Pattern: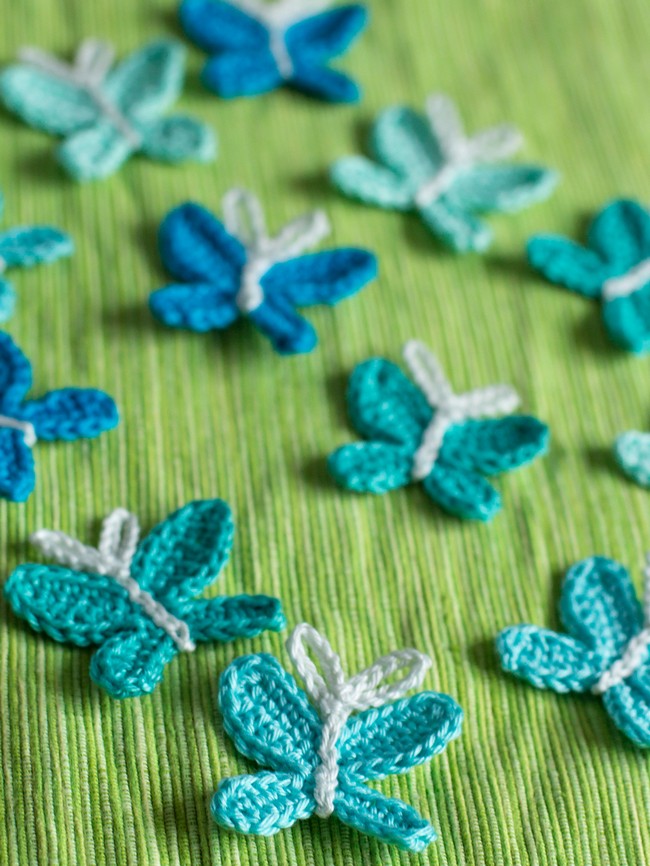 The Butterfly Applique Pattern is a great addition to any project. This beautiful butterfly applique can be used in so many ways! Attach it to a book bag or backpack, glue or sew it onto a headband or hat. It has long been a mainstay in fashion, art and craft. Nowadays, you can buy one off the rack but why not create your own? Get tips and ideas on how to create your own butterfly applique. Crochet butterflies are cute and fun to create, you will want to crochet a butterfly in every color of the yarn imaginable with this free butterfly crochet pattern.
Crochet Butterfly For Granny Square New Skills: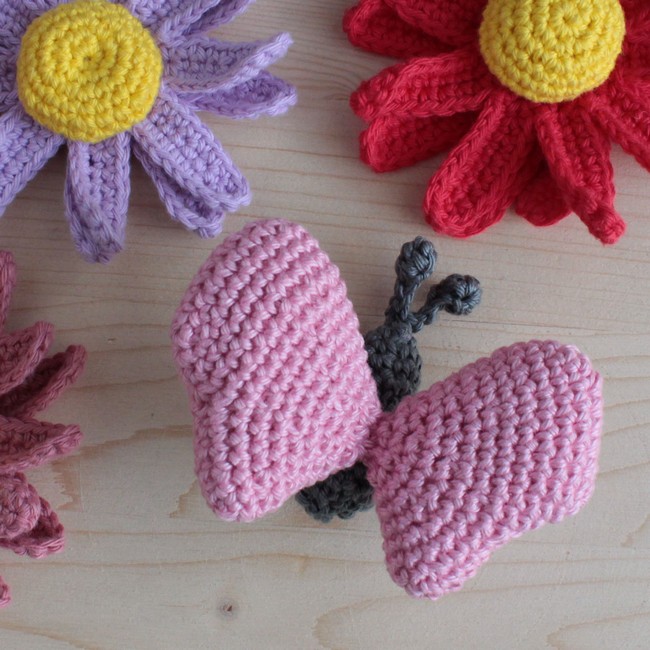 This butterfly project is really easy to crochet. It will be a perfect project if you are a beginner. You can learn the basics of crocheting by crocheting this elegant butterfly. You can change the color if you want. It will increase the beauty of your home. And it will be a perfect project if you are a beginner. You can learn the basics of crocheting by crocheting this elegant butterfly. You can also change the color if you want to improve the beauty of your home.
Crocheted 3d Butterfly: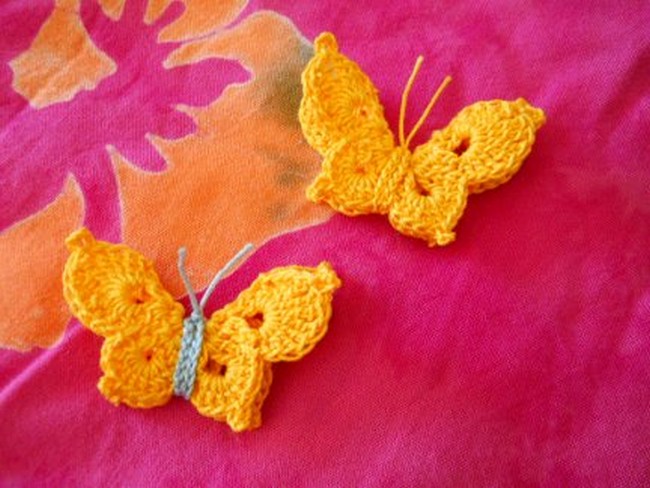 Add a perfect pop of color to your home or room by trying this method. You just have to need cotton yarn, hooks, and some basic techniques. They will add color to your room or kitchen and they are super easy to crochet. This butterfly is made in the shape of a real butterfly. So, it is attractive for kids and you can use this for decoration. It's easy to make and complete in a few minutes. You will always be happy to have this beautiful butterfly with you.
Crochet Little Butterflies: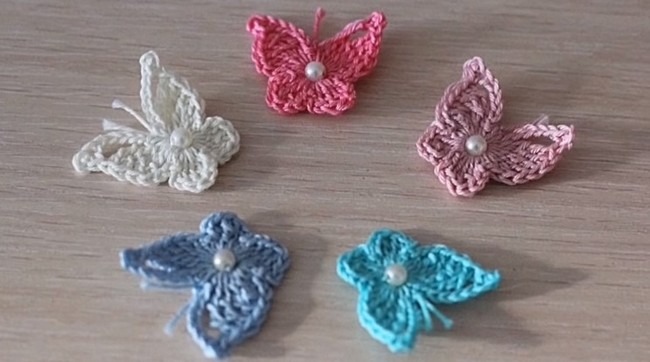 Learn how to crochet these lovely butterflies that can be used to decorate your bag or backpack. Crochet these cute butterflies and use them as you want. You can add appliques to your clothes and accessories. Also, you can add these cute butterflies to your daughter's school bag or on clothing and make her happy. Crocheting these tiny butterflies is easy and doesn't need many supplies and yarn. Find some free time and crochet as many as you want!
Butterfly Keychain:
Keep your keys safe with this gorgeous butterfly keychain which is both vibrant and full of character. Carry this cute little butterfly with you to remind you of summertime. This butterfly is crocheted with fine cotton thread. Customize it with either a gold or silver lobster clasp and loop. Ideal for use as a keychain, bag charm, purse charm, necklace pendant, and more! It's a clever idea for both keeping your keys safe and pleasing the eyes, and it makes a great present too!
Crochet Mini Heart Butterflies:
Crochet these tiny cute and easy Heart Shaped Butterflies. This handy little crochet pattern is perfect for applique, home decor, hair bows and more. You can make a whole bunch of these tiny crochet hearts to adorn your accessories and home decor! These mini heart butterflies are a great way to add a touch of spring to your home decor. You can add wings to any of your projects - make hair clips, brooches, statement ornaments, and decorations.