20 Crochet Boho Patterns You Must Try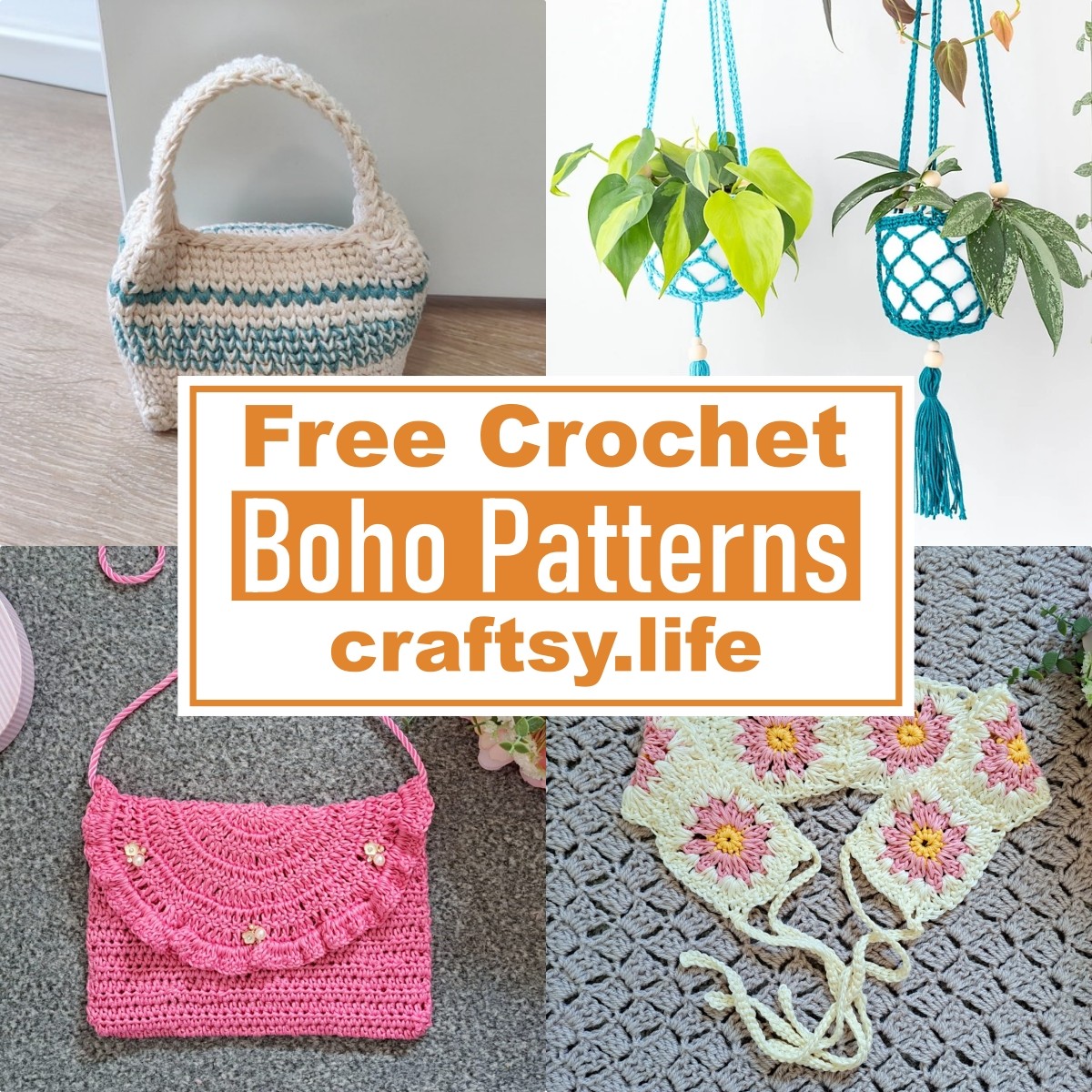 Crochet is a craft that allows for a high level of customization. It's also hugely versatile, allowing crafters to create their takes on traditional crochet stitches. But if there's one thing that defines the crochet style, it's boho. The free-spirited boho style can use various techniques and materials to make loosely structured and open pieces and often feature vibrant colors or bold prints. In this roundup, we've collected some unique boho crochet patterns that embrace the graceful flow of the craft while incorporating the vibrant colors or patterns we've come to expect from boho designs. Whether you're looking for an alternative to your usual crochet projects or adding your unique personal touch to your home decor, these below pieces are guaranteed to make you look at crochet in a whole new way.
Free Crochet Boho Patterns

Crochet has always been a favorite hobby, and the boho style is very popular. It can be hard to find patterns for this style, so we put together a collection of some Crochet Boho Patterns that you can use to make whatever you want in this popular style. So, If you have always wanted to learn how to crochet or need some inspiration in creating your pieces, here are free boho patterns that can help you get started:
Supplies Need For Boho Crochet Patterns:
Crochet Boho Patterns are so popular today and for a good reason! They are beautiful and make a wonderful addition to your home decor. However, if you want to get started with your own Crochet Boho Patterns, you will need some supplies. The following is a list of supplies needed for Crochet Boho Patterns:
Yarn:

 You can use any yarn that works well with the pattern. Some people prefer cotton or wool, while others prefer acrylics or other synthetic materials.  

Hook:

 The hook size depends on the material you use and how big or small you want your finished product to be. For example, if you use thinner material such as lace-weight yarn, then a smaller hook will work better than if you were using bulky yarn like worsted-weight yarn.

Tapestry needle:

 A tapestry needle is used for weaving in ends and attaching items like fringe or tassels etc… It also works well for sewing pieces together, finishing seams, etc…
Crochet Boho Mug Rug Coasters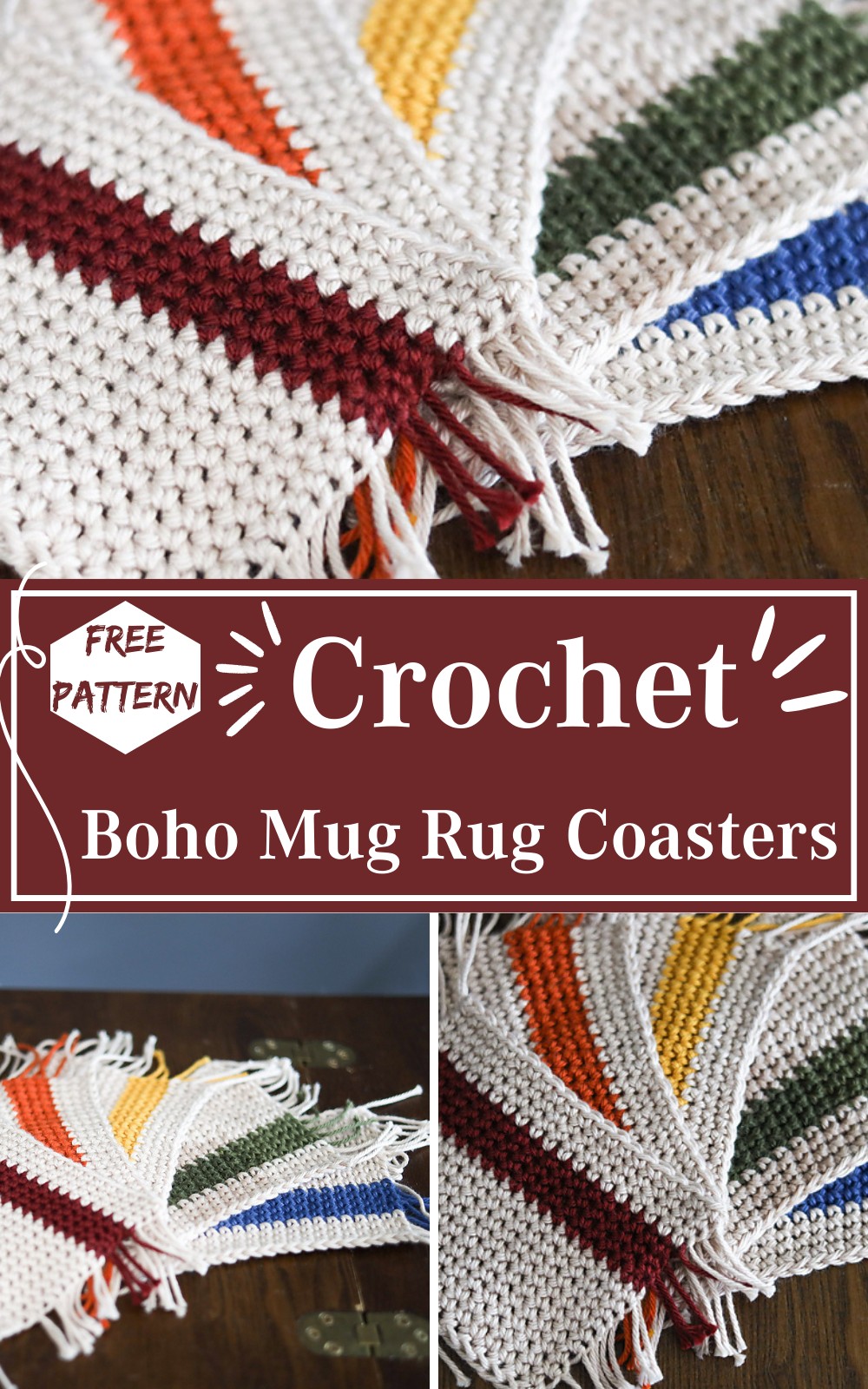 Check out these adorable oversized coasters! They are highly functional, protect your surface's most charming, and add a boho touch to your space with their long fringes and a color stripe on one side. It uses simple lines of single crochet stitch worked in one direction, creating a beautiful, sturdy coaster for your home with no ends to sew in. Choose your favorite color and begin the process of creation.
Crochet Boho Flower Hairband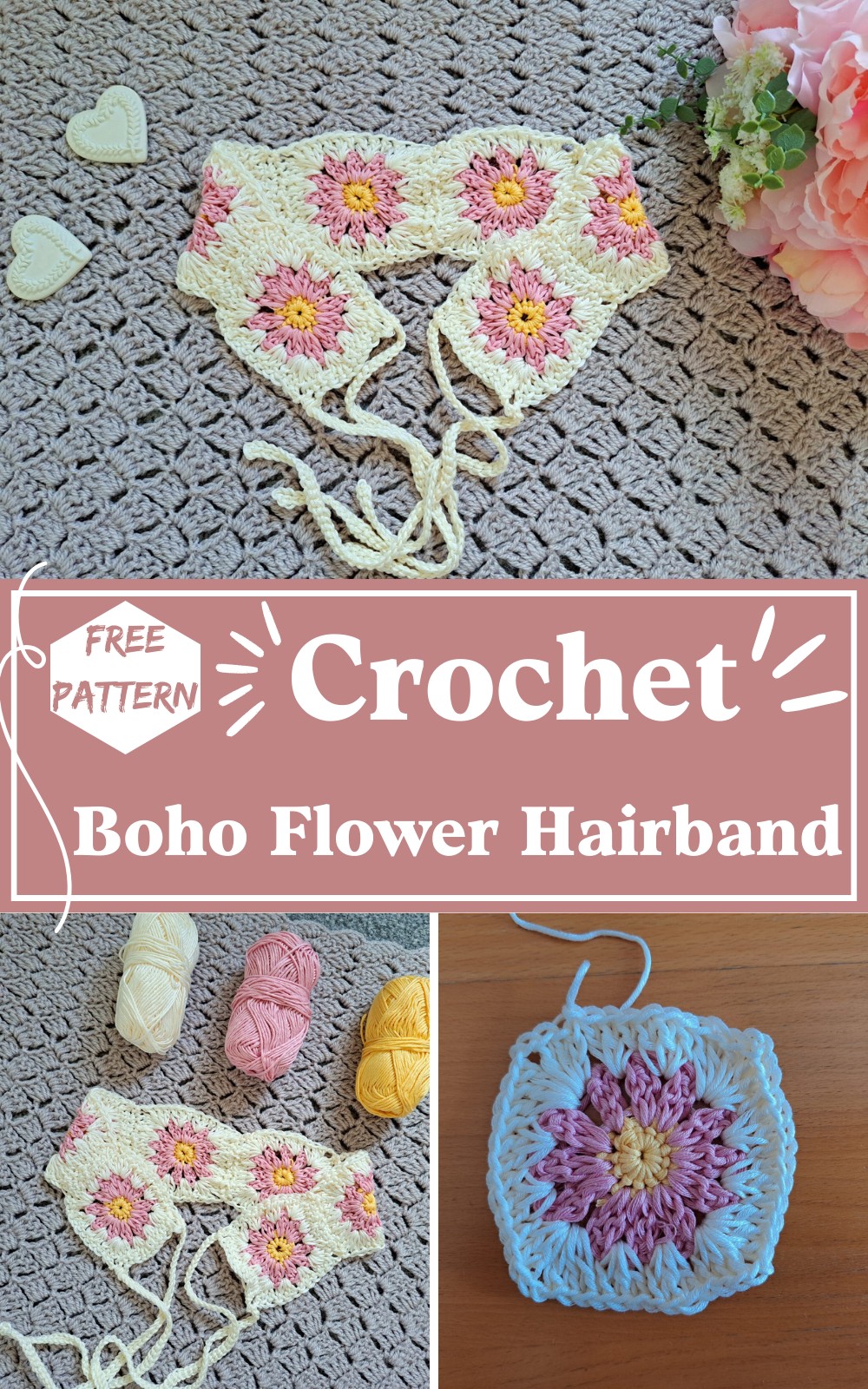 Complete your look for any summer party or get-together with this beautiful crochet headband, highlighting the delightful flower granny square. Ideal for those who love boho-inspired accessories, this hairband showcases your creative spirit and sense of fashion. It's lightweight and has convenient strips for secure placement on your head. Click on the provided link to discover a flower granny square Boho bag. It's a perfect choice to make a bag completing this headband!
Crochet Boho Festival Bag
Simply swing this crochet bag on your shoulder, and you are ready to go! The crochet bag has a circular textured flap closing the mouth of the bag and is adorned with sparkling beads creating a perfect boho vibe. Made in two distinct feminine color hues, this bag offers ample room for essentials such as a small pouch and mobile phone. So, consider making this versatile crochet bag for either professional use or any other occasion.
Crochet Boho Rainbow Wall Hanging
Add a pop of color and texture to your space with this colorful crochet rainbow wall hanging. The design shows a rainbow-like pattern, featuring a row of unique bobbles and long fringes, giving a true boho aesthetic. This cheerful crochet pattern makes a great gift for a friend or family member, and you can easily customize the colors to suit your tastes.
Crochet Boho Plant Hanger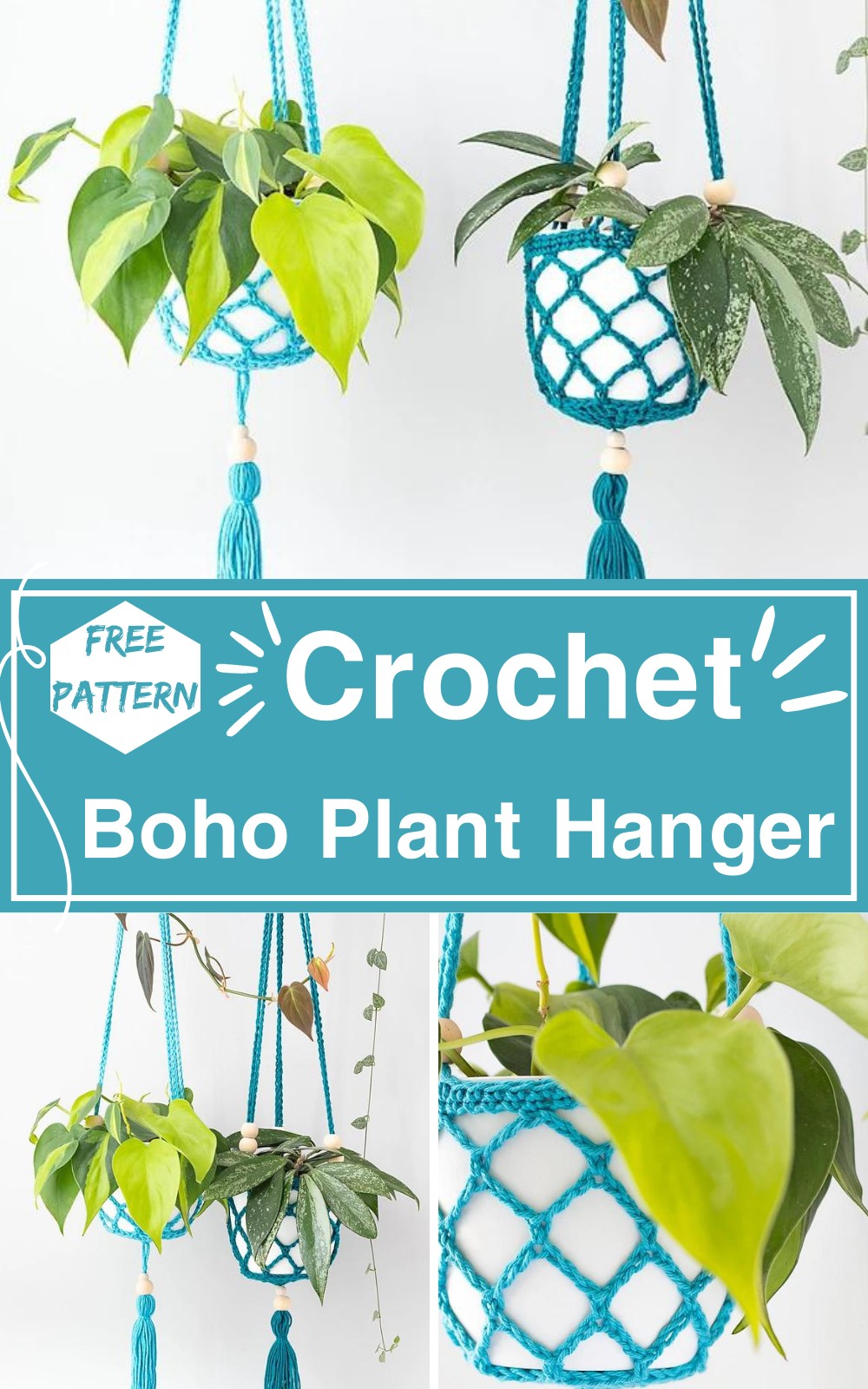 Liven up your space with this crochet plant pot. A simple pattern of stitches and chains forms an inviting, diamond-like mesh design. It further uses retro elements such as wooden beads and a graceful tassel to amplify its boho allure. The hanging planter can house 4-5-inch pots made from worsted-weight cotton yarn. When paired with a philodendron brasil, the planter exudes absolute cuteness.
Crochet Modern Boho Granny Blanket: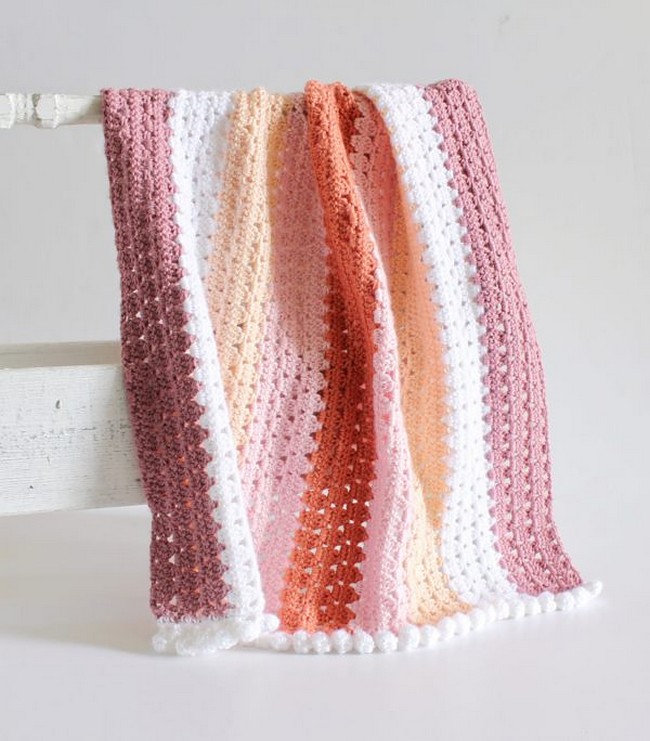 The Boho Granny Blanket is a modern crochet pattern for the crocheter looking for something new, easy and cozy. This is a great project for beginners because it uses basic stitches, such as the single crochet stitch and chains. The finished blanket is pretty and can be easily adjusted by adding or removing rows to your liking. This beautiful warm blanket is quick to make and a great introduction to crochet. It's super cozy and looks great on your couch or as a throw in your car. It works up quickly and makes a great gift!
Materials
Caron Simply Soft (100% acrylic, 170 g/6 oz, 288 m/315 yds)
1 skein each Plum Wine, White, Light Country Peach, Soft Pink, and Pumpkin
Size H/5.00mm hook, scissors, tapestry needle
Abbreviations
SINGLE CROCHET (SC): 

Insert your hook, yarn over (YO) and pull up a loop, YO, pull through two loops.

DOUBLE CROCHET (DC): 

YO, insert your hook, pull up a loop, YO, pull through two loops, YO, pull through the remaining two loops.

DOUBLE CROCHET 3 TOGETHER (DC3TOG): 

*YO, insert your hook, YO, pull up a loop, YO, pull through two loops. Repeat from * over the next 2 stitches, YO and pull through all loops on the hook.

DOUBLE CROCHET 5 TOGETHER (DC5TOG) CLUSTER: 

*YO, insert your hook, YO, pull up a loop, YO, pull through two loops. Repeat from * 4 more times, inserting the hook into the same space. YO and pull through all loops on the hook.
Boho Sunflower Coaster: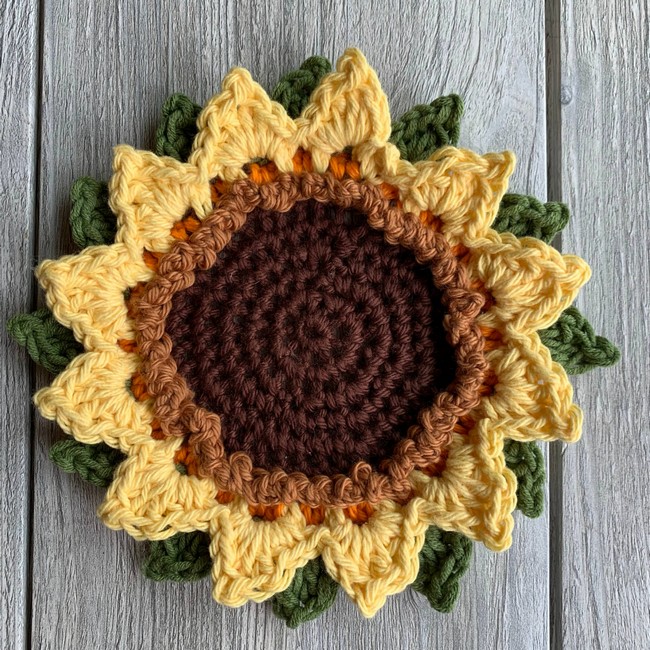 The crochet sunflower pattern is a decorative coaster for your living room or drinks. The coasters are small and easy to make but can make your home decor stand out. This simple project can be completed in one or two hours and makes a beautiful addition to any coffee table or your home bar. This is a great beginner pattern for those ready to learn simple crochet stitches. So, Transform everyday drinks into something special with this easy crochet pattern for this beautiful boho sunflower coaster!
Materials
Hobby Lobby I Love This Cotton
1 skein each color
Glowing
Sage
Brown
Curry
Antique Gold
Hook
I/9-5.50 mm *
Abbreviations
rep:  repeat
rnd:  round
sk:  skip
sp:  space
sl st:  slip stitch
ch:  chain
sc:  single crochet
hdc:  half double crochet
dc:  double crochet
U Boho Bag:
This is a versatile crochet pattern to make your very own Boho Bag! The biggest boho-style bag ever! Very stylish and just like the ones used by the famous Rastafarians! This fun crochet bag can be worn as a shoulder, cross-body, or backpack. The bag has lots of room to hold everything you need while on the go! Great for traveling, work, school, or festival season! This is a perfect crochet project for beginner crocheters to tackle!
Materials
6 balls of cotton medium-weight yarn of about 600 yards
size g hook
2 stitch markers
Boho Fringe Coasters: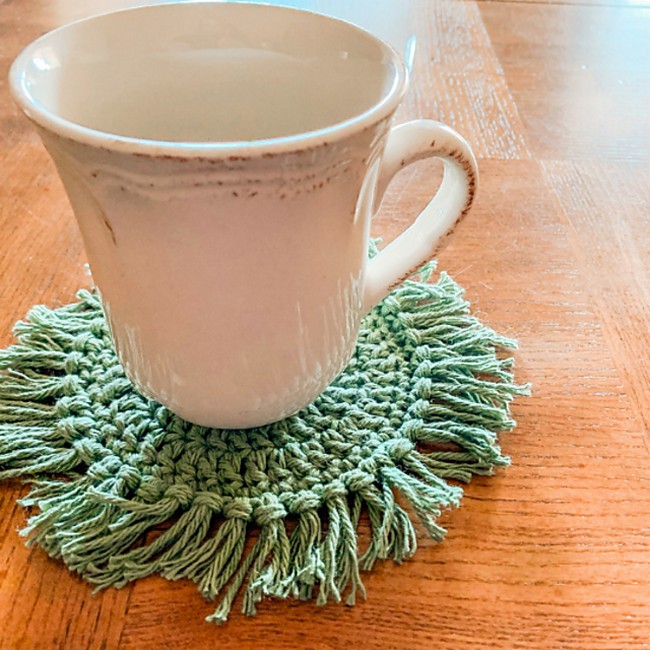 Get these boho fringe coasters for yourself or as a gift for a friend. You can make as many of these crochet boho fringe coasters as you'd like using the same pattern. And by following the simple step-by-step instructions, even if you are new to crochet, you'll have fun making them! This is a perfect crochet coaster for entertaining. Make fun of your coffee table or decoration for your home with this cool pattern. It makes a great gift, too!
Materials
1 skein Cotton Yarn ( I used Lily Sugar'n Cream Super Size Yarn in Ecru & Sage)
4 mm (G-6) Crochet Hook
Scissors
Ruler
Abbreviations
st – Stitch
ch – Chain
sc – Single Crochet
dc – Double Crochet
sl st – Slip Stitch
Boho Circle Bag: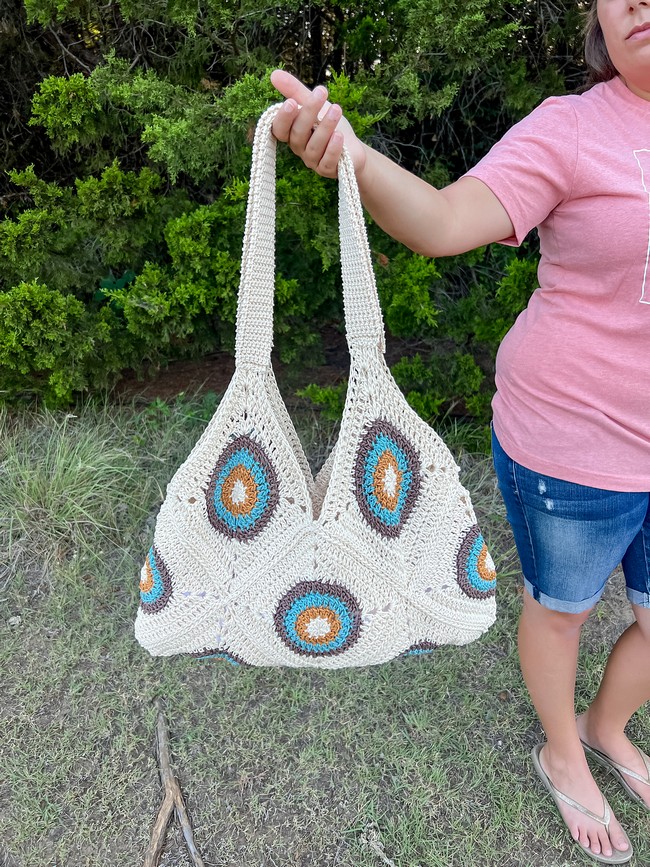 This Boho Circle Bag is easy, and you can use any yarn of your choice. This is a very popular pattern. It's beautiful and warm, perfect for cold winter days when you need to carry your kid's stuff while they are outside playing! It's a decorative bag! When you finish this crochet project, you will have a beautiful bag that you can use to carry or store things in. This includes written instructions, a beginner-friendly picture guide, and detailed photos to help you create this beautiful bag. This is the perfect pattern for an afternoon of relaxing crocheting or a quick gift!
Materials
Lion Brand 24/7 Cotton. 3 Skeins in Ecru, 1 skein each in Succulent, Camel & Cafe au Lait
H / 5.00mm Clover Armour Crochet Hook
E / 3.5mm Clover Armour Crochet Hook
Yarn Needle
Scissors
Abbreviations
ch = chain
st = stitch (es)
sl st = slip stitch
mc = magic circle / ring
blo = back loop only
sc = single crochet
dc = double crochet
sp = space
yo = yarn over
t = turn
Danica Boho Bag: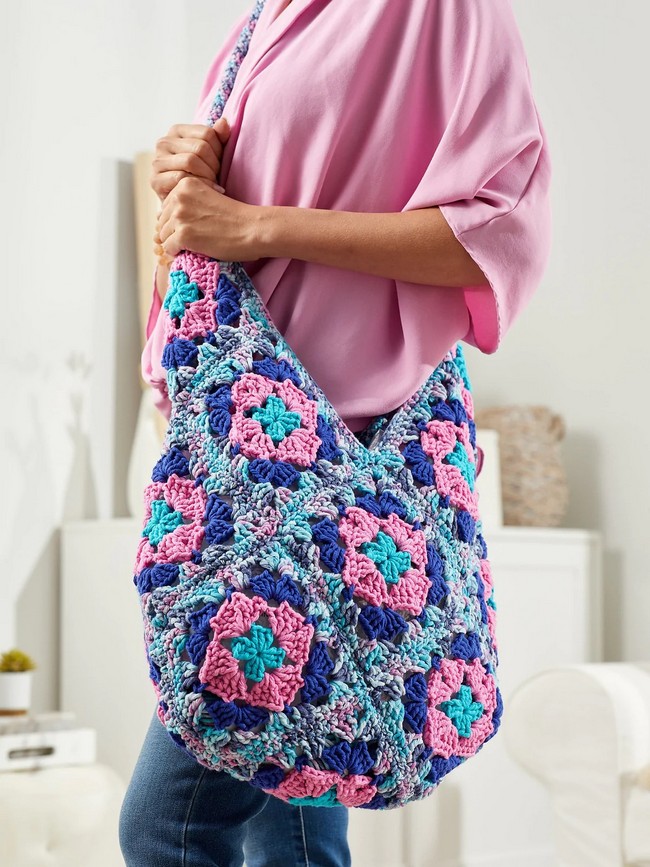 You'll love the look of this crochet bag; it makes a statement! Perfect for carrying your phone, makeup, and everything you need for the day. This Boho bag is lightweight and very sturdy. Its practical design, drawstring closure, and long strap make it the perfect everyday bag. The yarn used in this project is acrylic so that it can be machine washed and dried, but putting it in the dryer is not recommended!
Materials
Hook: US Size I-9 (5.5 mm) or size needed to obtain gauge
Notions: Tapestry needle, stitch markers
Gauge: Each granny square = 6½" square
Abbreviations
Chain, single and double crochet stitches.
Single crochet 3 stitches together.
Changing colors.
Seaming.
Working in joined rounds.
Boho Mug Rug: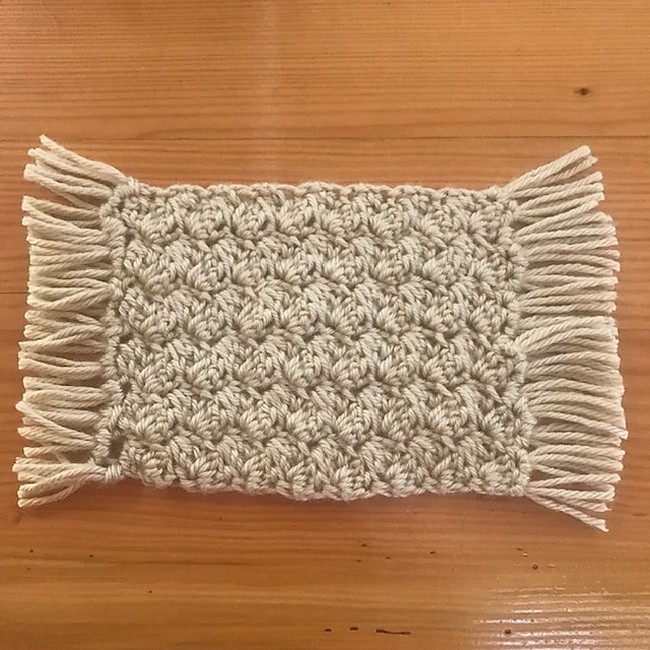 This crochet boho mug rug pattern is perfect for adding style, personality, and warmth to your home decor. This crocheted mug rug features a fun combination of double crochet rows, boho flair, and a beautiful color combination to add the right touch to your space. This beautiful boho mug rug can add a bohemian touch to your kitchen decor. This crochet pattern is easy to read and follow and does a quick project for beginners, but it is also advanced enough for any intermediate crocheter to create in a matter of hours!
Materials
Yarn: Category (4) Worsted Weight Yarn in any color you choose. I used Caron Simply Soft yarn in the colour Bone for my square.
Hook:  H-5.00mm
Notions: Yarn Needle, Scissors.
Abbreviations
Ch = chain
st = stitch
sc = single crochet
dc = Double crochet
Boho Caplet Shawl:
This Boho Caplet Shawl is a simple, easy-to-follow crochet pattern. It's perfect for the beginner crocheter or someone who loves a quick project. If you know how to single crochet, you'll be able to complete this pretty piece within a few hours – less than a day! Beautiful blooms and bright colors make for a stunning addition to any outfit. This is so easy to create you will want to make it in every color! The unique crocheted lace pattern makes it a stand-out piece in any wardrobe.
Materials
Color A: Scraps of Lt. Grey; Fingering Weight #1
Color B: Scraps of Lt. Blue, Fingering Weight #1
Color C: Scraps of Royal Blue, Fingering Weight, #1
Color D: Scraps of Ivory, Fingering Weight, #1
Color E: Scraps of White, Fingering Weight #1
Color F: Scraps of Peach, Fingering Weight, #1
Crochet Hook: 3.25mm (D)
Tapestry Needle
Abbreviations
FO = fasten off
MR = Magic Ring
bbl = Bobble
ch = Chain
ch-sp = chain space
dc = double crochet
rep = repeat
sc = single crochet
shell = shell stitch
sk = skip
sl st = slip stitch
sp = space
st = stitch
sts = stitches
yo = yarn over
Boho Diamond Bag: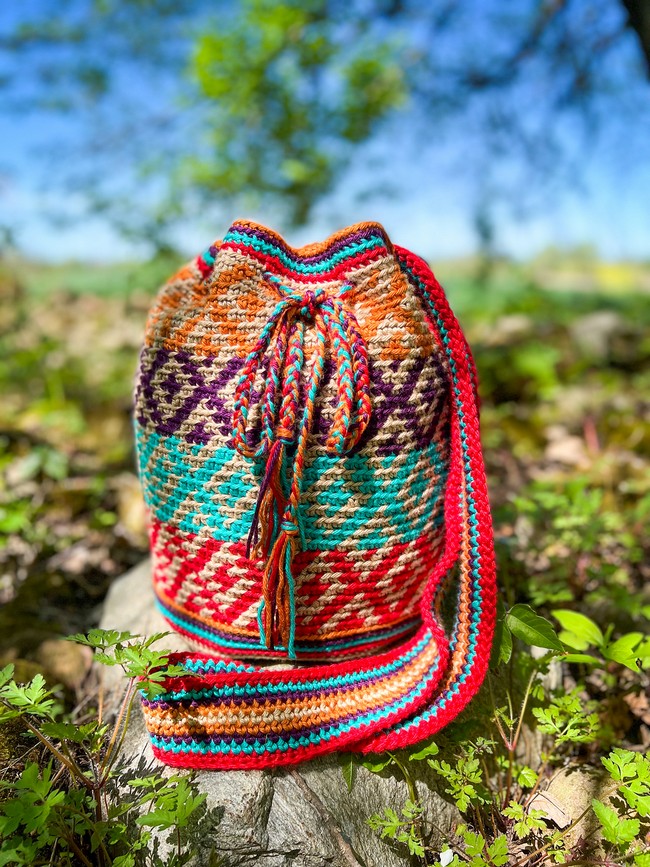 This crochet Boho Diamond Bag is a fun, stylish, and easy project for everyone. It's lightweight, perfect for the summertime! This pattern makes a perfect going-out bag or will look great as a beach bag or gym bag. It will hold toiletries, makeup, and all of your personal items. This pattern is perfect for beginners or novice crocheters because it uses basic stitches that can be learned quickly. Crafted with colorful yarn, this bag will look great with you through the seasons.
Materials
4.00mm (G6)  crochet hook
scissors
tapestry needle
stitch markers
Abbreviations
ch = chain
st/sts = stitch/stitches
sl st = slip stitch
blo = back loop only
sc = single crochet
Boho Door Stopper:
This Crochet Boho Pattern will give you a fun way to decorate your home. With this pattern, you can make a fun door stopper perfect for any house. This is an easy, fun, quick project for beginners or advanced crocheters. Great for gifting and decorating your home and yourself! So, Create this lovely crochet boho door stopper to add character and style to your home. This project works up very quickly with a Worsted weight yarn, perfect for those last-minute gifts.
Materials
– Crochet hook 6.0 mm / J (I love the Etimo and Clover Hooks).
– Worsted (#4) weight yarn – I used Lion Brand – 24/7 Cotton.

Total amount of yarn needed:

Color A (Ecru) – 180gr/306m/335yds
Color B (Jade) – 20gr/34m/37yds
** The pattern is worked with 2 strands held together
– Fiberfill for stuffing (or yarn scraps, old socks)
– Something heavy to put at the bottom (beans, small stones)
– Pantyhose for stuffing (optional)
– 4 stitch markers
Abbreviations
ch – chain
blo – through back loop only
st – stitch
sc – single crochet
hdc – half double crochet
knit st –  – work sc into the V part of the st, instead of the top of the st.
PM – place marker
Boho Color Block Baby Blanket: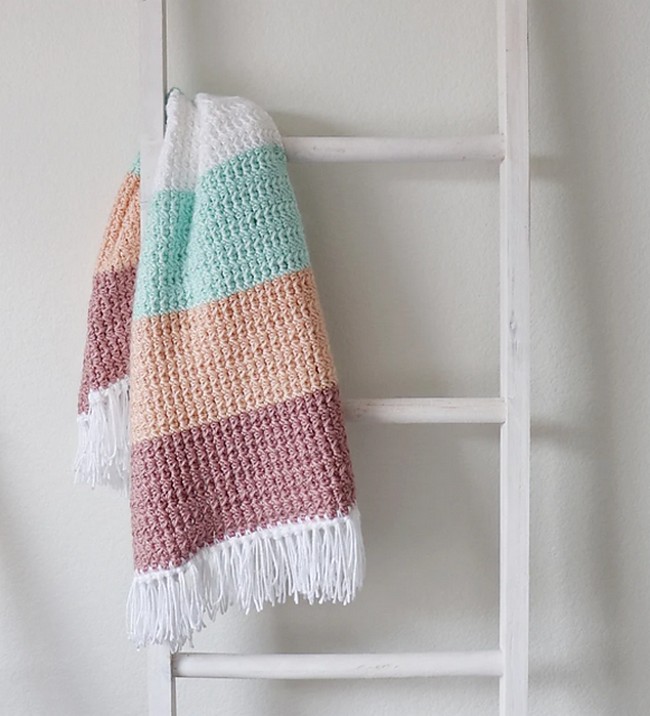 This crochet Boho Pattern adds color to any baby's room or nursery. This stunning blanket is easy to make, the texture is light and airy, and it can be used for many purposes like a picnic blanket, stroller cover, etc. The Color Block Crochet Boho Baby Blanket comes in this amazing color combo of blues, pinks, and oranges. This blanket is the perfect shade of comfort and coziness. It's the perfect baby or newborn gift for those who love to crochet. This blanket will make any little one feel loved and warm!
Materials
Caron Simply Soft (100% acrylic, 170 g/6 oz, 288 m/315 yds)
1 skein each White, Soft Green, Light Country Peach, Victorian Rose
Size H/5.00mm hook, tapestry needle, scissors
Abbreviations
SINGLE CROCHET (SC): 

Insert your hook, yarn over (YO) and pull up a loop, YO and pull through two loops on hook.

MODIFIED DAISY (explained in pattern below)
Crochet Boho Top:
Wear it as a top with leggings, or pair it with a pencil skirt for a cute boho look. This boho top crochet pattern contains detailed instructions, diagrams, and photos, with enough knowledge to make you confident in choosing what yarn and hook you want for the project. Crochet Boho Pattern is a stylish summer top with a vintage look. It's easy to create and looks gorgeous! You can make it in many colors.
Materials
Yarn:
Please feel free to use any 8/8 cotton yarn
Drops Paris Recycled

  

Denim 8/8 (light wash #100) – 2 skeins
Drops Paris Recycled Denim 8/8 (light blue #101) – 2 skeins
Drops Love You 8/8 (mint #09) – 1 skein +1/2 of the skein
Hobbii Rainbow 8/8 (petrol green #020) – 1 skein
Drops Love You 8/8 (lilac #16) – 1 skein
Drops Love You 8/8 (light lilac #17) – 1 skein +1/2 of the skein
Hobbii Rainbow 8/8 (yellow #054) – 1 skein
Drops Paris 8/8 (light yellow #35) – 1 skein +1/2 of the skein
Drops Love You 8/8 (apricot #19) – 1 skein
Crochet Hook: #5 (H)
Abbreviations
Stitches Used: ch – chain, sl st – slip stitch, sc – single crochet, dc – double crochet, tc-triple crochet, dtr-double treble crochet, crab stitch
Boho Wine Tote: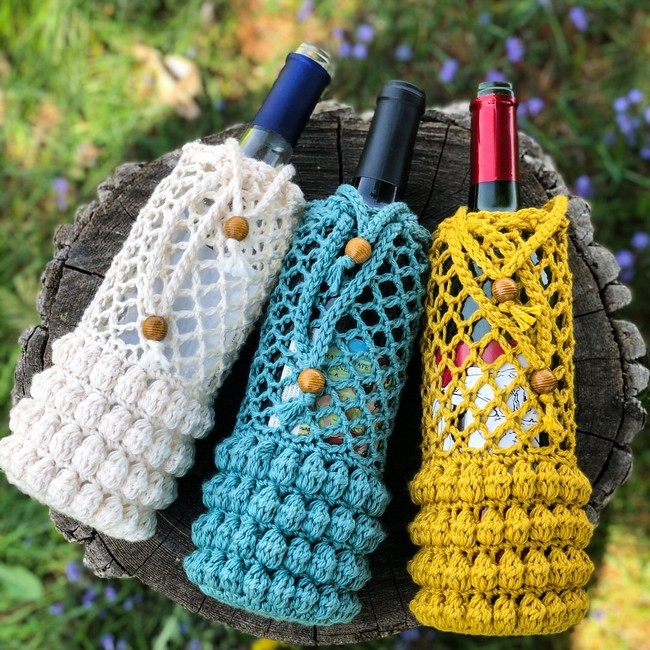 The Boho Wine Tote is perfect for wine lovers and foodies alike. With a simple stitch using single crochet, you can make this bag in no time! It makes a great gift or a treat for yourself. This bag is great for the wino in your life; it's also lovely as an everyday accessory. So, Crochet this pretty tote bag with the help of the below guide; it's simple to make and will become your favorite item in no time!
Materials
approx. 1.5 oz./100.5 g of Yarn Bee Sugarwheel Cotton (or other #3 yarn) G+ (4.5mm) crochet hook
Scissors
Tapestry needle
Beads with a 3mm opening
Standard 750 ml wine bottle
Abbreviations
yo = yarn over
sp = space
ch = chain
st/sts = stitch/stitches
sl st = slip stitch
sc = single crochet
hdc = half double crochet
bbl = bobble. You make a double crochet but stop before pulling through the last two loops. You make 5 'partial double crochets' to make a bbl. (note: bobbles are worked on the wrong side and "pop out" on the opposite (right) side).
Boho Heart Coasters: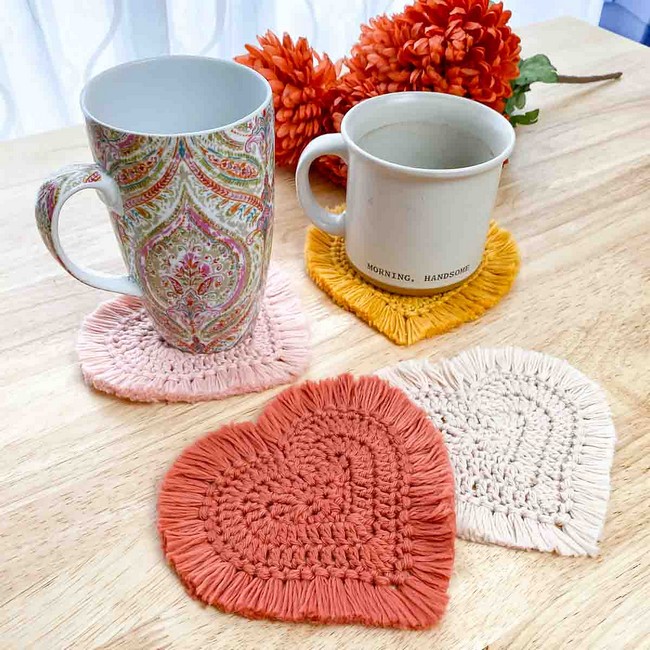 This very simple pattern produces the most beautiful, unique results. It's easy for beginner crocheters to try out and use as their first decorative project. You can make these cute boho-style heart coasters in an afternoon and gift them to your bestie or keep them as a set of two. They are so much fun to make and don't require much time! This set of heart coasters will add a touch of country charm to your tabletop. Use them at an outdoor party or place two on each end of your table.
Materials
US size 7, 4.5 mm crochet hook
I Love This Cotton (#4 Medium Weight cotton yarn 180yds/165m, 3.5 oz/100g)- Samples used approximately 0.4 oz in Antique Cream, Gold, Warm Blush, and Bruschetta
Abbreviations
ch(s): chain(s)
hdc(s): half double crochet
sl st: slip stitch
dc(s): double crochet(s)
tr(s): treble crochet(s)
st(s): stitch(es)
sc(s): single crochet(s)
sp: space
Boho Christmas Stocking: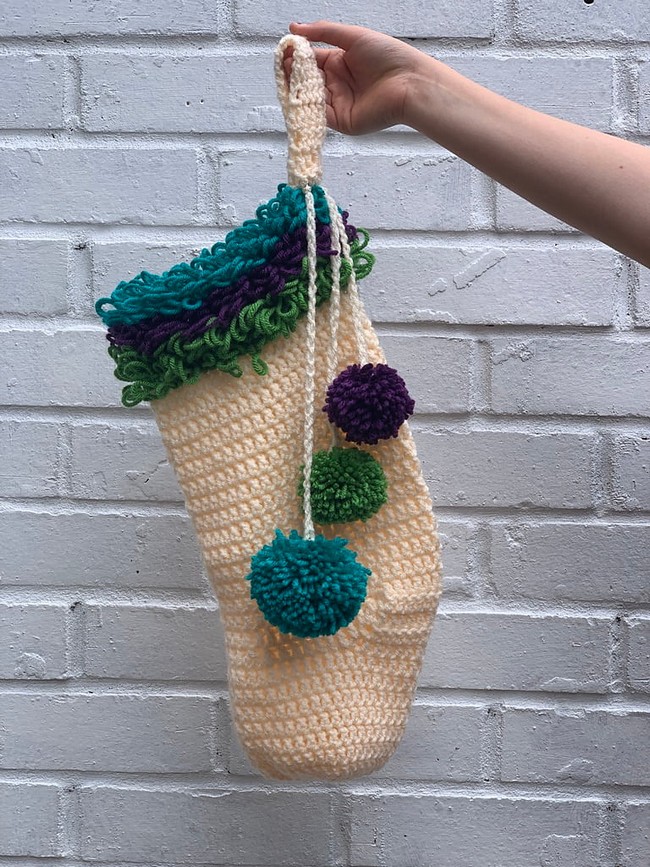 Christmas is a time for giving, but you don't want to forget about yourself! With this easy crochet boho pattern, you can create a beautiful stocking that matches your favorite outfit. Make several and spread them out around the house, or give them away as gifts! This stocking pattern is easy to make and works up quickly. Once you have crocheted one, you will be itching to make another!
Materials
Brava Worsted Wight Yarn, 218 yrds,/ 100g ball. 100% premium Acrylic
1 Ball Cream C28424
1 Ball Peapod C28443
1 Ball Marina C 28437
1 Ball Mulberry C28439
5.5mm Hook
Scissors
Yarn needle
4mm pom pom maker
6cm pom pom maker
Abbreviations
Half Double crochet
Double crochet
Loop Stitch
Chain