11 Free Crochet Halter Top Patterns For Summer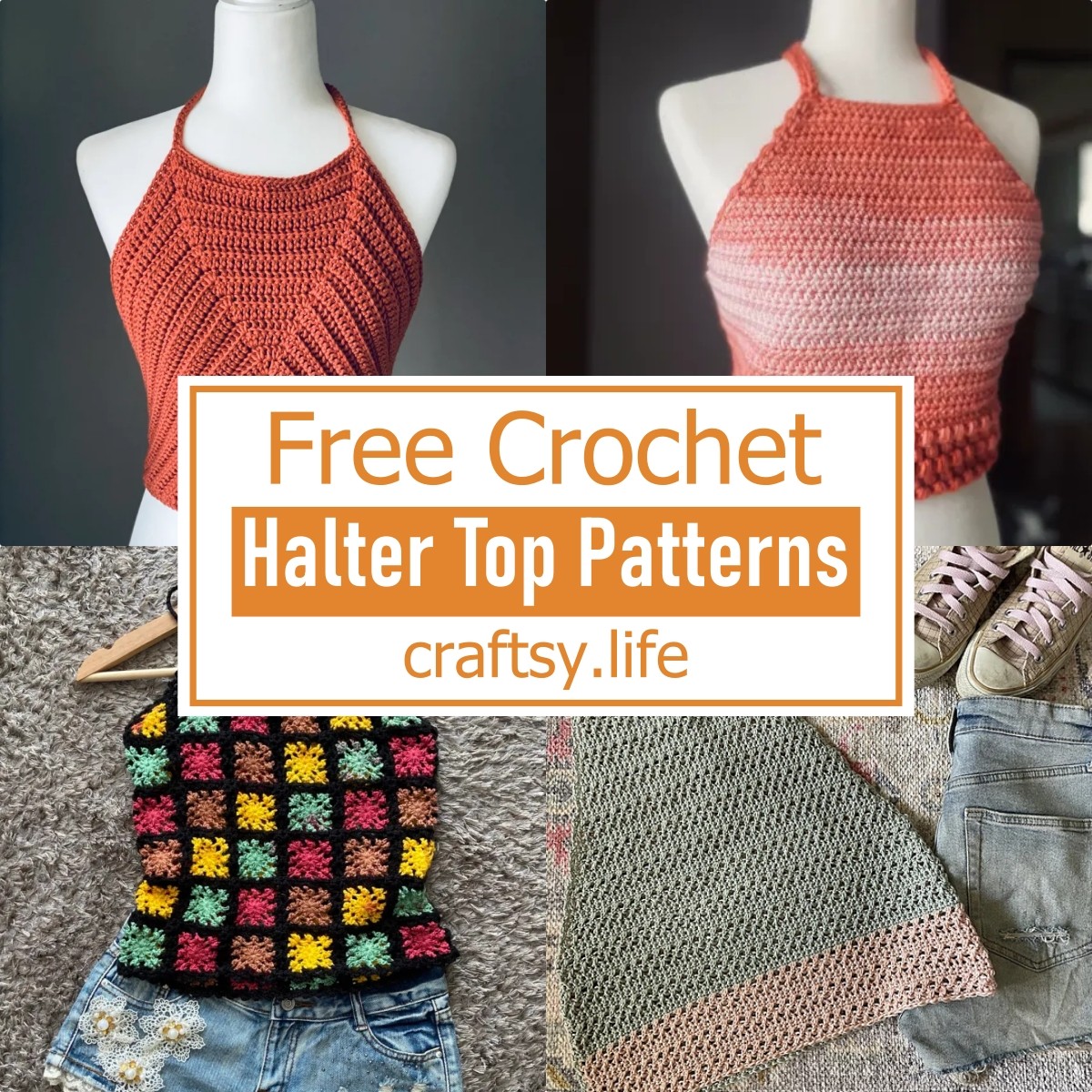 Crochet halter tops are so popular because they are easy to make, simple in design, cute on any body type, and can be worn by anyone. These crochet halter top patterns do the perfect project for beginners and advanced crafters alike. There are so many to choose from, so you could always make one for each summer day! We've included a variety of different styles and patterns for everyone. From crocheted tops to halter dresses, we have them all.
Crochet Halter Top Patterns

Summer crochet halter top patterns are a fun way to make anyone in your life feel more stylish and look amazing while they enjoy the warm weather. While the summer heat is not for everyone, those brave enough to stay in it know you can still get dressed up and look good. These summer crochet tops can be made with nearly any type of yarn, making this project perfect for anyone. They are also relatively quick projects, so you can make several and give them away as gifts or keep them yourself!
Some impressive summer crochet halter tops are designed to fit all body types. Choose from various styles, including tank tops with straps, tiered crocheted halters, and more! These patterns are accessible to beginner crocheters, and I hope you'll love them.
Crochet Halter Top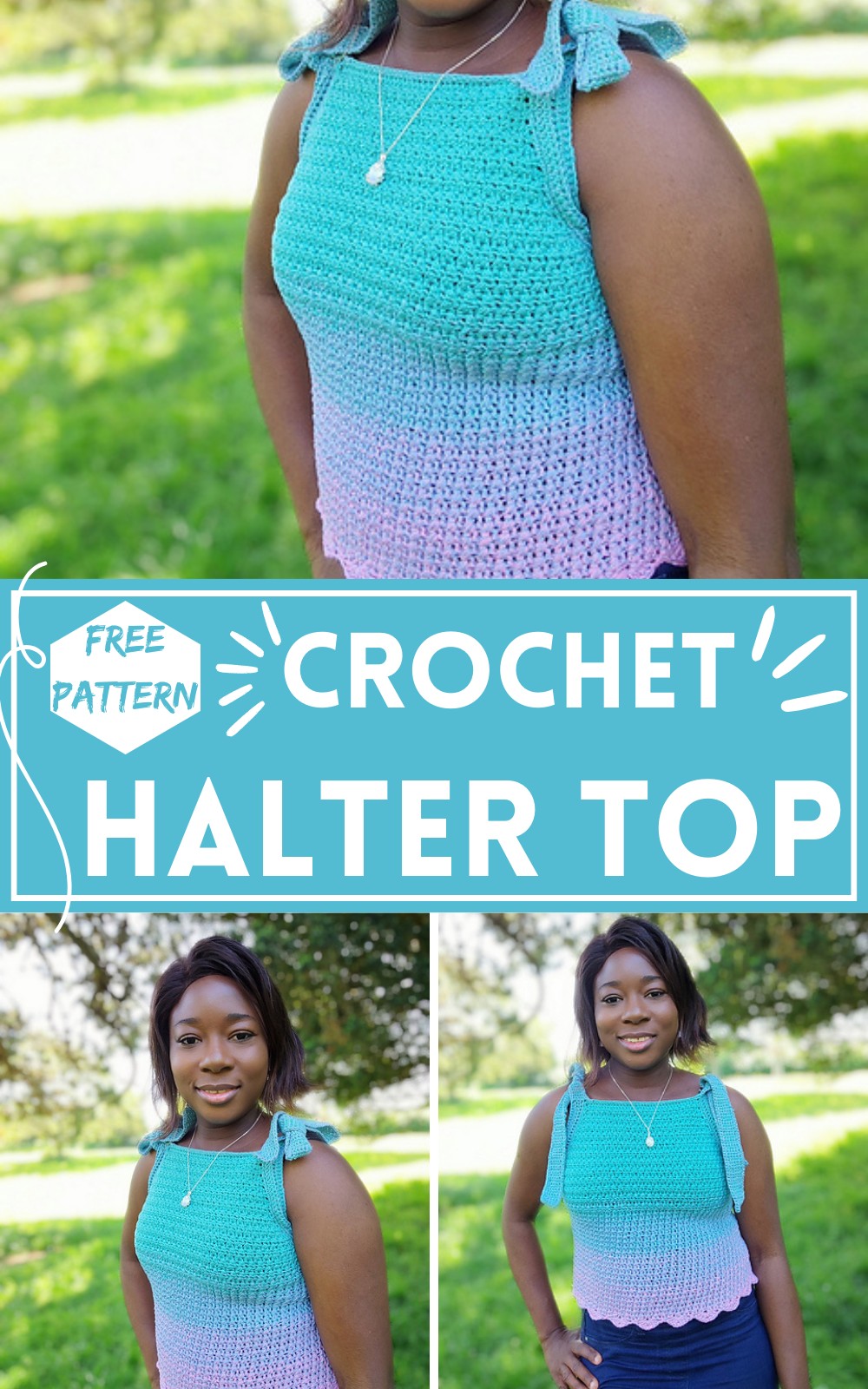 This halter top pattern is perfect for those seeking a unique blend of style and comfort. The Crochet Halter Top offers full chest coverage and an intriguing ocean-inspired color transition. The knotted shoulder straps add an interesting twist, while a lacey border finishes the design. Whether you pair this crochet top with a shirt or jeans, it's sure to attract compliments!
Crochet Roam Halter Top
Get yourself ready for summer parties and get-togethers with this crochet top. It offers full coverage across the bust and open back with adorable stripes fusing comfort with style. It uses simple half-double crochet stitches to make a thick upper pattern with transition and playful puff stitches, making a playful border at last. Plus, all it takes is less than a skein of yarn and a leisurely afternoon.
Crochet Granny Square Halterneck Top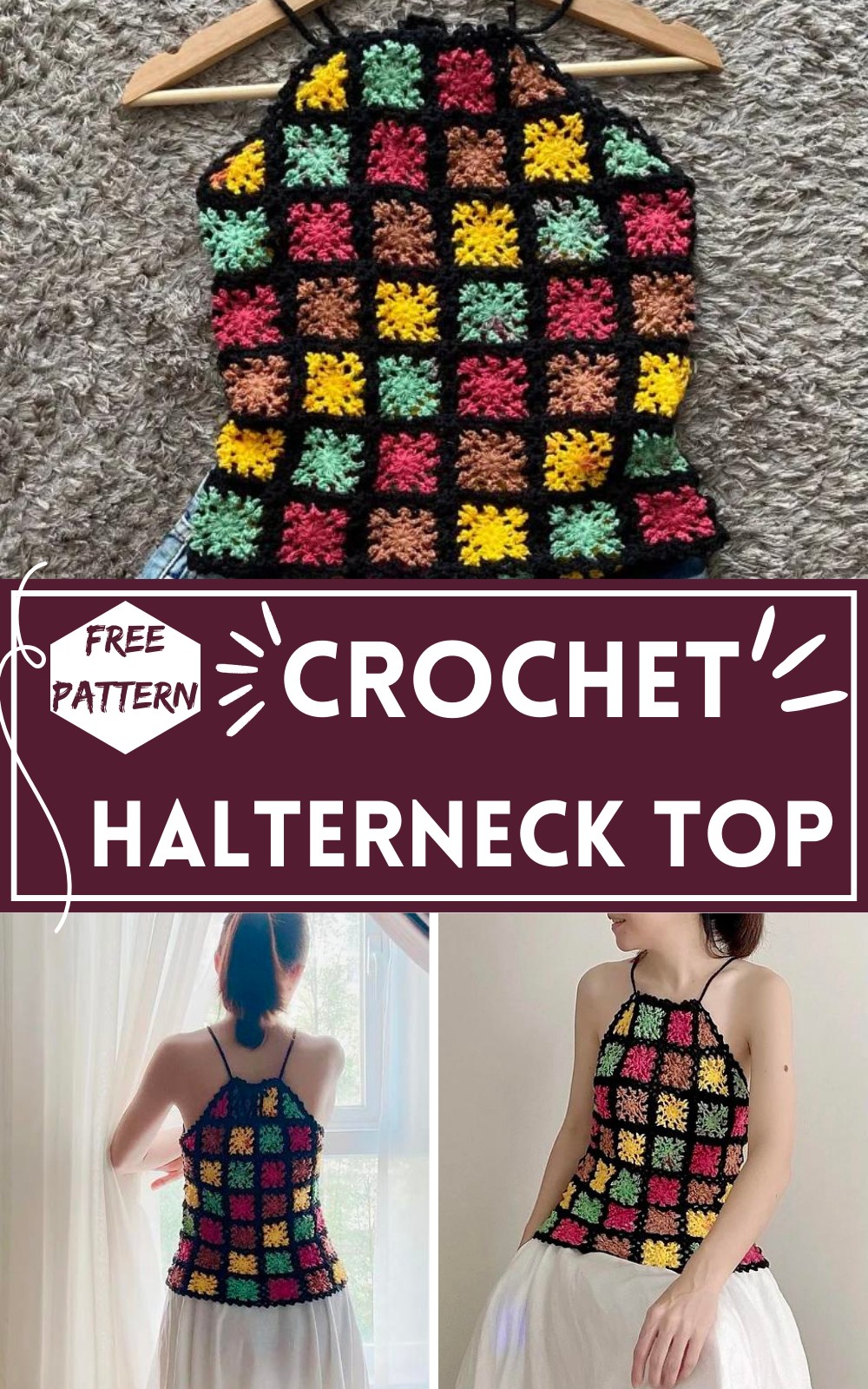 This trendy piece is crocheted using snowflake-designed granny squares in various colors, ideal for embracing summer vibes. It has a halterneck with no sleeves that combines style and comfort effortlessly. You can use different yarn weights or hook sizes to adjust the top size. Alternatively, adding more square rows can easily make it larger.
Crochet Little Grace Halter Top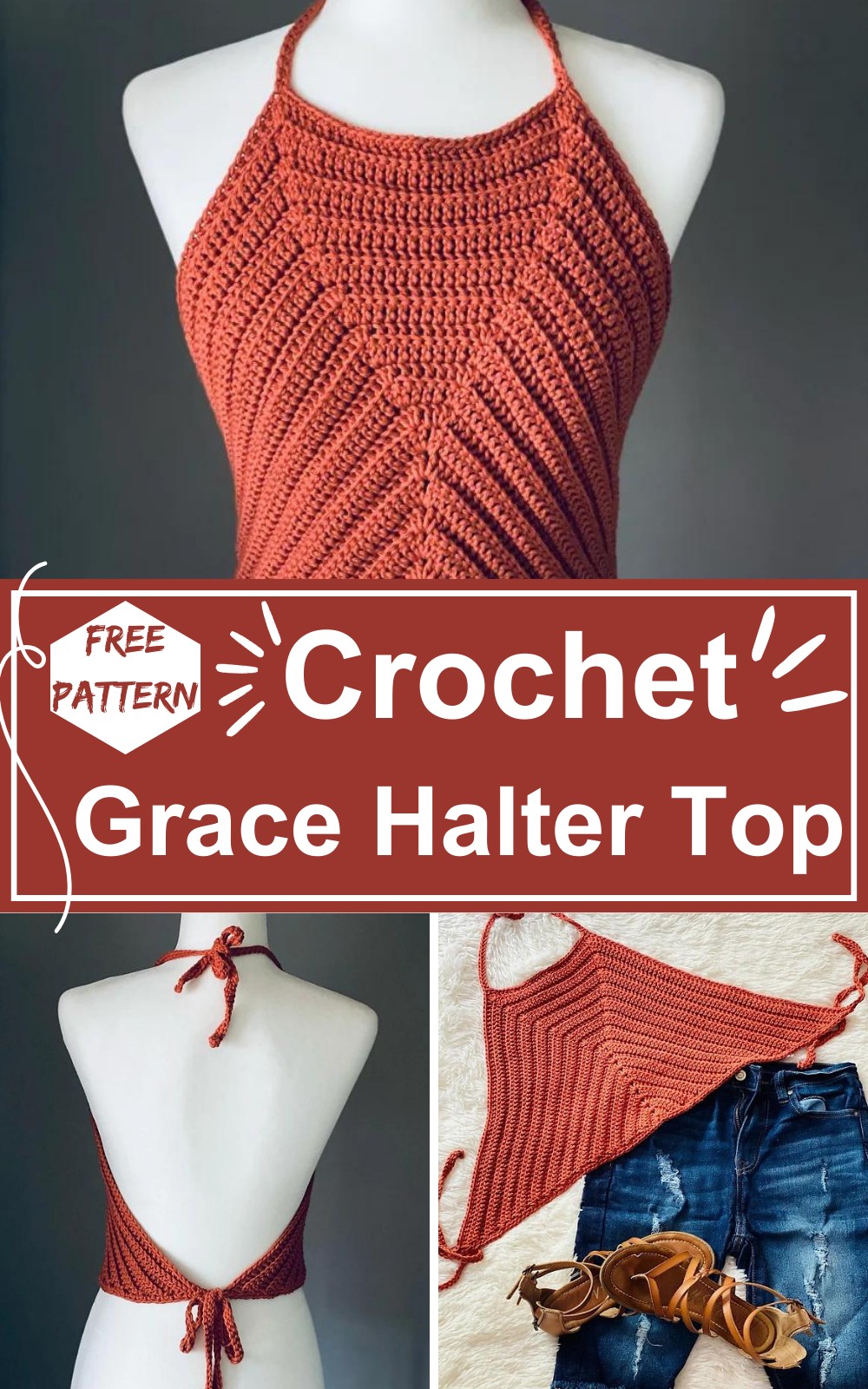 This halter top is perfect for any style, whether classic or daring! With easy double crochets in the back loop and a faux V-neck, it offers an eye-catching texture without losing coverage. The halterneck and waist ties ensure a great fit for sizes XS to XL. Ideal for advanced to beginner crocheters, this crochet top is a summer essential!
Crochet The Harlow Halter Top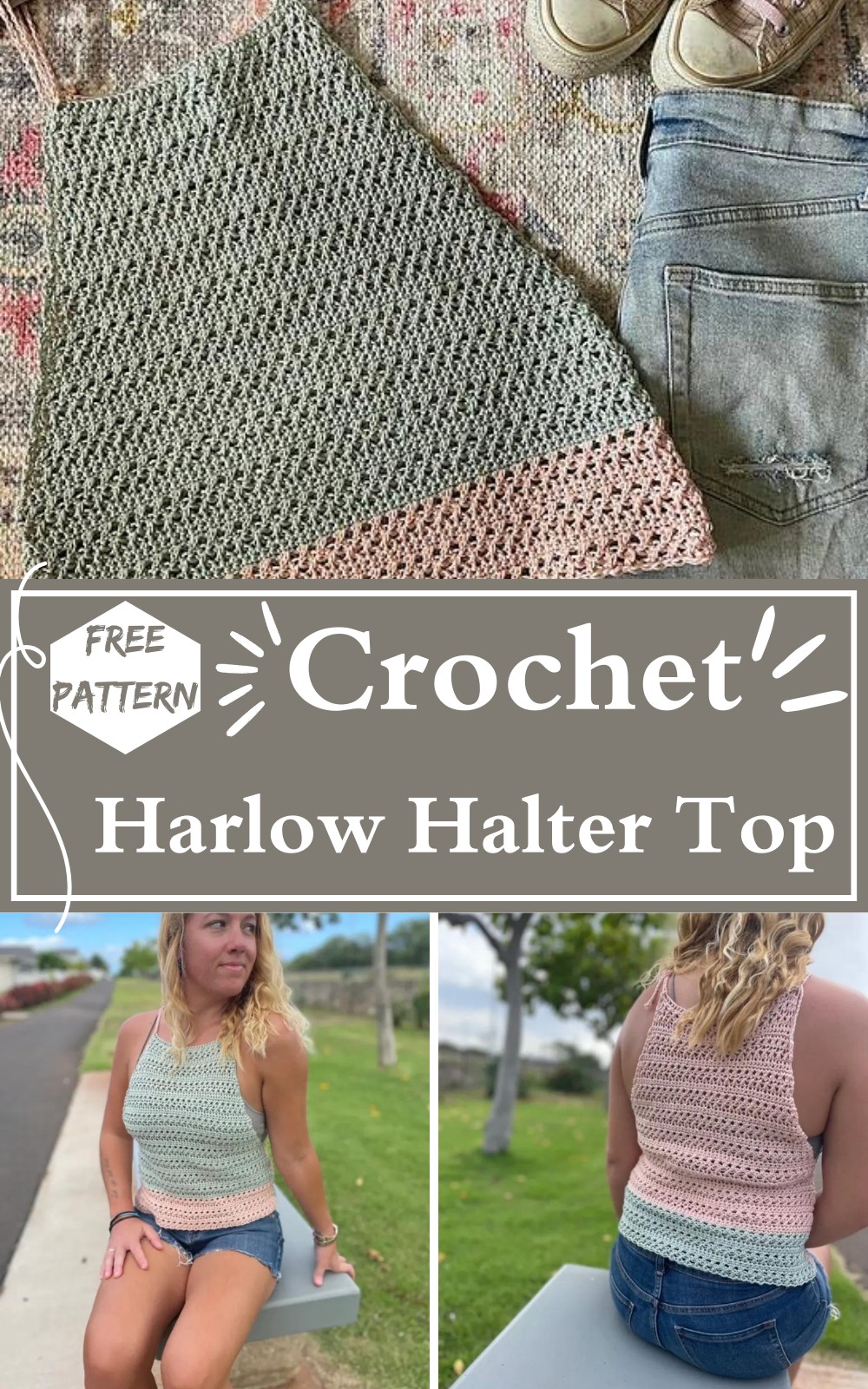 Infuse summer outings with fun, fashion, and flexibility with this amazing halter top. The crochet top is made using two straightforward panels, utilizing beginner-friendly stitches. The design incorporates two colors, with the border color on the front highlighting its unique appeal. Pair it with shorts or jeans with your favorite sneakers; this crochet top always enhances your personality!
Zen Halter Top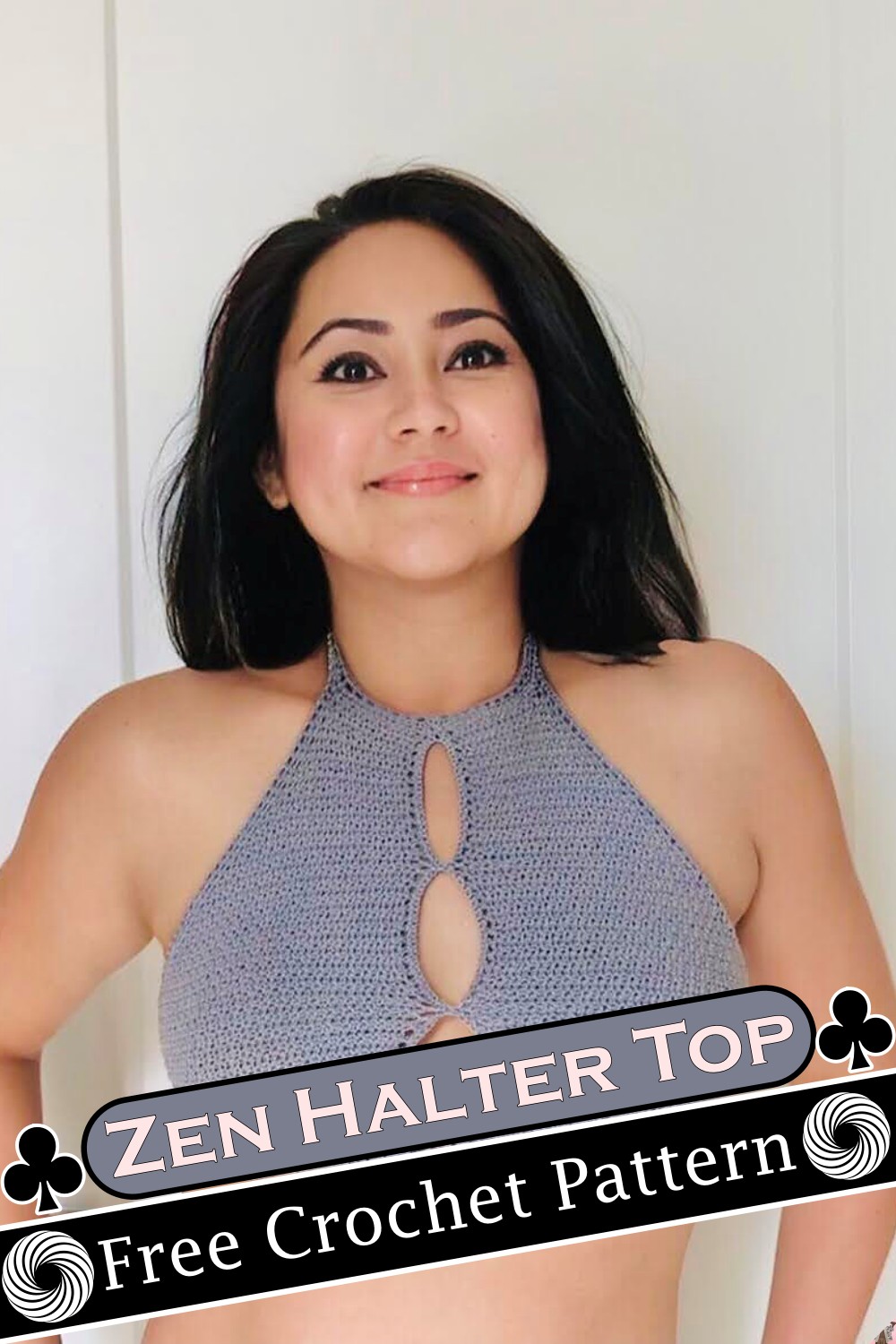 The zen halter top is a must-have for this season. This crochet summer pattern will help you create a hot and trendy piece of clothing that you can wear to any occasion, whether going out with girlfriends or just hanging around the house running errands. Try making your crochet halter top and be dazzled by its unique style and easy instructions. This top works up fast; you'll have your new favorite outfit in no time! This pattern is easy enough to make and will allow you to have high-quality clothes for the warmer days.
Halter Dragonflies Top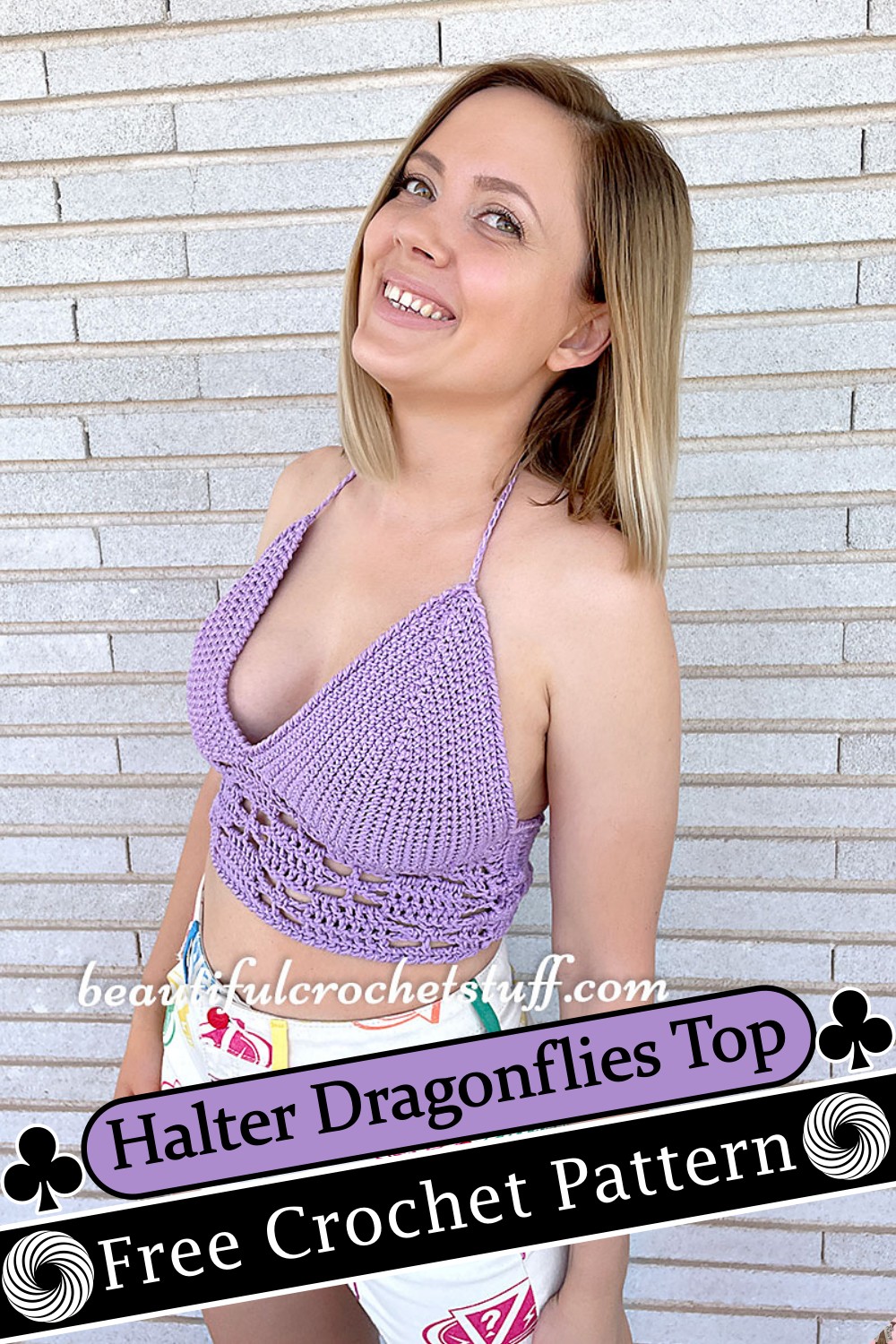 Crochet this halter top that is perfect for any summer occasion. Wear with jeans and sneakers or your favorite heels! The pattern is clear and easy to follow, but it involves unraveling your work twice to achieve the best result and feeling comfortable wearing it. It has an interesting dragonfly pattern in the front. The pattern is easy to follow but requires some attention to detail. For a beginner, it will be a simple and easy-to-follow pattern.
Hanna Halter Crop Top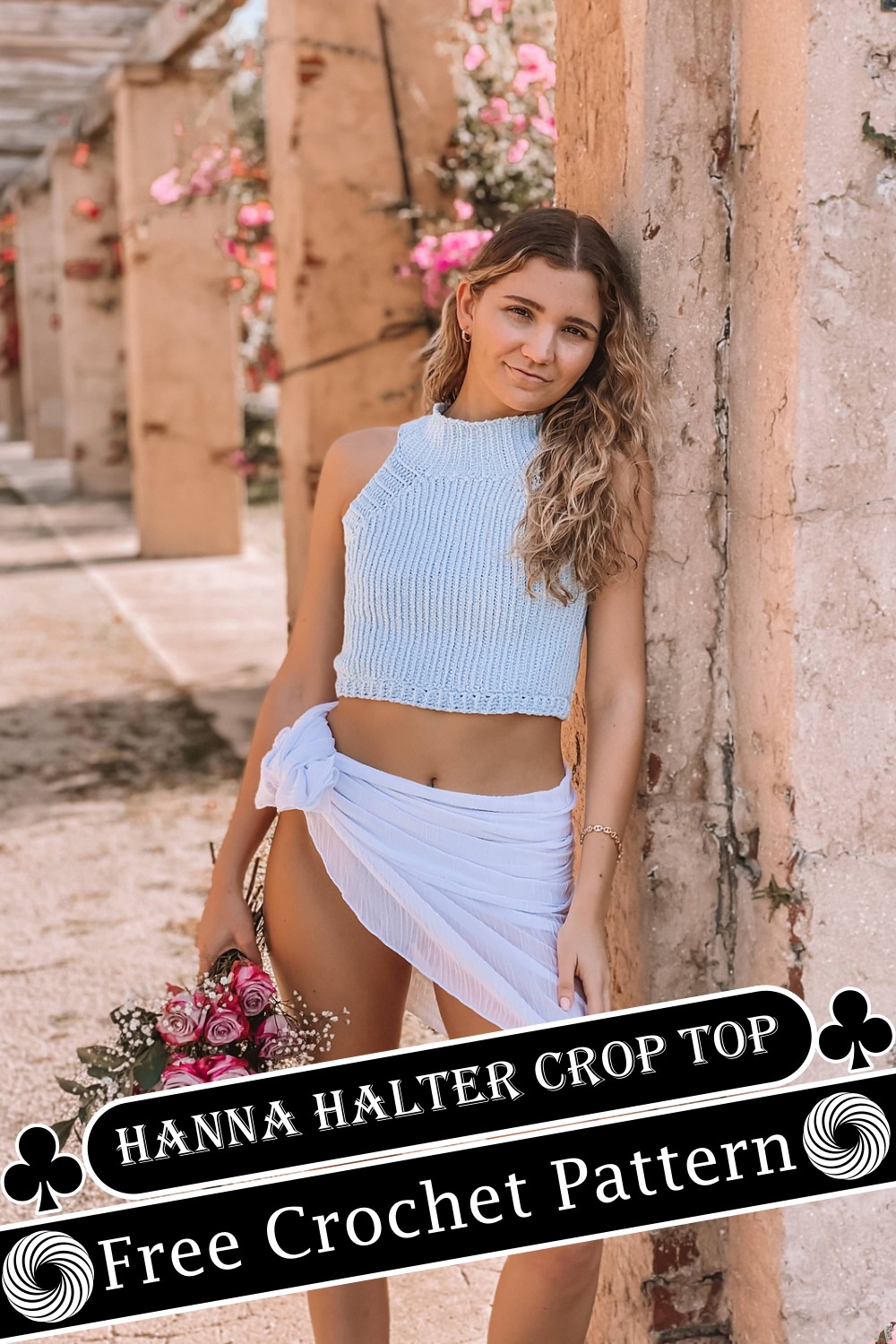 The crochet halter crop top is a perfect summer staple. Featuring a mock neck collar and sleek halter sleeves and is cropped nicely at the midriff. The airy fabric is light enough to keep you cool while providing all the comfort you need. Made with a mock neck collar and halter sleeves, this comfortable and versatile piece features a cropped fit for layering or wearing alone. The crochet Hanna top is a must-have this season. It comes with fringed edges and a mock neck collar that can be layered or worn alone. Pair it with some high-waisted shorts, wedges, and a statement choker for the perfect summer look.
Crop Halter Leaves Top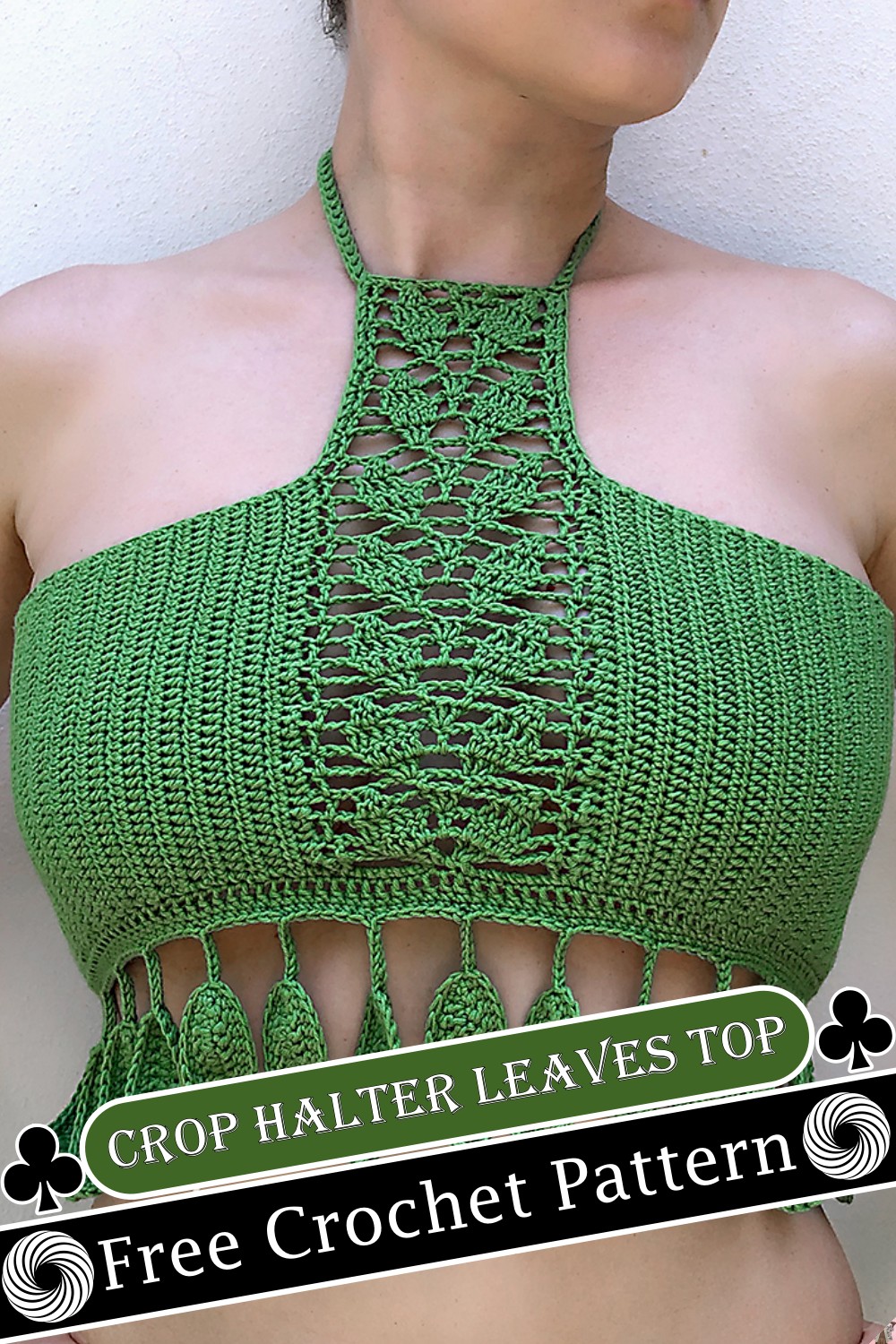 The crochet crop halter leaves top is a very interesting garment. The crocheted pattern of leaves looks like lace. It's a crop top, ideal for warm spring and summer evenings. Just make it and enjoy wearing it! The design is simple but absolutely beautiful and modern. This summer top is perfect for so many occasions, and it can be worn as a crop or regular length due to the tie-side. This fun crochet pattern is easy and fast to make! Make it in different colors to have a fantastic summer wardrobe!
Rodeo Halter Top
This crochet Rodeo Halter Top is a stylish and comfortable top that you'll love to wear during the festival season. Handcrafted with a thick neckline and under-bust straps for added support and comfort, this halter top matches your favorite pair of jeans or shorts. This halter top will hold your assets in place. It features a thick neck and under-bust straps for added support. Made with premium quality cotton, this clothing is durable and fashionable.
Crochet Halter Top Pregonda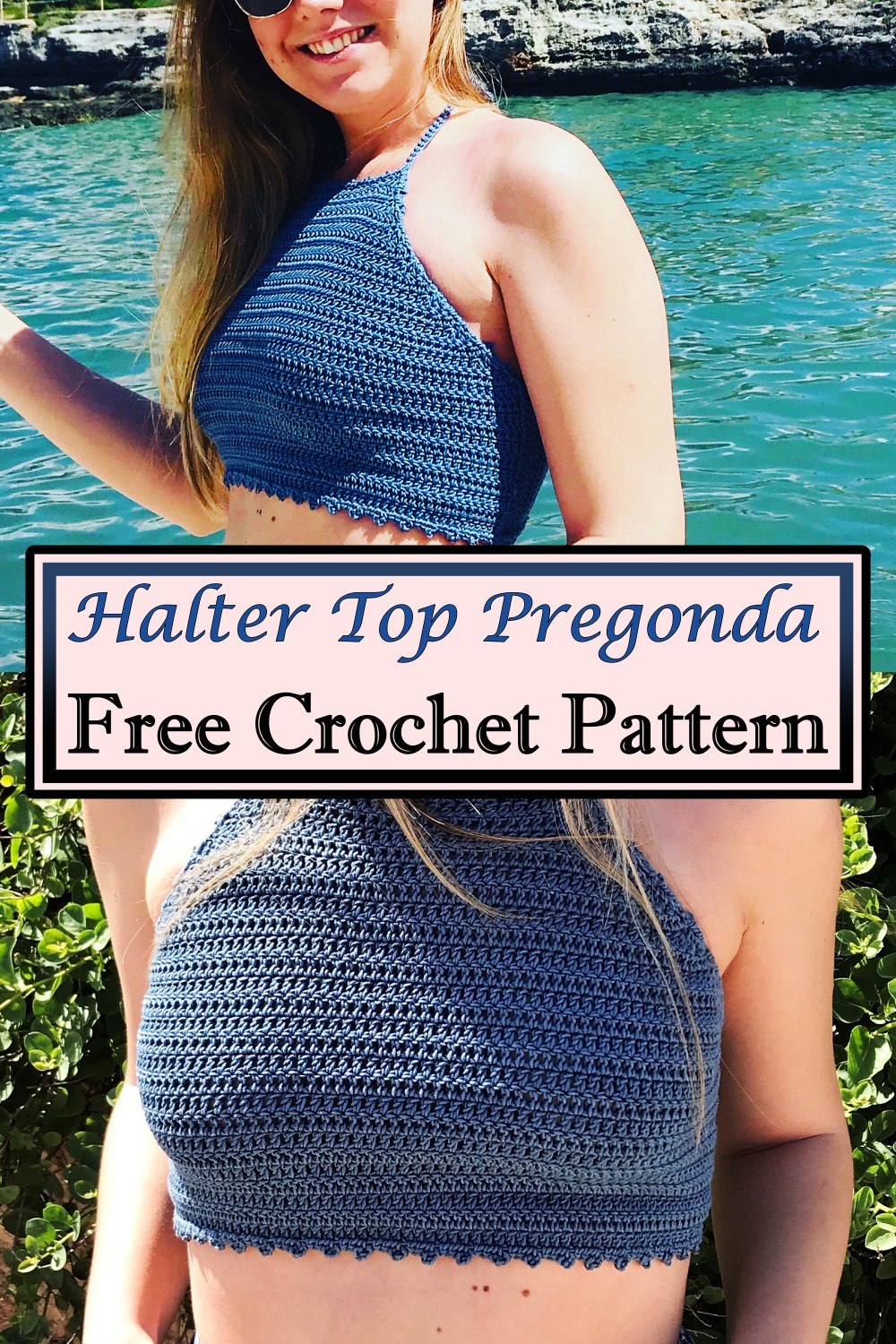 The halter top design is very simple, but the large welt makes it stand out from other similar tops. The style is very comfortable. This top can be worn over a dress or a bathing suit. The model imagines it with jeans and a silk scarf to add style to this outfit. This crochet halter top is made of elastic nylon yarn, making it stretchy and comfortable. The beautiful design halter top will also be a great option for gift-giving.  The model imagines it with jeans and a silk scarf to add style to this outfit.