Tiger patterns are a fun way to add a bit of fun to your home. They make a great decoration or even a toy for kids, but they also have great health benefits! These crochet tiger patterns will show you how to create stunning tigers for yourself or your loved ones. There is something about the magnificent tiger that makes us stop and take notice. These ferocious cubs have an awe-inspiring beauty as they pounce, play, and sleep in their natural habitats. Crochet their wise eyes and whiskers, or dress them up with an adorable hat or bow. There are styles for every taste and skill level out there! Some of these patterns would make wonderful children's toys or be nursery decorations!
Crochet Tiger Amigurumi Free Patterns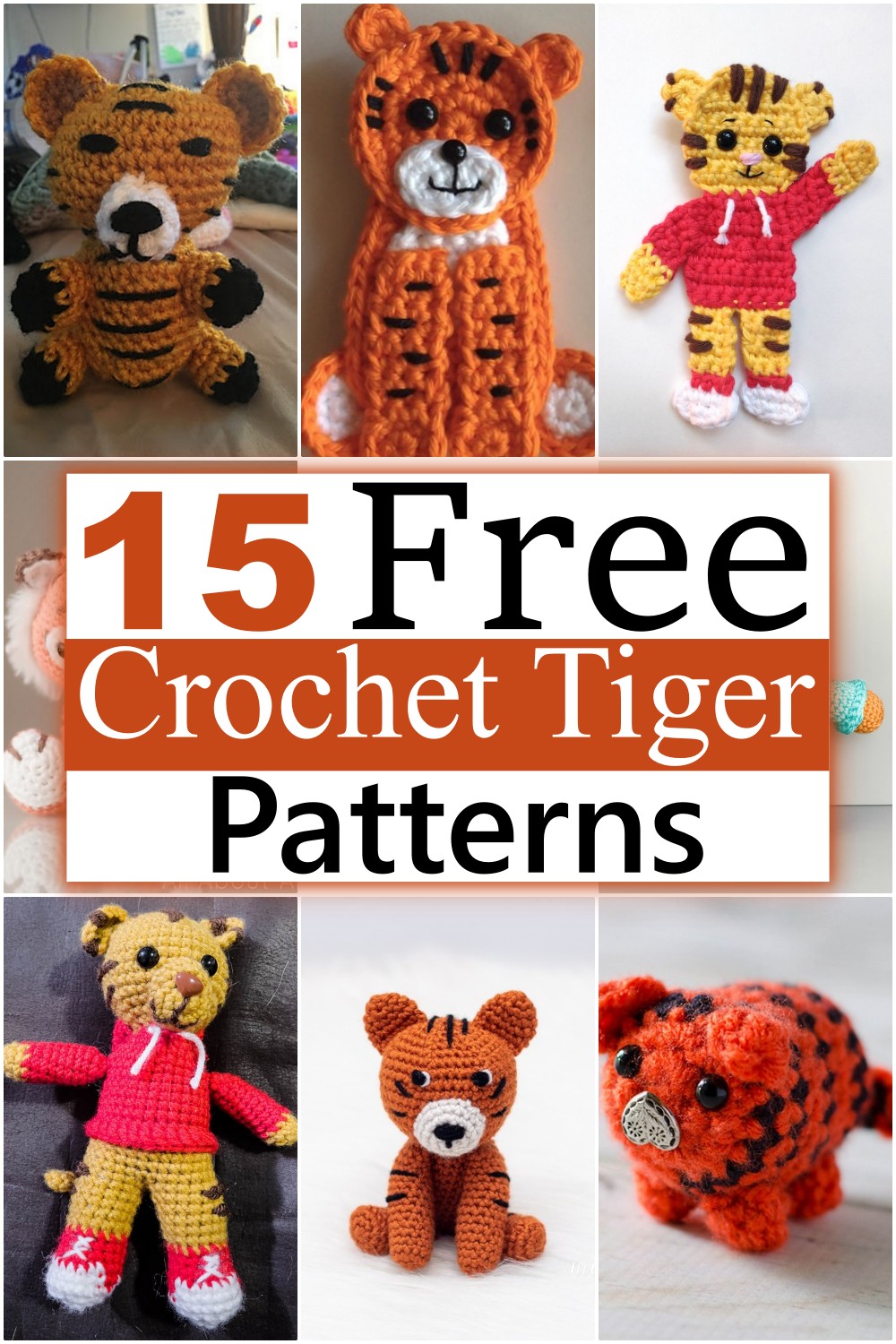 Tiger Blankets, Pillows, and Toys. Crochet an adorable tiger toy for your kid or make a great gift. They are perfect for a baby shower or birthday party. Many of them are stuffed with polyfill, so you can have fun making it even more adorable by adding an appliqué on top or embroidery stitch around the borders! Add these crochet tigers to your collection of animal amigurumi patterns. You'll find everything from a tiger cub to a large stuffed tiger, each with its own unique personality and design. If you love to crochet, you will love these free crochet tiger patterns. Decorate your home with cute animals that are perfect for welcoming in the springtime. These projects can be used for a living room area, nursery decor, or even hanging on a wall.
Tips For Crocheting Tiger Patterns
Tiger crochet patterns are fun, but they can also be challenging. Here are some tips to help you along the way.
Start with a pattern you like. If you don't like something about the pattern, change it!
If making an amigurumi tiger, start with a small ball of Yarn and see how far you can go before running out. This will help you gauge how much Yarn you need for your project and how big your finished tiger will be.
If you're using multiple colors, try to use one color per row so that switching back and forth is easier on your hands and eyes.
Don't be afraid to improvise. If something doesn't look right or feel right, change it! It's your crochet project, so make it yours!
Tiger Kitty
Crochet Tiger Kitty is a unique crochet amigurumi that's cute and fun to make. The perfect cat crochet pattern for any little girl or boy who loves kitties! This crochet tiger kitty is the perfect little buddy to add color and fun to your home. Crocheted from soft, durable acrylic yarn, it's ideal for cuddling up. Perfect for children and adults alike! Not only does this handmade tiger make a great gift for any occasion, but it also makes for an adorable addition to any room in your house!
Materials
10g — fingering weight » »yarn, color A
10g — fingering weight » »yarn, color B
10g — fingering weight » »yarn, color C
Crochet hook, size D (3.5mm)
Yarn needle
Abbreviations
SC = single crochet
CH= chain
ST(S) = stitch(es)
SC2TOG = single crochet two together
Tatum The Tiger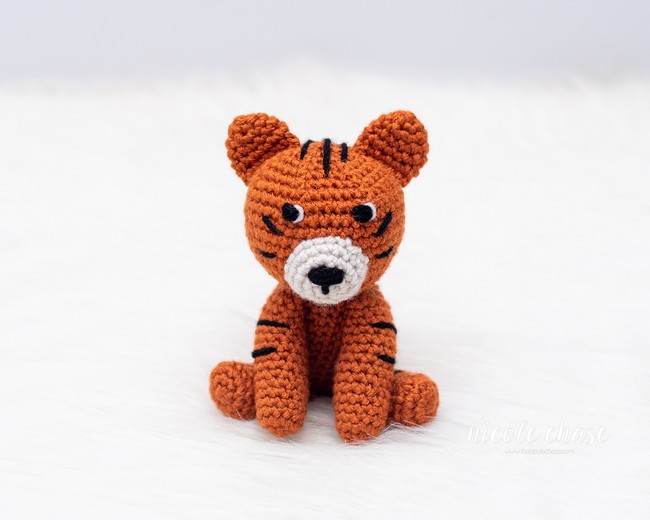 Crochet Tatum the Tiger is a friend everyone can love. A big soft cuddly tiger with an even bigger heart, he loves hugs, and these two feet long plush replicas of him will be one of the most sought-after toys in your house. Cute and cuddly, Tatum is the perfect addition to your desk or bookshelf. Complete with crochet mittens, this soft and lovable plush toy will melt your heart whenever you look at it.
Materials
Measurements: Approximately 5.5" tall when sitting
Gauge: Not necessary for this pattern; see notes
Hook Size: 4.0mm (G)
Other Tools: tapestry needle, stitch markers, scissors
Yarn Weight:  Medium (4), Worsted
Yardage: color A (orange): 85 yds, color B (beige): 6 yds, color C (black): 4 yds
Other Materials: poly-fil stuffing, 9mm safety eyes
Abbreviations
st = stitch
sl st = slip stitch
SC = single crochet
SC2tog = single crochet 2 stitches together (invisible decrease is recommended)
You can also see: Crochet Fox Patterns 
Tora The Tiger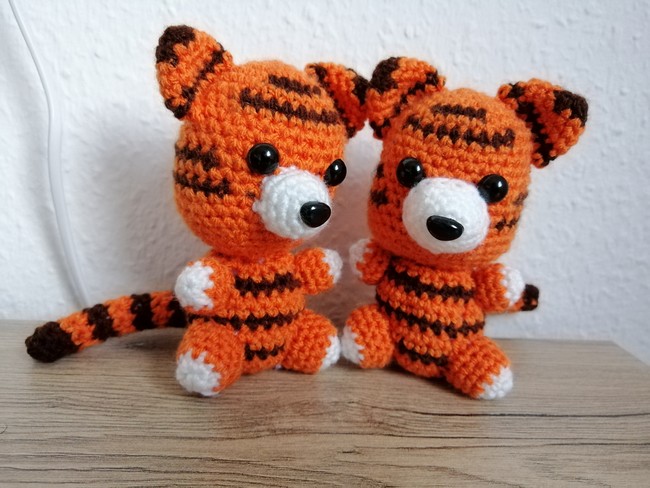 Cute and soft, Crochet Tora makes a great cuddly friend for children. He's easy to make, with no sewing required. The pattern includes step-by-step instructions for making this lovely tiger. This round, soft-head tiger will make the perfect addition to your collection of stuffed animals. This cute little tiger is made of soft, plush Yarn. It will make a fun gift for any little animal lover. Instructions are included for two sizes, and the pattern has many pictures to help you along.
Materials
– A Crochet hook, 2.5mm
– Orange, brown and white DK yarn
– A tapestry needle and scissors
– Stuffing
– Safety eyes and nose (I used 9mm)
Abbreviations
– Magic Ring (MR)
– Single crochet (sc)
– Decrease (dec); preferably using the invisible decrease method
– Increase (inc)
– Changing colors
Daniel Tiger Doll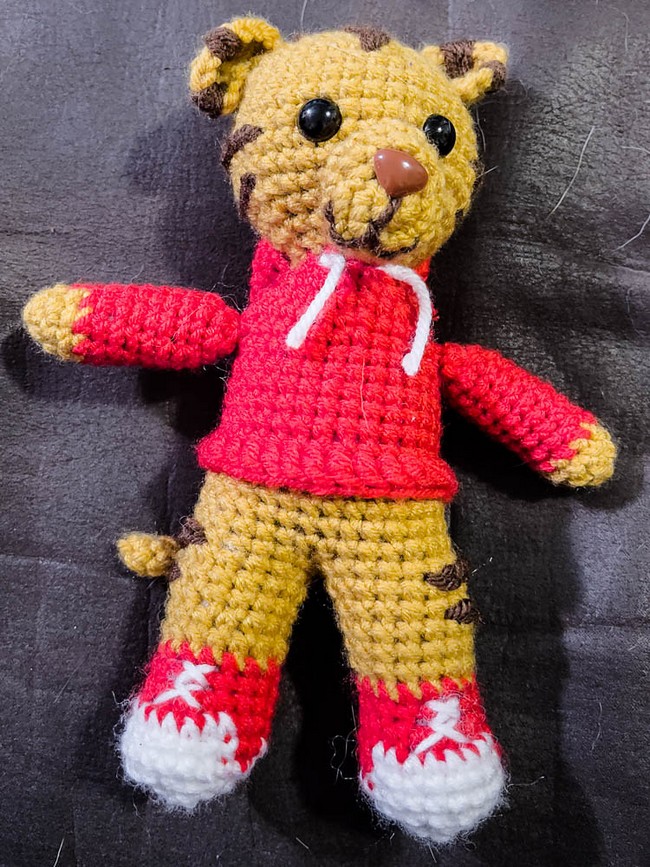 This doll is a unique gift for both children and adults. The pattern includes detailed step-by-step instructions with pictures and diagrams to help you understand the process. Your crochet Daniel Tiger Doll will make every child happy! This Daniel Tiger doll is a great present for soft toy fans and Daniel Tiger's Neighborhood fans! The little toy includes a plush body, a fancy hat, a removable scarf, and a rubber nose to protect from choking. It is a perfect addition to your child's collection of stuffed animals. Made from high-quality material, this cuddly soft toy can be used for everyday play and as a cuddled companion when it's time for sleep.
Materials
yarn
2 safety eyes
safety nose
yarn needle
stuffing
Yarn: 4/worsted. 

 

Hook: G/4mm
Abbreviations
ch: chain
tch: turning chain
sc: single crochet
mc: magic circle
st: stitch
slst: slip stitch
sk: skip
inc: increase
dec: invisible decrease
dc: double crochet
BLO: back loop only
FLO: front loop only
s-slst: surface slip stitch
( )*#: repeat instructions the number of times stated
(#): number of stitches in the round
FO: finish off
Year Of The Tiger Granny Square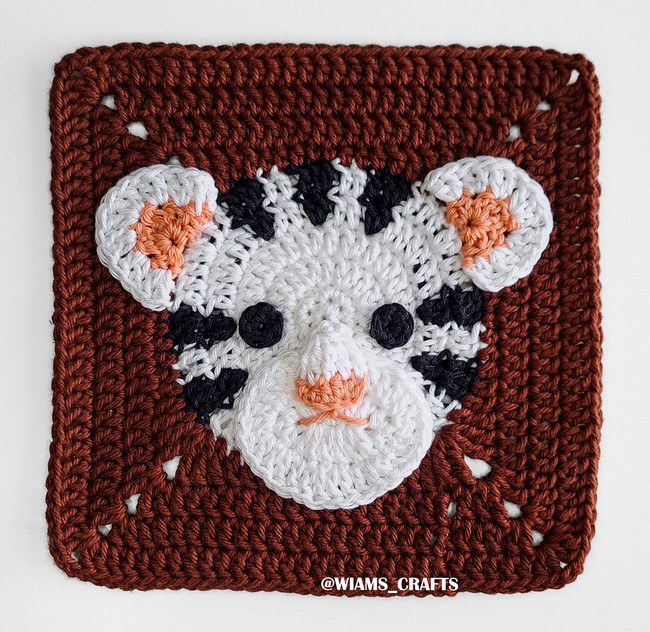 These crochet squares are very simple and have a beautiful finish. Your project will be completed in no time! This is a great way to learn or practice the granny square stitch and create a beautiful afghan or blanket for someone in need. With this adorable crochet Year of the Tiger Granny Square, you'll be able to celebrate everything great about the tiger in your life! Crochet it for yourself or someone else who might need a little reminder to come out and play. Make a beautiful crochet granny square inspired by the powerful Year of the Tiger. It's a fun and relaxing project you can do on the weekend!
Materials
Yarn: any cotton yarn in the following colors and quantities: one white skein, one brown skein, and a few yards (meters) of peach and black Yarn. Suggested Yarn: D.M.C Happy Cotton, 0.7 oz (20 g), 47 yards (43 m).
Crochet hooks, sizes D/3 (3 mm).
Tapestry needle
Abbreviations
ch: chain.
st: stitch.
sts: stitches.
sl st: slip stitch.
sc: single crochet.
hdc: half double crochet.
dc: double crochet.
tr: treble crochet.
Chinese New Year Tiger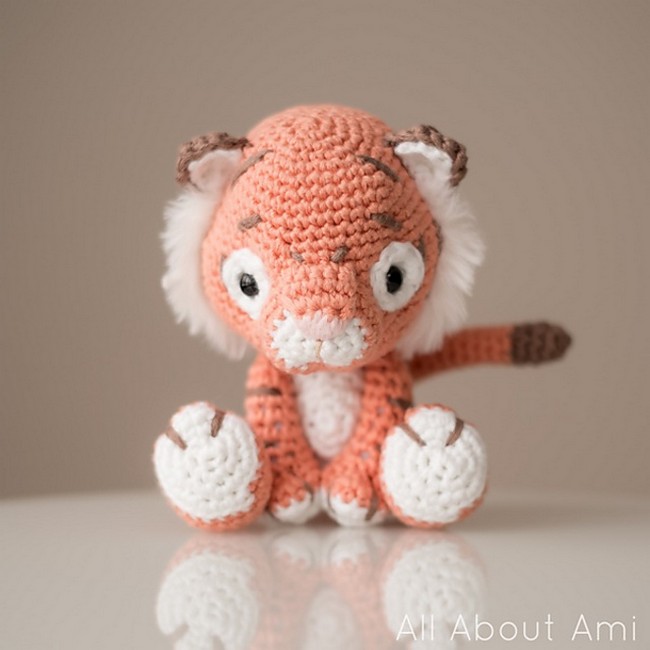 Tigers are the most distinctive symbol in Chinese culture. The Chinese call this month full of joy and happiness, especially with the arrival of spring. This handmade tiger doll combines traditional embroidery with modern elements like braids and cables stitched onto it to give it structure and added crown detail. This is a great pattern to use red and gold yarns to make a statement, especially if you decorate for a New Year's party. The result is a beautiful little tiger with nice details that will surely attract your friends' attention.
Materials
Coboo Yarn (lightweight level 3) in "Peach" (~48 g/111 yds), "Taupe" (~14 g/32 yds), "White" (~9 g/21 yds) and "Pink" (~1 g/2 yds)
Super bulky fluffy white Yarn (~2 g/5 yds) for the head; I used "Go For Faux" in "Baked Alaska"
2.75 mm Clover Amour Hook
Yarn needle (bent tip helpful for attaching amigurumi parts- see HERE)
Lock ring stitch markers
Fiberfill
7.5 mm safety eyes
Beige/tan embroidery floss for mouth line
Tully The Tiger Amigurumi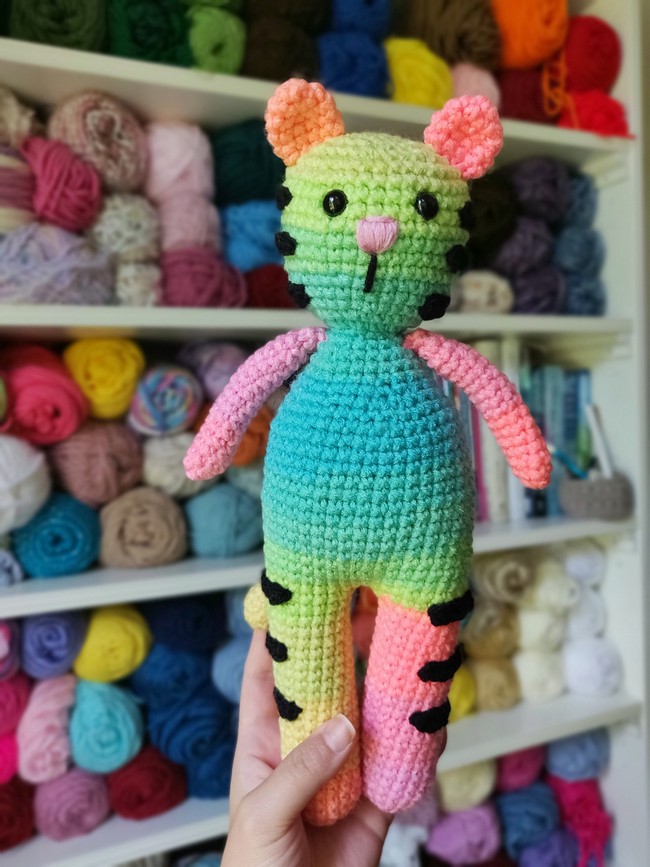 This Crochet Tully, the Tiger Amigurumi, is a must-have for any toy collection. You will have so much fun making the adorable little Tully that you won't want to stop. Tully is the perfect stocking stuffer for anyone who loves tigers, cats, or animals in general! This little tiger makes an excellent gift for a friend or loved one who has everything. This is a crochet pattern for Tully the Tiger amigurumi. This adorable tiger is just waiting to be made for your loved ones! He makes a great gift for birthdays, holidays, or just because you want to make someone happy.
Materials
 E 3.50 mm

 crochet hook

Medium Worsted weight (#4) yarn

2 – 10 mm safety eyes (optional – bigger ones would look adorable too!)

Yarn needle

Scissors

Stitch markers (highly recommend this extra piece of Yarn works great for working in the round) X2

Poly-fil

(Optional) Pins to help with ears and arms placements.
Abbreviations
CH

 – 

chain

ST 

– stitch (stitch space)

Sl St

 – 

slip stitch

SC

 – single crochet

FLO

 – front loop only

SC INC

 – single crochet increase (2 sc in the same st)

INV DEC

 – invisible SC decrease ( decrease using FLO)

Other:

F.O: 

fasten off

MC

 

– magic circle / magic ring
Tiger Applique Pattern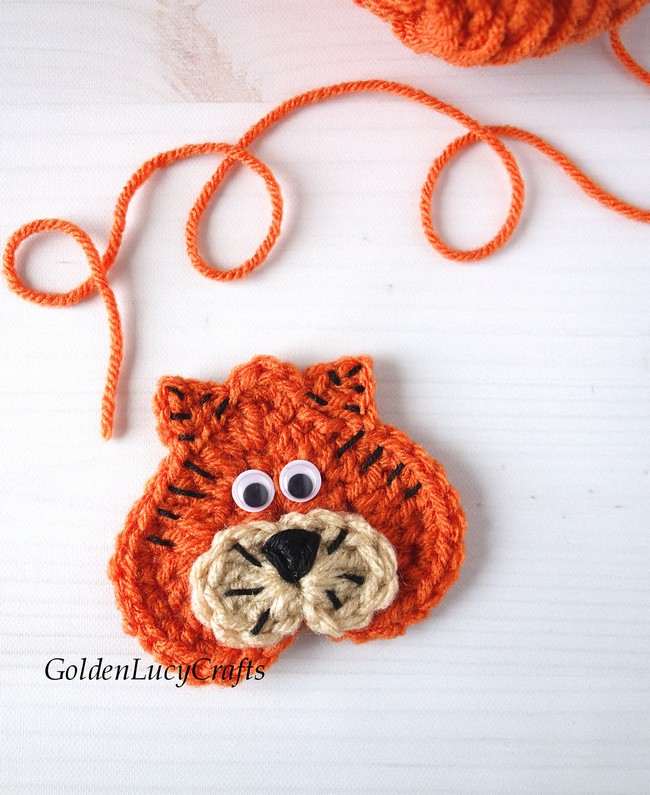 This crochet applique design is made from a heart shape.  The face of this crochet Tiger applique is made from a heart shape.  This shape gives her nice puffy cheeks! This crochet Tiger applique pattern is the next design in my heart-shaped appliques series. The face of this tiger is made from a heart shape. This shape gives her nice puffy cheeks! Tie this precious piece of work onto backpacks, hats, or other garments to create that extra pop of cuteness to them!
Materials
Crochet hook H/8 – 5 mm
Sticky back googly eyes
Black embroidery floss
Embroidery needle
Abbreviations
Ch – chain
DC – double crochet
HDC – half double crochet
Rnd – round
SC- single crochet
Sl St – slip stitch
St (Sts) – stitch (stitches)
TR – treble crochet
Tiger Amigurumi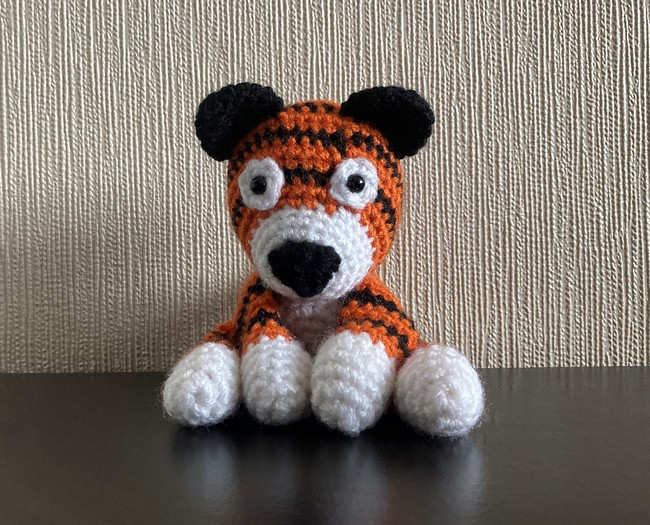 This little tiger amigurumi would make the perfect gift for a child, but it is also so lovable that it will make a great addition to your home decor. It's so small that you won't need much Yarn, so you can use leftovers from other projects or try out different color combinations. This crochet pattern is simple, easy to follow, and takes no time. This little pattern can be adapted to different sizes if you prefer bigger animals or want to make something for a child. You can also change out the Yarn and make it in different colors.
Materials
Orange yarn: Hayfield Bonus DK – Burnt Orange 647
White Yarn: James C Brett Top Value DK – 8428
Black yarn: James C Brett Top Value DK – 8430
Eyes: The Craft Factory Toy Eyes Solid Black – 9mm (you may use Yarn to sew on eyes if you prefer)
3.5mm (E USA)
Approx. 70 yards
6 stitches and 7 rows = 1 inch
4 inches tall
Abbreviations
sc – single crochet
dc – double crochet
trc – treble crochet
ch – chain
dec – single crochet 2 together
inc – 2 single crochet in one stitch
st/s – stitch/es
The Friendly Tiger in a Sweater
A Beginner Crochet Pattern for Kids, but also fun for teens and adults! This happy jungle animal is the perfect gift for your little one. A great way to learn how to crochet in the round. He will be fun and functional as a decorative piece on any shelf or cabinet. The Friendly Tiger is the perfect friend to crochet. With four different color choices and a cozy sweater, he's the ideal companion for any kid looking to learn crochet basics.
Materials
About 100g size 4 worsted weight yarn in orange or tan color
Small amount in desired sweater color
Small amount for snout color (ie white) and nose (ie black)
Small amount of black for the stripes
15mm safety eyes
Stuffing
3.75mm hook
Needle for sewing
Stitch marker
Abbreviations
SC- single crochet
SC INC- single crochet increase (2 SC in each stitch)
INV DEC- Invisible decrease (put hook through the FRONT LOOP ONLY of two consecutive stitches [two loops on hook] Yarn over pull through both loops. [two loops on hook] Yarn over pull through two loops)
Magic Circle- Make a loop, leaving a long tail to work with. Insert the hook in the center of the loop, Yarn over, and draw up a loop. Yarn over and pull through to make the first chain (this does not count as a stitch!). Continue to crochet over the loop and tail with the number of stitches called for. (If you need 6 SC, crochet 6 SC inside the ring.) Pull the tail to close the circle.
Daniel Tiger Applique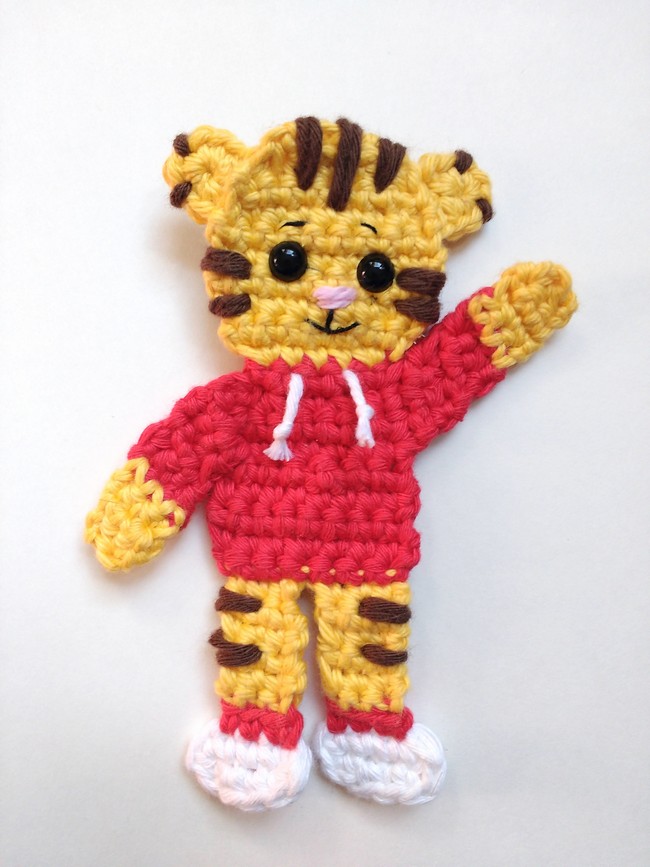 The perfect addition to your child's Daniel Tiger costume, this crocheted applique adds the finishing touch and can be worn with various outfits. It's a Daniel Tiger applique that you can make yourself! Ideal for a beginner crocheter, this project will introduce you to crochet basics and leave you ready to tackle more complex projects with ease. Make your little one feel like they're reading a book with a soft Daniel Tiger quote on this super-cute applique. Patches, like clothing, blankets, and hats, can be sewn onto almost any fabric surface.
Materials
Yarn calling for 5,5 mm hook in: yellow, red, white, brown and a small amount of pink
A very small amount of pearl cotton in black (for the eyebrows and the mouth)
Size 3.5 mm crochet hook (you can use a bigger or smaller hook to make a bigger or smaller appliqué).
2 black safety eyes (7.5 mm)
Stitch markers
Tapestry needle
Abbreviations
chain (ch)
magic ring (mr)
single crochet (sc)
increase (inc)
invisible decrease (dec)
slip stitch (sl st)
half double crochet (hdc)
double crochet (dc)
Tiger Applique Pattern
Add a fun touch to your next project with the Crochet Tiger Applique. The applique can be stitched using a single thread or multiple threads to achieve a more realistic look. It features all types of yarns to create an authentic crochet appearance and stands 3" tall. The crochet tiger applique is the perfect gift for animal lovers. This applique can be sewn to any fabric and is as simple to work up as cute! Use this crocheted applique as a setting for your favorite pins or coins, and make a great addition to your collection.
Materials
Yarn calling for 5,5 mm hook in: orange, black and white (or white, black and  light pink for the white tiger).
A very small amount of pearl cotton in black (for the mouth)
Size 3.5 mm crochet hook.
2 black safety eyes (7.5 mm) for the eyes
1 black safety eye (6 mm) for the nose
Stitch markers
Tapestry needle
Abbreviations
chain (ch)
magic ring (mr)
single crochet (sc)
increase (inc)
invisible decrease (dec)
slip stitch (sl st)
half double crochet (hdc)
double crochet (dc)
Tigris, the Siberian Tiger C2C Square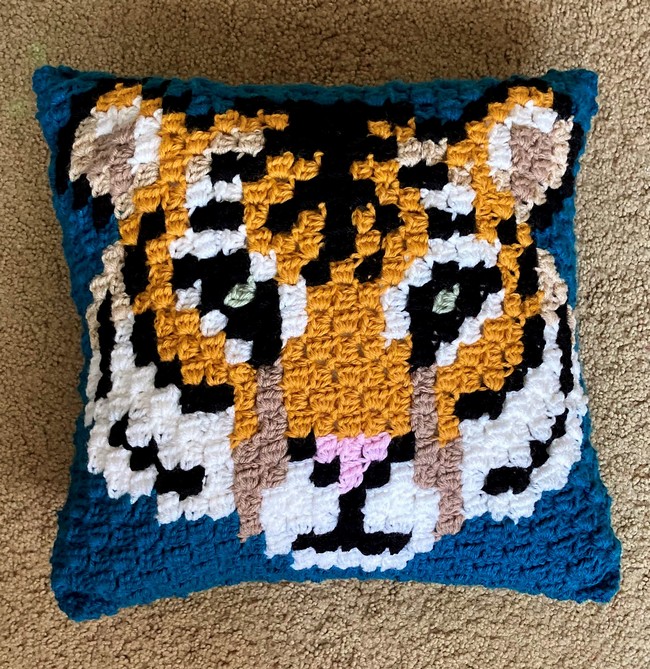 This Crochet Tigris, the Siberian Tiger C2C Square, is an easy pattern for a beginner to follow and make. The finished square would add to your granny square project or a nice framed art piece. It is a great way to learn the corner-to-corner (C2C) technique! It's worked up in red and white using a color block pattern. Once you're done with this tiger, you can use your skills to make various animals and other motifs.
Materials
Yarn: Red Heart Super Saver ( yarn weight: Medium 4) in 9 colors:
5.5 mm crochet hook (shown here Furls Wooden Hook, Cocobolo)
Tapestry needle
Scissors
Abbreviations
- RS: right side
- WS: wrong side
Tiger Bitty Bumble
This Bitty Bumble is a great friend for any child! Easy and quick to crochet with super bulky Yarn. He's one of our all-time favorite toys in the nursery and can be made as an instant faux taxidermy look! All parts are crocheted, and no sewing is required. This adorable crochet plush tiger toy can be made in any color! Bitty, Bumble, and his siblings all love to play with colorful yarns, but they also take naps whenever you do. Whether snuggling up for naptime or playing with their favorite Yarn, these little tigers have never met a new ball of wool they didn't like.
Materials
US G6/4mm crochet hook (These are my recommended hooks)
½ oz of Worsted Weight Yarn in Orange and Black
6mm safety eyes (could also embroider them on)
Small button.  I used a small heart shaped button I found in my stash.  Something ½″ or less will do just fine.
Small amount of polyfill stuffing (I used this)
Sewing needle and matching thread (for sewing on the button)
Tapestry needle and scissors
Tiger Buddy Pattern
This Crochet Tiger Buddy is a fun stuffed animal perfect for taking on adventures. He has soft peach paws, a purple-striped tail, legs, and arms that are ready to go wherever they need to be. His green eyes will meet yours and keep you company throughout the day with his detachable collar and keychain. This crochet tiger is the perfect companion to take with you in your pocket or backpack. It's big enough for little hands to hold onto but small enough to tuck away. The soft and cuddly body will make any child happy, and the bouncy tail keeps it adorable from any angle! Make one (or a few!) for friends or family, or give them as gifts at baby showers.
Materials
-4.5mm hook
-RHSS yarn in Gold, Black, Taupe/Tan, and White
-Stitch marker
-Polyfil
-Tapestry needle for weaving
Abbreviations
Ch:  chain
Sl st:  slip stitch
St:  stitch(es)
SC:  single crochet
SC2TOG:  single crochet 2 stitches together to create a decrease)
MR:  magic ring
FO:  fasten off
Rep:  repeat