Crocheters worldwide are always looking for new patterns they can work on while watching TV or taking a train ride, so we put together this list of 15 free crochet tee patterns you can do in your own home! The best part is that all these crochet tee patterns require minimal sewing skills. You can easily customize the fit around your body and choose which version you like best without knowing anything about pattern alterations. You'll also love that these styles come in a wide range of sizes, from extra small to extra large. So if you're looking for a cool new tee to show off your skill with a hook, look no further than this list!
Summer Crochet Tee Patterns

T-shirts are a staple of every wardrobe. They're simple to throw on and can be dressed up or down. They're also easy to customize with crochet, making this project great for beginners looking for a fun, fast project. Whether you need a trendy cover-up for summer or want to add subtle details to an everyday t-shirt, these free patterns will have you covered. Making your own t-shirts is even cheaper than making your own sweaters or other garments since t-shirts are smaller, take less time to create, and cost much less than yarn. The following free crochet tee patterns will help you deck out your wardrobe with unique tops you made with your own two hands.
Tips For Crocheting Tee Patterns
Crochet is a great way to make your clothes. You can use any yarn you have on hand, and it's a very fast project. If you've never crocheted before, this article will give tips for working with crochet patterns.
Crocheting t-shirts are popular because they're easy to make, and the style is up to you. You can make them in whatever color or pattern you want. You can also add embellishments like beads or buttons if you want to add extra flair!
If you're new to crocheting, plenty of free patterns are available online. If you're looking for something simple but cute, try these:
Basic V-Neck Tee Pattern - This pattern will give you a basic v-neck tee that fits right on most people! It's easy enough that even beginners can learn it quickly, but more advanced techniques, like increasing and decreasing stitches, will also challenge experienced crocheters.
Granny Square Raglan Tee Pattern - This pattern requires knowledge of basic granny squares; it uses many small squares sewn together at the end to create a raglan.
Ms. Summers Crop Top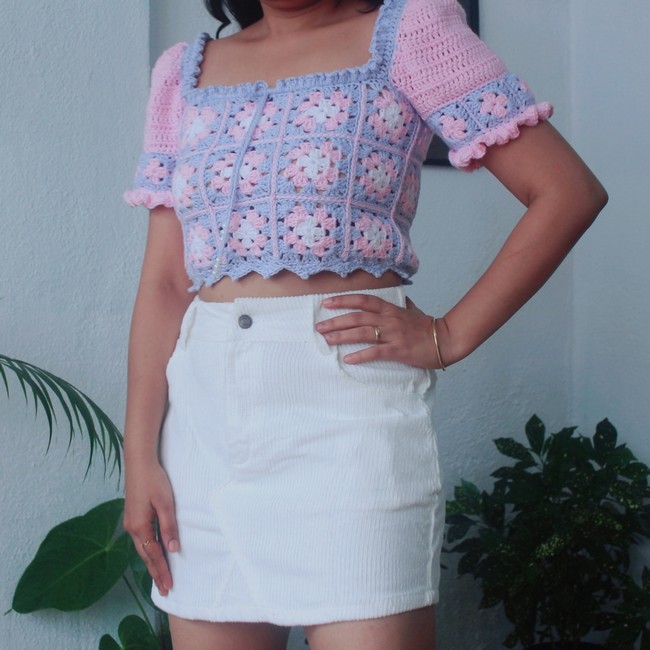 Add a fresh look to your summer wardrobe with the Ms. Summers Crochet Top. This flattering crop top has graphic crocheted details, making it perfect for wearing with shorts and high-waisted bottoms. It's just right for the hot summer days ahead. Made in a bright, colorful crochet pattern, this crop top is fun and feminine with half sleeves and a racerback. This top is made from 100% cotton and features an open back. It can be worn off the shoulder or tied into a knot at the shoulder to create a different look.
Materials
DK weight yarn- 3 shades, 100g each; here , Vardhman Cotton Crush Yarn is used.
Hook- 4mm (G)
Scissors
Markers to mark important stitches
Yarn needle to weave in the ends
Abbreviations
SL ST= Slip stitch
ST= Stitch
YO= Yarn over
CH= chain stitch
SP= Space
SC= Single crochet in stitch
DC= Double crochet in stitch
REP **[]**= Repeat instructions between ** to **
BEG = Beginning
CL SP = Cluster space – space between two (3DC) clusters
SC2TOG = Insert hook in stitch and draw up a loop, insert hook in next stitch and draw up a loop. YO, draw through all 3 loops on hook.
Yarn color = Shade A – white, shade B – pink, shade C – blue
I Love Yarn" Filet Crochet Top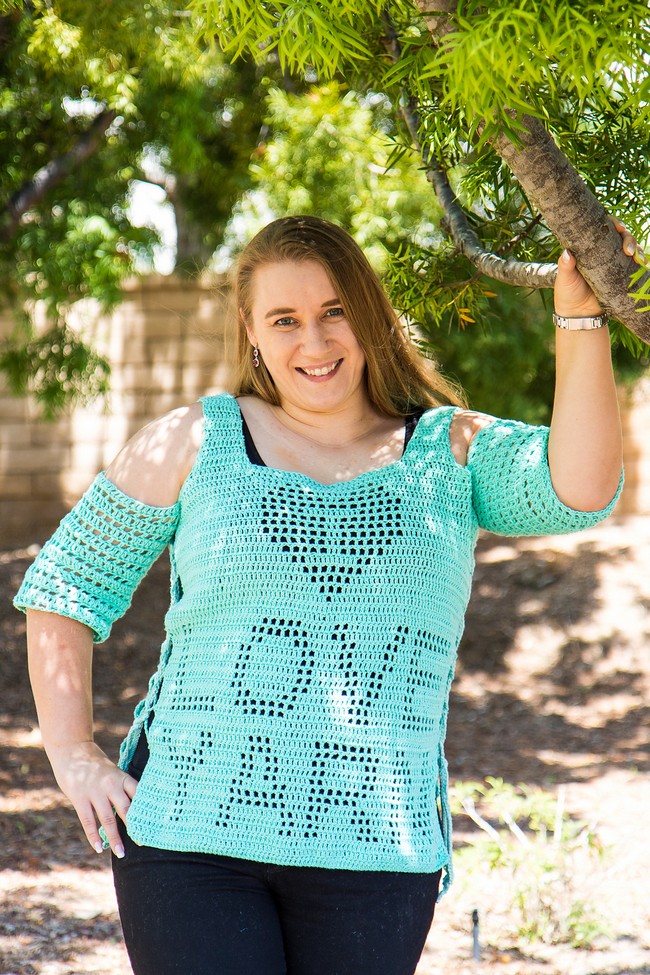 A crochet top for the yarn lover. This lightweight and the comfortable pattern will show everyone that you love yarn. Show your love for yarn with this fun and unique top. It is great to wear at work, in the house, or out in the world. It features a round neckline and short sleeves and is lightweight and comfortable! The "I Love Yarn" Filet Crochet Top is a fun and unique top that shows the world your love for yarn. This design features a trendy filet crochet texture with modern colors to match any wardrobe.
Materials
3.50 mm hook -> I used Furls Crochet Hook
use NICKI15 for 15% off
scissors
tapestry needle
Abbreviations
ch = chain
sk = skip
sl st = slip stitch
dc = double crochet
Iris Tee
This crochet tee makes a great spring or summer top. The front features a cross-back style, and the back is cut out with elastic at the neckline to keep it in place. Throw some flip-flops, jeans, and shades, and head to brunch with friends! The Iris Tee is a classic 100% cotton t-shirt with a relaxed fit and clean, simple design. The unique hand-made crochet detailing on the neckline, shoulders, and sleeves gives this everyday tee a perfect touch of feminine charm.
Materials
5, (6, 7, 8, 9), (10, 10, 11, 12) balls / 545, (654, 763, 872, 981), (1090, 1090, 1199, 1199) yards Originally Lovely Cria Yarn – shown in Ecru
Size US-7 (4.5 mm) crochet hook – this is my favorite set of hooks
Tapestry needle to weave in ends
Abbreviations
[ ] = work instructions in brackets as many times as directed
( ) = work instructions in parenthesis as many times as directed
* = repeat following the asterisk as many times as directed
Beg = beginning
BLO = back loop only, work into the back loop only of the stitch
Ch = chain stitch
Ch sp = chain space
DC = double crochet
2DC = double crochet stitches in the same stitch
HDC = half double crochet
Rd = round
SC = single crochet
Sk = skip
Slst = slipped stitch
Sp = space
St = stitch
Sts = stitches
Blue Sky Tee
Crochet this comfortable sweater in our soft, cozy yarn. Made with a crochet edge and raglan seams, it's the perfect top for layering all season long. This Crochet Blue Sky Tee is perfect for a summer day out. This tee features a body-hugging silhouette with a large open neckline, giving it a casual and breezy look. The crochet detailing adds a unique touch, while the lightweight cotton ensures daily comfort. This crochet tee features double the style and elegance with a classic crew neck and crochet detailing. This is the perfect shirt for any occasion.
Materials
US Size H/8 5.00 mm crochet hook
WeCrochet Cotlin:  Weight:  #3/DK    (70% Tanguis Cotton, 30% Linen – 123 yards/50 grams)
Raindrop – 6 (6, 7, 7, 8, 9, 9) skeins, 738 (738, 861, 861, 984, 1107, 1107) yards needed.
Stitch Markers
Embroidery Scissors
Yarn needle
Abbreviations
ch(s) – chain(s)
hdc – half double crochet
hdc-v – half double crochet v-stitch cluster:  (hdc, ch 1, hdc) in indicated st/sp
sk – skip
st(s) – stitch(es)
sl st – slip stitch
ch-sp – chain space
tch – turning chain
RS – right side
WS – wrong side
Cleo Top
The Crochet Cleo Top is an effortless way to show off your style. This crochet top features a drop-shoulder cut and a multi-colored design that adds flair to any outfit. Pair it with your favorite jeans or leggings to complete the look! A crochet top with a scalloped neckline and knot detail on the back. It features a high-low hemline and ties at the sleeves. You're sure to feel confident, comfortable, and stylish in this piece you can easily pair with any skirt or pants garment!
Materials
3 mm / US D – 3 hook.
3.5 mm / US E – 4 hook.
4 mm / US G – 6 hook.
Hobbii Twister (fine weight (2), 55% Cotton, 45% Acrylic, 100 g / 3.5 oz, 400 m / 437 yd)
Tapestry needle to weave in the ends.
20 stitch markers.
Abbreviations
st = stitch
ch = chain
sc = single crochet
dc = double crochet
Fallalery Tee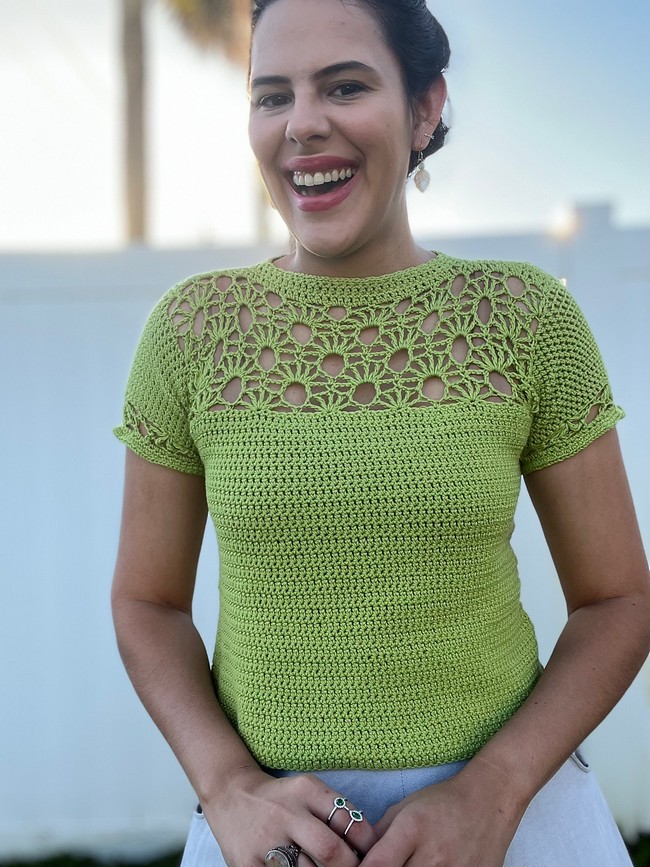 The Gallery top is a truly comfortable item that will imbue you with the confidence you desire. This top will make heads turn and keep you feeling good. It is the perfect addition to your wardrobe. You'll feel beautiful and confident all year long, no matter the season. This top can complete any outfit for any occasion. It is a beautiful and comfortable piece of clothing you will treasure for years. You're going to love this Fallalery top.
Materials
4(5,6,7,8,9,10,11) balls of Drops Safran / 175 yds in 50g / 100% Egyptian Cotton (Sport ?) * aff link
200(250,300,350,400,450,500,550)g of said yarn
3.5mm hook ( I used a Furls)
Tape measure
yarn needle * aff link
Abbreviations
Ch: chain
Sc: single crochet
Ext-Sc: extended single crochet
dc: double crochet
trb: treble
sc2inc: single crochet increase
sk: skip
Open Fan stitch for yoke
Fan: trb,ch2,trb,ch2,trb,ch2,trb,ch2,trb (5 trb's and 4 ch2 spaces) in the same stitch.
Half fan: trb,ch2,trb,ch2,trb (3 trb's and 2 ch 2 spaces) in the same stitch
Sweet Iris Top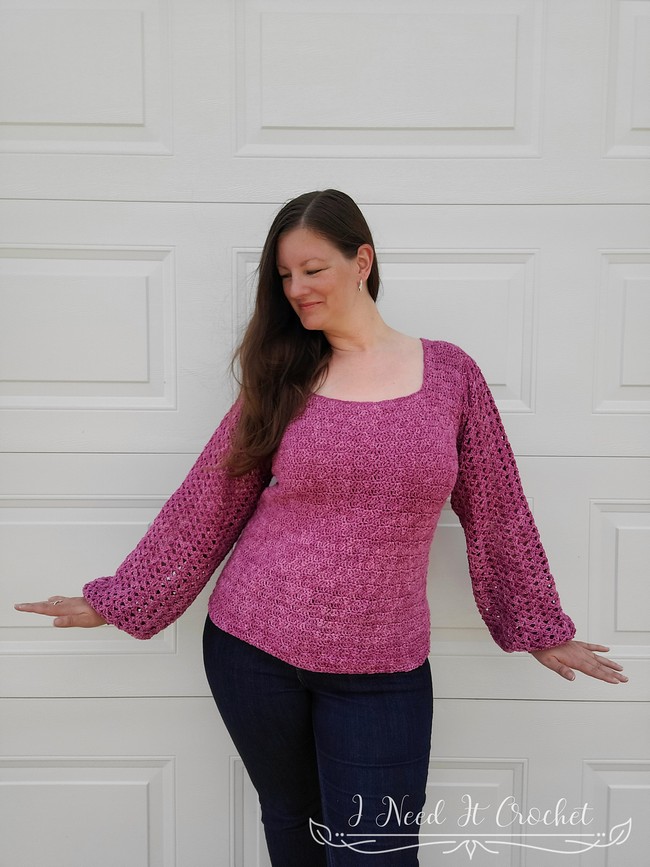 Like a breath of spring, this Sweet Iris Top is an elegant way to transition into warmer days. The crochet lace pattern adds beautiful detail and feminine touch, while the relaxed silhouette allows for comfort as you travel day to night. This Crochet Sweet Iris Top is easy to wear, gives great shape, and shows off your pretty figure. Add a little fluff to your wardrobe with this sweet Iris Top. It features chiffon sleeves, a crochet bodice, and a layered fabric bottom.
Materials
I used Anzula Yarns Vera, a 65% Silk, 35% Linen, #2 Fine weight yarn.
Any yarn of similar weight would work.
4.5mm Hook
5mm HookStitch Markers
Yarn Needle
Scissors
Measuring Tape
Abbreviations
RS = Right Side
WS = Wrong Side
Sk = Skip
St = Stitch
Ss = Slip Stitch
Ch = Chain
Sc = Single Crochet
Dc = Double Crochet
Dc3tog = Double Crochet 3 Together
Fpdc = Front Post Double Crochet
Bpdc = Back Post Double Crochet
Halter Crop Top
A must-have crochet top from our ModCloth namesake label! This lace-appliqued halter crop top features a figure-flattering high neckline and an easy fit. This crochet halter crop top features beautiful handmade crochet detail on the front and back, making it the perfect addition to your summer wardrobe. Pair it with your favorite jeans and sandals for a day at the beach, or dress it up with a metallic biker cuff for an evening party. This wardrobe staple is perfect for almost any occasion - a day at the beach or a night out with friends.
Materials
Yarn: Hobbii Rainbow Cotton 8/4 /Super Fine / 50 g (1.75 oz) / 170 m (186 yds) / 100% cotton – 126 grams,
#016 light grey – 2 skeins,
#053 pastel yellow – 1 skein,
#071 light sky blue – 1 skein.
Crochet Hook: 3 mm
Size: S ->, square – 10×10 cm or 4×4 in, diagonal – 15 cm or 6 in,
length – 30 cm/12 in, width – 40 cm/16 in,
you can easily adjust the pattern to any size, please read more about it below
Abbreviations
Stitches used: ch – chain, sl st – slip stitch, sc – single crochet, dc – double crochet
Bayshore Tee
The Bayshore Tee is the perfect wardrobe staple for spring and summer months. This tee features a relaxed fit, open neckline, and crochet detailing and is perfect for casual wear with denim. Add a little boho to your wardrobe with the Bayshore Tee from our collection of crochet tops. This long-sleeved shirt features open stitching and a tie at the front neck. Perfect for autumn days by the lake, wear it with denim shorts or boots for a complete look.
Materials
Yarn: WeCrochet  CotLin  DK weight:  4(5,6,7,7,9,10,10,11) skeins (123 yards/50 grams each), in color Hydrangea
Crochet Hook: 5.00 mm [US H / 8]
Knitting Needle: 25.0 mm (US 50)
Stitch Markers
Tape Measure
Yarn Needle
Abbreviations
beg – beginning
ch(s) – chain(s)
dc – double crochet
fsc – foundation single crochet
RS – right side
sc – single crochet
sl st – slip stitch
sp(s) – space(s)
st(s) – stitch(es)
WS – wrong side
X – times
yo – yarn over
Tropic Top
Get ready for some warm weather fun in this crochet tropic top! It's perfect for a trip to the beach, or wear it just to stay cool. Wear the Crochet Tropic Top for an easy warm-weather style. The tropical pattern keeps you comfortable and chic on a breezy day in the city, while the cropped length shows off your favorite pair of shorts or capris. Lightweight, sheer fabric gives it a breezy feel, while the loose fit offers whimsical movement. Pair with graphic shorts or cropped pants for an island vibe.
Materials
Yarn: We Crochet Shine Sport Weight (60% Pima Cotton, 40% Modal; 110 yds; 50 g; yarn weight 2/fine): #25344 Cosmopolitan 6 [7, 7, 9, 11, 12] skeins.
Crochet Hook: H/8 (5 mm), or size needed to obtain gauge.
Notions: Yarn needle.
Pattern Stitch: Spider Lace, Crochet Stitches Visual Encyclopedia by Robyn Chachula, p. 76
Gauge: 2 patt reps x 17 rows = About 7 ½ inches.
Abbreviations
ch(s) = chain(s), tutorial here
dc = double crochet, tutorial here
patt reps = pattern repeats
RS = right side
sc = single crochet, tutorial here
sp= space
st(s) = stitch(es)
tch = turning chain
Easy Mesh Top - Borlotto Tee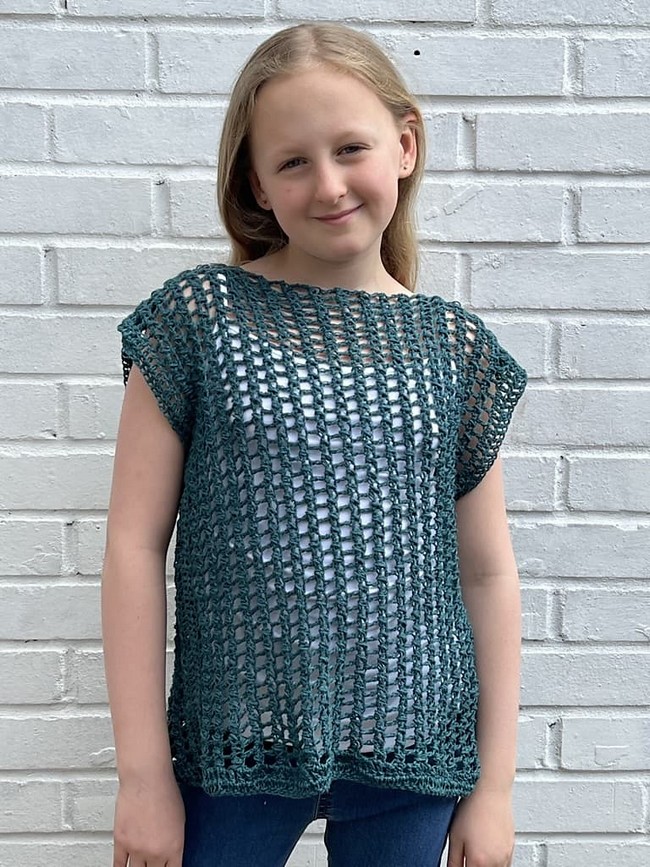 The Borlotto Tee is the perfect addition to your wardrobe this season. It looks great with skinny jeans, a skirt, heels, leggings, and some boots! The Borlotto Tee is a versatile top worn on its own or as a base layer. The crochet patterned back adds some interest, while the mesh front keeps things light and airy! Pair it with your favorite jeans or lounge pants for a comfortable weekend look. Pretty lightweight knit that drapes nicely; this top has a scalloped hem and long sleeves.
Materials
We Crochet, Lindy CHain Fingering Weight, 70% Linen  30% Pima Cotton, 180 yards/ 50 grams, colour U536 Harbor (26457).  For yarn quantities, see table.
A 5.5mm hook (US 10 /J)
Abbreviations
ch – chain stitch
DC – double crochet
FDC – foundation double crochet
MBS – Mini Bean Stitch
pul – pull up loop
RS – Right Side
SC – Single Crochet
sp – space
ss – slip stitch
st(s) – stitch (es)
WS – Wrong Side
yo – yarn over
Lace Short Sleeves Top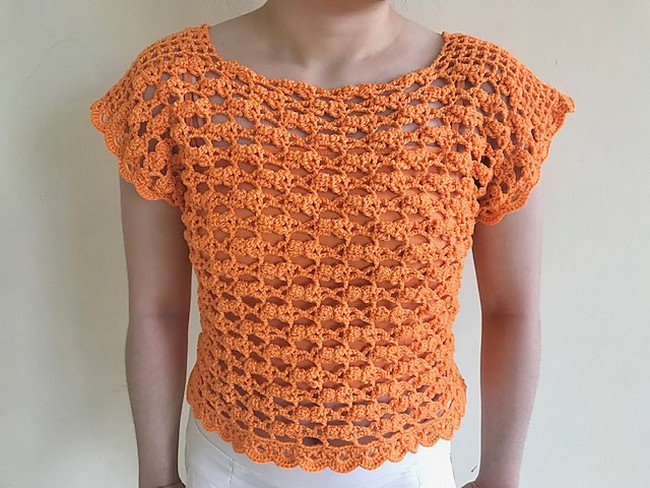 This top is not just a basic tee shirt; it is so versatile and stylish that you can wear it for any occasion. It is crochet lace, soft, stretchy, and very comfortable. The crochet lace can be folded over the sleeves or left plain, as shown in the picture. It's your choice. Every girl needs a cute, casual top on those busy but fun days. This top is made from a soft cotton blend fabric and features delicate crochet lace detailing along the neckline and hem. Pair it with denim shorts and flip-flops for an easy weekend look you'll love.
Materials
3.0 mm Crochet Hook
Scissors
Darning Needle
Stitch Markers
Abbreviations
St = Stitch
Ch(s) = Chain(s)
Ch-sp = Chain Space
Ch3-sp = Chain 3 Space
Tch = Turning Chain
Sk = Skip
Sl St = Slip Stitch
SC = Single Crochet
DC = Double Crochet
2DC Cl = 2 Double Crochet Cluster
TR = Treble Crochet
BB = Back Bump
Rep = Repeat
SM = Stitch Marker
WS = Wrong Side
RS = Right Side
prev = Previous
Kid's Collar Tee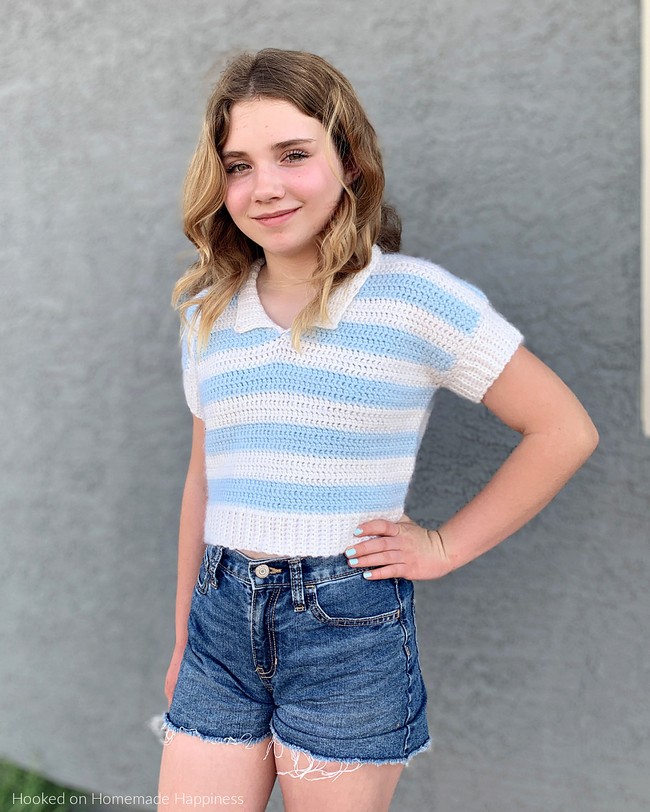 This Crochet Kid's Collar Tee is a wardrobe staple for your little girl. This creative tee combines the classic, clean look of a collared shirt with the whimsical design and texture of crochet fabric, so it's as fun to style as it is to wear! This cute, comfy collar tee is perfect for any occasion. This tee features a beautiful lace collar and is constructed from a soft, breathable cotton/polyester material that keeps your little one comfortable no matter where their day takes them.
Materials
Capra Dk from WeCrochet in Sagebrush & White ((2 skeins (246 yds) each color for 6/8) (3 skeins (369 yds) each color for 10/12/14) (4 skeins (492 yds) each color for 16)) – or any DK weight yarn
Aloft Kid Mohair in White ((1 skein (260 yds) for 6/8) (2 skeins (520 yds) for 10/12/14/16) – or any lace weight mohair yarn
4.5 mm hook
yarn needle
scissors
Abbreviations
ch – chain
sl st – slip stitch
sc – single crochet
sc blo – single crochet back loop only
esc – extended single crochet (insert hook into stitch, yarn over, pull up a loop, yarn over, pull through one loop, yarn over, pull through 2 loops)
esc2tog – extended single crochet 2 together
Efficient Tee
A classic silhouette with a slightly slouchy fit, our Crochet Efficient Tee is made from soft and lightweight cotton. The modern tee features a raw-edged neckline with an exposed back seam that creates an effortless fit. Stay warm and stylish this fall in the Crochet Efficient Tee. This soft cotton lightweight t-shirt is warm enough for winter but light enough for those mild spring days. The women's cut allows for a greater range of motion during your workouts, so stay active all year long!
Materials
Approximately 480 (550, 650, 720, 820) yards or 400 (460, 540, 600, 680) grams of any bulky weight #5 yarn. Sample uses WeCrochet Billow in Tumeric.
10.00 mm crochet hook
Ruler to check gauge
Scissors and yarn needle for finishing
Abbreviations
ch: chain

dc: double crochet

sc: single crochet

ea: each

st(s): stitch(es)

sl st: slip stitch

rem: Remaining

FO: finish off
Something Beautiful Blouse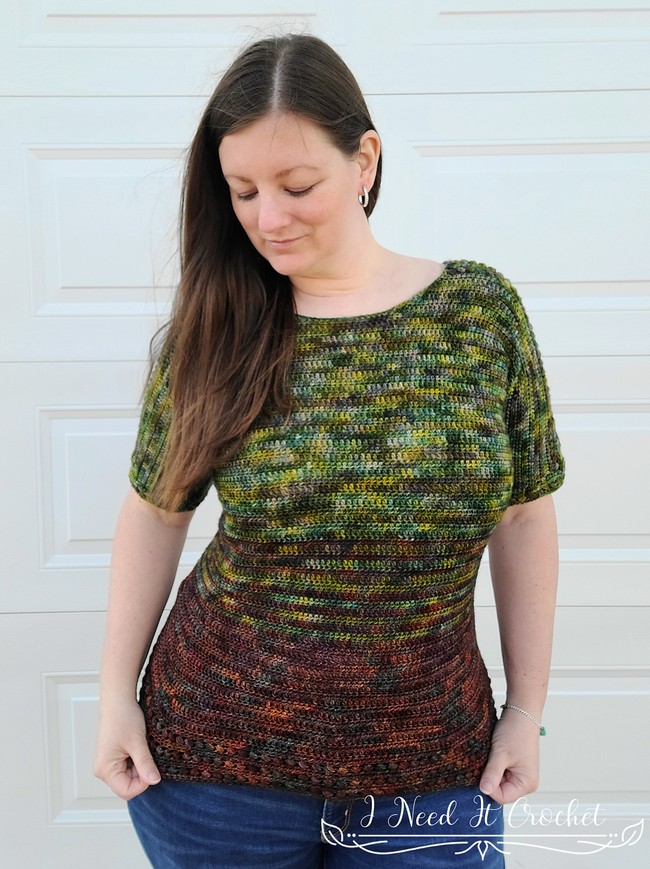 Show off your passion for crochet patterns in this cute crochet tank top. This top is cute and functional, with a flattering cut and an elegant design. The Crochet Something Beautiful Blouse is a must-have for the modern woman. With its high neck and long sleeves, this chic top is designed to keep you comfortable all day long. This beautiful crochet blouse can be worn with jeans, a skirt, and dressy tights. Perfect for fall and winter!
Materials
I used Malabrigo Yarns Mechita, a 100% Superwash Merino, #1 Superfine weight yarn.
Any yarn of similar weight would work.
4mm Hook
Stitch Markers
Yarn Needle
Scissors
Measuring Tape
Abbreviations
RS = Right Side
WS = Wrong Side
Sk = Skip
St = Stitch
Ss = Slip Stitch
Ch = Chain
Sc = Single Crochet
Hdc = Half Double Crochet
Dc = Double Crochet
Tr = Treble Crochet
Bd = Bead Stitch