Crocheting pigs is a fun way to bring a bit of whimsy and texture into your home decor, whether you're looking to replace a knick-knack or want to add charm to a room. Pigs are friendly, playful animals with contagious smiles, making them the perfect decoration for a child's room or play area. This collection of Free Crochet Pig Patterns includes items that range in size from a small figurine to a large pillow—and everything in between. Most are designed to be displayed on an end table or bookcase, but they also make great accessories for gift baskets and other decorative storage containers.
Crochet Pig Easy Patterns

Crocheting is a fun and relaxing way to craft, and project options are almost limitless. The fact that you can create the things you want using only the materials you have makes the possibilities truly endless. This is why crochet pig patterns are such a great idea—you get to be as creative as you like and have fun doing it. Here's a collection of 15 crochet pig patterns to help you celebrate National Pig Day. These cute stuffed toys are great for kids and adults alike and will be welcomed by anyone who loves pigs. Make a cozy companion or choose a larger size for display in your home or on the chair where Mom sits to watch TV.
Tips For Easy Crocheting Pig Pattern Free
Patience is a virtue: It may be hard to know what to do if you have never made a crochet animal before. Don't worry if it doesn't come out perfect the first time; keep trying and practicing until you get it right!
Practice makes perfect: Practice with some pieces of yarn and different sizes of hooks so that when you start working on your project, you are familiar with each part of the process. This will save time when you have to fix mistakes or make changes to your design.
Always check your gauge: Make sure your stitches' size matches the gauge listed in the pattern instructions before proceeding further with your project! This will ensure that your finished item accurately represents what is shown in its picture or described in its written instructions.
George Pig Amigurumi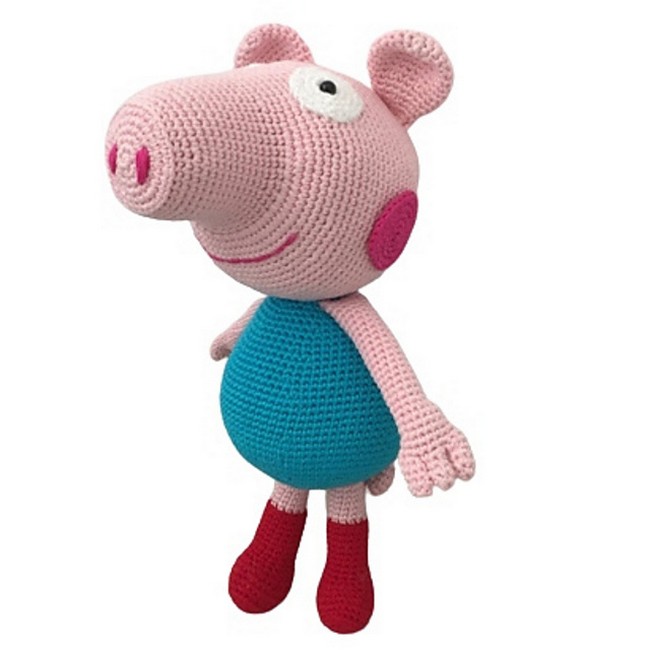 A perfect addition to your collection, this adorable crochet pig is sure to please. You can make him as a gift or add him to your own collection! Crochet this sweet little George Pig Amigurumi and carry him around wherever you go! This pattern is easy to complete and make, making it the perfect stash-busting project. It's also a great way to practice your crochet skills. This adorable crochet George Pig Amigurumi is a set of instructions to make this cute pig. Perfect for gifting or just as a new best friend! This little guy is ready to be adopted.
Materials
- filling (artificial cotton)
- a piece of magic wire about 17 cm
- 7mm round black safety eyes
- some cardboard
- crochet hook and wool needle
Abbreviations
- pb= single point or half point
- pe= slip stitch
- ch= chain
- aw= increase
- decrease= decrease
Pig Wall Hanging Tapestry Crochet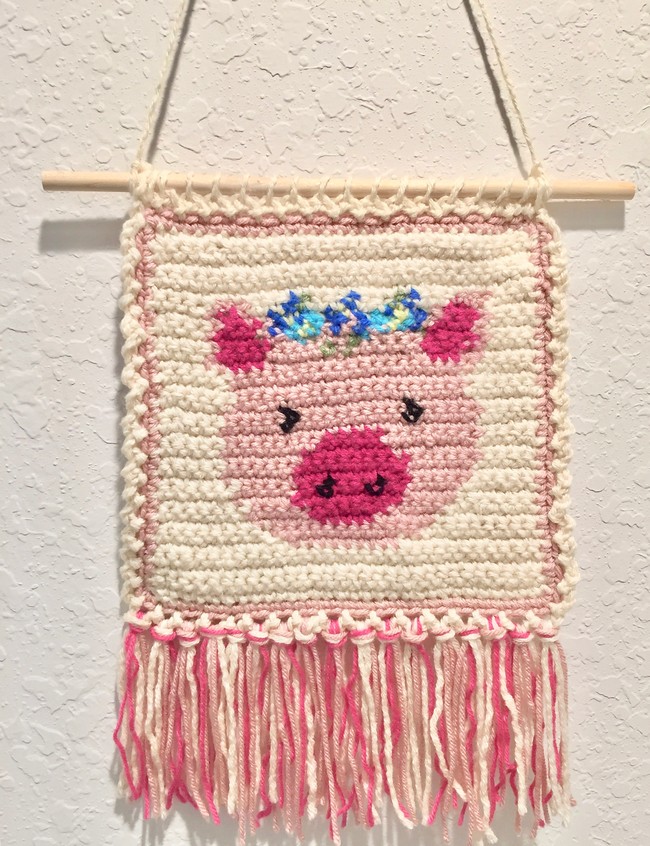 This crochet pig wall hanging tapestry is a fun decorative accent in your living room or bedroom. It is made of durable cotton yarn and features an adorable pig design that keeps it looking beautiful year after year. This modern design can be used at home or in your office and will also make a great gift idea for men, women, and children. It is the perfect addition to your favorite space. The soft pig design will provide an added touch of home.
Materials
Hobby Lobby Yarn Bee Denim in Color/Ivory (¼ ball)
Hobby Lobby I Love this Yarn/Rosy Cheeks (Scraps)
Premier Just Yarn/Magenta (Scraps)
Walmart Mainstay Yarn/Black (Scraps)
Various colors of Acrylic Yarn for Flowers (Scraps)
5.5mm (I) Crochet Hook
Bobbins (Optional)
Dowel or Stick
Tapestry Needle
Abbreviations
ch = Chain
sc = single crochet
sl st = slip stitch
st = stitch
Pig Applique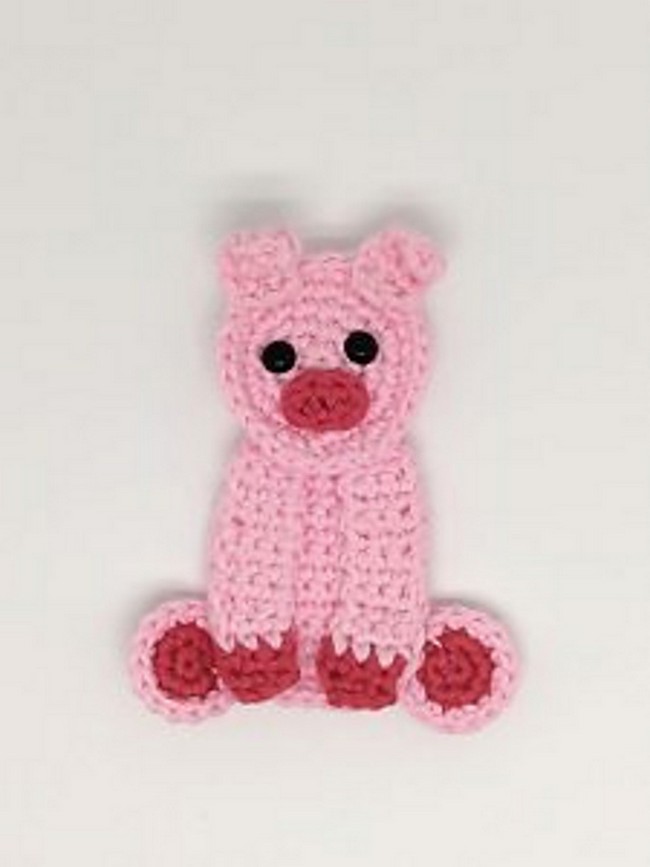 Gorgeous applique crochet pig, completed with your choice of rayon thread or embroidery floss. This hand-crocheted pig is an ideal gift for the not-so-big guy in your life! This little piggy is sure to be a hit with your kids. Made for the family craft room or any room in the house, this applique will add an adorable touch to any stitch! Beautifully crafted pig applique, great for hats, backpacks, toys, and more. Adorably cute amigurumi piggy applique perfect for your next project. Attach as a cute embellishment or perfect as a stand-alone decoration!
Materials
Yarn calling for 5,5 mm / size I hook in: light pink (main color) and dark pink (secondary color)
Size 3.5 mm / size E crochet hook.
2 black safety eyes (7.5 mm)
Stitch markers
Tapestry needle
Scissors
Abbreviations
chain (ch)
magic ring (mr)
single crochet (sc)
increase (inc)
invisible decrease (dec)
slip stitch (sl st)
half double crochet (hdc)
double crochet (dc)
Amigurumi Piglet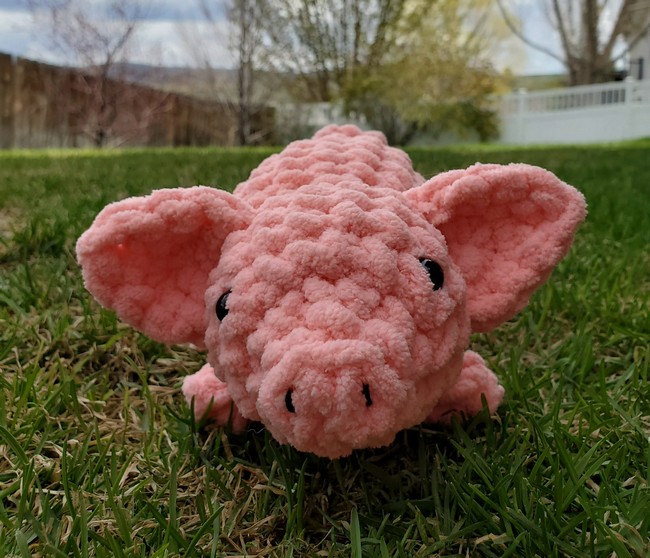 A piglet is a baby pig or young pig. Their ears, snouts, and tails are often much more delicate than an adult pig. You can make your little piggy a scarf or hat to keep warm or maybe even a wristband to show off! This adorable Crochet Amigurumi Piglet Pattern is perfect for beginners and advanced beginner-ish crocheters. Add fun and flair to your decor with a little piglet! Amigurumi, or crocheted stuffed animals, are easy to work up but look like you've spent hours on each one. With an adorable floppy body and a little curly tail, this little pig will be a welcome addition to any room.
Materials
Size N crochet hook
Bernat Blanket Yarn in "Coral Blossom"
2 – 8mm safety eyes
Black embroidery thread
Fiber fill
Yarn needle
Scissors
Pins for attaching pieces
Dapper Piggy
This lovely fellow is perfect if you want to add a little Dapper Piggy to your life. Made from 100% cotton yarn and stuffed with poly-fill, it's the ideal size for cuddles, playtime, and maybe even a little mischief! You can dress him up however you like, with a tie or glasses. And that makes him so happy - giving his wearer a chance to imagine all sorts of fun adventures! This happy little piggy has a sense of style and an eye for the finer things. He stands tall and proud, ready to meet your friends at the next cuddle party.
Materials
3.75mm hook for main (I use THESE hooks!);
3.25mm hook for snout and bowtie;
Lion Brand Color Made Easy in Millennial (200g) or any bulky (weight 5) yarn of choice;
Caron Simply Soft in Plum Wine for snout (small amount) or any worsted (weight 4) yarn of choice;
Patons Canadiana in Medium Green Tea for bowtie (small amount) or any worsted (weight 4) yarn of choice;
Black crochet thread for mouth;
18mm safety eyes;
Stuffing;
Tapestry needle.
Abbreviations
Ch – Chain
Slst – Slip stitch
Sc – Single Crochet
FSc – Foundation single crochet
Inc – Increase. Work a regular sc increase
Dec – Decrease. Work a regular sc decrease
BLO – Back Loops Only
Sk – Skip a stitch
Hdc – Half double crochet
Hdc2tog – Half double crochet two together – work a hdc decrease.
Dc – Double crochet
Small Cute Amigurumi Pig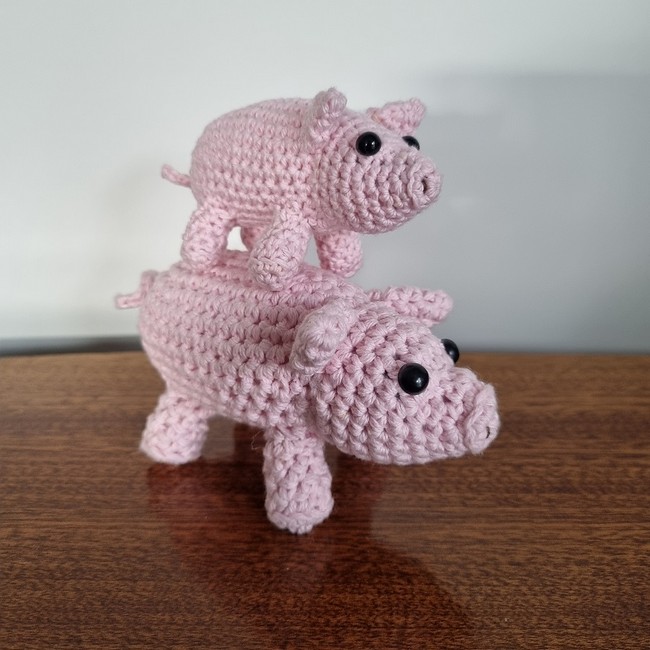 Another cute and cuddly friend for your kids or friends! This piggy is small enough to be a great gift. Crochet using basic stitches, this little amigurumi pig is ready to be adored by children of all ages. You'll be surprised how quickly you can make this little guy - it doesn't take long! This cute small pig amigurumi is easy to make and perfect for beginners! It's super soft and huggable, great as a plushie or doll. It is a simple and quick-to-crochet, soft, and cuddly toy!
Materials
8ply pink-ish yarn, I used 22g cotton (45-50m)
2.75mm hook (or a 3.25mm hook if that's too tight for you)
Darning needle – read what yarn needles are here!
Stitch marker – read why stitch markers are helpful!
Scissors
Safety Eyes – 8mm size
Brown embroidery thread
Stuffing – About 5g
Abbreviations
Sc = single crochet
Ch = chain
Sl = slip stitch
Inc = increase (2 in same space)
Dec = decrease (1 in 2 spaces) – Read how to do an invisible decrease here!
[ ] = repeat the section in brackets the number of times it says, so [inc, sc] 3 times means inc, sc, inc, sc, inc, sc
Magic loop
Baby Pig Toy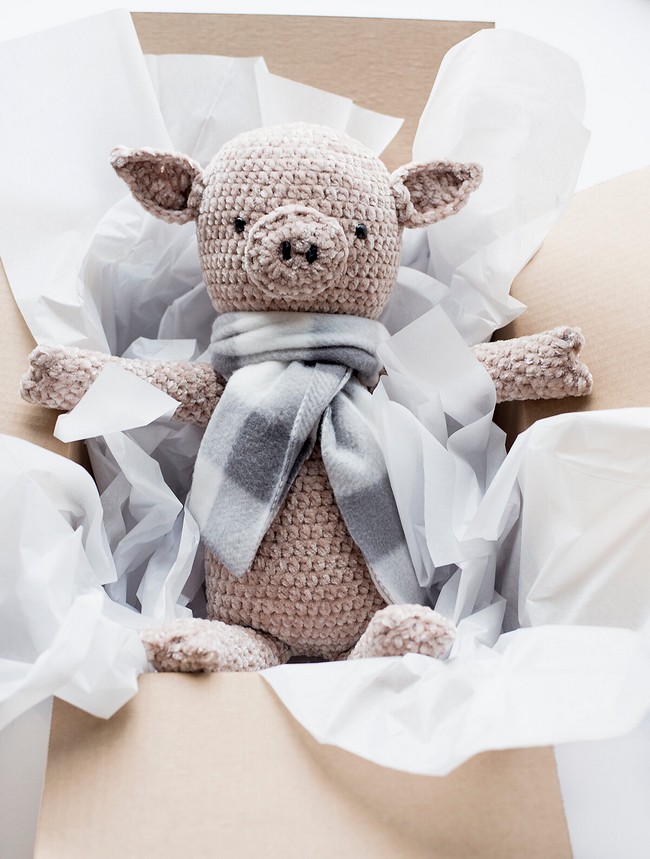 A great toy for your little one, this Crochet Baby Pig Toy is the perfect gift for baby showers and birthday parties. Your little one will love snuggling up with their new friend. It is a bright and colorful crochet toy that your little one will love! Perfect for babies to hold and play with, this adorable pig is just the right size for little hands. The soft yarn and fun pattern make the perfect gift for a new baby or small child who loves animals. This Crochet Baby Pig Toy is the perfect gift for a baby shower, birthdays, or to add cuteness to your child's playroom.
Materials
-Approximately 250 yards of a velvety worsted weight (category 4) yarn, I used Bernat Baby Velvet in the color "Bunny Brown"... online this color looks light beige, but the skein I picked up in my local Joann's was rose-colored, so not sure if this is normal or not
-4mm (G) hook, or size needed to obtain gauge
-12 oz bag of polyester fiberfill
-safety eyes
-yarn needle
-any black yarn to make the nostrils
-fleece fabric for a scarf or any other accessories you may want
-safety pins
Abbreviations
ch=chain, hdc=half double crochet, st(s)=stitch(es), hdc2tog=half double crochet two together, sl=slip, dc=double crochet, tr=treble crochet, BLO=back loop only
Pig Hand Puppet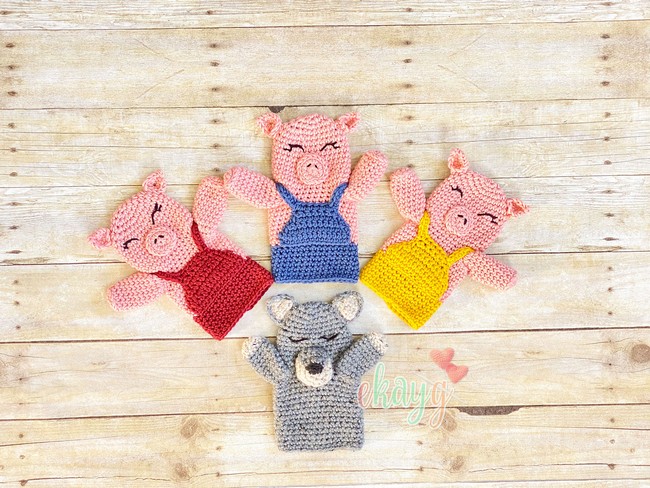 This Crochet Pig Hand Puppet keeps you company on a long car trip or for fun. It is super soft and has an adjustable leather loop at the top so that it can be worn on your hand or held like a puppet. This adorable plush pig hand puppet makes a great gift for any occasion. A great way to get the kids involved in storytelling, puppet shows, and dressing up. The hand puppet makes it easy for them to make all their favorite animal sounds and pretend play!
Materials
Worsted weight 4 Yarn:
THE HOOK NOOK, Main Squeeze: Rose Gold (A) – approximately 75 yds
THE HOOK NOOK, Main Squeeze: Midnight Decisions (B) approximately 30 yds
Small amount of THE HOOK NOOK, Small Stuff: Tattoo Ink (for the eyes and nostrils)
THE HOOK NOOK CROCHET HOOK, size H – 5mm
Stitch marker
Tapestry needle
Scissors
Abbreviations
magic ring
rnd, rnds – round, rounds
st, sts – stitch, stitches
sl st – slip stitch
sk – skip
sc – single crochet
inc – increase, 2 sts in same st
dec – decrease, combine 2 sts into only 1 st
invsc2tog – invisible single crochet 2 together; this is essentially a decrease, but done in such a way as to make the continuous stitching smoother, and the decrease not as noticeable.
Amigurumi Pig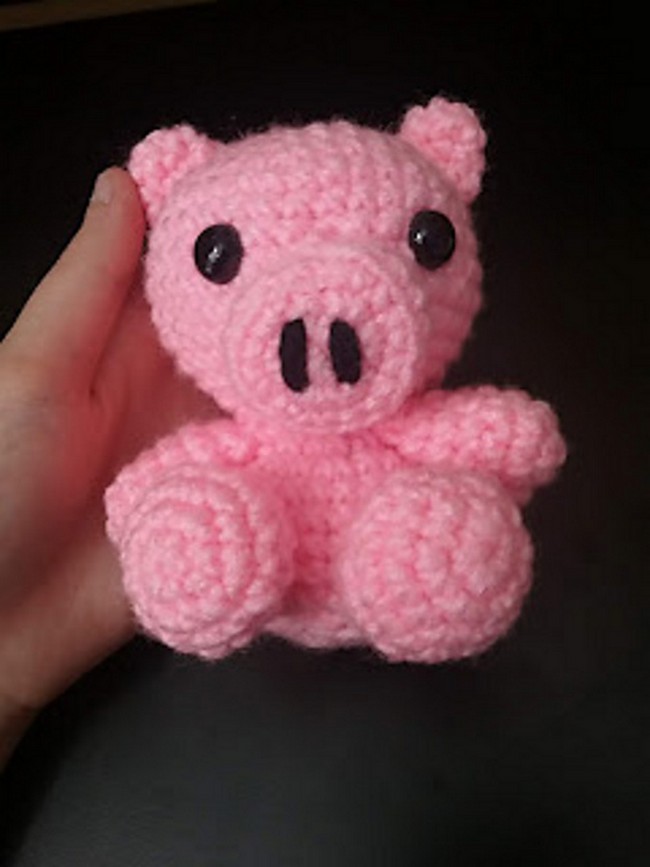 This is a very cute pig. Crocheted in an attractive pink color, this soft little pig can be a wonderful friend for any child. This mini pig has been crocheted in the round for a smooth finish. The perfect gift for any occasion, including birthdays and holidays! This pig is one of the most adorable amigurumi projects for beginners, with an easy-to-follow pattern. It is a fast project that works in just a few hours and is the perfect introduction to crochet. This pig is so cute; you will want to hug it all day.
Materials
Pink and black yarn of your choice
Recommended hook size for your yarn
Yarn needle
Safety eyes of your choice
Polyester Fiber Fill
Stitch Marker (optional)
Abbreviations
sc: single crochet
hdc: half double crochet
inc: increase (two sc in one stitch)
st: stitch
dec: decrease (crochet two stitches together)
BLO: in back loops only
FO: Fasten off
ch: chain
Anguro the Pig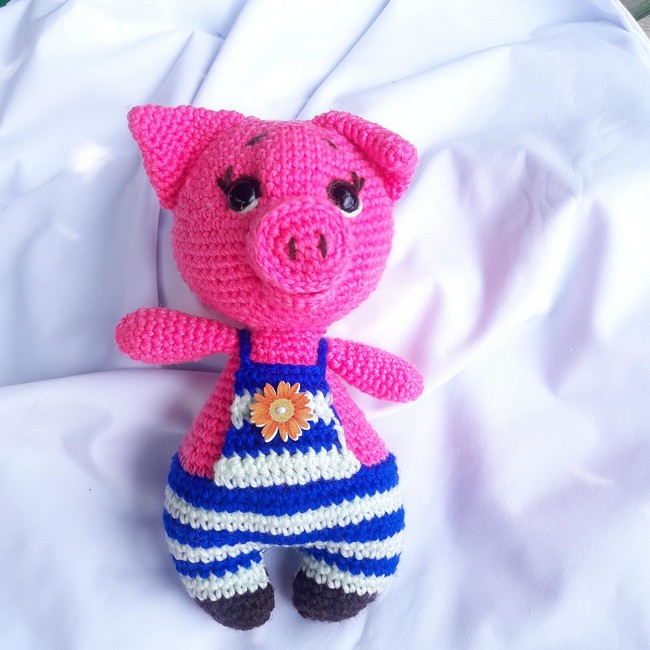 Anguro is a cute little pig with a sweet smile. Check out this cute little pig, friend. Anguro is just the cutest! She has a darling striped overall suit, and her bushy tail adds to her charm. This little friend will make the perfect desk buddy or stress-relief companion at work or home. Her striped overalls and cute little face are sure to put a smile on your face. This little cutie was made with lots of love, and she is ready to go on adventures!
Materials
4 mm crochet hook
Needles 8 ply acrylic yarn in the colours: Royal blue, Chocolate brown, Hot pink & Ice mint
14 mm safety eyes
1" button
Stitch marker
Stuffing
Scissors
Darning needle
Abbreviations
Sl st- slip stitch
Ch- chain
St(s)- stitches
Sc- single crochet
Deep sc- deep single crochet
Inc- increase
Dec- decrease
BLO- back loop only
FLO- front loop only
Apricot the Pig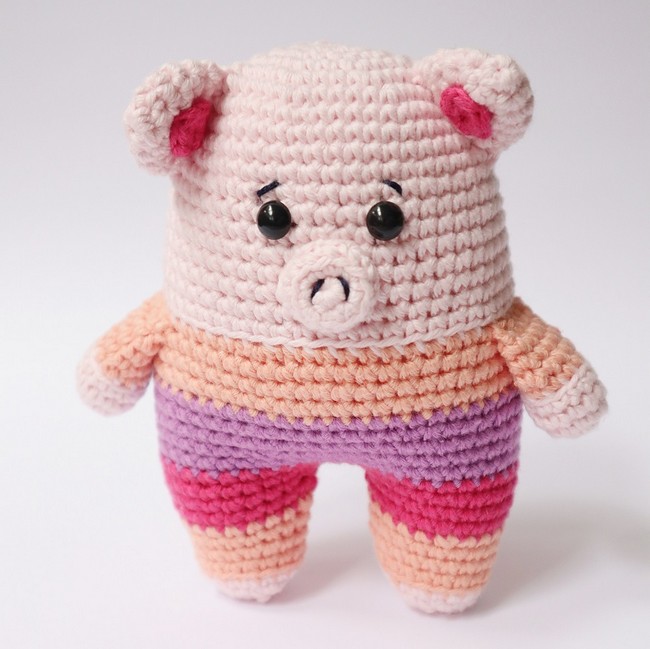 Crochet this adorable mini pig for yourself or a loved one. It's a perfect gift for any occasion! Crochet Mini Pig is the perfect friend for your baby to snuggle at bedtime. He's soft and cuddly and easy for little hands to hold. He comes complete with his trademark pink and white stripes, denim overalls, and a little pink bow tie. Adorable and soft, the Crochet Mini Pig is a cute addition to your bed or chair. He's sure to bring a smile to any home for years.
Materials
2.75mm hook/C-2 (US)
La Mia Mini Cottony 20 Skeins Yarn, Assorted Colors – 25g of PINK, APRICOT, PURPLE, and RASPBERRY
Anchor Stranded Mouline Embroidery Thread, 8M Black – 0152
A pair of 8mm safety eyes
Scissors
Tapestry needle
Polyester toy stuffing
Stitch marker (optional)
Abbreviations
ch = chain
MR = magic ring
sc = single crochet
sk = skip stitch
inc = single crochet increase (2 sc in
one stitch)
hdc inc = half double crochet increase
dec = decrease (sc 2 together)
BLO = back loops only
sl st = slip stitch
(..) = repeat the space in brackets the
given number of times
[..] = total number of stitches
Mini Pig
The Crochet Mini Pig is the perfect cute addition to your home. This animal friend will add a playful vibe to your space while giving you the company you crave. Your little one will love this mini crochet pig. This tiny stuffed animal is the perfect gift for baby showers and holidays or to make a little one smile. This mini crochet pig is so cute! It has a pink body with black spots and a little beanie hat to keep it warm. Perfect for any collector of cuteness or someone who loves pigs in general!
Materials
50 yards of Stylecraft Special DK – Blush (1833)
9mm plastic toy eyes
A small amount of black embroidery thread
Stitch markers
Stuffing
3mm hook
Yarn needle
Abbreviations
sc – single crochet
ch – chain
dec – single crochet 2 together
inc – 2 single crochet in one stitch
st/s – stitch/es
BLO – back loop only
FLO – front loop only
*  Where the pattern instructs you to repeat, repeat the instructions within the asterisks
You can also: Piglet Costume Ideas 
Paisley The Pig
Introducing Paisley, the crochet pig! This bright and colorful pig is perfect for cuddling just in time for spring. His snout has been meticulously double-stitched with a permanent satin stitch to ensure durability and make him super soft. This little piggy is sweet and squishable, ready to bring cheer to your day. Crocheted in Bernat Softee Baby, this squishable stuffed animal works up quickly and easily. You may make Paisley a boy or girl pig using the ear pattern given in the pattern.
Materials
3.5mm (E) hook

15mm safety eyes

Stitch markers

Yarn needle

Fiber fill

Disappearing ink marker
Abbreviations
ch – chain
sc – single crochet
inc – complete two single crochets within the same stitch
dec – combine two stitches into one with an invisible decrease
BLO – crochet in the back loop only
*sc x* – repeat the instructions between asterisks(*) the indicated number of times. If the pattern doesn't tell you how many times to repeat, repeat the sequence until you reach the end of the round.
2hdc – complete two half double crochets in the same stitch
2dc – complete two double crochets in the same stitch
Piggie Smalls
Soft, cuddly, and safe baby doll. Perfect for an infant's first dolly.Crochet piggie smalls! These little guys are perfect for kids, babies, and newborns! Get ready for the new baby piggy lover with these soft, huggable amigurumi! They make a great shower gift or photographer prop. These little crochet piggies are so cute you'll have to herd them up and keep them warm. They make a nice gift for new babies, and they work up quickly to fit in your pocket or purse when you're on the go busy.
Materials
3.5 mm Furls Crochet Hook (or size needed to obtain gauge)<– Save 15% off Furls Hooks when shopping through this link and using the code LOOPYLAMB15 at the check out (#furlsinf621)
109 yds/100 m (1.8 oz/50g) WeCrochet Brava Worsted Weight in Cotton Candy
16 yds/15 m (0.25oz/7g) WeCrochet Brava Worsted Weight in Asphalt Heather
2 – 12mm Black Safety Eyes
Poly-fil Stuffing
Tapestry Needle
Multiple Stitch Markers
Black Embroidery Thread
Scissors
Abbreviations
BLO – Back Loop Only
CH – Chain
DC – Double Crochet
FLO – Front Loop Only
FO – Finish Off
HDC – Half Double Crochet
MC – Magic Circle
PM – Place Marker
SC – Single Crochet
SCDEC – Single Crochet Decrease
SCINC – Single Crochet Increase
SL ST – Slip Stitch
ST – Stitch
Little Pig Amigurumi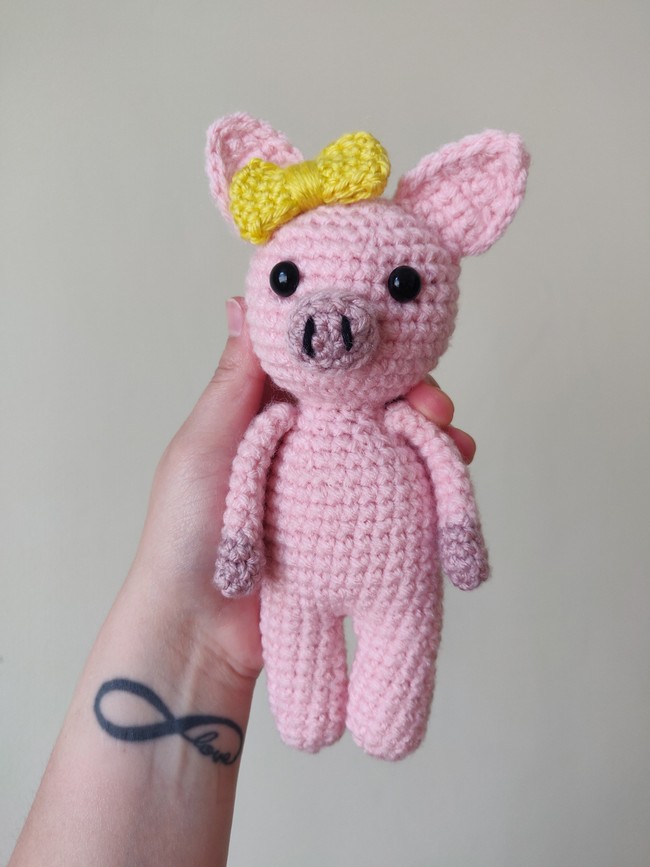 Crochet Little Pig Amigurumi is the perfect addition to any nursery! The perfect size for little hands, this sweet piggy has a sweet face and classic colors. This is a free crochet pattern for a cute little pig, amigurumi. It has simple stitches, and the finishing is easy. You can make it a gift or keep it for your kids to play with. You can make a whole farm with just one skein of yarn, so they are perfect for gifts or stash-busting. This is a Cute Little Pig Amigurumi, made with a soft bulky yarn. Perfect for the child in your life. Instant download includes pattern and materials list.
Materials
F – 3.75 mm crochet hook –

Medium Worsted weight (#4) yarn

Caron Simply Soft for Bow

Light pink – for body/head, arms, and ears.

Dark pink – for the first few rounds of arms and the snout

Black yarn for the nose – or embroidery floss

2 – Safety Eyes – size 10 mm

Yarn needle

Scissors

Stitch markers (highly recommend this extra piece of yarn works great) X2

Poly-fil – I use the one for doll making

(Optional) Pins to help with ears and arms placements.

(Optional) Blush or paint for the cheeks. Add a little at a time.
Abbreviations
CH

 – 

chain

ST 

– stitch (stitch space)

Sl St

 – 

slip stitch

SC

 – single crochet

FLO

 – front loop only

SC INC

 – single crochet increase (2 sc in the same st)

INV DEC

 – invisible SC decrease ( decrease using FLO)