Looking for a beautiful crochet pattern to keep you warm on a brisk spring day? If so, you've come to the right place! These Crochet Lacy Shawl Patterns will wrap you up in colorful warmth and comfort. We have the perfect design, whether you like your shawls light and airy or thick and cozy. Made from yarns made from organic cotton, bamboo, or merino wool yarn, these stylish shawls are perfect for all seasons! You can choose between various stitches and styles to create something unique and special reflecting your style. Crochet yourself a beautiful lace shawl that is easy to make and quick to complete.
Crochet Lacy Shawl Patterns Free

Every woman wants accessories to make a statement, and these crochet shawl patterns are perfect. Whether you're looking for a delicate lacy shawl or a fun fringe pattern to wear over your favorite summer outfit, our free crochet pattern collection has you covered. These amazing Crochet shawls are for the unseasonably chilly days of winter and any time of year. They add a fabulous fashion look to any fall or spring outfit. These lacy shawls are perfect for any special occasion. They're also a great way to show off your latest crochet design.
Tips For Beginner's Crochet Lacy Shawl Patterns
Choose the right yarn. You don't have to use a super fine yarn for this shawl, but you will get an amazing drape if you do.
Use stitch markers. They help you track where you are in the pattern and make it easier to pick up stitches at the end of a row or round.
Mark the beginning of each row with a marker to help keep track of rows and rounds.
Use a stitch counter to track how many rows or rounds have been completed in a particular pattern.
Make sure your crochet hook is not too large for your yarn weight and vice versa; creating these lacy patterns will be hard work!
Date Night Lacy Crochet Shawl: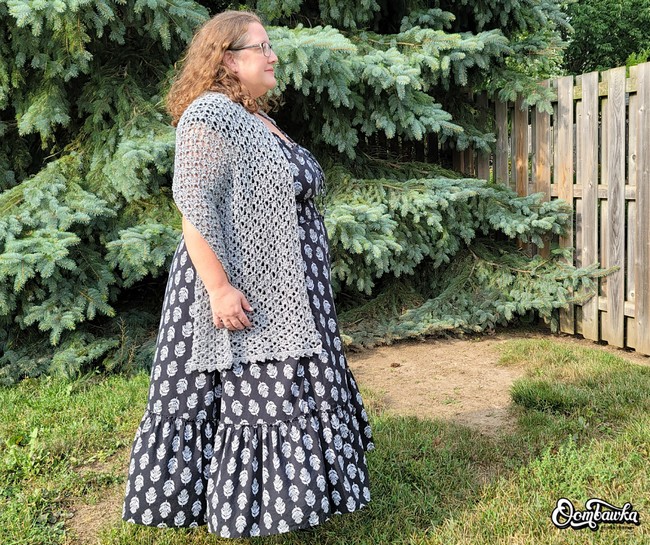 A gorgeous lacy shawl made with chunky yarn and available in various colors. Lovely lace and feminine design. The shawl is light, comfortable, and cozy. This easy, wearable crochet pattern is decorated with beads making it perfect for a warm summer evening or even a winter night. This garment is an excellent addition to any outfit for chilly evenings or layering during colder months. This crochet shawl is perfect for a date night or party, or you can create something beautiful with just some jeans and a pair of flats. This shawl is very soft and comfortable to wear with pockets too!
Materials
Yarn: Lion Brand, Date Nights Yarn. 100 g (3.5 oz) and 273 yds (250 m). 82% Acrylic, 18% Polyester. Medium-Weight Yarn [4]. Machine wash, tumble dry low.
Color: 4 skeins in Tree Agate
Hook 5.50 mm (I). Furls Candy Shop Crochet Hook, Blackberry.
Finished Project Yardage: Scarf:  359 g (12.7 oz) and 980 yds (896 m).
Scissors, Yarn Needle, Stitch Marker
Abbreviations
3-dc group – 3 double crochet stitches worked into the same stitch, or space
ch/chs – chain/chains
dc – double crochet
hdc – half double crochet
picot – picot (ch 3, sl st to the third ch) *see special stitches
R – row
sc – single crochet
sk – skip/skipped
sl st – slip stitch
st – stitch
V-st – v stitch (1 dc, ch 3, 1 dc) worked into the same stitch or space *see special stitches
* to ** – Work the instructions between the asterisks the number of times indicated. This repeat will contain multiple instructions.
[ ] – at the end of the row – the total number of stitches
( ) – important notes AND sets of stitches to be worked within one stitch, or space
Crochet Lacy Summer Ruana: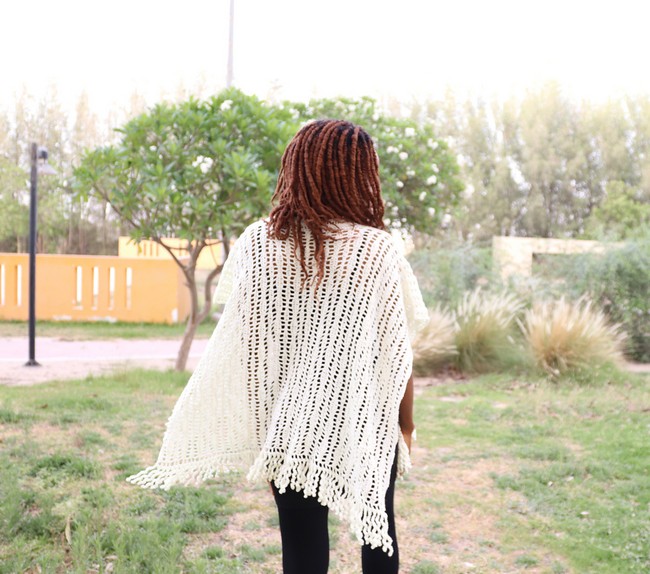 This beautiful Lacy Ruana is light and airy; you can wear it everywhere. It is perfect for those warm summer days when you need a little coverup or the beach. The texture pattern adds a little interest to an otherwise plain garment, making it stand out from other similar clothes. It is so simple to crochet, perfect for any crochet beginner! This lightweight crochet ruana with a light lacy design is ideal for the fashionable woman on the go. The lightness and delicateness of this piece make it so easy to wear and carry.
Materials
Sport Weight, fine 2 yarn. Yarn used here is Lion Brand Beautiful You. 100g/298mtrs. You need about 1,192 mtrs (without fringes), 1,490 (with fringes). Get a substitute here
4mm hook
Tapestry Needle
Scissors
Abbreviations
DC- double crochet
TC- treble crochet
SC- single crochet
CH- chain
SKP- skip
BP- back panel
FP- front panel
Lacy Shells Shawl:
The shells inspire Crochet Lacy Shells Shawl in nature. The lacy shawl features a delicate shell-shaped design with a feminine allure. This beautifully designed shawl can be worn as a scarf or as an elegant shawl. This pattern features a delicate shell stitch that creates an elegant shawl. Play around with different yarns to create your own lacy look! This pattern is so easy; it's perfect for a quick last-minute gift or a Friday night project. The combination of plain and shell stitches creates an airy, lacy fabric that is perfect for spring and summer wear.
Materials
Yarn: Omega Fontana (100% cotton; 218.7 yards; 100 grams): 650 Lilac 3 balls
(or any Size 3 (DK weight) cotton yarn)
Hook: Size K/10 ½ (6.5 mm)
Teardrop glass beads – 8 x 11mm (51)
Glass seed beads – 6/0 (51)
Abbreviations
Sl st (slip stitch) = Insert hook into st, YO, pull through stitch, and loop on hook
Sc (single crochet) = Insert hk into st, YO, draw up a lp, YO, pull through 2 lps on hk
Dc (double crochet) = YO, insert hook into st, YO, draw up a loop, (YO, pull through 2 loops on hook) twice
Shell = 4 dc in stitch indicated
Tr (treble crochet) = YO twice, insert hook into st, YO, draw up a loop, (YO, pull through 2 loops on hook) 3 times
Dtr (double treble crochet) = YO three times, insert hook into st, YO, draw up a loop, (YO, pull through 2 loops on hook) 4 times
Crochet Silver Linings: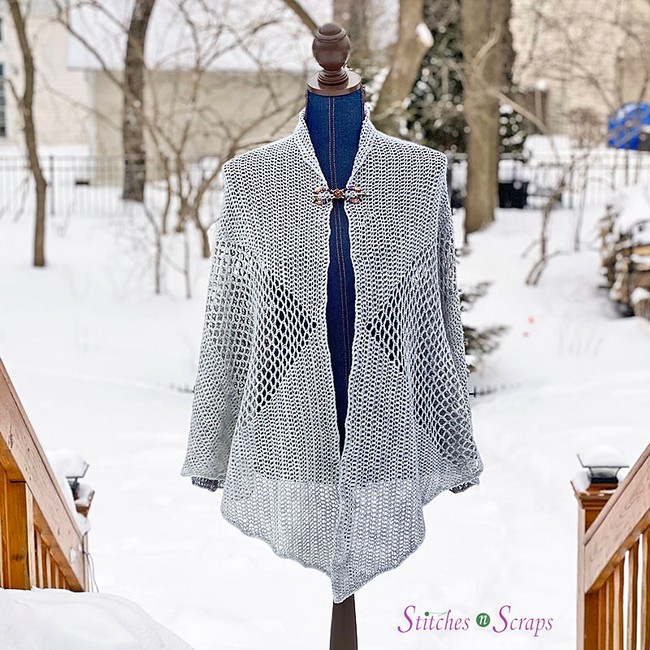 The Silver Linings wrap is a stylish addition to any woman's wardrobe, perfect for the office or a night out. This lacy shawl is made from a wool-blend yarn that offers warmth and durability, while the crochet body keeps it light and elegant. The Silver Linings wrap is a lacy crochet shawl that is gorgeous and easy to wear. Made with a single skein of worsted-weight wool and only basic stitches, it's an instant favorite for those who love the warmth of wool but wish to keep the chill out.
Materials
Yarn: Global Backyard Extrafine Merino Wool Blend – 85% wool / 15% nylon, 437 yds / 100 g per skein. Silver linings collection includes 1 skein each of:
Incoming Rain – medium grey (A)
Cloud Cover – light grey (B)
Thunderclap – dark grey (C)
Hook: Size G / 4 mm crochet hook or size needed to match gauge.
Notions:
Yarn Needle
6 stitch markers, safety pins, or scraps of yarn.
Abbreviations
ch = chain
ch-sp = chain space
csdc = chainless starting double crochet (optional – see Recommended Resources)
sc = single crochet
dc = double crochet
RS = right side
sl st = slip stitch
st(s) = stitch(es)
WS = wrong side
yo = yarn over
Feeling Flirty Lacy Shell Shawl: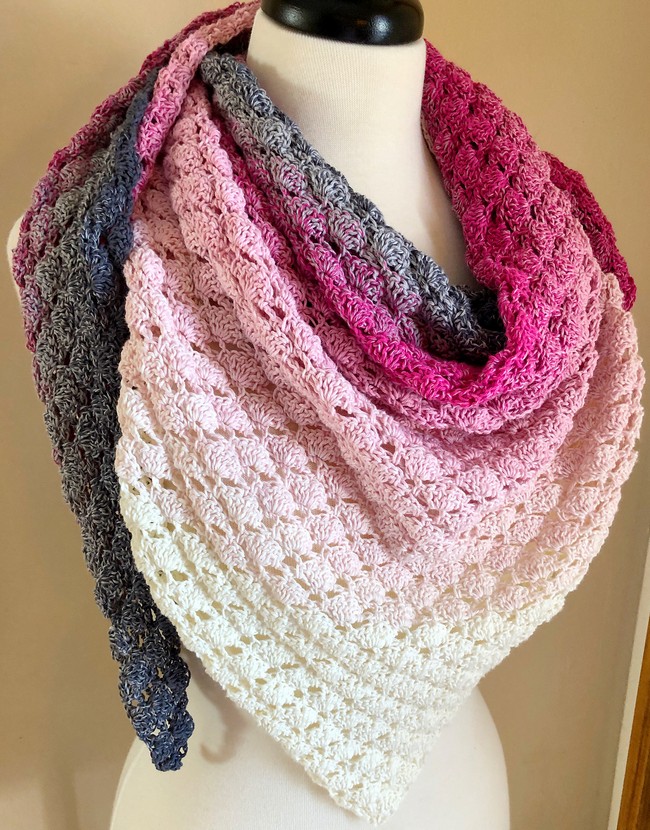 This shawl has a pretty flower and shell motif with a solid body and lacy ruffle. Add a touch of romance to your attire with this lacy crochet shell. The lightweight yet warm design makes it a perfect layering piece to wear over any outfit. This super soft, lacy shell shawl is the perfect feminine accessory to keep you cozy and comfortable during pregnancy. The drapey feel of this crochet shawl provides a natural allure that even the most fashion-forward women will love. Make it with solid and variegated yarns, or try lace-weight adventure for a light and airy look. It's the perfect size to throw on over any outfit for a dash of extra style.
Materials
The Slate Divide 03 Rainbow Wrapsody from Yarn Bee 1 yarn cake/skein or 918 yards. I purchased this at Hobby Lobby. However, if you do not have one close to you or cannot get this particular yarn. Any super good number 1 or 2 will work wonderfully with this crochet pattern. This Hobby Yarn would work nicely. It's a Wrap that would work well too.
Size E 3.5 mm Crochet Hook
Yarn Needle
Scissors
Abbreviations
CH = Chain
DC = Double Crochet
SC = Single Crochet
SL ST = Slip Stitch
SP = Space
ST = Stitch
STs = Stitches
[ ] repeat between
Crochet Little Fictions: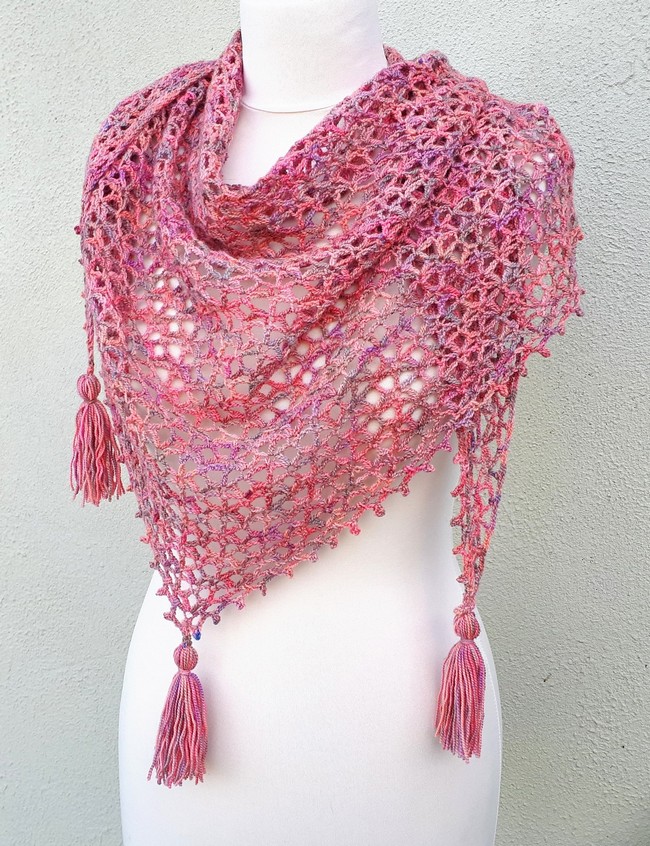 Little Fictions is a crochet triangle shawl with a beautiful drape that is spun from the softest wool. This shawl pattern uses only 400m of fingering weight yarn to create a light and lacy wrap, perfect for summer evenings or cozy scarves in colder months. The wide wingspan can be wrapped around your neck and shoulders or looped several times for extra warmth. This is a lovely and modern crochet shawl pattern with a beautiful drape. Made using basic crochet stitches that combine to create an interesting 2-row pattern repeat that is relaxing and quick to crochet.
Materials
Green Elephant Yarn Fingering Weight /437yds [400m]: Non-SW Merino Wool/100gr) in colorway Little Fictions (edit: no longer available)
4.5mm crochet hook, or whatever hook size gives a loose tension
You can use 400m of any fingering weight yarn or yarn of your choice and match the hook.
Abbreviations
Beg    beginning
Ch      chain
Beg    beginning
Ch      chain
St       stitchSc      single crochet St       stitch
Dc      double crochet
Dc      double crocheter       treble crochet
Sp      space
Tr       treble crochet
Dtr     double treble crochet
Sp      space
Patina Lace Shawlette: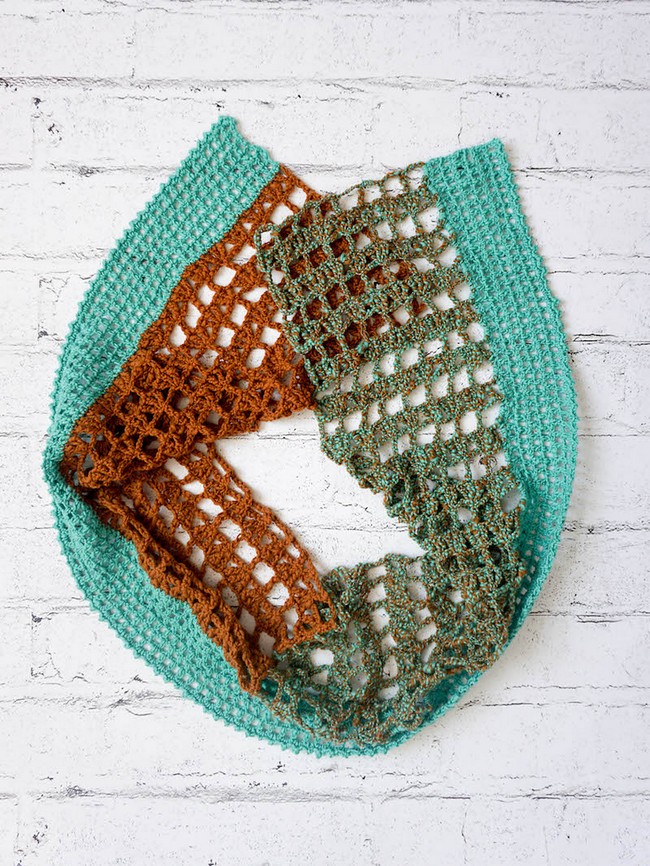 This shawl will add a lovely feminine touch to any outfit, sculpting, graceful, and lightweight. The Patina lace stitch is easy to memorize, making it an excellent design for beginners and more advanced crocheters. With a simple lace pattern and subtle drape, the Patina Lace Shawlette will add just the right amount of coverage to your outfit. This shawl can be worn as a scarf or a hoodie with cute boots and tights! This is an excellent project for those who want to learn an intermediate lace stitch while still being able to whip up a beautiful shawl in the evening!
Materials
Terra Fibres Handspun Merino Sport yarn (100% Merino wool, 3.5 oz/100 g, 164 yd/150 m) – 1 skein each in Caramel (CA), Caramel/Mint Marled (CB), and Mint (CC), or approximately 164 yd (150 m) each in 2 solid colors and 1 marled colorway in any handspun, lightweight yarn.
US Size I-9/5.5 mm crochet hook, or any size needed to obtain correct gauge. I used a hook with a sunflower ladybug polymer clay handle by Pastiche Accessories.
Yarn needle.
Abbreviations
CA – Color A
CB – Color B
CC – Color C
ch – chain
dc – double crochet
rep – repeat
sc – single crochet
sp – space
st(s) – stitch(es)
tr – treble (triple) crochet
*Repeat instructions after the asterisk as indicated.
() Repeat instructions between parentheses in the same stitch or space.
Zen Garden Shawl:
A shawl is a perfect way to keep warm. Lightweight yet dense and soft, cotton yarns create a drapey look in this easy-to-make shawl. Make it in your favorite color for a unique addition to your wardrobe. You can wear this shawl in multiple ways, depending on your mood and style. Wear it as an infinity scarf, or wrap yourself in it as a shawl. The pattern has a zen garden look and makes terrific use of variegated yarn. While it may look complicated, the instructions are easy to follow and fun to work through!
Materials
Yarn: Red Heart It's A Wrap Rainbow (1 cake or 623 yards)
Color: Parfait
Hook: F (3.75 mm)
Hook: J (6.00 mm)
Yarn needle
Abbreviations
ch(s) – chain(s)
dc – double crochet
sc – single crochet
sp(s) – space(s)
st(s) – stitch(es)
tr – treble crochet
Marina: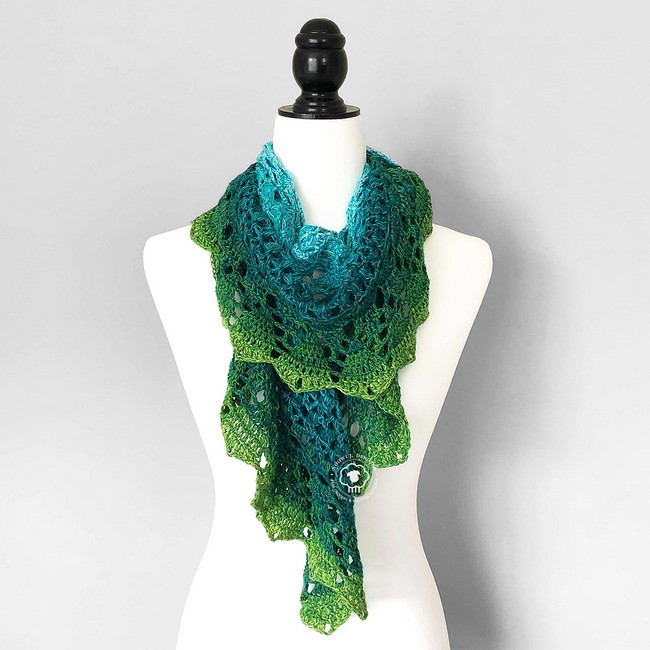 Looking for a free crochet shawl pattern that shows off your yarn? Crochet, The Marina Wrap is the perfect crocheted accessory! With its delicate crescent shape and airy feel, this shawl pattern is an excellent choice for spring and summer. This free crochet pattern is the perfect project to use your yarn scraps and let your imagination soar! Easily customize the size to suit your needs and create a wrap that's as unique as you are! The lacy stitches and gentle crescent shape show off the yarn beautifully, so you'll want to make one in every color!
Materials
Red Heart It's A Wrap Rainbow in Seaglass
Fine Weight #2 ~ 138 gms, 573 yards
HOOK:
4.0 mm (US G-6)
GAUGE:
18 double crochet and 9.5 rows = 4 inches
Abbreviations
CH = chain
CL = cluster
DC = double crochet
RS = right side
SC = single crochet
SHELL = shell stitch
SL ST = slip stitch
V-ST = v-stitch
Indigo One Skein Scarf: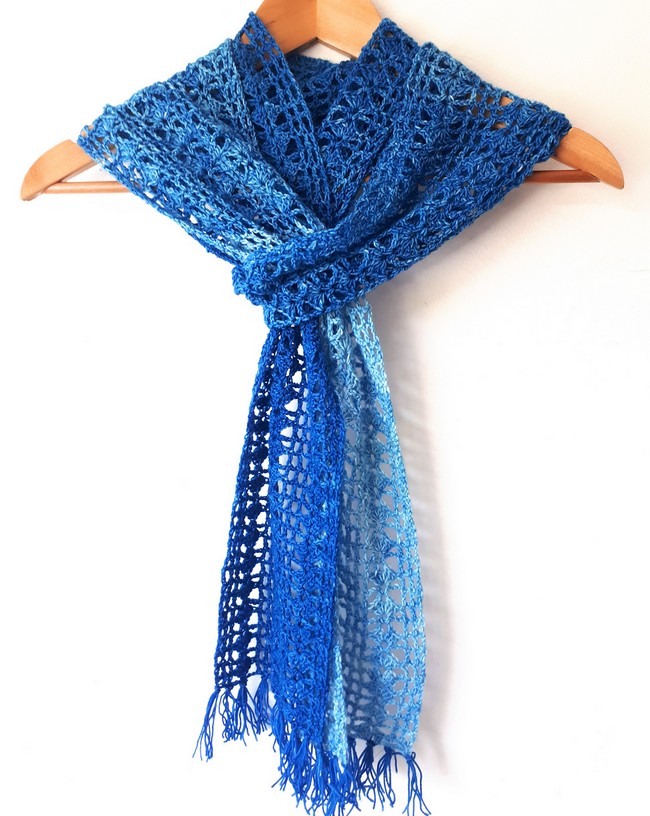 An excellent project for beginner crocheters, this one skein scarf is just the thing to knit up on a lazy Sunday afternoon. Knit in the round but with a ripple pattern, your new accessory will keep you warm while adding a dash of fabulous style to any outfit. Get in the spirit of fall with this beautiful crochet scarf. You can quickly make this scarf with just one skein to match any outfit or style. Make a statement with this one-skein crochet scarf. The perfect project for days of cold weather; it is warm and cozy.
Materials
1 skein or ball of Fingering weight yarn approx 100g/400m
Crochet Hook US size E/4 (3.5mm)
Abbreviations
Chain – ch
Stitch – st
Single crochet – sc
Double crochet – dc
Space – sp
Repeat – rep
Crochet Chevron Waves Lacy Wrap: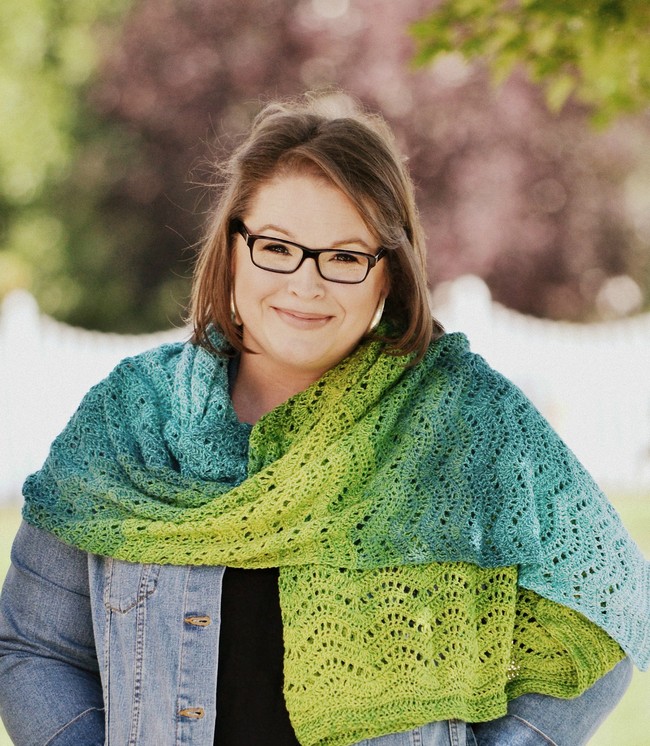 This crochet chevron waves lacy wrap is the perfect addition to your wardrobe. This one-size-fits-most design can be worn as a wrap over another top or as a scarf for your neck. This lovely crochet wrap is the perfect way to add texture and style to your summer outfit. In an easy-to-wear length, this cozy coverup will make you want to get out and enjoy the warm weather. It features gently curved edges and crisp crochet chevron stripes and is finished with a long elegant fringe that wraps around your shoulders for extra warmth.
Materials
Yarn Red Heart It's a Wrap Rainbow™ (45% cotton, 55% acrylic, 5.29 oz / 100g, 623 yds / 570 m); color #E862_9368 Seaglass 3 balls
Hook E/3.5mm or size to obtain gauge
Abbreviations
ch= chain;
dc= double crochet
ea= each
linked hdc= linked half double crochet [see special stitches]
sc= single crochet;
sk= skip
sp= space
st(s)=stitch(es);
* to * = work directions from * to * the number of times specified or to a specific stitch.
The Perfect Lacy Shawl: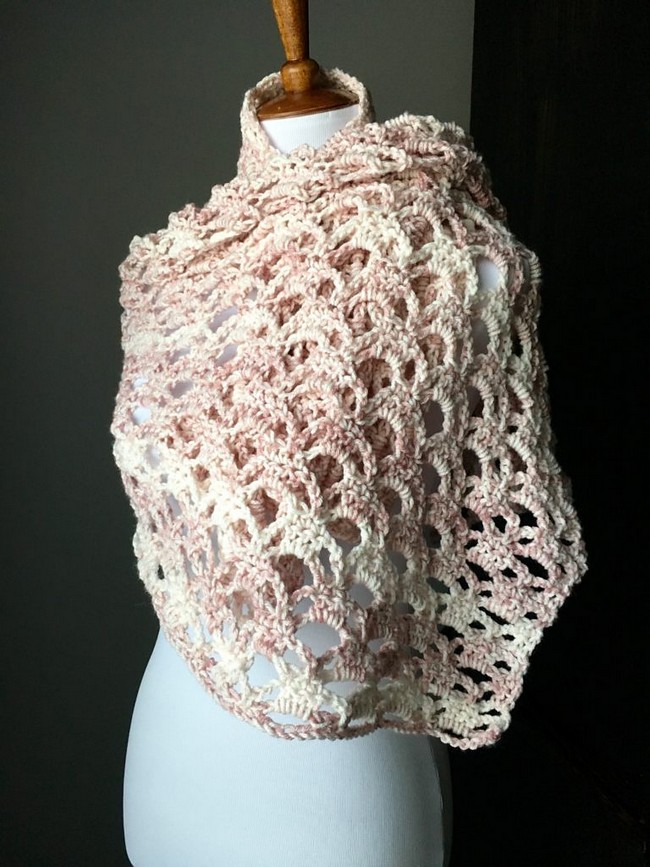 Crochet, The Perfect Lacy Shawl, allows you to create and customize this shawl in various ways. The lacy shawl is a versatile garment worn for many occasions. This book will teach you all the essential aspects of making this beautiful garment and help you create your unique style. This fun and unique crocheted crescent-shaped wrap can be worn as a scarf or shawl, adding elegance to any outfit. This delicate design is worked up in just a few hours and will look great on you this winter!
Materials
– 200 – 400 yards of worsted weight yarn
– 6mm hook
– tapestry needle
– scissors
Soft Pebble Shawl:
A soft, versatile shawl can be used as a scarf, wrap, and more. A beginner crochet pattern takes only one skein of yarn to complete. Crochet Soft Pebble Shawl is a beautiful pattern that combines different stitches in easy-to-follow directions. The shawl features a lace stitch, single-crochet, and double-crochet stitches. This lovely crocheted shawl is the perfect addition to your wardrobe. This fashionable shawl for women is lightweight, soft, and warm. It can be used as a summer blanket or an elegant fashion accessory at any event.
Materials
Shawl in a Cake by Lion Brand, # 4 weight yarn, 481 yards/150 grams, 61% cotton, 34% acrylic, 5% other, colorway:  Namaste (2 cakes)
G Hook/4.0mm
Tapestry Needle
Abbreviations
ch – chain
dc – double crochet
sc – single crochet
sp(s) – space(s)
tr – treble
The Peafowl Feathers Shawl: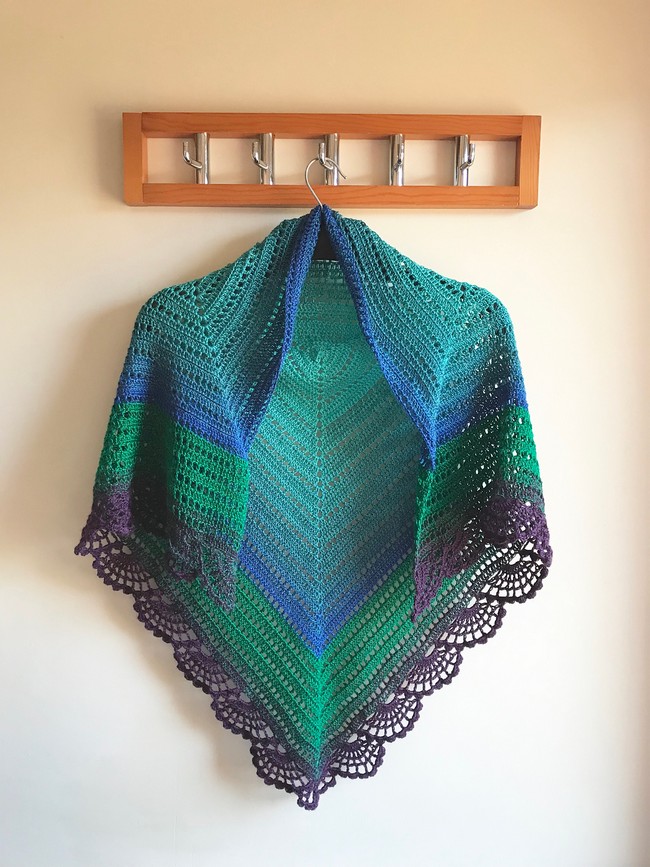 You're going to love this crochet pattern. This shawlette is the perfect accessory for chilly fall and winter days, an elegant crochet wrap that features delicate peafowl feathers. Once finished, you can wear it as a scarf or drape it around your shoulders like a lacy cardigan for extra warmth. If you love the texture of peafowl feathers, you will adore this design. It's effortless to make and so stylishly chic! This light bulb-style shawl will keep you warm while adding a little something extra to your wardrobe.
Materials
3-ply weight yarn cake, 160g @ 800 meters (I have purchased my yarn cake from a maker that is no longer in business, but here are some great ones on Etsy you can check out
4 mm crochet hook
tapestry needle
scissors
Abbreviations
mc- magic circle
ch- chain stitch
sc- single crochet
dc- double crochet
tr- treble treble crochet
sl st- slip stitch
beg- beginning
ch-sp – chain space
st- stitch
rep- repeat
prev- previous
rnd- round
blo– back loop only
Lunar Crossings Shawl: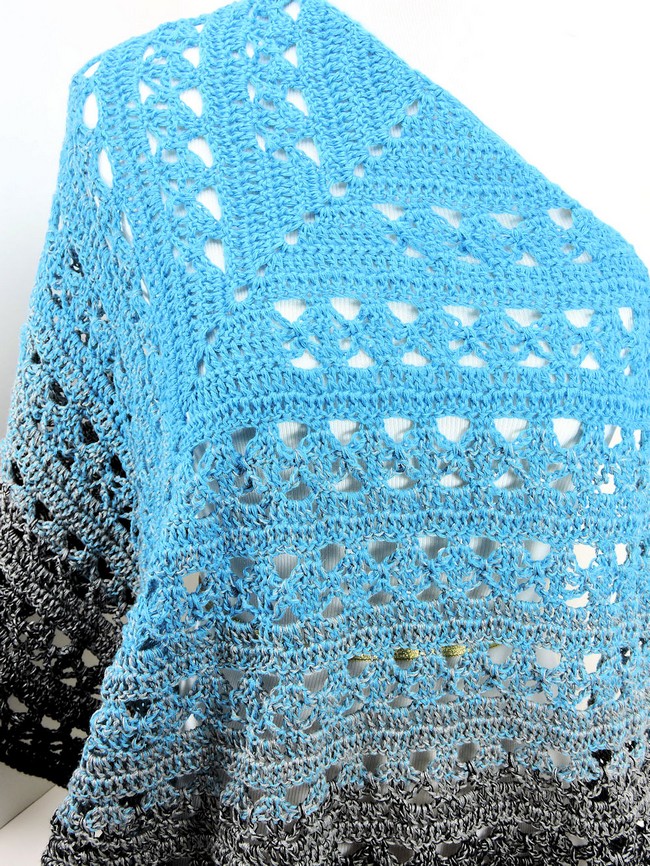 Give the warmth of the season with our radiant crochet Lunar Crossings Shawl. The rectangular shawl is crocheted from top to bottom, using half-double and double crochet stitches. A simple pattern of rows and columns creates eye-catching visual interest while making this project simple enough for a beginner to master. This is a beautiful, cozy shawl that's perfect for winter. It features crochet lunar crossings and is worked from the center outwards. This addictive project is ideal for those who like to crochet on their feet. All of the rows are comparable, so you can work as many or as little daily without worrying about starting over again at the beginning!
Materials
Ice Yarn's Fine Cotton Cake, 100% cotton, good (#2 weight), 656 yds per 150g. One cake makes the size slightly larger than a shawlette, as shown. For a full-size shawl, you will need two cakes.
Suggested hook: G-7 [4.5mm]
Yarn needle (for weaving ends)