Crochet dreamcatchers are a popular item for children and adults alike. Many different crochet patterns are available, ranging from simple to extremely intricate. If you want to make one for yourself or someone else as a gift, we have put together this list of crochet dream catcher patterns you might want to try. Making a dream catcher is an easy and fun way to decorate a child's room. These awesome Free Crochet Dream Catcher Patterns will help you get creative with your creations! Get the best night's sleep ever with a handmade dream catcher that catches the bad vibes and gives off positive energy!
Free Crochet Dream Catcher Pattern Beginner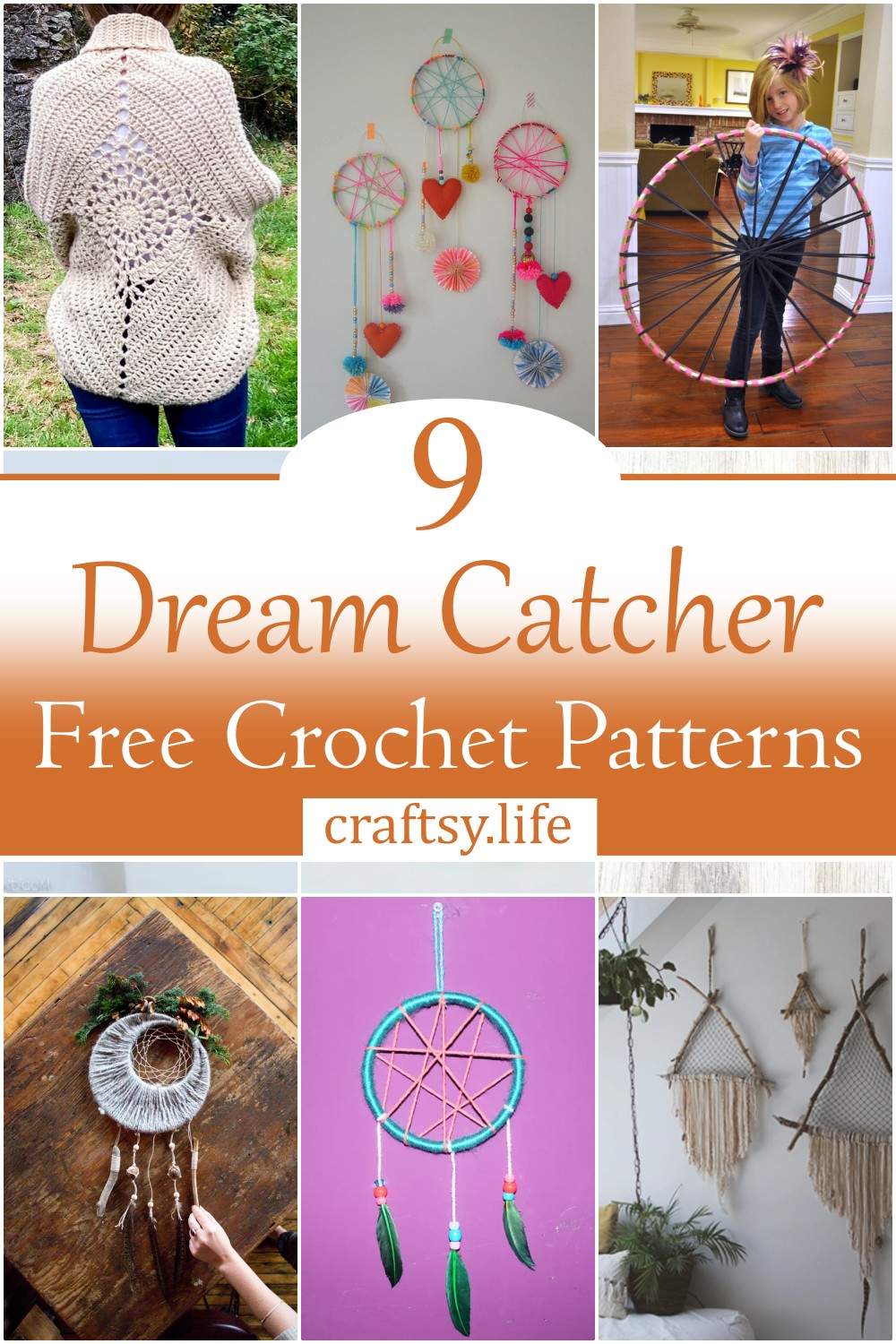 A dream catcher is a handmade Native American folk art traditionally used to protect against bad dreams and nightmares. But they are also believed to catch only good dreams so they won't be forgotten upon waking. These Dream Catcher Patterns will stir up some beautiful memories of the past and ensure your night is protected with good dreams! Crochet dream catchers are so simple, but they're also timeless and versatile. Use them as whimsical home decor or a calming distraction in your baby's or toddler's room. You can even repurpose them for adults, making them ideal for dorms, rec rooms, offices, and beyond!
How To Crochet Dreamcatcher For Beginners
The benefits of crocheting dream catcher patterns are many. Here are some of them:
They are easy to make: Even if you haven't crocheted before, you can make your own dream catcher with the help of a crochet pattern. This will save you from spending money on getting one from a store or market. You can also customize it according to your choice and needs.
It is eco-friendly as it uses natural materials like yarn and wood beads to make beautiful dream catchers which will look good in any room of your house or office space without causing any damage to the environment or wildlife around you.
They are very affordable as compared to other decorative items that can cost more than $100 depending on their size and design etc., so you won't have to spend too much money on purchasing them from stores or markets, which makes them even more appealing than ever before as they have many advantages over other decorative items available in the market today.
Dream Catcher Cardi
It's crocheted in soft alpaca and makes a great weight all year round, warm enough for winter and light enough to wear as an extra layer in spring, summer, or autumn. The Dreamer cardi is worked mainly in double crochet, with ribbing and picot edges to give a beautiful finish and extra detail. Great for beginners with simple stitches, you can whip this baby up in the evening!
Star Dreamcatcher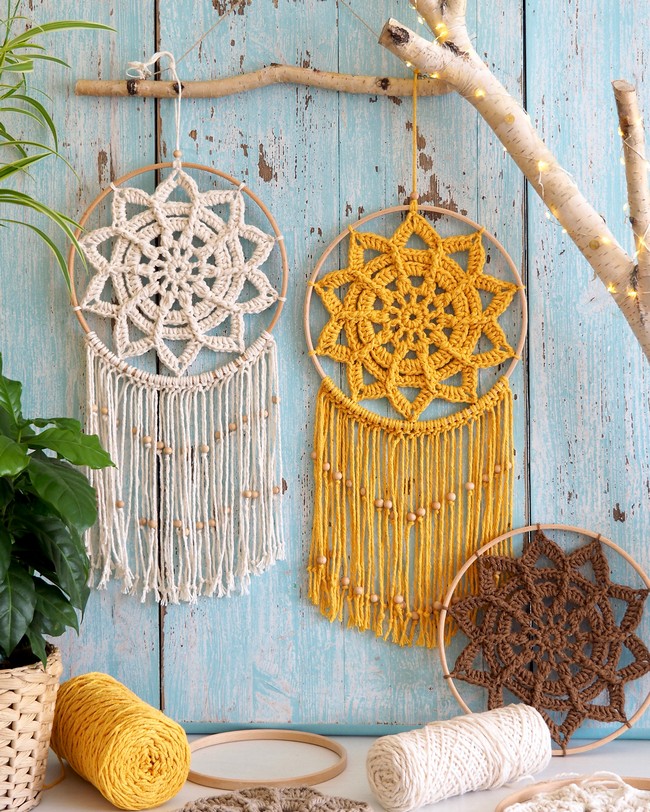 The Crochet Star Dreamcatcher pattern is the perfect decoration for your home or as a gift for someone you love. It's quick and easy to make, and since it's made with acrylic yarn, it's great for use inside or outside. It's crocheted with a little bit of texture to get it looking and feeling nice and cozy. And because it's so quick to work up, you can make multiple versions, one for everyone on your list, in no time!
You can also see: Crochet Sun Patterns 
Daydreamer Wall Hanging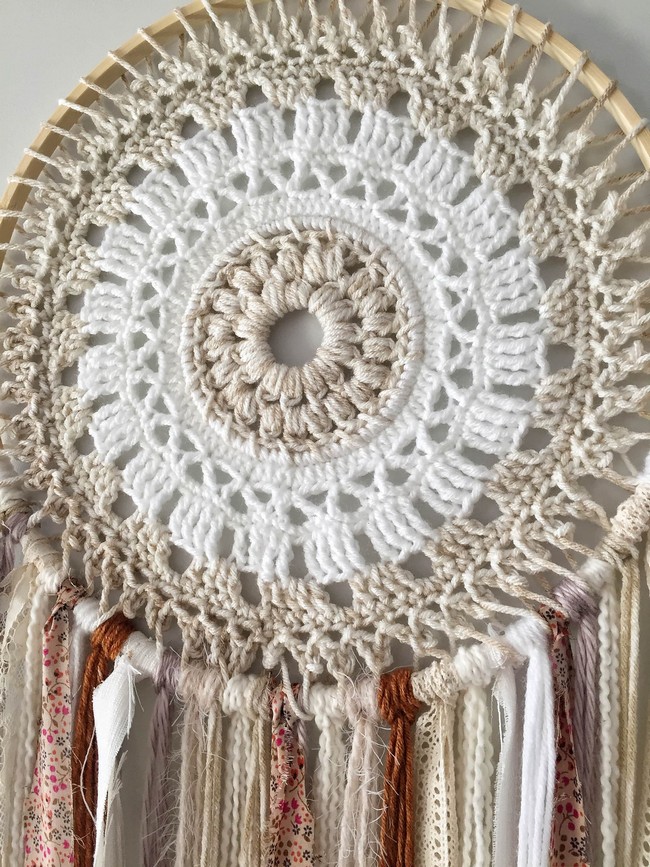 Add some visual interest to your space with this beautiful crochet wall hanging. Crocheted in the color of your choice, this piece uses less than 200 yards of yarn and less than two skeins of white. The neutral colors make this piece warm and inviting while drawing attention to the beautiful stitches. A fun project for any skill level, it is sure to garner compliments from friends and loved ones when displayed in your home. The neutral colors make this piece warm and inviting while drawing attention to the beautiful stitches.
Giant Dream Catcher Craft For Tweens With Big Dreams

Are you looking for an easy, fun circle craft for your tween? The Giant Dream Catcher Craft is just what you need! With this fun suncatcher, you can create something that will look great in your room. It's also a great way to get your child involved with crafting, whether they're coming into their big dreams or not. You can make this project using cotton yarn, available in various colors. This suncatcher will help bring a smile to anyone's face!
You can also see: Crochet Baby Blanket Patterns
Free Crochet Kid Friendly Dream Catcher
This dream catcher is so adorable and fun to make. You can finish it within a few hours if you don't count the drying time because it's best to let it dry overnight. It can add whimsy to your bedroom, living room, or window sill! Kids always look for something unique and special to do. They are excited to see their creative ideas real by making them with their own hands. Kids love bright colors, and this is what makes them stand out from the crowd. If you want to give them something creative and fun to do, then a crochet dream catcher is perfect for your kids!
Free Crochet Doily Dreamcatchers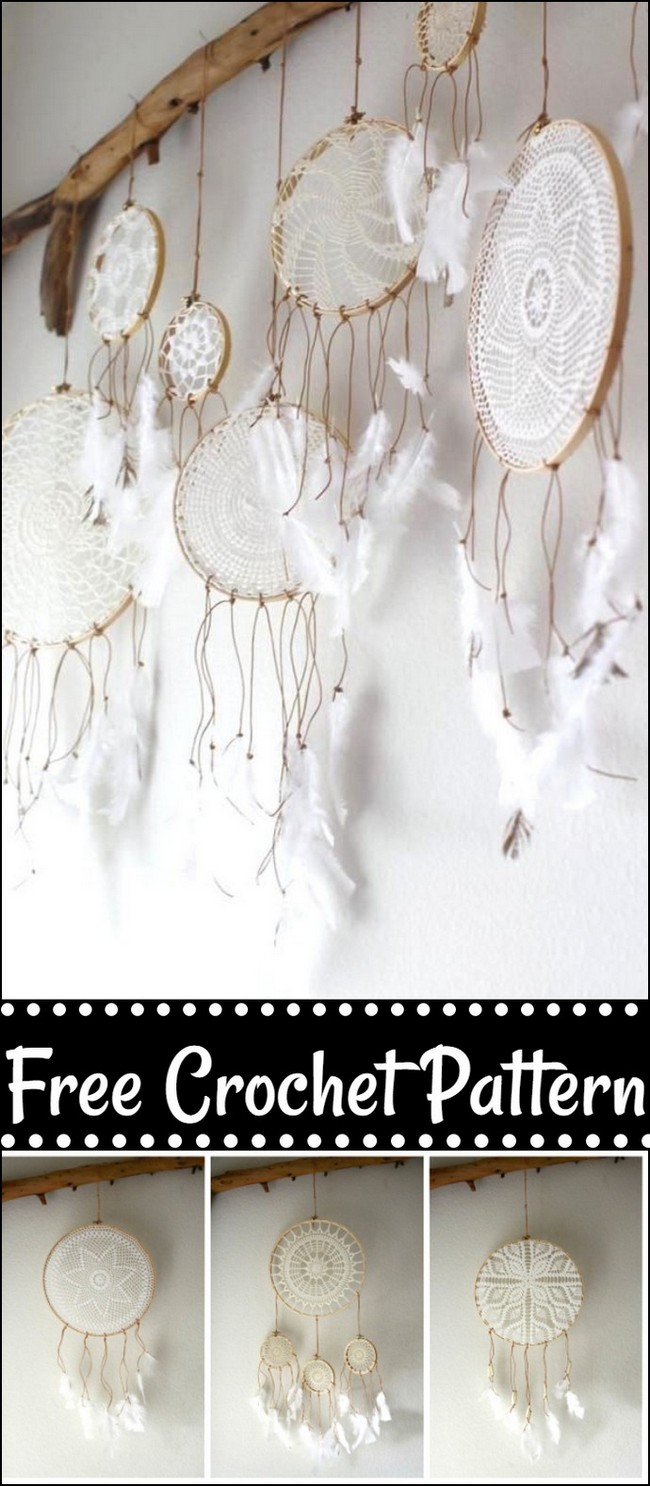 This super easy, fast, fun-to-make crochet doily dream catcher looks great hanging in a window or doorway. It's also very customizable--you can use any size hook and color you want! The only supplies needed are cotton yarn and scissors. The benefit of using cotton yarn is that it's easy to work with and works up quickly. This project will highlight your skills as well as your sense of style. They're perfect for beginners; try them.
Giant Triangle Driftwood Crystal Dreamcatcher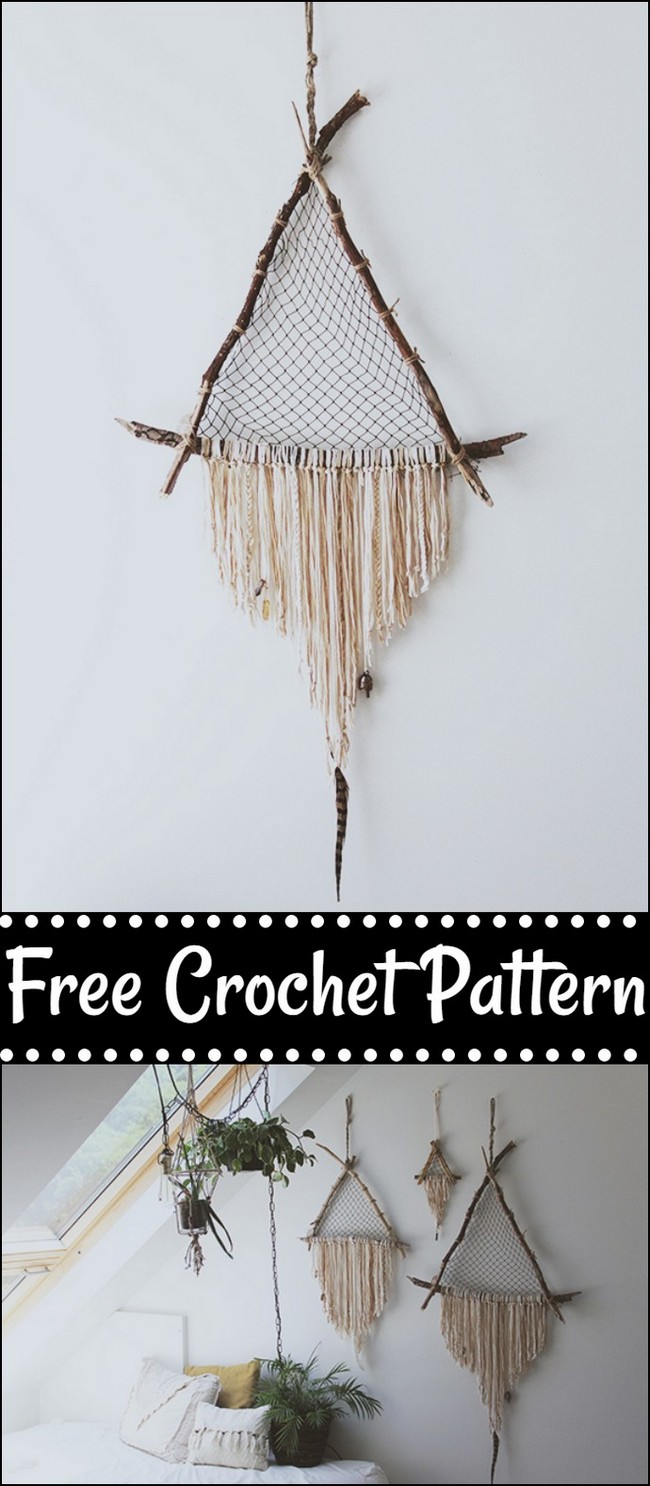 If you love the rustic look and want to add it to your home decor, then this giant Triangle Driftwood Crystal Dreamcatcher is just for you. This easy crochet pattern uses stitches such as hdc and chains to create durable cotton webbing. With just a few extra materials, you can easily make this dreamcatcher look elegant over any doorway or window in your home. You can make it as decoration for your home or even as a gift for someone.
Free Crochet Dream Catchers Made By Kids
Are you looking for a beautiful dream catcher to give your home a natural look? Most people used to buy dream catchers from stores. But remember, if you make it yourself, then it will be very cheap and easy to make. But you will also get the chance to create something unique every time. Using this guide, you can crochet this beautiful dream catcher without spending more money than necessary. It is a beautifully traditional Native American symbol of protection. This crochet dream catcher is easy to make, and you can use cotton yarn, beads, or any color you want.
Free Crochet Fall Dreamcatcher

This crochet dreamcatcher is one of the fall/dropping dreams in which you can make it home by yourself. It is not only cute but also pretty easy to make. You need to crochet some circular shapes and keep them together with a thread; then, you will get this elegant dreamcatcher. This free pattern is for personal use only, but you are more than welcome to sell any items you make using this pattern as long as credit is given where credit is due.