If you love to crochet, then you have thought about dabbling in fantasy crochet. While it's not as popular as other forms of crochet, fantasy creatures are crocheted just as often as knitted. Dragons are popular among fantasy creatures, and their patterns are plentiful, making this the perfect opportunity to indulge your inner dragon lover. This list of 10 Free Crochet Dragon Patterns will help you get started on your way to crocheting an entire menagerie of dragons. There's something here for everyone—from basic beginner patterns to more complex designs that will challenge even experienced crocheters.
Crochet Dragon Free Patterns

These free crochet dragon patterns will show you how to make your Dragon. You can choose from various styles, from something as simple as a little dragon keychain to more intricate and larger pieces that you could even put on display in your home. Each of these patterns uses basic crochet stitches, so they're all doable by beginners. These crochet dragon patterns are all different, so they're sure to appeal to various crafters.
Supplies Needed For Free Crochet Dragon Patterns
Yarn: You can use any yarn for these crochet dragon patterns. I used Caron Simply Soft in Lemonade, White, and Black. You will need about 2 skeins of each color.
Other Supplies: Tapestry needle, Polyfill stuffing, Sewing pins or paper clips (if making an amigurumi), Scissors
Skill Level: Easy - Intermediate
Crochet Dragon Dice Bag: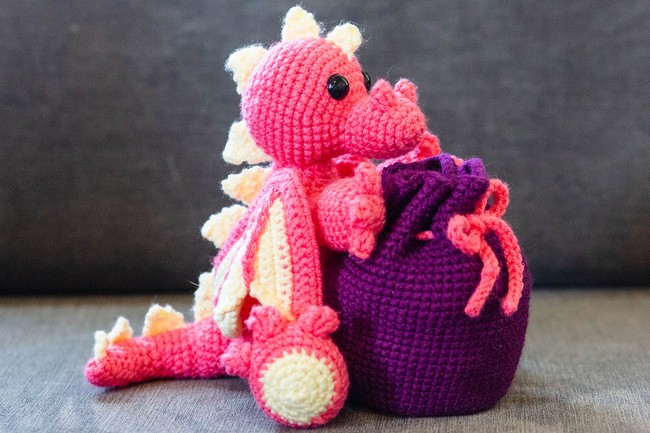 The Crochet Dragon Dice Bag is an adorable addition to your tabletop roleplaying game. This dice bag features a dragon motif with a unique mouth and crochet wings. The opening at the top is just the right size for your dice to roll out when you need them. The bag is square and can hold around 30 standard-sized gaming dice. It has a drawstring closure so you can store your dice safely inside at home or on the go. This crochet dragon dice bag is a great addition to your RPG gaming collection. Bright and colorful dragon dice bag, made to be a quick project, is perfect for storing your gaming dice!
Materials
yarn in preferred colors
2 safety eyes
stuffing
yarn needle
Abbreviations
ch: chain stitch
mc: magic circle
sc: single crochet
hdc: half double crochet
dc: double crochet
tc: triple crochet
st: stitch
slst: slip stitch
3sc-inc: 3sc in a single st
sc3tog: combine 3 st to 1sc
inc: increase
dec: invisible decrease
popcorn st: 5dc in 1 st, drop loop, place hook through the top of the first dc, grab loop and pull through, ch1
tc-popcorn st: 5tc in 1 st, drop loop, place hook through the top of the first dc, grab loop and pull through, ch1
hdc-inc: increase using hdc
BLO: back loop only
fsc: foundation single crochet
(): repeat items in parentheses as many times as indicated

 

FO: finish off
Dragon:
The Crochet Dragon is a special crochet pattern. It's just like any other dragon, but with a twist: crocheted! This is a great project for people who have yet to try a crochet project. You can personalize the eyes and beads to make this little guy unique. This Crochet Dragon is a gorgeous and cute addition to your home. It is an unusual and interesting handmade item, filling the space with warmth and joy. It would be a perfect gift not only for children but also for all those people who love home decor and unique things.
Materials
G crochet hook
2- 12 mm safety eyes
Poly-Fil fiberfill
stitch markers
yarn needle
Rainbow Dragon :
Craft Crochet Rainbow Dragon is a handmade project that will add a colorful touch to any room. The Dragon is made of bright yarn and requires advanced crochet skills. You can make it as a gift for your friends and family or sell it at craft fairs. This Dragon is a hit with kids who will love the fun colors and scales. It's a perfect beginner pattern that uses basic stitches, such as single crochet and slip stitch. Make this crochet rainbow dragon for your little one as a special cuddly companion!
Materials
Worsted Weight Yarn: White, yellow, jade, baby pink, ice blue, red, orange, spring green, blue, green, lavender, and black.
B crochet hook
Polyester fiberfill
Yarn Needle
Floral wire (optional)
Half Dragon Gloves: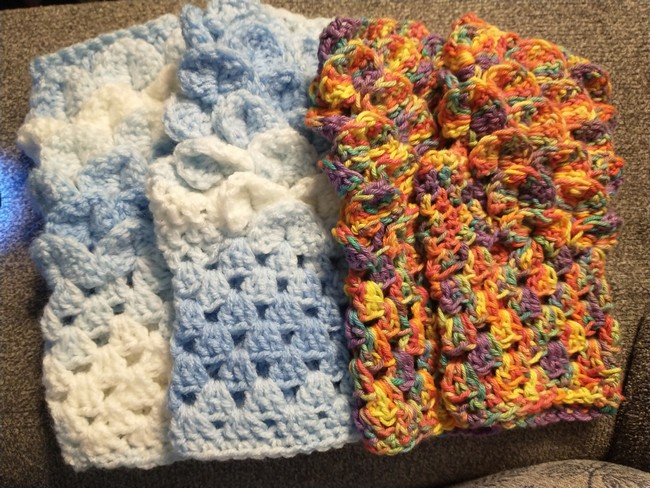 The crochet Half Dragon Gloves are the perfect accessory for any dragon costume. They have a fierce but fun design and have a comfortable fit. These Dragon Gloves feature a knot dragon with a tail and horns on the one hand and a winged dragon on the other. The gloves are crocheted from heavy, black worsted cotton yarn that is warm and comfortable for everyday wear. They are expressive, fun, and durable:
Materials
DK or Sport Weight Yarn
4 mm hook
Abbreviations
Foundation Single Crochet (FSC)
Double Crochet (DC)
Slip Stich (SS)
V Stitch (Two DC in the same stitch)
Crocodile Stitch [Crochet 5 DC around the Ch 3 from the row below, then make 5 DC around the next DC from the row below. SS into the top of the single DC from the row below; repeat this all the way around. It should be like the scales shown in the picture below]
Single Crochet (SC)
Dragon Drawstring Dice Bag: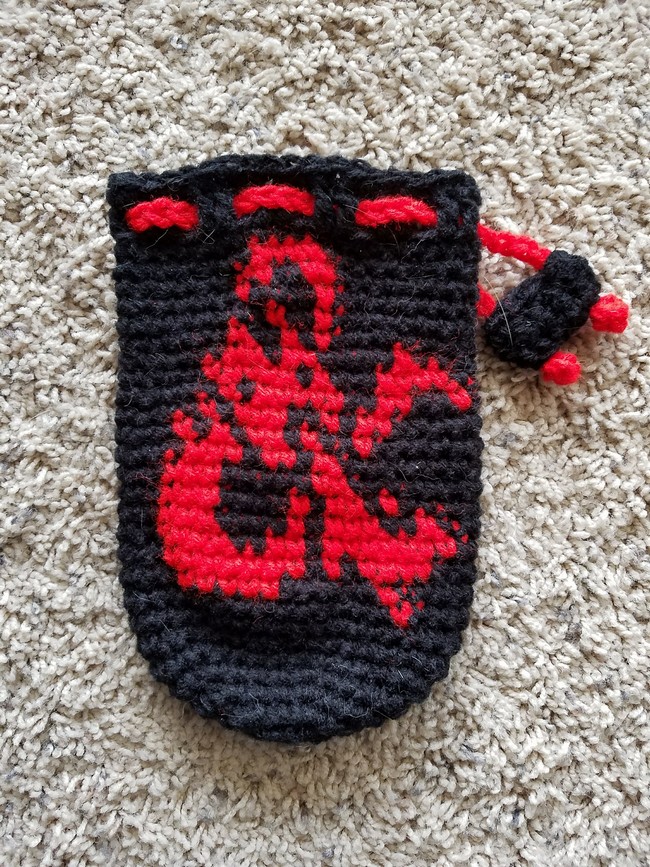 This Spellbinding crocheted dice bag is the perfect accessory for your favorite gamer. Handmade, unique, and whimsical, this beautiful drawstring bag will keep your dice safe and sound. This chic drawstring dice bag is a fun way to keep your dice and other game pieces organized. It features a dragon motif on one side, a crocheted flap on the other, and a secret pocket for storing extra goodies. The crochet dragon dice bag is fun and easy to make. It's a great gift for any tabletop gamer. This bag has a drawstring at the top to keep things safe and zippered pockets inside the bag.
Materials
4mm crochet hook
Tapestry needle
Scissors
Worsted weight yarn in preferred colors (I am using Red Heart Super Savor Yarn for both colors)
Abbreviations
MR – magic ring
SC – single crochet
BL – back loop single crochet
DC – double crochet
SL ST – slip stitch
CH – chain
INC – single crochet increase
DEC – single crochet decrease
FO – finish off
Rib-winged Dragon: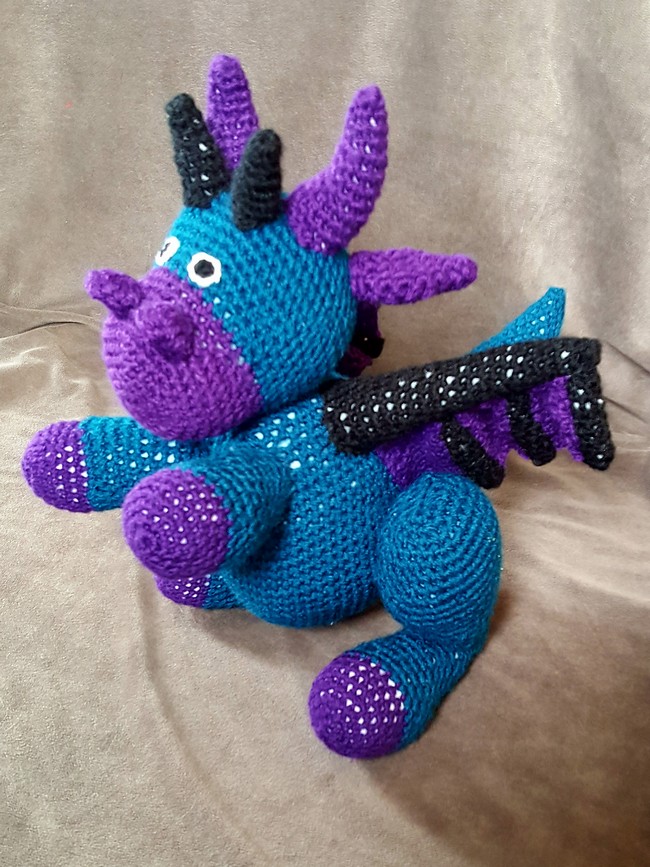 It's time to brave the Dragon! This crocheted amigurumi dragon is a perfect gift for any occasion. He might even do your math homework if you ask nicely. This adorable crochet dragon is the perfect gift for your favorite little geek. This unique and fun Dragon has a ribbed body, big eyes, a friendly face, and a long tail. The wings are made with a ribbed pattern. This Dragon can be used as a decoration or play friend. His wings are sprinkled with raindrops, and his pointed horns extend like sun rays. This Dragon is sure to inspire a smile with its cheery disposition.
Materials
4mm hook for all work unless otherwise stated.
Abbreviations
Sc = single crochet US style.
Hdc = half double crochet US style.
Dc = double crochet US style.
2sc = 2 single crochet into the same stitch.
2 togs = crochet the next 2 stitches together.
Toby the Newborn Dragon: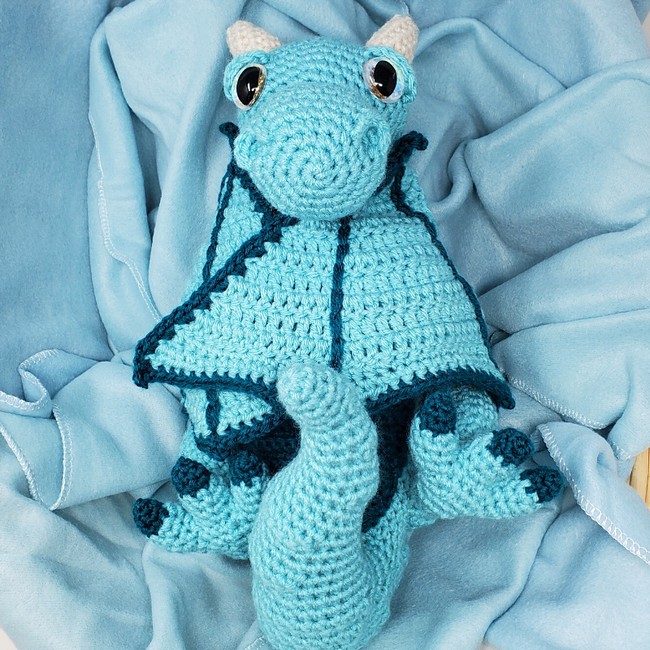 Crochet Toby the Newborn Dragon is a magical addition to your little one's nursery. The adorable Dragon is always ready to help and watch over all who enter. His poseable tail makes him interactive and fun to play with, while his lifelike colors fit perfectly with any decor. Meet Toby, the newborn Dragon! He's crafted using worsted-weight yarn in vibrant colors. His body is adorned with his favorite pastime – playing video games. This crocheted plush makes an excellent friend for your little gamer.
Materials
Red Heart Super Saver yarn, 100% acrylic, worsted weight, 364 yds/7 oz/198 g, Aruba Sea (SEA), 1 ball; Real Teal (TEAL), < 1 ball; Aran (ARAN), < 1 ball.
G (4.00 mm) Furls Odyssey hook
Two 24 mm colored slit-pupil safety eyes
Polyfil stuffing
Tapestry needle
Straight pins
Stitch markers
Fizzle the Baby Dragon: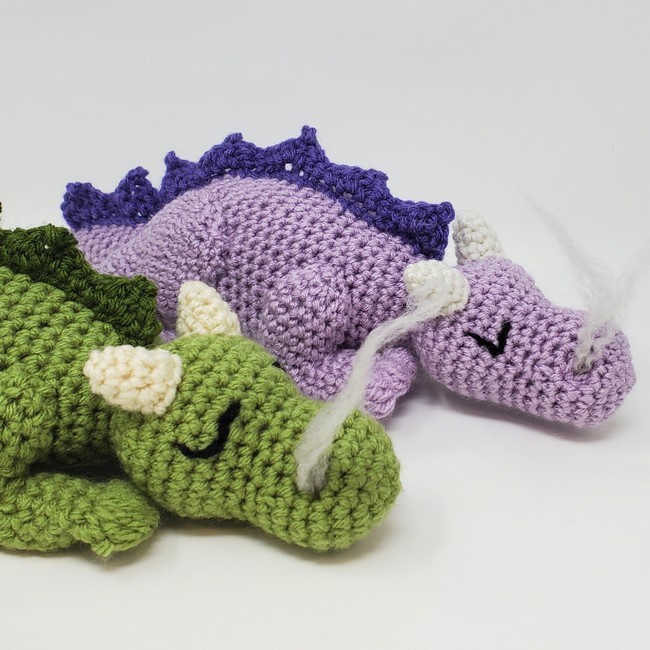 Learn how to knit or crochet the sweet little Fizzle the Baby Dragon! His legs and feet can be posed in any position so he can sit nicely on your bedside table or hang from the ceiling. Add his ears, tail, and spikes for a realistic look! Your child will love to cuddle this crochet baby dragon, Fizzle. It is the perfect size for little hands. His sweet yet fierce face makes him irresistible to hug, cuddle and play with! He also makes a lovely gift for any child - who doesn't love dragons?
Materials
Red Heart Super Saver yarn, 100% acrylic, worsted weight, 364 yds/7 oz/198 g, Pale Plum (PLUM, < 1 ball; Lavender (LAV), < 1 ball; Aran (ARAN), < 1 ball; Black (BLK), scraps.
G (4.00 mm) Furls Odyssey hook
Polyfil stuffing
Tapestry needle
Straight pins
Hair brush or slicker brush
Flexible hold hair spray or light starch
Mother of Dragons Shawl: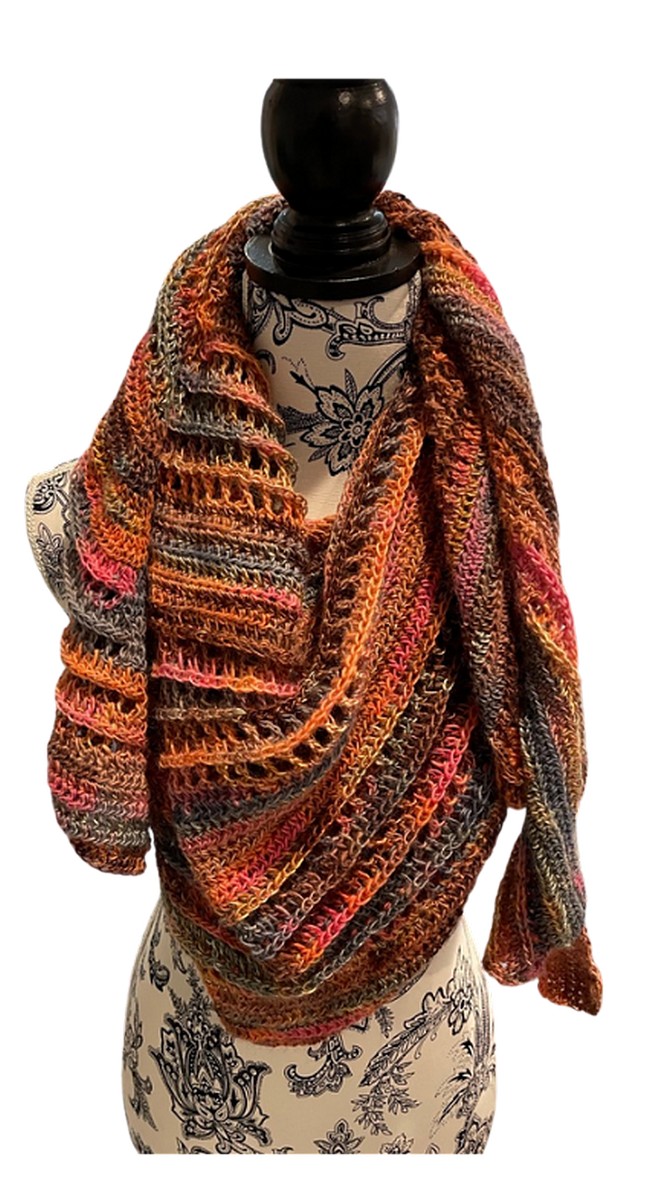 The Mother of Dragons Shawl features a simple granny square center and is accented with bobble rows in coordinating colors. It's time to get cozy with the Mother of Dragons. This crochet lacy shawl is the perfect accessory for any Game Of Thrones fan. The dragon design also features bones, skulls, and spikes for a stunning aesthetic that will keep you warm and cozy when fall arrives. This shawl features a diagonal lace pattern that mimics the wings of a dragon. The deep, textured color makes an eye-catching statement as if it is ready to breathe flames with every turn.
Materials
Yarn:    Lang Dipinto 100g/360m (50% virgin wool / 50% acrylic) x 2
Hook: 4.0mm (use 3.5mm if using cotton, cotton blend, or merino yarns)
Yarn Needle
Abbreviations
ch – chain
slst – slip stitch
hdc – half double crochet
tc – treble crochet
fpdc – front post treble crochet
dc-inc – treble crochet increase (two tc in the same stitch)
hdc-inc – half double crochet increase (two hdc in the same stitch)
picot – picot stitch
beg – beginning
st/sts – stitch/stiches
sp – space
Charlie the Celestial Dragon: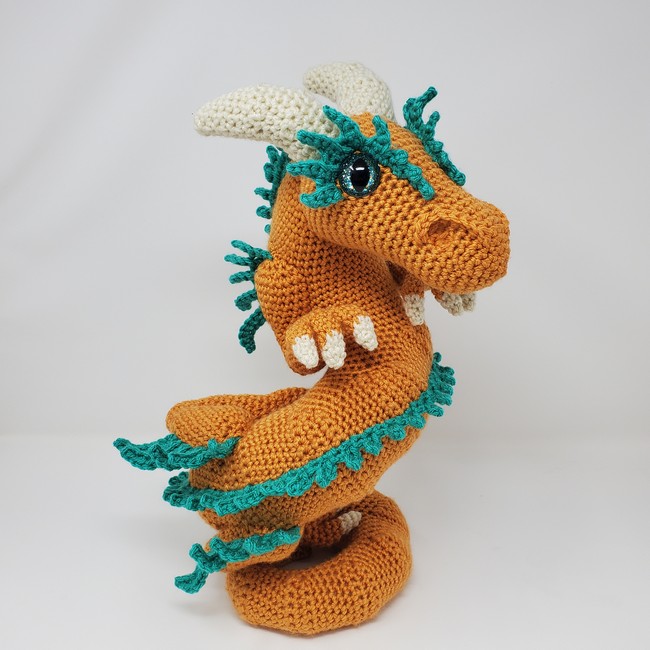 With Charlie, the Celestial Dragon, you will learn to crochet in the round, increasing and decreasing stitches and creating a freeform design. The body twists in a curlicue, allowing her to stand up on her tail or wrap around your arm. She's perfect as a fun gift for any dragon-lover or as a piece of home decor! The body twists in a curlicue, allowing her to stand up on her tail or wrap around your arm. She's also small enough that she won't overpower your space but still large enough to look impressive.
Materials
Red Heart With Love yarn, 100% acrylic, worsted weight, 370 yds/7 oz/198 g, Tangerine (TANG), 2 balls; Jadeite (JADE), < 1 ball; Aran (ARAN), < 1 ball.
G (4.00 mm) Furls Odyssey hook
Two 25mm colored slit-pupil (cat eye) safety eyes
Polyfil stuffing
Tapestry needle
Straight pins