Crocheting is the perfect craft for the dog lover in your life, and these free crochet patterns will help you make a sweet pup toy or two. These projects are great for beginners who want to learn how to crochet or for more advanced crocheters looking for new designs. If you're looking for an easy project to complete in just a few hours, these crochet dog toys are for you! This is a list of free crochet dog patterns you can make at home. You can use these patterns to make cat toys or other pet toys.
Crochet Dog Patterns For Beginners

Crochet dog patterns are also the perfect way to welcome your new puppy or dog into your home. These crochet dog accessories and toys are not only fun, but they also help you bond with your new furry friend. The best thing about these crochet dog toys is that they are simple and easy to make, making them great for beginners and advanced crocheters. They're also inexpensive because you only need a few materials to create these fun toys for your furry friends!
Free Crochet Dog Patterns
Free crochet dog patterns are a great way to start your crafty journey into the crochet world. They are also a great way to use yarn scraps and give your dog an adorable new accessory.
There are many advantages to free crochet dog patterns:
 You can make them as often as you want!
 They take less time than other projects but still look professional.
 You can design one that fits your dog perfectly and doesn't get ruined by chewing or snagging on things in the house.
Corgi Dog
This is a dog pattern for Corgi, made with worsted weight yarn. The size of the sock is equal to a medium - size adult dog. The design contains a detailed description of how to start with the front body part, continue making legs and make paws, move on to the back leg, and finish it off with a head and ears. The pattern requires you to know the basics of crocheting, how to crochet in rounds, how to sew on eyes, and how to stuff animals.
Materials
Yarn calling for 5,5 mm hook in white, brown and black
Size 3.5 mm crochet hook.
2 black safety eyes (6 mm)
Stitch markers
Tapestry needle
Abbreviations
chain (ch)
magic ring (mr)
single crochet (sc)
increase (inc)
invisible decrease (dec)
slip stitch (sl st)
half double crochet (hdc)
double crochet (dc)
Dog Tissue Box Cover
Use the Desert Dust yarn to crochet a Dog Tissue Box Cover. This is a great way to use up your extra thread from other projects and can be customized with different colors or motifs to match your decor! The head, legs, and body are made to fit the average size of a Kleenex box. This great little project requires only a few supplies and can be completed in a few hours! Perfect for beginners as well!
Materials
Hobby Lobby – I love this yarn
Desert Dust
Mahogany Singe (for the body parts)
4.00 mm hook
scissors
tapestry needle
clear eyes
polyfill
Abbreviations
sc = single crochet
sl st = slip stitch
magic ring
mattress stitch
inc = increase
dec = decrease
Martin Dog
The Martin Dog is a classic crochet pattern created in many colors so that you can make several versions. Using your imagination it will be fun to use your imagination and create the balloon thread with wire or wool, or cotton. The Martin Dog is a classic balloon dog that you can use to brighten up your home. It's a great project to get started on if you're new to amigurumi, and the pattern includes step-by-step instructions with photos to guide you through every step. You'll be happy to present your little friend with the perfect doggy pattern.
Materials
-Water green, lilac, light blue, and pink cotton thread. (Chile: I used Sweet Cotton from Reginella)

-10mm safety eyes

-2.75mm crochet (depends on the thickness of the material)

-Black, white and pink embroidery thread.

-Small safety nose

-Wool needle

-Scissors

-Point Marker

-Filling

-Piece of wire of approx 10 cms (or the length of the extended arms plus the body

-12 cm piece of wire (ideally white) to simulate the thread of the balloon.
Abbreviations
am : magic ring

sc : single crochet

aum : increase

dec : decrease

hdc : half double crochet

ch:  chain (chain)

SHA: back strand only

SHD: front strand only

pe : slip stitch

( )xnro : repeat number of times.

(x) : number of stitches at the end of the round
Crochet Dog
If your heart is as big as your love for dogs, this Free Crochet Dog Pattern will be your favorite creation yet. The super-cute pup is the perfect size for a pillow, a friend to hug, or even a place setting on your dinner table. Use whatever colors you want and make him in any size you wish using different yarn weights! You need to know how to do basic crochet stitches and increase, decrease and change colors. You will learn how to make the ears and attach them to the head.
Materials
Hook 3.0
Cotton yarn (1.76oz/164yards) of any color. You can make this pattern in any size you wish by simply using a different yarn weight.
Fiberfill
Needle
Abbreviations
Inc – increase, dec – decrease, sc – single crochet, ch – chain, sl st – slip stitch
Dogs! Dogs! More Dogs!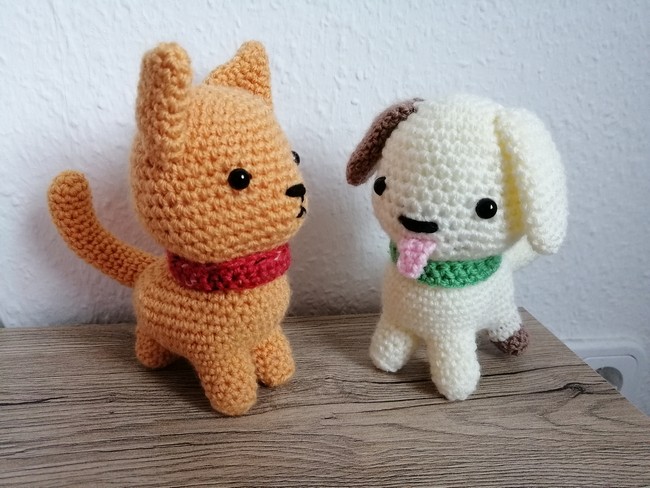 This Dogs! Dogs! More Dogs is an excellent pattern for beginners! You will need to know the only stitches are chain stitches and single crochet. You can use this pattern to make an adorably cute little Havanese or a big and bold Boxer. Using a thicker yarn, such as a worsted weight, will create the perfect size for a large dog.use acrylic yarn rather than wool; wool is more difficult to work with when making amigurumi and can be scratchy against the dog's skin. You are going to love this pattern! It's so easy and cute that you will want to make a bunch of different dogs.
Materials
– A Crochet hook, 2.5mm
– DK yarn in any color you want!
– A tapestry needle and scissors
– Safety eyes and either a safety nose or black yarn to embroider a nose
– Stuffing
– A stitch marker to help you keep track of the start of the round
– Pipe cleaner if you want your dog's tail to be curled up
Abbreviations
– Magic Ring (MR)
– Chaining (ch)
– Single crochet (sc)
– Crocheting into back loops only (BLO)
– Decrease (dec); preferably using the invisible decrease method
– Increase (inc)
– Changing colors if you want to do multi colored dogs (I will not be giving
Yorkshire Terrier
Crochet this lovely little Yorkshire Terrier for a new friend to keep you company. This Yorkshire Terrier crochet dog pattern is a fun and cuddly project you can make in just an afternoon. It's the perfect size for clutching in your arms, taking along on trips, or placing in your lap for a snuggly nap. The pattern instructions and photographs are easy to follow, resulting in a realistic-looking dog that can stuff with toy filling.
Materials
King Cole Bamboo Cotton DK, 50% bamboo viscose, 50% cotton (252yd/230m per 100g ball), or any DK yarn:
1 x 100g ball in 3330 Truffle (A)
1 x 100g ball in 534 Black (B)
3.25mm (UK10:USD/3) crochet hook
Blunt-ended yarn needle
Toy stuffing
Abbreviations
Magic loop
Chain (ch)
Slip stitch (sl st)
Double crochet (dc)
dc2inc
dc2tog
loop stitch (lp st)
Make bobble (mb)
Herman The Puppy
Herman wants to be your new best friend, so get started and make your own Herman the Puppy! This Herman the Puppy pattern is the perfect addition to your pet-loving family. Your kids will want to make one for their pup, and it's easy enough for you to make it a gift for any animal lover needing extra attention! This adorable puppy is excellent for beginners and even advanced crocheters, as it only requires fundamental crochet knowledge.
Materials
-Medium worsted weight yarn in Tan
-Medium worsted weight yarn in Ivory/Cream
-Brown scrap yarn for nose
-4mm (G) crochet hook
-2 – 12mm safety eyes
-Black embroidery thread
-Yarn needle
-Poly-fil
Abbreviations
Magic circle
sc – single crochet
sc dec – single crochet decrease (I recommend the invisible decrease. See attached PDF for reference)
st(s) – stitch(es)
Watermelon Dog (SU) Amigurumi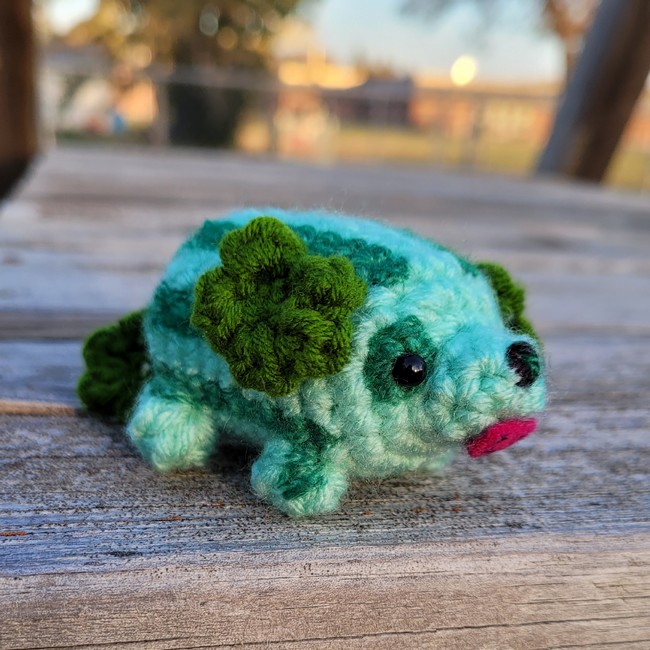 This crochet Watermelon Dog (SU) Amigurumi pattern is easy and quick to make. You can make this as a gift or keep it for yourself. The image of a watermelon dog uses light green/pink yarn and dark green/pink yarn. The body is made of 2 different colours to make it look like real watermelon slices. This free crochet dog pattern is perfect for a summertime project. This Watermelon Dog Amigurumi is a fun, quick and easy crochet project that takes less than half an hour to make. It's also suitable for advanced beginner crocheters.
Materials
Light green and dark green medium weight yarn
Crochet hook, I'm using a 3.25mm.
Yarn needle
Dark green permanent marker
Black fine tip permanent marker
2 Safety eyes
Pink felt
Polyfil or scraps for stuffing
Fabric glue.
Peanut The Puppy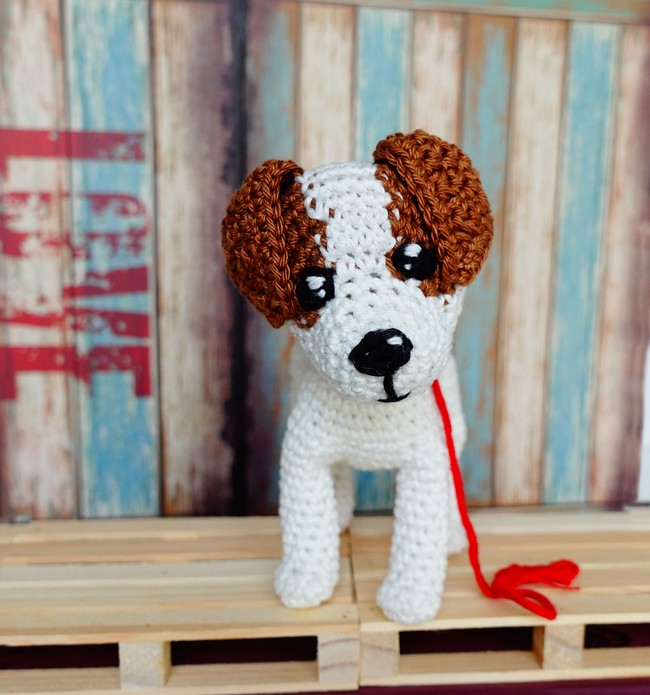 Here's the pattern for Peanut the Puppy, a little pug puppy ready to go on adventures with you! Peanut the Puppy is a small design but large on the fun. You can use any yarn suitable for beginners; Peanut features a cute beaded eye and nose detail, which you can omit should you wish to make this a child-friendly project. It is the perfect project for beginners and only takes about an hour to complete. It has a simple construction with minimal shaping!
Materials
Crochet hook: 3mm (US D-3)
Scissors,
Stitch markers,
Toy stuffing, (Note: if you wish to explore some more options, including eco alternatives, then have a look at my Stuffing for Toys blog post),
Tapestry needle,
Sewing needle
Abbreviations
Mr – magic ring
Sc – single crochet
Inc – 2 in one
Decr – 2 together
Ch – chain
Puppy Dog Amigurumi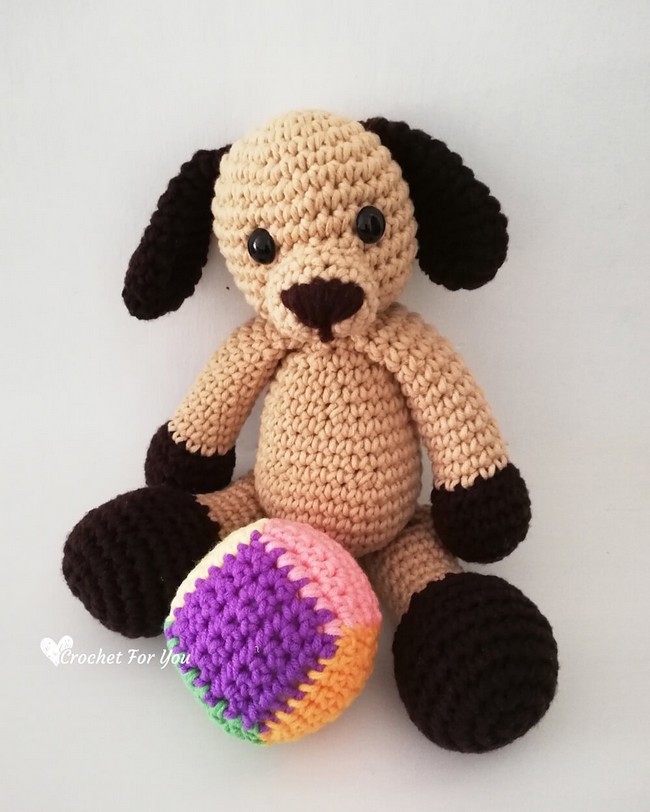 Amigurumi is very easy and fun to work with. It's a great way to express your creativity and a wonderful gift for children of all ages. So sit back and enjoy making this baby puppy dog amigurumi. Your little puppy will be the talk of the town when you add this adorable pattern to your collection. The dog is super quick and easy to knit but requires a few adjustments for size. An excellent way to practice your crochet skills. This perfect pattern for any dog lover to create a beautiful little puppy. It makes a great gift and would look adorable framed on your wall.
Materials
– #4 Medium / Worsted weight
I used

– I used 1 skein of Ice Yarn Lorena Worsted – Cafe Latte (55% Cotton, 45% Acrylic, 100g = 174 yds/160 m)
– Approx 100 yds of dark brown worsted weight cotton blend yarn
– US H-8 (5mm) crochet hook
– Safety eyes (12 mm)
– Fiberfil
– Stitch markers and pins
– Tapestry needle for weaving ends
Abbreviations
ch = chain
sl st = slip stitch
sc = single crochet
dc = double crochet
st = stitch
ch-() sp = chain-(number of chain) space
sk = skip
beg = beginning
* to ; = work instructions within brackets as many times as directed
[] = work instructions within brackets as many times as directed
sc inc = 2 sc in one st
sc dec = crochet 2 sc together (Insert the hook and draw up a loop in each of 2 stitches, yarn over, pull back through all 3 loops on hook at once)
Amigurumi Gingerbread Dog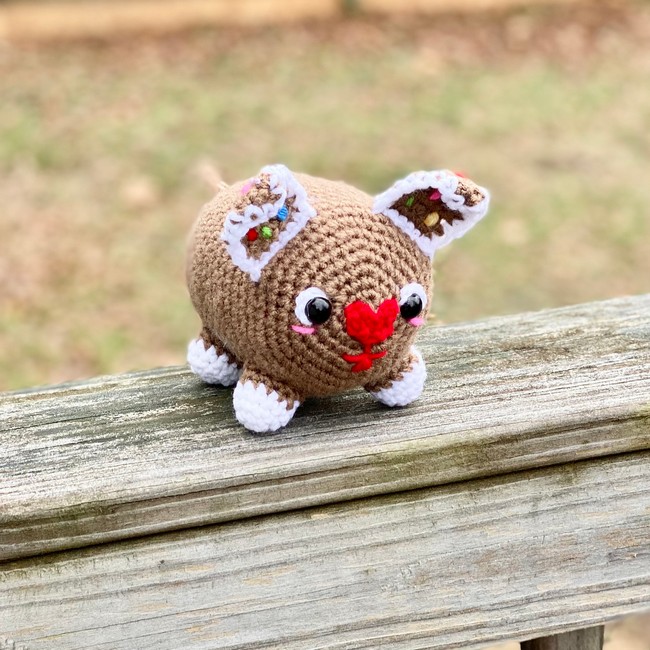 If you love dogs and you're looking for a fun project, crochet this cute Gingerbread Dog. It works quickly in worsted-weight yarn and makes an adorable gift for dog lovers of all ages. Gingerbread Dog is the perfect little friend for the holidays. Make this delightful amigurumi gingerbread dog with only yarn and a pair of safety eyes! The pattern includes detailed instructions on making crochet stitches. It is an excellent gift for all ages, including children and teens.
Materials
Size D/5 3.25 mm crochet hook
1 skein each of Red Heart Super Saver in
White (about 50 yds)
Café Latte (about 100 yds)
Small amounts of Cherry Red, Delft Blue, Pretty in Pink, Spring Green, Lemon, and Orchid
1 pair 15 mm safety eyes
Fiberfill stuffing
Scissors
Yarn needle
Abbreviations
Beg = beginning
Ch = chain
Rem = remaining
Rep = repeat
Rnd(s) = round(s)
Sc = single crochet
Sc2tog = single crochet 2 together
Sl St = slip stitch
St(s) = stitch(es)
Boxer Dog
One of the most popular dog breeds is the Boxer, a medium to large dog with gently sloping shoulders and powerful, heavily muscled thighs that get the dog in the shooting position. The typical Boxer has a square shape and a short, smooth coat all over their body. This pattern is easy to follow and can be done within a few hours. It is a perfect gift for everyone who loves dogs, especially Boxers.
Materials
Crochet cotton or wool, I used Scheepjes Maxi Sugar Rush or Maxi Sweet Treat 2 ply crochet cotton colours (105) Bridal White, (383) Ginger Gold, (162) Black Coffee, (404) English Tea, (110) Black and a tiny bit of (106) Snow White.
A crochet hook, I used a 1mm hook.
Scissors.
Darning needle to weave in ends.
Sewing thread and needle to stitch the boxer together.
Abbreviations
st – stitch
sts – stitches
ch – chain
sl st – slip stitch
sc – single crochet
hdc – half double crochet
dc – double crochet
tr – treble crochet
Dotty Sausage Dog
The Dotty Sausage Dog is a crochet doll that will bring joy to any little person. She is straightforward to make, and once you have mastered the basics of crochet, this makes a great first project for children aged 5+. This pattern has step-by-step instructions for each section, with plenty of photos to help you along the way. You will need a 3.5mm hook and wool or cotton in two contrasting colours.
Materials
3.5 mm hook
Double Knit yarn
Abbreviations
Sc = single crochet
2sc = 2 single crochet into the same stitch.
2tog = single crochet next 2 stitches together.
Puppy Dog Potholder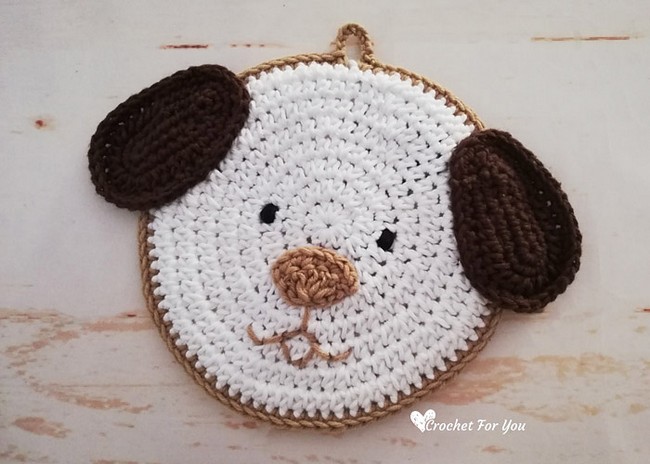 This Poppy the Puppy dog potholder pattern is simple and quick to work up. This is an excellent opportunity to practice your stitch combinations or use beautiful cotton or wool yarn for the accent pieces. A charming crochet dog potholder that features a funny, sweet face! The free pattern includes step-by-step instructions to help you create your pup-in-a-potholder. Perfect for beginners, this project will be completed in just one evening. These adorable little potholders will be a fun addition to your kitchen. They are practical and can make the perfect gift for dog lovers!
Materials
4-Medium weight / Worsted / 100% Cotton / 150 total yards
1 skein of White (No 16)
Small amount of Brown (No 44) for ears.
Small amount of Black (No 15) for sewing eyes.
Small amount of light brown colour for snout and edging (I used some scrap yarns)
H-8 / 5 mm crochet hook
Tapestry needle
Stitch markers
Abbreviations
ch = chain
sl st = slip stitch
sc = single crochet
hdc = half double crochet
dc = double crochet
st = stitch
beg = beginning
*to ; = repeat * to the instructions.
[ ] work instructions within brackets as many times as directed.
Henley the Hound
If you love dogs and crochet, you will love this free crochet dog pattern! Henley is a super easy pattern to follow. All you need is just some yarn and a size J hook. He stands up on his own with the help of poly pellets, but if you choose not to use them, he will still be charming sitting down on the floor! A handsome and sweet face, an adorable floppy ear, and doggie paws that are just begging to be petted! Henley the Hound is a welcome addition for any dog lover in your life.
Materials
3.5mm (E) Clover Amour Crochet Hook
201 yards/184 m (92 g/ 3.3 oz) of We Crochet Brava Worsted in Brindle
56 yards/52 m (26 g/ 1.97 oz) of We Crochet Brava Worsted in Sienna
2 – 14mm Black Safety Eyes
Polyester Stuffing
Nylon Stocking (or another way to contain Poly Pellets)
Poly Pellets/Plastic Pellets (I used about 71g)
Clover Chibi Bent Tip Tapestry Needle
Scissors – I used Clover Patchwork Mini Scissors
Clover Quick Locking Stitch Makers
Sewing Pins (Optional but highly recommended)
Black Embroidery Thread
Abbreviations
CH = Chain
ST = Stitch
SL ST = Slip Stitch
MC = Magic Circle
SC = Single Crochet
SCINC = Single Crochet Increase
SCDEC = Single Crochet Decrease
FLO = Front Loop Only
FO = Finish Off