21 Free Crochet Puppy Patterns For Kids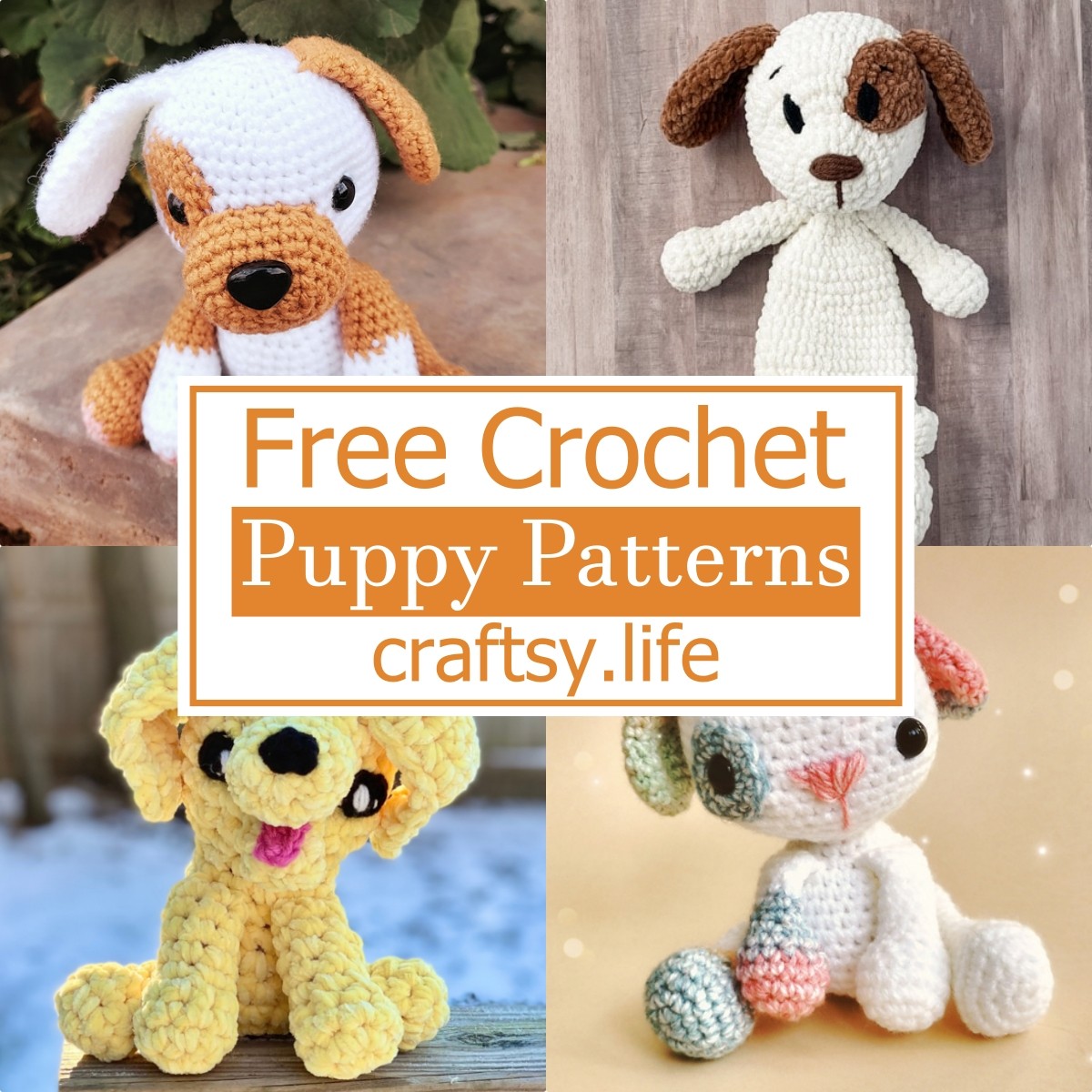 Crochet Puppy Patterns are adorable to crochet and fun to give as a gift. Crocheting toys like these are a great way to use leftover yarn or create a unique gift for anyone who loves dogs. There are many different dog breeds, but they all have unique personality and charm that makes them so lovable. If you are looking for crochet puppy patterns, you have come to the right place! We have collected some of our favorite free crochet dog patterns below. These projects make fantastic gifts for friends and family who love dogs!
Crochet Puppy Patterns

Crochet puppy patterns are a great way to make your crochet dog toys, and they are often much cheaper than buying them from a pet store. You can easily find free crochet puppy patterns here. You don't have to be an expert crocheter either; these patterns are easy enough for beginners and experienced crocheters. This page will give you ideas about what types of crochet puppy patterns are available and how to make your crochet dog toys.
See More: 6 Free Crochet Dog Blanket Patterns
Supplies needed for Crochet Puppy Patterns
The following supplies are needed for the Crochet Puppy Pattern:
One skein of worsted-weight yarn in light brown.
One skein of worsted-weight yarn in dark brown.
A size G hook or size needed to obtain gauge.
Tapestry needle to weave in ends.
Stuffing for the body and head.
Snuggler Puppy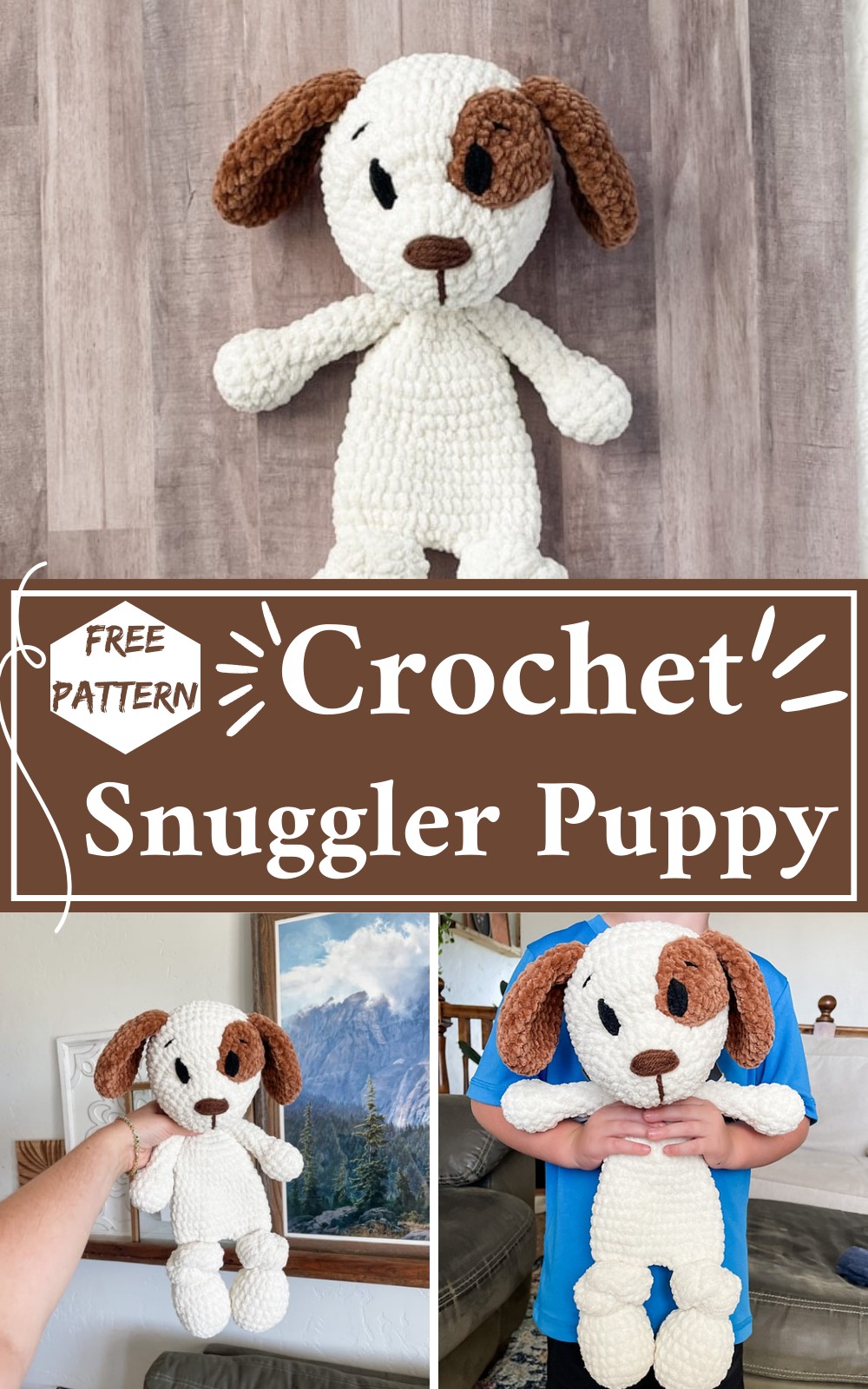 Make a snuggly and cuddly companion for your child that your child will love to carry the whole day! Boasting an enlarged size, eye patch, floppy ears, stuffed arms and legs, and less stuffed body, this crochet toy is loved by children, either boy or girl. Whether you make one for yourself or as a gift for expecting parents, it's sure to delight anyone lucky enough to snuggle.
Puppy Love Coin Purse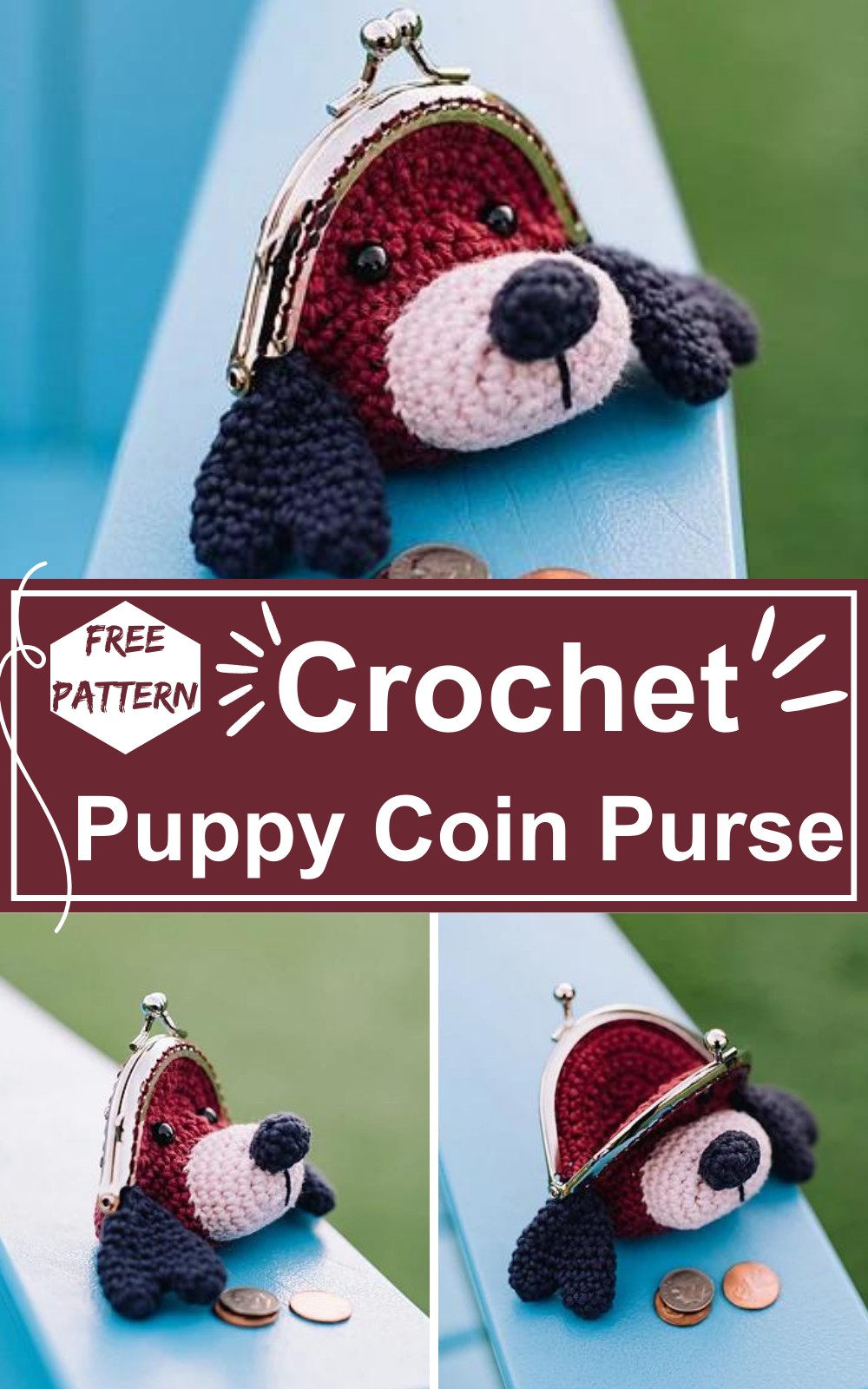 Have a look at this delightful Puppy Love Coin Purse, a charming and practical gift for yourself or your bestie. This stunning accessory exhibits a classic metal clasp, cute safety eyes, and three-dimensional nose and ears, adding to its irresistible appeal. Adorned with puppy-like features, this coin purse will steal hearts while keeping your coins safely organized.
Amigurumi Golden Puppy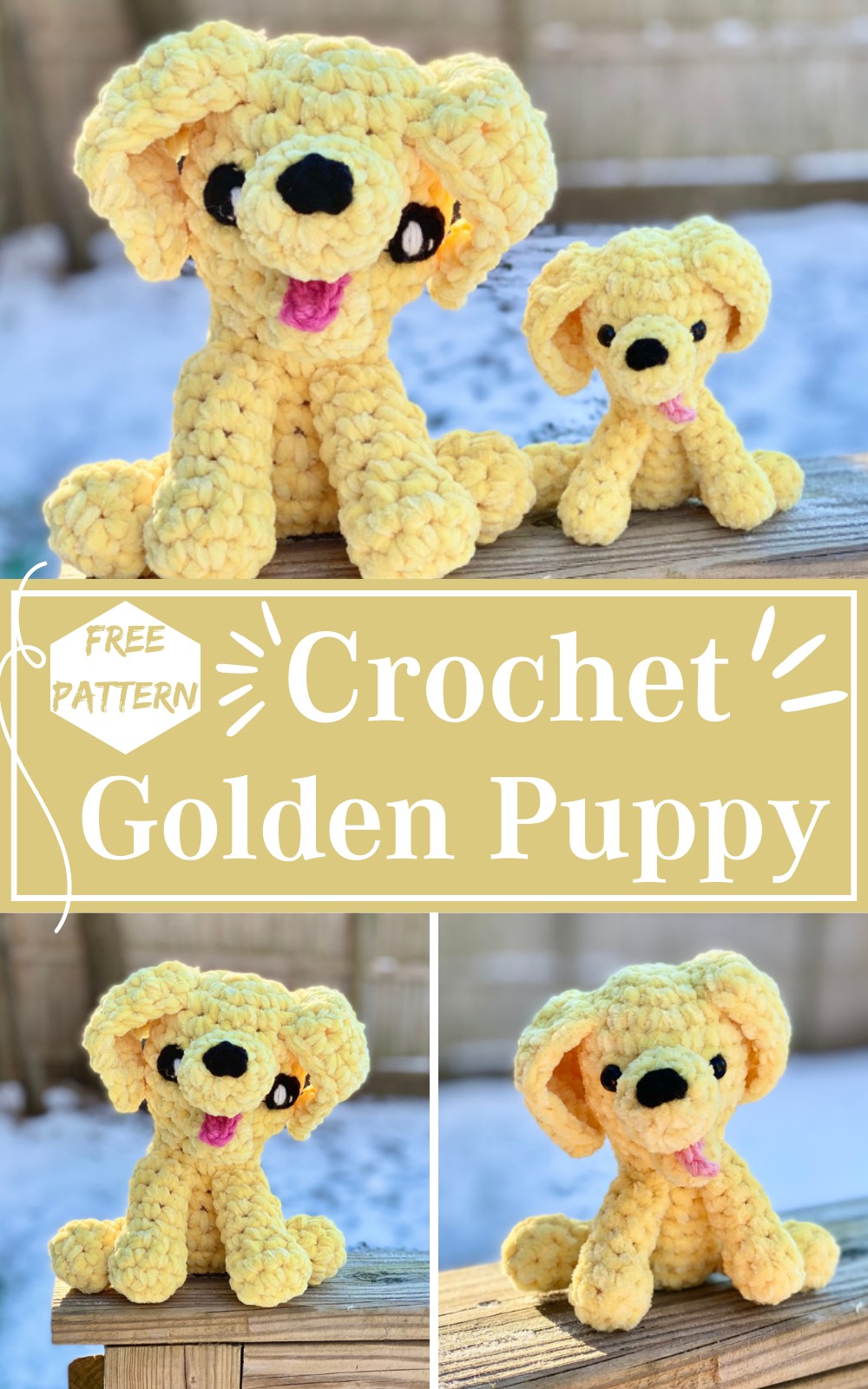 For the upcoming Mother's Day, create a charming set of large and small crochet Golden Puppies. This endearing duo symbolizes the love between you and your mother and serves as a creative and thoughtful gift. These crochet amigurumi puppies are designed to sit independently, making them versatile decor items. You can easily place them on your computer desk or dining table or hang them in a pet lover's car.
Small Puppy Amigurumi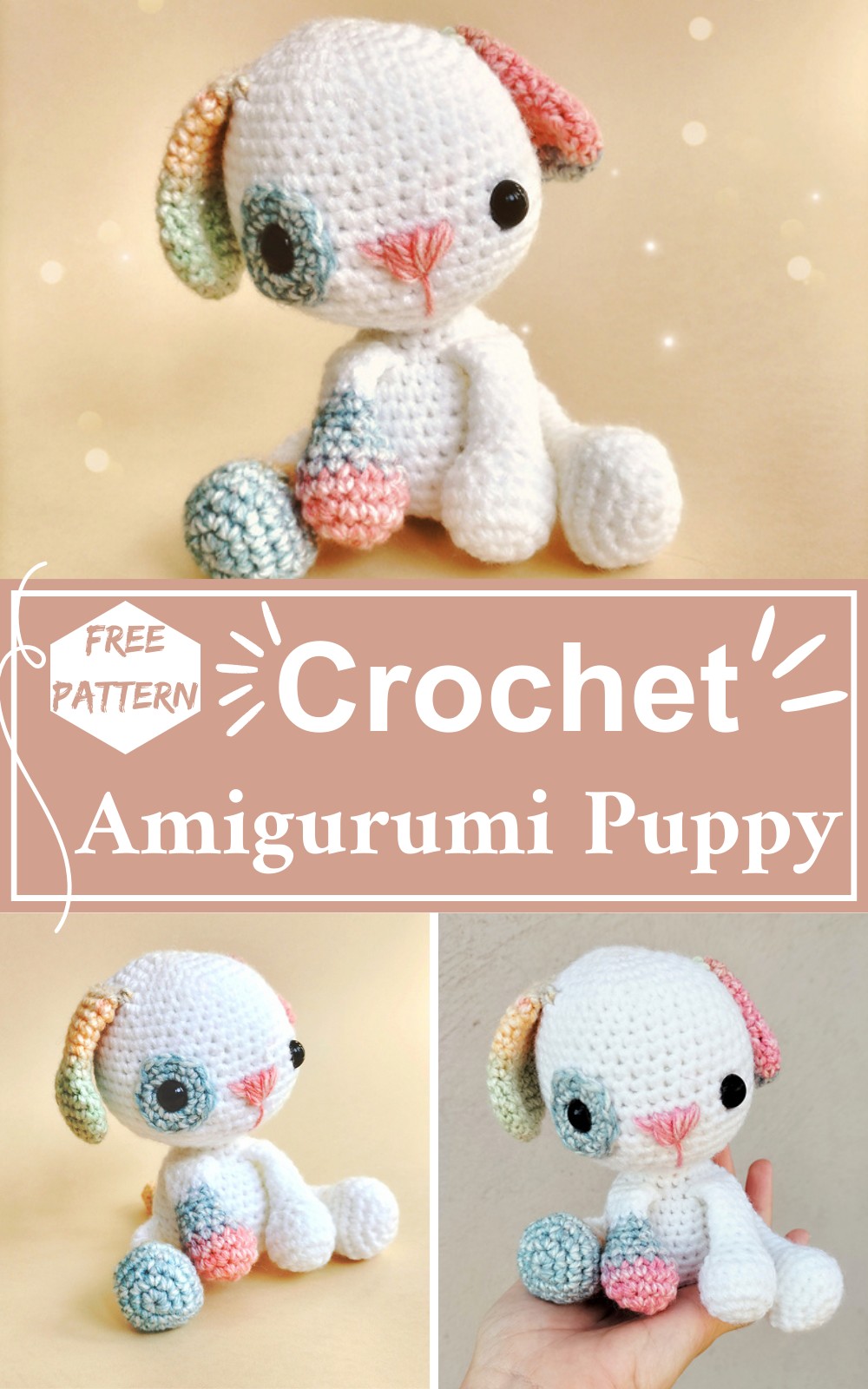 This adorable Small Puppy Amigurumi, a treasured and fun handmade piece, will overjoy your little girl. Its fun details, such as multi-colored ears and varied colored limbs, add to the charm of this crochet puppy. While the delightful toy or accessory's lively expressions and engaging details will capture her attention. So, why wait? Make this crohet pattern today!
Amigurumi puppy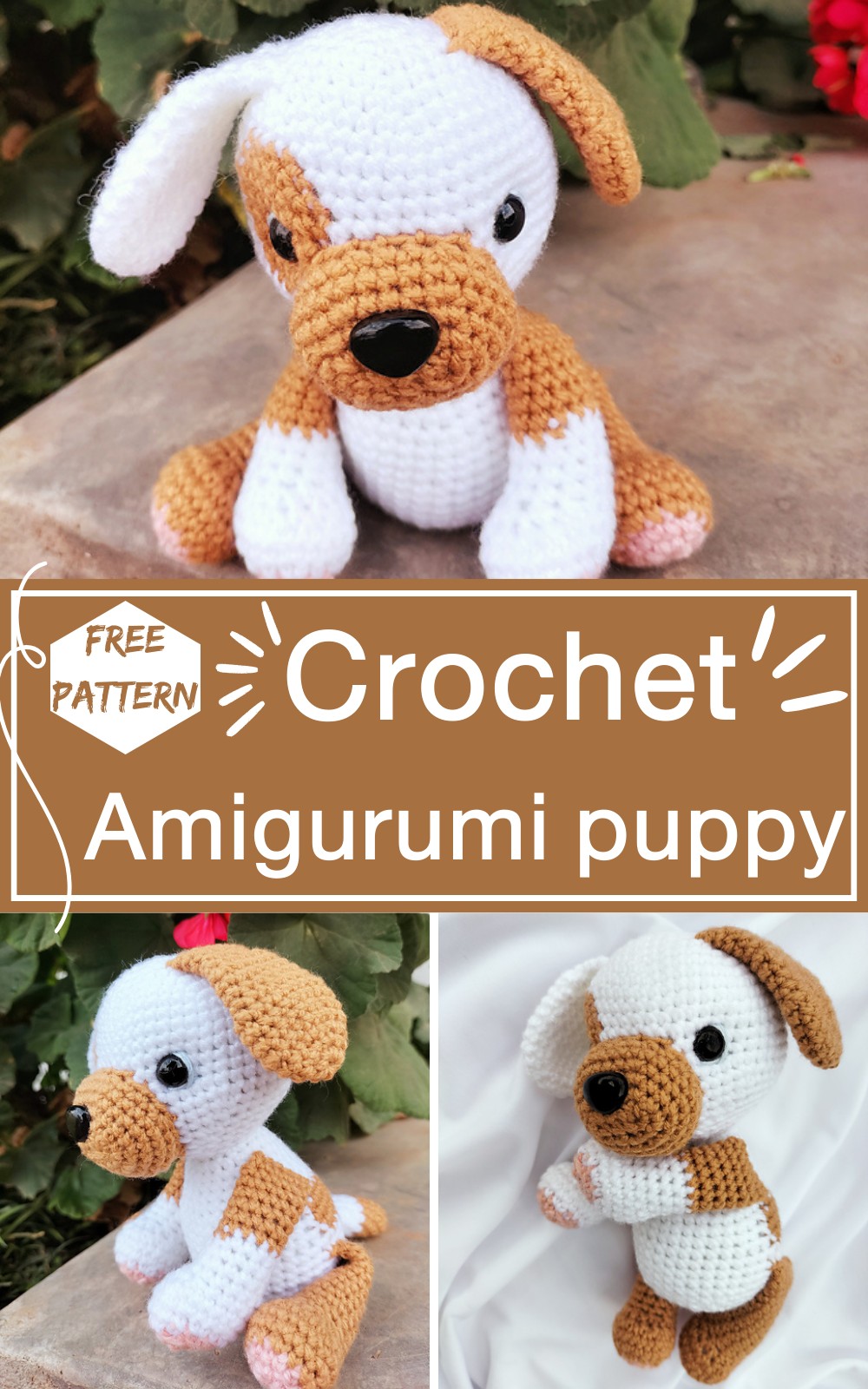 Crochet Amigurumi Puppy is a perfect addition to your plushie or decor collection. This delightful dog uses brown and white yarn, featuring a big teddy nose, with each ear sporting a different color. The puppy's legs and arms add to its charm and cuddliness. Customize this amigurumi creation by opting for a single-toned design, or embrace the vibrant color transition as shown in the pattern.
Jack Russel Puppy: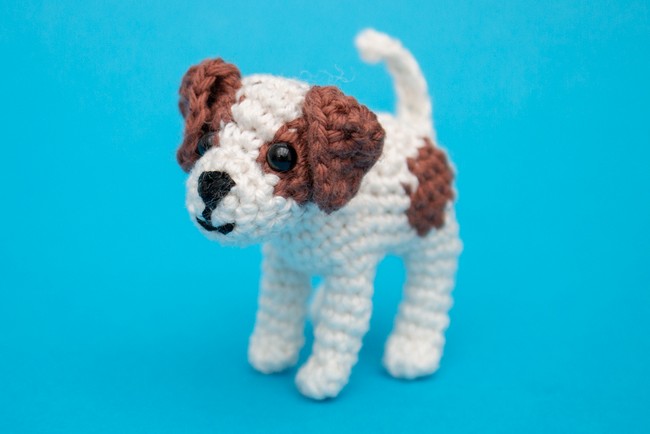 Jack Russel Puppy is a pattern of the cutest Puppy you will ever see! You can make this Puppy in any size by changing yarn weight and hook sizes. There are also many ways to change the look of your Puppy with different color combinations and details. These crochet puppy patterns are easy to follow and fun to make. You can use them for a baby shower or holiday gift for family, friends, or students.
Materials
DK/light worsted weight cotton yarn (I used Paintbox Yarns Cotton DK in Champagne White and Coffee Bean)
Black embroidery thread
2.5mm hook/B-1 or C-2
5mm safety eyes
Yarn needle (preferably with a bent tip)
Large eyed sewing needle
Stitch marker
Sewing pins
Fiber fill
Small flat pliers (optional)
Abbreviations
R = row
Rnd = round
St(s) = stitch(es)
Ch = chain
Sc = single crochet
Inc = single crochet 2 in same st
BLO = back loops
Dec = invisible decrease: Insert hook in front loops of next 2 sts, yarn over, pull through both front loops, yarn over, pull through 2 remaining loops
BLO dec = back loop decrease: Insert hook in back loops of next 2 sts, yarn over, pull through both back loops, yarn over, pull through 2 remaining loops
[…] = series of stitches to be repeated
*… = times the series of stitches is to be repeated
(…) = stitch count once round is complete
Herman the Puppy:
Herman, the Puppy, is a free crochet pattern designed to help you create a soft, huggable hound dog that lives with you on your lap. Designed to be as realistic as possible in all his dachshund glory, Herman includes instructions for making him and different options of eyes for a unique look for your pup. Create a cute Herman the Puppy with this simple crochet pattern. It has just a few leisurely rounds to put together but delivers a lot of fun for you and your kids to create! Herman, the Puppy, is a lovely little friend looking forward to being your best friend!
Materials
-Medium worsted weight yarn in Tan
-Medium worsted weight yarn in Ivory/Cream
-Brown scrap yarn for nose
-4mm (G) crochet hook
-2 – 12mm safety eyes
-Black embroidery thread
-Yarn needle
-Poly-fil
Abbreviations
Magic circle
sc – single crochet
sc dec – single crochet decrease (I recommend the invisible decrease. See attached PDF for reference)
st(s) – stitch(es)
Peanut the Puppy: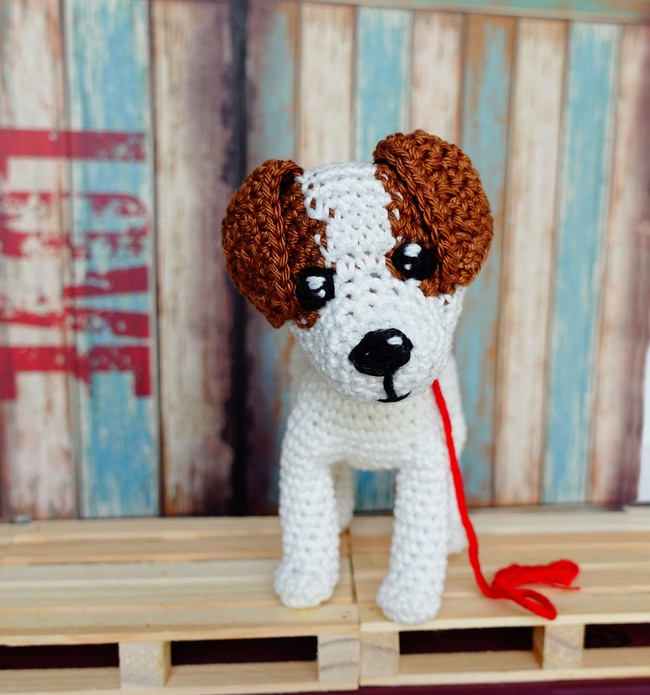 Make this adorable Peanut the Puppy with this easy-to-follow crochet pattern and tutorial. You will need to know how to single-crochet and double-crochet stitches and some basic knowledge of increasing and decreasing stitches. Peanut the Puppy is a quick and easy crochet pattern, perfect for making a gift or adding to your collection. This Puppy is sure to be a favorite addition to any home!
Materials
Crochet hook: 3mm (US D-3)
Scissors,
Stitch markers,
Toy stuffing, (Note: if you wish to explore some more options, including eco alternatives, then have a look at my Stuffing for Toys blog post),
Tapestry needle,
Sewing needle
Abbreviations
Mr – magic ring
Sc – single crochet
Inc – 2 in one
Decr – 2 together
Ch – chain
Puppy Dog Amigurumi: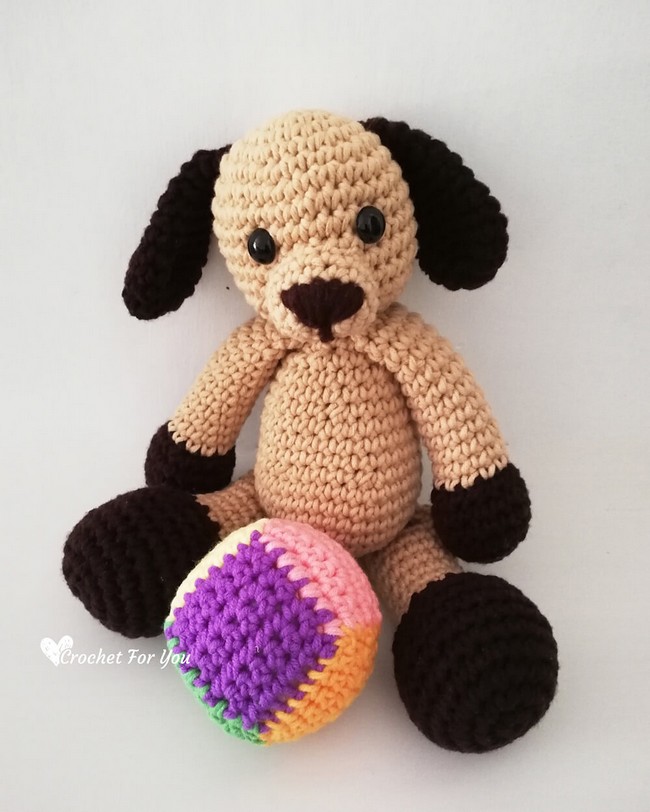 Are you looking for cute, cuddly crochet puppy patterns? Then your search is over! These adorable crochet dogs are the perfect thing to make for yourself or a loved one. If you love dogs and crafts, you will love this set of patterns! Whether you're looking for something cute and cuddly to add to your nursery decor or a way to cheer up someone who's gone through a difficult time, crocheting is excellent for making one-of-a-kind knitted pieces of art that tell a story about who you are as an artist and a person.
Materials
– I used 1 skein of Ice Yarn Lorena Worsted – Cafe Latte (55% Cotton, 45% Acrylic, 100g = 174 yds/160 m)
– Approx 100 yds of dark brown worsted weight cotton blend yarn
– US H-8 (5mm) crochet hook
– Safety eyes (12 mm)
– Fiberfil
– Stitch markers and pins
– Tapestry needle for weaving ends
Abbreviations
ch = chain
sl st = slip stitch
sc = single crochet
dc = double crochet
st = stitch
ch-() sp = chain-(number of chain) space
sk = skip
beg = beginning
* to ; = work instructions within brackets as many times as directed
[] = work instructions within brackets as many times as directed
sc inc = 2 sc in one st
sc dec = crochet 2 sc together (Insert the hook and draw up a loop in each of 2 stitches, yarn over, pull back through all 3 loops on hook at once)
The Christmas Puppy:
It is a puppy that brings joy and happiness—a crochet pattern for beginners and experienced crocheters alike. Include variations of the Puppy; you will love to make them all! This crochet pattern collection is perfect for young or beginning crocheters. It includes straightforward, step-by-step instructions with pictures. They are perfect for an advent countdown and make incredible Christmas tree decorations; they can even be left up all year round if you wish! And who doesn't love puppies?
Materials
Crochet Hook – J/ 6.00 – For Puppy Body, Legs, Ears, tail, and snout
H / 5.00 – For Eye and Collar
Yarn – Chunky (5) 9.5 Oz. – I used So Crafty/ Sparkle Silver (For Puppy)
Med (4) small amount of black for nose, paw stitches
Med (4) Small Your choice for collar for collar and tag
Stuffing – Poly fiber fill – 6 oz.
Stitch marker
Yarn Needle
Abbreviations
Chain (ch)
Slip Stitch (slst)
Single Crochet (sc)
Potato Pal Pug Puppy: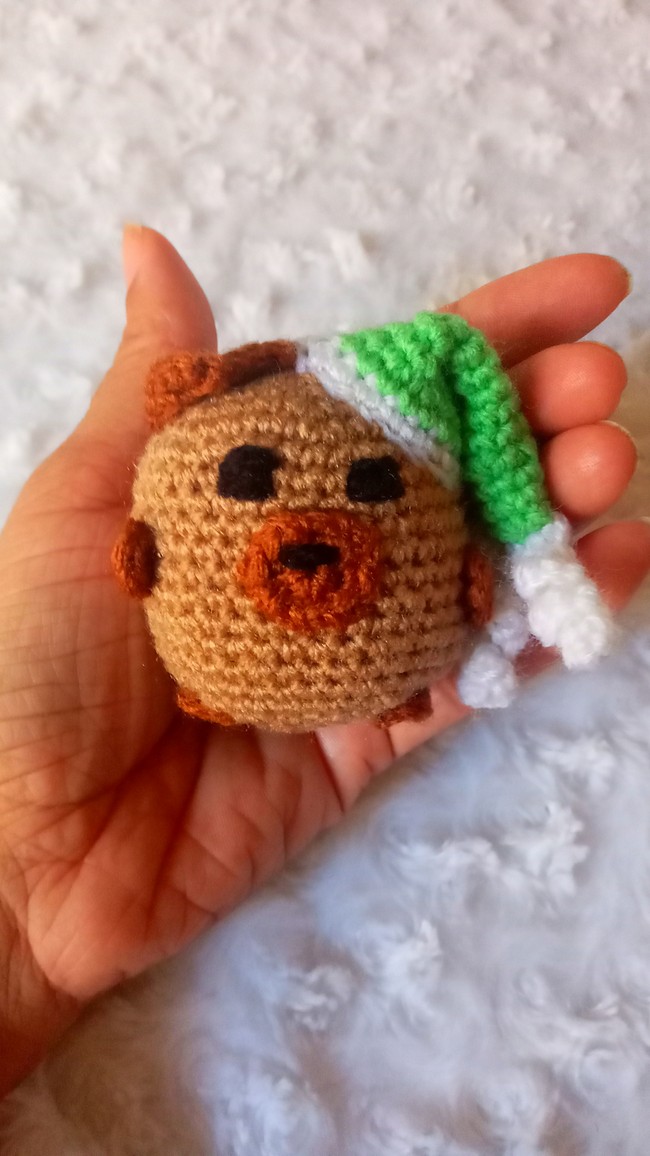 This cute potato pal pug will free your hands, whether on your phone or just enjoying the weather. The pattern for this crochet buddy is written in US terms, with step-by-step color photos and detailed instructions to help guide you through each stitch. You're cool with this crochet pug puppy pattern. This crochet pug puppy pattern makes a perfect toy for children of all ages. It's such a cute little companion for anyone who loves pugs!
Materials
2mm crochet hook
Fine #2 weight yarn in the following colors:
50g beige yarn
50g hazel yarn
50g black yarn
50g white yarn
50g light green yarn
Small amount of fiberfill
Yarn needle
Puppy Dog Potholder: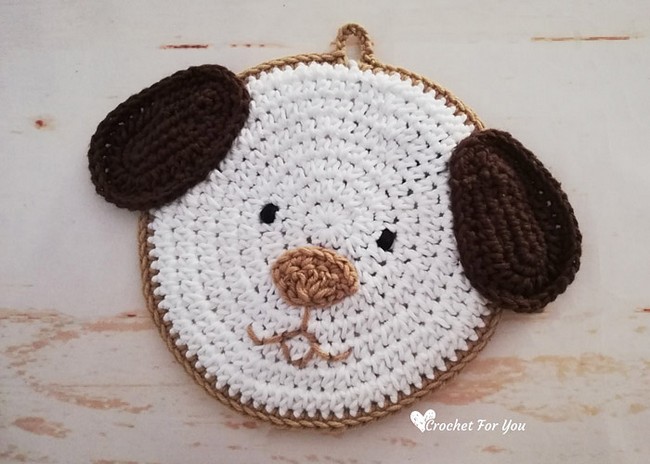 Puppy Dog Potholder is a quick, simple, and easy project you can make in a few hours. This adorable set of kitchen pot holders will brighten your kitchen with colorful puppies. They are perfect for anyone who loves making crochet things. These dachshund puppy pot holders also make great gifts for family and friends. Use it to protect your countertop or table from hot cups and plates or just for decoration! It would also make a great gift for a dog lover!
Materials
Drops Paris UNI COLOR .
1 skein of White (No 16)
Small amount of Brown (No 44) for ears.
Small amount of Black (No 15) for sewing eyes.
Small amount of light brown color for snout and edging (I used some scrap yarns)
H-8 / 5 mm crochet hook
Tapestry needle
Stitch markers
Abbreviations
ch = chain
sl st = slip stitch
sc = single crochet
hdc = half double crochet
dc = double crochet
st = stitch
beg = beginning
*to ; = repeat * to the instructions.
[ ] work instructions within brackets as many times as directed.
OC the Puppy:
All those adorable crochet puppy designs you've seen in the store but can't re-create? Here's your chance! All you need is a hook and some yarn. You'll be crocheting a cute little puppy in no time. If you love crochet and dogs, this pattern is for you! OC the Puppy is a cute, crocheted toy that works quickly with comforting details. Its eyes look around just like a real puppy. It is enjoyable to watch little ones play with this adorable crochet toy.
Materials
*Yarn Bee Lil' DoLil' Worsted (4), 92 yards, or any worsted weight (4) yarn (approximately 60 yards needed for pattern)
*4.5mm / 7 / G+ hook
*Needle for weaving in ends
*Poly-fil Stuffing
*Contrasting yarn for face stitching
Abbreviations
ch = chain stitch
sc = single crochet
sc2tog = single crochet two stitches together
sl st = slip stitch
st(s) = stitch(es)
Playful Puppy: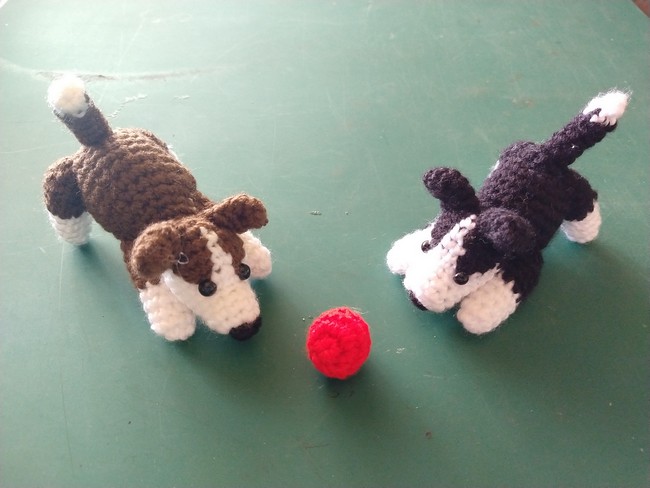 Crochet this delightful little Puppy to accompany your child on their playtime adventures. Very easy to make in just a few hours, it features a cozy body with soft curves and a long tail that helps keep baby nice and warm. If you love dogs and want to crochet a cute puppy, this book can help. Make these adorable crochet puppies make your child's playtime even more fun! Dog lovers find it helpful whether they are new to crocheting or experienced crafters.
Materials
A small amount of yarn in black or brown, a small amount of yarn in white, small amount of red or other colour for the ball. I have used 8ply, but you can use any available yarn.
Crochet hook depending on yarn, for my 8ply I have used a 2.5mm hook, adjust the hook size to your yarn (approx. 1-2 sizes smaller than recommended for the yarn)
tapestry needle for sewing, beads or embroider eyes, toy stuffing or leftover bits of yarn, scissors
Abbreviations
MR magic ring
sc single crochet
inc increase
dec decrease
Amigurumi sock puppy: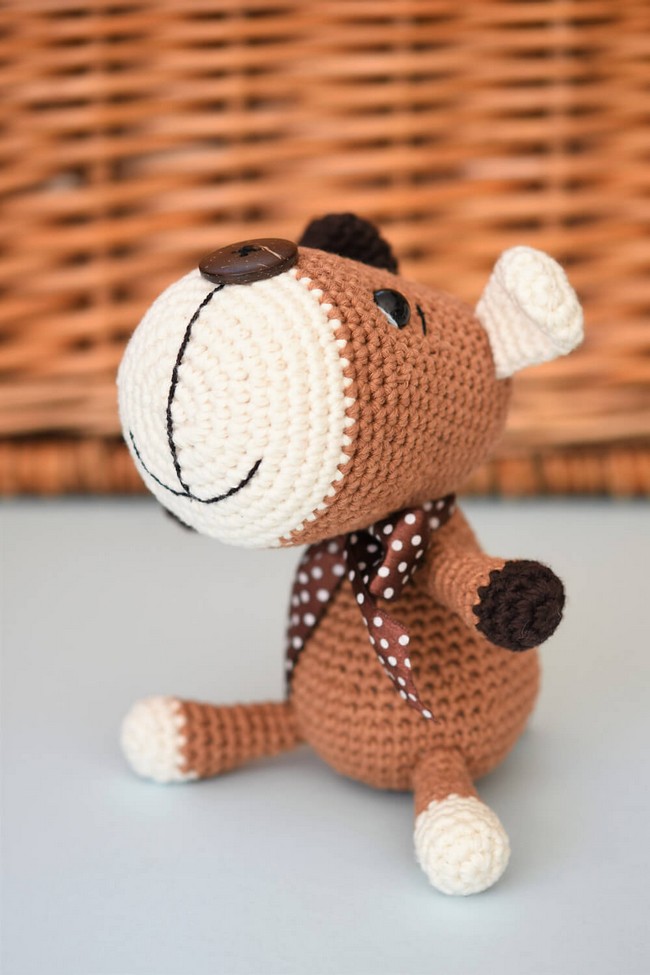 This Amigurumi sock puppy pattern is for you if you want to crochet cute, tiny, and fluffy puppies quickly. This little Puppy is cute, and its amigurumi sock puppy looks like a natural life dog. This pattern has been designed to be easy to follow and can be made in any colour you wish. This pattern only uses single crochet, slip stitch, half double crochet, and double crochet stitches, making it suitable for a beginner crocheter. You can use different colors to make your unique pup!
Materials
DK or worsted weight cotton yarn in 3 colors – medium brown, dark brown, and white.
Crochet hook 3 mm
Polyester fiberfill
Safety eyes (Ø 12 mm)
Black cotton thread
Button (Ø 25 mm)
Satin ribbon
Tapestry and embroidery needle
Abbreviations
Slip stitch (sl st), chain (ch), single crochet (sc)
Mini Pals Patrick the puppy: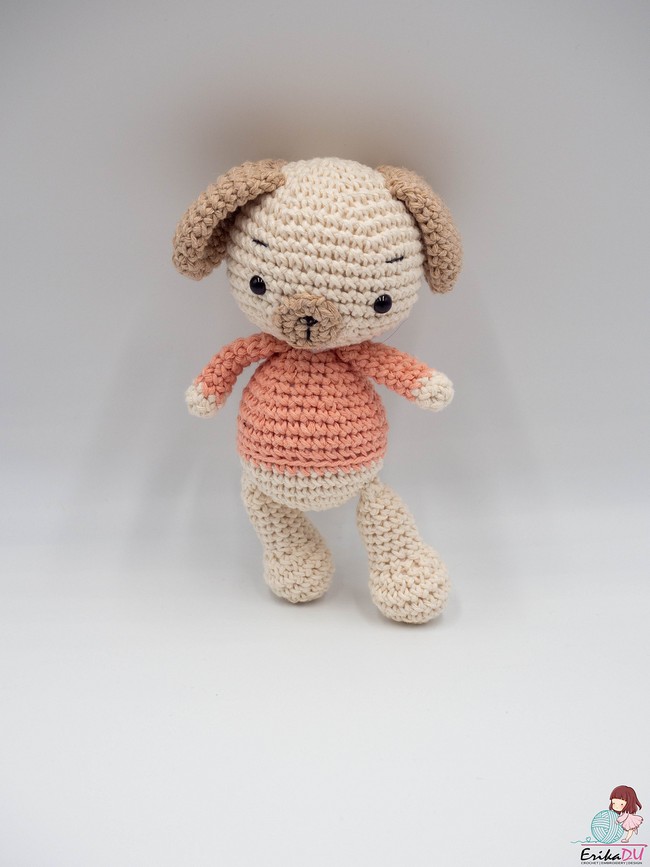 This "soft and cuddly crochet pattern contains everything you need to make the lovable Puppy yourself! This includes detailed patterns, step-by-step instructions, the yarn, stuffing, and decorations. These patterns can be made with any yarn and hook combination, so get creative! These adorable mini puppies will steal your heart. The perfect gift for others or yourself, this mini Puppy will make any dog lover squeal!
Materials
Fir de culoare crem deschis, crem inchis si corai de aceasi grosime
croseta de 3.5 mm
Ochi de siguranta de 9 mm
umplutura
Abbreviations
Oa-ochi alunecat
Ol- ochi de lant
Ps- piciorus simplu
pd – piciorus dublu
ptr-piciorus triplu
pm-piciorus mediu
cr-creer
sc-scadere
BLO – lucrați numai în bucla din spate
Pedro the Puppy:
This is Pedro, the Puppy! Pedro is an amiable little guy and makes a great companion. This pattern is high quality and easy to follow with color photos. It looks like a natural dog, making it a perfect gift for kids or adults. You're sure to fall in love with Pedro the Puppy. He is sweet and cuddly, just waiting to be loved. Crochet him in red or blue, and make sure he joins you on your adventures!
Materials
About 90-110 yds of I Love This Cotton! Yarn (or other aran-weight yarn)
Size E (3.5mm) crochet hook
A tiny bit of black yarn
Fiberfill stuffing
6mm safety eyes (2)
Tapestry needle
Optional: Stitch marker
Abbreviations
st(s) = stitch(es)
ch = chain
ss = slip stitch
sc = single crochet
inc = sc increase (work 2 sc in the same st)
dec = sc decrease (decrease over 2 sc sts)
Peek-a-boo Puppy Hat: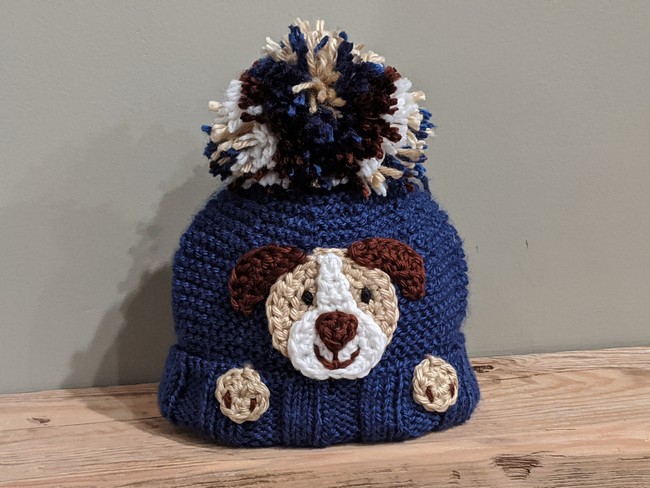 Enjoy the warm welcome of a new Peek-A-Bo Puppy. This sweet little creature will make your family feel much bigger and more fun! Make your dog look super cute with this puppy hat! It can be made in a variety of sizes and colors. Its peek-a-boo features and short brim make it the perfect addition to any wardrobe! This hat is to fit an adult-size head, so adjustments must be made if you want it to fit the Puppy.
Materials
1 skein of worsted weight yarn – I used Bernat Softee Baby in Navy
Size 6 (4 mm) 40″ circular needle (for magic loop) or set of size 6 (4 mm) double-pointed needles
Yarn needle
Pom-pom form – or cardboard to make your own
Scissors
Abbreviations
K – knit
P – purl
K2tog – knit 2 together
You can also see: Crochet Baby Hat Patterns
Amigurumi Puppy: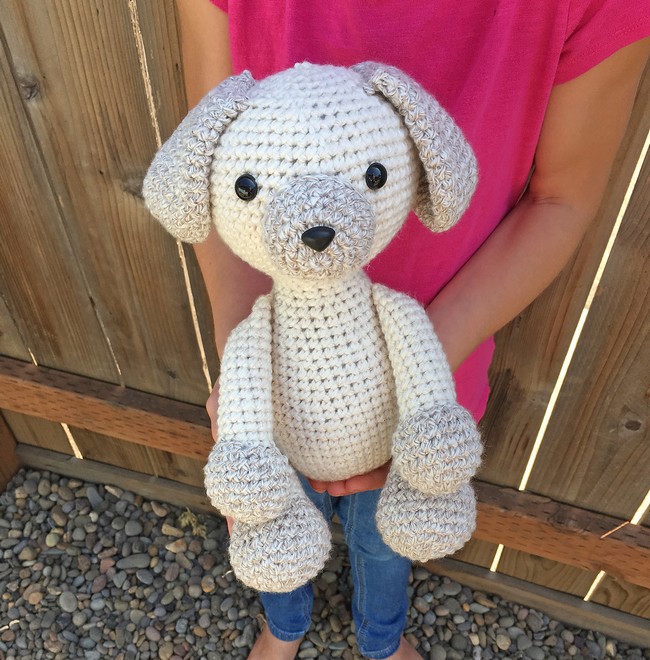 Amigurumi Puppy is an adorable stuffed animal that you can crochet. This pattern is easy enough for anyone to make. Make your Puppy a gift or a toy for your children, as this crochet pattern is child-friendly: Learn to crochet your own easy-to-follow Puppy with these adorable puppy patterns. Whether a novice or an experienced crafter, you'll love this clever collection of amigurumi dog patterns. Once you have learned the basic stitches and techniques required, you can create whichever breed you want!
Materials
– Size 4 worsted weight yarn
150g yarn for the body ( I used Yarn Bee Denim in Color in Ivory)
Small amount of accent color for the nose, ears, and paws (I used Yarn Bee Denim in Color in Taupe)
– 3.5 mm crochet hook (These are the hooks I use and love!)
– 12mm safety eyes
– 15mm safety nose
– Scissors
– Tapestry needle (Bent tips work wonders for amigurumi!)
– Stuffing
– Stitch markers
– Sewing Pins (these are super helpful when it comes time for sewing)
Abbreviations
SC- Single crochet
SC INC- Single crochet increase
INV DEC- Invisible decrease
Rep – Repeat
St(s) – Stitch(es)
Collie Puppy: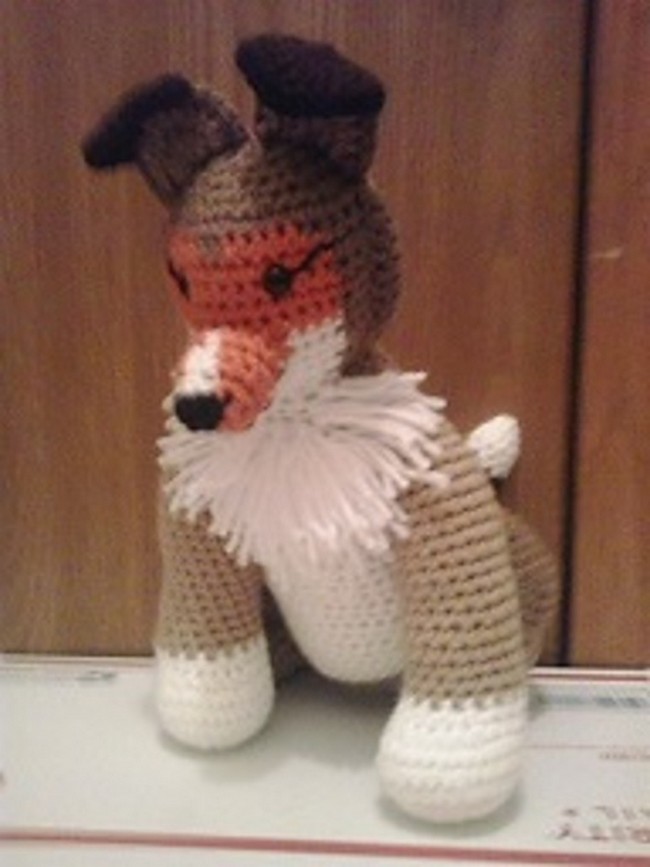 If you love animals but find it challenging to care for them, this adorable crochet Collie dog knitting pattern is perfect! This lively Puppy will become the best friend of anyone who loves animals. You can make it as large or small as you want, depending on how much yarn you want to use. The Collie Puppy Crochet Pattern works up fast with a crochet hook and worsted weight yarn; this is an adorable project for beginner and advanced crocheters alike.
Materials
Worsted weight yarn:  Café latte, white, carrot, buff, taupe, coffee brown, and black.
D crochet hook
Polyester Fiberfill
Tapestry needle
1 set of 10mm black safety eyes