11 Crochet Christmas Blanket Patterns For Beginners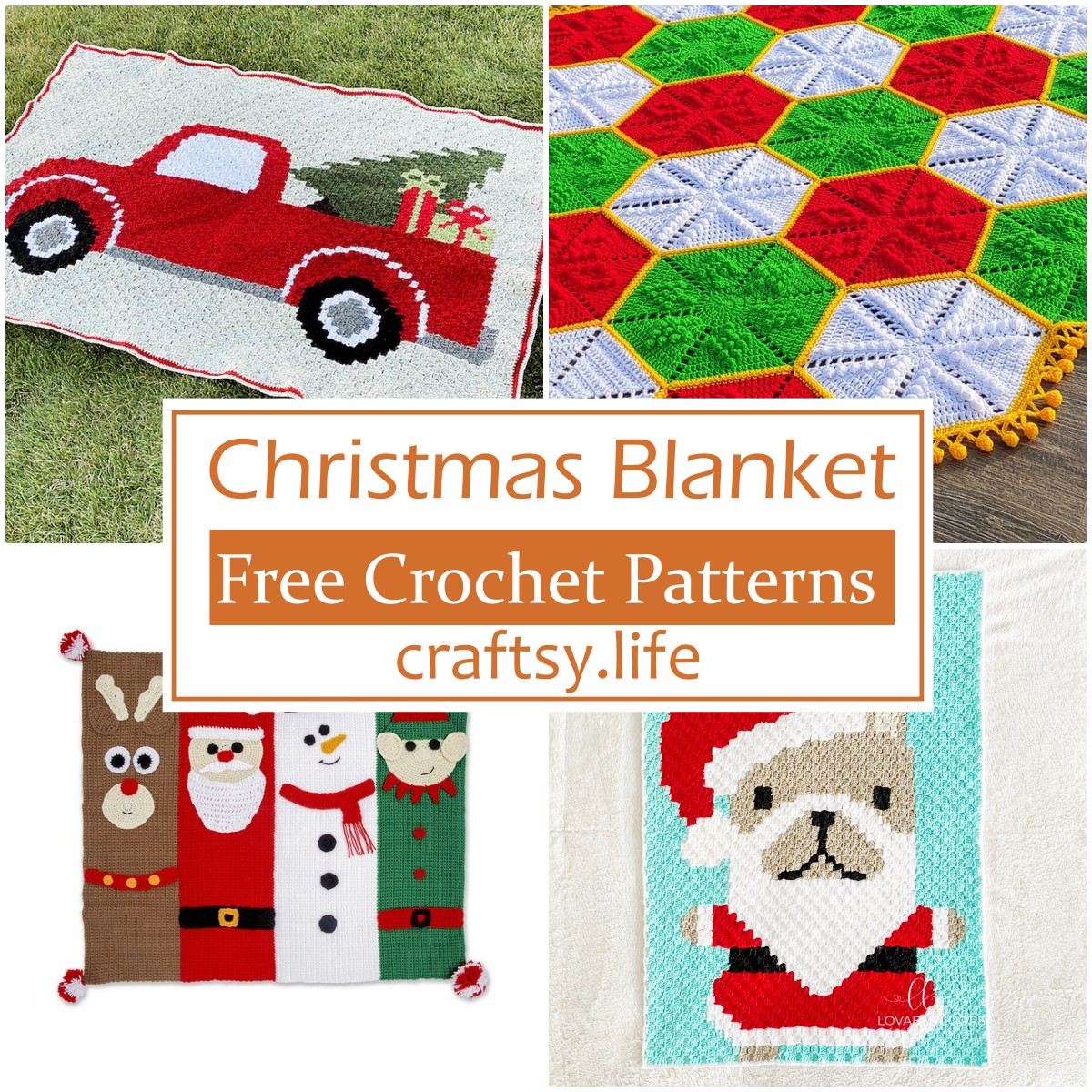 As the nights start to get longer and we move further into the holiday season, it's time to start thinking about gifts for the people we love most. Whether or not you have a crocheting habit, a crochet blanket is a fantastic gift idea. It will be used and appreciated for years to come, and it's an opportunity to show someone how much you care about them. The patterns below run the gambit from traditional Christmas colors like reds and greens to blues and purples, to a few that are just as perfect for any time of year. Here are some of our favorite crochet Christmas blanket patterns that we hope will inspire your holiday cheer.
Free Crochet Christmas Blanket Patterns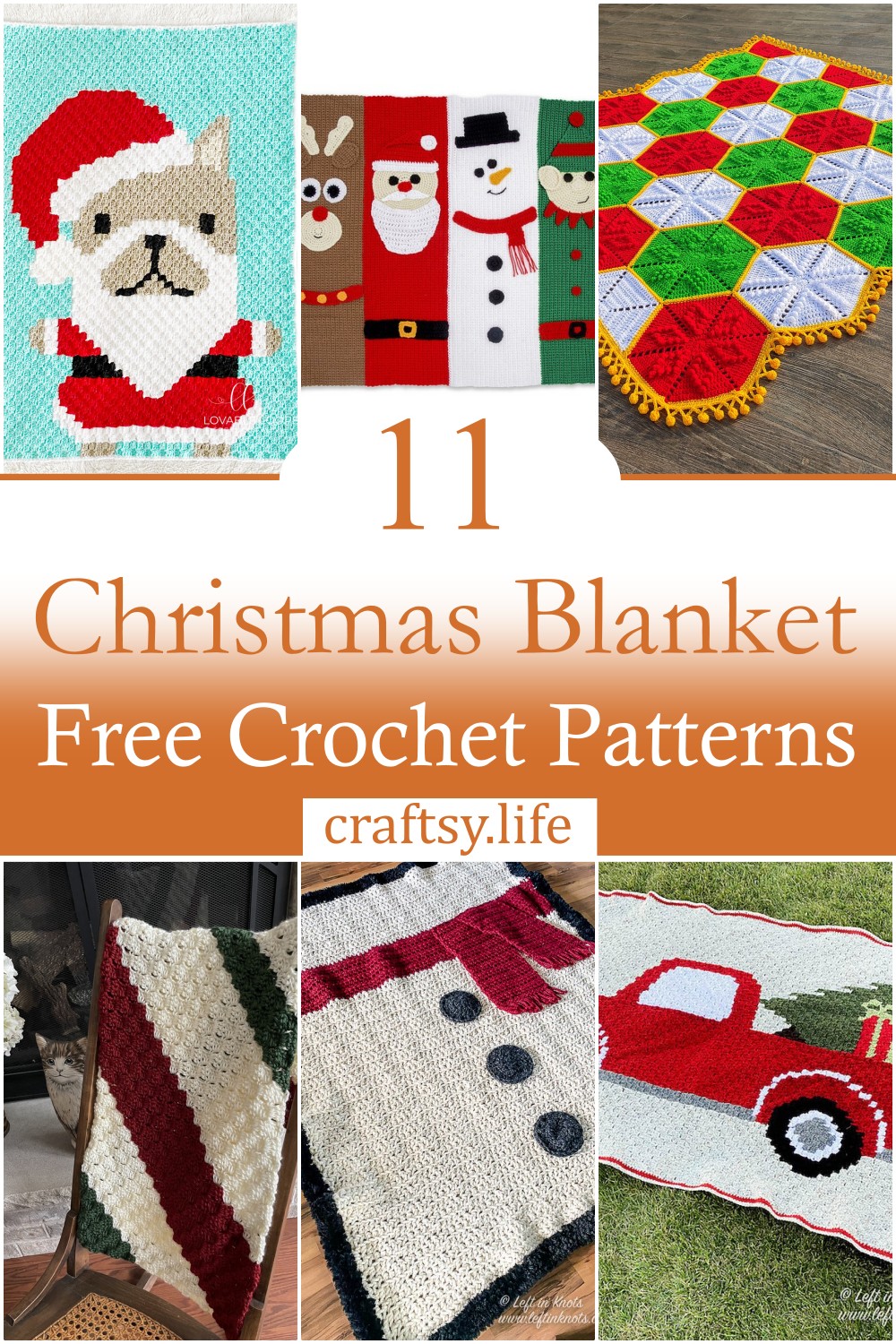 Crocheting a Christmas blanket is a fun way to add some holiday cheer to your home and bring the warmth of your Christmas spirit to a friend or family member. With the variety of patterns available, you can crochet a blanket in any color scheme, with any stitch pattern, and with any yarn, from bulky to fine. Whatever your preferences are for color and texture, there's sure to be a pattern for you. Read on for perfect crochet Christmas blanket patterns below.
Tips For Easy Crochet Christmas Blankets
As Christmas is just around the corner, many people are starting to look for ways to celebrate the holiday. One of the most popular traditions is to make a crochet blanket for your family or friends.
Here are some tips that will help you make a beautiful crochet Christmas blanket pattern:
Decide on a pattern. Many patterns are available online, but if you want something unique and special, consider making one yourself. It doesn't have to be complicated – you only need a little imagination and creativity!
Start with a simple pattern and gradually add more details as you go along. This will help you avoid getting overwhelmed by too many ideas at once!
Make sure you have enough yarn before beginning your project. It's always better to have too much than too little because sometimes it can be challenging to find precisely what you're looking for in stores this time of year!
Ensure your stitches are consistent throughout the blanket to look uniform when finished!
French Bulldog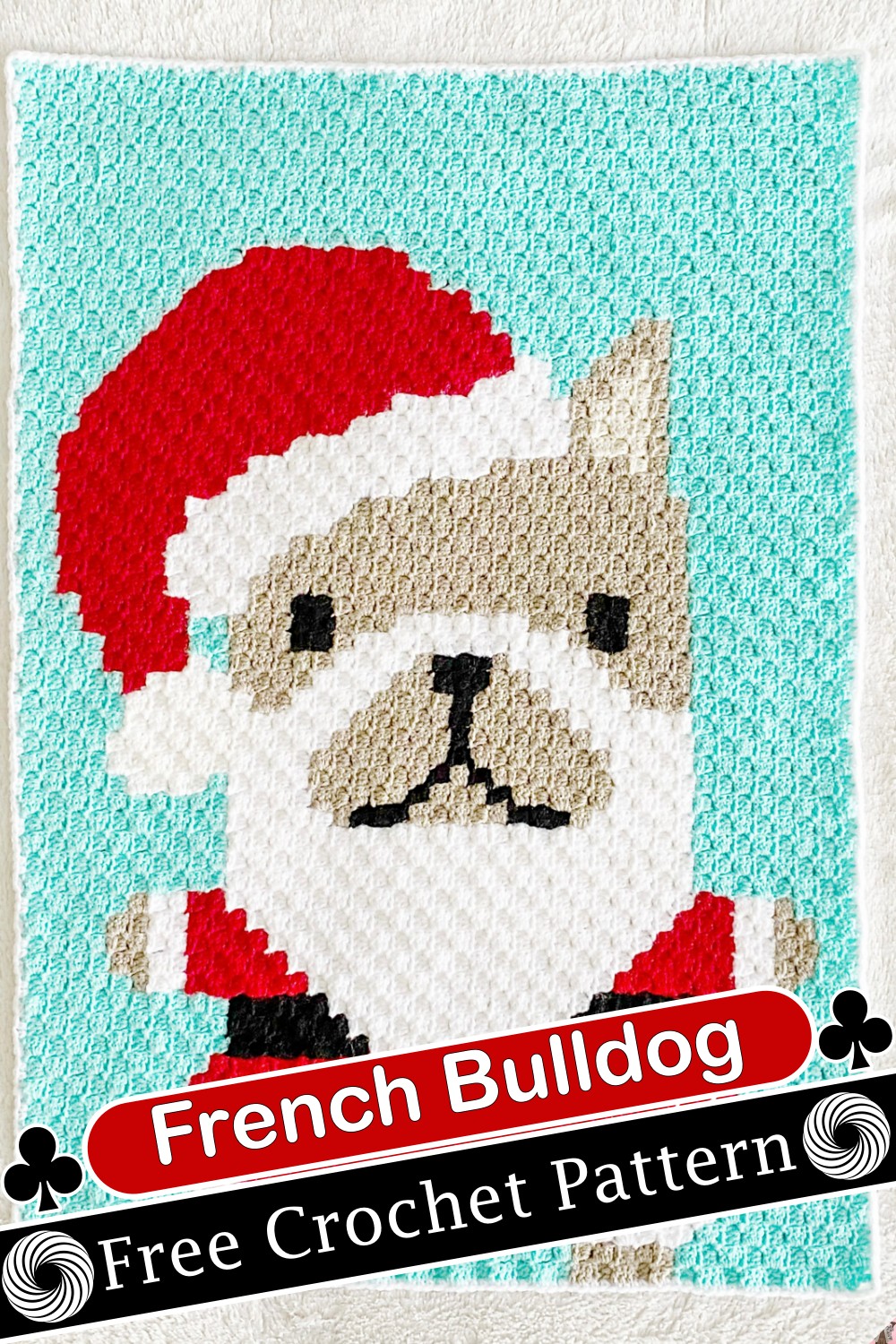 Do you love French Bulldogs? This adorable design features a French Bulldog wearing a Santa suit framed by hearts and Christmas ornaments. Look no further if you are looking for a corner to corner crochet Christmas patterns! Perfect for beginners, this pattern helps newbies understand basic crochet stitches like single crochet, double crochet, and treble crochet. Use bright holiday colors like red, green, blue, or holly berry shades.
Crochet Christmas Tree Blanket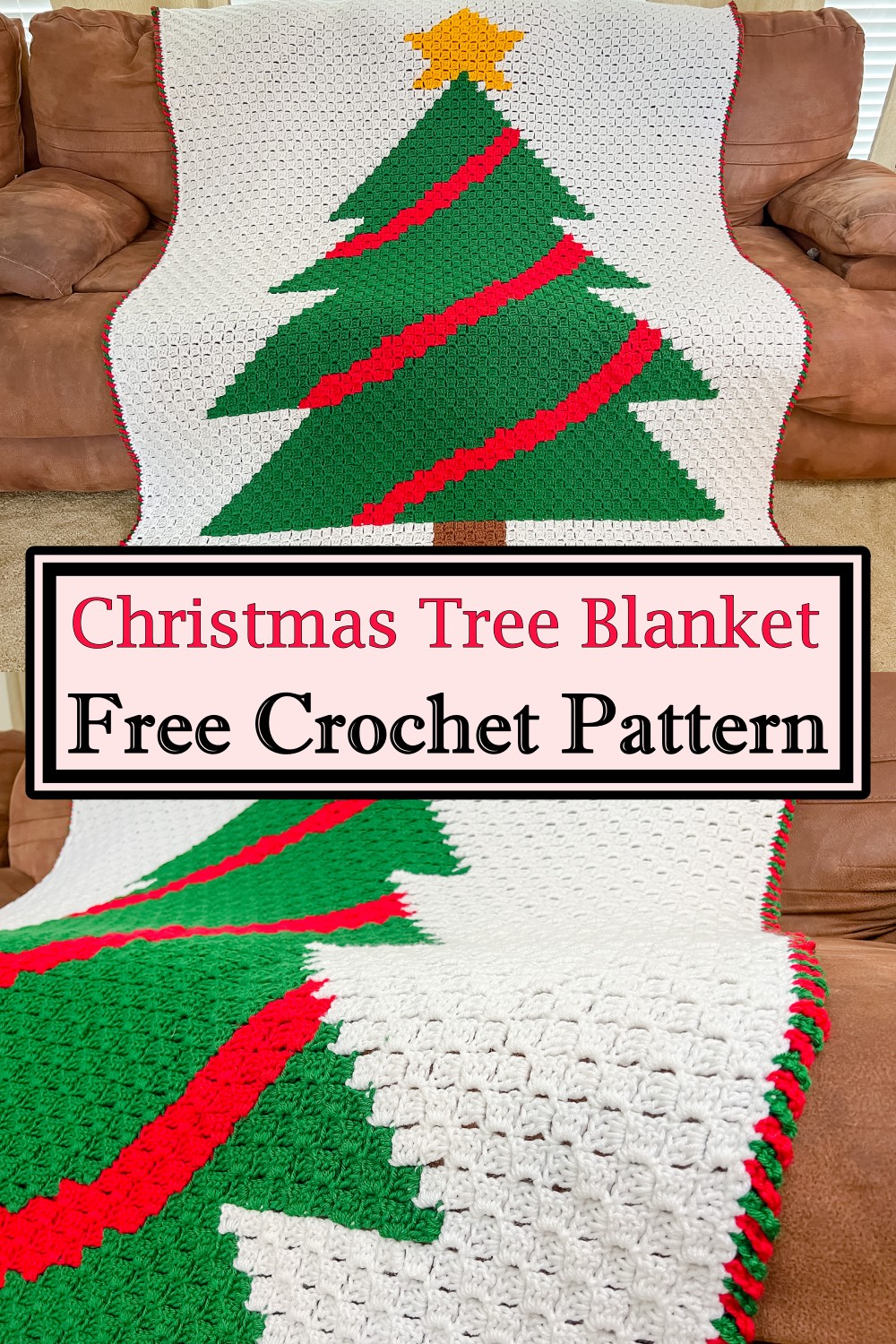 It's never too early to start making your Christmas projects! This blanket would be perfect for a baby or toddler and a sweet reminder of the magic of Christmas. The pattern includes detailed written instructions as well as a crochet chart symbol. The Christmas Tree Blanket is made using the cross stitch pattern, which travels over and under the crochet stitches. This gives a dotty look to your tree and makes it have more depth in color. These textures make a great blanket to cuddle up with on the couch.
Christmas Gnome C2C Blanket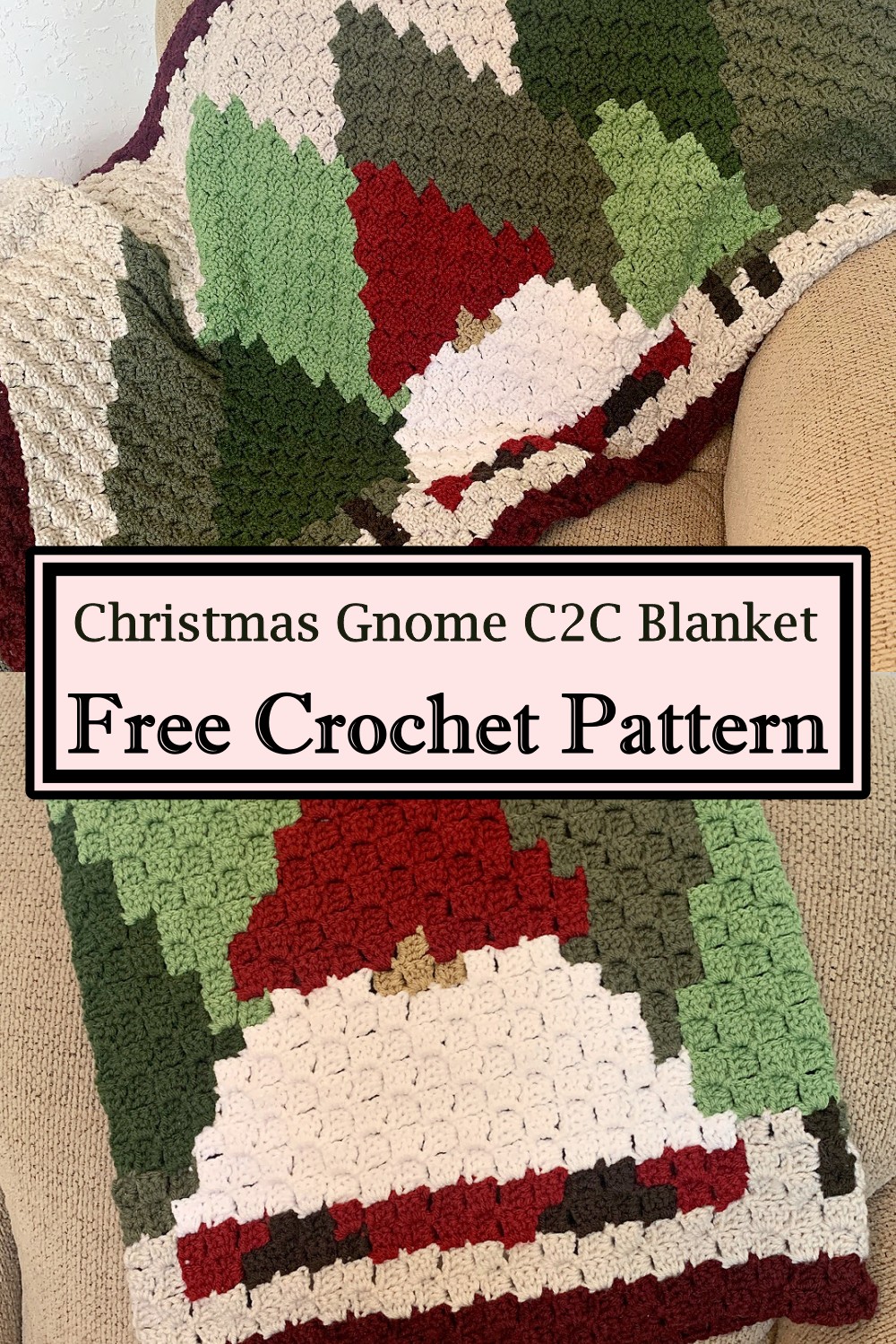 The Christmas Gnome C2C Blanket design uses a simple single crochet stitch and makes it easy for anyone to work up. If you've never crocheted before, don't worry; this pattern is for beginners! Use bright colors to make this blanket look more like a piece of art than just a plain old throw blanket, or use the traditional red, white and green palette for an extra festive look. It's also straightforward to adapt this pattern for a giant blanket by adding more colors. Just continue working in rounds (instead of rows) and make it as big as you wish!
Christmas Sloth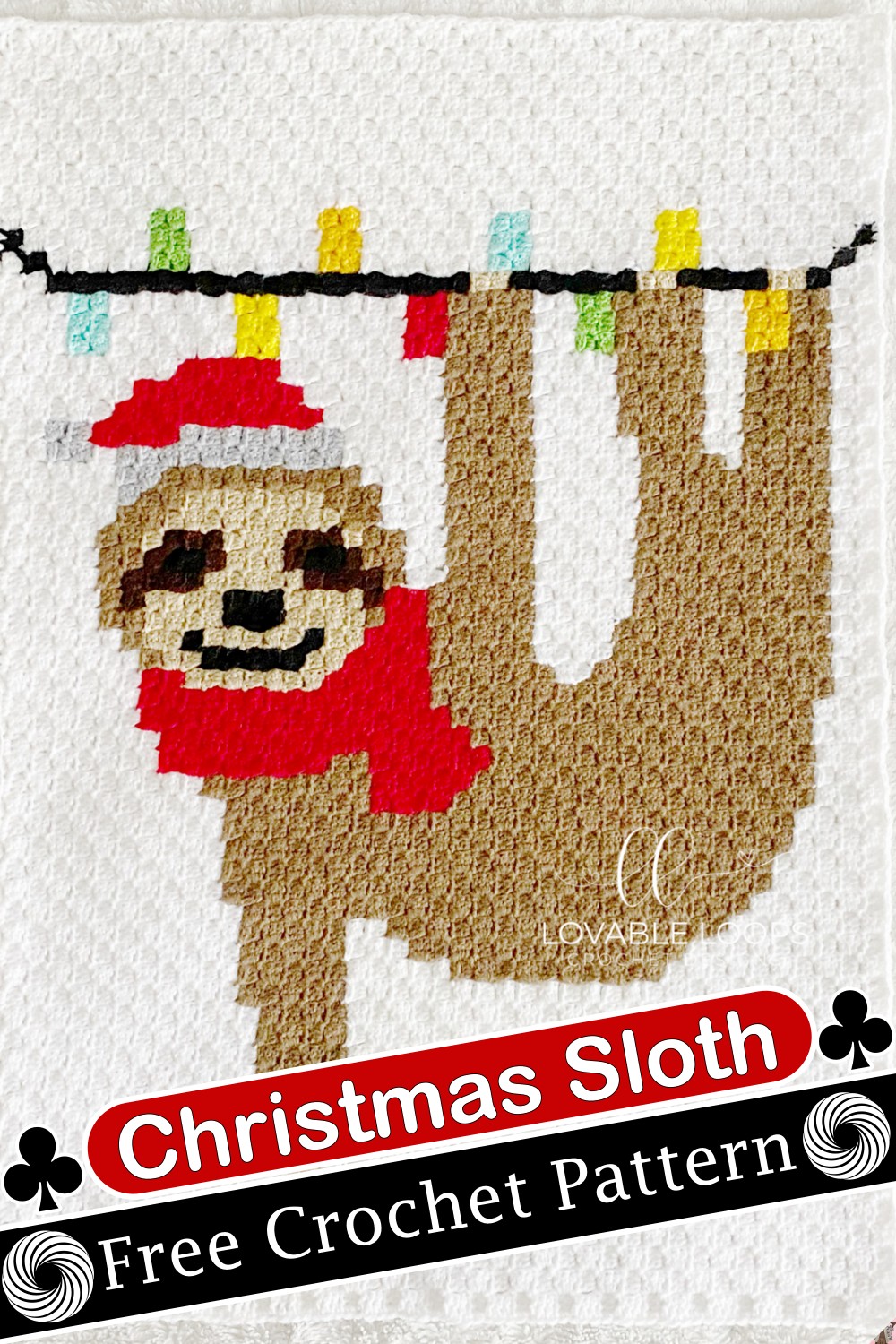 What's better than a Christmas sloth hanging from your tree? An adorable Christmas sloth is hanging from your Christmas lights! This graphghan crochet pattern is perfect for the holiday season, with different ways to choose from. This is a corner-to-corner crochet graphghan, which means you will crochet in the round with all those excellent stitches! This pattern has no seams, and all the pieces work from one chart.
Christmas Characters Blanket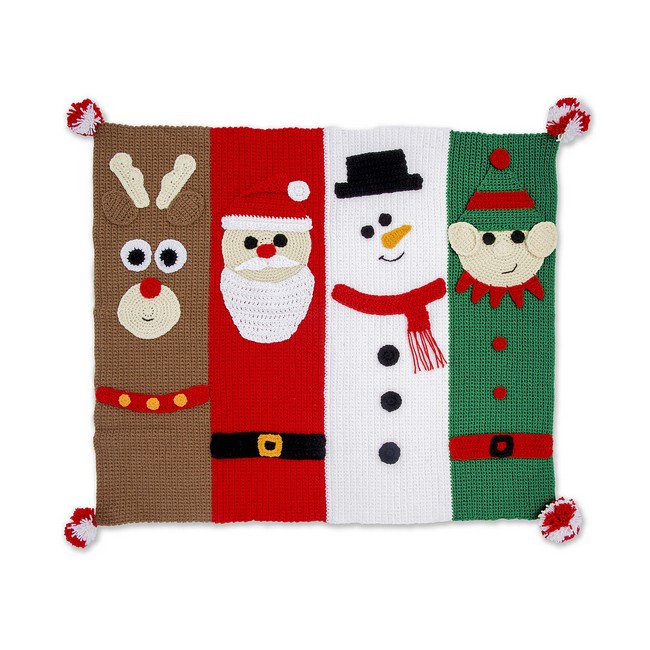 This fun and festive crochet blanket add Christmas cheer to your home! The characters are created using basic stitches and are easy enough for beginners to do. The classic symbols of the Christmas season are yours to enjoy on your crochet blanket. The Christmas Characters Blanket pattern is simple and easy to follow, with directions for different sizes, so you can use it any time of year. You may have learned to make these characters when you were a child, or they could be new to you!
Christmas Tree Truck Blanket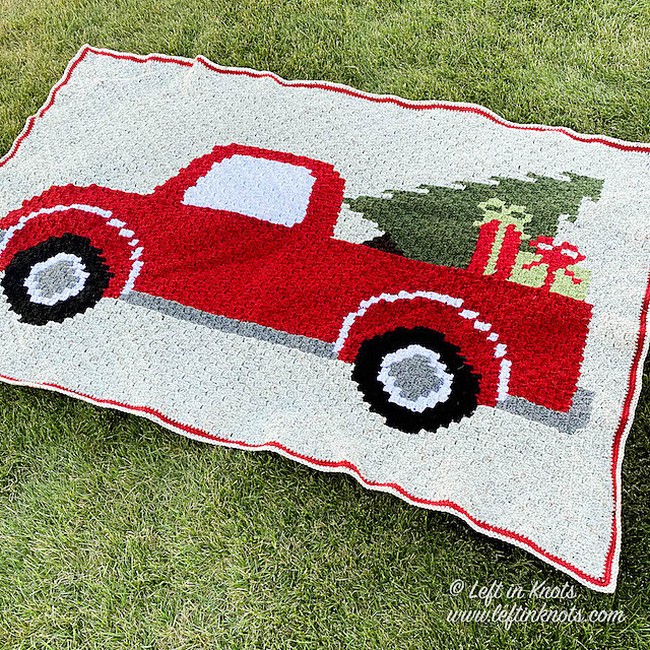 This beautiful, detailed Christmas Tree Truck Blanket is a perfect gift for any time, especially for Christmas. It's quick to make and an excellent project for beginner crocheters. Instructions are included for the complete front, and back panels with the border added to finish it off at the ends. You will use your favorite worsted weight yarn, J and I hooks. This crochet blanket can be done in all one color or two for the tree, background, and border. Pattern makes it a great gift, baby blanket, or truck blankie for all boys or girls who like trucks.
Christmas Stripes C2C Afghan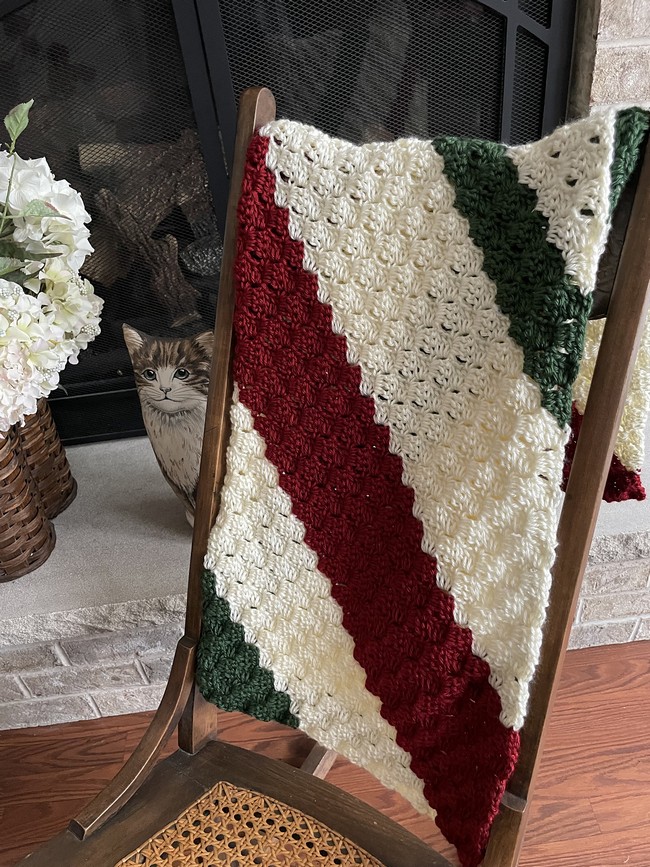 Christmas Stripes C2C Afghan is an intermediate-level crochet blanket pattern using the Corner-to-Corner Crochet technique. . The striping makes this unique blanket easy to make and fun to see. A great addition to your holiday decor! The top and bottom borders are worked with a K1 and W1 rib to give the blanket a modern finish. A lovely way to use up all those little balls of yarn lying around. This crochet blanket is a seasonal favorite, perfect for Christmas or any winter holiday!
Christmas Scandinavian Heart Blanket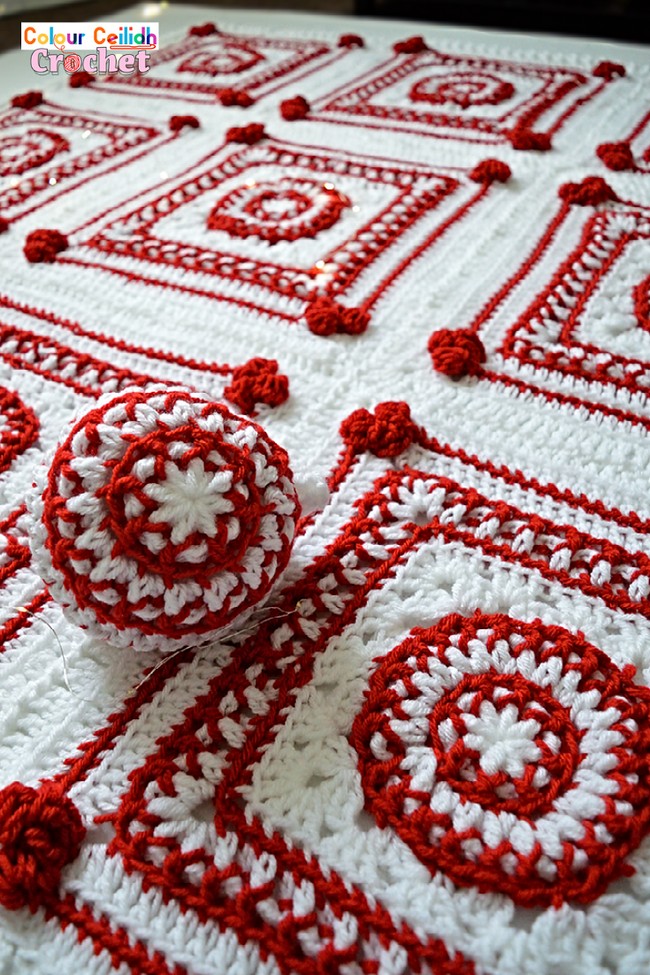 Make this Scandinavian-inspired Christmas blanket. It features a gorgeous star pattern with alternating colors of white and red. This is a beautiful crochet canvas for Christmas. With its Scandinavian style, it would reflect the Nordic feel of your room. The pattern is with the photo tutorial, and you will have no problem understanding it. Stitch this Christmas Scandinavian Heart crochet Blanket and give it to someone you love – or keep it for yourself! Easy-to-follow instructions make it a fun project for anyone.
Snowman Blanket
Everyone needs a little comfort and warmth, especially during the holiday season. If you have extra time and want a unique gift for someone who's always there for you, try making this crochet Snowman Blanket pattern. With a fun, simple design, this blanket will warm you in the winter and bring happiness throughout the year. It's quick, easy, and looks great in any color scheme. It also works quickly, so it is a good project for the last-minute gift giver.
Striped Moss Christmas Lapghan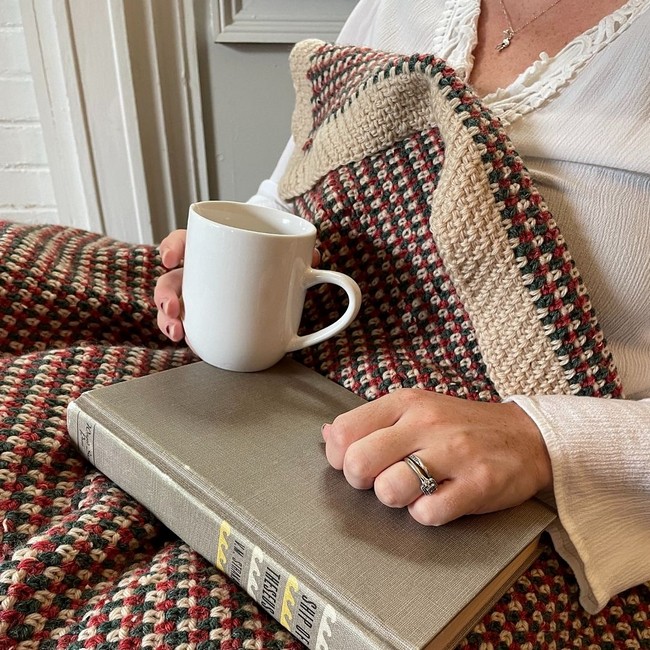 Moss stitch is a lovely, classic texture. This pattern uses it to create simple rectangles that are super easy to crochet. The Striped Moss Christmas Lapghan pattern is quick and easy to work on, making this an ideal project for beginners. You can follow the stripes as written or change things by varying the width of your overall stitches. The blanket shown above was made with different colors, but you could make your color choices based on anything: Christmas tree green, pillow red, or maybe even any other dark and light contrast pair!
Christmas Mood Blanket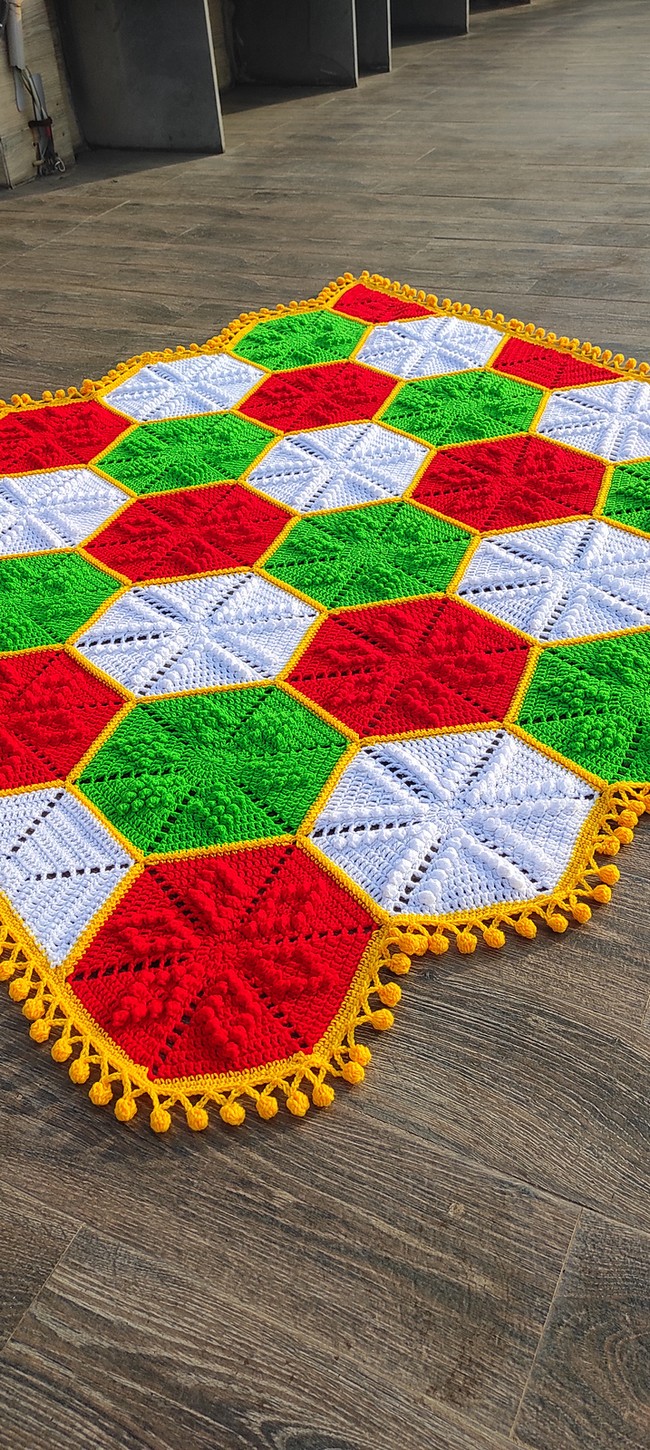 This Christmas Mood Blanket is excellent to keep you and your family warm in the winter. It's also a wonderful project for kids – it would make a perfect present for a friend or family member. This pattern is fun to make, as it is a challenge working with the different shapes and sizes. This blanket is easy to make, and you will use four yarn colors to crochet it. The colors are bright and cheerful. If you prefer not to work on this particular color scheme, you can choose your own color for this project. A great addition to your home decor or Christmas tree!