6 Rosebud Stitch Crochet Patterns For Beginners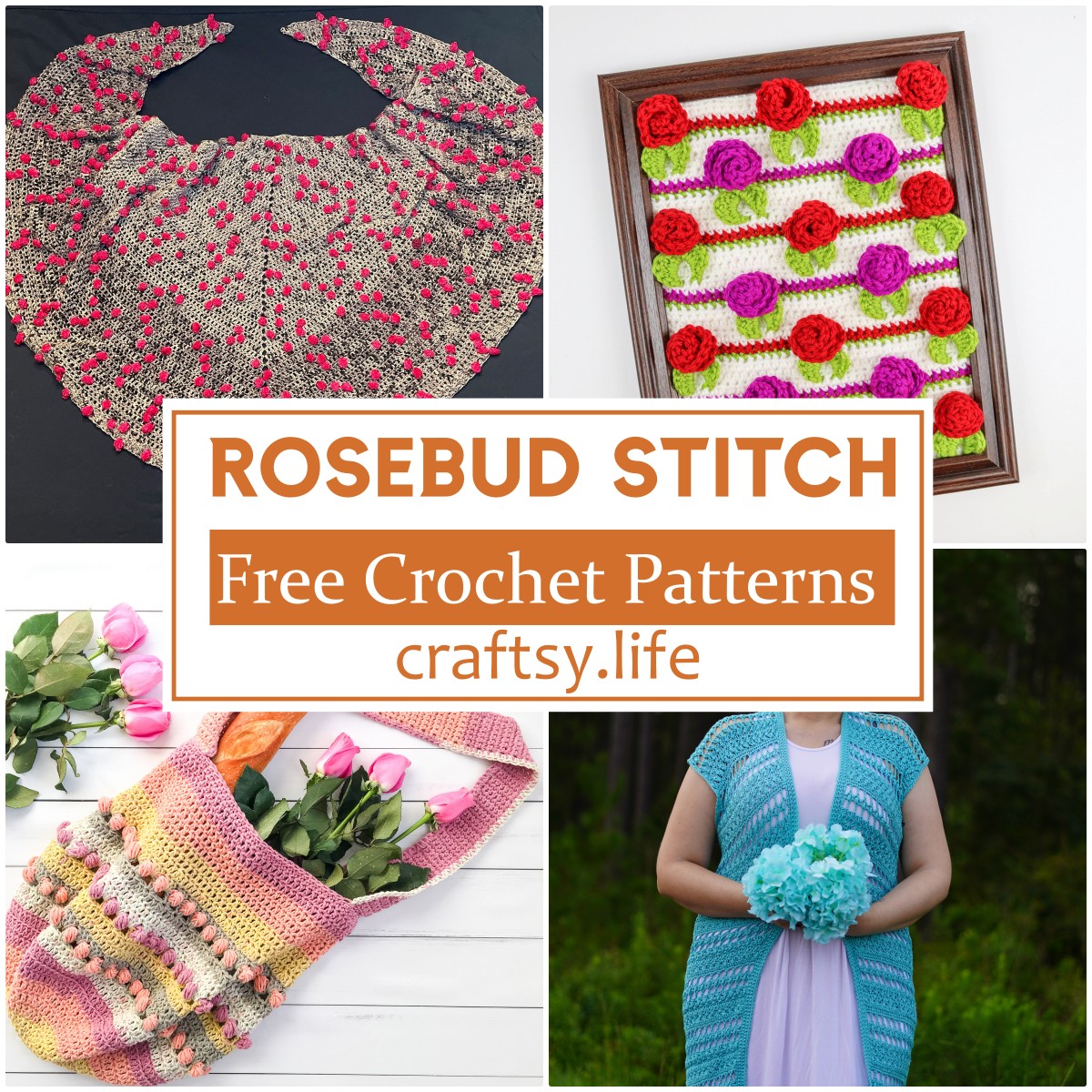 Rosebud stitch is an easy-to-work crochet pattern that makes a tightly textured fabric with an excellent drape. Its rounded edges and small size mean that it can be used as a component in many projects or stand on its own as an accent or filling. Sometimes the little details make all the difference in a piece of crochet. The rosebud stitch, which is an offshoot of the shell stitch and is characterized by its three-petaled shape, is one such detail. It's also often used as a filler stitch to add texture to an otherwise simple pattern and can be easily adapted for different yarn weights, hook sizes and stitch counts depending on your project. So, if you're looking for some new crochet stitches to play around with, check out these six Rosebud Stitch Crochet Patterns.
Tiny Rosebud Stitch Crochet

Rosebud stitch is the perfect crochet stitch for beginners, but it's also a great stitch. It's a lovely pattern that can be worked into many projects, and the rounds are quick to work up. The Rosebud Stitch is often used as an edging, as in the photo above, but you can use it anywhere you would like a rounded shape. If you're working on any blanket or afghan, this is a great way to finish all your edges at once! Nature's flowers inspire this collection of six handmade crochet patterns. These elegant rosebuds create your blanket, pillow, or another home decor. This easy-to-follow guide includes detailed tutorials, diagrams, and instructions for making crochet rosebud stitch designs.
Tips For Rosebud Stitch Crochet Patterns
The pattern is worked in just a few rows, so it is a straightforward pattern to learn. The tricky part is keeping your tension even throughout the piece. If your stitches are too loose, they will not look good; if they are too tight, you will not be able to complete the pattern. So, here are some tips for making beautiful crochet roses using this stitch pattern:
Make sure that all your stitches are uniform in size and shape. This will ensure that the rosebud looks even when you're done with it.
Keep your tension while crocheting so your work doesn't look uneven or distorted. You can use a gauge ruler while crocheting these patterns to help you measure how many stitches per inch (or centimeter) your work should be getting after every set of rows (e.g., four rows).
Gathering Rosebuds Market Bag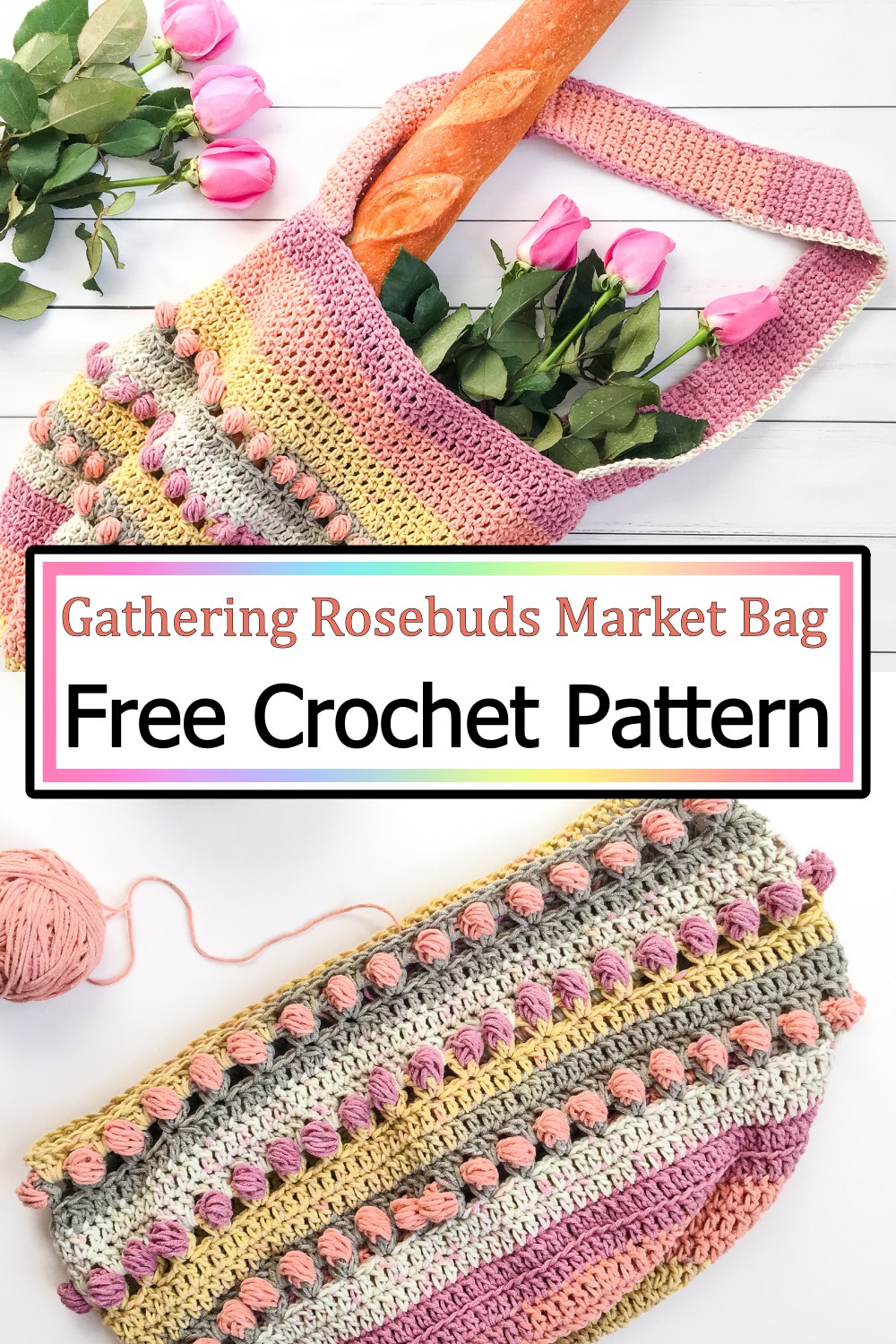 This Gathering Rosebuds Market Bag is a fun and beautiful summer-style bag that you can easily customize in just a few minutes. The crochet stitches create lovely texture and pops of color, and the gathered style is fun and casual. This fun, slouchy style bag is perfect for your spring wardrobe. The Gathering Rosebuds Market bag features a lovely front post puff stitch design that creates realistic-looking rosebud flowers in gorgeous pops of texture. A horizontal stripe adds interest to the back and shows off the shapely curves of this lovely market bag.
Crochet Rosebuds Picture Frame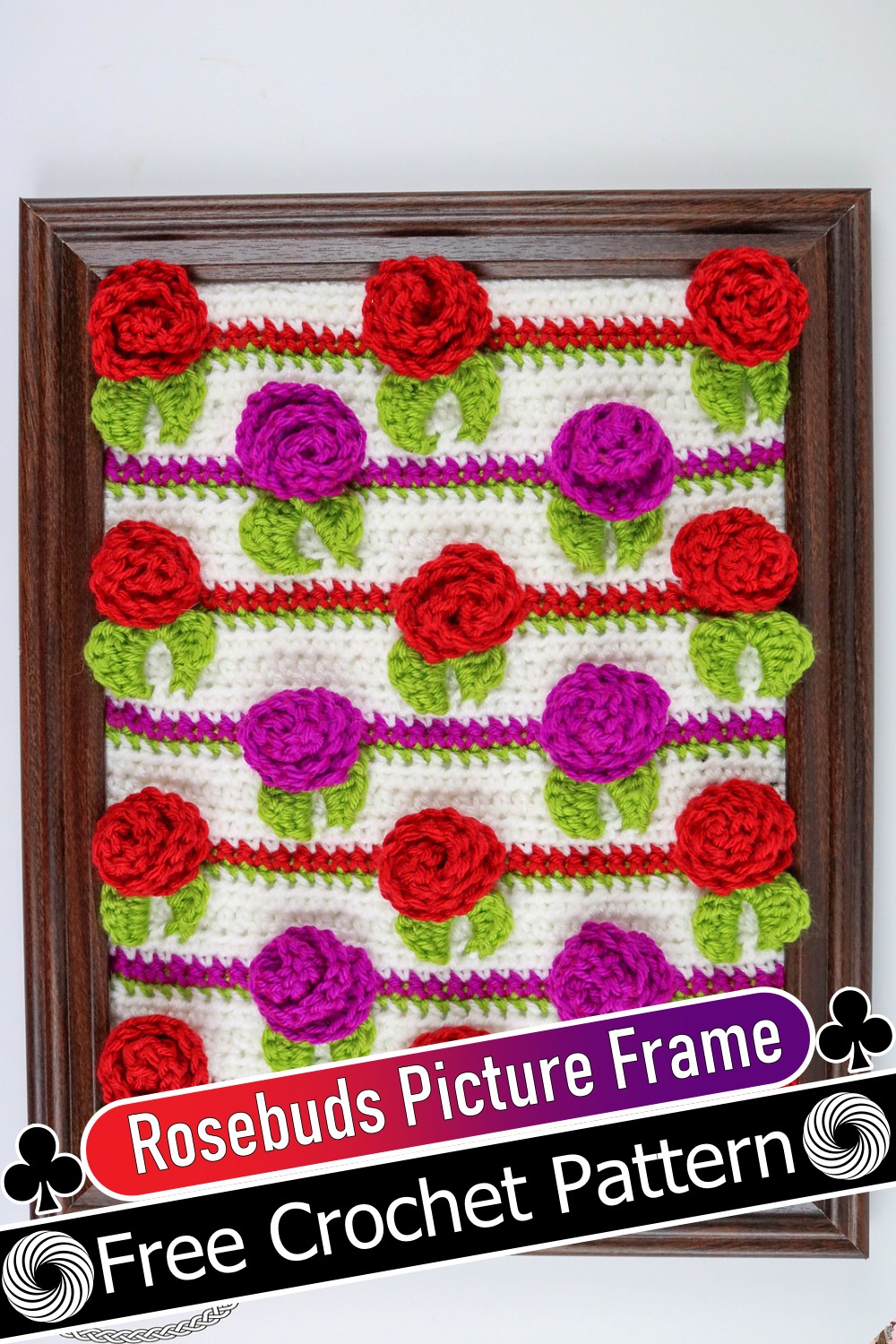 This crochet rosebud picture frame is the perfect way to display your favorite photo! Please place it in a wedding bouquet, on a birthday cake, or by itself. It's ready-to-gift (and super cute). Beautiful crochet rosebuds adorn the entire length of this picture frame, making it a real show-stopper. Hang it up and enjoy the compliments from friends and family! This beautiful picture frame is the perfect accent for any wall. Perfect for spring and Mother's Day!
Crochet Rosebud Slouchy Beanie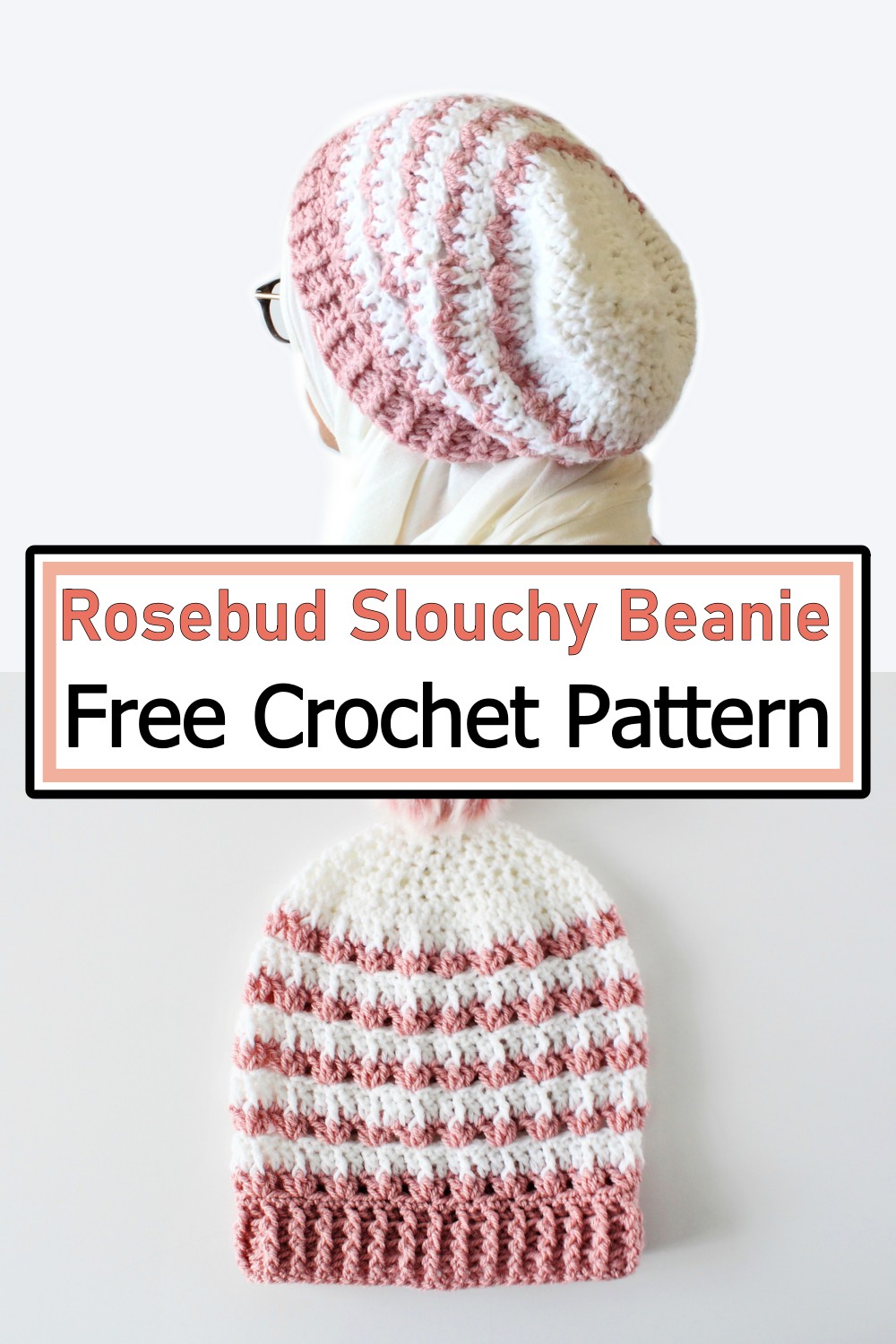 A lovely rosebud sits front and center on this crocheted beanie, while a lacy stitch pattern covers the rest of the slouchy hat. This crochet Rosebud Slouchy Beanie is a fashion statement you won't be able to help but love. Crocheted in soft and stretchy acrylic yarn makes, it is ideal for casual wear and all-year-round comfort. This crochet rosebud beanie is the perfect addition to your winter outfit. Featuring a fun rosebud motif and slouchy fit, it's the perfect accessory for staying stylish and warm.
Rosebud and leaf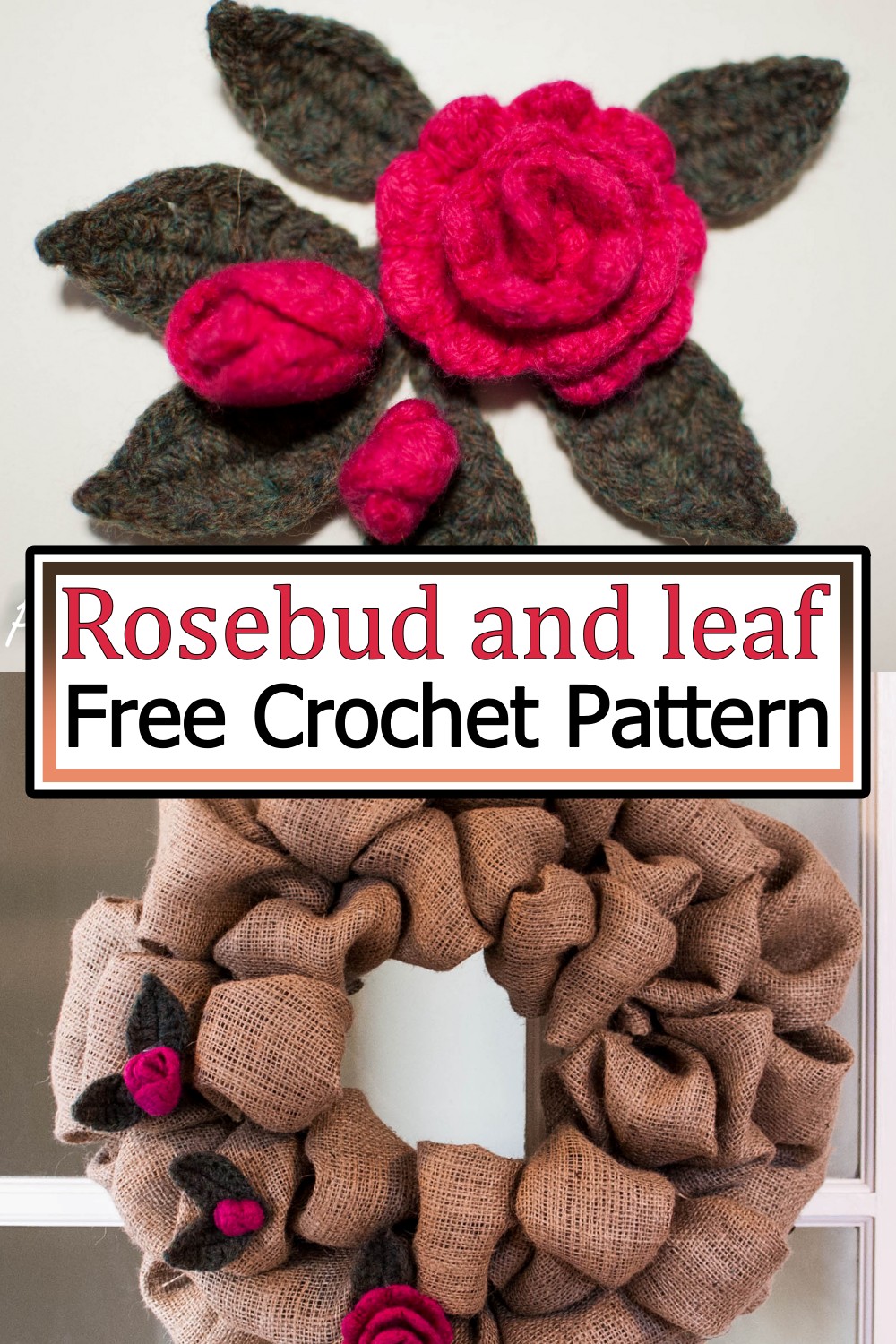 Rosebud and Leaf – these simple crochet flowers are versatile enough to be used as embellishments on all projects. They're also great as brooches, hairpins, or bag closures. The possibilities are endless. Add some spring to your space with this crochet rosebud and leaf project. The rosebud uses basic crochet stitches that any beginner can master, while the leaves utilize a chain stitch technique to create their beautiful leafy texture. It's a fun take on the traditional Christmas light garland idea!
Rosebud Dreamer Cardi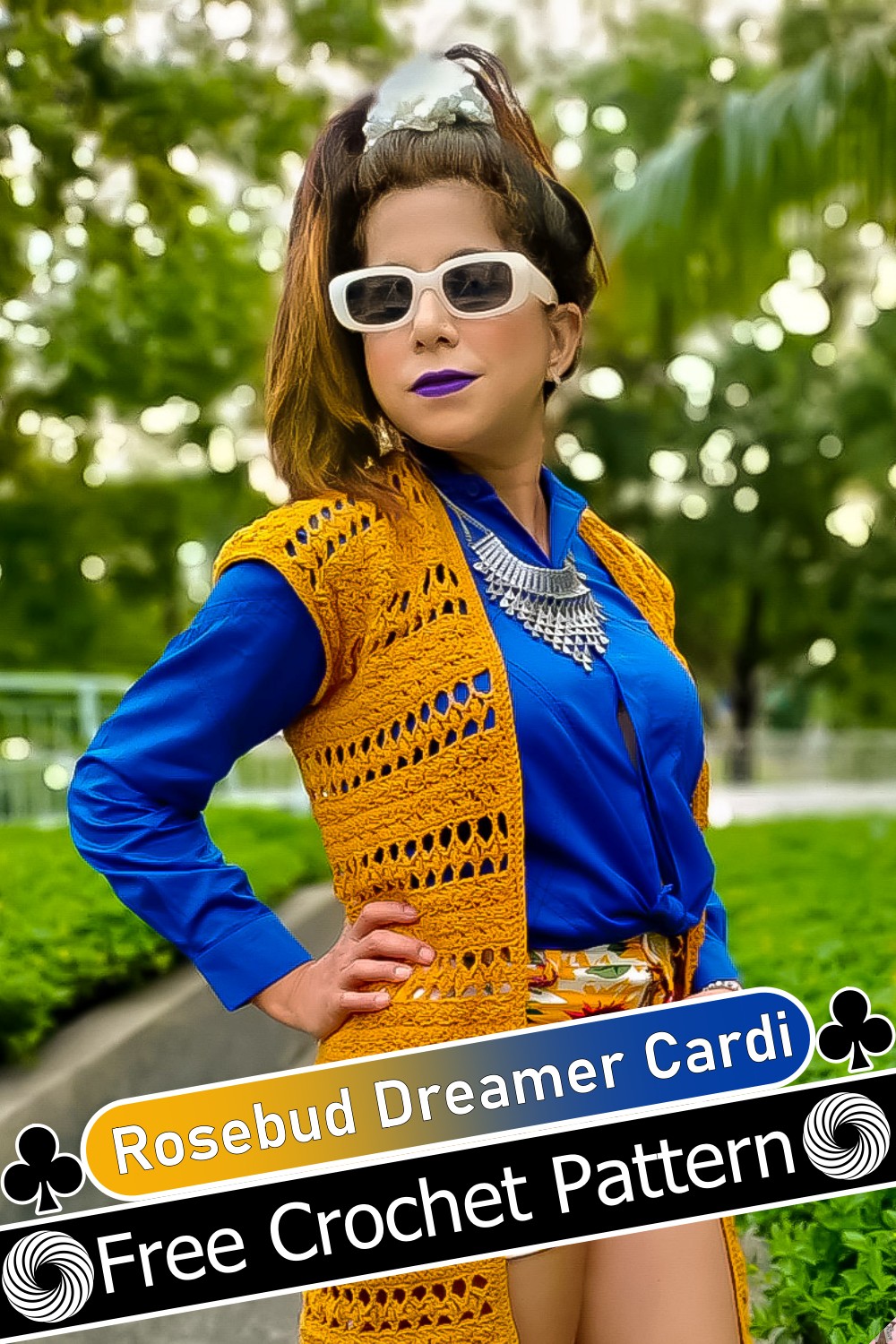 This crochet cardigan is the perfect transition piece for spring and summer. The unique yarn gives this crochet a textured look but is soft and comfortable to wear. The top portion can be worn open or closed with the crocheted tie closure—the dream of all the adventures in this lightweight cardigan that can be dressed up or down. Featuring all-over crochet blooms, a comfy loose fit, and a wide boat neckline, it's the perfect thing to wear on cool spring nights.
Floating Rosebud Shawl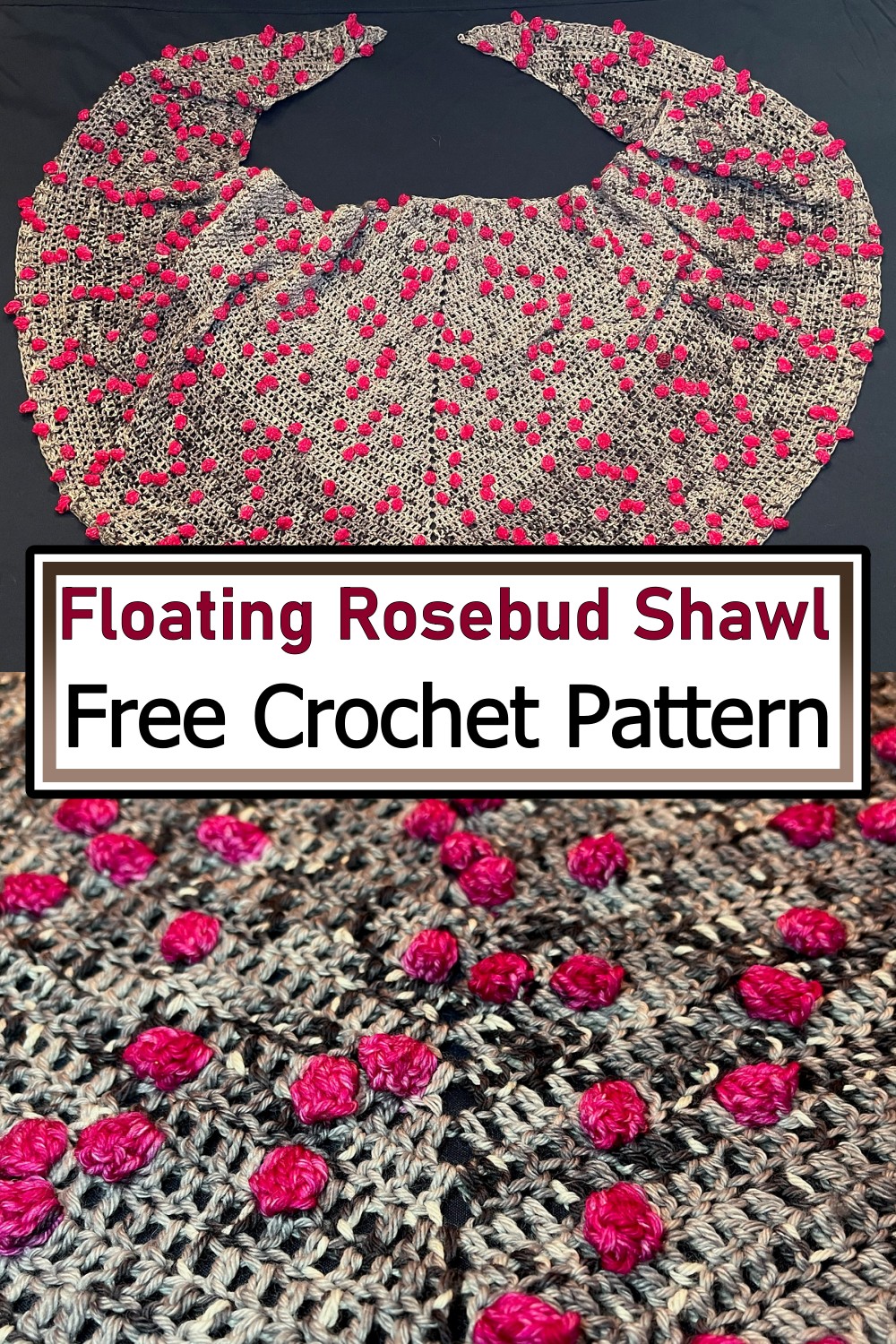 Rosebud shawl is a fan favorite. This delicate and romantic crochet pattern mimics the beauty of a single rosebud, with simple Leaf edging and romantic ruffles that drape effortlessly over the shoulders. Make it in any shade of yarn you love! Crochet this lovely shawl for the fashion-conscious lady in your life. It's worked almost entirely in a beautiful rose stitch. Truly a lovely summer shawl that would be perfect for a wedding or other special occasion.