Platypuses are funny and sadly misunderstood little animals. They look like a combination of a beaver, a duck, and a bear, which is no surprise given that they're one of the few mammals with venom! They're also one of the only mammals that lay eggs, and—wait for it—they don't have any teeth! If you love this weird little creature, try making your own crochet platypus pattern! Crochet animals for kids are a great way to show off your crochet skills and create something fun for you and your little one. You can make all of these characters from the same pattern, or if you prefer to make each animal separately, you can use a slightly different pattern for each of these creatures.
Best Crochet Platypus Patterns

Easy crochet patterns will have you making your own platypus favorites in no time. Make a plush, amigurumi little guy and more with this pattern collection that is the perfect size for small hands. These precious little polka-dotted platypuses are perfect for your desk or home. They're quick and easy to crochet, perfect for beginner to intermediate crocheters. These beautiful creatures make great crochet projects because they're unique and challenging. Find out what makes them special and how to create platypus patterns inspired by these unique aquatic animals!
Tips For Crochet Platypus Patterns
Platypus patterns are unique and fun to crochet, but they can be difficult for beginners. Here are some tips to help you create your own platypus pattern.
Use the right hook size.
Count your stitches carefully.
Join rounds at the end of each round by slip stitching into the first stitch of the round (not the last stitch).
Phyllis The Platypus
You won't be able to put Phyllis down once you've got her home. She is a beautiful and cozy crochet amigurumi who brings extra joy to anyone's life. Phyllis the Platypus is the perfect addition to any nature-loving child's toy collection. You can crochet your own Phyllis with a little work and spread some merriness wherever she goes! This pattern is suitable for advanced beginners familiar with increases and decreases, making in the round, basic stitching, and sewing on parts.
Materials
DK yarn (I used Rico Design Ricorumi DK 100% Cotton) in any colors you like. I chose the following:
Crochet hook size 2.5 mm (US C/2)
Stuffing
Tapestry Needle
Scissors
Pins
3 Stitch markers
Safety eyes 6 mm (Option 1)
Black embroidery thread (Option 2 - If you prefer to embroider the eyes)
Abbreviations
R# - Row/round number
st - Stitch
ch - Chain
sl st - Slip stitch
mc - Magic circle
sc - Single crochet
inc - Increase
dec - Decrease
FLO - Front loop only
BLO - Back loop only
sk - Skip
[...] x ... - Repeat the sequence of stitches in brackets x-times
(...) - Total number of stitches at the end of each row/round
Pam The Platypus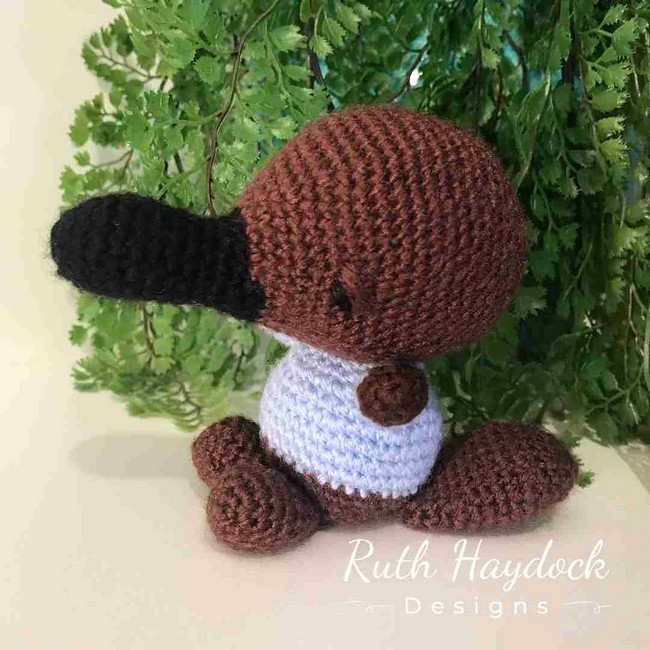 Pam the Platypus is a cute, cuddly creature who loves nothing more than looking after other platypuses. She's also very good at knitting, crocheting, and embroidery. Vast and unique, Pam the Platypus is a sea creature who freely swims in the ocean. To create the furry texture of this amiable mammal, form loopy stitches with your hook. It's easy to make this sweet little platypus amigurumi! Pam the Platypus is a fun and easy crochet project that you'll have the perfect present for your favorite animal fan. Perfect for beginners, Pam will leave you eager to tackle future projects in this series.
Materials
3 mm (US C/2 or D/3)
I recommend Addi Swing, as it's an ergonomic hook, and it suits my crocheting style– like holding a knife or buying a  standard crochet hook.
Fibrefill / Hollow Fibre Toy Stuffing

 

Sewing needle to sew in ends
Scissors
Stitch markers
Abbreviations
Ch: Chain
Dc: Double Crochet
Dc2tog: Double crochet two stitches together
Rep: Repeat
Rnd: Round

 

SS: Slip stitch
St(s): Stitch(es)

 

Yo: Yarn over
Paul The Platypus
This adorable Paul the Platypus is a great gift for kids of all ages. He's cute, cuddly, fun to make, and has a big furry belly. This little Paul the Platypus is super easy and quick to crochet. The pattern has a lot of pictures to help you understand what to do and comes with complete instructions on how to sew it together so that it looks like Paul! Paul loves to find new things on his adventures and shares these discoveries with others!
Materials
About 90-110 yds of I Love This Cotton! Yarn (or other aran-weight yarn) in the main color and accent color
Size E (3.5mm) crochet hook
Fiberfill stuffing
6mm safety eyes (2)
Tapestry needle
Optional: Stitch marker
Abbreviations
st(s) = stitch(es)
ch = chain
ss = slip stitch
sc = single crochet
inc = sc increase (work 2 sc in the same st)
dec = sc decrease (decrease over 2 sc sts)
hdc = half double crochet
dc = double crochet
Platypus Egg Cozy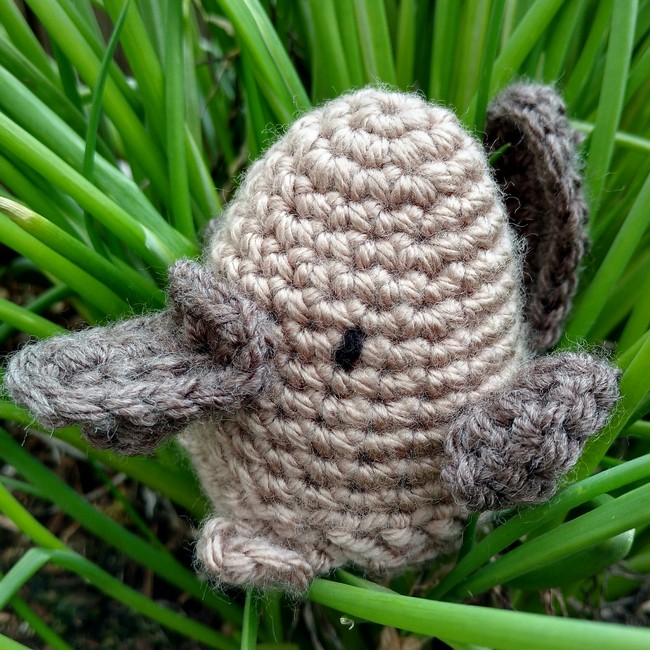 This pattern is for a quick and easy crocheted platypus egg cozy for your Easter eggs. The body of the Platypus is made with double crochet stitches, round by round. Then there are two little arms attached, followed by a tail. The hands, feet, and ears are also made with double crochet stitches. At the end of each round, there is a fastening stitch to close off the rounds and make it easy to stuff your egg inside, making it as snug as possible. If you're looking for a fun gift that anyone can make, this Platypus Egg Cozy may be just what you're after!
Materials
Cotton Yarn (Tan, Brown, and Black)
 Crochet hook (Size F-3.75MM)
 Scissors
Needle
Abbreviations
Half Double Crochet Decrease (Hdc Dec) [YO. Insert the hook in the stitch or space indicated.  Pull up a loop] rep 2 times.  YO.  Pull through all five loops on your hook.
Platypus Potholder
Make your kitchen safer with a cute little platypus potholder. This adorable potholder will make you smile every time you grab it. This crochet platypus pattern will be the perfect addition to your kitchen! It is the ideal size for potholders, towels, and trivets. The pattern comes in several colorways, so you can choose your favorite accent color or match your kitchen decor. Plus, it's fun to make! This fun crochet pattern is perfect for the crafty and creative at heart. The Platypus Potholders are a quick project and make a great gift for that special someone or to brighten up your kitchen!
Materials
Schachenmayr Cotton Time yarn (or any worsted weight cotton)
- I used about 50 grams of Color A, about 15 grams of Color B, and small amounts of black and white.
4 mm crochet hook
needle for sewing
You can also see: Crochet Christmas Potholder Patterns 
hBlue Platypus Hat (inspired by Perry)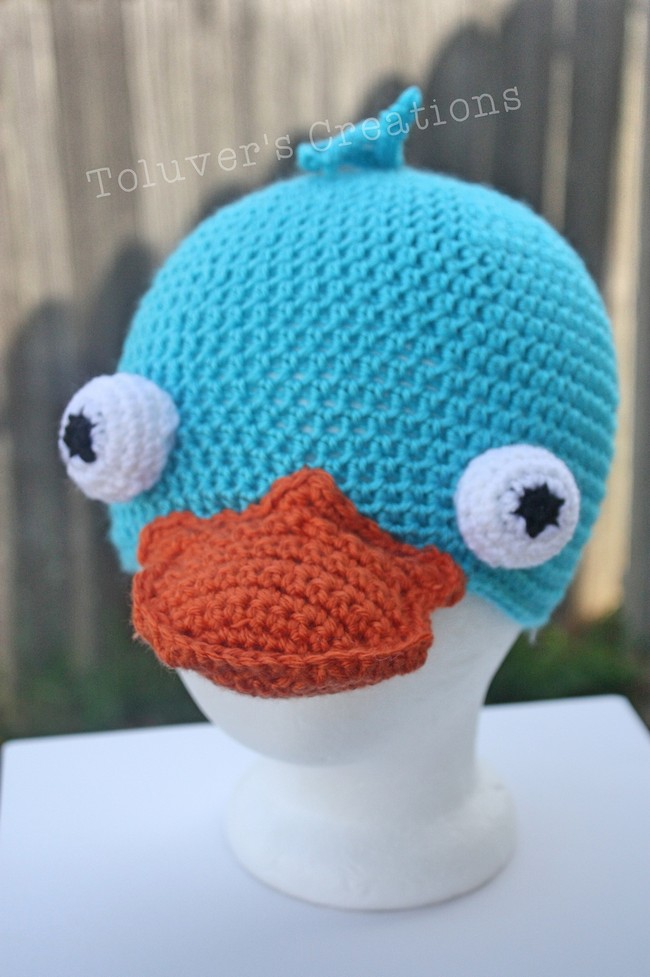 This cute blue platypus hat pattern is the cutest gift for any kid. It's easy to make and can be customized to any size by adjusting the starting chain. Perry the Platypus can be crocheted in the color of your choice, and you'll love making this adorable little guy. This crochet pattern is perfect for a beginner or someone more experienced. It would make an awesome gift for anyone who loves Perry from Phineas and Ferb and has a great time!
Materials
Turquoise Yarn
Orange Yarn
Small amounts of white and black yarn
Size F and I crochet hooks
Scissors
Needle
Abbreviations
HDC (Half Double Crochet)
SC (Single Crochet)
Magic Circle
Slip Stitch (sl st)
Chain (ch)
SC decrease
SC increase
If any of these stitches are unfamiliar, I recommend a quick search on YouTube for some excellent tutorials.