When you're looking for a gift for a little girl, the best place to start is with a doll. Dolls are perfect for imaginative play, so they can either act as the star of an imaginary story or as a side character in someone else's story—plus, they can be dressed up however you want. There are a lot of different styles of mermaid dolls out there, but they all have one thing in common: they're adorable. Whether you're looking for a stuffed animal for your little girl or you want something to enjoy yourself, there's a free crochet pattern out there for you. Here are some free crochet mermaid doll patterns that will delight you.
Crochet Mermaid Doll Patterns Free

As summer draws to a close, the season of mermaids and mermen is upon us. If you're looking for a new project or want to get away from the world around you, why not make your little sea creature? The best thing about following these free crochet mermaid doll patterns is that you can make them look however you like and alter them as necessary! You can also use different color combinations to make your unique sea creature, which is a great way to personalize it. Some of these dolls are easy to make—you'll find a little of something for everyone here.
Benefits Of Crochet Mermaid Doll Patterns
There are many benefits to making your mermaid dolls. Here are just a few:
You can make your unique design instead of buying one from a store.
It's cheaper than buying a ready-made doll because you don't have to pay shipping or taxes.
You can customize your doll by changing her hair color, adding wings or fins, etc.
Little Mermaid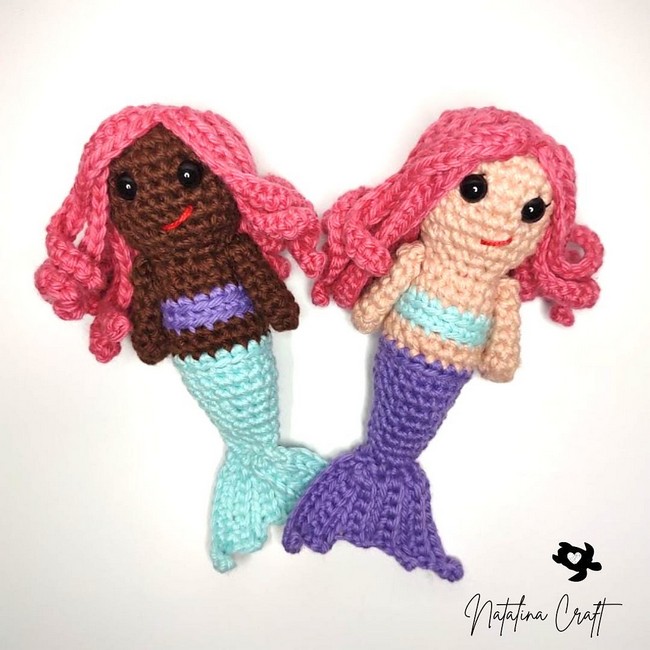 You are going to love this adorable crochet doll! With the Little Mermaid theme, this crochet pattern is suitable for intermediate crocheters. Make a beautiful mermaid with a simple design and easy-to-follow instructions. This crochet doll can be finished in less than 6 hours of crocheting and will make a perfect gift for any child or little girl. This crochet pattern is easy to follow and a great beginner project.
Materials
Yarn calling for a 5,5 mm hook in color A (for the skin), Pink (or red!) for the hair, color B for the top, and color C for the tail.
A very small amount of pearl cotton in black and red (for the eyelashes and the mouth).
Size 3.5 mm crochet hook.
2 black safety eyes (7.5 mm)
Stitch markers
Tapestry needle
Abbreviations
chain (ch)
magic ring (Mr)
single crochet (sc)
increase (inc)
invisible decrease (dec)
slip stitch (sl st)
half double crochet (hdc)
double crochet (dc)
Koi Mermaid
If you love mermaids and crochet, then this is the perfect pattern for you! Koi Mermaid is a one-of-a-kind little doll you can make for yourself or as a gift to your friends. The pattern includes pictures to guide you through creating Koi Mermaid. Whether you need a gift for someone who loves mermaids or wants to make something, the fun-this pattern is perfect!
Materials
Red Heart Super Saver yarn, 100% acrylic, worsted weight, 364 yds/7 oz/198 g, Warm Brown (BRN), 1 ball; Soft White (SFT), 1 ball; Coral (COR), 1 ball; Black (BLK), < 1 ball; Light Grey (GRY), < 1 ball; White (WHT), < 1 ball; Hunter Green (HUNT), < 1 ball; Pale Plum (PLUM), < 1 ball.
G (4.00 mm) Furls Odyssey hook
Two 15mm colored round-pupil safety eyes
Polyfil stuffing
Tapestry needle
Stitch markers
Straight pins
Zoya The Mermaid Doll
Everyone, young and old, will love this easy-to-make and simple design. You can choose other yarn colors for your doll depending on your mood of the day and add some pretty accessories (beads, feathers, and buttons). This pattern is designed for a beginner but can be made as a quick, easy project for an advanced crocheter. It is a detailed pictorial-based pattern with instructions on how to make your doll and embellishments. In addition, you will find a few tips to help you along your journey of how to crochet!
Materials
Yarn: Less than 50 grams of DK yarn in the skin, mermaid tail, and hair color and a small amount in the bikini top and flower colors. While we used DK yarn, any yarn with the relevant hook will do.
2.75mm crochet hook
Tapestry needle
Stitch marker
Polyfill stuffing
A pair of 10 mm safety eyes, or you can crochet eyes for children under 3
Embroidery thread in black for the eyelashes and light pink for the mouth.
Abbreviations
Sl st: slip stitch
SC: single crochet
INV DEC: invisible decrease
INC: two SC in the same stitch
BLO: back loops only
HDC: Half double crochet
HDC INC: two HDC in the same stitch
Mermaid Calypso Amigurumi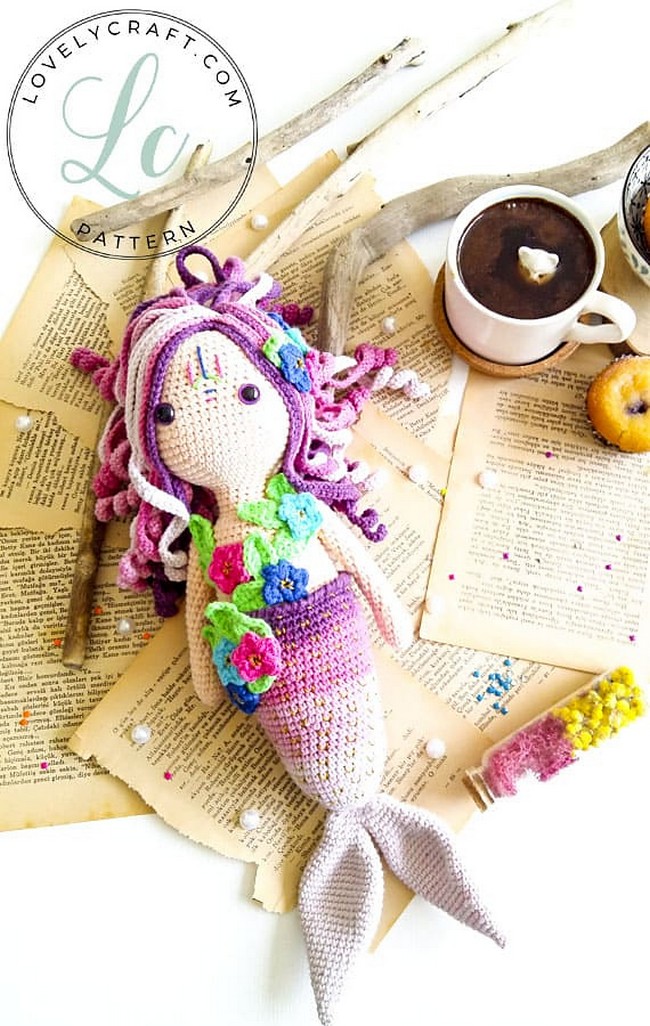 This crochet pattern creates a mermaid befitting a Caribbean night. She is ready for an adventure with her colorful coral hair and shell-lined skirt, but she can also relax with you on your couch. So, If you are looking for an easy crochet pattern and want to make a mermaid doll, this pattern is all you need! This adorable mermaid doll is designed as a beginner pattern, but intermediate crocheters can find it easy, also.
Materials
Yarnart Jeans / Skin (Color code 73)
Yarnart Jeans / Dark Pink (Color code 59)
Yarnart Jeans / Light Blue (Color code 55)
Yarnart Jeans / Dark Blue (Color code 47)
Alize Cotton Gold Batik / Batik Pink (Color code 3302)
10mm Safety Eye (Purple)
For embroidery: Gold Silvery thread
Pins
Size 2mm or 2.5mm crochet hook
Fiberfill
Stitch Marker
Abbreviations
ch: Chain
sc: SingleCrochet
inc: Increase
dec: Decrease
slst: Slip Stitch
hdc: Half Double Crochet
dc: DoubleCrochet
st/sts: stitch/stitches
tr: Triple Crochet
BLO: Back Loops Only
FLO: Front Loops Only
Bobble: BobbleStitch
( ) : The parentheses at the end of the row give that round's total number of stitches.
[ ]x .. : Repeatinstructions x times
Alya The Mini Mermaid - Kozu Palm Pals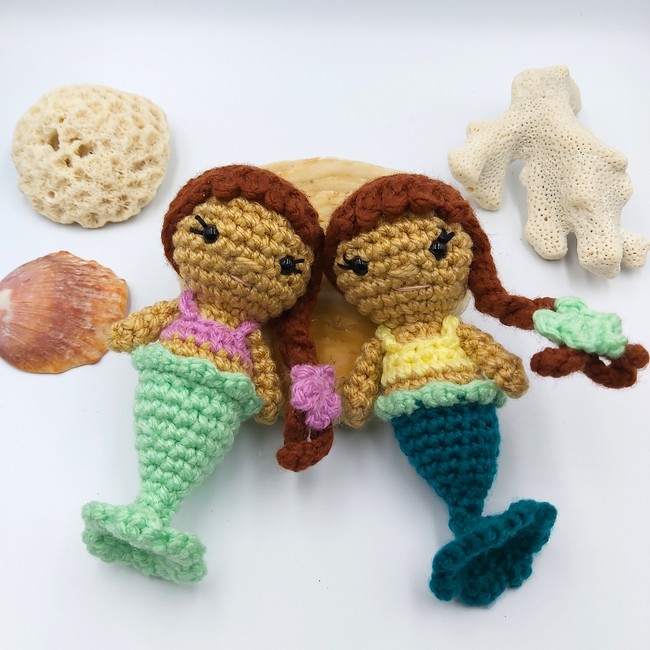 Alya, the mermaid, is a very artsy mini-sized mermaid doll. This crochet pattern makes a mermaid that could fit in your palm and not be as heavy as a full-size mermaid. It's perfect for putting on display or in your bag when traveling. This soft and beautiful doll has been designed specifically for those new to crocheting. It's a simple pattern and is suitable for all ages.
Materials
Yarn: You need a small amount in skin color, hair color, bikini top color, and fin color of your choice. I use DK yarn, but worsted weight/aran yarn will work just as well.
Crochet hook: For amigurumi, you typically go down one or two hook sizes from that recommended on your yarn.
Tapestry needle
Stitch marker: You can use a locking stitch marker, but even a scrap of yarn will do! The doll pattern is worked in the round so place a stitch marker at the first stitch of each round so that you can track where each row begins.
Polyfill stuffing
Safety eyes: I use 6 mm eyes for my dolls.
Embroidery thread: A small amount of black and pink for eyelashes and lips.
Abbreviations
Sl st: slip stitch
SC: single crochet
INV DEC: invisible decrease
INC: increase
HDC: half double crochet
Molly The Mermaid
This crochet Mermaid doll is perfect for your little girl. Soft, cuddly, and ready to become your child's best friend. This pattern comes with easy-to-follow instructions and pictures to help you achieve this crocheted mermaid doll in less than 2 hours! This little lady is easy to make, and best of all - she's made from recycled yarn! She will be the perfect addition to your home or as a gift for someone special. If you're looking for your next crochet project, check out this adorable Crochet Mermaid Doll Pattern.
Materials
3.5 mm (E) Furls Crochet Hook <– Save 15% off Furls Crochet when shopping through this link and using code LOOPYLAMB15 at checkout
Approximately 75 yards/69 m (1.2 oz/33 g) of We Crochet Brava Worsted in Dublin
Approximately 18 yards/17 m (0.3 oz/8 g) of We Crochet Brava Worsted in Celestial
Multiple Stitch Markers
1 – 9 mm button
Tapestry Needle
Scissors
Sewing Thread and Needle
Abbreviations
CH = Chain
ST = Stitch
SK = Skip
SL ST = Slip Stitch
SC = Single Crochet
SCINC = Single Crochet Increase
SCDEC = Single Crochet Decrease
FLO = Front Loop Only
FO = Finish Off
WS = Wrong Side
RS = Right Side
Heirloom Mermaid Doll
This Crochet Mermaid Doll Pattern is an heirloom quality doll made for your daughter's imagination. It's great for beginner crocheters. This pattern features detailed instructions in understandable crochet terminology and helpful photos - you will have fun making your little friend! The doll can be used as a companion and takes under 2 hours to make. This elegant and sweet-looking heirloom mermaid doll can be given as a gift or kept as decoration in your home.
Materials
Crochet Hook, Size E, 3.5mm
Yarn Needle
Scissors
Embroidery thread and needles (Thread colors for hair, eyes and eyelashes and lips)
Polyfil
Glue Gun (optional)
Glue Sticks (optional)
Abbreviations
CH – Chain
SC – Single Crochet
SC3TOG – Single Crochet Three Stitches Together
SC2TOG – Single Crochet Two Stitches Together
BLOSC – Back Loop Only Single Crochet
ST(s) – Stitches
SLST – Slip Stitch
MC – Magic Circle
Mermaid Doll Transformation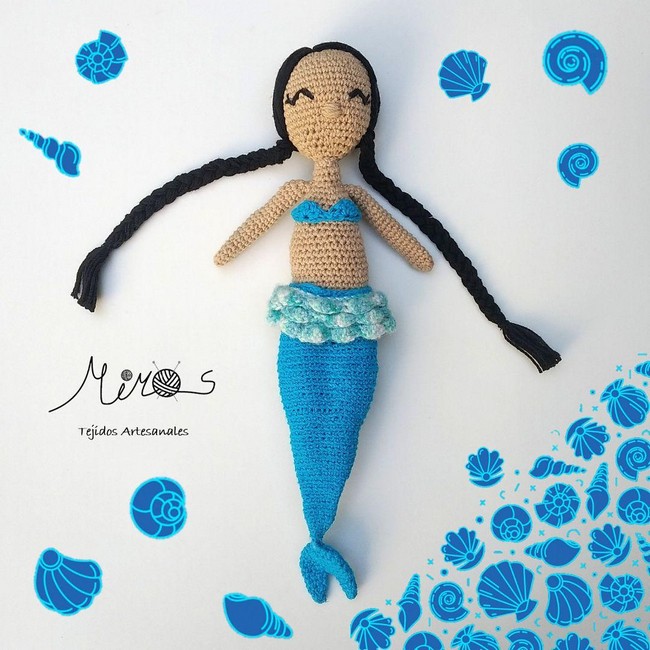 This Crochet Mermaid Doll Pattern is a fun and relaxing project which transforms a soft and sweet mermaid doll into tales of the ocean! This mermaid-inspired crochet pattern could be made in two variations — one with eyelashes and one without. Your child will love pretending to be the beautiful mythical creature of the sea. This set will be great for gifts and family photos. Use the below guide to learn more!
Materials
CP: For the top, tail and fins I used Luna fine cotton (8/3) from Hilados LHO in turquoise color #3148. The important thing is that it is the same thickness as the yarn you used to make the doll .
CC: for the skirt with shells, use fine wool (same thickness as Luna cotton). Shaded Super Baby Trousseau #1722.
1.5 mm crochet hook (it is 0.25 mm larger than the one I used to make the doll)
point markers
wool needle
Scissors
Abbreviations
str : string/s
dis : decrease
aum : increase
sc : single crochet
pd : slip point
var: brace
Fan: 5 var at the same point (5 var = 1 fan)
5-var-juntas: 5 double crochet stitches that close together, you can find the instructions to make this stitch here
FLO: take only the front strand
BLO: take only the back strand
CP: main color
CC: contrasting color
( ): the number of stitches for each round
Melissa The Mermaid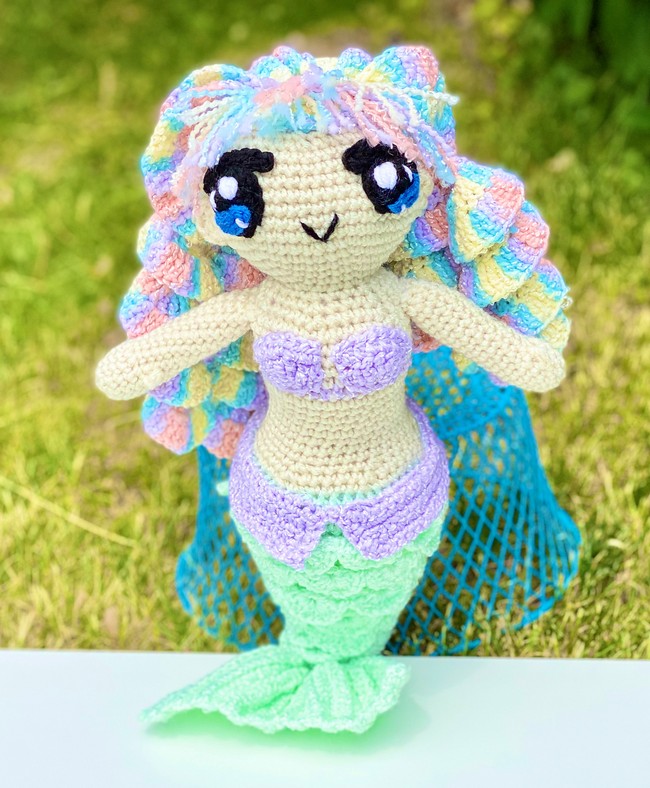 Make this mermaid doll and put a smile on the face of a little girl. With her colorful tail, big eyes, and long flowing hair, she's realistic in style and fun to make. This pattern makes a wonderful gift for children who love mermaids. This crochet mermaid doll pattern has a whimsical design that is perfect for any sea dweller's collection! It's so fun to play with that you won't want to put her down!
Materials
Size D-3 / 3.25 mm crochet hook
1 Skein of Bernat Baby Coordinates in Iced Mint
1 Skein of Bernat Baby Coordinates in Soft Mauve
1 Skein of Bernat Baby Coordinates in Cotton Candy
Red Heart Super Saver in Aran
Small amounts of Red Heart Super Saver in Black, Blue, and White
Fiberfill stuffing
Yarn Needle
Scissors
Stitch Markers
Straight Pins (optional)
Abbreviations
BLO = back loop only
Ch = chain
Croc st = crocodile stitch
Dc = double crochet
Hdc – half double crochet
Hdc2tog = half double crochet 2 together
Loop st = loop stitch
Rep = repeat
Rnd(s) = round(s)
Sc = single crochet
Sc2tog = single crochet 2 together
Sc3tog = single crochet 3 together
Sk = skip
Sl St = slip stitch
St(s) = stitch(es)
Tr = triple crochet
V st = v stitch
Little Mermaid Pattern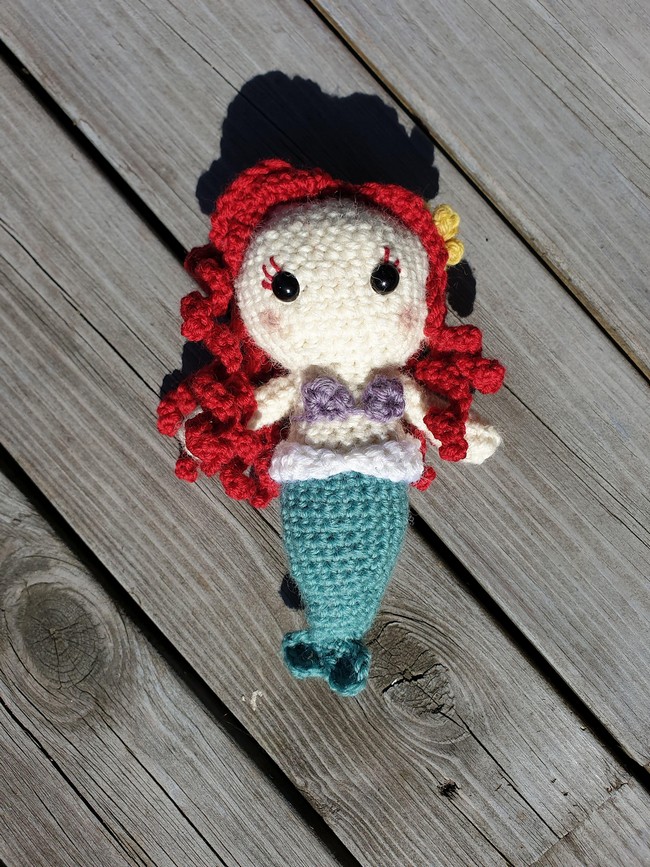 These crochet dolls are an adorable way to display your love of mermaids and all things mystical. The Little Mermaid crocheted doll is lightweight and easy to carry wherever you travel. Hang it in the bathroom for guests to enjoy, take it on vacation with you, or even wrap it up and put it under the tree for Christmas morning. This crochet doll pattern is easy to make and has endless possibilities. You can customize her look by choosing a different hair color or adding accessories like Fimo clay seashells.
Materials
Sports weight Yarn (beige, green/blue, white, red)
3.5mm crochet hook
9mm safety eyes
Stitch markers and pins
Yarn needle
Abbreviations
Sc = Single crochet
Hdc = Half double crochet
Dc = Double crochet
Slip st = Slip stitch
Invdec = Invisible decrease
** = a repeating stitch pattern
Barbie Cobble Stitch Mermaid Tail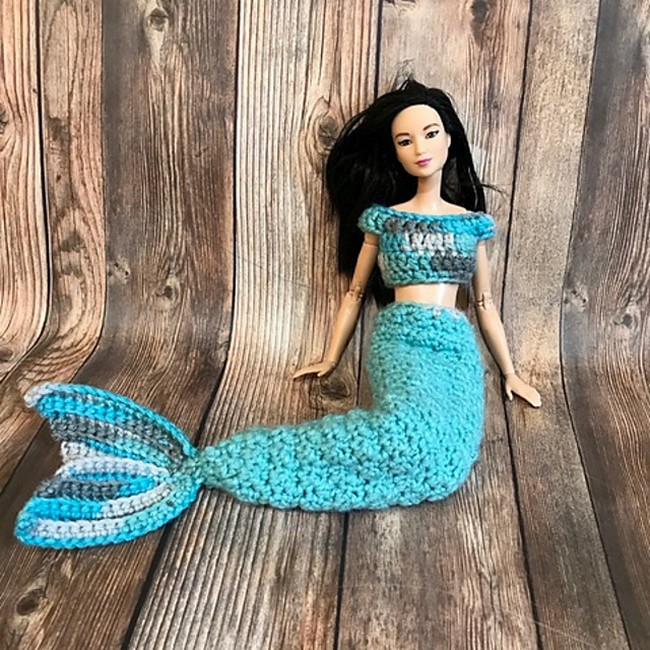 When you want to crochet a cute mermaid tail, look no further than this adorable pattern. This is the perfect bit of fun for little girls who will love playing with their new favorite doll. The mermaid doll has been crocheted using a simple stitch for a striking effect coupled with her flowing hair. This Crochet Mermaid Tail is a fun and easy project that will delight any little girl.
Materials
Medium Weight Yarn in 2 colors (approximately 30 yards of the main color for tail and 15 yards of contrasting color for the shirt and fin color)
Crochet Hook F (3.75 mm)
Yarn needle
CRCT Mermaid Tail
The CRCT mermaid tail is not just for decoration; it's also a great toy for kids! This Mermaid doll pattern is easy yet fun to make; The tutorial will show you how. You can use any yarn you like but keep in mind that thicker yarns will require more stuffing. Don't forget to make one for yourself too 🙂 So, If you are looking for a pattern to crochet your mermaid doll with a tail, this is it. This is a super fun pattern for the beginner crocheter.
Materials
I used 5.5 mm hook suitable to my yarn. It takes hardly 1 hour to finish and requires no sewing.
This mermaid tail is made from down to top that is from fin to waist.
Abbreviations
c – single crochet
ch – chain
sts – stitches
st – stitch
sl st – slip stitch
Mermaid Doll Pattern
This crochet Mermaid Doll pattern is sure to be your new favorite! This is the pattern to make a Mermaid Doll. This is made in one piece and has a crocheted tail, making her extra cute! The pattern includes all the basics, so you can make your doll any size, from tiny to medium-sized, depending on the hooks and yarns you choose. This project is easy to follow, with plenty of pictures to help you along. You can create your mermaid doll in no time!
Materials
Crochet Hook 2.75mm
Tapestry Needle
2 amigurumi eyes (6mm)
Abbreviations
MR: magic ring
ch: chain
sc: single crochet
inc: increase (2sc in one st)
dec: decrease (I prefer invisible decrease)
sl st: slip stitch
BLO: back loop only
FO: fasten off
Serrana The Mermaid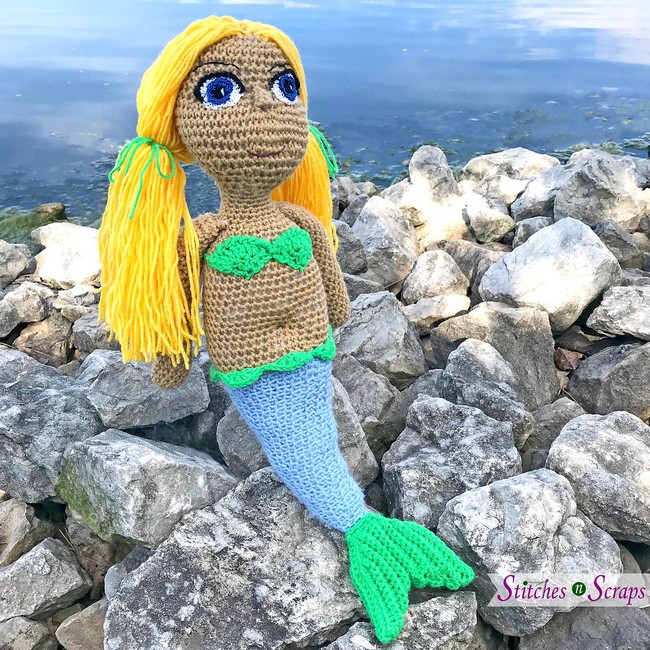 Serrana the Mermaid is here and ready to show you how fun crochet can be. This pattern is great for beginners or experienced crocheters who love working with yarn! You can make your unique Mermaid by following this detailed step-by-step guide. It includes all the required resources, including how to make her hair, accessories, and tail. This is a great pattern for you if you are new to crochet or want a fun project!
Materials
Size F / 3.75 mm hook, or size needed to obtain gauge
Size C / 2.75mm hook (for eyes)
2-4 oz Original Poly-Fil or Poly-Fil Royal Silk fiber fill.
Yarn needle
Scrap of yarn or thread to use as a running stitch marker (optional)
Abbreviations
ch = chain
sc = single crochet
dc = double crochet
inc = invisible increase (see special stitches)
dec = invisible decrease (see special stitch)
blo = back loop only
flo = front loop only
st(s) = stitch(es)
rnd = round
RS = right side
Andrina The Mermai
Andrina the Mermaid is as sweet as possible; this little crochet mermaid doll is a great gift for anyone who enjoys snuggling up with a stuffed animal. This adorable crochet mermaid doll pattern is perfect for beginners, with easy-to-follow instructions and pictures that will guide you to creating a veritable sea goddess! This project crochets up quickly and makes for a wonderful crochet doll pattern for anyone that enjoys an easy yet elegant-looking doll.
Materials
D hook (3.25mm)
Worsted Weight Yarn Colours Needed:
 Skin (I used Loops and Threads – Aran)
Tail
Bikini Top
up to 5-6 colors for hair
2 Safety Eyes (6mm)
Black Embroidery Thread
Fiberfill
Yarn Needle
Stitch marker
Scissors
Abbreviations
Magic Circle – mc: Make a loop overlapping the yarn. Insert your hook from front to back and draw up a loop. Chain 1. Insert the hook into the loop and complete stitches as described in the pattern (ex.
6sc) over both layers of the circle. Pull the loose end of the circle tight.
Slip Stitch – sl st
Single crochet – sc
Chain – ch
Single Crochet Increase – inc: 2 single crochets in the same stitch
Invisible Decrease – inv dec: Insert hook into front loop ONLY of next 2 stitches, yarn over, pull through stitches, yarn over, pull through all loops on hook.