17 Crochet Dice Bag Patterns & Ideas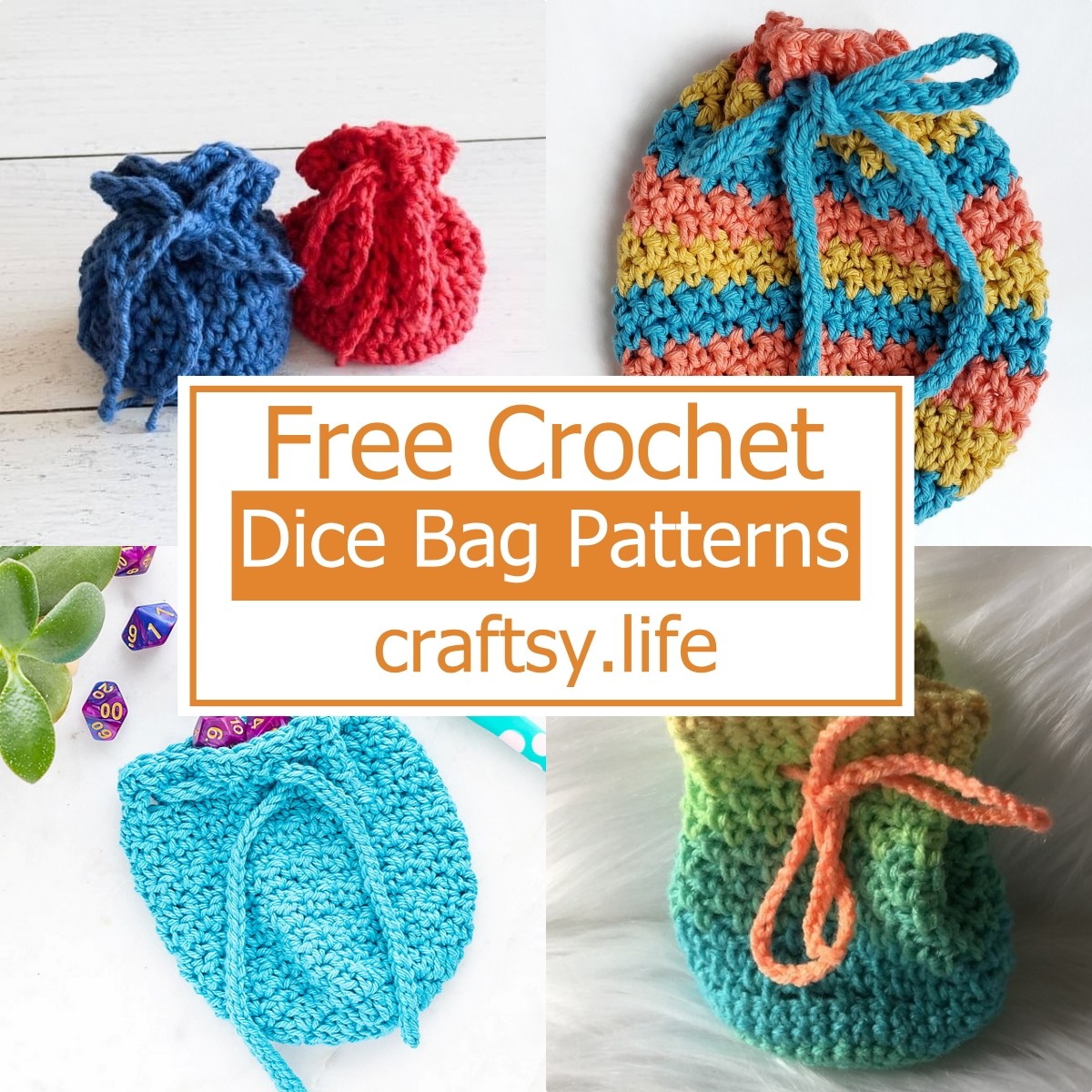 If you are a dice or board games fan, you probably have a collection of them in your home. What better way to keep them neat and organized than with beautiful, functional dice bags? Crochet dice bags are not only attractive, but they are also fun to make! Crochet dice bags are also a great way to add a little flair to your gaming routine, whether you game with friends in person or online. These bags keep your dice safe and secure and can be used as pencil cases to hold your gaming supplies. In this list, we've collected some of our favorite crochet dice bag patterns from around the web.
How To Crochet A Dice Bag Pattern Free

Many people use dice for gaming, and some might enjoy a handmade dice bag to store them. We've collected some unique crochet patterns for dice bags in this list. You can use any yarn you wish, but the bag size will vary depending on your choice. Some patterns will give you a pattern for a specific bag size, but some won't, so keep that in mind when you choose your yarn. You may also be able to find an existing pattern for a bag of that size and adjust it to create your unique creation.
See Also
Supplies Needed For Crochet Dice Bags
The supplies needed for Crochet Dice Bag Patterns are:
Yarn: You can use any yarn you like, just be sure it is not very thick or thin.
Hook: What size hook you use depends on the size of your dice and how big you want your bag to be. A bigger hook will make a bigger bag, and vice versa.
Tapestry Needle: This will be used to weave in your ends when you are done crocheting your dice bag.
Scissors: These will be used to cut your yarn when needed while making your crochet dice bag pattern!
Crochet Divine Dice Bag
Keep your dice organized and secure with this drawstring dice bag crochet pattern. Featuring basic stitches and straightforward construction, this pattern has two sizes to choose the perfect fit for your dice collection. Although the primary design intent for this dice bag is to store DnD dice, its versatile nature means it can hold a variety of small items. The best thing is that cotton yarn can easily make them in less than an hour.
Crochet Easy Dice Bag
This crochet bag pattern is a fun way to show off your love of gaming while embracing your crochet skills. The crochet bag combines entertaining stitches and offers the option for color variations. The beautifully designed stripes present a simple solution to closing the bag's mouth, combining convenience and style. Moreover, its generous size lets you store various other items, making it a versatile accessory for personal use and a perfect choice for gift packaging.
Crochet Trinket or Dice Bag: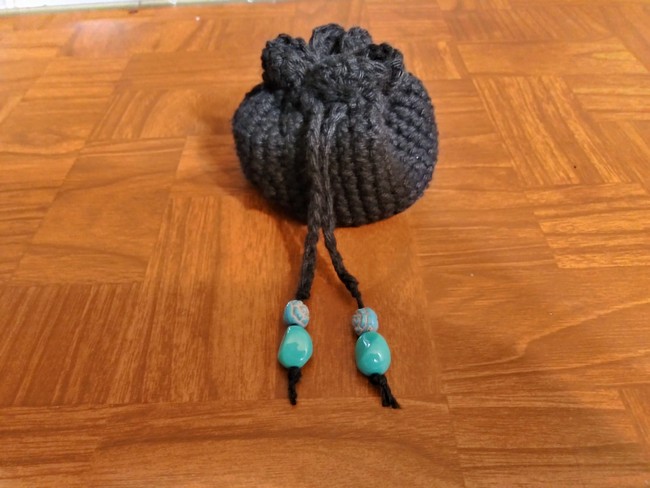 This crochet Trinket or Dice Bag is a unique and stylish accessory for any woman's purse. With various color choices and a clean yet playful design, this crochet dice bag would make a great gift for any woman who enjoys games or likes keeping her coins organized. The pattern is very simple and works quickly. This pattern also includes instructions on making the dice bag into a trinket holder by adding an extra row on top of your finished bag!
Materials
Yarn, I recommend cotton just because it holds its shape better (for the black, I used premier just cotton in the color black, and for the gray, I used mainstays 100% cotton in the color soft silver)
Size F or 3.75 mm hook
Stitch marker (you can use a safety pin if you don't have a stitch marker)
Beads (optional)
Abbreviations
St – Stitch or stitches
Ch – Chain
Sc – Single crochet
Dc – Double crochet
Sl – Slip stitch
Mc – Magic Circle
Quick Dice Bag:
Are you looking for the perfect dice bag for your next game night? This quick project is easy enough for any beginner and uses basic crochet skills to create a fun dice bag that's sure to be a hit! This pattern is a simple, quick, and easy-to-make bag. When you are done with the bag, you can either leave it plain or stitch your initials on its piece of fabric – so you will always know it is yours! This Crochet Dice Bag Pattern is the perfect quick gift. Make up a batch of these bags in the colors of your favorite sports team and keep them on hand for last-minute gifts or to give to other enthusiastic sports fans!
Materials
Hook:  Size H/8 (5.00 mm) or size needed to obtain gauge.
Notions:  Tapestry needle, 2 optional stitch markers, tape measure.
SIZING AND GAUGE
Size:  Approximately 7" circumference and 3" height.
Gauge: Exact gauge is not critical; see size information.
Yarn:  Worsted weight cotton yarn (#4 Medium), small amount in your color choice.
Abbreviations
back loop only = blo
beg = beginning
ch(s) = chain(s)
ch-1 sp(s) = chain one space(s)
hdc = half double crochet
hdc blo = half double crochet back loop only
sc = single crochet
sk = skip
sl st = slip stitch
rep = repeat
Crochet Dragon Dice Bag:
Are you into dice? If so, you're lucky because it is a great crochet dice bag pattern designed for you! Dragon Crochet Dice Bag is super simple to make and works quickly, so you can get on to gaming. Once your friends see this bag, they'll also beg for one. Crochet your dice bag like a dragon to protect your game from the outside world. This easy crochet pattern is great for beginners looking to start with amigurumi.
Materials
yarn in preferred colors
2 safety eyes
stuffing
yarn needle
Hook: G/4.25mm
Yarn: 4/worsted.
Abbreviations
ch: chain stitch
mc: magic circle
sc: single crochet
hdc: half double crochet
dc: double crochet
tc: triple crochet
st: stitch
slst: slip stitch
3sc-inc: 3sc in a single st
sc3tog: combine 3 st to 1sc
inc: increase
dec: invisible decrease
Popcorn St: 5dc in 1st, drop loop, place hook through top of first dc, grab loop and pull through, ch1
tc-popcorn st: 5tc in 1 st, drop loop, place hook through top of first dc, grab loop and pull through, ch1
hdc-inc: increase using hdc
BLO: back loop only
fsc: foundation single crochet
(): repeat items in parentheses as many times as indicated

 

FO: finish off
Dice or Trinket Bags: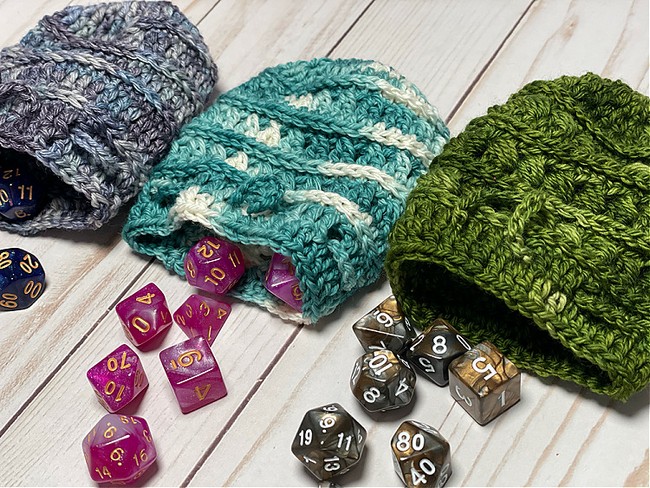 This Dice or Trinket bag pattern is perfect for those who love playing dice games, and this crochet dice bag pattern can also be used as a trinket bag. It is easy to make and will only take about 40 minutes to make one! The free crochet dice bag pattern only carries you through the basics of hexagons and squares, so it's a great beginner project. The pattern uses easy stitches, making it appropriate for beginners or those who want to improve their skills.
Materials
sport weight yarn in the desired color, sample made with:
Manos del Uruguay Feliz, Provence (double crochet)
Delicious Yarns Swirl Sport, Gummy Bear (crossed doubles)
Delicious Yarns Swirl Sport, Guava (bead stitch)
G crochet hook
yarn needle
scissors
Dragon Drawstring Dice Bag: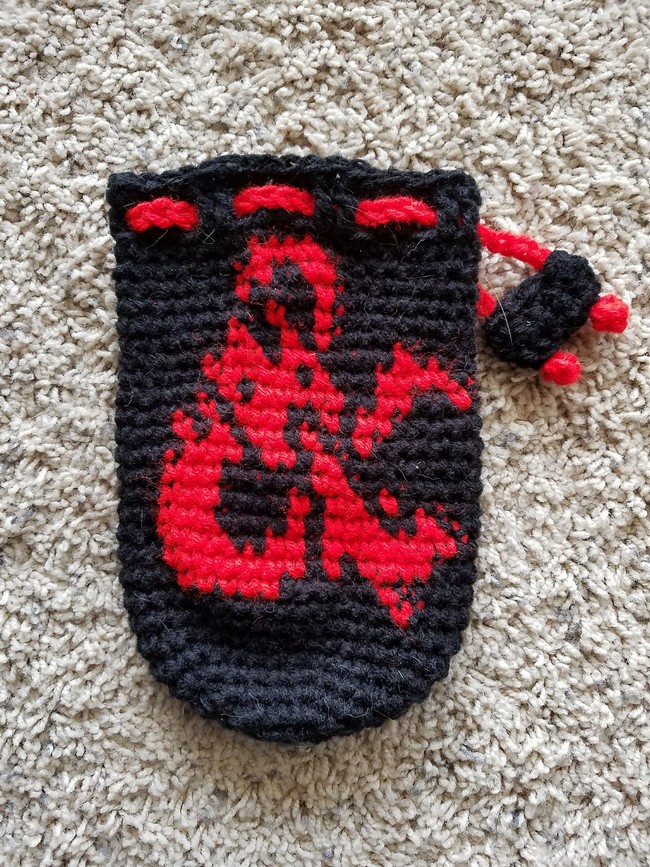 Have your little one ready for the new school year with this dragon drawstring dice bag. This crochet dice bag pattern is easy to make and works up quickly. It is the perfect size for any gaming needs and a great storage solution for other things that don't have a place in their room. The bag has an opening for a drawstring and a bottom pouch for your extra set-up dice. The pattern includes complete instructions on how to make this dice bag, including its slouchy design!
Materials
4mm crochet hook
Tapestry needle
Scissors
Worsted weight yarn in preferred colors (I am using Red Heart Super Savor Yarn for both colors)
Abbreviations
MR – magic ring
SC – single crochet
BL – back loop single crochet
DC – double crochet
SL ST – slip stitch
CH – chain
INC – single crochet increase
DEC – single crochet decrease
FO – finish off
Lantana Dice Bag:
Lantana Dice Bag is a perfect gift for somebody you want to give a bag they will love. This crochet dice bag pattern screams Spring and summer with its bright and colorful flowers. Perfect as a small back when heading off on holiday, you can use it as a make-up bag or for odds and ends such as lipsticks or phone chargers. The Lantana Crochet Dice Bag is easy to follow and quick to complete! This cotton dice bag has a matching drawstring and is the perfect accessory for your gaming, too.
Materials
5mm crochet hook
scissors and yarn needle
50-55 yards of Red Heart super saver in color Retro Stripe
Abbreviations
Ch(s) – chain(s)
FO – fasten off
inc – increase – make 2 single crochets into the same stitch
MR – magic ring
sc – single crochet
sl st – slip stitch
st – stitch
The Perfect Dice Bag:
Are you looking for a quick and easy crochet dice bag pattern? This simple but gorgeous dice bag will be the perfect accessory to any gamer's collection. It's cute and simple, as well as functional. This free crochet dice bag pattern is a great way to showcase a beautiful skein of yarn. The pattern requires less than one skein of yarn and can be done in an hour or so. This dice bag can hold about 50 standard-sized dice and has a flexible option for different sizes by increasing the number of stitches in the base chain.
Materials
Worsted-weight acrylic yarn
US 8 / H crochet hook
Stitch marker
Yarn needle
Abbreviations
ch: chain
sc: single crochet
hdc: half double crochet
sl st: slip stitch
Simple Dice Bag with Lining: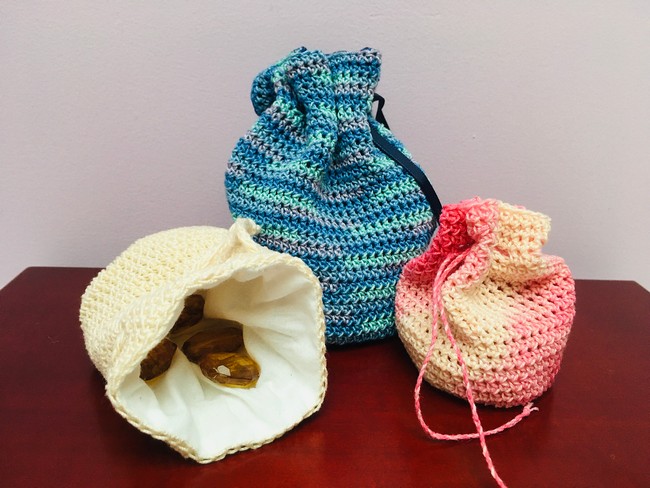 Whether storing your favorite dice or keeping your handiwork safe and away from prying eyes, this Crochet Dice Bag Pattern covers your needs. It's simple and stylish and can easily be made in under two hours. If you are looking for a dice bag pattern that is fast and fun, look no further! This crochet dice bag pattern is crocheted with sturdy single crochet stitches. The edges are finished by single crocheting around the top of the bag and 2 layers of lining. It also features a long strap for easy carrying.
Materials
25-75 yards (23-70 meters) of lace-weight yarn or size 10 crochet thread.
Scrap of quilting cotton or other medium-weight woven fabric for lining (optional)
Thread matching the fabric color
US size 1 steel crochet hook (2.35 mm)
Stitch marker (optional, to mark the beginning of round)
Tapestry/yarn needle
Sewing needle for lining (optional)
Abbreviations
sc: single crochet
hdc: half double crochet
inc: increase
ch: chain
sl st: slip stitch
st: stitch
tbl: through back loop
Dice or Trinket Bag:
You're going to love this Crochet Dice Bag Pattern! A great gift for yourself or anyone you know who loves dice, the design of this dice bag with an easy crochet pattern is perfect for learners. You can make a great-looking dice bag in about half an hour with two strands of yarn and a large crochet hook (size H/8mm). This pattern is for the Advanced Beginner to Intermediate skill level because it uses a front post stitch and a back post stitch in this c2c afghan. The colors are up to you and can be made in any yarn.
Materials
5mm hook
Tapestry needle
Worsted weight yarn
A length of cord or ribbon (optional)
Abbreviations
Ch: Chain
Sc: single crochet
Inc: work two single crochet in the same stitch
Sl st: slip stitch
St: stitch(es)
The 1 Copper Pouch Dice Bag: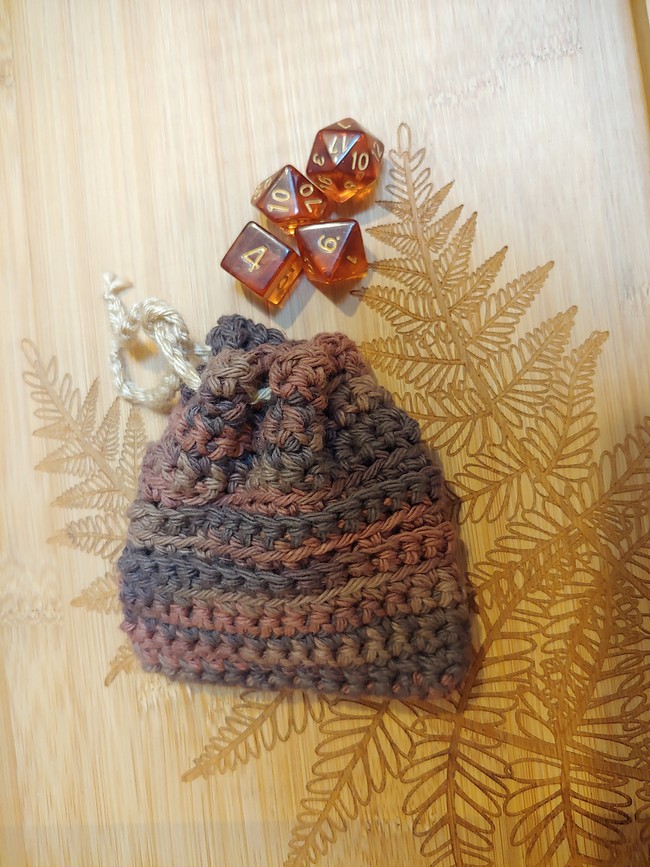 Made with only one ball of colored yarn, this little dice bag is a great project for crocheters that want to try a new technique. Great for crafters on the go, the pouch is small enough to hold your favorite dice or other gaming supplies! It can be used repeatedly, making it an affordable and eco-friendly project. Make it as big or small as you want, depending on how many dice you need this to hold!
Materials
Worsted weight yarn
5.5mm/I-9 hook
Tapestry needle
Skills: single crochet, front loop single crochet, back loop single crochet
Pokemon Oddish Dice Gift Bag: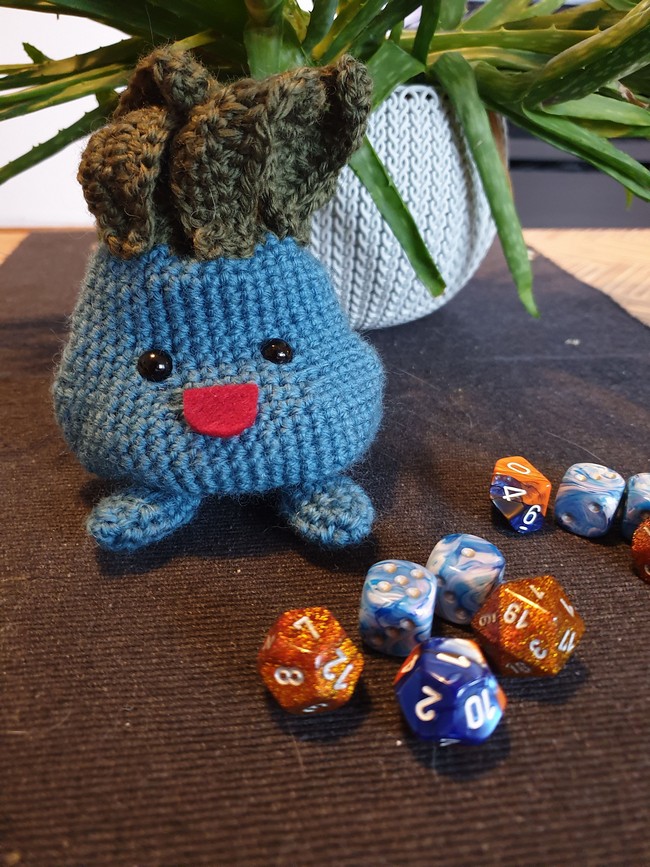 The Pokemon Oddish Dice Gift Bag pattern is a fun way to show off your love of gaming and make a one-of-a-kind dice bag. You can personalize this bag for yourself or the ultimate gamer in your life! The light colorways make this project work quickly, making it a perfect gift idea. A great way to be creative and make something special. It will take only 30 minutes or less to complete, even less if you have made another one before. It is an easy tutorial that teaches you how to crochet a dice bag.
Materials
Sports weight yarn (blue and green)
3.5mm crochet hook
10 mm safety eyes x2
Stitch markers and pins
Yarn needle
Felt (optional)
Abbreviations
Ch = Chain
Sc = Single crochet
dc = Double crochet
hdc = Half double crochet crochet
Slip st = Slip stitch
invdec = Invisible decrease
sc2tog = Single crochet decrease
** = a repeating stitch pattern
Simple Dice Bag: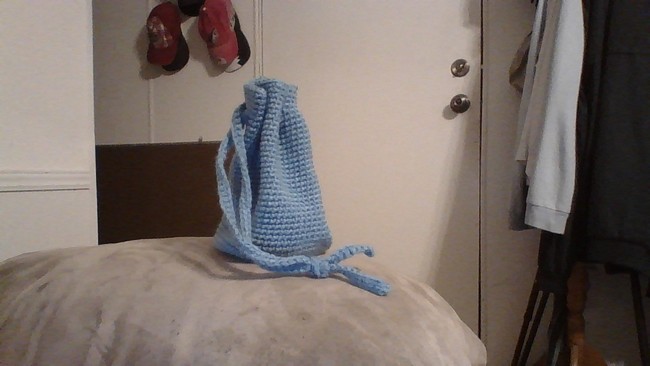 This Crochet Simple Dice Bag Pattern is great for using leftover single crochets! It makes a great dice bag and can also be used as a pencil case, makeup bag, or even a sock burrito. This simple dice bag uses only basic stitches A perfect project for those who want an easy-to-follow pattern that makes an impact. The pattern is very easy and written so that anyone can follow it.
Materials
Any worsted-weight yarn in whatever color(s) you prefer
Size F-5 Crochet Hook
Stitch Marker (optional for marking the start of round)
Abbreviations
CH – Chain
SLST – Slip Stitch
SC – Single Crochet
The Tardis Dice Bag:
Make a dice bag for your next game night. This easy-to-follow crochet tutorial will give you step-by-step instructions on how to make a crochet dice bag. The Doctor Who television series has popularized the Tardis design, which started in 1963 and is still running today. If you're a Doctor Who fan or love the bright and bold colors of the TARDIS, this crocheted dice bag pattern is perfect! This project is easy enough to be a great weekend project, but it can also be made in a day during your Netflix binge-watching session.
Materials
Crochet Hook, Size H, 5.0mm
Scissors
yarn needle
Button(Optional)
Abbreviations
CH – Chain
SL ST – Slip Stitch
SC – Single Crochet
DC – Double Crochet
FPDC – Front Post Double Crochet
Simple Dice/Goodie Bag: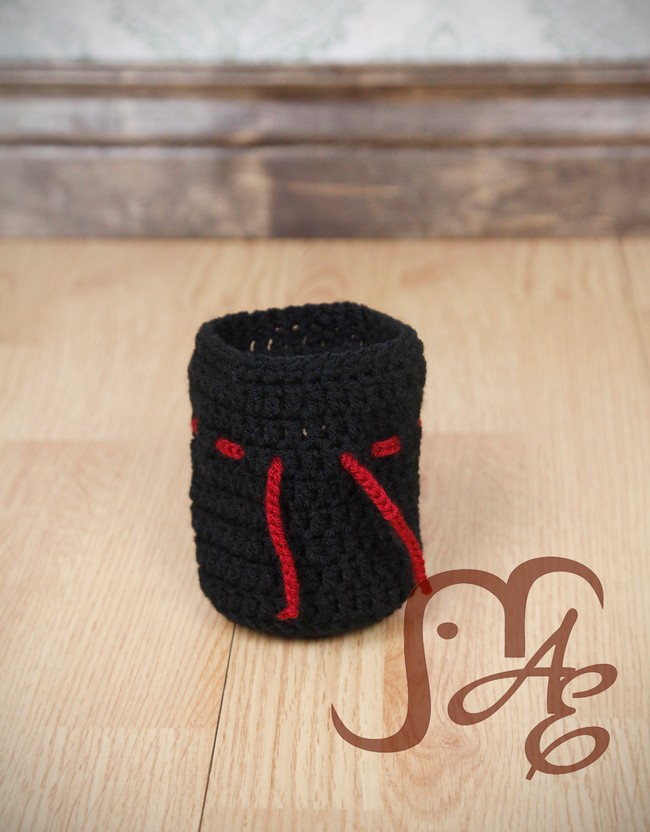 It's a hair tie! It holds your phone and keys! Crochet this colorful, quirky little bag today, and make sure you have something to put your stuff in the next time you go to a gaming night. A great project for using up scraps of leftover yarn. This Simple Dice/Goodie Bag pattern is a great gift for any crafter. It contains step-by-step instructions and photos to guide you in creating your dice bags. Various colors and fabrics make this pattern versatile enough to fit any lifestyle or occasion. Take it with you to a game night, or make one for an upcoming birthday party!
Materials
Worsted Weight (4) Yarn
H/8 5.0mm Hook
Tapestry Needle
Abbreviations
MR- Magic Ring
DC- Double Crochet
2DC- Double Crochet Increase, 2 DC in same stitch to increase
SC- Single Crochet
Ch- Chain
Sl st- Slip Stitch
Basic Crocheted Dice Bag: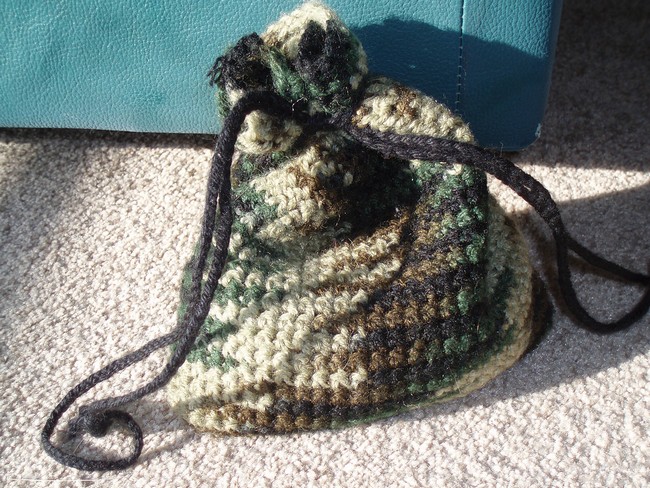 This crochet dice bag pattern is simple and easy to make. It's a great beginner project with just a few basics you'll need. This basic crochet dice bag can be used for anything from holding your favorite board game dice to organizing your craft supplies or makeup bits and bobs! What you make of this fun little bag that you'll use repeatedly is up to you. The pattern has easy-to-read instructions and step-by-step photos to help you along the way.
Materials
Size I (5.5mm) crochet hook
1 skein of yarn – your choice (you only use about 1/4 of the skein for this project)
Yarn needle
Abbreviations
Chain stitch
Single Crochet
Creating Eyelets