14 Unique Crochet Balaclava Patterns For Winter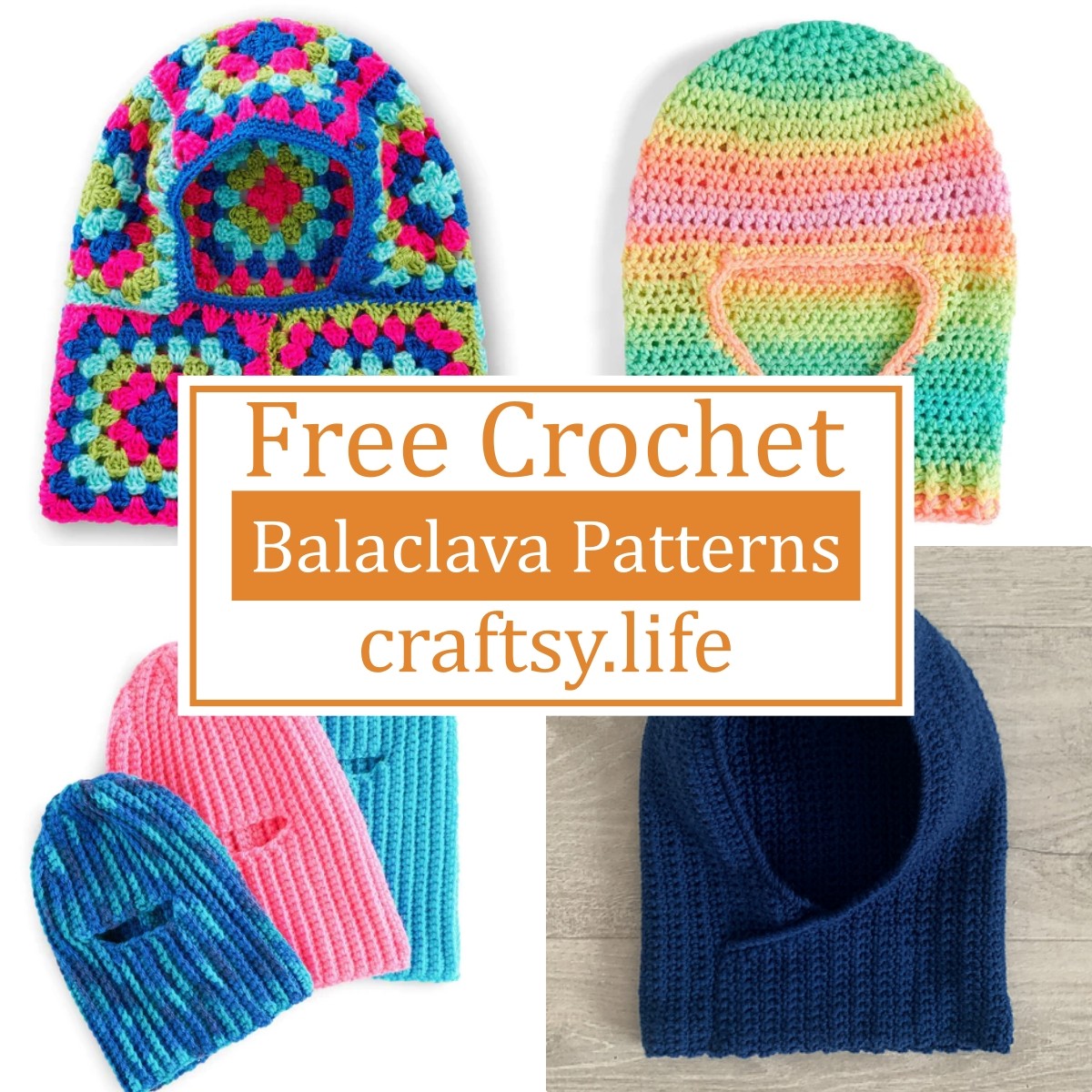 It's cold outside, and you need to keep your head warm. You could buy yourself a balaclava (balaclavas are a type of face mask that covers all but the eyes), but why do that when you can crochet your own? Here's a list of free crochet patterns for head-hugging balaclavas that keep your neck and ears nice and toasty. These are all easy projects that should be within reach of any beginner who knows how to hold a crochet hook. The following patterns will keep your head happy and warm this winter.
Easy Crochet Balaclava Patterns Free

Crocheted balaclavas could be the perfect winter accessory for several reasons. They're great at keeping you warm. They're straightforward to make, so they are perfect for last-minute gifting or for making yourself if you want something cute and cozy that's one-of-a-kind. And they're fun to wear. You can even write a pattern or two of your own! The following list includes some free crochet balaclava patterns and tutorials for men, women, and children in various styles and techniques.
Tips for Making Crochet Balaclavas
Balaclava patterns are a great way to stay warm during the winter season. They can be worn under hats or helmets; some knitters even wear them as scarves and shawls. The following are some tips for crocheting your balaclava pattern:
Choose the Right Yarn: Yarn is the most important aspect of crochet projects. The type of yarn you choose will determine how warm and comfortable your balaclava will be. Choose thick yarns like bulky or super bulky if you want a heavy-duty hat that can keep you warm on cold days. You can also choose thinner yarns like worsted weight or sport weight if you want something more lightweight and breathable.
Use Different Colors: Crocheting with multiple colors adds visual interest to any project and makes it more fun to work on! If you're planning on making a multicolored hat, start by choosing two or three colors that go well together before beginning the pattern so that your result looks cohesive and not like an eyesore!
Crochet Ribbed Balaclava For All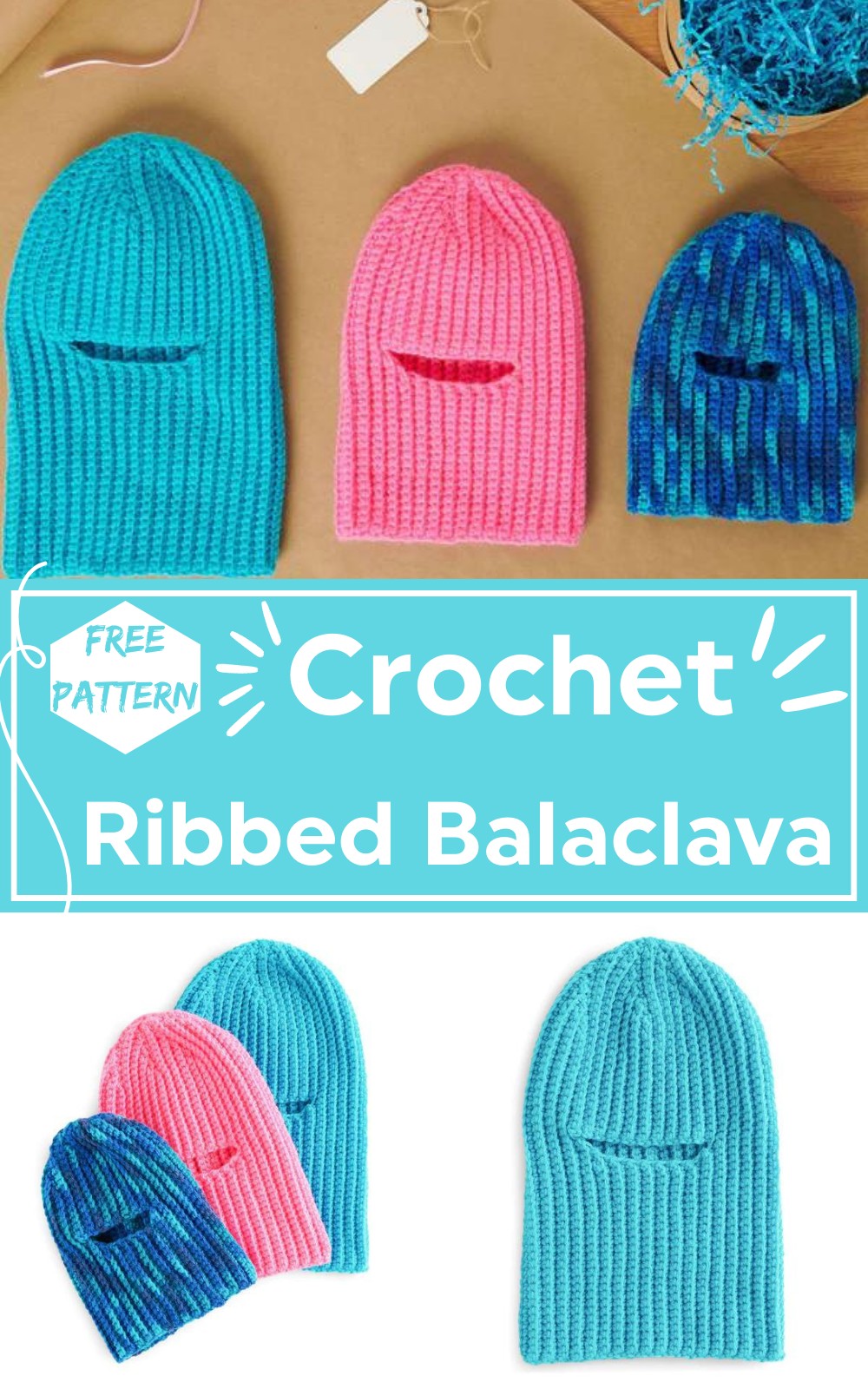 This crochet balaclava is ideal for keeping your head and face warm and is a simple yet essential addition to your winter wardrobe. The pattern has various sizing options to make it for your whole family. Made with easy-to-wash Red Heart Super Saver yarn, the pattern uses single crochet, back loops, and short turn rows. Plus, With more than 100 colors, create customized balaclavas in everyone's favorite shades!
Crochet Granny Square Balaclava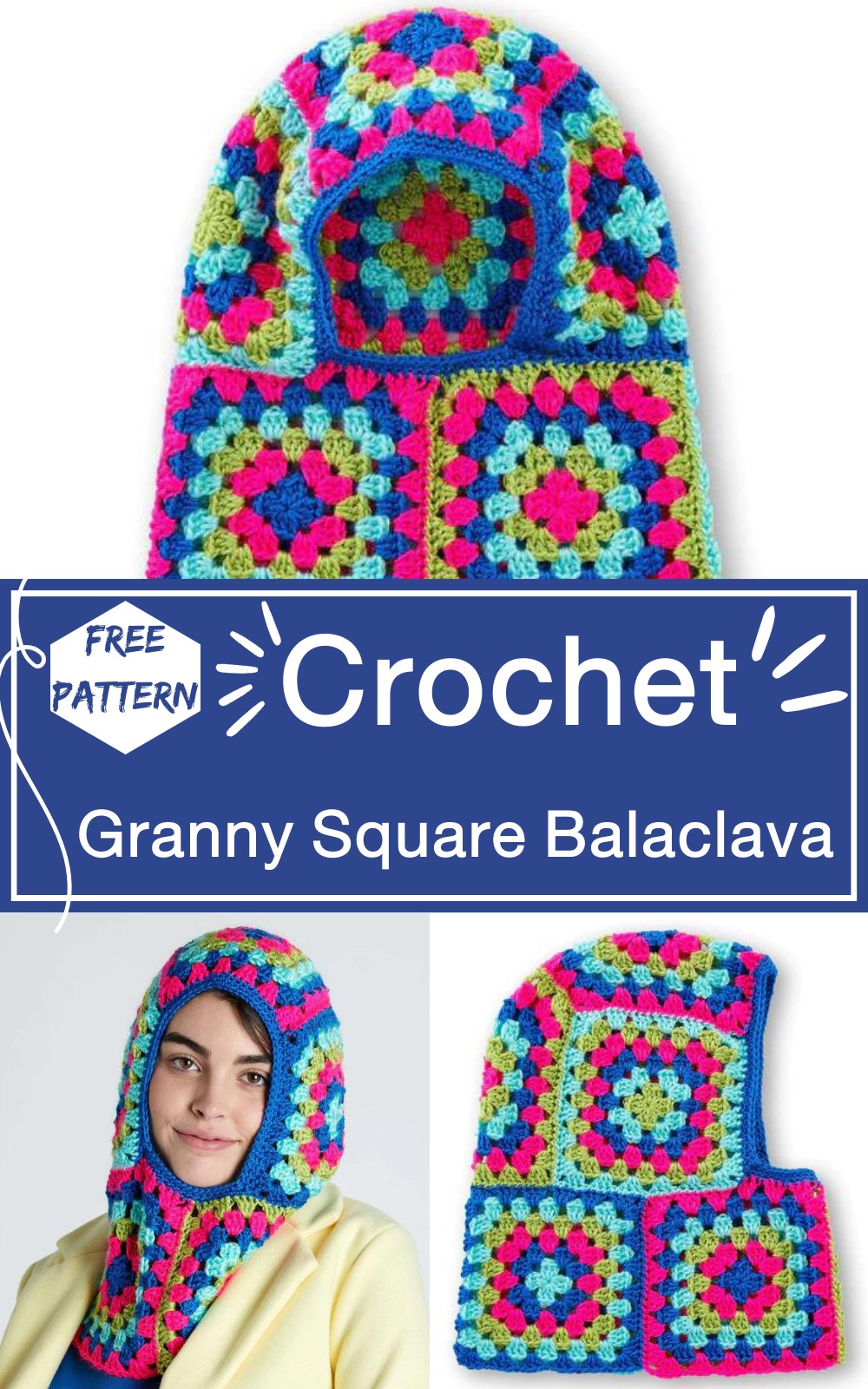 Master the traditional granny square with this vibrant crochet balaclava! Being airy and lightweight, it will be perfect for transitional weather. Using the soft and comfortable yarn in many colors gives you a lot of warmth and coziness while staying stylish. To make this, Balaclava learn double crochet, roundwork, and chain spacing to make granny squares. Then, join these motifs to make a cozy winter accessory that's ready to enhance your look!
Crochet Cute Balaclava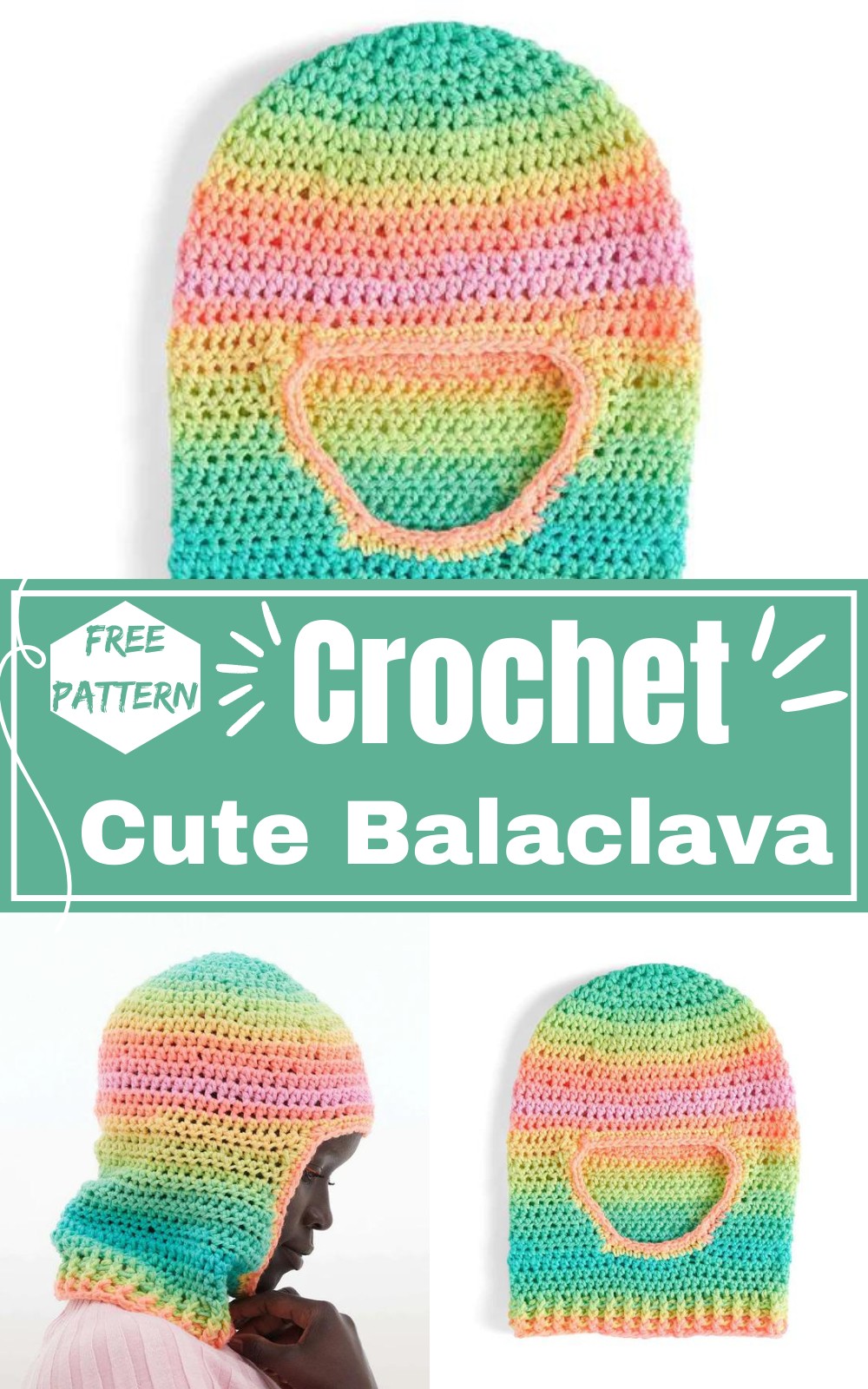 This stylish Crochet Balaclava is a unique way to stay warm and stylish in winter. It features a vibrant yarn, creating a visually appealing rainbow transition texture that compliments every outfit. It also provides plenty of warmth and coziness for your entire face and neck. The pattern is a fantastic way to practice half-double crochet, involving both row and circular work. And because of its durable yarn, you can enjoy it for years.
Crochet Wrapped Up Balaclava Hood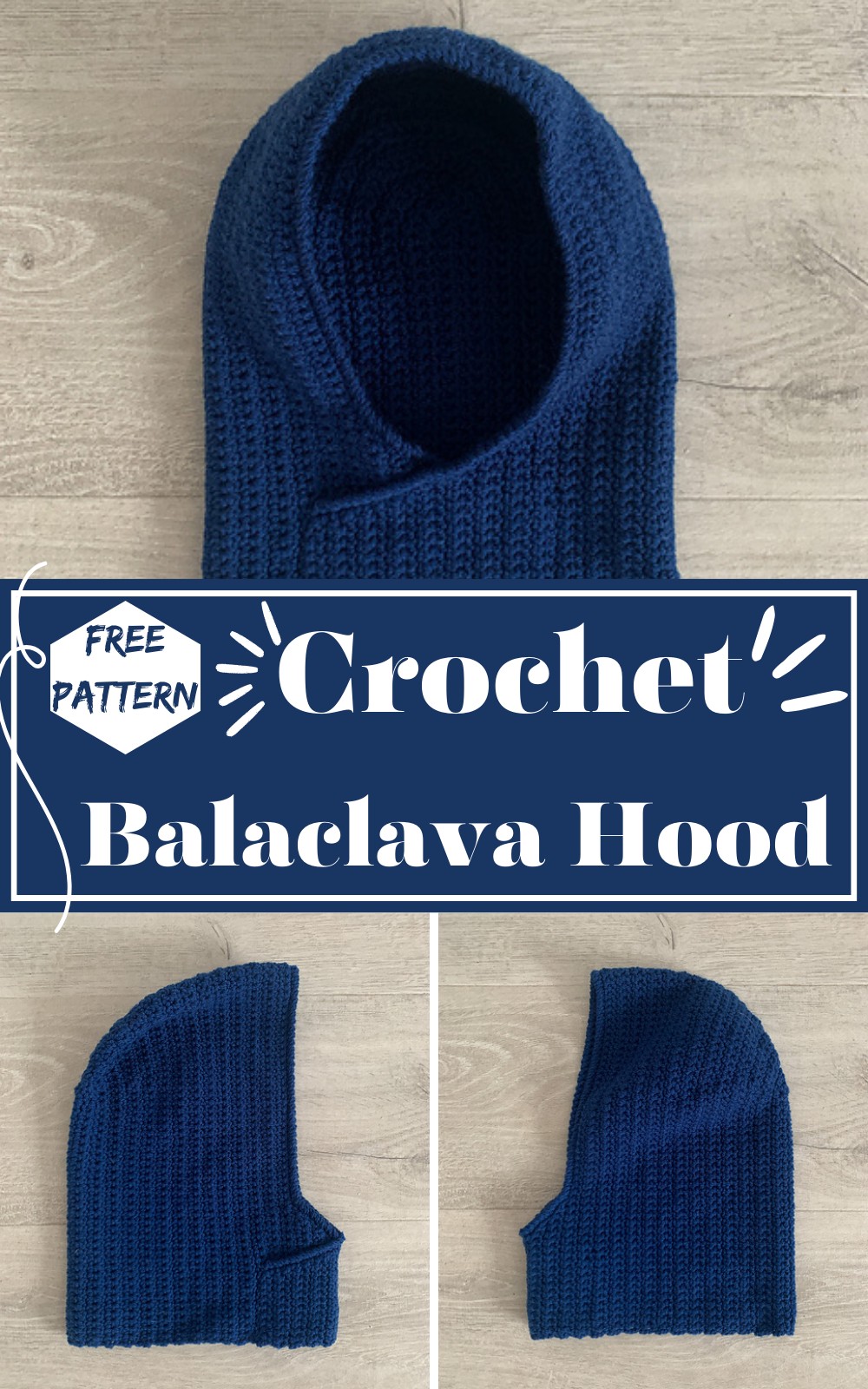 Protect yourself from the intense cold of winters and chilly nights with this crochet balaclava having a thick but lightweight texture. The cozy accessory starts from the back and moves to the front to make a cross-over design under the chin for the best fit and comfort. It also features a simple border for a minimal look, ensuring warmth for your head and ears. Make the hood in a single tone, or give it a striking color transition that makes you stand out in a crowd!
Crochet Fabulous Balaclava Hat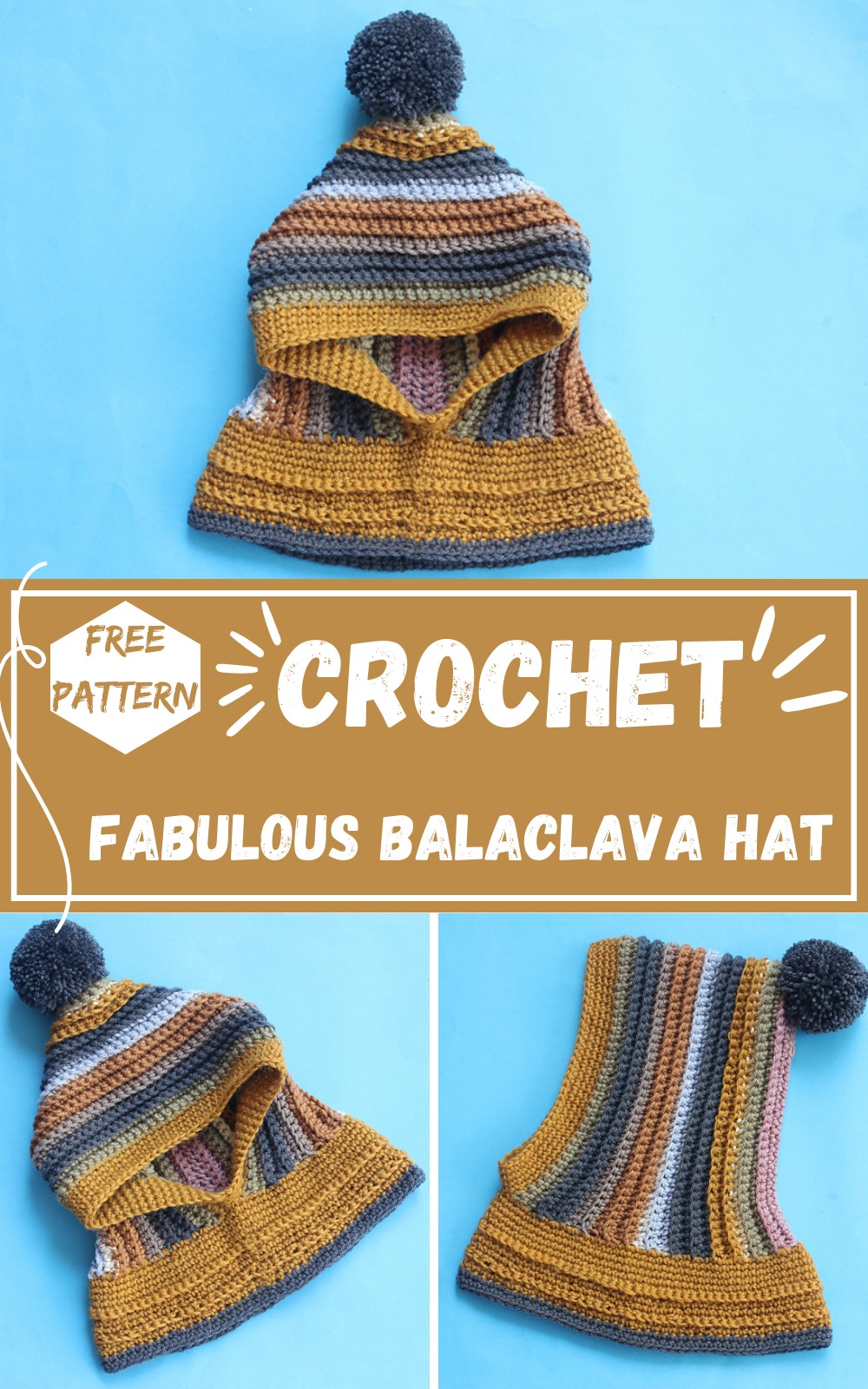 This crochet hood is perfect for little ones who love playing outside. Because of its color stripes throughout the hood, yellow lower part, and a fluffy pompom over the hood, it is a masterpiece among moms. The easy crochet Balaclava is also a gender-neutral accessory, but you can give it a more feminine look by using pink hues. So, watch the video tutorial and start making.
Sherpa Balaclava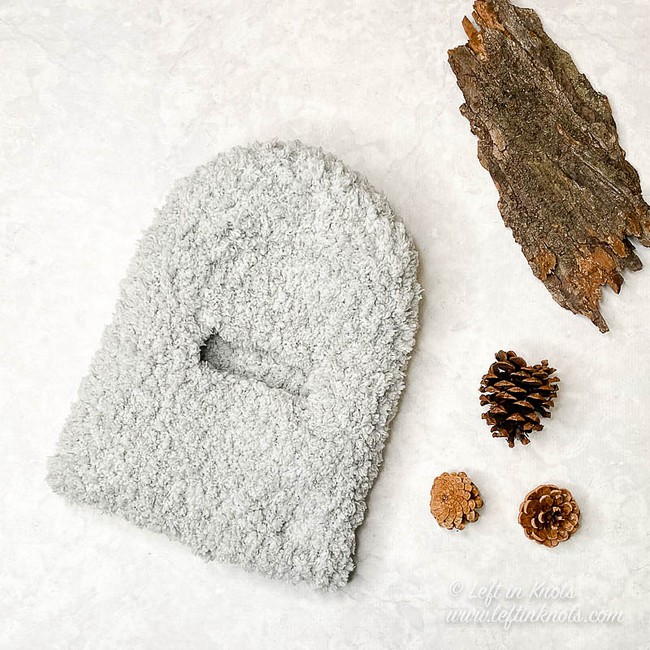 This Crochet Balaclava Pattern is perfect for the ski season or any time you are cold. This head covering works wonders to keep your ears and neck warm while causing itchiness or irritation. Excellent for anyone who lives in extremely cold places or loves winter. This is an easy-to-follow, step-by-step crochet pattern with plenty of pictures to help guide you through. The finished product should fit an adult size with a 24″ circumference, but there is room in the pattern to customize sizes. Customize your crochet hat or balaclava today!
Materials
Lion Brand Go for Fleece (Child Size – 89 yds; Adult Size – 105 yds)
8.0mm Crochet Hook (I LOVE Clover Amour)
Scissors – I always keep these travel scissors in my hookcase
Yarn needle
Abbreviations
ch: chain
st(s): stitch(s)
sl st: slip stitch
BLO: back loop only
SC: single crochet
HDC: half double crochet
FPHDC: front post half double crochet
Cicada Hat
This sweet and simple ear flaps topped Hat pattern features an elegant, delicate cicada design. The brim is designed to fit snuggly around the ears, providing warmth and snugness. This beautiful hat is made with only one skein of yarn, making it a quick gift knit for fall and spring. Go through this guide below, and You will have to be comfortable with crochet basics such as slip stitch, chain stitch, single crochet and a magic ring.
Materials
4 Seasons' Marvel 8 ply 100g balls: Colour 1 (C1), Colour 2 (C2).
A 4.5mm crochet hook.
Scissors, yarn needle, tape measure.
Warm Winter Ski Hats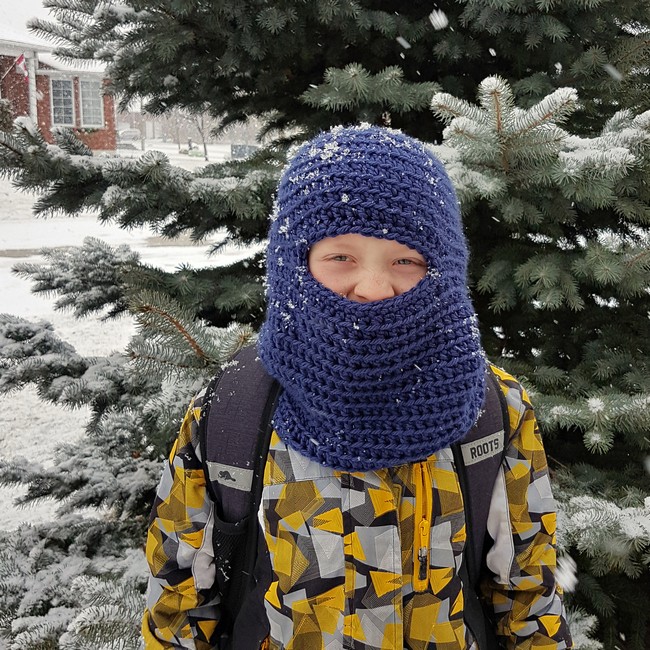 A crochet balaclava is necessary for frigid winters to protect your ears and neck from the cold. The design of this hat also keeps you lovely with a classic crocheted pattern that blends well with just about any outfit. It goes perfectly with jeans and tights or over a warm puffy coat! This is the perfect crochet ski hat pattern! It works quickly and has so many great features. It makes a great gift for men, women, and kids!"
Materials
Yarn: Red Heart Soft Essentials. Bulky Weight Yarn [5]. 5 oz / 141 g; 131 yds / 120 m. 100% Acrylic. Machine wash and dry.
Hook: Furls Odyssey Gold Crochet Hook – Pink – 6.5 mm (K)

Finished Project Yardage: 162 g / 6 oz ; 151 yds / 138 m to make Drew's Child Size Long Ski Hat.
Scissors, Yarn Needle, Stitch Marker (optional)
Abbreviations
bl – back loop
ch – chain
DMR – double magic ring
hdc – half double crochet
R – row
rem – remaining
rep – repeat
sk – skip
st/sts – stitch/stitches
* – Repeat the instructions between the asterisks the number of times indicated. This repeat will contain of multiple instructions.
() – Repeat the instructions between the parentheses the number of times indicated.
[] – at the end of the row – the total number of stitches
Women's Hooded Cowl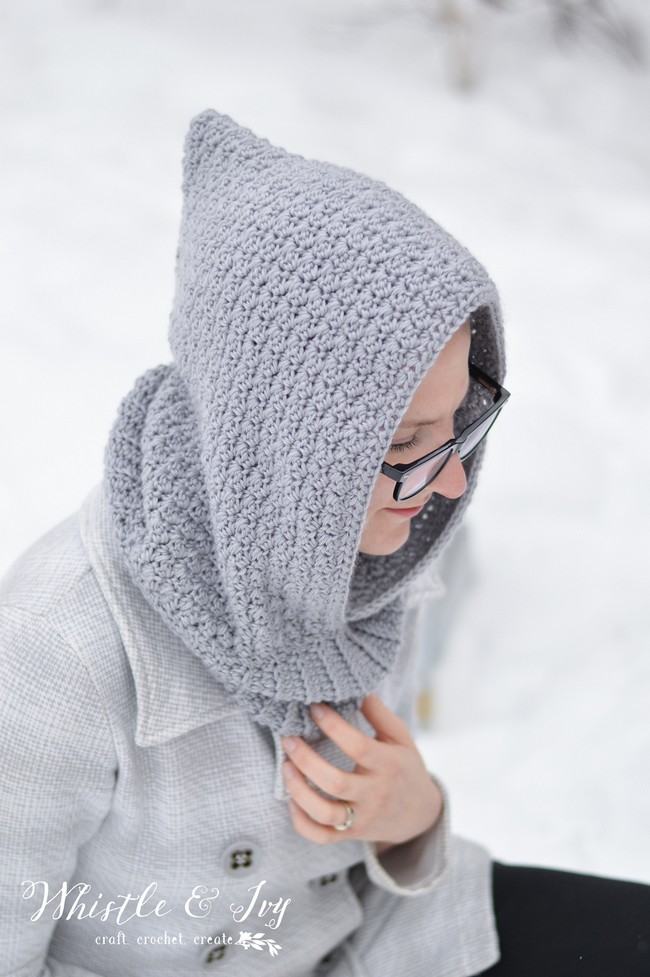 This crochet cowl pattern is perfect for keeping you warm and cozy on cold days. Wear it with a winter coat, beanie or scarf for an adorable look! This crochet pattern can be made in any yarn and size you desire. This crochet cowl pattern is super easy and looks great with a little yarn left over in your stash. It's perfect for beginners or advanced crocheters who want to give themselves a break from fancy designs and make something useful.
Materials
–I hook
– 3 Skeins Medium Weight Yarn (Knit Picks Mighty Stitch in Silver)
–Darning needle
Abbreviations
Ch – Chain
Sc – Single Crochet
Hdc – Half Double Crochet
Dc – Double Crochet
Sl st – Slip Stitch
Sk – Skip
BLO -Back Loops Only
Hello Kitty Snood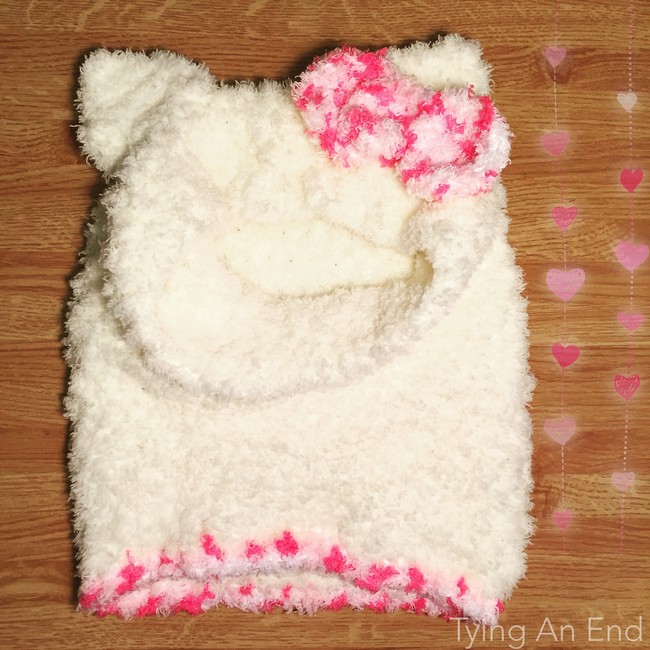 Keep warm and cozy this winter with the Hello Kitty Snood crochet pattern. The adorable headpiece is a great way to stay warm and stylish. This cozy crochet pattern is perfect for keeping your ears warm during cold days or as a fun cosplay accessory! No matter how you wear it, you can be sure that this cute balaclava pattern will keep you warm THIS winter! This crochet pattern is the perfect project for a first-time crocheter ready to make an easy snood for themselves or their little girl.
Materials
1 skein of Bernat Pipsqueak Yarn in Vanilla
1 skein of Bernat Pipsqueak Yarn in Pink Swirl
US N/10mm crochet hook
US J/6mm crochet hook
Stitch markers
Abbreviations
CH – chain stitch
HDC – half double crochet
ST – stitch
SC – single crochet
SL ST – slip stitch
SC2TOG – single crochet 2 together
Warm Winter Ski Mask
You are going to love this Crochet Balaclava Pattern! It is so warm and soft, and you'll be able to wear it under your warm hat or beanie when it is cold outside. This winter crochet pattern will fit most adults, making it perfect for the whole family. This crochet pattern is perfect for all lovers of winter sports and someone who likes to keep warm during the cold months.
Materials
Yarn: Lion Brand Yarns Lion's Pride Woolspun.  100 g (3.5 oz); 127 yds (116 m).  Bulky [5] Weight Yarn. (Colorway: Orchid and Black) – 2 balls are required for Sizes 3 years and larger (I have also made 6 of these using Loops & Threads Charisma the stitches per inch remain the same but by the end you do have a little extra length so double check the height of the hat you are making and omit 1 or 2 rows as needed – unless you don't mind it being a bit longer!)
Hook 6.0 mm (J)
Scissors, Yarn Needle, Stitch Marker (optional)
Abbreviations
beg – beginning
ch – chain
dc – double crochet
MR – Magic Ring
R – row/round
rem – remaining
rep – repeat
sc – single crochet
sk – skip
sl st – slip stitch
st/sts – stitch/stitches
* – Repeat the instructions between the asterisks the number of times indicated. This repeat will contain of multiple instructions.
() – Repeat the instructions between the parentheses the number of times indicated.
[] – at the end of the row – the total number of stitches
Fiona the Human Hat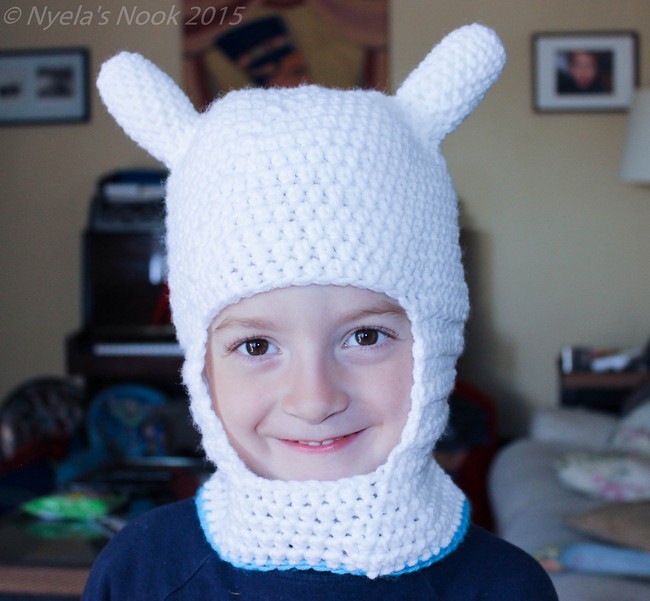 The Fiona the Human Hat is a super stretchy, warm crochet hat with a cheeky attitude. It's also incredibly fast to crochet – you'll be done in no time! The pattern includes instructions for making the hat in different sizes: toddler, child/mature woman and adult women/men. This Crochet Balaclava pattern is the perfect way to keep you warm this winter! This free crochet hat pattern is easy to read and simple to follow.
Materials
Worsted weight (4) yarn in white and light blue
J/10 – 6.00 mm hook
K/10.5 – 6.50mm hook
Chain Marker
Tapestry needle
Abbreviations
Rnd = round
ch = chain
sc = single crochet
dc = double crochet
flsc = front loop single crochet
st = stitch
sts = stitches
slst = slip stitch
dec = decrease
dc2tog = double crochet 2 together
F/O = fasten off
Toddler Ski Hat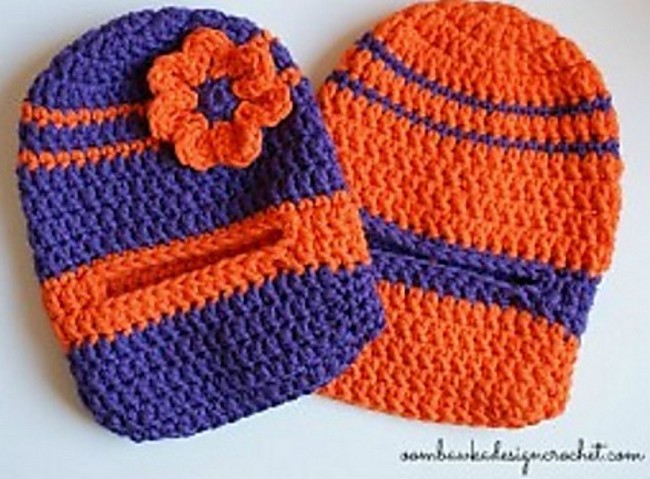 Are you looking for a perfect crochet pattern to make ski hats for your kids? This Balaclava warming headband hat is the perfect option for you. The body of the balaclava hat is worked in continuous rounds and increases at the side seams of the hat so it will fit most heads. This crochet ski hat pattern works up so easily and quickly that you'll be able to turn out a dozen or more of these in no time! It's perfect for any little boy or girl, and it looks adorable with ties too!
Materials
Yarn: Red Heart Heads Up Yarn (2 balls makes 2 hats)
Hook: 6.00 mm
Finished Size: fits 19″ to 20″ head circumference; height at back of head is 23 cm; height at front is 27 cm; width at eye level is 21 cm.
Gauge: 4 dc sts = 4 cm; 2 rows of dc = 3 cm
Abbreviations
sc : single crochet
dc : double crochet
sl st : slip stitch
st : stitch
fdc : chainless foundation double crochet stitch
ch : chain
R : round
x : times to repeat
MC : main colour yarn
CC : contrast colour yarn
Ribbed Ski Mask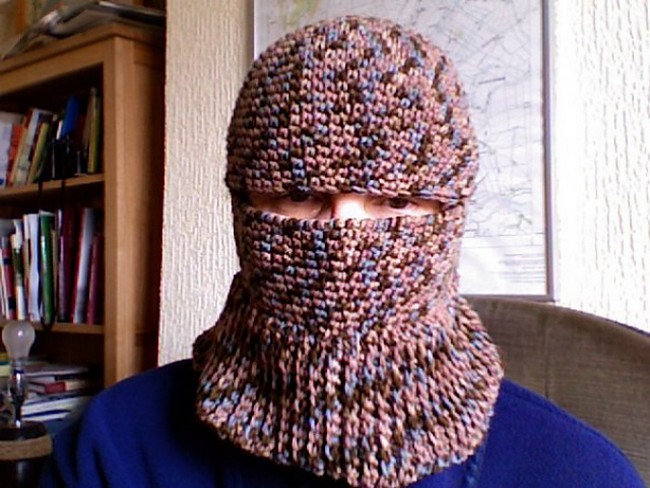 This ribbed ski mask is a quick, easy, stylish beginner crochet pattern and is great for keeping your ears warm. The ribbing allows you to breathe easily, and wear this as an alternative to a beanie or hat for cold winter nights. It's super soft and warm – perfect for any time of year, indoors or out. You can even use it as an ear or hand warmer by folding the ribbed section in half and wearing it on your wrist.
Materials
K Hook
Red Heart Supersaver, WW 4 ply, approximately 5 oz camouflage
blunt needle
Abbreviations
ch – chain
sc – single crochet
ea – each
st – stitch
sl st – slip stitch