Skeleton drawings can be a fun Halloween activity or a great exercise for kids learning to draw more complex figures. Skeleton drawings aren't just for Halloween! These spooky figures are great practice for drawing the human form and can be fun. Check out these Skeleton drawing ideas to get you started. If you're looking to draw a complete skeleton, check out this post on how to draw a cartoon skeleton. Whether you're a beginner artist looking to get started with some basic anatomy or more experienced and looking for inspiration, here are ten exciting ways to draw a skeleton.
Skeleton Drawing Easy Ideas

This article will share some fantastic and amazing skeleton drawing ideas. Here we have collected some easy and more exciting skeleton drawings for kids and beginners. You can also try these Skeleton drawings as home decoration materials or gift ideas for children's birthday parties. These ten Skeleton drawing ideas will give you inspiration and courage to draw human figures. The most challenging part about drawing human figures is learning to see them in great detail, but this comic can help you get started.
Tips And Tricks For Skeleton Drawing Ideas
Here are some tips and tricks for drawing a skeleton:
Study anatomy: Familiarize yourself with the human Skeleton's structure to understand the bones' proportions and placement.
Sketch basic shapes: Outline the Skeleton using simple shapes such as rectangles, circles, and ovals.
Add details: Sketch in the details of the bones, including the individual vertebrae of the spine, the skull, and the ribcage.
Study the joints: Pay close attention to the joints of the Skeleton, including the elbows, knees, hips, and shoulders, to ensure they are positioned correctly.
Experiment with shading: Add shading to give the Skeleton a more three-dimensional appearance and to highlight the different bones.
Consider the perspective: When drawing a skeleton, consider the angle from which it is being viewed. This will affect how the bones are positioned and how they appear.
Practice, practice, practice: The more you draw skeletons, the more comfortable you will become with the process and the easier it will become to create realistic and detailed drawings.
Draw A Cartoon Skeleton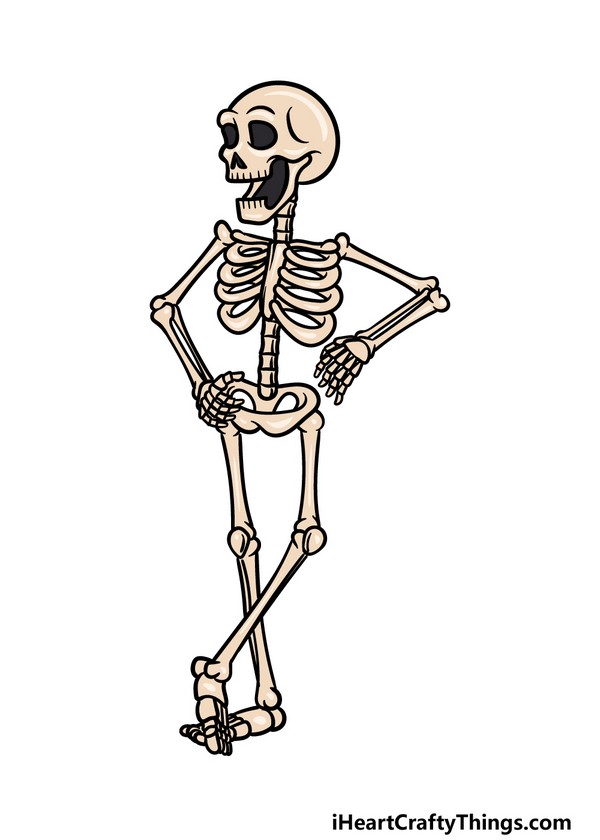 Learn to draw a cartoon skeleton with simple step-by-step instructions. Follow along and let your imagination run wild! When you are finished, use your creation as a background or overlay on your computer desktop. You can also print the template as wallpaper. Your kids can easily draw a skeleton with the step-by-step instructions of this worksheet!
How To Draw A Skeleton Step By Step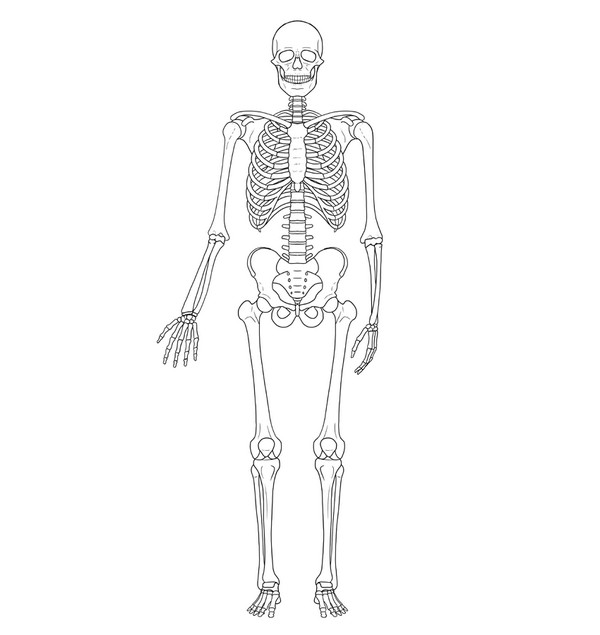 Learn how to draw a Skeleton step by step. These easy-to-follow, step-by-step drawing tutorials will teach you how to draw skeletons, facts, and fiction. You can draw a skeleton by hand or on the computer. Before you start drawing, ask yourself some questions. What is the pose? What color will the bones be? In what setting is it going to take place? One thing that can help you with this type of Drawing is ensuring everything is proportioned correctly.
Dinosaur Skeleton Drawing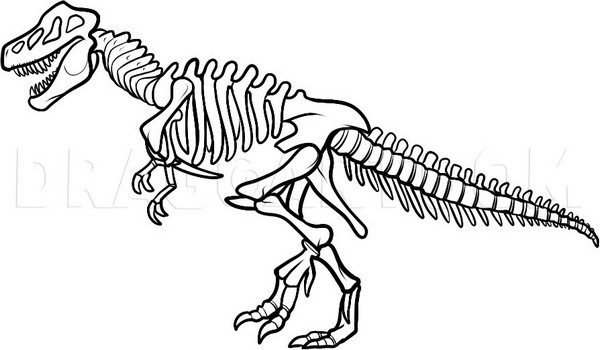 The Dinosaur Skeleton Drawing is a great project to illustrate your inner paleontologist. It's the perfect gift for paleontologists and dinosaur enthusiasts alike. This skeleton drawing is a unique piece of art that features realistic details of a dinosaur skeleton - including three-dimensional structure, skin color, muscle markings, and more.
You can also see: Easy Dinosaur Drawing Ideas For Kids To Inspire 
Easy Skeleton Drawing Tutorial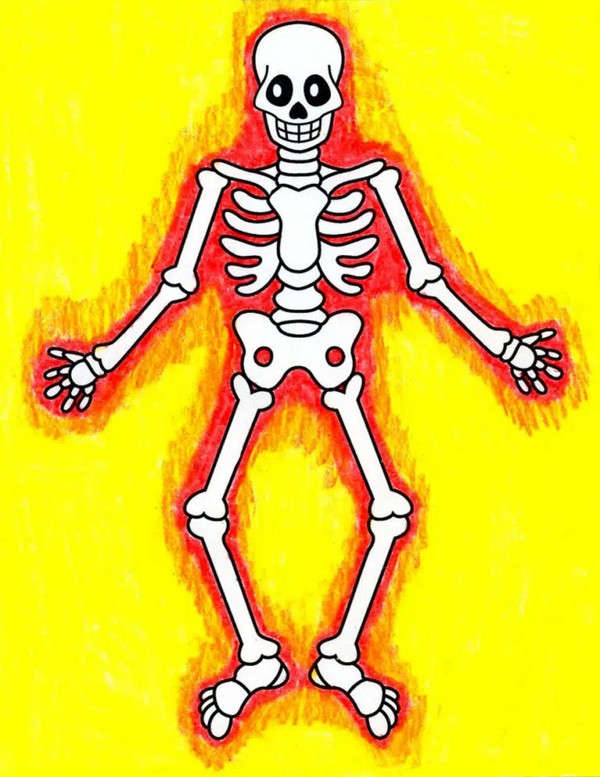 Learn how to draw a simple skeleton for Halloween! This easy step-by-step guide will teach you how to draw your Skeleton in less than 5 minutes. You can practice with this scary Drawing or use it as a Halloween decoration. You will never be able to stop smiling while working on your Skeleton drawing. It is a lot of fun and a good stress-relief activity.
Skeleton Hand Drawing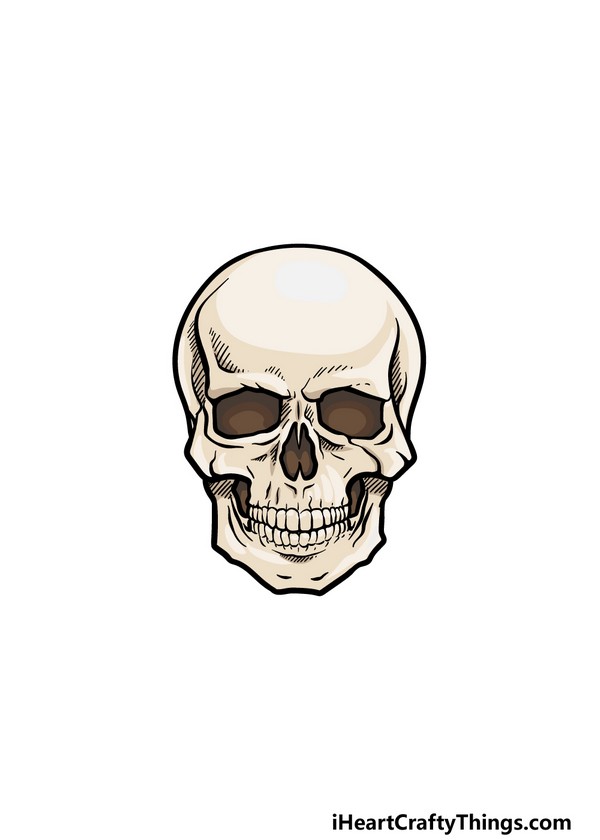 Ideal for Halloween, this unique skeleton hand drawing makes a great gift. It's easy to draw and fun to color in! Have you ever wondered what skeleton hand drawings look like? If so, you are at the right place. You can download this Drawing on this page and use it as wallpaper. You can also print out the image if you plan to make a tattoo for personal use or display purposes only.
Skeleton Drawing Realistic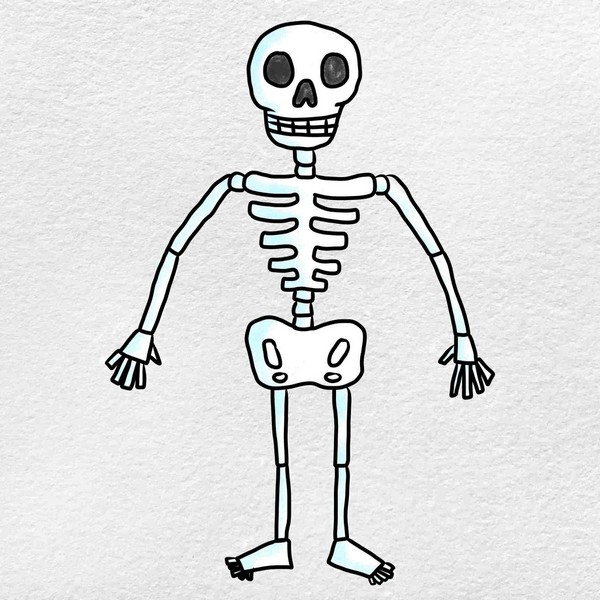 Skeleton drawing is the pencil Drawing to draw a skeleton for Halloween.  The Skeleton is an internal framework of the body. It consists of bones, joints, and membranes that support the body. The bones are arranged in different ways according to their structure, and moving parts consist of joints and ligaments.
Step-By-Step Drawing Tutorial Of Skeleton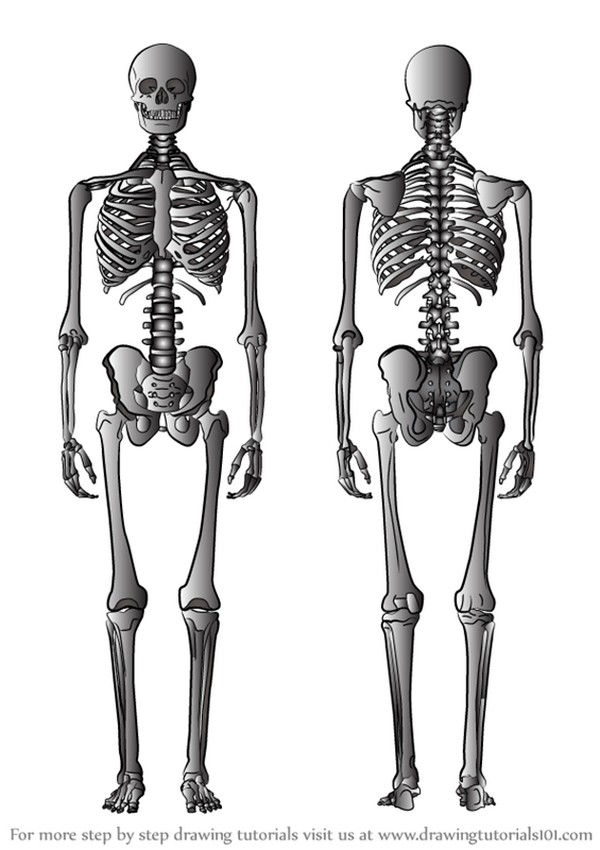 Learn to do a step-by-step drawing tutorial on Skeleton. It's effortless and interesting to draw a skeleton. You can make this as your frame for art or hang it in your room as a decorative piece. This is a step-by-step drawing tutorial on how to draw Skeleton. If you want to learn Drawing, this will be the perfect guide. You can use your knowledge of the human anatomy to create fun, scary skeletons as Christmas Gifts!
Skeletal System Diagram Drawing
You will learn how to draw a Skeleton. A skeleton is an internal framework that supports the body structure of vertebrate animals and some invertebrates. This Skeletal Drawing is perfect for anyone learning how the skeletal system bones help keep our bodies strong and healthy. This diagram shows the basic shapes and names of the bones in this part of the body, a tremendous graphic resource for students and teachers alike!
Human Skeleton Drawing
A nice cartoon drawing of a human skeleton. A great educational tool for school students. This is a skeleton drawing, and the purpose of this video is to show the structure of a human Skeleton. This bone has different shapes and sizes, each having its function in connecting with other bones and helping you move.
Giant Skeleton From Clash Of Clans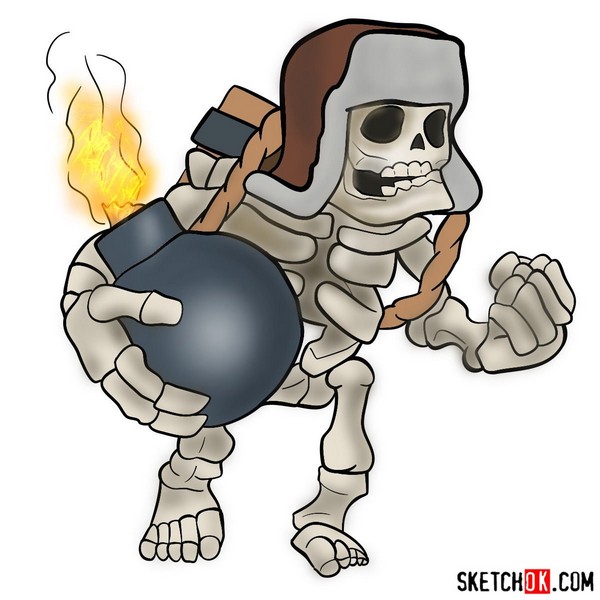 Skeleton Drawing. For those who remember this Skeleton from Clash Of Clans, this is a fun paper craft Skeleton drawing used for Giant Skeleton in Clash of Clans. This skeleton drawing is best for you who like to draw skeletons. You can use it as a coloring book or show it to your friends or family.