When looking for a project to do with your free time, you might want to consider a mini quilt. Because they're finished in such a short amount of time, these cute little quilts are perfect for gifting to friends and family. They're also small enough that you can stack them up and attractively display them—in this case, why not try hanging them like a mobile? The options are limitless, and they only require some fabric scraps. Here are some unique and Free Mini Quilt Patterns that you can use as templates to get started on your own mini quilt.
Mini Quilt Patterns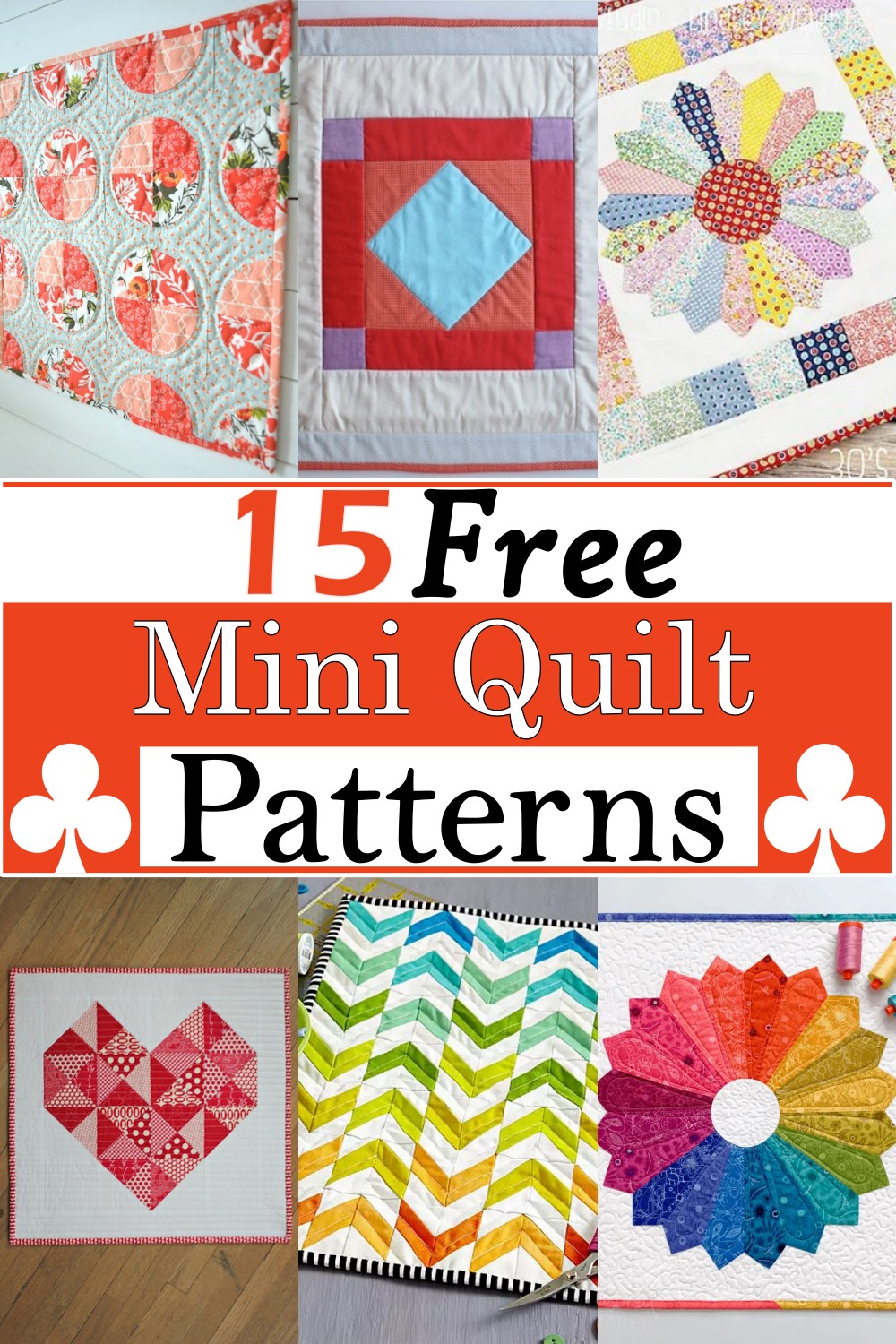 If you love making quilts but don't have much time on your hands, try out some of these free mini quilt patterns. They're small enough to take on the go and big enough to warm your heart when you need it most. Most of them feature timeless, classic designs that are easy to replicate and even easier to fall in love with. No matter your skill level or how much free time you have, there's something here for everyone.
Looking for a simple and stylish way to decorate your home? Why not make one of these cute mini quilts? These 15 free mini quilt patterns would make great little gifts, too.
Nine Patch Mini Quilt
The mini quilt is always a fun project to do and is perfect for when you want to whip out a project without having to think too hard about it. All the fabric will come together in no time, and soon you'll be making a square inside a square, transforming 9 squares into one full-sized square. The top also comes off easily, so you can use it as a table topper or as a lovely summer quilt on your days off.
Rainbow Chevron Mini Quilt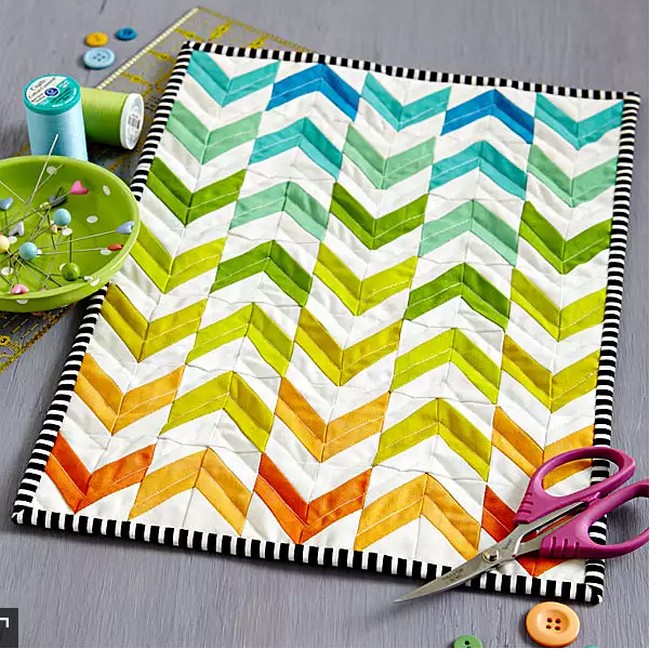 Rainbow Chevron Mini Quilt is the perfect scrap-busting project for your fabric stash. Use all those mismatched scraps and create this beautiful rainbow quilt that gives you the impression of "movement" due to the stripes' contrasting sections between each color. This project is perfect for beginners who want to learn how to use a sewing machine or for more experienced sewists who want to try something new. The finished product is perfect for any decor, from baby to adult bedrooms!
You Can See: 25 Free Crochet Rainbow Patterns
Rainbow Mini Quilt
The Mini Rainbow Quilt is soft, cuddly, and colorful, making it an attractive addition to your child's bedroom. Whether used as a pillowcase, table runner or napkin, it adds a splash of color where you need it most. Select the colors that suit you best and bring joy to your little ones with this creative project that will keep them busy for hours! They will surely love the fun and colorful design while they learn how easy it is to sew!
by Woodberryway
St Patrick's Mini Quilt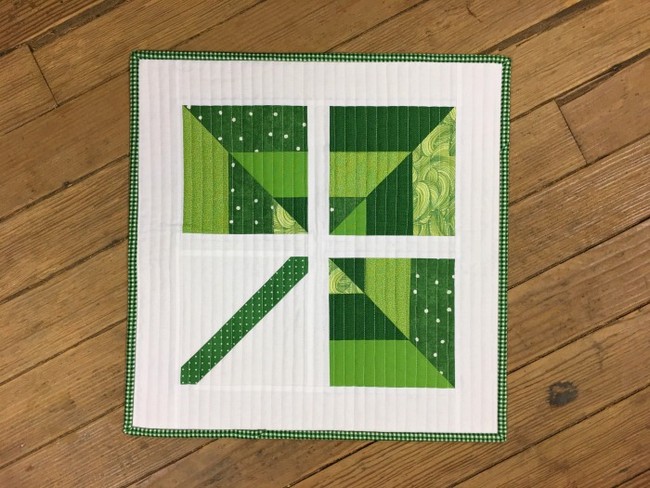 Have you ever wondered how to create a simplified four-leaf clover pattern? This is the mini quilt pattern, which uses only three fabric colors. The simplicity of this design makes it ideal for beginners who want to get their feet wet with intricate sewing techniques or even seasoned stitchers who want to challenge themselves with something new. This is an easy pattern to make. You can use your favorite fabrics for this project, but select solids and small prints for a scrappy look,
Ships And Sails Mini Art Quilt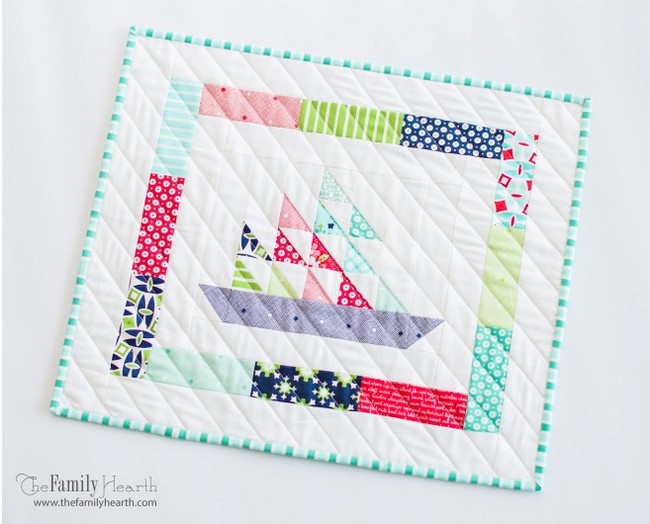 This quilt is the perfect gift for pretty much everyone you know. The color palette of navy, white and aqua blue will be a great addition to your home's decor. You can easily make it in any size you want – from a small wall-hanging size to a king-sized one. Its colorful design and unique shape will make any room look great. You can make it in multiple sizes, too, so everyone can enjoy it equally. And you can use it as a quilt or fabric art if you like!
Classic Amish Diamond Quilt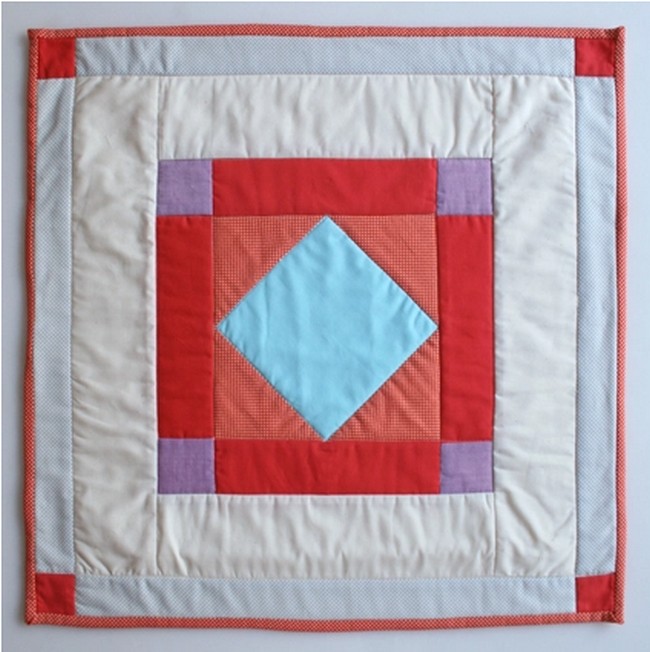 Choose your style and colors with this classic Amish diamond quilt. Since it's made of scraps, your design has unlimited possibilities—find the colors that match your decorating scheme. The simple diamond pattern at the center is surrounded by four frames, each with a square embroidered patch at its corner. That makes it super easy to line up all your fabrics so that no one can see any unevenness in your stitching or fabric placement.
by Purlsoho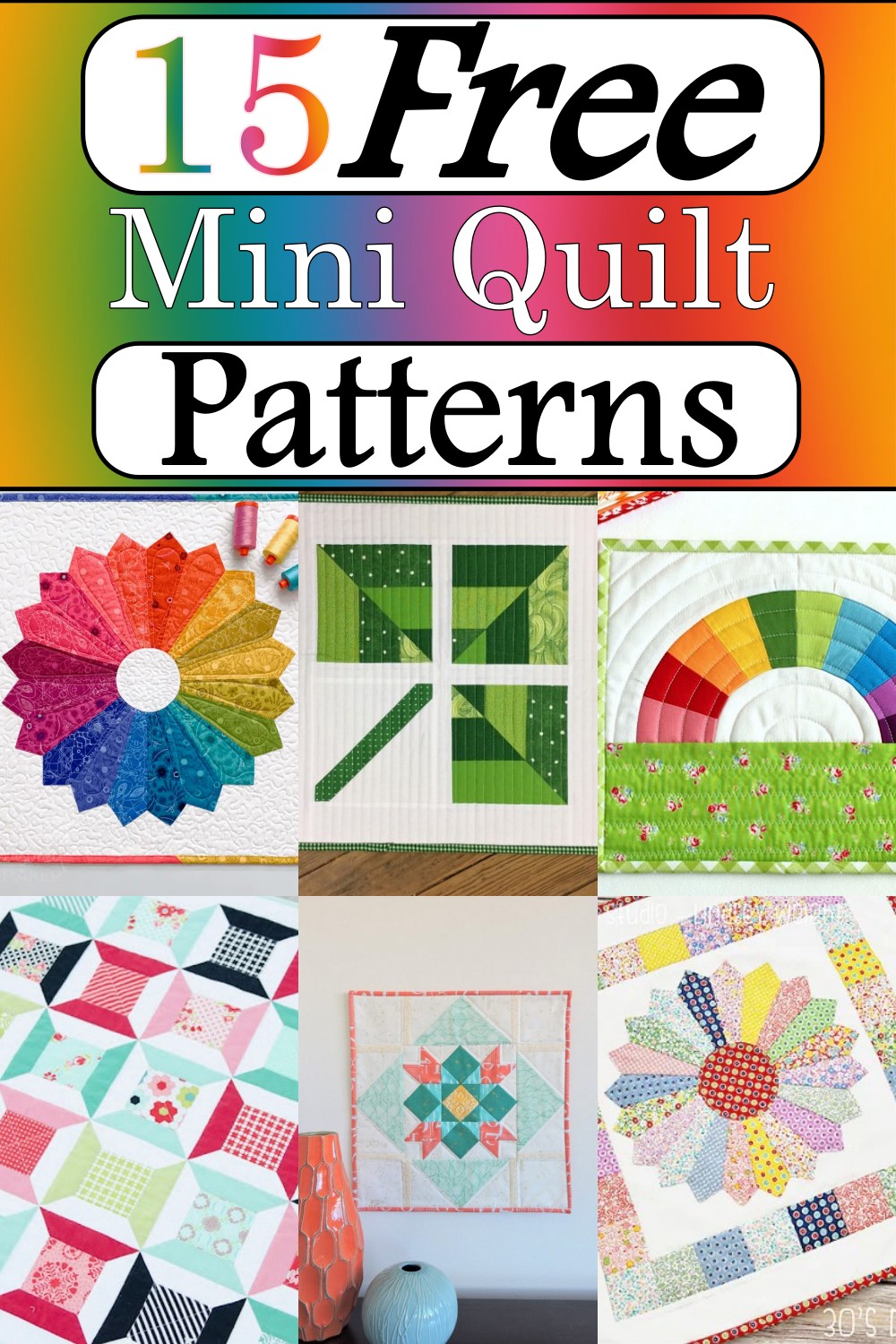 Dresden Plate Mini Quilt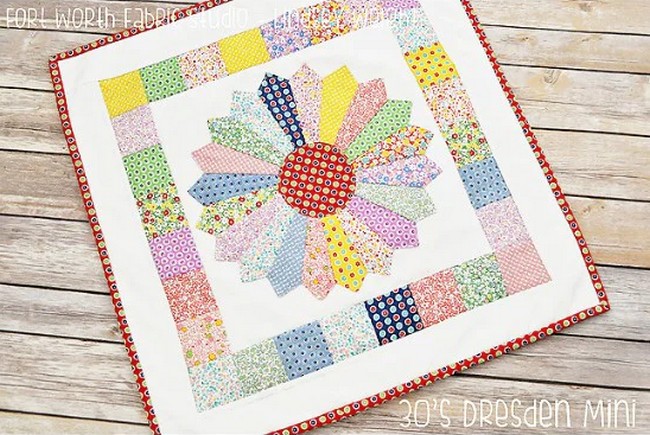 If you love discovering all the colors of the rainbow, then let your imagination run wild as you create your own Dresden Plate Mini Quilt. The Dresden Plate design is reminiscent of gorgeous antique quilts and is a great way to showcase lovely fabrics. Get started with this easy-to-follow pattern and discover the joy of patching these colorful squares together to make your unique quilt. The result is an eye-catching mini quilt that will get compliments and be a great addition to your home.
Rainbow Dresden Plate Mini Quilt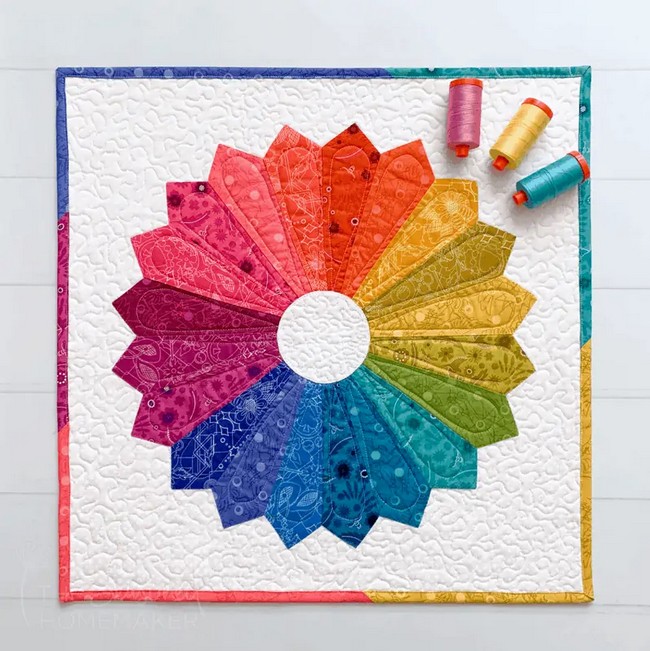 If you want a little rainbow action in your life, this rainbow Dresden mini quilt will bring some sunshiny goodness into your home. This quilt brings together two iconic quilting techniques for a unique design. The Rainbow Dresden Plate quilt, made with Scrappy Dots fabric and Dresden Plate, is a modern take on the traditional Dresden plate. It's an easy project to do, and with just two blocks and some embroidery stitches, you can finish it quickly.
Circle Of Fun Delight
Create a circle of fun mini quilt designs with this easy-to-follow pattern. This quilt pattern is perfect for beginners and will be ready to enjoy in no time. Because there are so many circles, this pattern can be made in any fabric you want. Make it from your favorite fabrics or use scraps from other projects. You can make the quilted circle centers out of two fabric types; the endless possibilities!
by Tearosehome
Mini Scrap Quilt
You can make a scrap quilt with your favorite fabrics, old or new! It's fun to collect fabric scraps and see what you have. You might be surprised by the beautiful color palette as you pair different fabrics together. This scrap quilt pattern is made of squares cut on the bias and joined together into a large colorful square. It's easy and uses unique techniques that add a fun new look to your mini quilt. This unique quilt is perfect for any decorating style — from modern to traditional.
Tutorial at Flamingotoes
Mini Christmas Tree Quilt
This mini quilt is a great way to start the holidays this year. It's made from Christmas green thread and lots of little triangles! Oh, and don't forget about the cute little pine tree in the middle that gives this design its name. The mini Christmas tree quilt can brighten up your home decor and make a great gift for family, friends, and colleagues. The pattern is easy to follow, but if you are new to sewing, practice on scraps until you get it right! It makes a beautiful Christmas present for those who love embroidery and crafty things.
Flying Geese Mini Quilt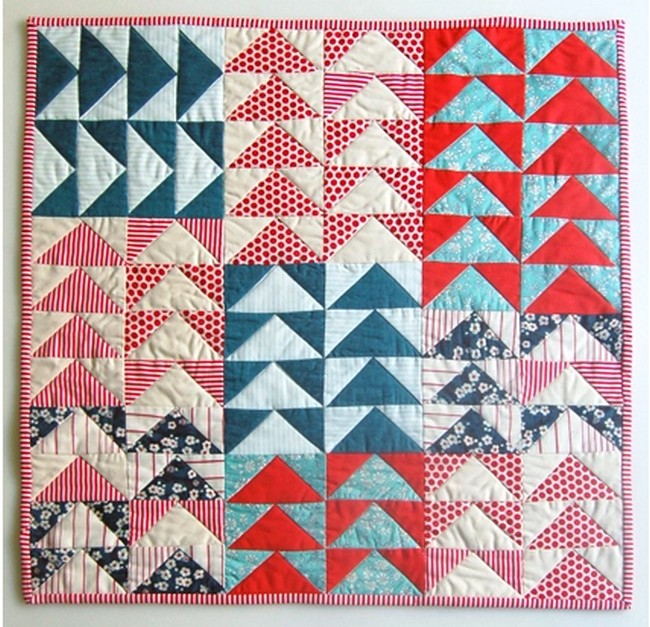 Got love flying geese quilts? Well, now you can make your own! With this easy-to-follow step-by-step tutorial, you will be on your way to making your very own flying geese mini quilt. The result is full of triangles and the perfect stash buster. This flying geese mini quilt pattern uses various fabrics and color combinations. The show's star is the quilt block itself - it's made on a point, with contrasting fabrics for triangles and background. Use it to make a tiny, one-of-a-kind quilt, or use it as the pattern for your larger pieced creation!
by Purlsoho
Spool Mini Quilt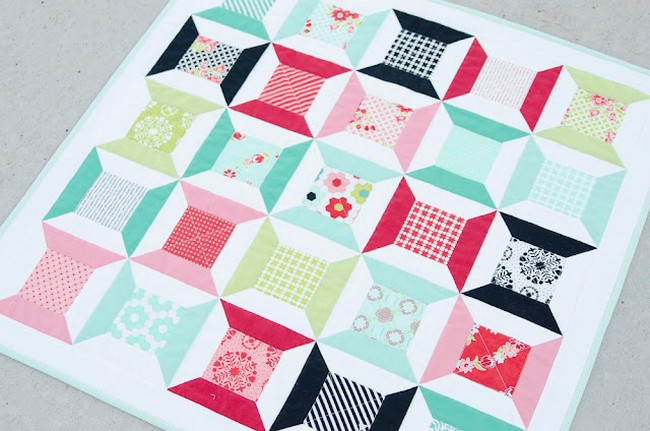 This Mini Quilt is great to make if you love to sew and are looking for a new way to show off your creations. The quilt is made in rows and columns to add dynamic movement to the top. You can use this mini quilt design in many different ways—from displaying it on your wall or in a shadow box as part of a larger collection to making pillows, totes, and more. Use your favorite colors of thread and spools to personalize the quilt for yourself or as a gift for your friends.
Heart Mini Quilt Pattern
This heart mini quilt will make a perfect gift for someone you love. Add some finesse to your quilting skills by making one with this easy-to-follow pattern. It's crafted out of triangle patchwork pieces in red and pink colors to form a dear heart that makes it an adorable piece of art. Make it yours before Valentine's Day so you can give it to someone special. It's a quick and easy project that can whip up in just a few hours.
Nebula miniature quilt (paid)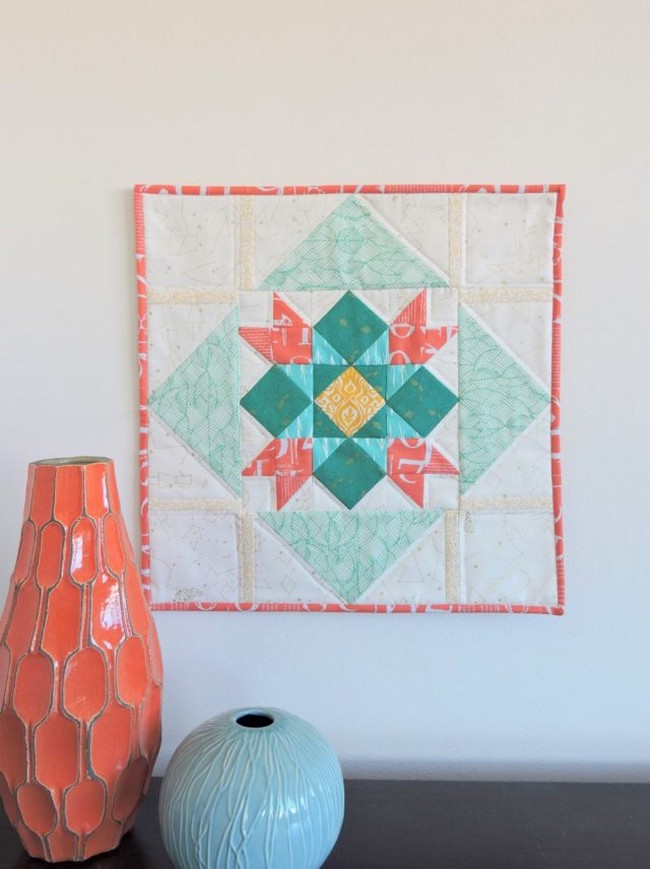 This quilt is perfect when you have a room that needs something to brighten it up. Or place it in each corner of your bed for a vibrant look. This blanket would go perfectly with any color or design scheme in your home. The pattern is easy to follow so that anyone can make their own. This machine-washable and dry-cleanable pattern has beautiful lotus-style diamond flowers in the middle with four brightly colored triangles around it that point outward. You can also hang it on your home wall as art or place it on your favorite sofa as a decorative pillow.