Pleasingly modern jelly roll quilts are fast and fun to make. This collection features 11 beautiful quilt patterns highlighting the rich fabric blends in precut jelly rolls. Pattern instructions range from beginner-friendly to more advanced levels. These jelly roll quilts are the perfect project for anyone who enjoys sewing but hasn't had much experience working with a jelly roll. These Free Jelly Roll Quilt Patterns feature various colors and blocks, making them easy to combine with other quilt patterns you already have in your collection.
Jelly Roll Quilt Patterns Free

Easy jelly roll quilt patterns using charm packs, layer cakes, and broken-up yardage. These beautiful quilts will add visual interest and dimension to any room. Make a gorgeous jelly roll quilt—no sewing machine required! This stunning collection of Free Jelly Roll Quilt Patterns is all you need to create a lovely bedspread perfect for any room in your home. The geometric designs and bold color options make each quilt unique, while the bold blocks and simple piecing techniques make it easy for even new quilters to finish their projects.
Benefits Of Jelly Roll Quilt Patterns
There are many reasons why you should consider making your next quilt with jelly roll strips. These specially designed precut fabric strips come in various colors and patterns, so they can be a great way to add some pizzazz to your quilts. Here are some benefits of using jelly roll strips for your next project:
They're easy to use.
You can make any size or shape quilt with them.
They're inexpensive compared to other fabrics.
You don't have to worry about matching pieces or pieces that don't fit together correctly because every strip is cut perfectly for each pattern.
Summer Jewels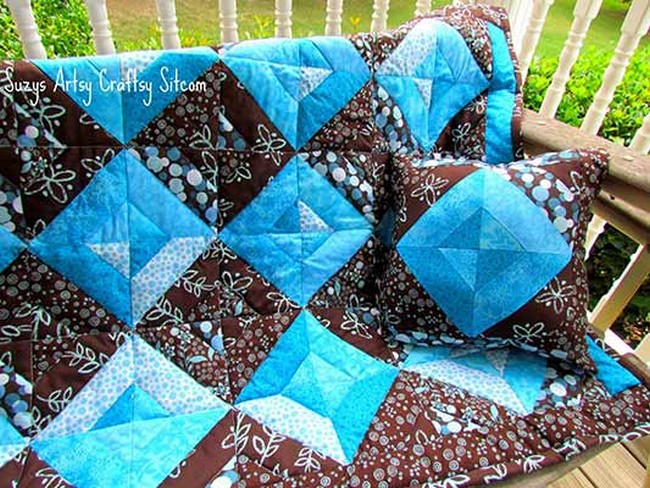 Summer jewels is a jelly roll quilt pattern that will keep you cozy no matter where you sit. This fast, easy-to-make quilt combines different colors and contrasts to create a subtly complex look. Celebrate the season with summer jewels. This quilt is fun and easy to make a bright cover for your sofa or chair. It's perfect for using up scraps of fabric and makes a great gift set with our matching pillow.
by Suzyssitcom
Striped Chevrons Quilt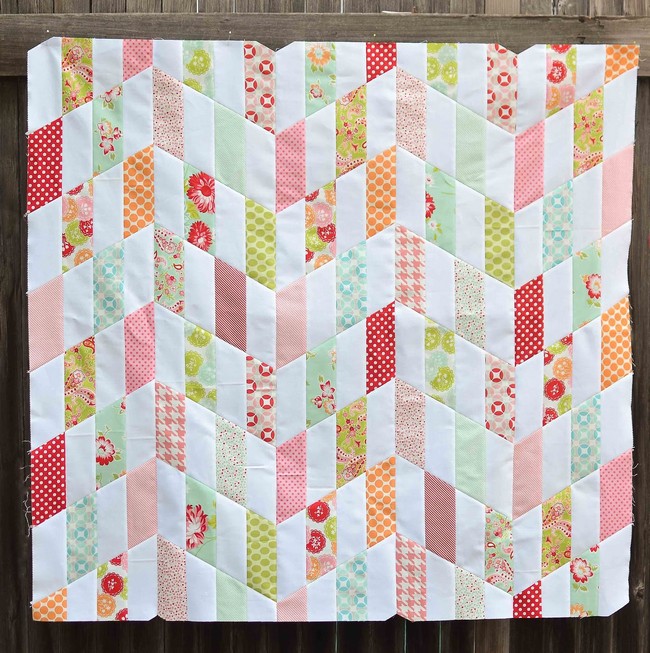 This quilt is perfect for a child's room or any other area in the house where you want to add some cheerful and colorful stripes to the furniture. It works with various fabrics and looks great in any color scheme. It also makes an excellent gift! The chevron stripes in this quilt look softer than usual and are perfect for bright rooms with bold colors that might overwhelm other quilts. You could make one as a baby gift or tribute to your favorite sports team!
Strip And Flip Baby Quilt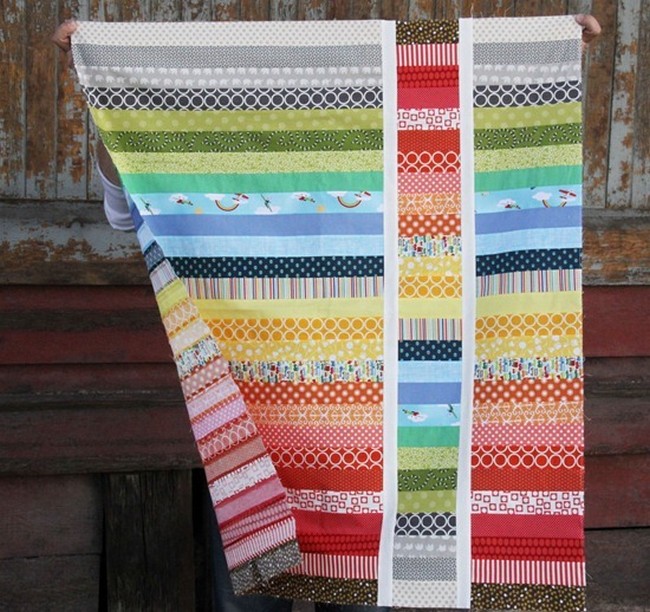 This baby quilt pattern is perfect for beginners and intermediate quilters alike. Adding a narrow column near the right edge gives this quilt some extra character. This quilt is a fantastic way to introduce more color and texture into your nursery. The fabric strips make an interesting pattern in a simple style, so it's easy to mix colors and fabrics that work together. This project also looks great in a neutral palette if you prefer a more minimalist-style room. The colors are bright and fun, but the quilt would still be appropriate as part of any room décor.
Playing The Scales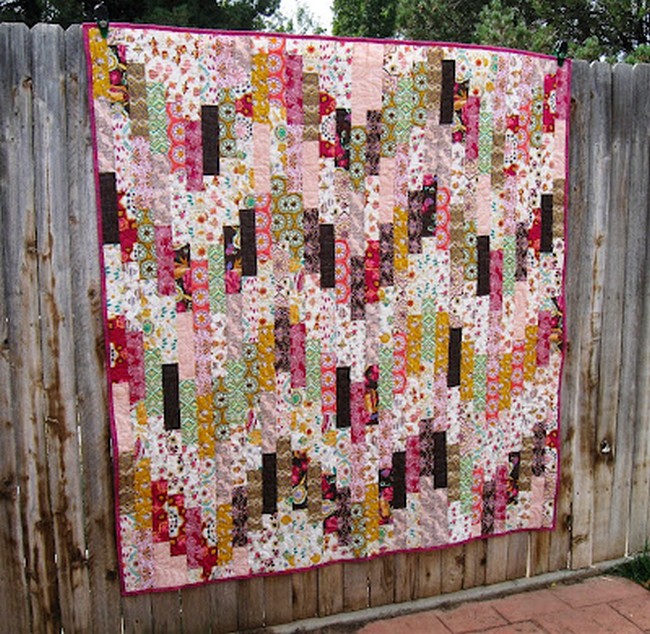 A colorful, fun, and modern quilt pattern. This is the perfect quilt to display on your wall as artwork or in your bedroom. Create a whole collection of quilts using different colors and fabrics you love. Combine the appeal of chevron stripes, jelly rolls, and piano keys into one whole. The Scales quilt pattern is a contemporary masterpiece. It combines the appeal of chevron stripes and jelly rolls with a piano key design to create a stunning whole. The colorful set has a black section resembling contrasting piano keys. The scale design also adds some dimensionality to the quilt, with each side being different in appearance.
Batik Jelly Roll Quilt Pattern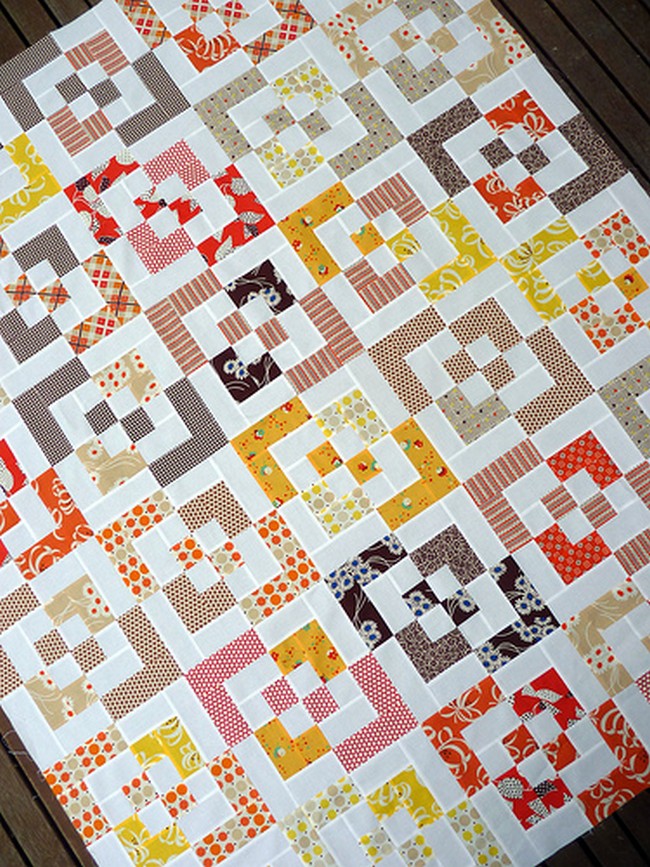 This quilt is so easy to make and looks great. And the best part? It's all straight stitching! Choose two fabric colors of your choice and see how quickly the design can be stitched together, resulting in a lovely quilt for any room in your home. Use your favorite fabrics that don't fray or unravel easily, such as cotton, flannel, calico, or even silk. The small squares look great when made out of contrasting fabrics too!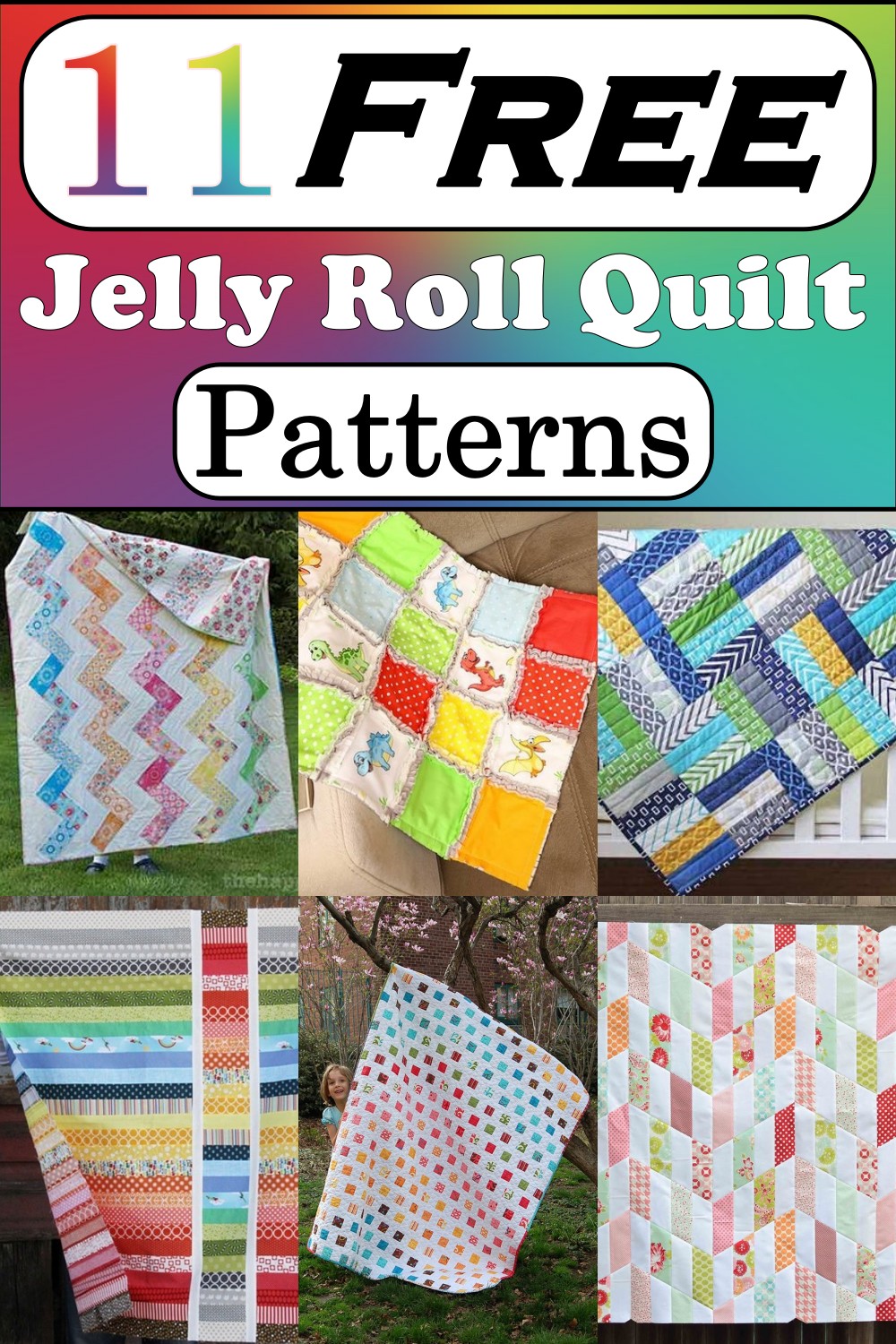 Cutting Corners
This is a very easy pattern, meaning you can finish quickly. It's the perfect project for stitching on a rainy day and turning it into a nice quilt by the end of the week. The size of the finished piece is rather small, so you can easily hang it or use it as decoration on your desk. And if you are short on time, you can make only one or two squares to add to some pillows or cushion covers!
Jelly Roll Jam Quilt
With a few jelly roll strips, you can make this fun quilt that alternates between vertical and horizontal rows of three colors. It's great for beginners or anyone who loves simple quilts. Sometimes it's nice to have a project break up your sewing time by making a quilt that doesn't take forever. This quilt works quickly and easily, as you can use strips from one jelly roll. But this pattern is more than just a quick, easy project—it makes an interesting play on colors as the rows rotate between horizontal and vertical stripes.
Happy Mochi Yum Yum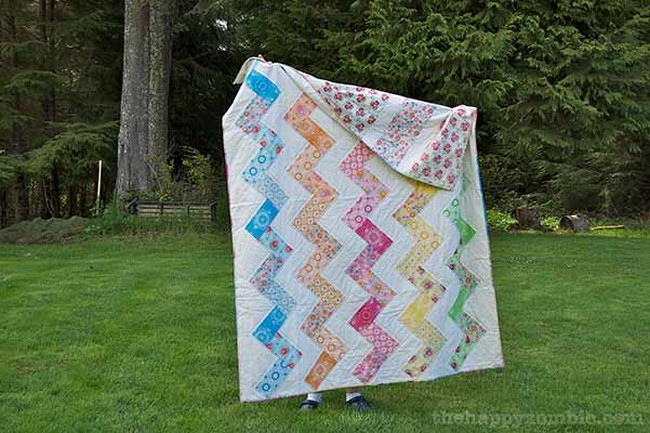 Have a blast making this cozy quilt. The strips are wide enough to be pieced quickly, and the pattern is easy for beginners. This quilt pattern is a modern take on traditional patchwork and can be created in any color scheme you love. Each chevron stripes design has its personality and shapes resting on a solid colored background. You'll love the chevron design and neutral color palette.
You can also see: Mini Quilt Patterns 
Modern Workshop Quilt
This is the perfect quilt to make for any home – it'll bring a sense of cheer and happiness to any household! The beautiful rainbow colors are something to behold, but the pure white blocks help keep the design from overwhelming your room. A pretty border rounds out this modern jelly roll quilt pattern, making it a unique gift that will be used in any space. The simple design uses a variety of squares and provides step-by-step instructions to create this bright and beautiful quilt. It would be the perfect addition to any space!
by Oliverands
Tropical Punch Quilt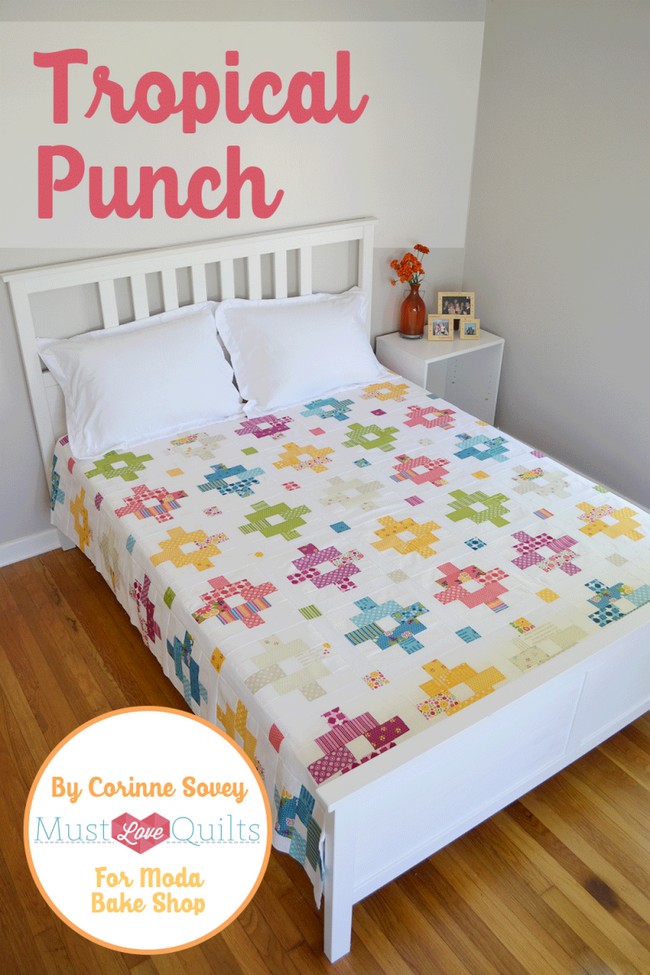 Tropical Punch is a new take on the classic chimney sweep quilt design. The characteristic shape is rotated to the right by 45 degrees, and the central cross is substituted by a simple square in the same color as the background. These new shapes form colorful rows separated by rows of identical shapes in white color, with central squares in various hues. Show off your vibrant personality with this fun quilt pattern that lets you turn a classic pattern into something new!
How to Make a Rag Quilt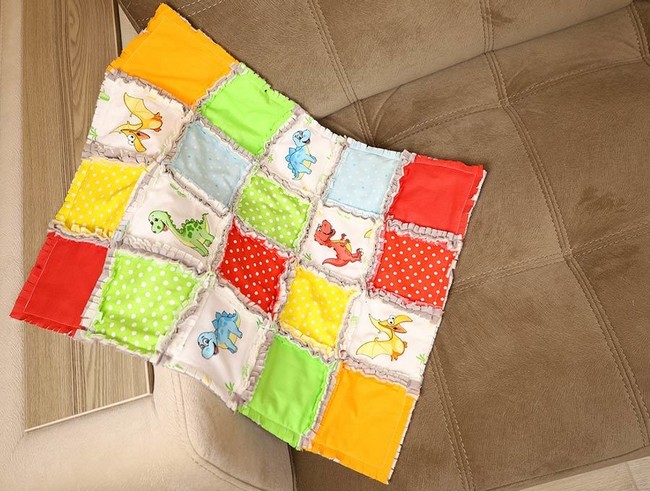 This baby quilt is a wonderful way to start a rag quilt project. You can make one for your little one or a friend with children. Nothing beats a soft, homemade quilt. This one is easy to make and perfect for children's toys or as a gift—take care when making the raggy edges so you don't cut yourself! This quilt is not your typical patchwork baby quilt.