A table runner is a beautiful way to add color and style to your table. Customize your table runner patterns with this easy-to-use software, or upload your own fabric! Add a personal touch to your kitchen or dining table with beautiful, handmade table runners. These patterns will make great gifts or decor items, too. These Table Runner Patterns feature several different table runners for all occasions. Choose from several colors and styles to create a beautiful and stylish table setting for your upcoming party or event. Each table runner pattern has easy-to-follow instructions, so you can start stitching immediately.
Free Table Runner Patterns for Every Season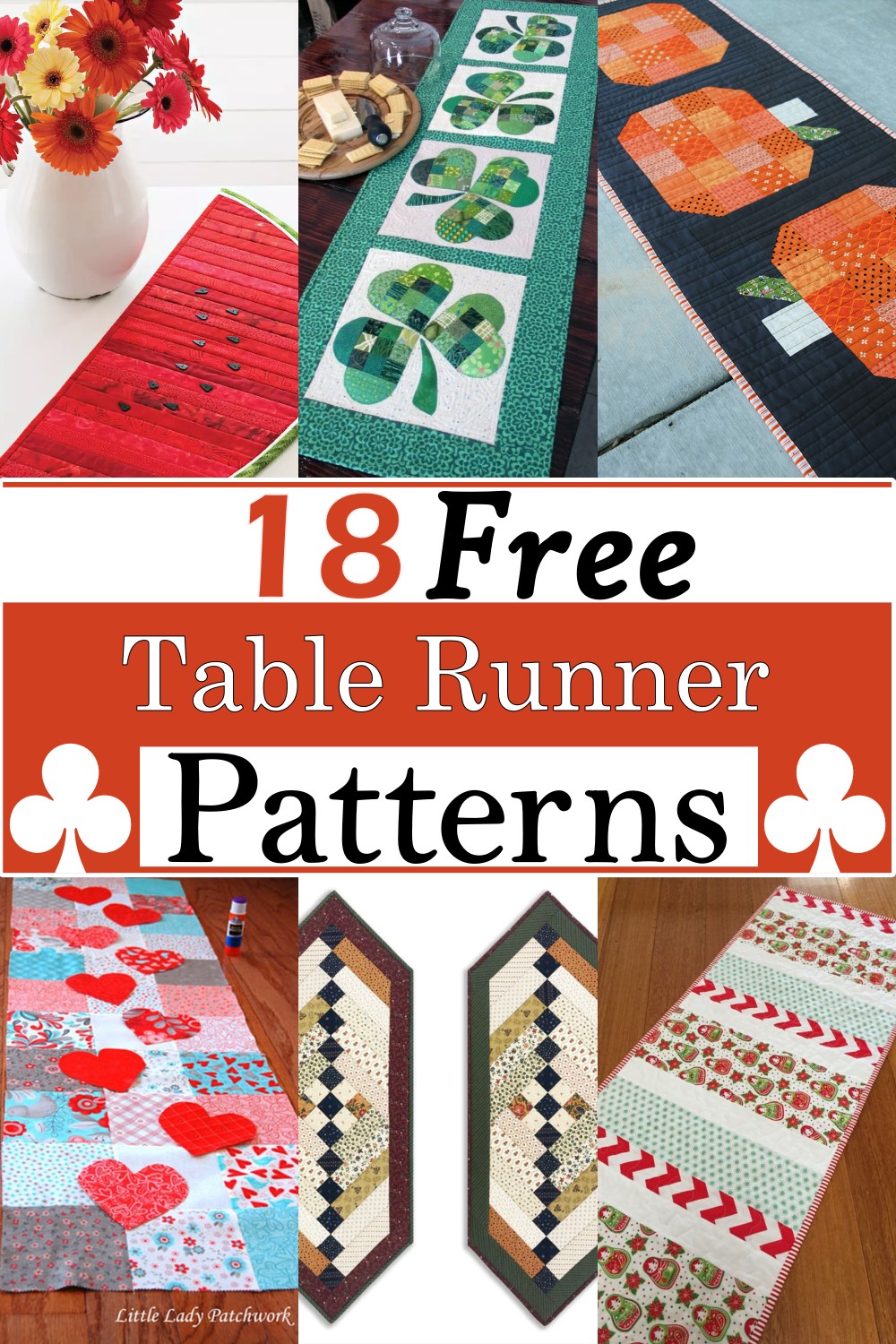 Create unique table runners with our easy-to-use patterns. Made from various fabrics and sizes, these table runner patterns are the perfect addition to your home decor. Add a pop of color to your table with one of our table runner patterns. This DIY is ideal for Valentine's Day or as a newly engaged couple's first piece of furniture. These table runner patterns are fun and easy to make, whether working with a small number of fabric scraps or on a larger scale. All of the table runners make great gifts for holidays and other occasions. Choose one and get started today!
These 18 free table runner patterns include sewing instructions for making classic and modern runners of all stripes!
You Can See: 19 Halloween Sewing Projects You Can Make Easily
Easy Christmas Table Runner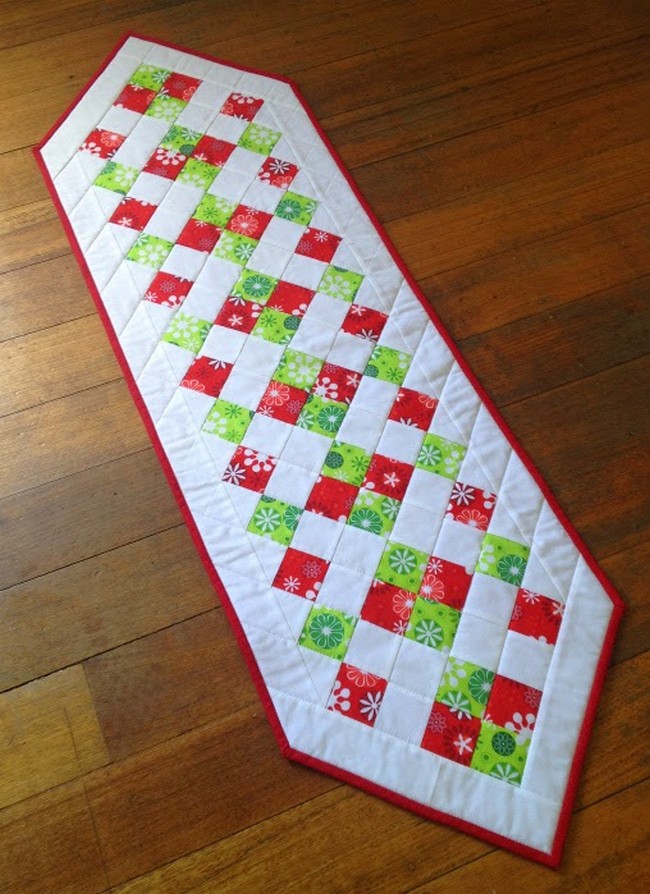 This Christmas Table Runner will improve your table's lively, colorful shape. Perfect for any occasion, this runner will freshen up any surface in no time! With this flowing, bright and festive table runner, your Christmas table is sure to be the talk of the town. It can be used for any occasion, from family gatherings during the holiday season to birthday parties. The elongated hexagon shape gives an elegant touch to your table, and the hexagons can be folded or unfolded according to your preference.
Merry Cheer Christmas Table Runner Pattern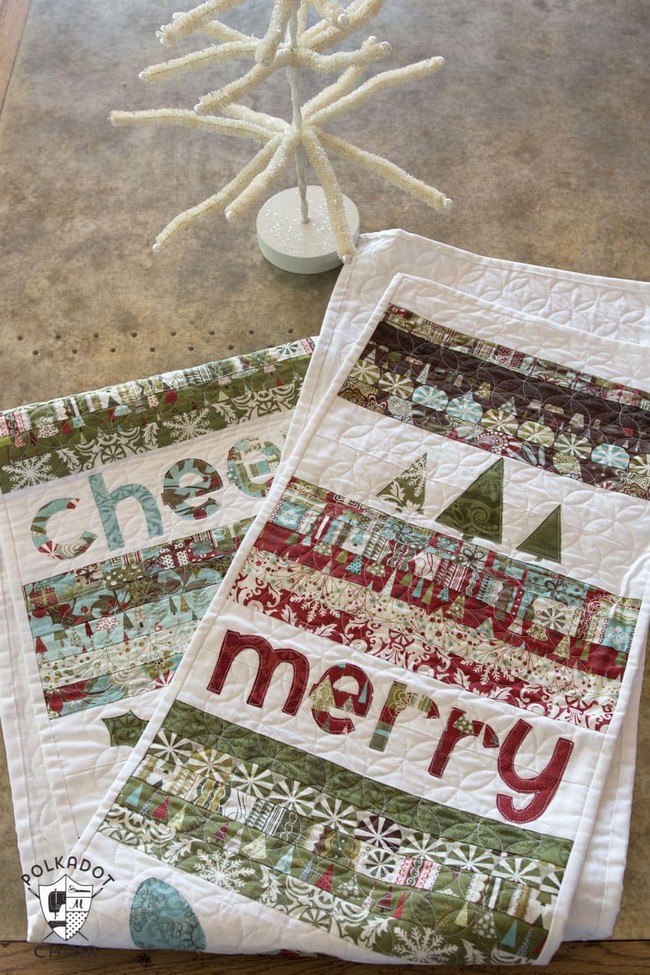 This Christmas Table Runner pattern is fun and straightforward, with all the delightful motifs of the holiday season. You will love how quickly it goes together and create a lovely table piece that adds to the magic of this season. Make several and use them together, or make just one fit in your available space. It's a fun take on the traditional Christmas stockings and is full of festive motifs like snowmen and reindeer. Use it as a place mat or table runner during the holiday season, or display it year-round in your home. Perfect for beginners and advanced stitchers alike, this pattern uses simple half-cross stitches to complete all of the motifs.
via Polkadotchair
Easy 1 Yd, 5 Minute Table Runner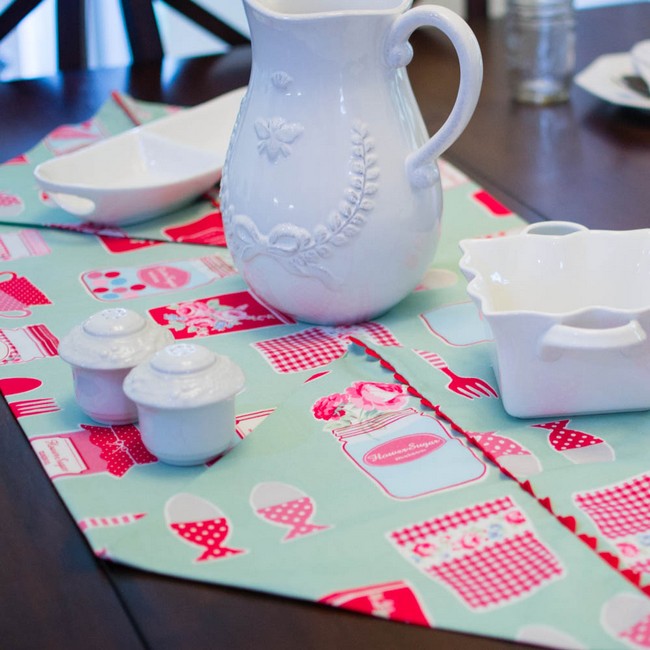 Are you a crafter who likes to decorate your table creatively but lacks time to do so? Then this runner is ideal for you! It is fast and easy to make, using only a yard of fine fabric and about five minutes of your time. The Easy 1 Yard, 5 Minute Table Runner is quick, simple, and impacts significantly. This table runner is perfect for instant decorating without much effort or time. It's stylish and versatile, too; you can use it on any table to match your decor style or mix it up for a fun new look! Don't forget about your friends and family! Make one for everybody at the table which enjoys some homemade touches every summer!
via Sewcanshe
Burlap Table Runner With Tassels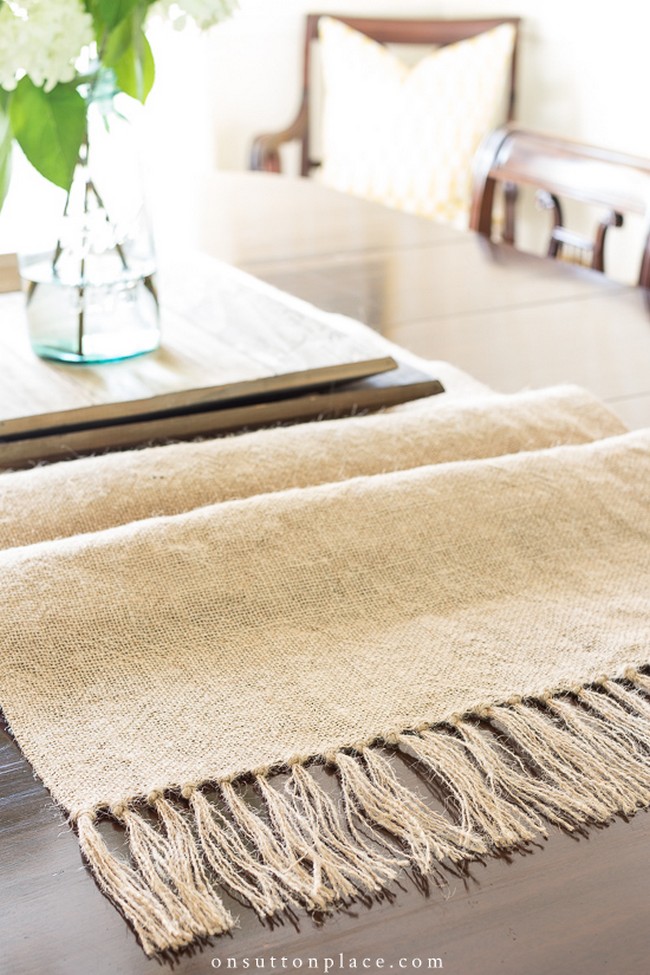 Check out this burlap table runner with tassels if you love farmhouse style! This burlap runner features a lovely scroll design and gorgeous tassels at each end. You won't need to fire up your sewing machine because this project is finished with fabric glue. This burlap table runner with tassels is a farmhouse-style decoration that communicates your love of country living. To make it, all you must do is glue fabric onto the burlap and add the tassels. You can even skip the glue if you're working with lightweight materials.
via Onsuttonplace
Valentine's Day Table Runner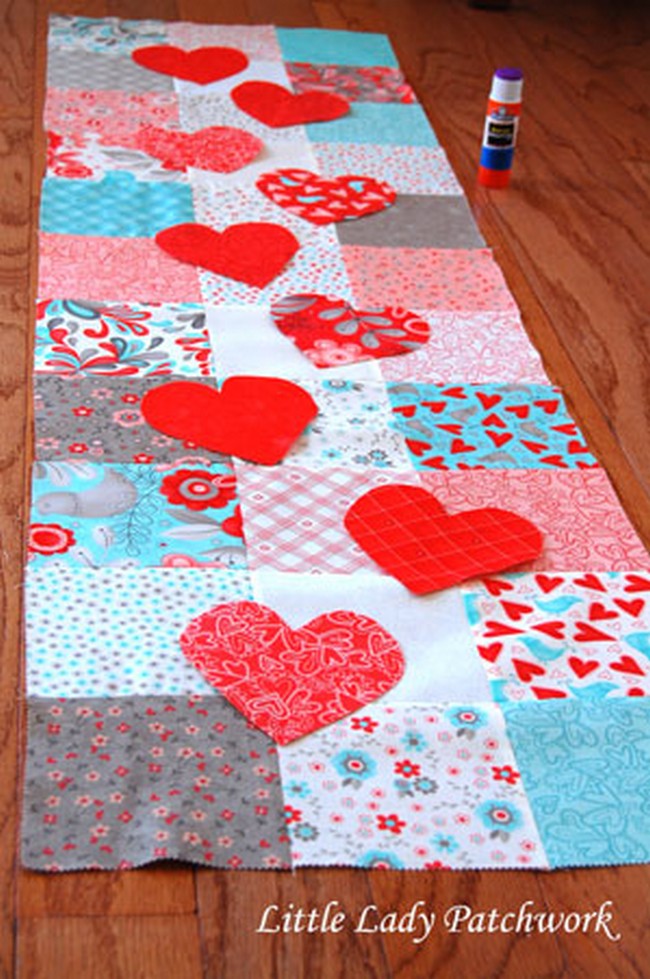 Show your love and how much you care with this Valentine's Day Table Runner. Enjoy the holiday season with your loved ones and give a great table setting with this Valentine's Day Table Runner. This lightweight and soft material add style to any occasion, including outdoor picnics and dinner. This runner will add extra love to any special event, perfect for a romantic dinner or snuggling up by the fireplace on a cold winter night. This delightful runner can be used as a centerpiece plate or simply as a decorative piece to your table décor.
Jelly Roll Table Runner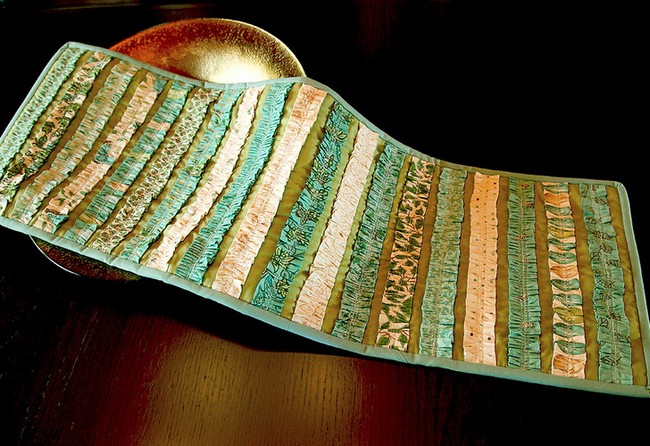 This jelly roll table runner is perfect if you want to shake up your sewing with a new pattern and fun technique. It's made with a unique fabric that starts as a long continuous strip rather than several separate pieces sewn together. It also has an irregular border that distinguishes it from all your other table runners. This table runner is ideal for showcasing your favorite jelly roll piece. The finished runner will be about 16×54" and feature ruffles along each edge. It will be one of your warmer, fuzzier friends from the moment you pick up your fabric!
via Sew4home
Shamrock Table Runner For St.patrik's Day
If you're looking for a way to bring the luck of the Irish to your dining table, look no further than this St.Patricks Day Table Runner. This green runner is the perfect addition to your holiday gathering and will bring a festive touch to any meal. This rectangular runner will feature three green shamrock patterns and add a festive touch to your dining room or buffet table. This rectangular green table runner with three shamrocks is cute and modern, fits almost any table size, and is suitable to use all year round!
via WeAllSew
Candy Stripes Table Runner For Christmas
This fantastic piece is a perfect addition to your holiday table. The colorful candy cane stripes, red and green plush fabric and festive holiday motifs make it a must-have for your holiday table. This table runner features a candy cane stripe pattern that will add a festive touch to any occasion. Perfect for Christmas gatherings and celebrations, it's covered with various classic Christmas designs, including Santas, mittens, and trees. This runner is also easy to care for, so you can enjoy it for years. Make sure you're ready for the holidays by picking up a few today!
via SewDelicious
Jingle Jolly Table Runner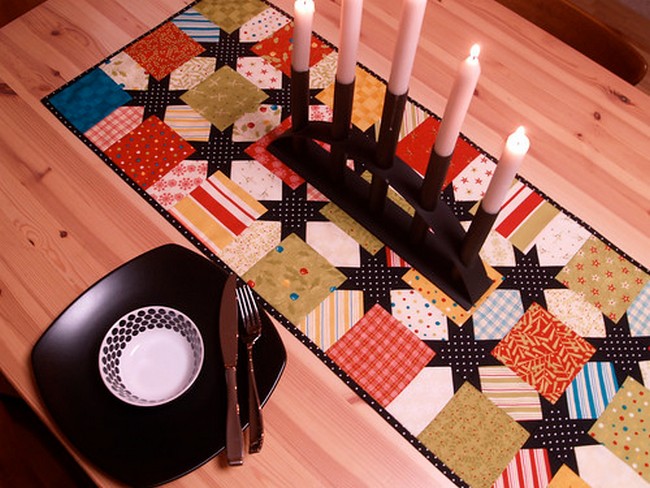 Bring a jingle to your table with this festive quilted table runner! This runner will feature layers of colorful shapes and embroidered details and add a touch of fun for any occasion. Use it year-round or during the holiday season to add sparkle to your home. This runner is perfect for setting a festive mood, especially around the holidays. It's also an excellent complement for any table that has a modern setting. The colorful jingle bells make it the perfect addition to your winter holidays or any special occasion such as baby showers or bridal showers!
via TheHappyZombie
Easy Strips Quilt Table Runner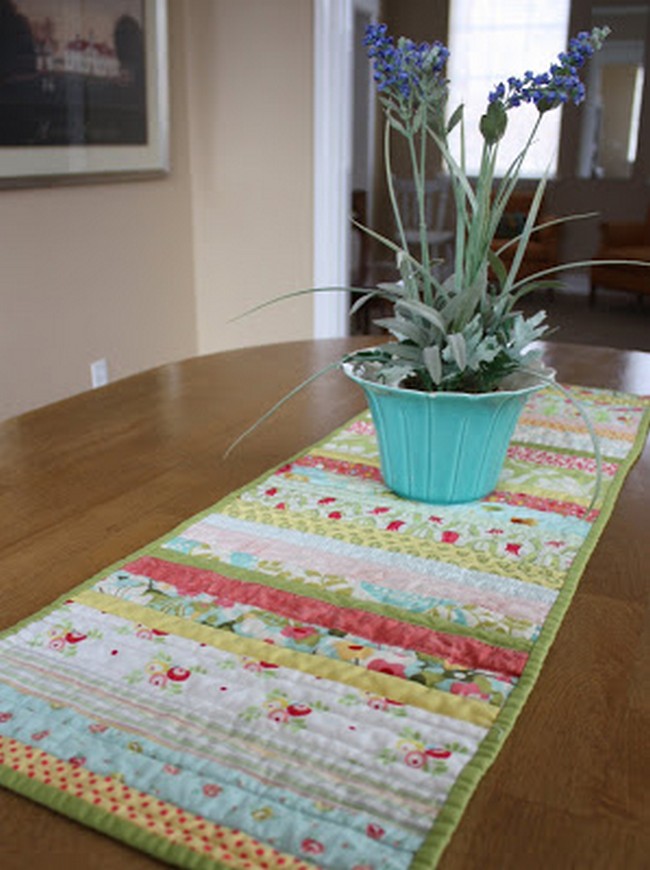 Are you looking for the perfect table runner for your next event? This Strips Quilt Table Runner is a simple, modern way to add a pop of color to any occasion. This table runner is made from a comprehensive, colorful fabric base and features adorable fabric strips with colorful designs sewn together to form the strap. It will look terrific on any table and make a statement in your kitchen or dining room. It is elegant, colorful, and modern. The bright colors are ideal for summer dining or a stylish Christmas celebration. With one long edge and three short edges, this quilt table runner can be laid across the length of your table at home or out on the town. So versatile!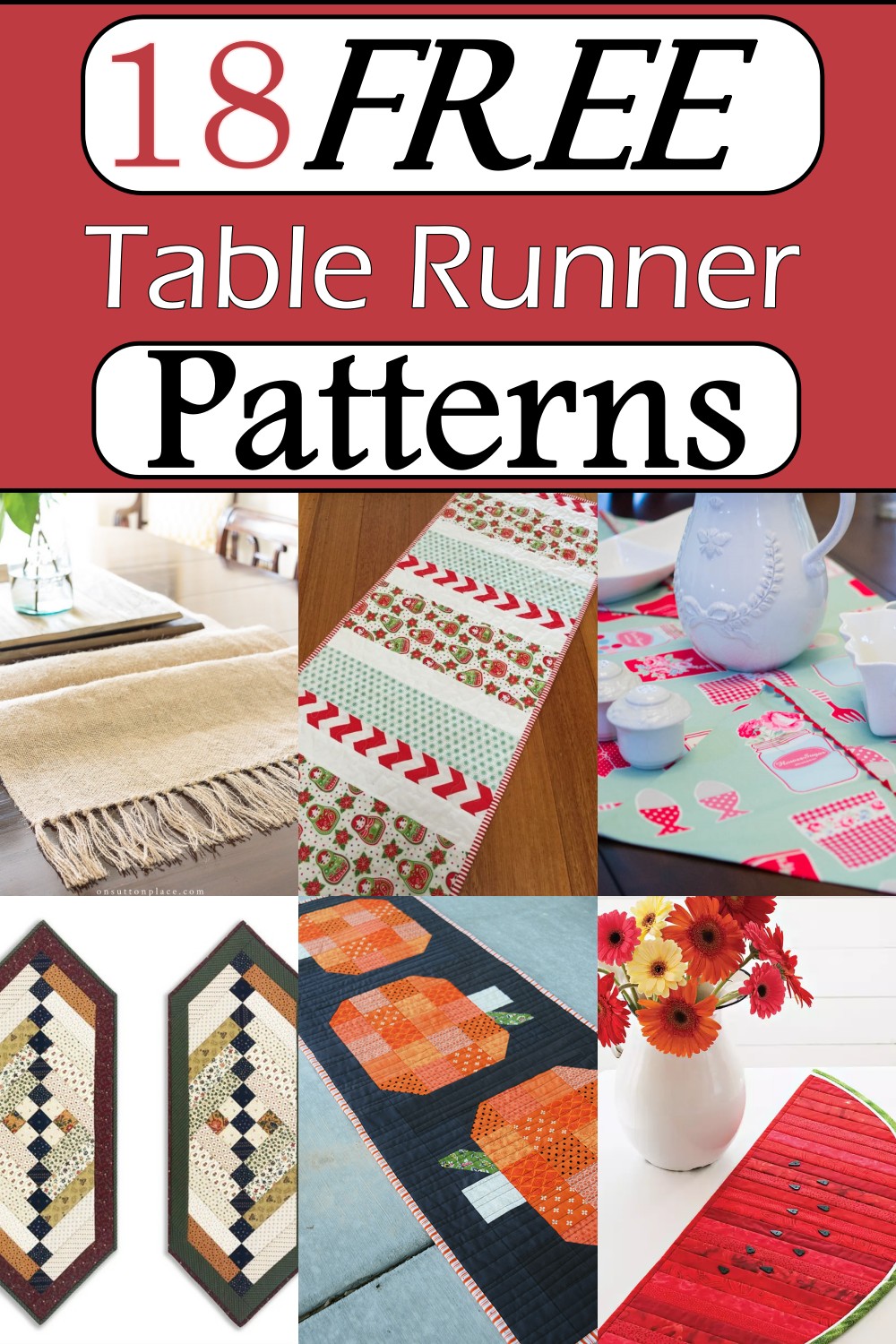 Summertime Table Runner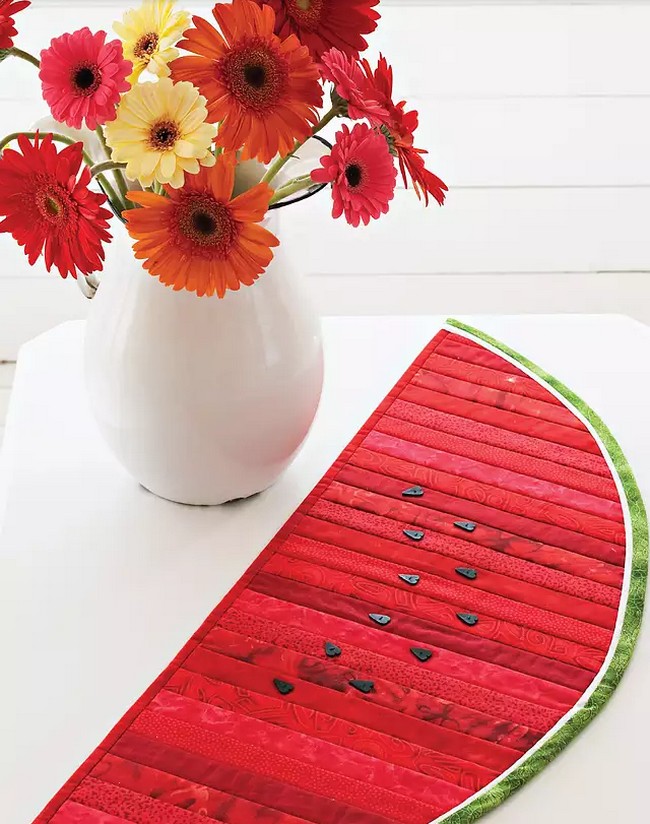 Does your home require a wee bit of summer right now? This adorable table runner will bring the spirit of summer into your dining room all year long! Made to look exactly like a watermelon slice, complete with seeds and everything! It's so realistic that you'll need to warn your guests not to try to eat it! Bring the beach to your dining room with this watermelon slice table runner! Complete with even the seeds, this piece is so realistic that you may need to warn your guests not to take a bite! Finished with the roots, it looks so real that you'll need to remind your guests not to eat it! It's an adorable and colorful accent piece that will bring the warm weather into any room, even during frigid winter!
via AllPeopleQuilt
Mr.frosty Table Runner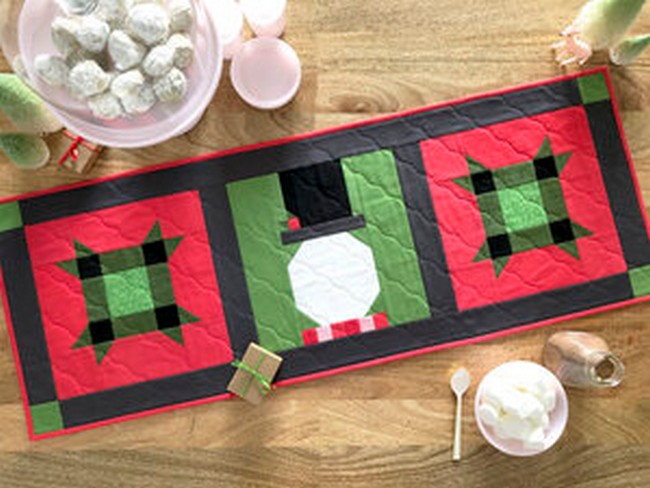 Your table will be all decked out for Christmas with this Mr. Frosty table runner! The Mr. Frosty pattern is fantastic; it's one of our most popular motifs. And if you didn't think you could use a rectangular table runner, wait until you see how this one works. Combine that with a combination of red and green squares in the backing, and you've got an excellent holiday runner that will make your holiday table pop! It features a modern motif that works beautifully with traditional decorations and would add an original touch to any holiday decorating.
Tree Trunk Christmas table runner
Give your table a natural Christmas touch with these tree trunks! This Christmas tree table runner adds some holiday spirit to your dining table. Made of durable polyester fabric, it can be reused year after year. A great decorative piece for your table during the holiday season, it comes in various colors and with multiple motifs. The white base will place the winter idyll onto your table in seconds! This is the perfect runner to dress up your holiday table! This festive design features Christmas trees on a white base. It's easy to create but very effective in adding a unique atmosphere to your holiday get-togethers. Plus, it makes an attractive decoration throughout the year!
via MissouriStarQuiltingCompany
Friendship Braid Table Runner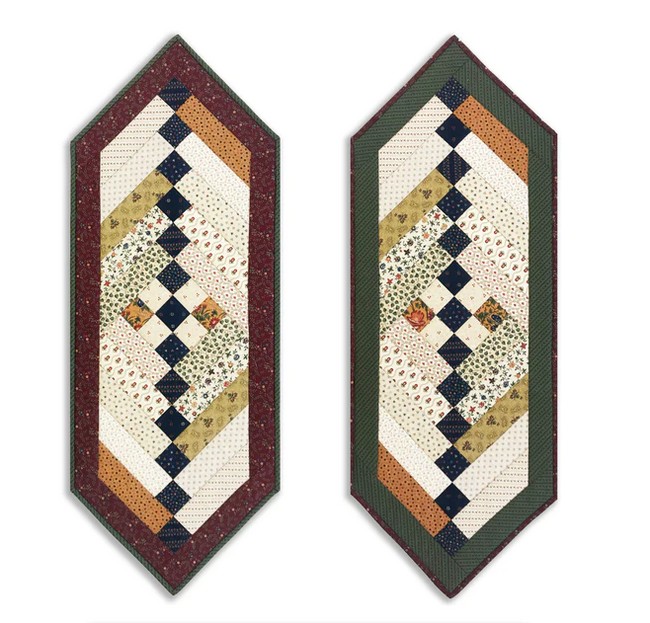 This Friendship Braid Table Runner uses a lovely pattern of friendship braids to make a table accent. The colors are fun and easy to work with, and the project is quick to make - even for a beginning quilter. As with all fabric crafts, this quilt does not require sewing; layer and sew the pre-cut fabrics together. Add matching or complementary colors for a nice look. This table runner uses the same braid style but on a smaller scale, making it perfect for any table setting. The braids are long enough to cover the surface of your table while still leaving room for dishes and glasses.
via JordanFabrics
Hexagon Table Runner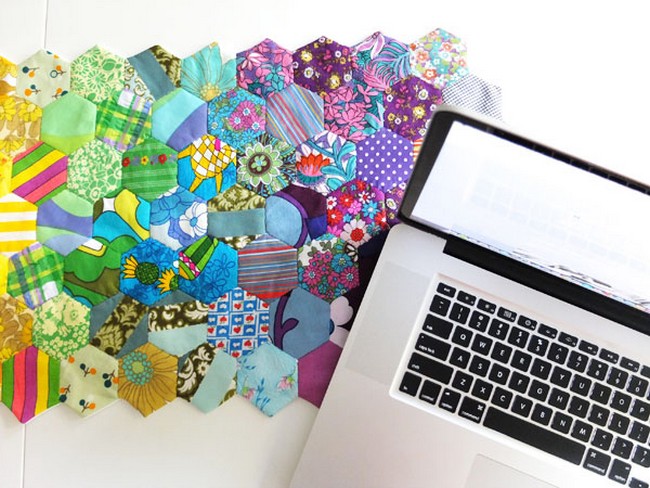 This table runner is so beautiful and looks like it took so much work. But don't worry; this tutorial will ensure that sewing is at an ideal pace for you, and you can also modify it to suit your needs! This unique table runner tutorial uses small hexagon pieces of fabric sewn together to form a long and beautiful hexagonal table runner. It looks even more beautiful when different fabric colors are used to achieve the rainbow effect. The extra effort is worth it because the final result looks fantastic. Just keep in mind that you will need a little patience and skill.
via MyPoppet
Easter Quilted Table Runner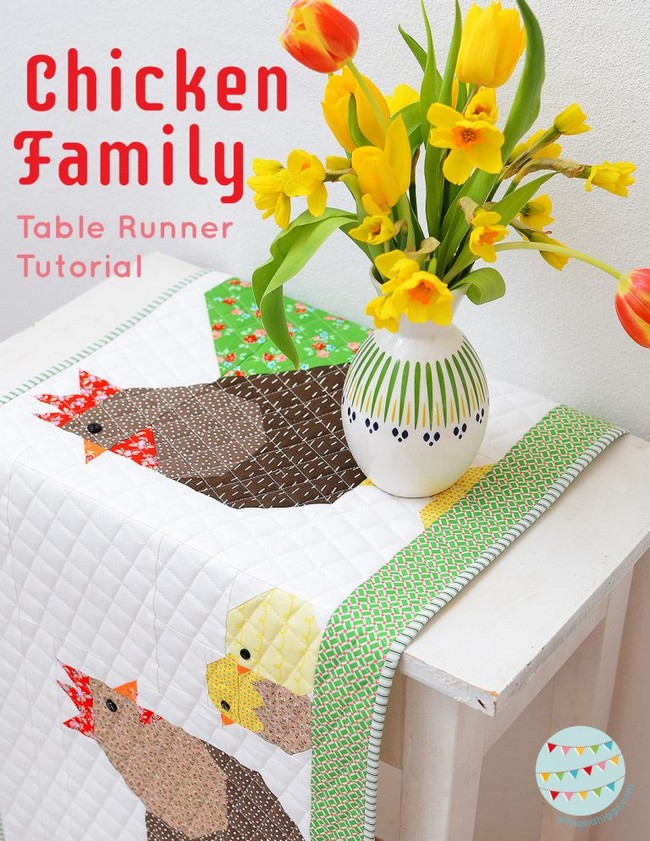 Make your Easter table festive and unique with this fun quilted table runner. It has a beautiful design, rectangular in shape, and will make your effort pay off. With this quilted table runner project, you can add a new touch of color to your home. This product is a must-have for spring gatherings! It has a beautiful design and is very easy to make. Make it with cutting-edge technology and make your family meals memorable this winter! This would make an ideal gift for a loved one or friend who loves quilting and crafting or just someone who appreciates beautiful things!
Pumpkin Table Runner
Pumpkin fans enjoy this black and orange runner with its three adorable pumpkins. Use it all year long, or hang it on your front door in the fall. Set a festive table with this delightful Pumpkin Table Runner. Featuring three adorable pumpkins, this black runner will add an autumnal touch to any holiday feast. This rectangular table runner receives its name from the three pumpkins across its length. The fabric is black, but the traditional orange color of a pumpkin is used for these adorable little decals. This runner could be used for Thanksgiving or Halloween decorating-- either way, it will make your table look great!
No Sew Geometric Table Runner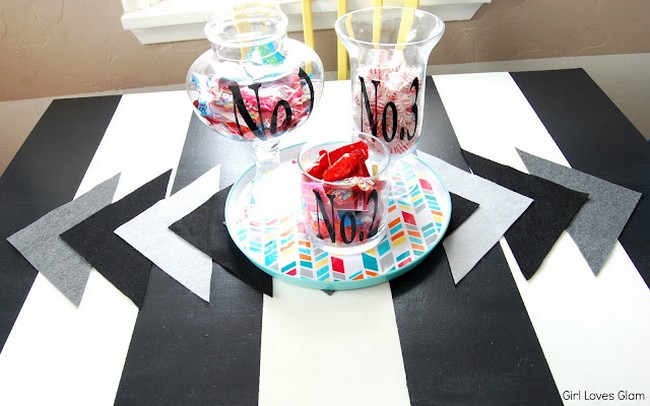 Create your own table runner with no sewing and minimal waste. Using only fabric, you'll create a modern geometric look that's sure to impress. You can add a silk accent stripe in one of our favorite colors and make it pop! This geometric runner is made with no sewing required! The simple, modern design will add a touch of class to any kitchen, dining table, or coffee table. This rectangular geometric table runner is perfect for anyone looking to add some pizzazz to their home without adding a lot of clutter. The rhombuses make a bold statement, while the triangular designs add the perfect amount of elegance. It's an easy way to bring your decor up to date!