Summer is almost here! It's time to think about being outdoors, in the sun, and wearing as little clothing as socially acceptable. Why not do so in style? We've collected some unique and free summer dress patterns that will make your time outdoors more comfortable and stylish. Some of them are casual, ideal for the beach or the park; others are a bit fancier, perfect for festivals or concerts. They're all easy to sew, and they're all free (or pay-what-you-want). Whether you want to look elegant or smart, there's something for you here.
Free Summer Dress Patterns For Women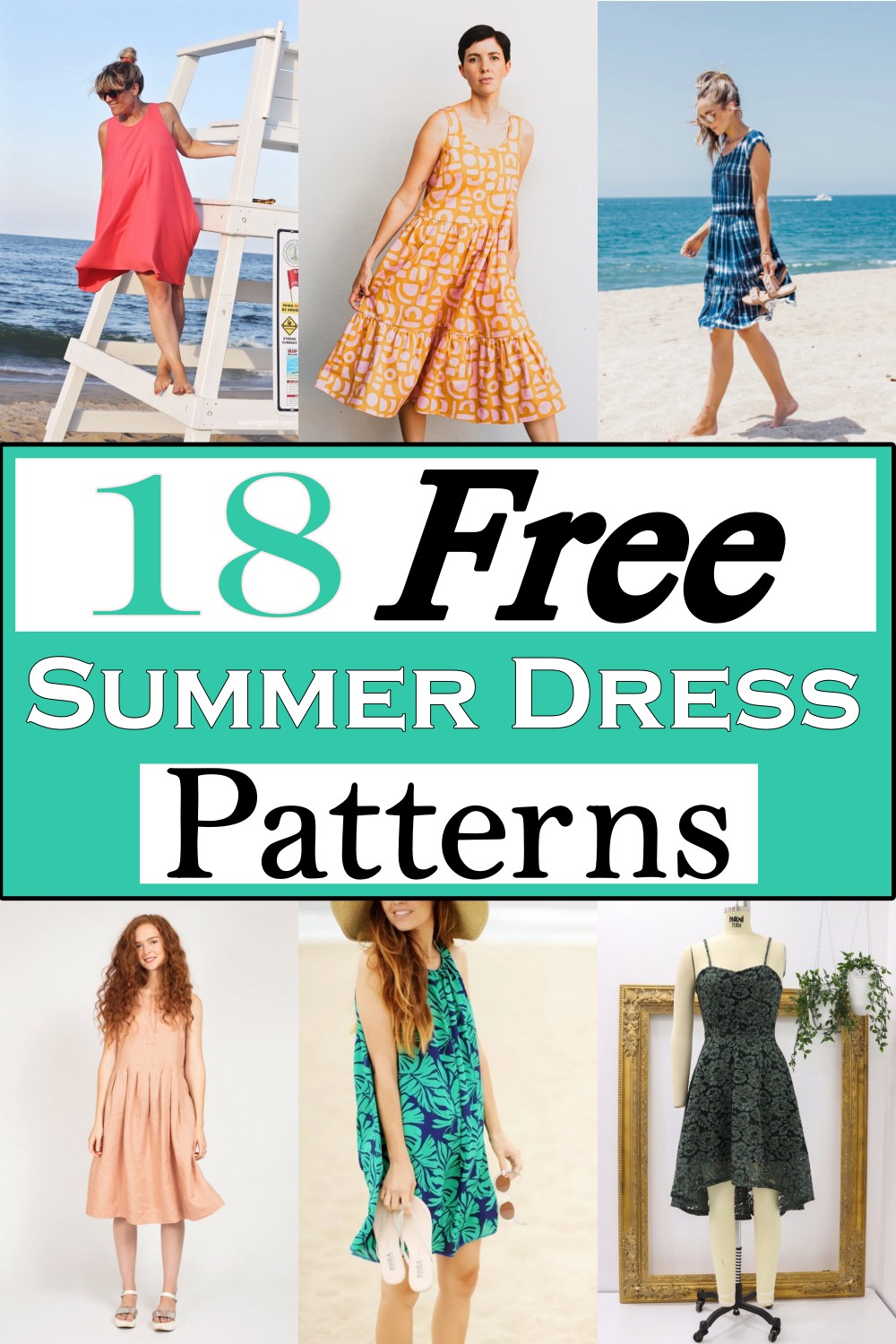 Summer dress patterns need not cost much, and with these eighteen free summer dress patterns, you'll be able to find one that suits your style and fits comfortably. Most of these are for women, but a few would work well for kids as well. Many styles require only a few yards of fabric and some basic sewing supplies, so these do great projects for beginners who want to learn how to sew or those looking for an excuse to try out a new hobby or start fresh with everything they need. Good luck with all your summer dress endeavors!
Here is a collection of 18 Free Summer Dress Patterns, which will boost your creativity and help you follow your heart and make the best out of your free time.
You Can See: 28 Cute And Easy Sewing Projects
Make a t-shirt Dress
Make your T-shirt dress and make a fashion statement. If you feel bold, try a new design or create a pattern showing your personality. Choose a T-shirt, add a few embellishments and make it your own! Great gifts too! The secret to a perfect summer day? The ideal go-to for when you want to look stylish but don't want to change another outfit. It's comfy, flattering, and oh so easy to make! Trust, this easy T-shirt dress is the way to go.
Trapeze Tank Dress
Lose yourself in this fabulous trapeze dress pattern's relaxed fit and effortless elegance. It's a fun and flirty take on the swing dress, with loads of flow and movement while remaining appropriate for everyday wear. This classic style is made from soft knits and offers plenty of comfort and versatility in everyday wear. Add an extra layer or two when going out in chilly temperatures – the trapeze tank dress is perfect for working comfortably into your wardrobe. This simple Summer dress is easy to make and will be your go-to piece this Summer.
by Mesewcrazy
Pleated Beach Dress Pattern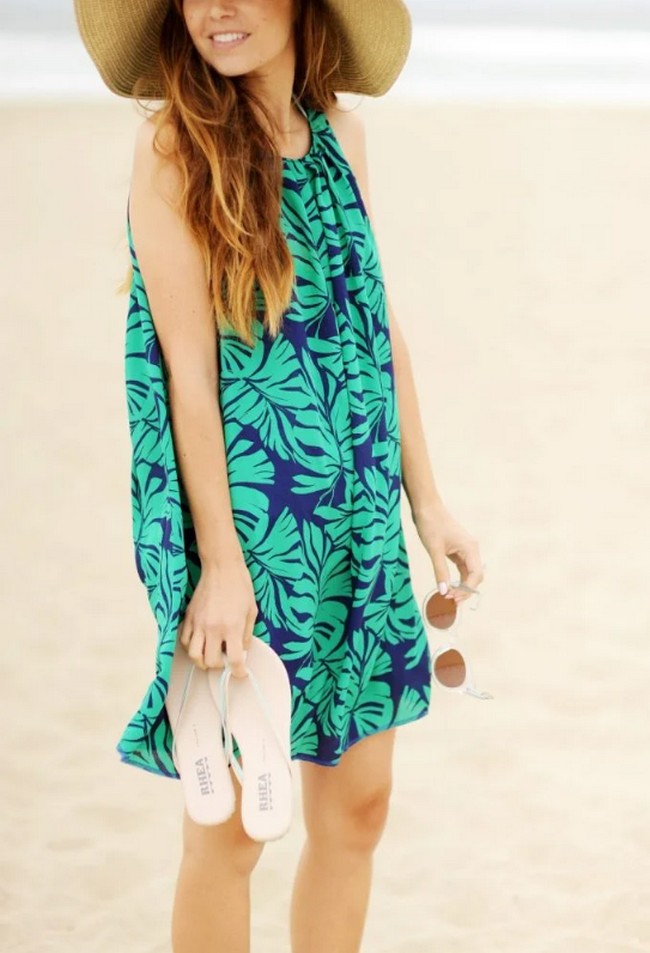 Make your own Pleated Beach Dress Pattern, which you can easily alter to fit your ideal length. The center seam gives it a defined waist, while the pleats allow you to make the skirt as full or narrow as you like. This pleated dress pattern is one of the easiest patterns to sew! Make yourself a beautiful summer dress in no time, then use it as a beach cover-up when you're done with your day at the beach. You'll end up with a wardrobe staple you can wear all summer.
by Merricksart
Pleated Summer Dress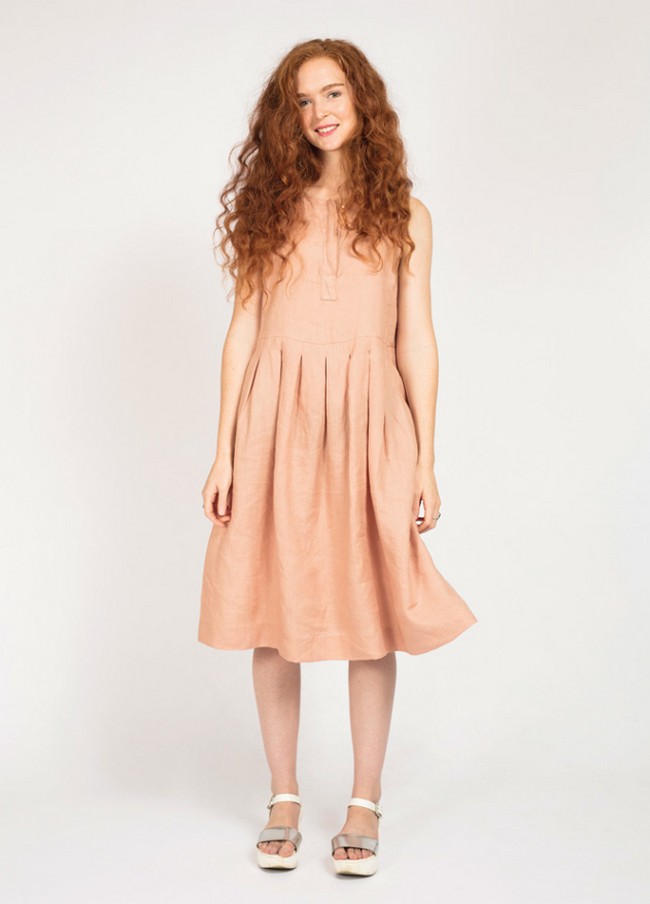 This easy-to-make dress keeps your wardrobe chic, modern, and effortlessly unique. It's the perfect summertime staple. Make it from linen (lightweight fabric breathable in warm weather) or cotton (intensely soft and absorbent) with a gathered skirt and ruffled sleeves. The gathered details are accented with the perfect amount of lace ruffle detail on both sides of the hemline, adding an unexpected dimension to this classic silhouette. This easy-to-sew pattern is in different sizes and is available for free! Add your choice of fabric and jump into those pleats with both feet.
Sleeveless Summer Dress Pattern Bardon
Pattern making is fun, fast, and easy! All you need is paper and pencil, then follow this step by step instructions to create this beautiful free pattern for yourself. It has a summer-friendly sleeveless bodice, snazzy gathered ties, and the absolute feature, pockets (hurrah!). The style looks good on everyone! This classic style looks great on everyone and is the perfect addition to your summer wardrobe. Wear it with flats and a crossbody bag for a day in the park, or dress it up for a night on the tiles! Grab your fabric and start sewing!
Faux Wrap Dress
The Faux Wrap Dress is a simple design you can make in a day or even less. It's the perfect beginner project: relax and measure yourself, cut some fabric and sew it all together; no stress or fuss, just a beautiful dress! Make your dress with exquisite attention to detail. With these simple, easy-to-follow steps and simple techniques, you can create a perfectly fitted dress that's uniquely yours. This pattern will have you strutting in style in no time!
by Leannebarlow
Frayed Denim Sundress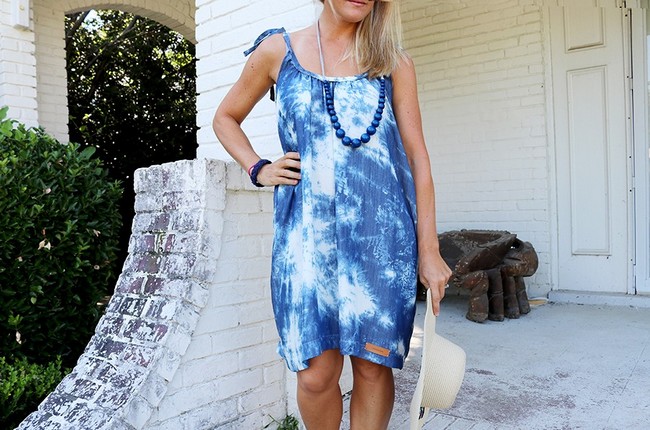 Cut and sew the pieces of your denim sundress with this pattern. The detailed instructions will guide you through cutting out and sewing your sundress, while the illustrations show you how to assemble the entire piece. So whether you are a newb to draping and sewing or a seasoned veteran, this project is truly for everyone! It has a tie-neck detail which adds a nice touch to an already comfy dress. The dress will hit right above your knee and expose your pretty arms. The ruffled bottom adds a girly touch that is perfect for summer!
by Mesewcrazy
Tie Dye Cap Sleeve Tiered Dress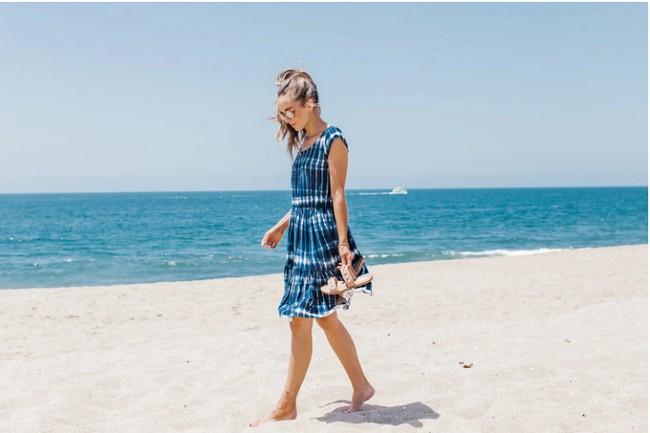 Make your own Tie Dye Cap Sleeve Tiered Dress! This easy-to-make dress is perfect for a first tie-dye project. The dress is so comfortable, soft, and lightweight. Because of their loose fit, they are great for layering in colder weather. It features a draped tiered skirt for added volume and a simple neckline that makes it perfect for layering. You will surely love this unique look with tie-dye maxi dresses.
by Merricksart
Off Shoulder Dress With Ruffles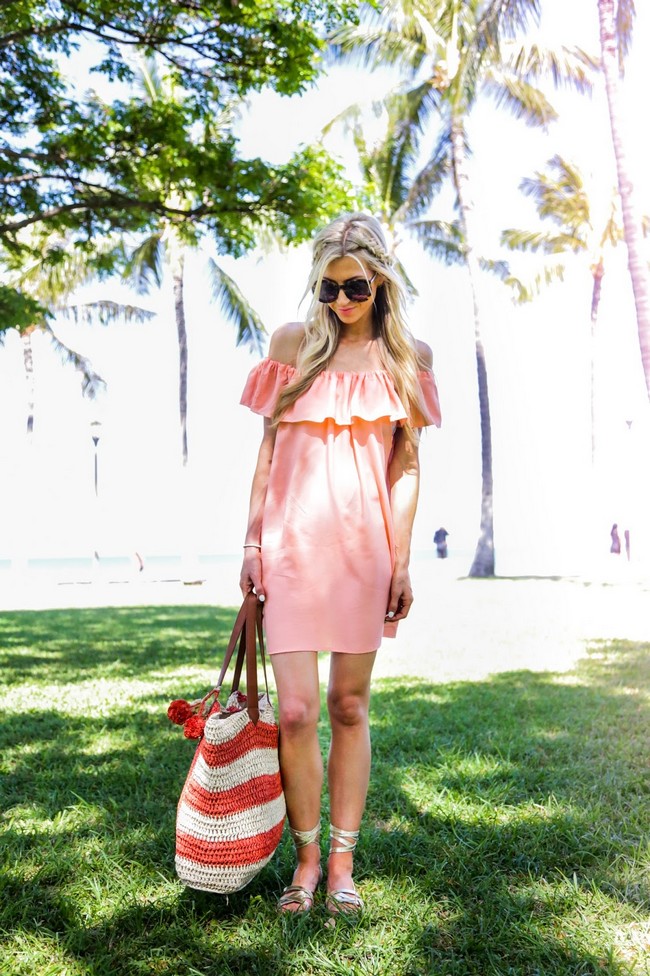 Follow this easy tutorial to make your off-shoulder dress with ruffles. It's a great addition to your wardrobe and super versatile. Sew it as loose or tight as you want, or even lengthen or shorten it. With this easy-to-follow Off Shoulder Dress pattern, you'll learn how to make a lovely dress in your size. With this pattern, you can choose whether to wear it as an off-shoulder dress or keep it low cut like a halter top. This is a fun project that you'll enjoy making and wearing.
by Leannebarlow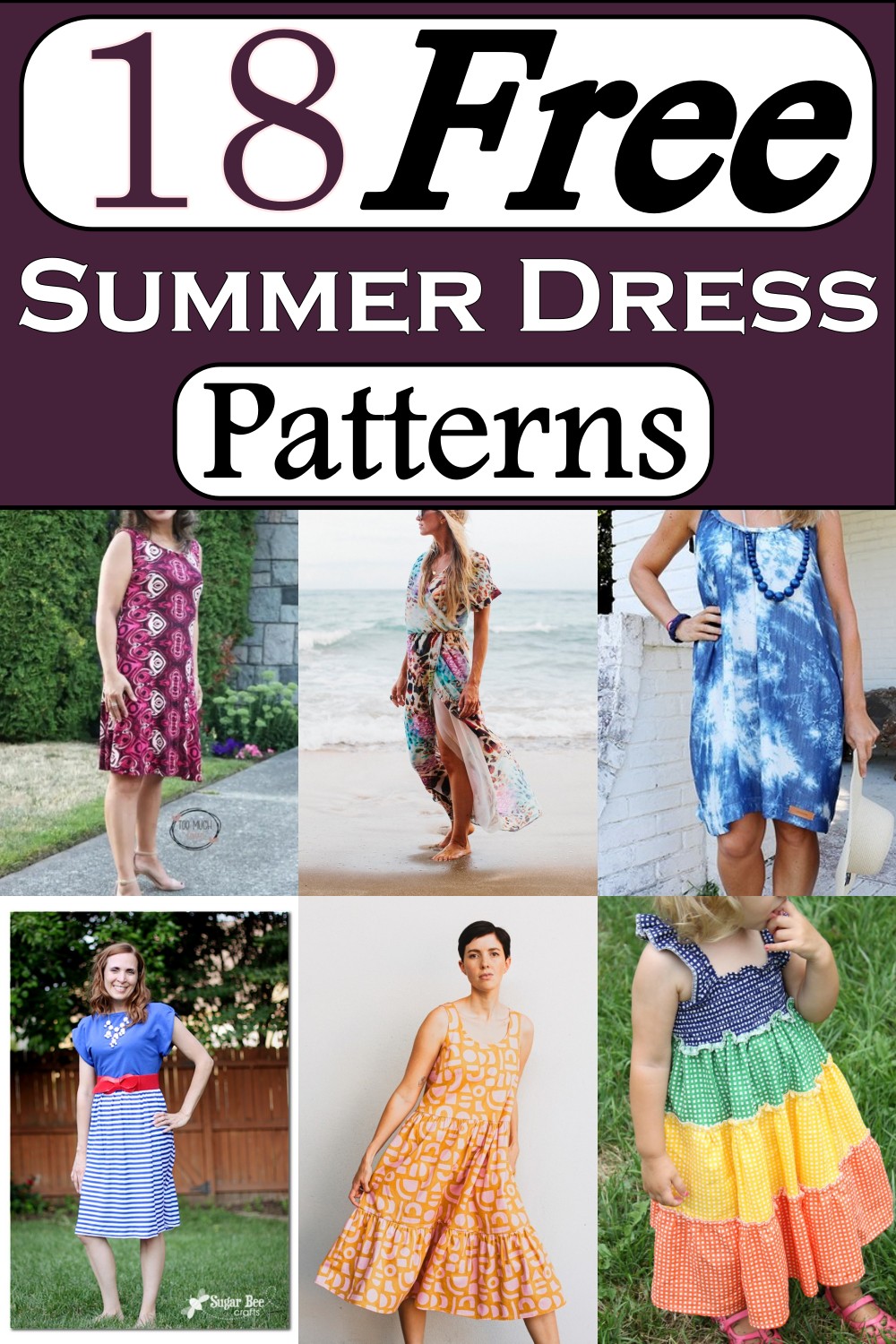 Patriotic Sundress
This Make Your Patriotic Sundress is perfect for a day on the beach or having an Independence Day picnic at home. Pick between a dolman-sleeved or classic fit-and-flare style, then add your personal touch with the array of fabrics already in this collection of patriotic patterns and fabrics. With bent-seam construction and classic dolman or fit-and-flare sleeves, the style options are endless! The basic pattern pieces are perfect for beginners who want to learn some new techniques with minimal fuss.
Romantic Ruffle Maxi Dress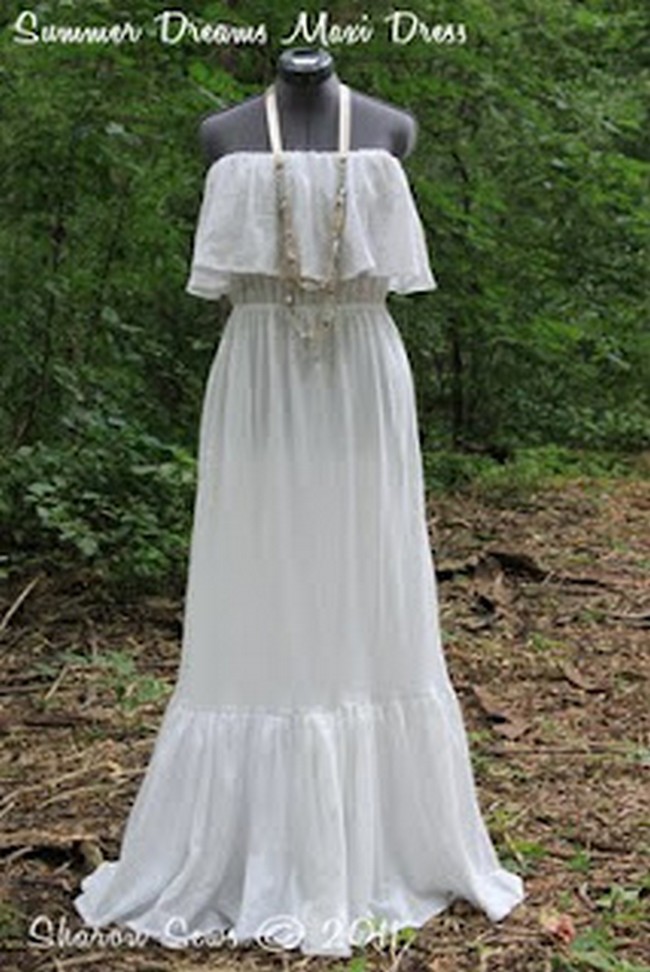 The romantic Ruffle Maxi Dress is a great Independence Day Dress! If you love the idea of making your summer dress but don't have time to sew one from scratch, this is the pattern you can use. This romantic little number will turn heads whenever you step out in it. With the cutest little ruffled detail at the waist and a strapless finish, this dress will be your go-to for those hot summer days. Crafted with lightweight fabric perfect for everyday wear, this dress will become your new favorite item in your closet.
by Sharonsews
Scarves To Maxi Dress
Summer is here, and the challenge of finding the perfect dress. Get ready to make your own with this sew-in-a-day DIY tutorial! This is a great way to reuse nice scarves that are just dressing your door knob or somewhere else useless. Gather up three scarves, fold and sew the long sides together and add some straps - done! These are easy to make, and you can customize the design with whatever colors and fabrics you like.
by Sewpetitegal
Easy T-shirt Summer Dress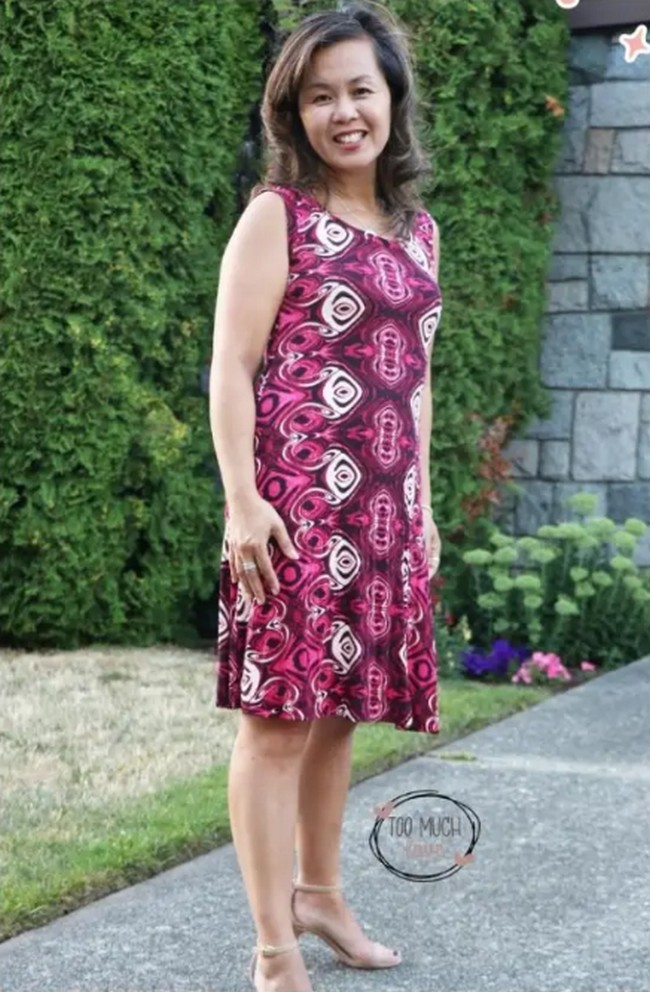 Making a t-shirt dress is one of the easiest garments to sew, but they make some fun summer sewing projects. When you're looking for a simple craft project, this t-shirt summer dress is an easy thing to try. You will not have to spend much on something you can make yourself! You have to cut out your fabric pieces according to the sizes given in the instructions and then sew along the black lines on your pattern pieces. The fit is casual and breezy, a must in hot weather!
by Toomuchlove
Vintage Gathered Bust Slip Dress
This classic Vintage Gathered Bust Slip Dress will surely be a hit at your next event. The perfect style for any occasion, whether it's a special night out or a day at the office, this dress is elegant and flattering. Whip up this cute vintage slip dress from your favorite fabric in just an hour! This easy step-by-step video tutorial teaches how to make this modern take on a retro slip dress. With these simple steps and a few tips, you'll be able to create your unique piece of clothing.
Hi-Low Summer Dress Pattern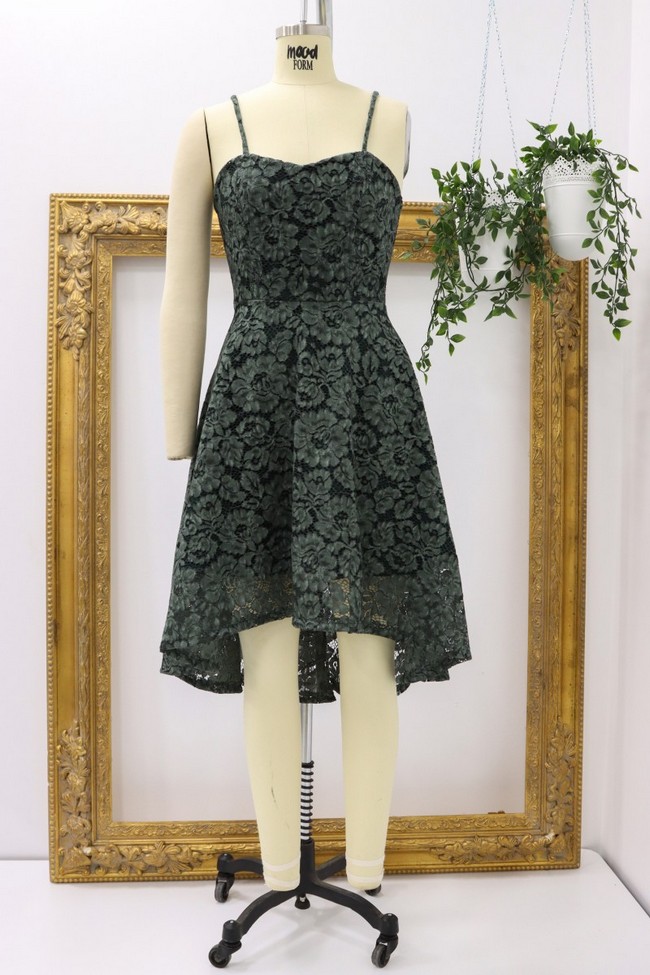 This is the perfect time to make your own Hi Low Summer Dress Pattern next summer. A quick, stylish, and easy-to-sew dress that will complement any block of time you spend sewing is what this pattern does for you. The Hi-Low Summer Dress is a versatile dress that can take you from day to night. It's comfortable, chic, and flattering for almost any body type. The design of this dress is for spring, summer, and fall in mind, but it would be great for winter too!
by Moodfabrics
Free Sundress Pattern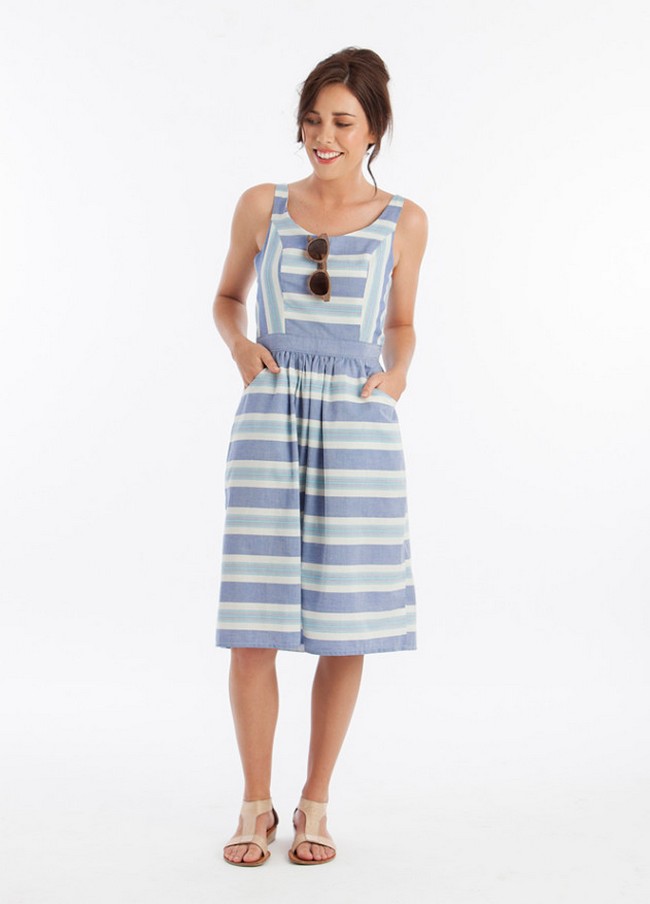 New to sewing? Start with a free pattern for this breezy summer dress, then customize it for yourself or someone special. This timeless style is perfect for all seasons, is made in lightweight cotton, and features flattering dolman sleeves and a V-neckline. Thanks to the back ties, the waist can be adjusted as much or as little as you like, which means this dress will fit almost any body shape! Whether you want to wear your sundress for casual weekend barbecues or a night on the town, this pattern ensures that you'll be able to do just that.
Pillowcase Dress For Kids
Dress your little girl in this timeless dress, perfect for summer days. Pick from a rainbow of colors and make an outfit for one special little girl, making memories that will last for years. This adorable DIY pillowcase dress pattern and tutorial allows you to sew up a wardrobe-changer for your little girl. The minimal sewing required makes this project tailor-made for beginners or those who are still new to sewing but want to expand their skills! This post includes in-depth, step-by-step instructions, a material list, and a size chart.
by Hellosewing
Rainbow Dress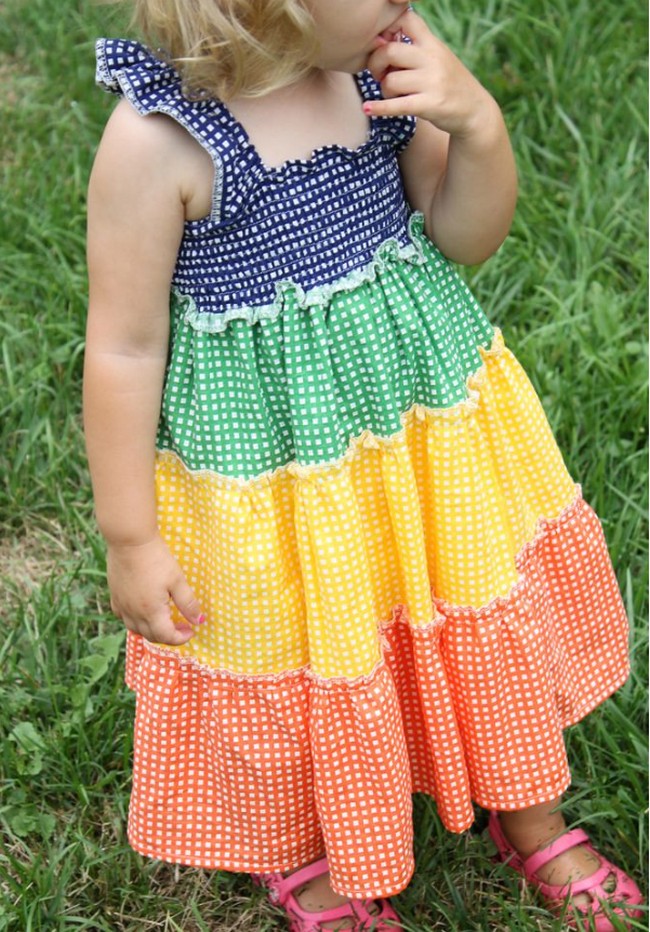 This sewing pattern for a Rainbow Dress is perfect for any young girl or a summer dress for older girls too! The instructions in the tutorial are easy to follow and include everything from cutting out the fabric to hemming. It has fun details like a flower applique on the bodice, pretty lace trim along the hem, and ribbing at the waistline. It only takes some steps, and you can have this easy project finished in no time. All you need is different fabric colors and access to a sewing machine. Rainbow Dress is perfect for summer festivities, birthday parties, and more!