Sewing can be a wonderful art for children to learn, and it's something that can be done together with you as a fun bonding activity. Once you teach your child the basics of sewing, it is essential to feed its interest with several new fun projects. You can choose any sewing project of your choice that you and your little one can sew together. Here are a few Easy Fun Free Sewing Projects For Kids, which are perfect for young and grown-up children. These simple crafts will make a big impression on your child and keep them pumped and wanting to learn and practice more!
30 Fun Free Sewing Projects For Kids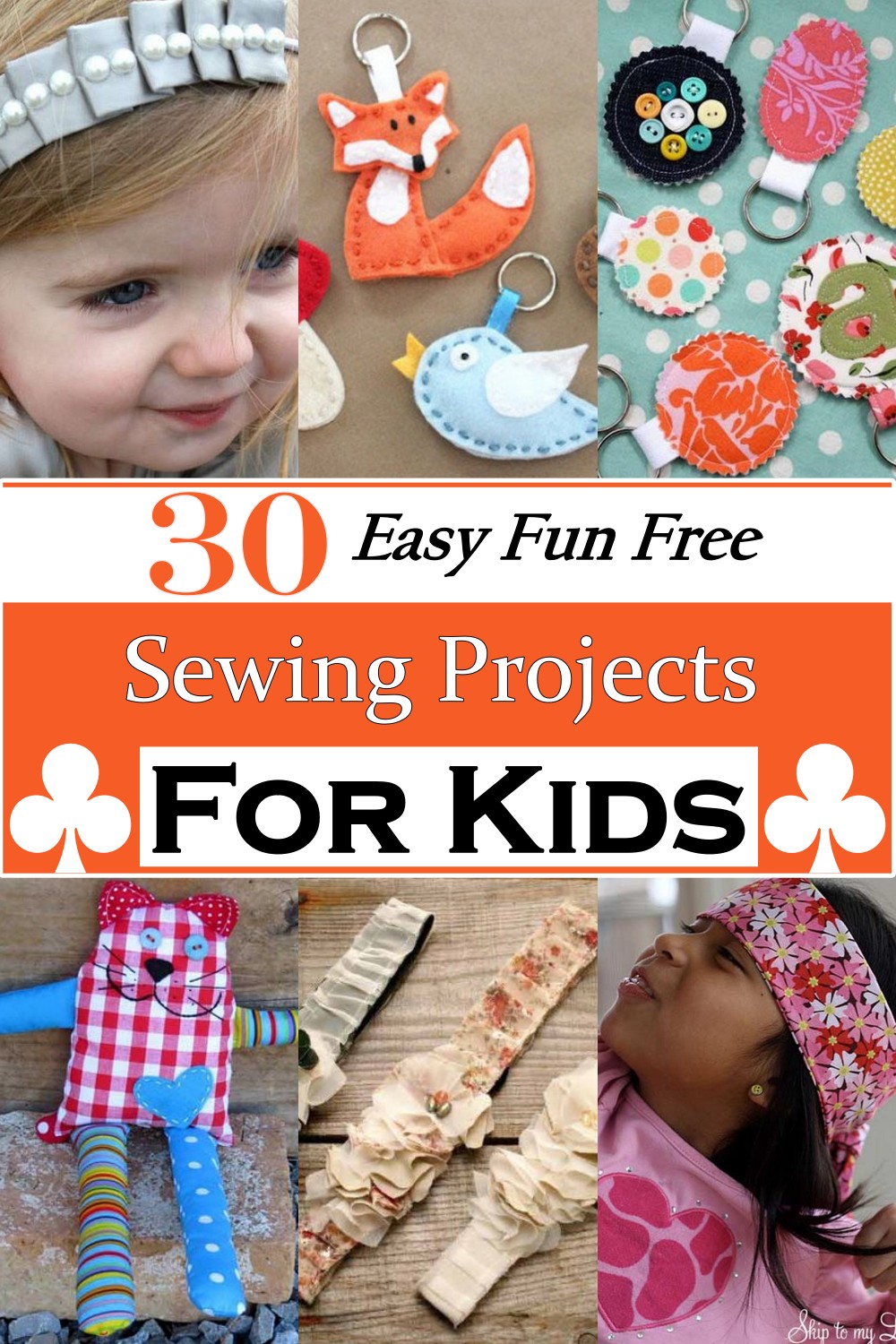 Sewing projects for kids are a fun way to bond with your kids. It's a good way to teach them how to make their own clothes, home decor accessories, and toys. If you have a sewing machine at home, you can take the time to teach your kids some basics of sewing. Whether they know how to use a sewing machine or not, they will still enjoy creating their own projects with the help of Easy Fun Free Sewing Projects For Kids. These ideas are great for your kids because they learn through self-exploration and creativity. If you are a parent who wants to guide your kids toward creative activities, then this is the post for you.
Below is the collection of 30 fun and easy sewing projects for kids, so let's get started and create some fantastic handmade crafts together!
You Can See: 29 Unique Free Stuffed Animal Patterns
Phone Wallet

Ideal for keeping all of your cards, cash, and phone together, this elegant wallet is a simple yet pretty canvas case. Your child will be happy to make it, and you will be pleased with the result. With a few easy steps, your child can make this canvas phone wallet for themselves or as a gift for someone special. You need some sturdy fabric, sew-on Velcro, felt, and sewing tools.
via Sew Mama Sew
Fish Laundry Bags

Do you want to make your laundry routine easier? This bag is easy to make and will serve as a reminder to wash the clothes on time. The Fish Laundry Bags are not only cute but also useful. Make sure you have a safety pin, ribbon, or twill tape before making these Fish Laundry Bags. Making Fish Laundry Bags is a wonderful project to do with your kids, and Even an inexperienced sewist can make these cute and useful laundry bags. They are easy to make, great for gifts, and will be handy forever.
via Sew Can She
Pleated Headband

This Pleated Headband pattern makes a great last-minute gift idea. Whether for a birthday party, a baby shower, or to spoil yourself with a new accessory, you can make your personalized headband in minutes! These handmade accessories are perfect for embellishing any outfit. This is the project for anyone who loves crafting and sewing, plus it's great for using up leftover materials. Blending bright colors and soft fabrics, you can create your personalized statement piece that is fun to wear!
via Craftiness is NOT optional
Felt Forest Friends Keychains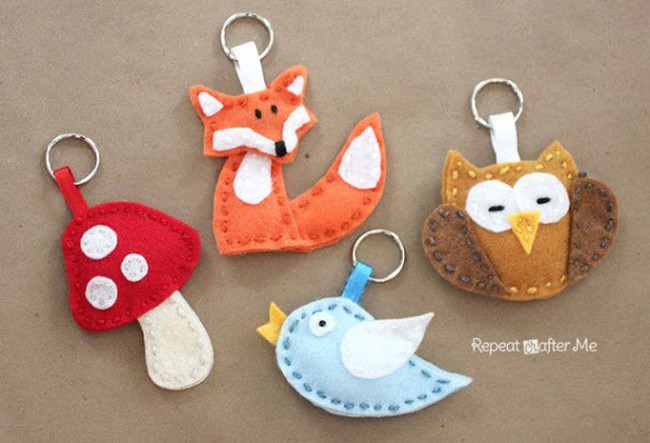 This project is perfect for children who want to learn about colors and make their toys. Felt scraps are easy to cut, so kids don't need to worry about ruining the material. They can glue their forest friends together on their own and make as many keychains as they want! Everything you need is in your craft box, including felt scraps in different colors, a needle, and some glue. And don't forget to add ribbon and yarn for more color!
Toy Cat From Scraps

This easy project is an excellent way to create a small toy cat from fabric scraps and buttons. This toy cat is easy to make with just a few scraps of fabric and some embroidery floss. Your child can personalize the project by choosing their favorite colors and decorating the heart on its chest. This would be a great gift for any child's birthday or Christmas, or it could be given at a baby shower or as a present from one parent to another.
via Sew Toy
Scented Sachets

Do you want to create your home smell fresh? These are a perfect way to incorporate fragrance in quirky and reusable ways. All you need are five-inch squares of fabric, lavender buds, and sewing tools. These sachets can hang in closets, cupboards, and wardrobes for a lovely scent that's not overpowering or too strong. You can choose lavender buds or organic seeds to fill these sachets. In just 15 minutes, you will have created something great for yourself and others!
via Martha Stewart
Bookmark In 5 Minutes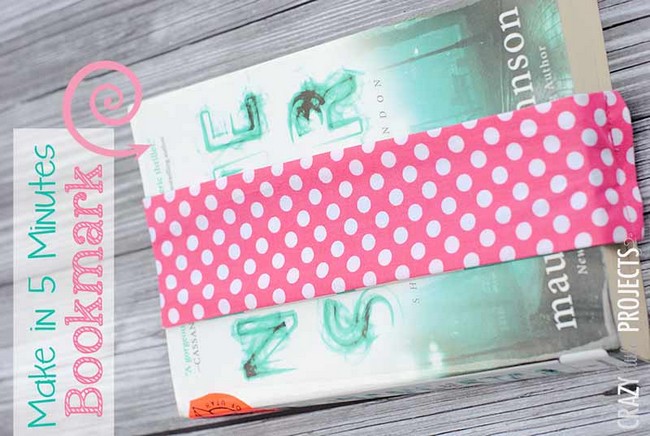 Children love to make things for their friends, so why not let them make a custom bookmark for their favorite adult! It's easy for kids to learn this fun hobby and create a handy gift simultaneously. This will show you how to make a bookmark in just 5 minutes. All you'll need is fabric scraps (or if you have some leftover from a previous project), an elastic band, and a needle and thread.
Fabric Scrap Key Chain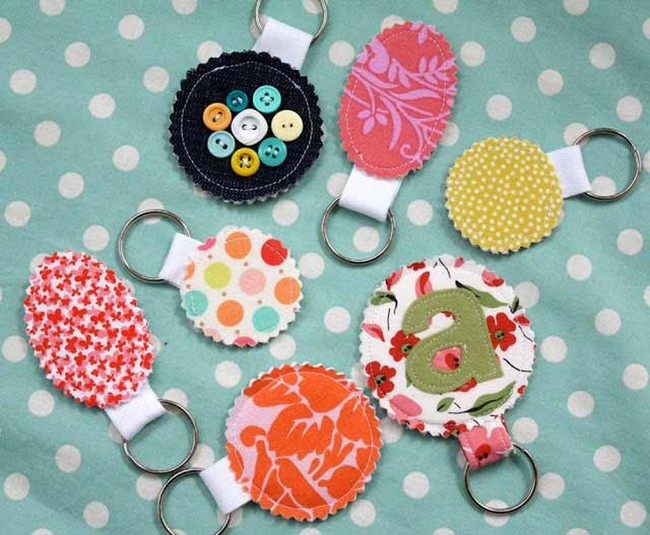 Who doesn't love a DIY fabric project that uses up some of those pesky scraps? This cute keychain is super easy to make and makes the perfect gift for anyone who loves crafting, especially if you have children who are getting ready for summer camp. You'll need scraps of fabric, fusible webbing, and an old key ring. Cut out your fabric with pinking shears and glue it to the Peltex. Then, add an eyelet and key ring through the hole. Don't have any buttons? Gather them up from around the house and use them to adorn your key chain.
Book Corner Bookmark

The perfect personalized bookmark for your little one. This adorable DIY bookmark is the cutest way to keep your little one reading! With a few supplies and some glue, you can make this amazing bookmark that fits in the book so your child always has a place to keep their place. These bookmarks are attractive and so easy to make. Perfect for the holidays or any time of year for the kids who love books.
Emoji Keyrings

You can never have too many emojis, right? Now you can have a whole spectrum of these smiley icons at your fingertips with these Emoji keyrings. Once you're done, you'll be ready for any emoji-infused conversation! These super cool emojis will bring a smile to your face. These keyrings are easy to make- some pieces of felt, a keyring, fastener, and needle. Just cut, sew, and here you go! Create emojis of yourself and your friends, or use your favorite character to spice up your pockets!
Friendship Bracelets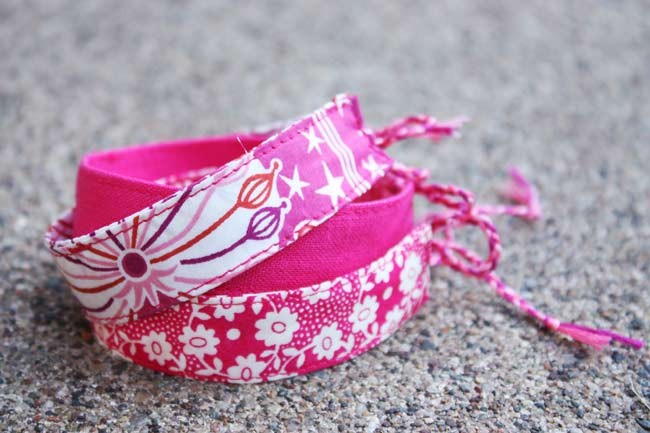 This friendship bracelet not only has the benefit of being easy to make but it also can be used as a great gift for friends. Plus, you can personalize it however you'd like. You can even make these in different colors and embroidery designs so that your little one can give them out at school or birthday parties as presents. All you need is a long strip of fabric, fusible interfacing, thread, and embroidery floss - which means everything can find at home!
via Noodle Head
Sweet & Skinny Ruffled Headband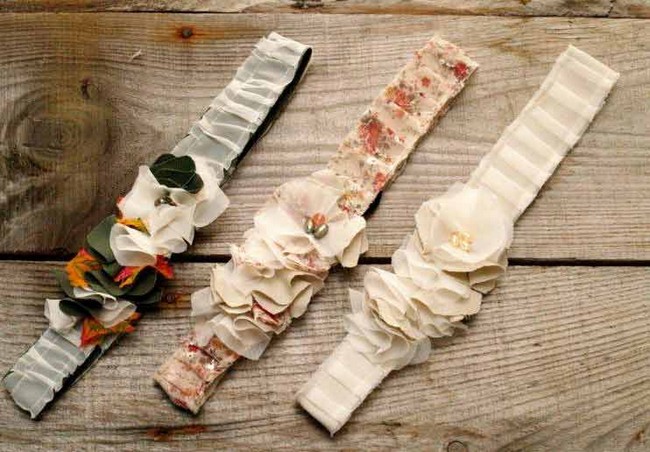 If you are searching for a way to make your sweet, skinny, ruffled headband, this is the project for you. A headband is an easy project, and your little girl will love the finished look of this sweet and skinny ruffled headband. Just a few pieces of fabric - chiffon or other sheer fabric, along with heavier fabric like cotton, blend, or flannel - are all required, plus a couple of plastic hair ties. Let her finish it with embellishments like beads or ribbon to give it her flair.
via Flamingo Toes
Easy Pillowcase Skirt

Why buy a new skirt when you can use an old pillowcase? Create this one from scratch and let your child enjoy turning this new piece of fabric into something that she can wear. Perfect for summer camp, sleepovers, and play dates. And sewing-savvy adults will enjoy assembling this simple project. You will require some elastic, an optional trim, thread, pins, and a machine to complete this task. It takes about 30 minutes to make.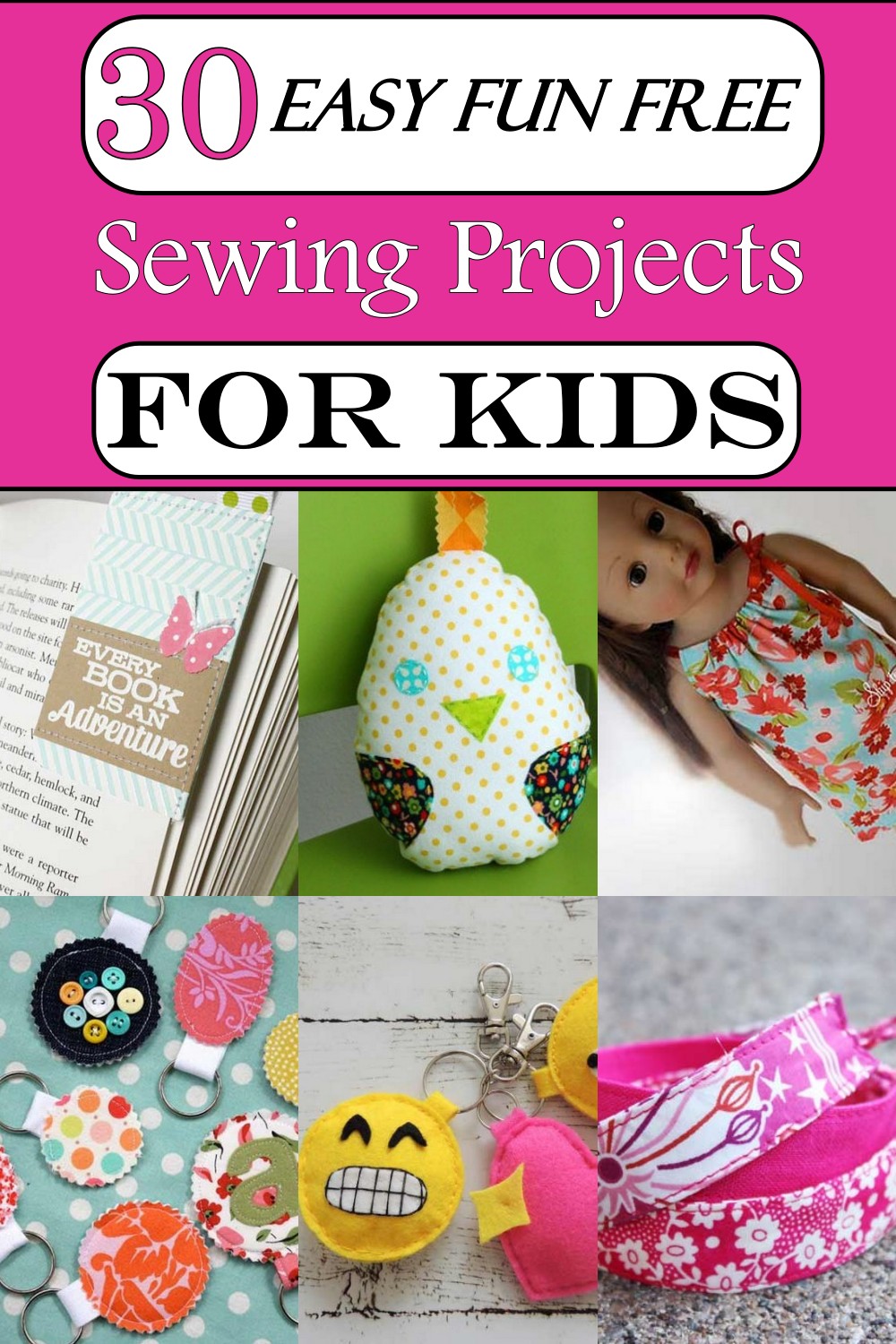 Pincushion Ring

This cute and convenient little pins holder can be worn as a ring or bracelet. You will need some bottle tops, elastic cord or rope, a piece of fabric and trims, and some stuffing for the pincushion. It's easy for kids to make with just a change in size at the end for adults or children. This is a great craftwork activity to make at home that you can do together and then use as you work on your next project.
via We All Sew
Sunglasses Case

This sunglasses case is a simple and versatile project that can make in a few hours. It's also low-cost and free to use whatever fabric you like. You can make one for your new sunglasses, phone, tablet, or e-reader. They make a great gift that costs little to make but will be greatly appreciated by your loved ones! It's also a great alternative to an old prescription case or something from a thrift store; add some padding and make it yourself!
via Sew Mama Sew
Easy To Sew Kids Belt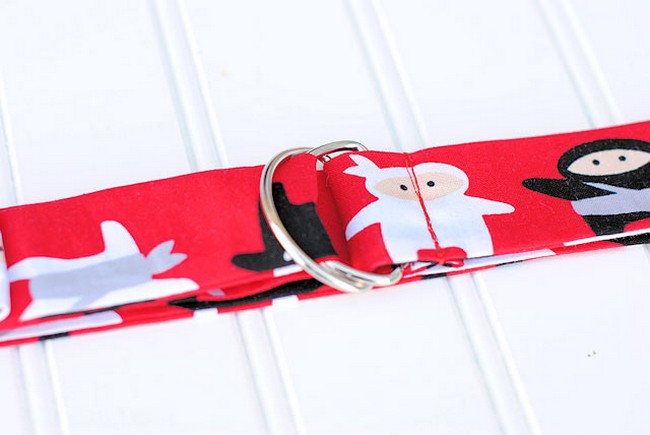 Make your belts for kids or adults with this tutorial. You will need a small length of fabric (about 3 inches wide), D rings, and fusible fleece. The belt can be made in any size you want. This is a great sewing project for all ages and an excellent way for beginner sewers to practice their skills. It's a very easy project which will come out beautiful every time, and Your little seamstress will love this adorable belt.
Super Simple Flowers Headband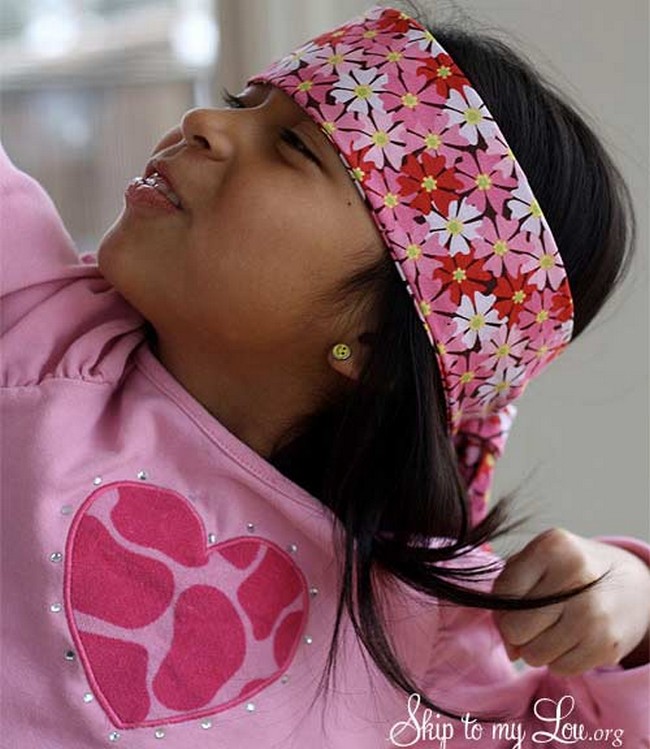 Making a headband is easy for kids to learn how to sew and create something beautiful for themselves. With this Super Simple Flowers Headband project, your child will need a strip of fabric (5"x45") which they can use as a guide when sewing around that same size. Assemble the strip of fabric by machine or hand, then secure it together into a circle and attach an elastic band for a secure fit. Make it out of any type of fabric your child likes! The result will be an adorable headband they can show off with pride.
via Skip to my Lou
Doll Dress With Fancy Ribbons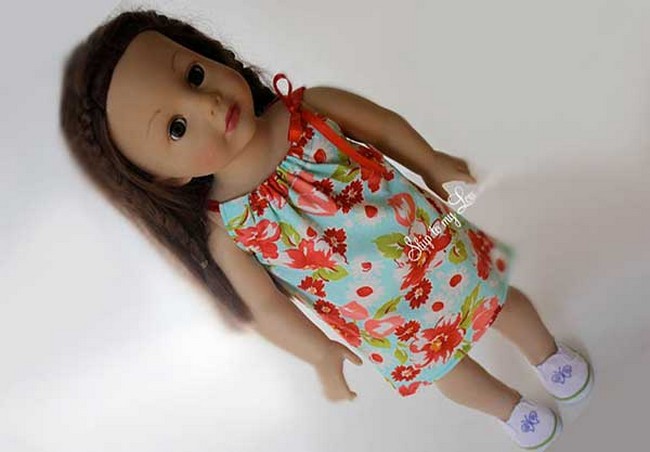 Forget store-bought doll clothes! Let your little one choose the fabrics and patterns for a dress just for their favorite doll. Learn about garment-making skills and take a little time out from screen time with this fun, hands-on activity. Let your youngster choose the colors and patterns for their loved one's garment. Children will learn to sew as they create their doll's new outfit, creating memories that will last a lifetime.
via Skip to my Lou
Cute Ribbon & Elastic Bookmarks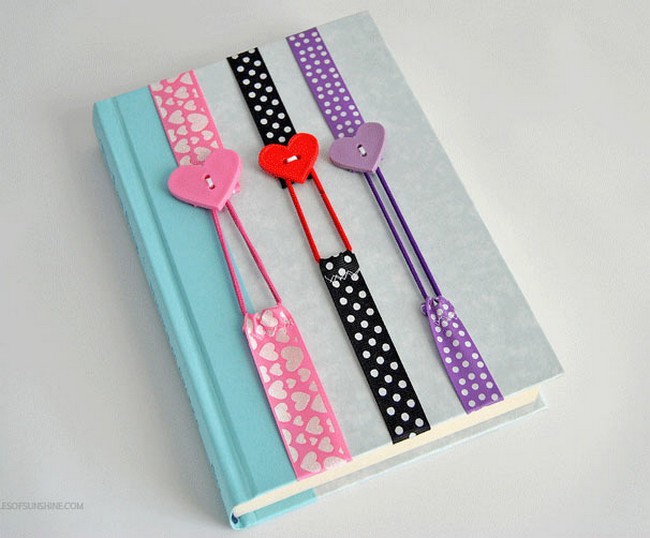 Make these fun bookmarks for your friends and loved ones. The elastic can replace with a ribbon or silk cord to keep it in place. The pattern is simple, and you can even make them all one color if you prefer. They make excellent gifts and go together quickly if you have a sewing machine or know how to use one." Your child can make this cute bookmark for school and make reading more fun. You could use them as place markers at a special event, like a wedding or birthday, or have them made to give as hostess gifts! This is a great project for kids of all ages.
Pillowcase with Cuff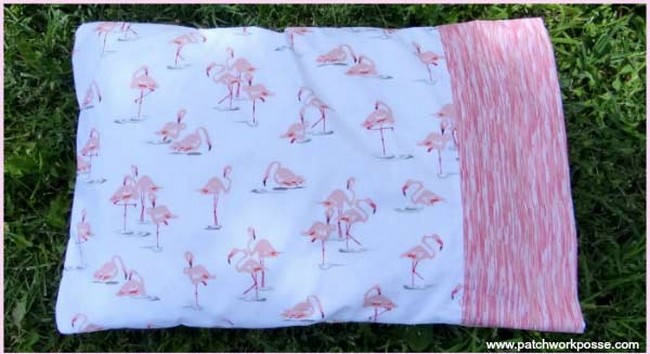 This is a great learning project for children with valuable fabric and clothing-making skills. It will also teach them patience, persistence, and the satisfaction of creating something useful." It's a great beginner craft project that kids love because they get to make their pillowcases with their design in the middle front. You can even personalize it with your child's name or initials! The finished product is so comfortable that they may not put it away at night!
via Patchwork Posse
Easy Fabric Coasters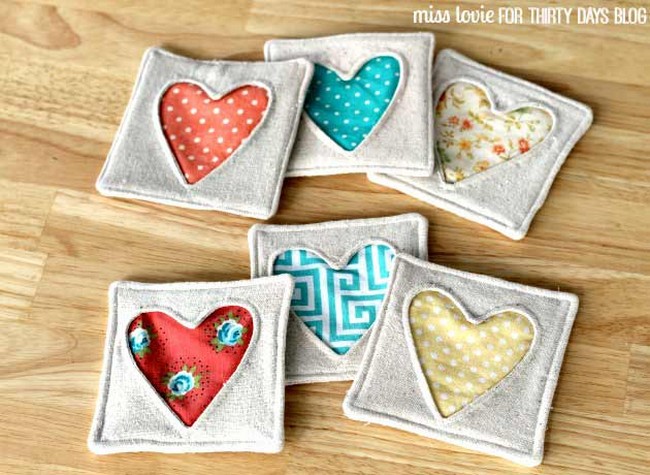 This is a fantastic project for the kids to make, and they will be excited to choose the colors and patterns used on their coaster. All you need is fabric and batting, a needle and thread, and you have a cute coaster that will last for years. Following these simple directions, show your children how to make fabric coasters like the pros. The process is fun and will allow them to practice their sewing skills. You'll be amazed at their finished product!
Cloth Napkins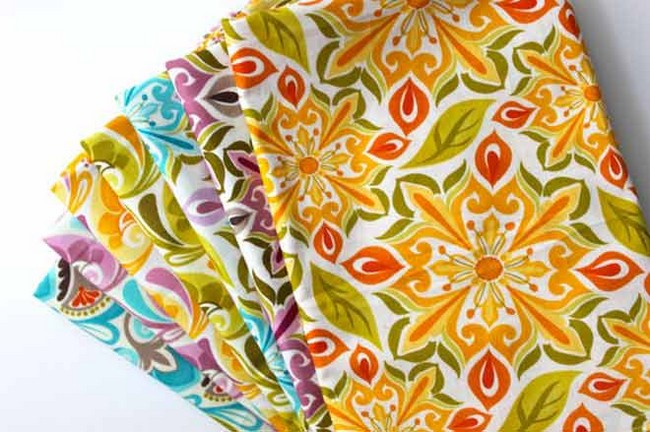 If you love to sew but aren't ready to tackle a full-sized project yet still want something rewarding and pretty, these simple cloth napkins are perfect for you. They're quick, easy, and great for beginners. Made with quilting cotton fabric, they'll look great on your table and in your home. These delightful folded napkins will be a hit at parties, family dinners, and more! They are perfect for gifting to family and friends and make a lovely addition to your home decor.
via Kirtsy
Chick Softie Toy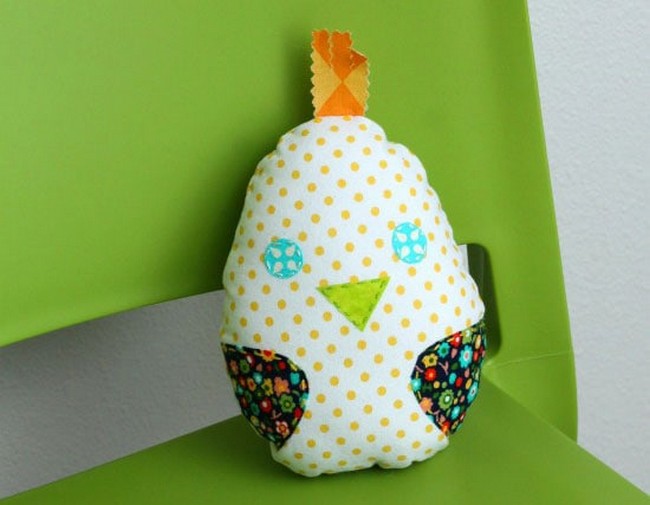 This easy-to-make chick is a great craft for kids who can choose what color fabrics to use. The pattern includes cutting and sewing instructions for various styles: simple stuffed ducklings or chick stands, fishnet winged or puffed wings, and even feathered arms. You could even add eyes or embroidered features like comb markings for display. The fabrics needed are easy to find, and this tutorial included an excellent step-by-step guide to ensure you have everything you need.
via So Sew Easy
Simple Potholder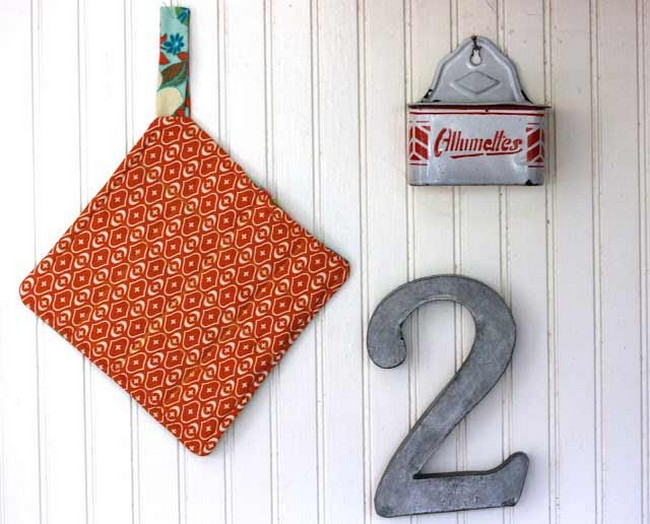 This potholder is a fun and easy project to make with your child. It will teach them sewing, top stitching, and hand stitching skills. It has two fabric squares, several batting squares, and binding/sewing thread to finish the project. Simple enough for anyone to complete in less than an hour! This is the perfect project for kids who want to learn or practice their sewing and top stitching skills. With this simple potholder, your child can make its potholder within one hour.
Felt Crayon Pensil Holder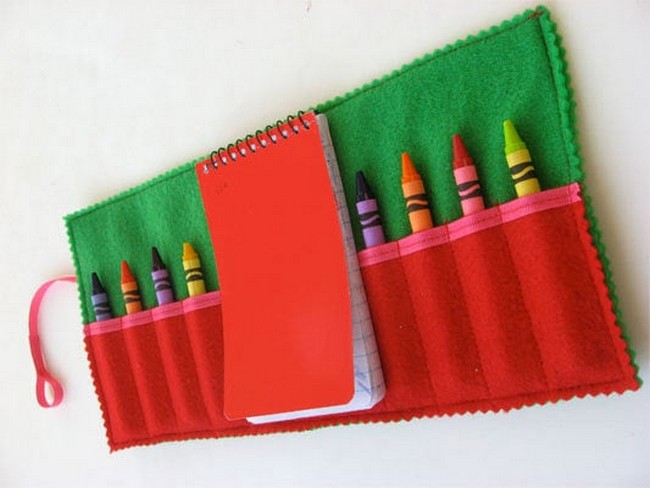 If your kid is always losing their pencils, this felt crayon pencil holder is the perfect solution. All you need is a little craft felt and fabric, colorful embellishment pieces, and a button. Grab those crayons and start crafting! This felt crayon holder is so cute, and it's easy for you to create one for your kid. Start with a small piece of craft felt and some colorful fabric pieces. Add a button and a ribbon for decoration, and then you have a cute crayon pen holder that you can make in less than an hour!
via Skip to my Lou
Teddy Bear Clothes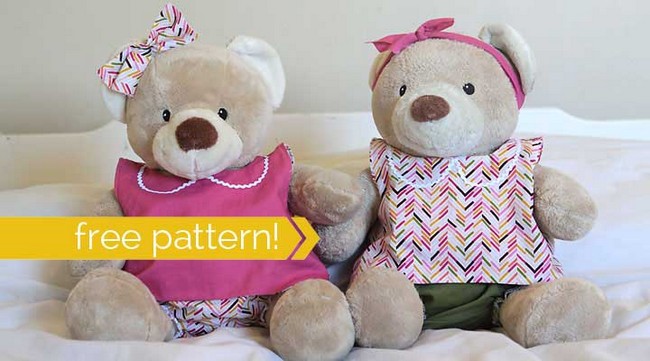 Are you looking for a fun and easy project that your child can make? Then try these Teddy Bear Clothes. All you need to provide for this project is some fabrics, a piece of elastic, a sewing machine suitable for kids, and lots of enthusiasm! Get out your favorite fabrics and let your child follow the easy-to-understand instructions in this book to make a beautiful new outfit for their teddy bear. The simplicity of this project will be a delight to your child and provide hours of creative playtime.
Cute Felt Monsters

Add a little monster to your child's playtime with this DIY felt craft! This project is great for any age and makes an amazing gift. You will learn how to make the monster's body, let your child trace its body onto felt, pick out its eyes and nose, and add some details with embroidery floss. The result is a custom-made monster that your little one will love to play with! Have fun creating these cute monsters together!
Ruffle Hem Sweater

This project is great for young children, and it will give them a sense of pride in making their cute clothing, and they will be so proud that they can easily do it with you. This tutorial will walk you through it step by step, showing you how to knit up a beautiful ruffle hemmed sweater that suits your style. It's easy, cheap, and can be made plenty of time to pass over as a birthday or holiday present.
Diy Dolly Towel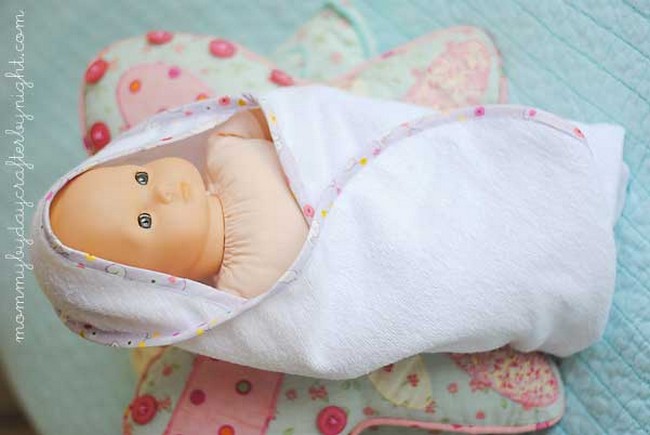 Grab a terry cloth towel and your daughter or son, and let them make their doll towels. This is a great way to let them play with dolls and give you a chance to talk with your child about sewing and making things in the future. This tutorial will show you how to make bias tape on your sewing machine if you don't have any lying around! The best part of this project is that once you finish making the dolly towel, your child can take it into their playroom and use it immediately!
via Mommy by Day Crafter by Night
T-Shirt Refashion

Did you know you can take an old t-shirt and turn it into the coolest accessory? This t-shirt refashion tutorial is easy to do, and the result is amazing. Help your child make a unique accessory for an existing T-shirt by making and sewing a scallop detail along the neckline. The making process is easy and takes a few hours, so your little one can start wearing it as soon as you finish! All you need is fabric scraps, a traced circle, a glue gun, and an old T-shirt.
via Polkadot Chair