Wood headboards are the perfect way to make your bedroom look more stylish, but they can be expensive. There's nothing like a beautifully crafted headboard to make the nightstands and dressers around it look their best. Luckily, there are plenty of ways to build your own headboard, from the classic all-wood version to the industrial metal-and-wood combination. Whether you opt for a welcoming piece that fits right in with your bedroom's existing decor, or something that lends just the right amount of edge to your space, DIY Wood Headboard Plans are perfect for you.
Simple Wood Headboard Plans DIY
Headboards are a great way to make your bedroom unique and reflect your style and personality. With so many options, choosing just one style that's right for you can be hard. That's why we've put together this list of 25 DIY wood headboard plans, which include an array of different styles that will fit into any room's decor. Whether you're looking for something sleek and modern or rustic and traditional, we're sure you'll find something here that will work for your space. All the projects on this list are fairly easy to do on your own, some are beginner-friendly, so you'll have no problem putting together a beautiful headboard that will last for years.
See More: 30 Best DIY Nightstand Plans To Make Today
Tips For Making Easy Wood DIY Headboard
When you're looking for DIY wood headboard plans, you have many different options. You can choose from different styles and designs, along with various materials that will help you create the perfect piece of furniture for your home.
Here are some tips that can help you get started with your DIY wood headboard plans:
Choose a style and design that works best in your bedroom.
Decide how much time and money you want to spend on the project.
Consider the space available in your home or apartment when choosing materials and tools.
Use these tips to decide what type of wood will work best for your DIY project: pine, oak, or cedar.
Choose a color scheme to coordinate with the rest of your decorating scheme.
Materials Required
Materials Required For DIY Wood Headboard Plans:
Headboard (can be store-bought or made from scratch)
Nails
Wood glue
Sandpaper
Paint/stain/varnish (optional)
How To Build A Rustic Wood Headboard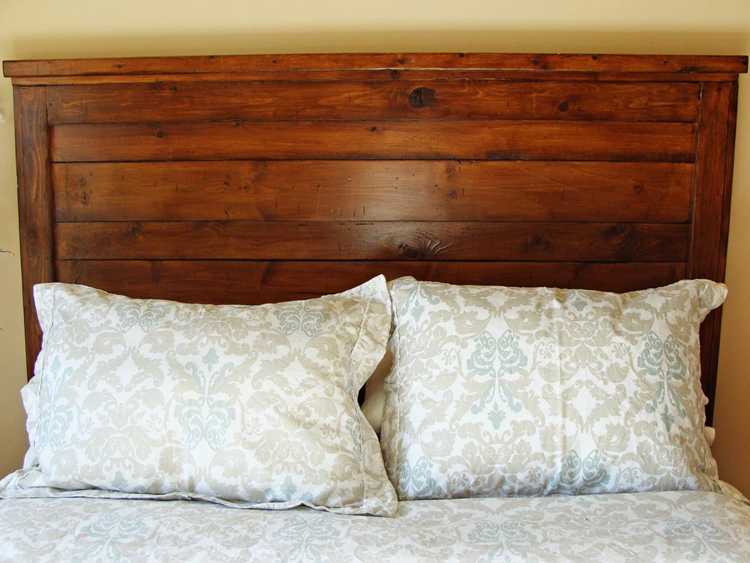 Gorgeous wooden headboards look wonderful in bedrooms and are a great way to make a small space feel more luxurious and special. Creating your own wood headboard is not that difficult. Following a few simple rules, you can make a rustic piece of furniture for your bedroom. The best part about this woodworking project is that you can use the same design to create additional pieces of furniture. Build this simple rustic headboard in less than a day with just a few easy-going tools and materials. You'll need just over ten easy steps, and you will have your dream bed in no time.
DIY Plywood Headboard
If you're looking for a headboard that doesn't require much skill, this DIY plywood headboard is for you. It's cheap and easy to make and makes any bed feel special. This plywood headboard is a great way to add sophistication and style to your bed. The panel is simple to make, it can be painted in your choice of color, and it will last forever. This DIY plywood headboard is sleek and simple, so you can easily attach it to any bed. It's also a great project for beginner woodworkers, as the most difficult part of this project is cutting the plywood to size.
DIY Headboard With Geometric Pattern
This handmade headboard from the experts at DIY Network is sure to be the perfect addition to your home. Make your own geometric-patterned headboard with these DIY instructions. This is a great alternative to store-bought headboards that aren't quite right for your space and come in at a fraction of the cost. This video will show you how to make a geometric headboard with this tutorial. This is a beginner DIY and does not require much skill or tools. You can do this project and have it look great for the whole family or your home!
$25 DIY Headboard
Headboards are an affordable and easy way to add style and pizzazz to your bedroom decor. It's a simple headboard that is very affordable, but it allows you to spice up your home without splurging on a new sofa or changing the curtains. Creating a headboard is easy and can be done in a jiffy. It's not just an expensive store-bought item you buy to complete your room decor. You can create a custom one that reflects your personality and ties together in a sophisticated way. This DIY headboard project is effortless, with simple ready-made supplies readily available at your local hardware store or on Amazon.
How To Make A Wooden Headboard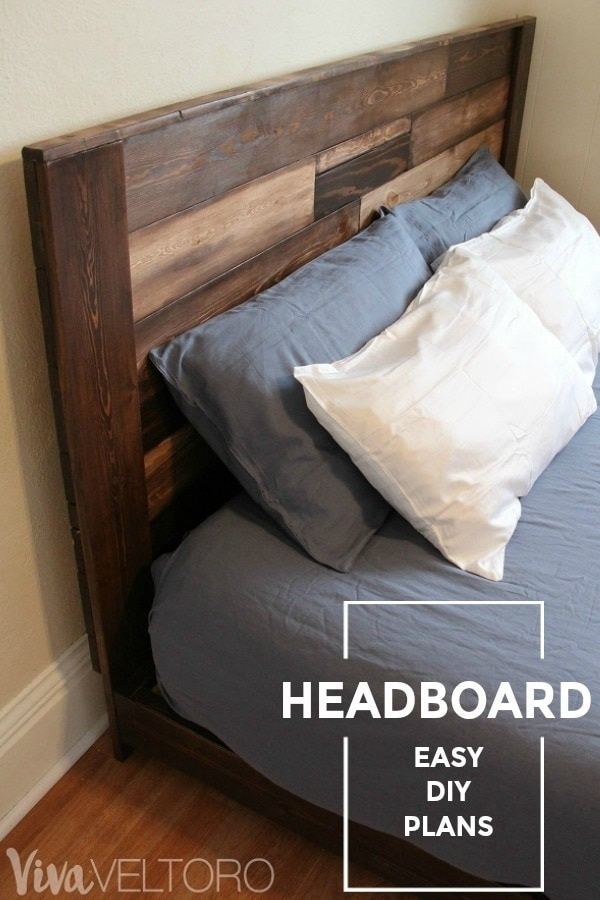 This DIY wooden headboard is a good project for you all. You can use it as a room divider and a bedside table when not in use. The basic materials are pine wood and plywood. You will need no professional skills to make this easy-going headboard. Make your bed extra special with this simple and easy-to-make wooden headboard. All you need is a few pieces of wood, some screws, and the right tools to start. The result will be a piece of furniture you can be proud of.
DIY Salvaged Barnwood Headboard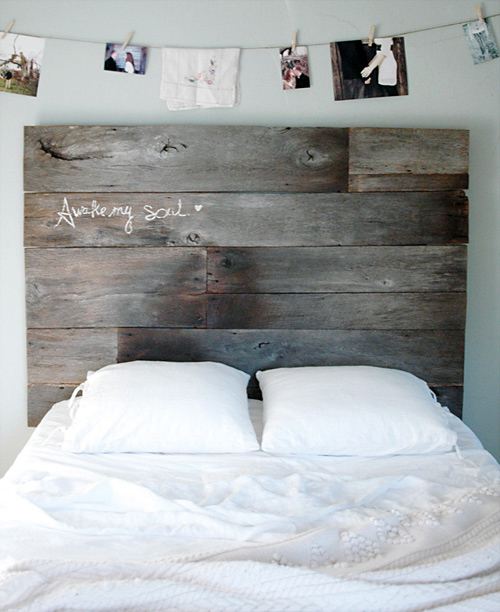 This DIY Barnwood Headboard is a great way to add some design flair and rustic charm to any space. Add a gorgeous upcycled barn wood headboard to your bedroom with this easy-to-make DIY. It's super easy, you only need some old barn wood, and that's all! This salvaged barn wood headboard is the perfect rustic project to rest your weary heads on. Created using old barn wood and using simple tools, this project will give you a chance to make something beautiful with recycled materials. The finished project works perfectly in any room of your house and has a story behind it.
DIY Easy Wooden Headboard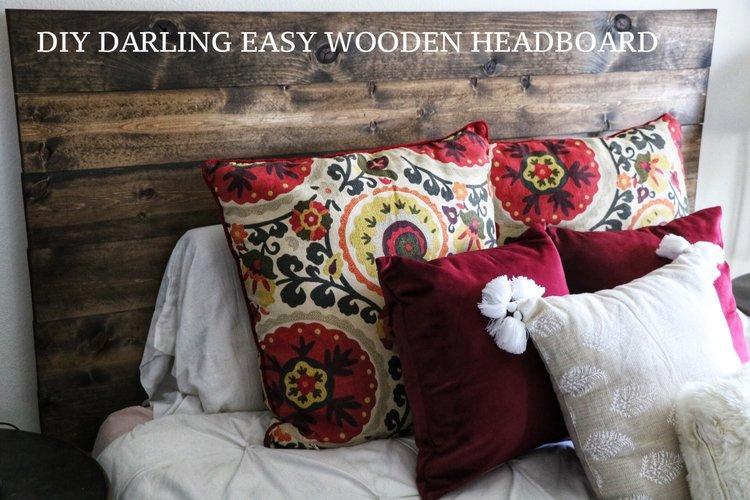 You don't need many woodworking skills to build this headboard, just some simple sketches so you can visualize how it will look and the required materials. This project is great for beginners and veterans alike - even if you've never tried to make a piece of furniture from scratch. This project requires a handsaw, wood glue, and sandpaper. You should also have wood finishing skills for staining, oiling, or painting the finished piece. This project is a great way to use scrap wood and customize your headboard's size, style, and finish. It's also an easy project to do yourself using basic tools.
DIY Headboard
Who says you must pay hundreds of dollars for a great-looking, comfortable headboard? You don't! You can create an amazing headboard for your bed with the help of some basic materials and tools. It's super easy, inexpensive, and fun to make. And it will take you less than a day. The following guide will find all the steps you need to follow to make this stunning headboard yourself. This easy project allows you to make a big impact on a small budget. It is quite affordable and so simple that you'll be amazed by how quickly it comes together, making it an ideal weekend project.
DIY Reclaimed Wooden Headboard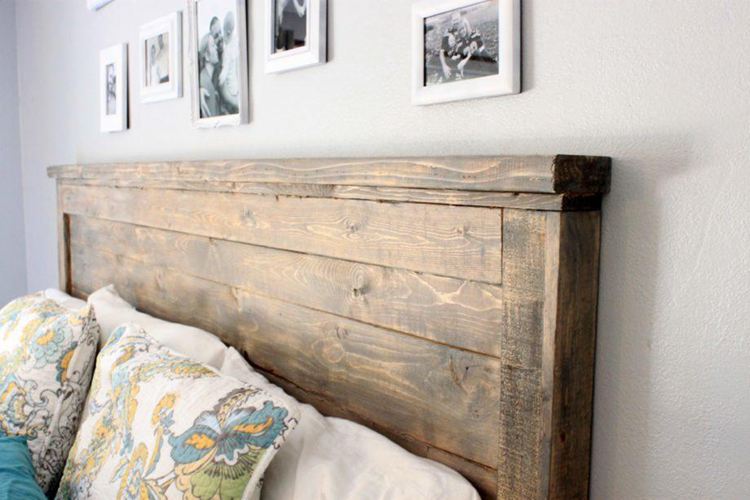 Turning reclaimed wood, like this old fence panel, into a headboard is more expensive than buying a new one, but it saves money and makes up for eco-friendliness. Whether you choose to paint or stain your newly made headboard, you can't go wrong with this one. This DIY reclaimed wooden headboard is a great way to save money and recycle wood from old buildings. The best part is that it's easy to build and will last for years so that you can save money for other needs.
Pallet Wood Headboard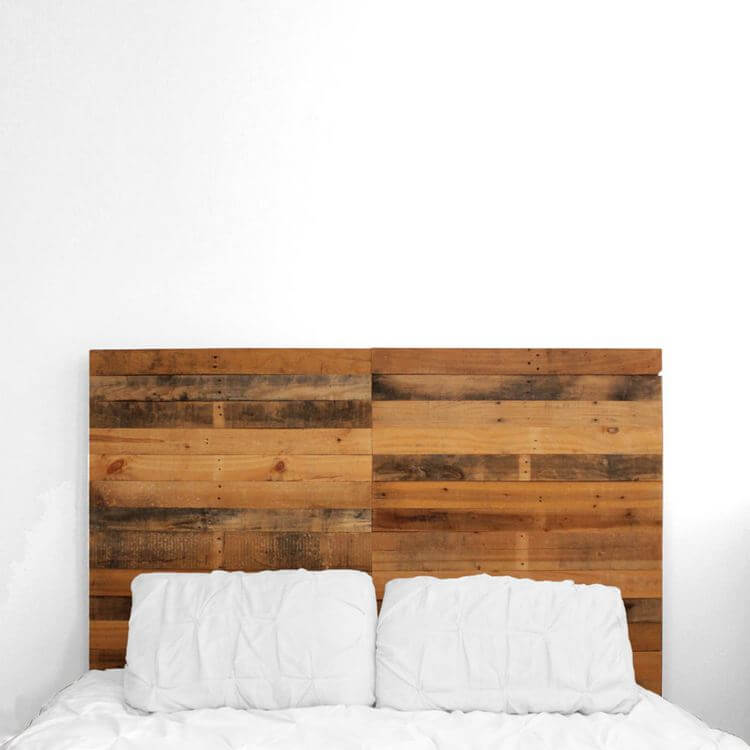 Get the rustic look you love without the hassle. This pallet wood headboard is made from salvaged wood, so you're helping to reduce waste in the environment. Create your own masterpiece that reflects your style. Build your own headboard and add some rustic style to your bedroom. This DIY pallet wood headboard is perfect for those who love the rustic look but don't mind a little work to get the look they want. If your space is a little rustic, you'll love how this headboard can add a touch of elegance to your bedroom.
Pallet Wood Headboard DIY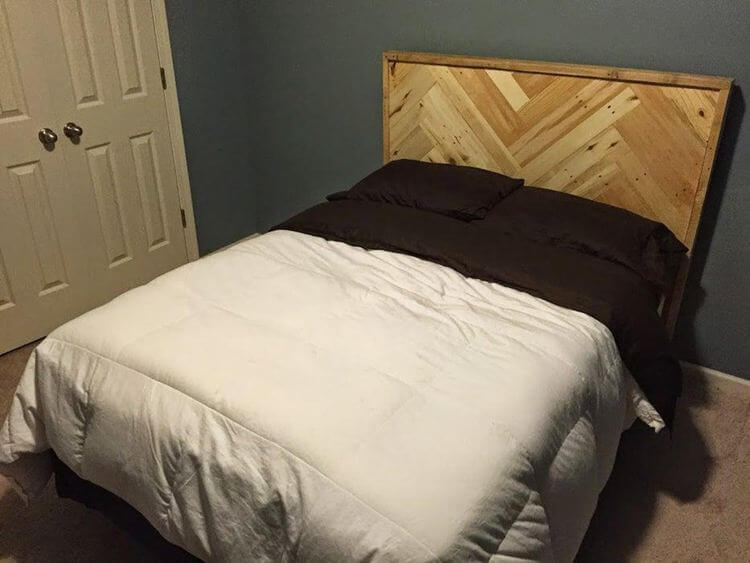 This is the perfect project for you if you are looking for a unique headboard. Making a Pallet Wood Headboard is fun to add style and character to your bedroom. Use it as the ultimate centerpiece to create your unique space. This DIY project will serve you for many years and will be the perfect addition to your decor, no need to change it after a few years; give it a refresh. This handmade pallet headboard is inspired by industrial-style decor and will fit any rustic design. Aside from that, it's extremely easy to make and can be finished in several hours - You will love it!
 DIY Wood Farmhouse Headboard
This DIY Wood Farmhouse Headboard will make a statement in any room! It's the perfect addition to any primitive or farmhouse decor. This headboard is made of wood and painted the color you prefer with a distressed finish. Mount it on your wall with a few screws through one of the studs and it's ready to go! This DIY wood farmhouse headboard is the perfect addition to your home. Save money by knowing exactly what you need to get and how to build the project yourself. The kit includes all lumber and hardware needed for building this budget-friendly upholstered headboard and bed frame.
DIY Rustic Barnwood Headboard
This DIY Rustic Barnwood Headboard is a beautiful addition to any space. If you love rustic decor and want to add some character to your home, this video will help you build it in one day. It's simple, easy, and inexpensive to make if you follow the steps properly. Using plywood or pine boards is also an option if you don't want to buy barn wood. You can make this headboard with a little time on a weekend. You can put this beautiful rustic headboard together in one afternoon. This guide shows you how to build the entire thing step by step. It makes a great gift idea too!
DIY Slat Wall Headboard
Looking to create an industrial-inspired room that still has plenty of warm and inviting touches? Look no further than this DIY Slat Wall Headboard. This wall will be the focal point of your bedroom, made from wooden planks of various sizes and lengths. The DIY Slat Wall Headboard is the easiest way to add a unique headboard, requiring minimal space. The entire wall behind the bed was made and filled with small wooden planks attached directly to the wall. If you want a more minimalist look, then skip this guide altogether.
DIY Reclaimed Wood Headboard
This DIY headboard project is perfect for a kid's room or a king-size bed fit for a grown-up. It's easy to make and can be customized to suit any taste. You can build two sides simultaneously or one side at a time (depending on how much storage space you have). Either way, it's simple and affordable enough to use as an affordable alternative to custom-built-ins. It is sturdy and durable and does not need special paint, so you can customize it with different colors or leave it white to match any room theme.
Rustic Wood Headboard
This DIY Rustic Wood Headboard Kit is a great way to make your bedroom look more country-chic. This kit has all the pieces you need to make one durable, functional headboard. The sturdy wooden frame is designed to hold up over time and add character to your space, while the foam will ensure that your mattress is adequately supported. These kits are a great option if you need extra support for that area of your bed that is not supported by a box spring or platform bed. This guide walks you through making your own rustic wood headboard. Don't miss out on this great opportunity to create a one-of-a-kind rustic design piece to use in your bedroom or living space.
DIY Wood Slat Headboard
Get the look of a headboard that's ready-made but costs less than $50 by building your own! It's super easy, and these instructions even come with a video to help you get it right. This DIY project shows how easy it can be to make a headboard from simple materials like wood slats and dowels. You can also use reclaimed wood for this project, so readily available if you look hard enough! Use this headboard how-to to add a touch of color and style to your bedroom. It only takes about five hours to make and will only cost about $40.
DIY Wood Headboard Under $40
If you don't have a lot of space on the floor but still want a comfy place to rest your head, then this DIY wood headboard is perfect for you. This simple and cheap DIY wood headboard is easy to make and fits a small bed perfectly. Whether you want to make an accent wall in your bedroom or create a super sleek design, this simple design is perfect. All you need is a few pieces of wood, glue, and paint, and you are ready to go! This is the simple way to get an amazing headboard at home that you can build yourself. Just follow this guide, and in no time, you will have your own custom-made headboard for under $40!
DIY Reclaimed Pallet Wood Headboard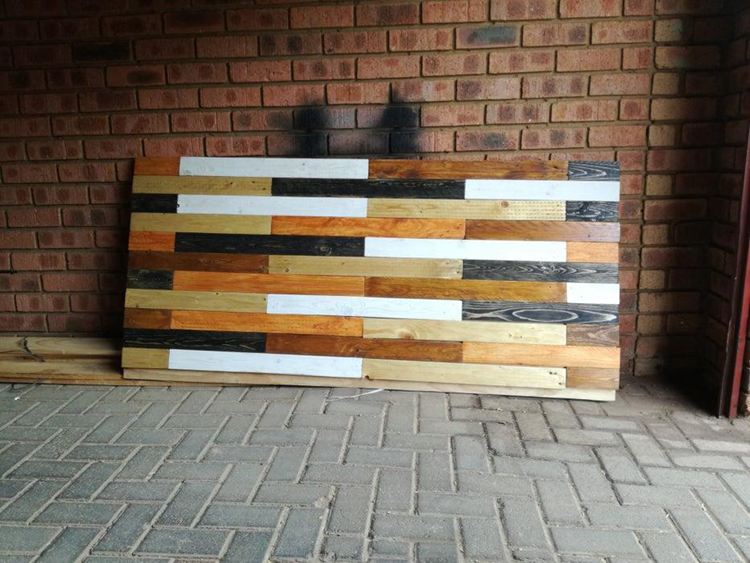 Reclaimed pallet wood is inexpensive and versatile for creating a rustic headboard. Using reclaimed pallet wood for your project is better than using new lumber because the recycled wood has character and history that gives your furniture a unique look. This headboard will be perfect if you're looking for an inexpensive DIY project! You can create the best headboard for your bed using reclaimed pallet wood. Just follow the step-by-step instructions provided on this page. You can do a perfect DIY project at home with some recycled pallets and simple tools like a saw, drill, and screws.
DIY Removable Wood Block Headboard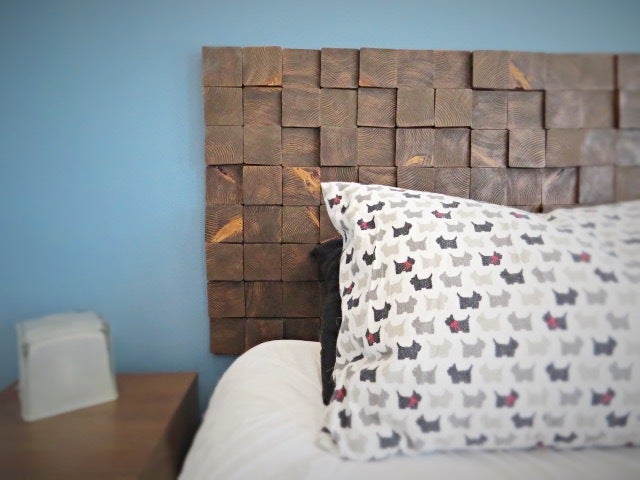 For this DIY, we're making a removable headboard from a single board of wood. It features a rounded edge design and can be attached to the back of your bed frame with screws and bolts. Perfect for a bed in a small room, this DIY removable wood block headboard is easy to install and can be added or removed as needed. The headboard has multiple spots for mounting screws so that it can be attached to your wall easily, and it adds the perfect modern touch to any space in need of some personality.
DIY Farmhouse Headboard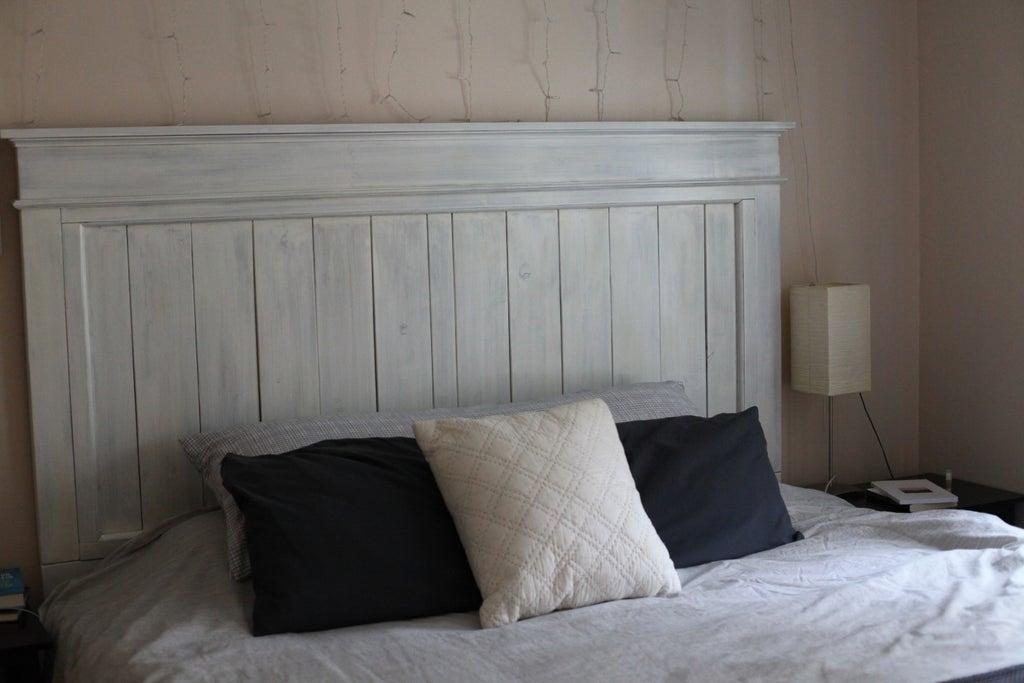 Want an inexpensive way to make your bedroom look amazing? This DIY project will give you the farmhouse headboard look without spending tons of money. You can build this headboard in 3 days or less, so there is no need to wait a year before you can enjoy it! Turn an old wooden door into a statement piece for your bedroom. This headboard project is no splinters or sawdust here, and you can customize it to match the look of your room by adjusting the width and height of your wooden frame.
DIY Queen Bed Wood Headboard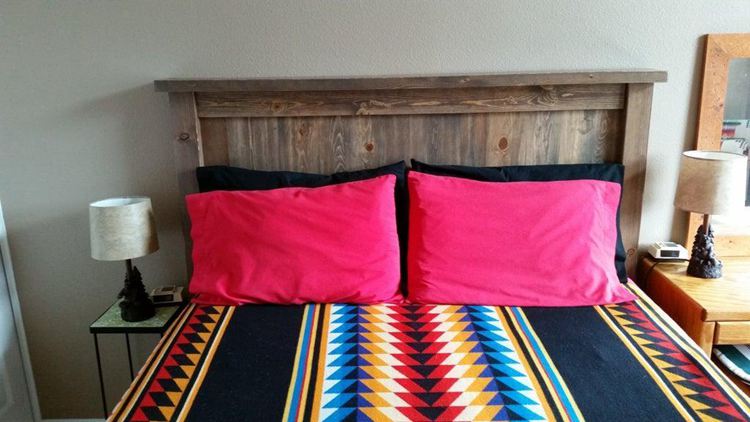 This DIY bed headboard is a great piece of furniture to add a personal touch to your bedroom. It is perfect for any room in the house. It is easy to assemble and very easy to attach to most bed frames. With its beautiful yet modern design, this project provides an opportunity to show off your artistic side with a fresh take on an age-old craftsman's staple. With this DIY queen bed wood headboard, you can easily build your customized headboard.
DIY Pallet Headboard
Get the rustic chic look at home with this pallet headboard, made from a single piece of wood. The steps are simple, and you'll be able to have it completed in no time! Pallet wood is a great material to make a headboard out of. You can find pallet boards in different dimensions and shapes. Once you have found the wood, cut them to the desired size that fits your bed. Glue them together to form one board piece; you can use a nail gun or glue to secure them. The making process is super easy and quick.
DIY Wood Headboard For Queen Bed
The best thing about this project is that it doesn't cost you much money. You don't need to buy a wooden headboard. We'll show you how to make an awesome DIY wood headboard for under $75. You'll need some basic tools and a few hours of time. This project is surprisingly easy and quick. It will take only a few hours to finish, even with the hardware involved.