20 DIY Witch Hat Ideas For Halloween Season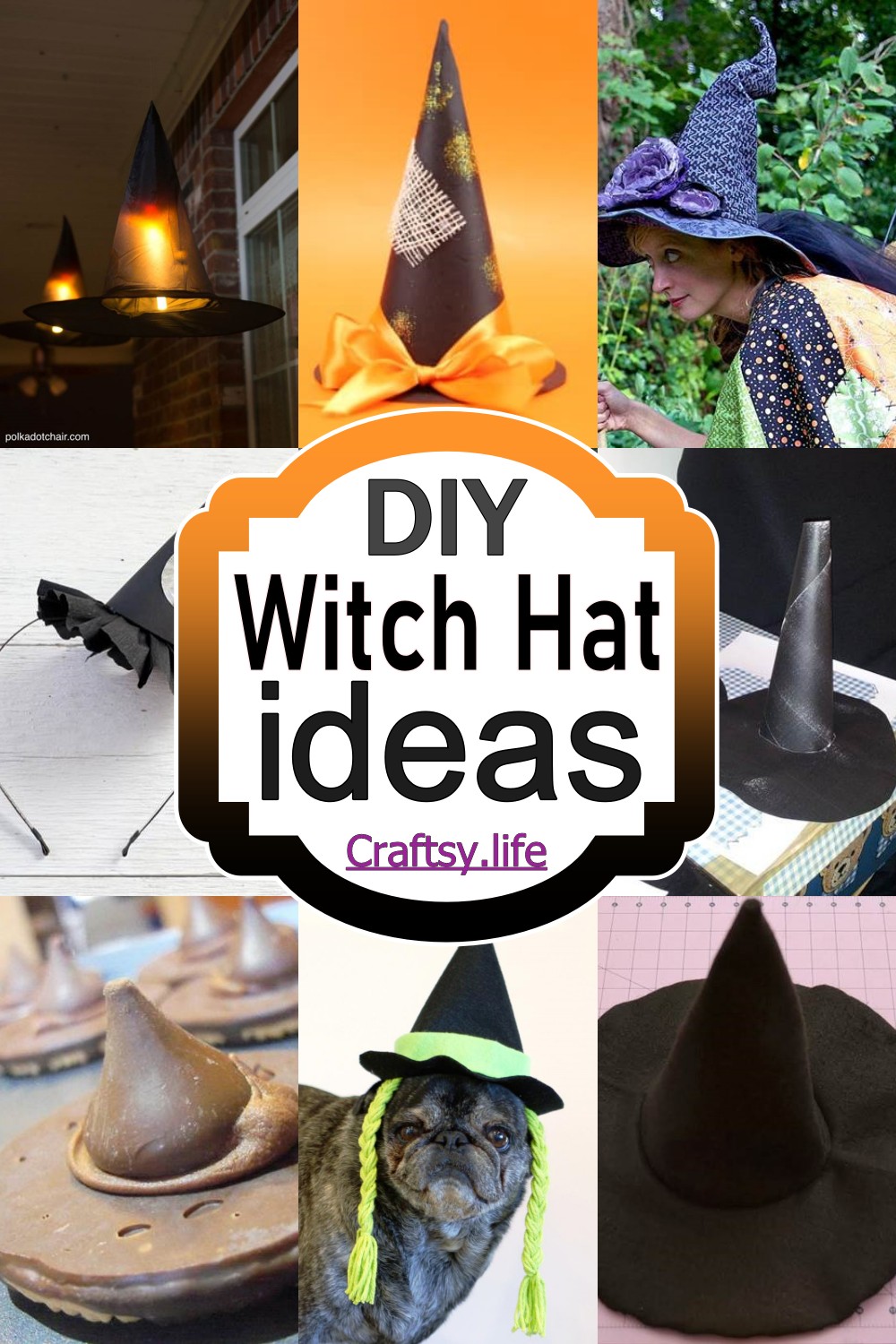 If you love witch hats almost as much as we do, you'll want to see this post! See these awesome DIY hat ideas, and prepare to add some new spookiness to your Halloween costume. Witches, ghosts, and ghouls are upon us. This Halloween, treat your guests with these gorgeous DIY witch-hat ideas. We all know the festivals are almost here, and it's time to prepare our witchy decorations. These DIY Witch Hat Ideas will give you fun ideas for your own hat or maybe even a custom order for friends. They can be made from materials, old clothes, crafts, and much more.
Easy DIY Witch Hat Ideas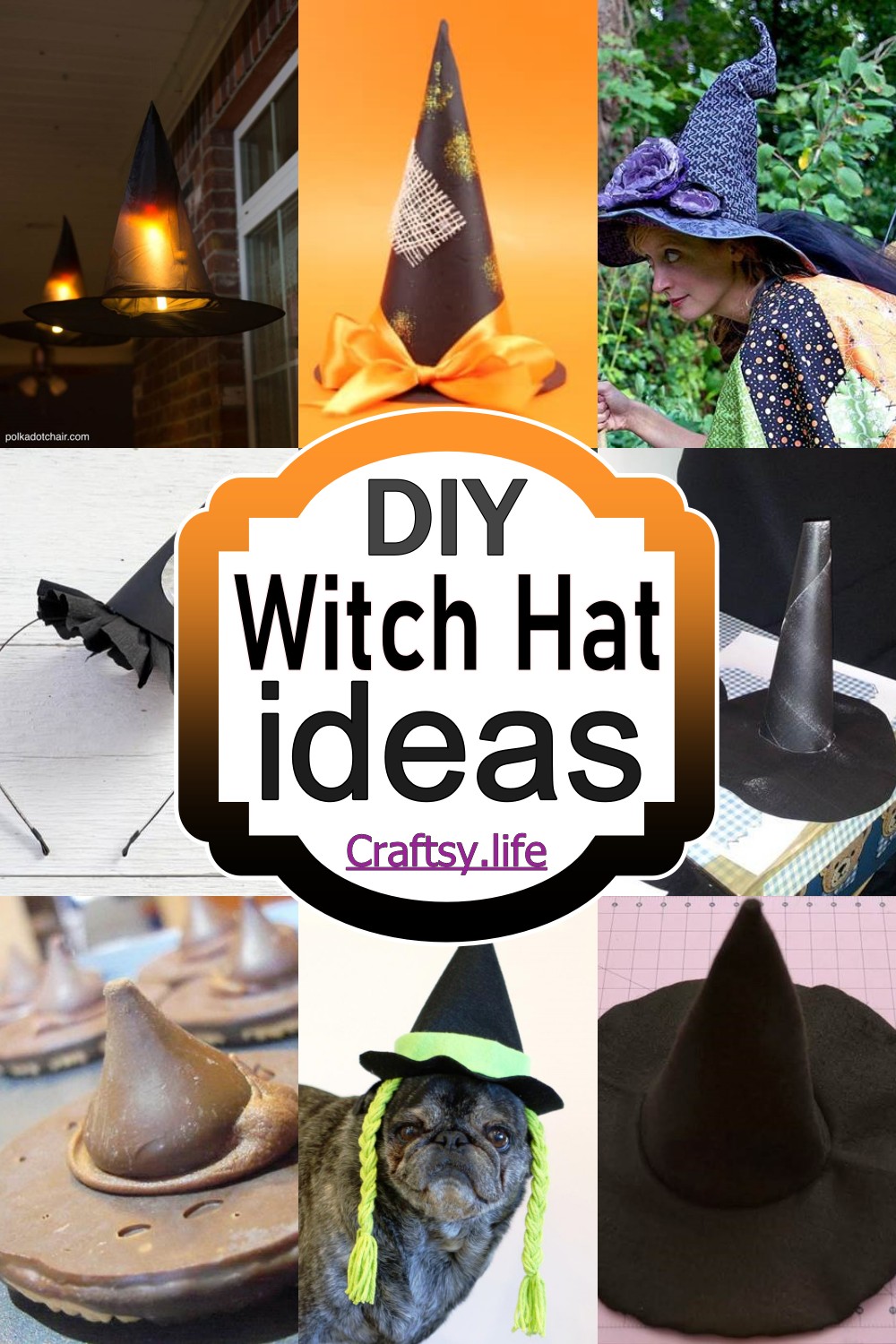 At this time of year, witches, ghosts, and monsters are all the rage. But amongst the sea of cheap plastic masks, you can buy in any dollar store, there's always a single witch hat. It's sometimes a floppy hat with a point on top. Sometimes a witch hat is a different color from the rest of the costume. And sometimes it's just that same old plastic witch hat. It doesn't go with anything else and doesn't look very good after you've worn it for one night. So why not do something about it? Why not make your own DIY Witch Hat?
Why DIY Witch Hats
The best thing about DIY witch hats is that you can create them in any color and style. You can also make them for less money than you'd spend on a store-bought hat. DIY witch hats are a great way to make your party more memorable. They're also an inexpensive way to get ready for Halloween or any other costume party. Doing it yourself can be fun and rewarding, especially when crafting a beautiful witch hat perfect for your costume. Here are some reasons why you should make your own.
Customize Your Hat: Your DIY witch hat can be customized to match your costume perfectly! You can choose the colors and materials based on your costume design or make something fun that looks good on anyone who wears it!
Save Money: Buying an expensive store-bought hat may seem easier, but making your own will save you money in the long run! You'll get exactly what you want without paying extra for shipping or fees associated with ordering something online. Plus, if you make enough of these hats, they could become part of your income stream!
TIPS FOR DIY WITCH HAT IDEAS
When Halloween comes around, it's time to get creative and craft some DIY witch hats. Witches have been a popular Halloween costume for decades, and now you can make your own DIY witch hat to match. These fun hats are easy to make and can be customized for any occasion. Here are some tips for making your own DIY witch hat:
Choose a shape — The shape of your hat will depend on your head size and what you plan to wear under the hat. A cone-shaped hat fits well over a wig or wig cap, while an umbrella-style hat is great if you want to wear it with a crown or headband.
Choose a fabric — You can use felt, tulle, or even leather for crafting your own witch hat. You can also use fabric glue if you don't want stitches in your craft project. If you're working with straws, use wire cutters to trim them down before attaching them to the hat's brim.
Choose embellishments — Embellishments such as flowers, feathers, and bows add style to any plain witch hat design. Use hot glue or sewing thread to attach them securely onto the brim of your DIY witch hat design.
How To Make A Witch Hat With Fabric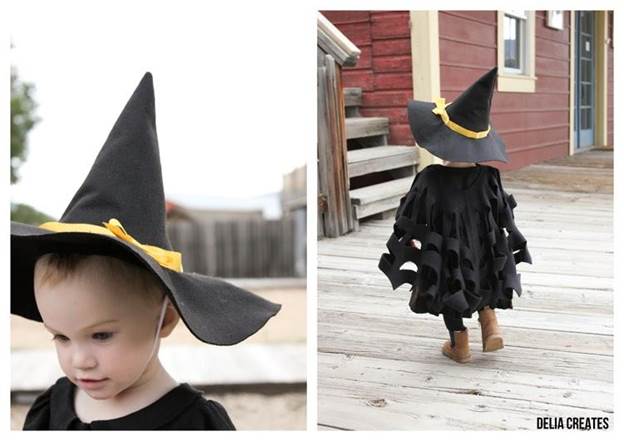 Making a witch hat with fabric is an easy DIY project. Using your choice of fabric, this guide will show you how to make your own witch hats for Halloween or other special occasions. Make one for yourself and a few for friends and family! Your little one would love a witch hat. You can make this DIY witch hat with fabric and give it to them. This tutorial will show you how to sew and turn so your child has a beautiful hat to wear on Halloween. You can also make this for adults if they have their head measurements.
DIY Witch Hat Decoration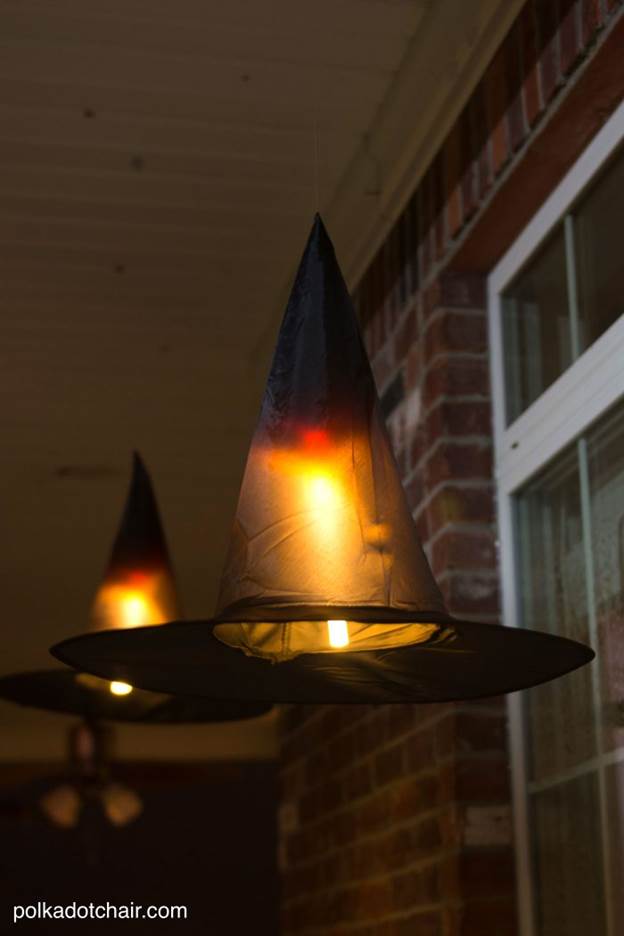 If you have a little time and not so much money, this is the project for you! This floating witch hat decoration is perfect for Halloween decorating. Use this DIY witch hat for Halloween and make a statement at home. It can be used as home decor or a headpiece to scare people in the dark! The best part is that you can take the floating witch hat anywhere you want or around the neighborhood. It adds up to the ambiance of trick or treats experience for kids.
DIY Witch Hat
Are you looking for a fun way to dress up for Halloween? Want to create your own unique costume this year? Well, look no further; this project helps you make a witch hat that's fashionable and fun-looking. It's simple to follow and utilizes many different supplies that can be found at home. The DIY Witch Hat is a hand-sewn hat that allows you to choose materials. There are different variations, such as adding accessories and skulls on the hat's brim, so there's something for everyone—and no matter what, it'll look fantastic.
How To Make A Witch Hat
A DIY witch hat can be made for your Halloween costume with a few materials, such as a marker, ruler, black cardboard, and other tools. The project starts with marking and cutting out the shapes from the black cardboard. These shapes are then joined to form a Witches Hat. This DIY witch hat project comprises many steps, but the result is worth it. It's a simple but elegant craft that your kids can make at home. Since this hat is small in size, it won't consume a lot of space in your home and is easily portable whenever you need to take it somewhere.
How To Make A Scary Witch Hat
Need a unique and easy-to-make mask for Halloween? This is an unusual witch hat that will surely scare your neighbors. This scary and fun witch hat is made out of cardboard. Scissors and markers are used to cut out the shape, which is then decorated with the help of some paint and glitter. You'll have your neighbors running scared! This Halloween put a terrifying twist on the traditional witch hat. You'll need a few simple materials and an hour to make your own DIY mask. This fierce look is easy to follow and sure to have people running in terror this Halloween season!
DIY Witch Hat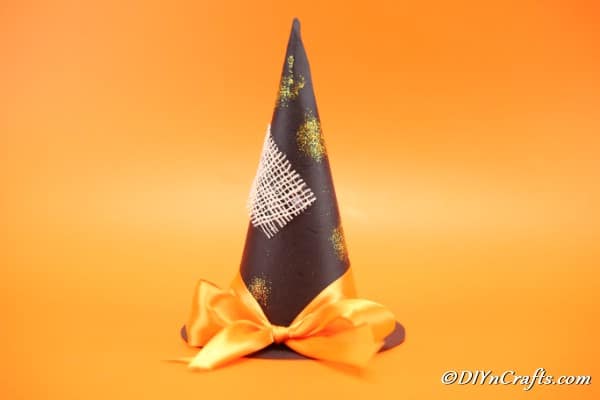 Looking for a witch hat that is not as scary to wear? Well, this one is the perfect DIY craft project. It is great to wear while having a night of fun with friends or an awesome outfit for your costume party! A simple, easy, and fun Halloween decorating project that turns out so cute. You can utilize any leftover felt to create this adorable Witch Hat for your little one. This witch hat is not so scary. A ribbon is used on the bottom of the hat to give it a stunning look.
DIY Dead Roses Witch Hat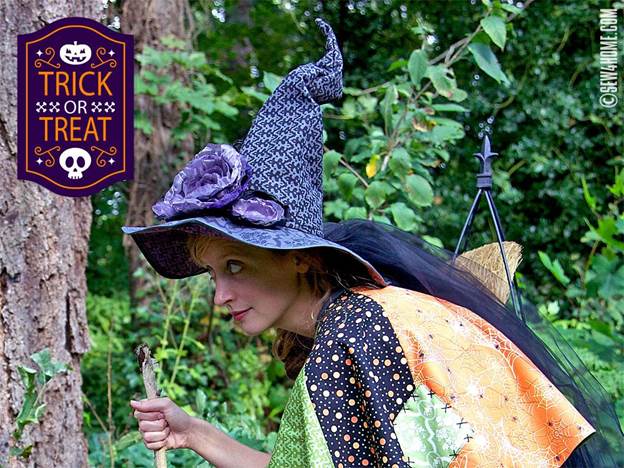 This is a DIY project that uses a sewing machine. This project is made from dead roses, but you could use fresh flowers. The making process is easy to follow and involves following clear steps. If you can sew using a machine, this project will suit you. This DIY dead roses witch hat is a great project for anyone who loves sewing and working with materials. The process is easy to follow; however, you should know how to use a sewing machine before attempting this guide.
Gandalf's Hat DIY
Turn yourself into a wizard for the night with this easy DIY. This Gandalf's Hat Tutorial will show you how to make a sturdy crown hat in just a few steps. Pop it on your head, sit back and think of Middle Earth while you wait for your friends to arrive. Making this hat is a fun way for the kids to spend an afternoon, and with a little help from mom and dad, it should be fairly easy for them to remember how to put it together. The materials are inexpensive so you can make just one or a whole group of these.
How To Make A Witch Hat With Paper
Do you have a costume for Halloween? Then make sure to include a witch hat on your list. With the help of this guide, you can quickly and easily make a witch hat from paper. This project is safe, cheap, and fun! Make this witch hat for Halloween. This hat is perfect for costume parties, haunted houses, or simply wearing it as part of a disguise or costume. The hat is easy to make using paper and tape, so even kids can make their own!
DIY $2 Witch Hat
If you're looking to make the perfect party prop, our craft expert shows you how to create a witch hat using a few household items and cheap, easy-to-access materials. Some people love to have this cute witch hat. Some of them might be a little tight in budget but do not worry. You can make it for $2 using craft supplies like posterboard, scissors, and glue. This DIY witch hat can be easily made by anyone and offers a cheaper alternative to the store-bought one. With just a few tools, you can make this awesome Halloween accessory.
How To Make A Witch's Hat
If you are looking for a craft project and are having trouble deciding which one to make for Halloween, why not go for a witch hat? It is simple, quick, and easy to make. The great thing about this project is that you can make up to three or five witch hats using just two A3 sheets of black cardboard and a few tools, making it ideal for those who want to make fast witches' hats. This DIY Witch Hat is ideal for those looking for a quick project to tackle. With the help of this tutorial, you will be able to make up to 3-5 witch hats in no time.
How To Make A Witch Hat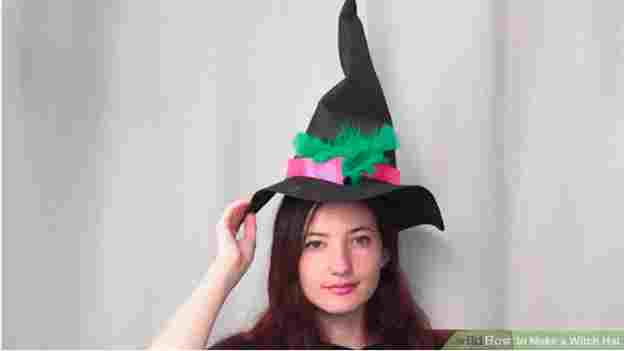 Making a witch hat is easy. This short video tutorial will show you how to create your beautiful and unique witch-hat costume using simple materials like cardboard. Suppose you're not interested in the possibility of losing your hair when making one; practice on a piece of paper first for more controlled results. To create a witch hat, you need to start by making a cone out of newspaper. For this project, you'll want to use large newsprint or newspaper pages that are fairly thick. You must follow simple steps to make the cone the right shape and size. After that, you'll put on your pompom and decorate your hat with other decorations like fabric paint, feathers, or finishing touches.
DIY Edible Witch Hat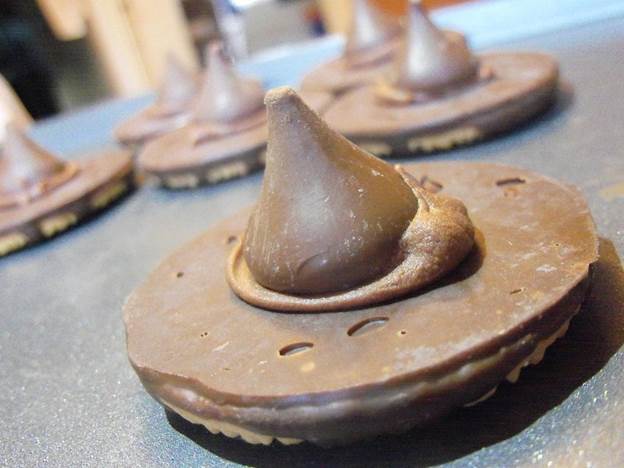 Witch hats are an essential part of any Halloween costume. This Witch Hat recipe is easy to make and even easier to eat. Made with delicious chocolatey frosting, it's sure to be a hit with friends and family at Halloween parties! Spice up your Halloween food this year with a fun, tasty, edible witch hat. Made with easy-to-find ingredients, you can make this treat for yourself or as a treat for some friends. This edible witch hat will be a fun treat to make at home. This recipe is easy and simple to follow; feel free to adjust the ingredients.
DIY Cheap Witch Hat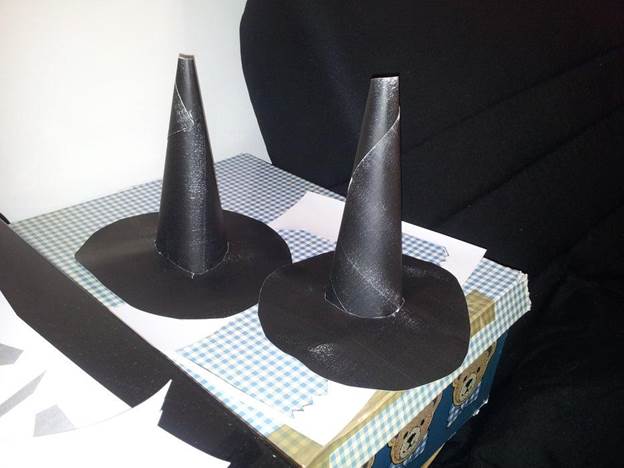 This black witch hat is the perfect addition to your witch costume. It has a wide brim and black tulle, so it looks just like the one you would buy in stores. This DIY project is one of the easiest you will ever make, and it costs much less than what you would pay for a ready-made one. Put on your hat, grab a broom and get ready to play! This great DIY Witch Hat is perfect for any witch who wants to fly her broomstick right through the night! You can make this cheap, simple, and easy project in less than an hour. This hat is perfect for Halloween or whenever you want to be a witch.
DIY Mini Witch Hat
This fun, easy, and inexpensive project suits all ages. This little hat is perfect for kids and adults alike! The witch hat comes with a pompom, so you can make it as cutesy or scary as you'd like. Whether you're having a nice cozy tea party or hosting a spooky Halloween party, this DIY mini-witch hat is great for any occasion! This DIY Mini Witch Hat with a cute design will look great on kids and adults. It's easy to make, fun, and cheap!
You can also see: Crochet Mini Amigurumi
DIY Witch Hat Headband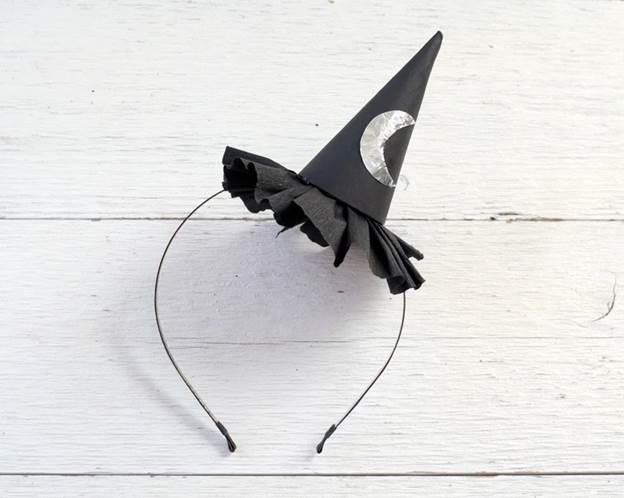 Easy to wear and quick to make, this Witch Hat Headband is sure to turn heads wherever you go. Crafted with black crepe paper and attached to a headband, our new Witch Hat Headband makes a great addition to any costume. Whether you're dressing up for Halloween or planning to attend a spooky party, this hat will make you stand out. And don't worry if you aren't a seamstress or crafter – we can help! This project is easy to assemble.
How To Make Felt Witch Hat
This tutorial shows you how to create a witch hat using felt. You'll need scissors, needles, thread, and various felt colors—it's a fairly simple process. For those who wondered, the hat will fit most heads, but if the wearer has a particularly large head or long hair, the pointed ends might bother them. This one is simple and easy to make, so if you have time and some sewing skills, this project is great for beginners. The creator even shows you how she makes her different colors using only black thread.
DIY Witch Hat
Do you know how to make a witch hat in the best manner? If not, now is the time for you to learn. This DIY project will allow you to create a beautiful one that would look great on your head during Halloween. This DIY witch hat project is the perfect autumn craft for kids aged 5 to 12. They can decorate them with different materials and make their hats unique. A nice addition to their Halloween attire. It's Halloween and a great time to show off your creative side. This DIY project will help you make a witch hat that is colorful, fun, and easy to make. Be sure to use fake flowers for this project, as real ones can be toxic around children.
DIY No-Sew Witch Hat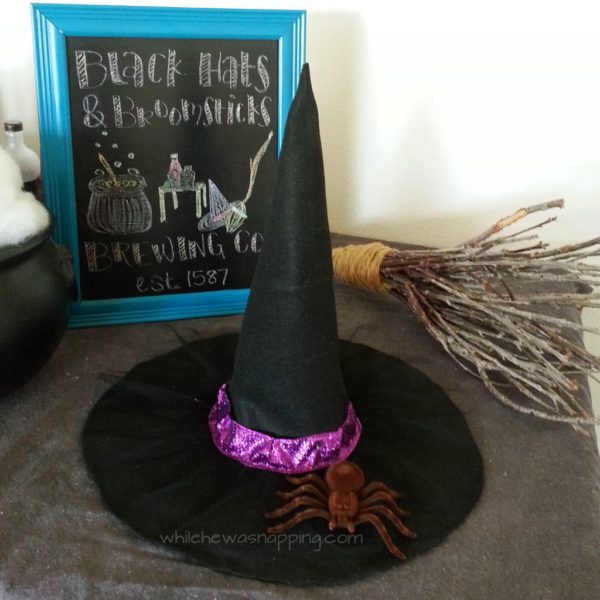 Here's another craft project for Halloween lovers. This hat is perfect for kids or adults to wear this Halloween. Make the hat yourself with easy instructions, and add spider webbing. Be the hit of any Halloween party with this witch hat! This no sews witch hat is a great craft for all ages. The spider decoration makes this project scary, and your friends would be amazed to know that you made it yourself! This witch hat is printed up, so anyone can make it. You can also decorate the hat with your own accessories, such as spiders, a witches' broom, and a cauldron, so you can skip the paper plate when doing this project.
DIY Witch Hat For Dog
This DIY witch hat for dogs is a fun accessory for any pet costume. Whether you want your dog to be a wicked witch or dress up as a witch doctor, this hat will look great. Your furry friend will be the talk of the town when they don't exactly have everything covered. This hat can be paired with any other costume to create the perfect look for your pup! With a few stitches and some felt, you'll be able to create this adorable witch hat for dogs in no time. This tutorial is ideal for beginners and takes less than an hour to complete. See how the author put it together in this video.