If you enjoy wine and want to host a tasting or stock up on bottles for the summer, many DIY wine rack ideas are available. You can create a unique display in your kitchen or dining room with wooden racks that look nice while also helping to keep your favorite wines organized.
Wine racks are a great addition to any home. DIY wine rack ideas are a great way to decorate your wall. They can help organize your wine collection, and with the right design, you can store a lot of wine without it taking over any of your valuable space. Even though wine racks have practical use, they also make a great decorative piece in any room. You can customize them to fit almost any style you want, from modern to traditional or rustic decor. If you don't have a lot of wall space, miniature tabletop versions work just as well as larger models.
DIY Wine Rack Ideas
Wine racks are great for giving your bottles a safe place to rest, but they don't have to be boring. Wine racks can be as simple or complex as you like and can get the job done in various ways. Many people prefer the look of wooden wine racks, but they can get pretty expensive if you're planning on storing a lot of wine at once. If you want to spend less money and still have a nice-looking wine rack and some extra space for other things, there are plenty of DIY options that you can do for around $20 or less. Here are some ideas for your next wine rack project.
Why Should You DIY?
DIY is a great way to save money, but it's also a great way to make sure you get what you want. When you go with a store-bought wine rack, you may not be able to find the exact size or shape that you're looking for. Or maybe it just doesn't fit in with your decor. DIY wine racks let you choose exactly what size and shape work best for your space and style.
You Can Make It Match Your Decor
Many DIY wine rack ideas involve repurposing old wood or metal pieces, like old crates or wooden planks. These materials are easy to find at home improvement stores or flea markets, so they won't cost much if you find them secondhand. And if they don't match your decor perfectly? No big deal—you can paint them!
You Can Make It Fit Your Space
Many DIY wine rack ideas involve just a few simple cuts on some wood or metal pieces to create an end product that fits perfectly in smaller spaces. This means that if you have limited space but lots of bottles of vino, a DIY wine rack is perfect for you!
DIY Barrel Wine Rack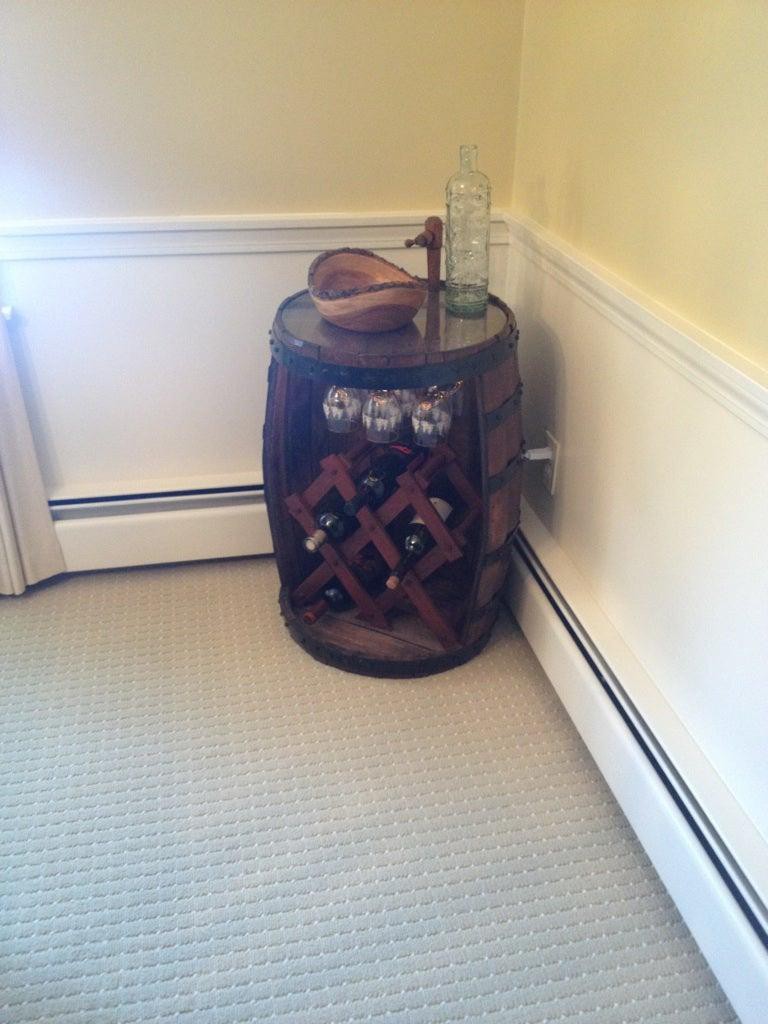 Most of us can agree that rustic decor has become very popular. This DIY wine rack is an excellent example of how one can use old wooden barrels to craft beautiful pieces. Old wooden barrels have a distinct character that manufactured goods cannot match. The maker of this wine rack was able to utilize the natural beauty of her barrel and turn it into a chic piece of furniture that can store your wine and glassware. Imagine enjoying wine with your friends while admiring the natural beauty of your handmade wine rack.
Circular Wine Rack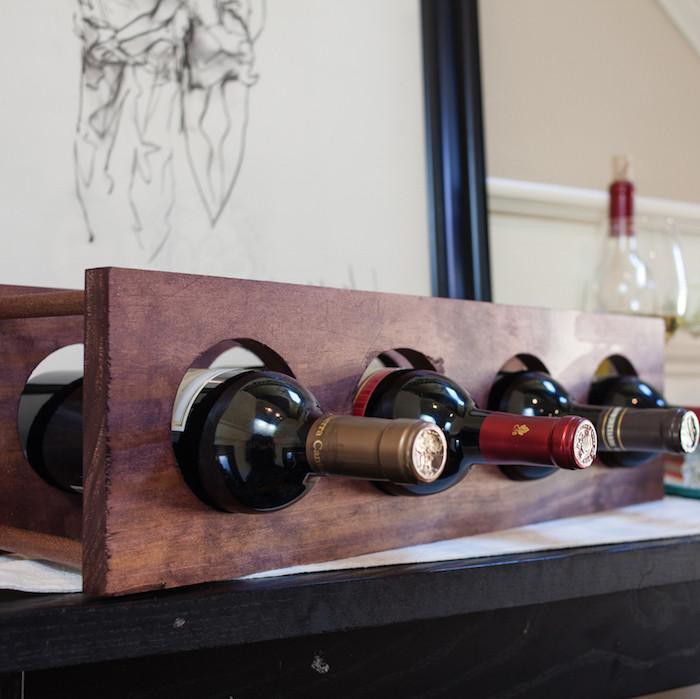 This wine rack is excellent for a small family. You can store it on your kitchen counter and use it every day. The best part is that you don't need any expensive tool to make this. You might be thinking, "How can I make it when I don't have any carpentry experience?"The answer is: 'very easily!'The fact that you don't have to use any expensive tools makes it even better. All you need is a circular saw, jigsaw, and a drill machine. This wine rack is made of a simple wooden circle with four legs on the bottom. The size of the wooden circle is variable, but it should be big enough to hold four bottles of wine.
Wall-mounted Wine Rack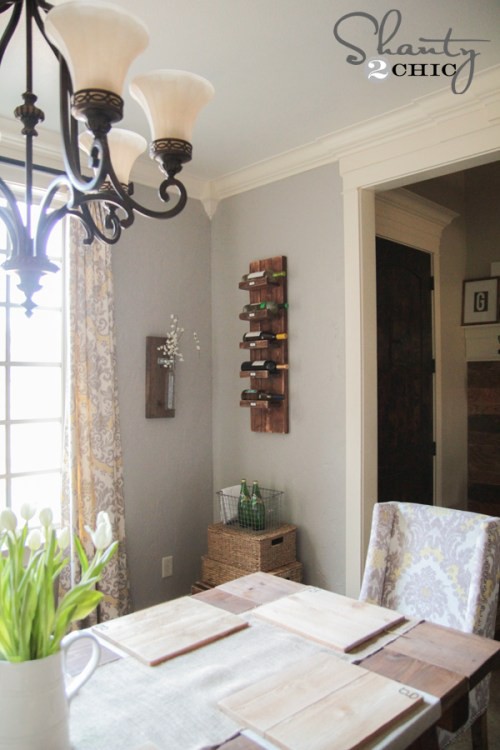 This is a great way to store your wine and add beauty to your kitchen. This wine rack is trendy in India. It will enhance the appearance of your kitchen, and even if you are not using it for storing wine, it will look perfect on your kitchen wall. When you look at the picture of the kitchen wall decor item above, you can see the wine rack is rustic and stylish. This can be a good idea. The wooden shelf has a solid construction, and it is also well-made. It looks beautiful with the rustic style of the cabinetry.
Pallet Wood Wine Rack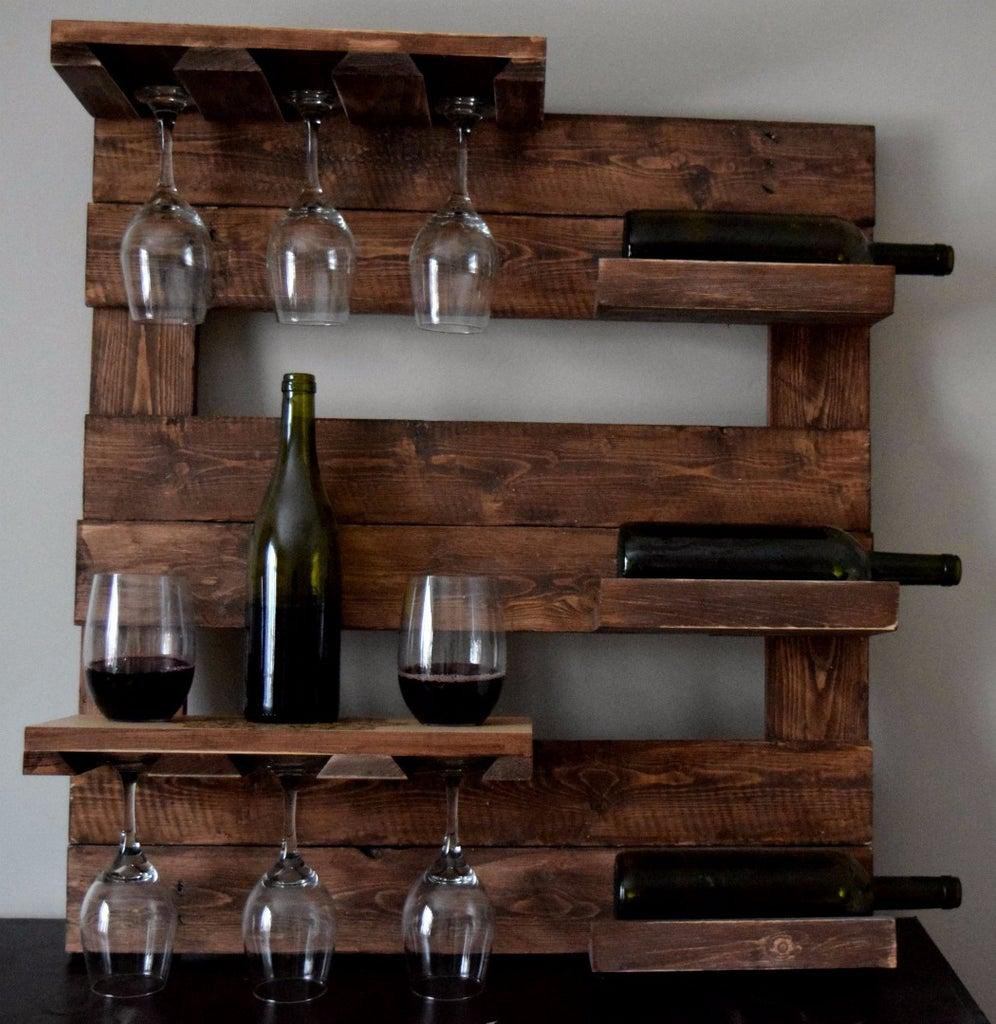 Create your own unique wine rack with this easy-to-follow tutorial. Made from salvaged pallet wood, this wine rack is eco-friendly and requires minimal hardware. A pallet wine rack is more than just a place to store your favorite vino. It's also a fun project to do and can be decorated in infinite ways. This DIY pallet wood wine rack will impress your friends and family no matter how often they've seen it done before! This DIY Pallet Wood Wine Rack is the perfect accent piece, whether you're serving up a family dinner or hosting a dinner party. It's easy to make, too!
Easy-To-Make Wine Rack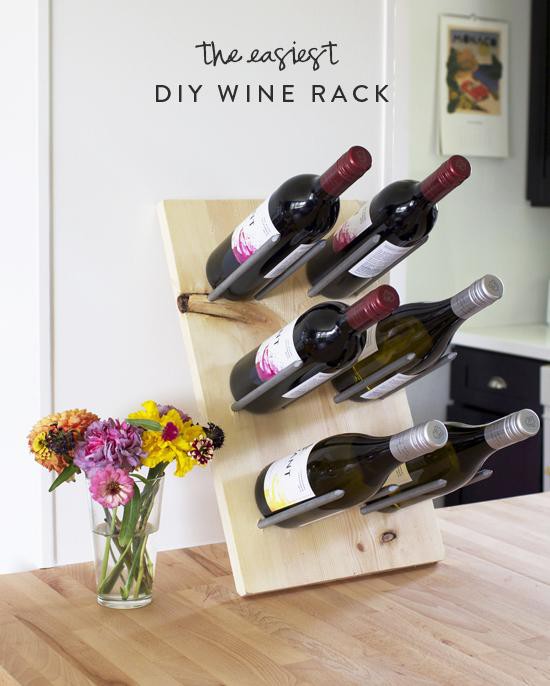 If you love wine, you should have a wine rack to store your glass bottles. Wine racks can be built from wood; however, if you are not a skilled woodworker, this project may be too advanced for you. If you need a simple way to store your glass bottles, you may consider building this easy-to-make DIY wine rack. It is straightforward to make and will only take a few minutes of your time. This wine rack can be used to showcase your wine glasses or any other items you want to display in your kitchen.
Wine Rack Tower
Did you know that there are people who get a lot of wine? And they need a lot of storage for their wine. For example, if you have a lot of wine and want to store it in your kitchen, you can make this giant wine rack. It is significant so that it will take up a lot of space in your kitchen. But it is perfect for storing all the bottles you want for your parties or everyday drinking. With this giant wine rack tower, you can store a lot of wine at once. If you make this wine rack tower, you should know it takes a long time to make one. But the finished product will be worth it because it will hold many wine bottles.
3 Tier Wine Rack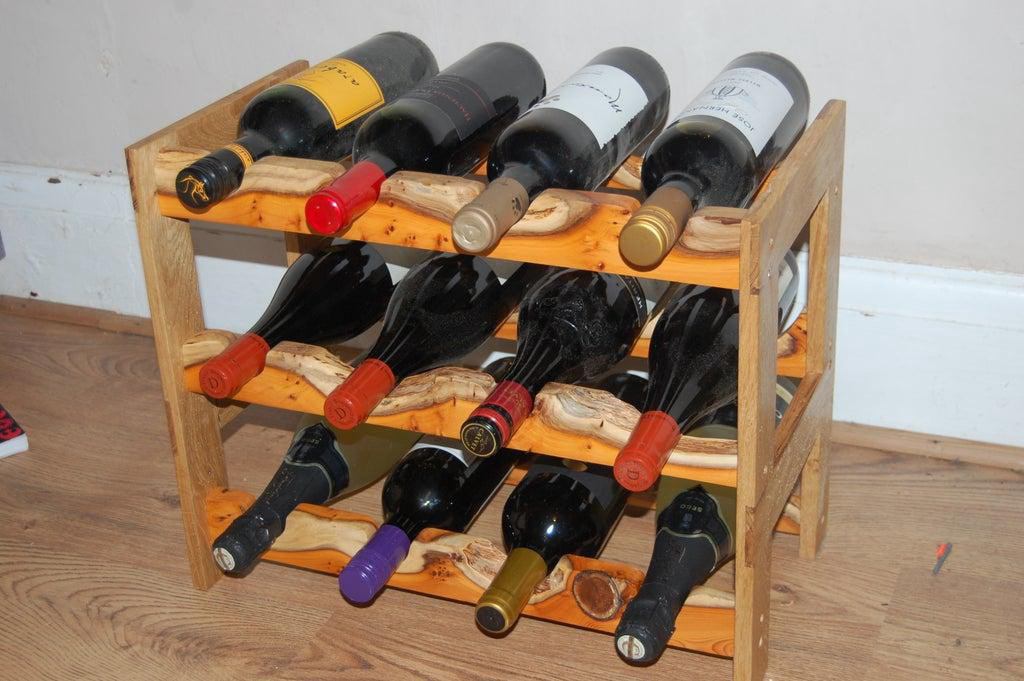 This wine rack is a fun and beautiful way to show off your favorite wines. It can hold up to twelve bottles of wine and can be customized in many ways. Keep this piece out for all to see, or store it away between uses and use it only when you have company. This wine rack is a great way to show your wine collection to your friends. Since it can store up to four bottles, you can show them off at once. If you're not a fan of wine, you can still use this as a place to hold other types of liquor.
California Wine Rack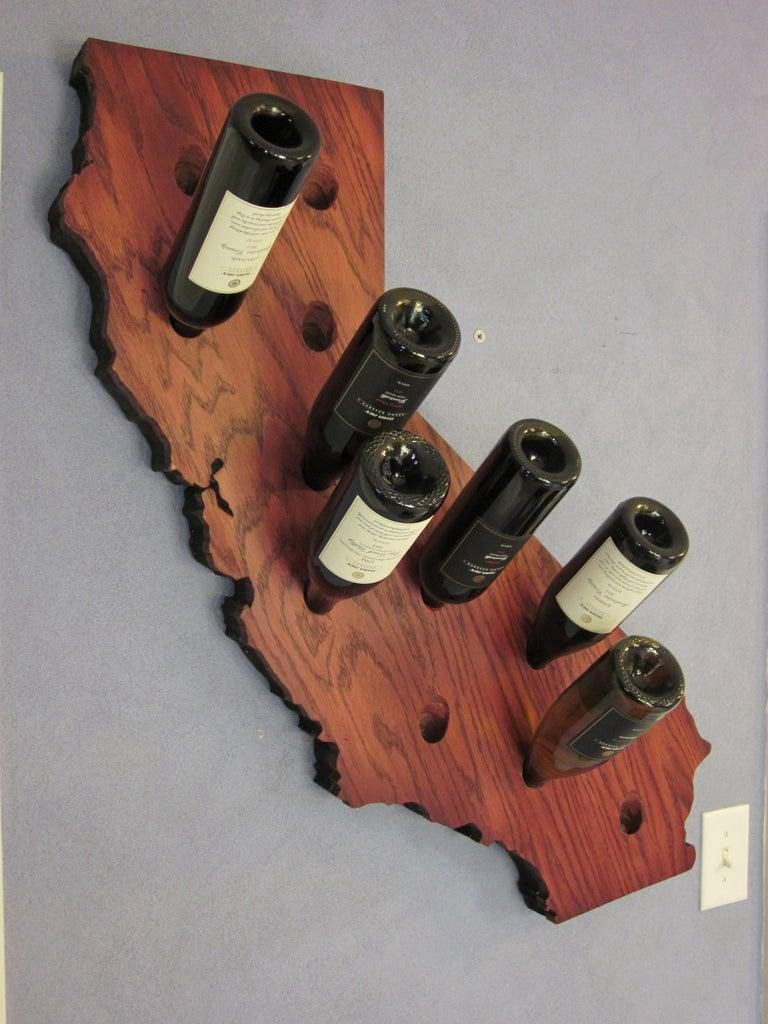 A DIY California Wine Rack is a beautiful wall decor idea. This wine rack not only holds wine bottles but also displays them. If you are looking for a unique storage method to put your wine bottles, this is one of the best ideas. It's easy to make, and you can customize it according to your taste. You don't have to stick to this look; you can change it per your requirements. This excellent idea can also be used as a part of your garden patio decor.
Rope Hanging Wine Rack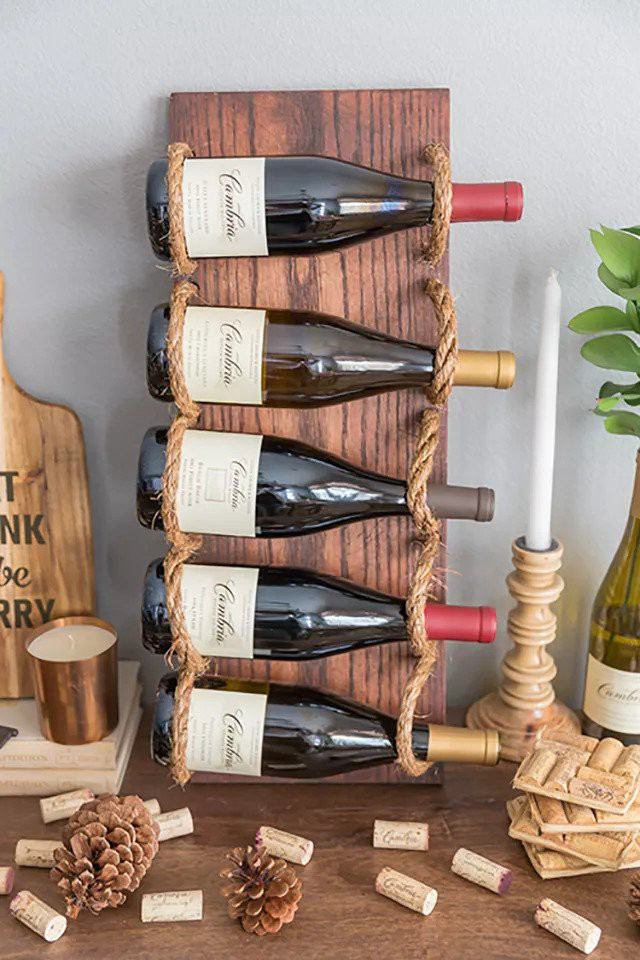 A fun, easy, and modern wine rack that you can make in your own home. All you need is some rope and wood. Create a unique DIY wine rack using rope and wood. This hanging wine rack is perfect for the kitchen or living room. It's made using a single piece of wood for sturdiness and durability and ropes for the hanging hooks. You can do this project in no time with just a few tools. It can hold up to 5 bottles of wine; if you want more storage capacity, you can make more than one. This bottle holder is great for any home or kitchen decor. Fantastic for entertaining and parties.
Wall Wine Rack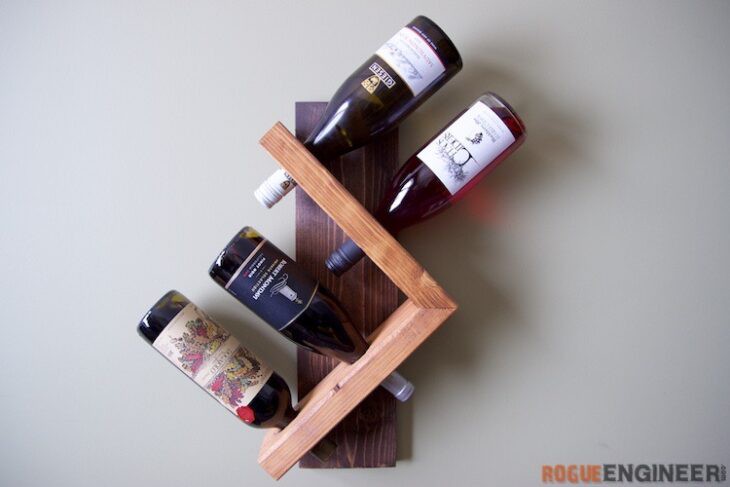 Do you love wine? Then, this DIY wine rack is perfect for you. But, before making it and placing it in your home, be careful not to make a mistake as this might lead to the breakage or falling of your precious bottles. It's a simple project that only takes about an hour, and the materials cost less than $50. This is a fun and ingenious way to display your wine bottles. With this DIY project, you'll learn how to make a beautiful wall-mounted wine rack that can be used anywhere in your home. So what are you waiting for? Get building!
Rustic Wine Rack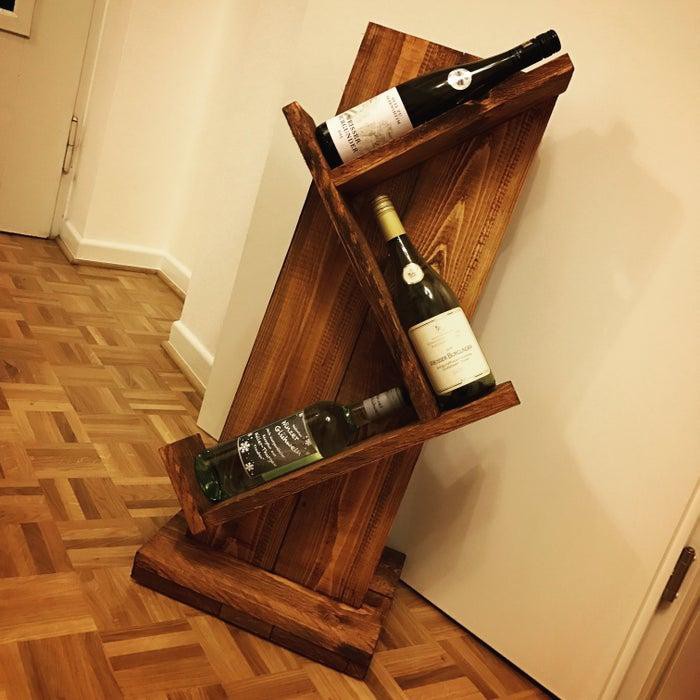 This beautiful wine rack will look even better in a rustic-themed kitchen. This gorgeous rustic wine rack will surely be the perfect addition to your kitchen. It can hold up to three bottles of wine at once and has enough space between the shelves, so you don't have to worry about your bottles getting smashed. The wood is a plank of strong and sturdy pine wood with a matte painting technique that will add color and depth of grain to enhance the overall look of your kitchen. It's perfect for storage in tight spaces. This piece also makes an excellent gift for friends and family that like all things handcrafted, unique and beautiful!
Transform Cabinet Into Mini-Bar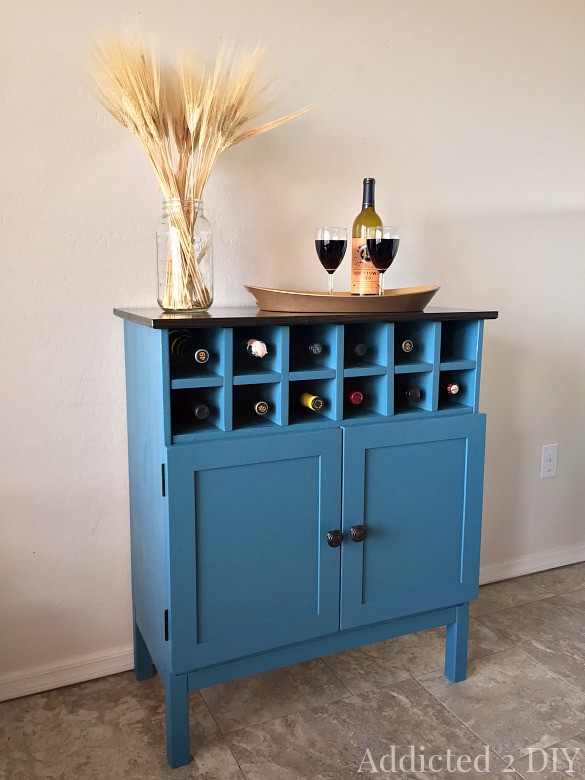 If you've ever gone out to dinner at a nice restaurant, you've probably seen a bar area with a bar top and stools. They also usually have a wine rack/bar to store their wine bottles. Why not make something similar for your home? Transform your cabinet into a mini-bar if you don't have a large bar in your home. Make do with this simple-to-make bar/wine rack, and include some wine. This wine rack bar can be used to store up to twelve bottles of wine and has a lower shelf compartment for your glasses and more. This is perfect if you don't have much space in your home but still want to be able to store wine bottles somewhere.
Cowboy Style Leather Wine Rack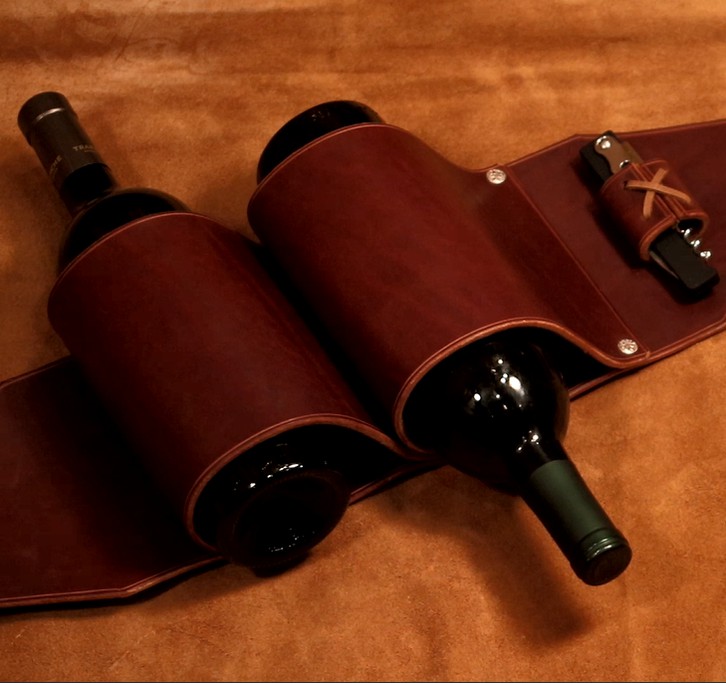 Wine racks are made in many different styles and sizes, but you can't deny that the design of this one is eye-catching. It will add a lot of color to any kitchen, and it might hold more than just wine bottles. But if you are thinking about where you will put this wine rack, you should know that it will take up some space on your countertop or table. You should also know that when you do this project, some damage to the leather may be unavoidable and can't be fixed, but in terms of functionality, this project is excellent. The tutorial is straightforward to follow, and if you are a beginner, you can try this project out. All you need is some leather, some tools and some pieces of wood.
DIY Wine Rack
If you love wine and a beautiful home, this DIY wine rack storage idea may be just what you need. This project incorporates two functional pieces: a wine rack and glass storage. The glass storage piece is particular because it can hold both wine glasses and bottles of wine. It is so attractive to look at, and it's super convenient. You can use either a whole log or split logs for your project. You will love the idea of making a custom wine rack out of salvaged wood that's perfect for displaying and storing your bottles, plus it doubles as art!
Leather Wine Rack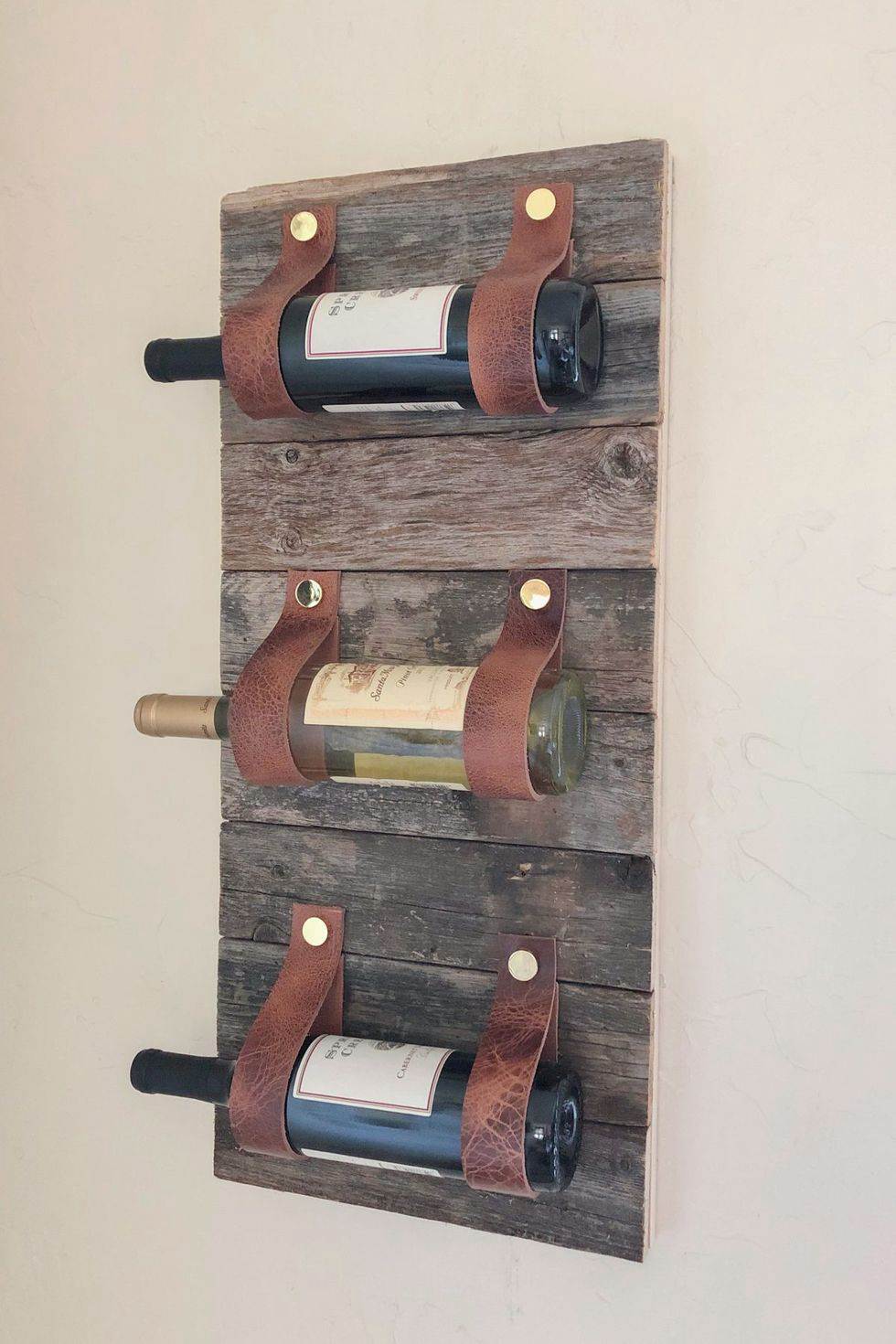 The process begins with the preparation of the surfaces to be joined. The wood is sanded down to remove any blemishes, and the leather is conditioned with a natural conditioner. The wood is cut out, and holes are drilled to allow for fastening. After being sanded down again, the wood pieces are stained to colour it. The straps are made by stitching together a few leather strands and cutting them into the proper shape. They are then sewn onto the wood panels and prepared with a peg to allow for secure fastening. The last step is decoration! You can do whatever you like here; you can choose to hang up your wine rack on a wall and decorate it with some crystals to make it sparkle.
Wine Rack For Countertop
Brilliant idea for your kitchen or dining room, this countertop wine rack is made from solid wood, not flimsy plastic or metal. Simple and elegant, this countertop wine rack holds up to 8 bottles. Its rustic styling is handcrafted from solid oak and suits any interior décor. The wine bottle rests comfortably on the rack, and it's easy to grab one with built-in handles. This wine rack for the countertop is designed to hold your collection of favorite wines and keep them within your hand's reach. Please keep it on the shelf in your kitchen or use it as a decorative piece in any room in your house.
Copper Wine Rack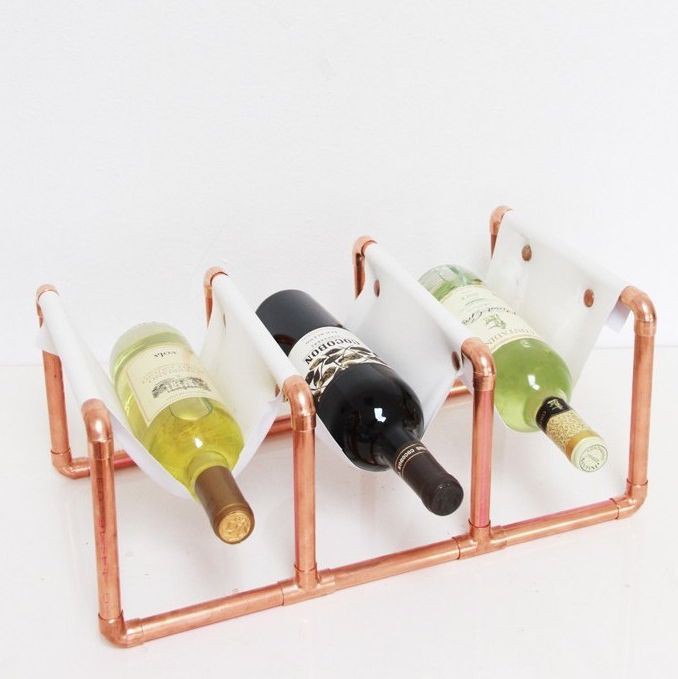 This is a fun and easy project that can give any home bar or kitchen an upgrade. It requires essential tools and minimal skill, so it's perfect for beginners. Turning copper sheets into a wine rack will give you a lovely decorative accent to your home and a unique piece of furniture for your kitchen or bar. Before you begin, however, remember that the most crucial step is to be safe. Always wear protective glasses when working with wood or metal, and follow all safety precautions when working with power tools. Once you've completed the DIY process, you'll want to ensure that your wine rack is maintained correctly so it will last for years.
DIY Easy Wine Rack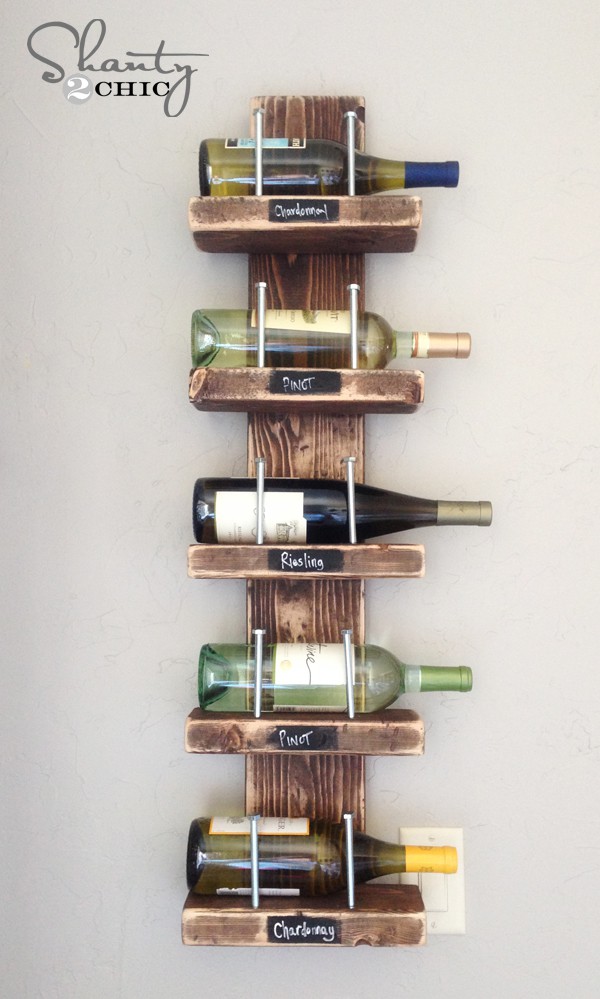 Are you looking for an easy way to display your wine collection? This rustic-chic wall-mount wine rack will instantly add character to any kitchen, office, or dining room. The simple design uses wood and nails to create a beautiful wine rack that can be customized with your own unique style. This nifty wall-mount rack is perfect for a modern kitchen. It will also add charm to a rustic kitchen. It is a simple DIY project that you can complete in just a few hours and requires no carpentry skills!
One Bottle Rack
This is an elegant way to store drinks! If you have a lot of guests over for the weekend, this is perfect for them to put their glasses on. This is a rack to organize one bottle and glasses that would like to drink wine. Clean, simple, and beautiful looking. You can use it in your bar or at the home area to drink with friends or family. This one-bottle rack is perfect for people who don't drink a lot. It's also a great way to display your favourite single bottle of wine or liquor while keeping it safe and sound. This is something you can make yourself at home with easy-to-find materials.
DIY Dowel Wine Rack

Wine racks are a great addition to any kitchen. You can store various bottles on it, and it looks great too! This DIY wine rack is a simple and fun project you can do on weekends. It has three compartments to store wine bottles. Once built, it'd look great in any kitchen! You can customize it as you like and easily change the dimensions. The dowels are sold in different lengths, so depending on how tall you want your rack, determine how many you will need. It's perfect for any kitchen or dining room! Not only will it hold wine, but it is also perfect for storing other things such as fruit, glasses, or whatever else you want!
Outdoor Wine Rack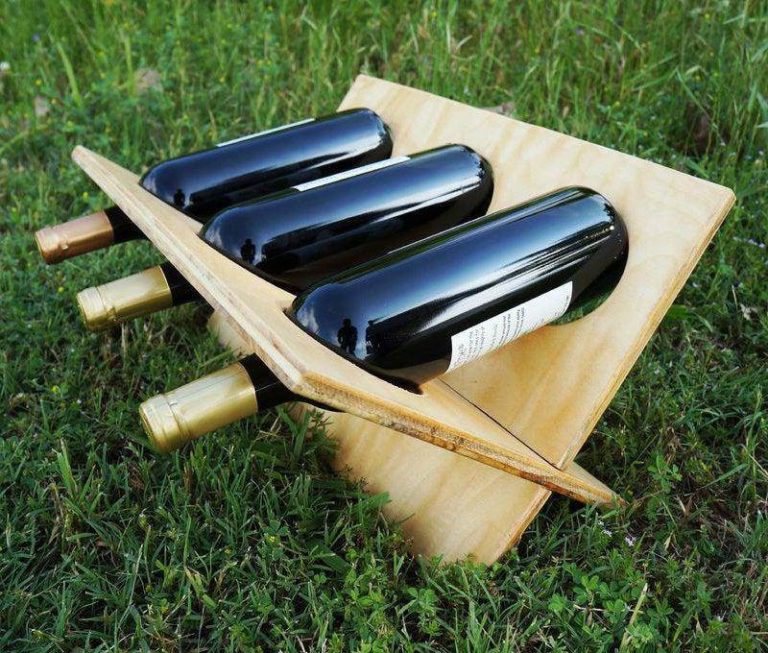 You know that outdoor furniture can be cumbersome and expensive, but this wine rack is perfect for your outdoor space. The Outdoor wine rack is here to help you enjoy your nights with friends and loved ones. The design is very much simple yet durable. It will add life to your backyard, especially if you like entertaining people from time to time. This DIY project is so easy that it won't take much time or effort, even if you've never done anything like it. This type of wine rack is simple to make, and all you need for materials are scrap wood, some nails, a hammer, a sawtooth hanger, and a saw.
DIY Wine Rack Idea
Need more space for your wine collection? Get organized by creating your very own wall-mounted wine rack. This is your favourite wine rack, and it's super easy to store your favorite wines with this modern design DIY project. This DIY wine rack idea is perfect for tiny homes and apartments with limited space. Not only are these wooden racks built to stand up to the times, but they can also allow you to customize your home's decor with various colors and textures. This wine rack is an excellent piece of furniture for your home. It is easy to store wine, and the process of making it is not too difficult.
Leather & Wood Wine Rack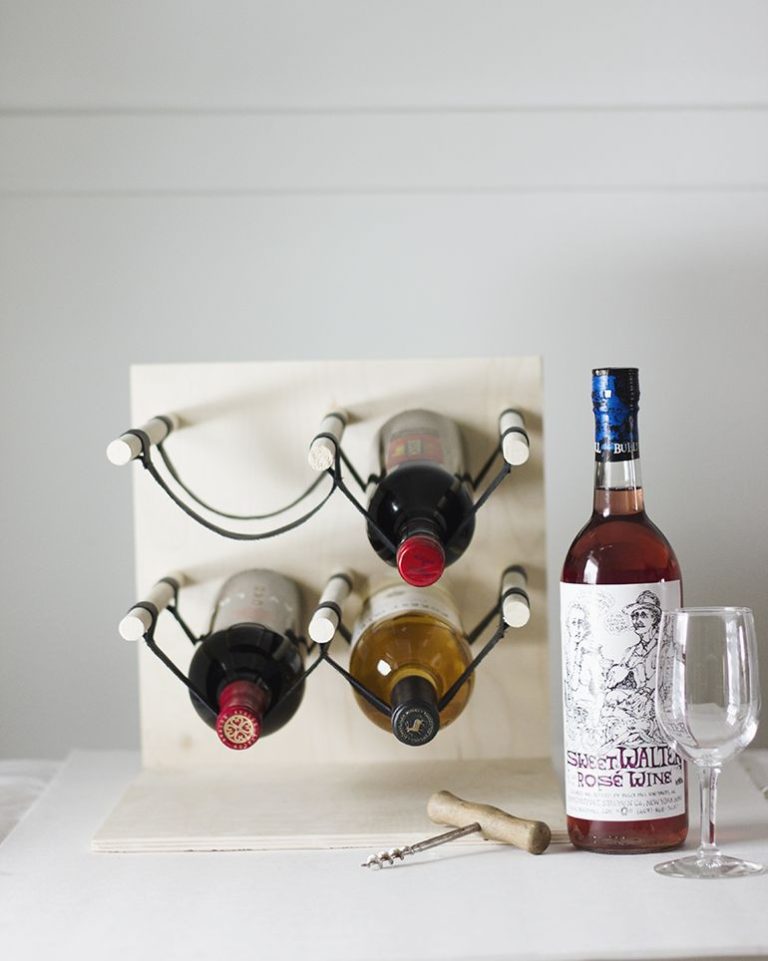 This Leather & Wood Wine Rack perfectly fits the modern kitchen. Keep your wine bottles well organized with this leather and wood wine rack. This kit includes all the materials needed to create a modern wall-mounted wine rack with a top shelf for corkscrews and other accoutrements. This handmade piece is constructed from wood and leather and can be personalized with your name or initials. It makes a thoughtful housewarming present or a great way to showcase your favourite wines at home! This wine rack is a great piece to add to your modern home. It is made from sustainable materials and creates a unique visual effect.
Kitchen Island Wine Rack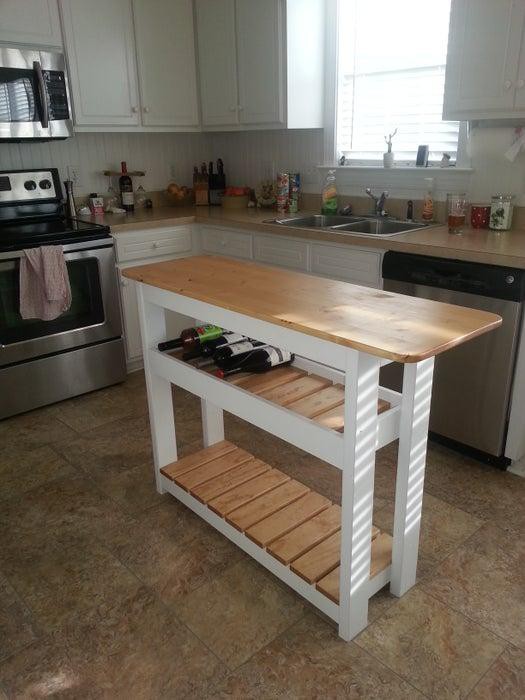 What better way to get your wine collection out of the closet than a fabulous kitchen island? Make the most of your kitchen space with this simple wine rack. Your wine collection will look stylish, and you can add a personal touch by showcasing your favorite vintage bottles. This kitchen island features a wine rack just below the countertop. This layout gives you the convenience of having all of your wine bottles close at hand while still being able to give those bottles a great home in your kitchen. This is perfect if you don't have a kitchen island, as this island sets right on top of your existing countertops.
Copper Pipe And Wood Wine Rack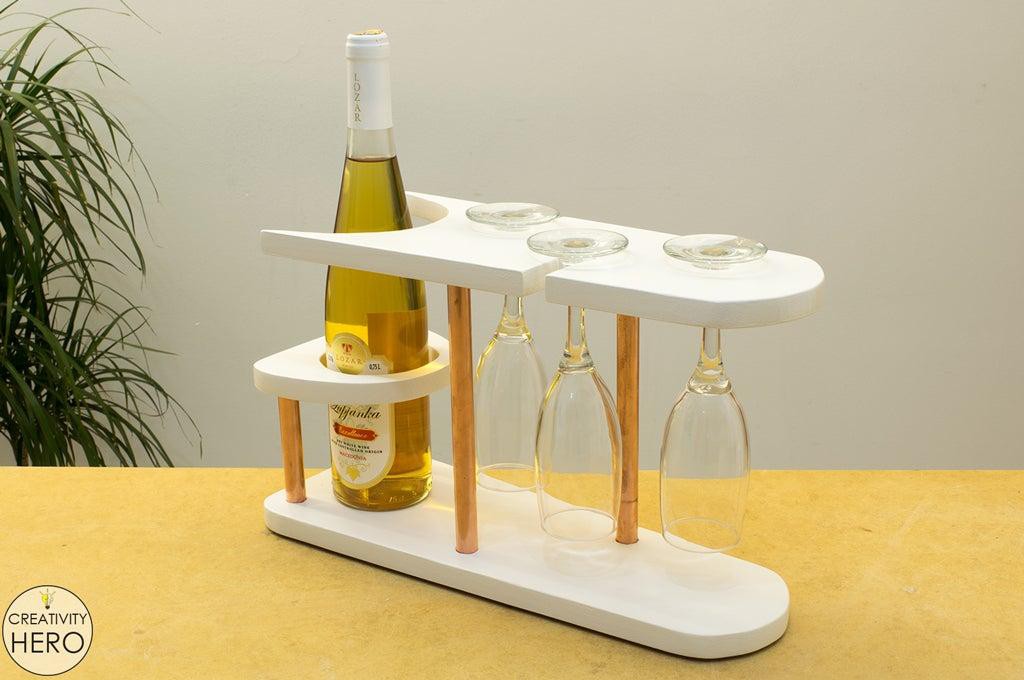 This All-in-one Wine Rack is the solution for storing and displaying your wine collection. It is made from sturdy wood and finished with a durable copper finish. This vintage-styled wine rack will transform any room with its elegant yet rustic charm! Add a touch of elegance to your entertainment space with this wine rack. Its single bottle capacity is made to store an average-sized bottle of wine and three wine glasses. The top of the rack can also be used as a stand for displaying decorative accessories.