Welding tables can be expensive and tough to find, but don't let that stop you from making one. This DIY article will give you different welding table plans to choose from, so you'll have plenty of options to consider. Whether you want to make your plans or use someone else's design, the internet is full of ideas for building a solid welding table that will last you a long time. But We've collected some awesome plans for building your welding table. Each plan has its unique design and unique materials list. Most of them use common tools you probably already own, making building your table much easier on your wallet.
Homemade DIY Welding Table
Anyone who has ever welded knows that a good welding table is essential to getting the job done right. A proper welding table will allow for precise measurements and help prevent injuries. If you are looking for a cost-effective solution to your welding needs, then these DIY welding table plans are just what you've been looking for! They all offer a unique design, but there is something for everyone's tool budget. From basic to advanced and simple to complex, we are sure you will find the perfect plan for your needs.
Benefits Of DIY Welding Table Plans:
Cost savings: If you're considering buying a welding table on a tight budget, you should consider making your table. It will cost less than half the price of buying one, and you'll be able to customize it to fit your needs perfectly.
Versatility in design: You can design your welding table to fit any size or shape of material you need to weld together or cut apart. You can also customize it to include drawers for storing tools or other items needed during the welding process.
Rewarding experience: Building something yourself can be an incredibly rewarding experience because it allows you to express your creativity through the finished product that you created yourself with your own two hands and some tools (and possibly some help from friends). It's also a great way to learn new skills like welding!
How To Build A Welding Table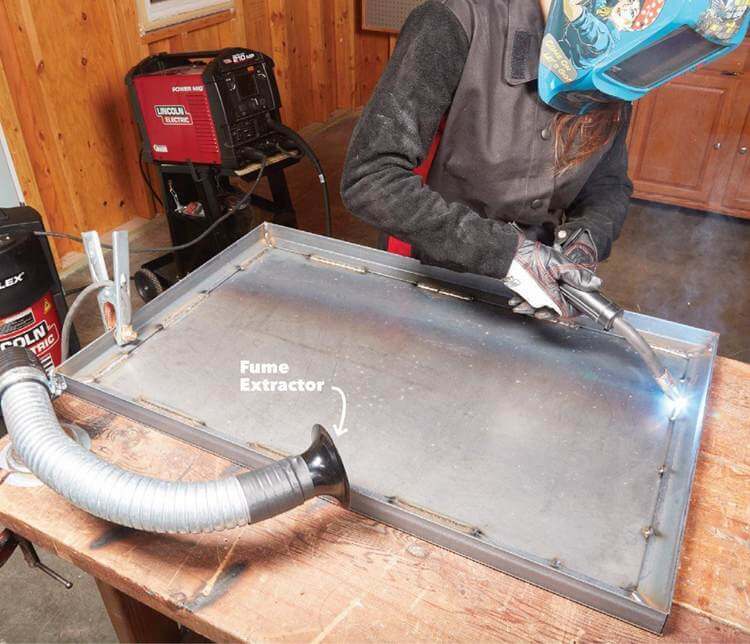 Here are simple-to-follow instructions for building a welding table. This project is inexpensive and easy to do, and it only takes about an hour to put together. This How To Build A Welding Table tutorial will show you how to build a simple and inexpensive welding table out of scrap steel, angle iron, and other common hardware store items. This basic fixture will enable you to move around while working on your projects, making it safer and easier to complete tasks with your welder.
DIY Welding Table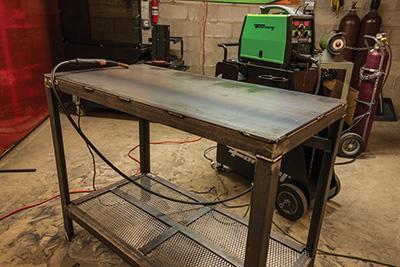 Welding tables are expensive and quickly become a headache to set up by anyone other than the person that designed the table. Welding is much more enjoyable when you can enjoy a good workspace and the safety of knowing that it will not fall apart on you any time soon. Your welding table isn't just a tabletop; it's your workbench, a place to keep your tools and projects, and a way to protect your shop floor from sparks. This DIY project can do with minimal tools and equipment. It's easy to make, durable, and strong enough for all your projects. This tutorial shows how to make a welding table with a MIG welder, plasma cutter, and table saw.
DIY Welding Table Plans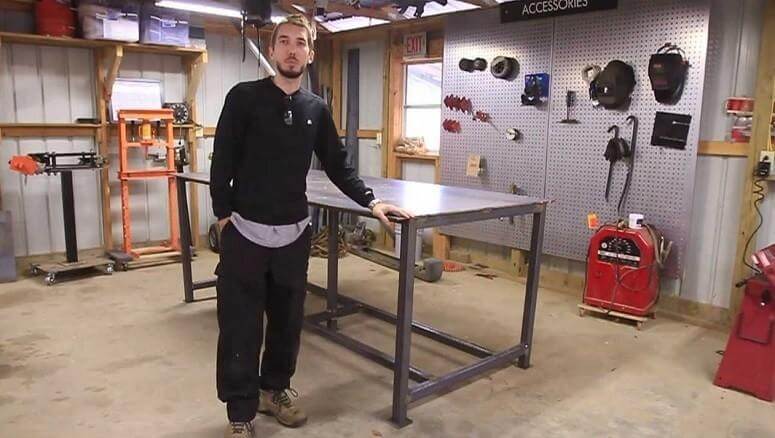 If you want to build a simple welding table, this DIY Welding Table Plan is right for you. Simple design and easy-to-follow instruction make it a great option for those just getting started. This table is easy to assemble and requires only minimal tools to assemble. You can use it as a portable workbench or clamp stand. A basic welding table design includes a metal tabletop and four caster wheels. You can build your welding table. Use this Welding Table Plan to help you start.
Low Budget Welding Table DIY
Welding is a fun hobby and a practical skill that will help you create incredible and unique things. With just a few tools, you are ready to start this table project, making it an ideal candidate for beginner welders looking to get started and advanced welders who want to hone their skills. This welding table is sturdy, flexible, and portable. All you have to do is start the project. A bit of woodworking, a lot of welding, and some passion for design will go a long way into making this table.
Homemade Welding Table DIY
Are you thinking about getting started in welding? This homemade welding table DIY is the perfect project for you. This project is designed to get you started welding, but it will take time and effort. The table can be used in various situations, as it has great versatility and is a good way to start practicing. When you're done constructing your table, you can build something awesome with your freshly acquired skills!
DIY Welding Table
This DIY Welding Table is a great project for a beginner welder because it doesn't involve any complicated welding techniques and can be easily completed in a couple of weekends. You don't have to be an expert welder to make this table. To get started, cut the metal pieces using metal snips or other cutting tools and assemble them with bolts, nuts, and washers. Welding is a fun and amazing hobby. Even if you are not into welding, this table can be used as a drawing board, dining table, or coffee table. After completing all the steps, you can take pride in knowing that this project was your own!
DIY Easy Welding Table Build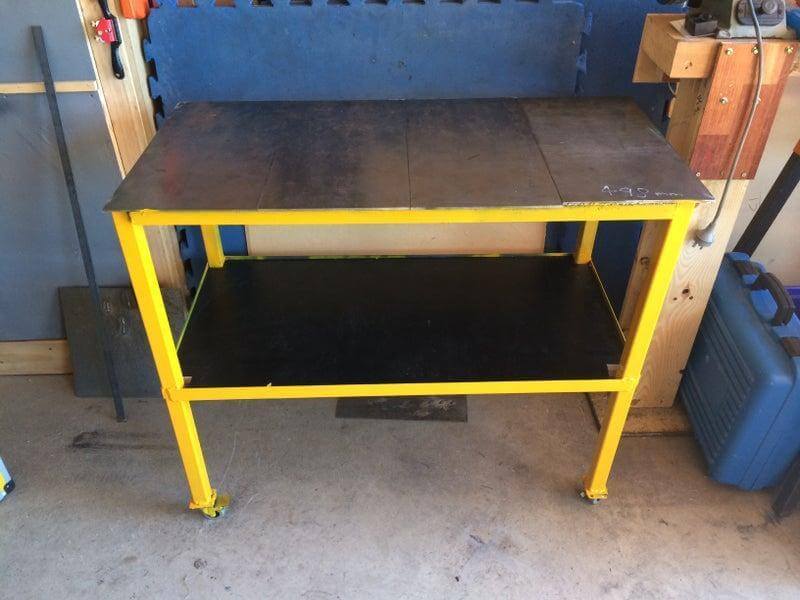 This welding table is very easy to build with basic tools and materials. You can get all the supplies in one trip to the store, with no boring trips to multiple stores. This video will show you how to make a DIY welding table for welding works. All you need is some square tubing, angle brackets, scrap plywood, and caster wheels. This will help keep your work area clean and organized while you are working on it.
DIY Welding Table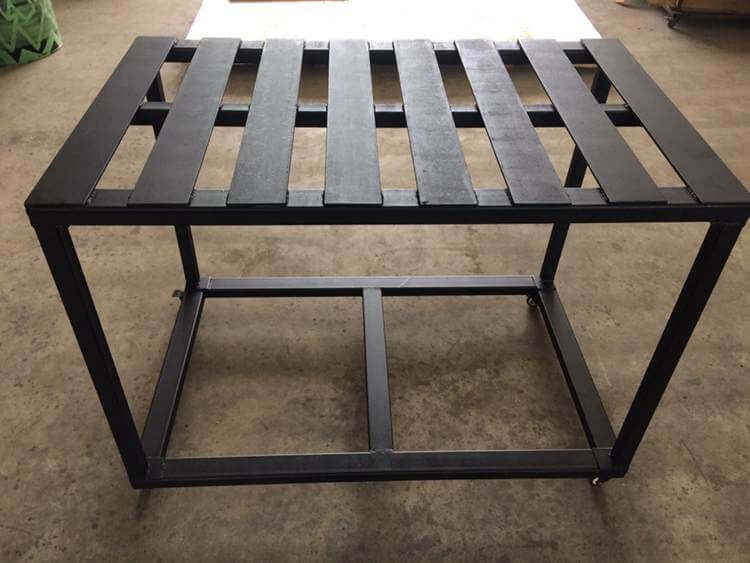 Create your welding table to help you get the job done right. This table is made of a sturdy material that can withstand the task at hand but also be lightweight and portable enough for travel. Paint it whatever color you want to make it your own! This DIY welding table project is fairly easy, doesn't require a lot of workshop tools, and takes less than 1 hour to make. This project will last you years as long as you use it properly.
Metal Welding Table Plans DIY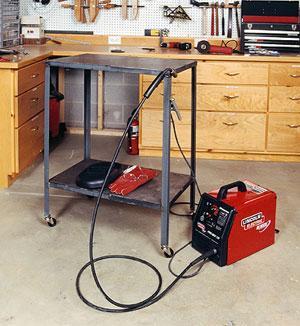 Do you want to build a welding table for your workshop? Here are the plans for you. This table is easy to construct and made of simple materials purchased at local hardware stores. It will allow you to work comfortably without fear of burns when welding, making it a must-have addition to any workshop. This is a great project for beginners and intermediate DIYers who want to build their first welding table to save money.
You can also see: DIY Spot Welder Ideas 
DIY $80 Welding Table
A welding table is useful in a garage, workshop, or shed. While you can buy one from a hardware store, they are expensive and often poorly made. You can save money and build your welding bench using scrap metal and your homemade welding table frame. This welding table is made from aged steel and is sturdy yet inexpensive. It costs about $80 to build, assuming you already have your welder! All you need is a metal plate and legs.
How To Build A Welding Table
A welding table is a must if you want to be able to weld, sand, and paint large pieces of metal. The table allows you to lay down your metal as you work so that the floor and ground don't get ruined. A good welding table can be pricey, but this video will show you how to build your inexpensive welding table. This table is the perfect height and sturdy but also very heavy. Just be careful if you're walking through doorways -- you don't want to run over any toes!
DIY Ultimate Welding Table And Cart
The Ultimate DIY Welding Table and Cart is an impressive industrial art. It is sturdy and looks great in any man cave or garage shop. This project has easy-to-follow diagrams for assembling the frame, tabletop, and welding cart are all included. In this video, you will see how easy it is to make this amazing welding table and cart. This is a DIY project that requires no complex tools. All you need are two sheets of metal, nuts and bolts, an angle iron, and a welder gun with an extra wire feeder or torch.
DIY Portable Welding Table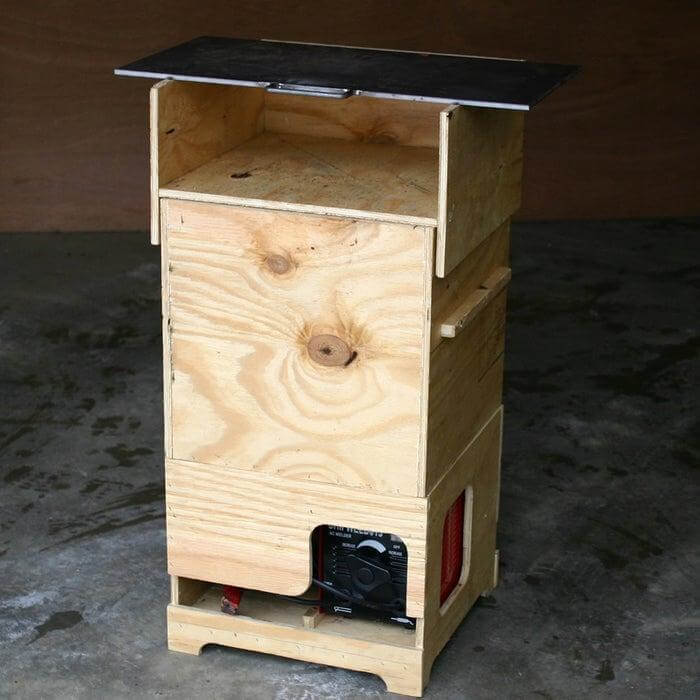 This portable welding table is so easy to make. It's a great idea for creating a convenient place to work on projects in your garage or workshop. You can even use it as an impromptu workbench whenever you need it. This project requires minimal materials and can be made using panels or plywood sheets. The Portable Welding Table is an amazing DIY project that can make your life easier. It's easy to assemble, and you will have a lot of fun using it.
Adjustable Welding Table Plans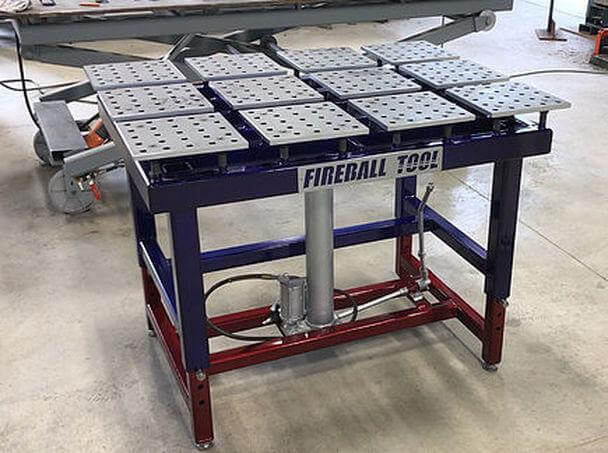 With this Adjustable Welding Table Plan, you can make your idea a reality by creating an adjustable welding table. Make the best use of this very useful creation tool with this guide and build one for yourself or gift it to someone who loves to work with various tools. This cast iron welding table is very sturdy and stable. It features a cool, industrial look that goes great with any interior design theme. In addition, it's simple to adjust the shape of this table, and it can easily move from room to room or take on the go.
DIY Supreme Mobile Welding Table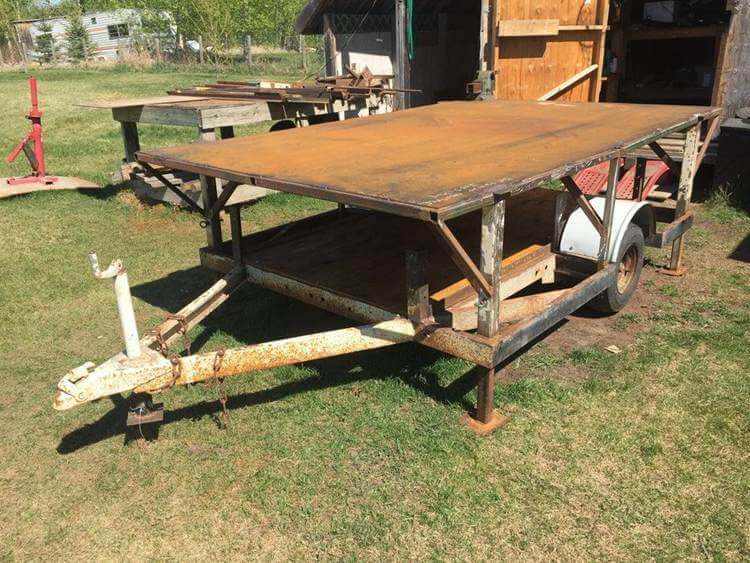 Hook up your welder, and get to work! Now you can enjoy a sturdy, mobile welding table that fits your welding needs. Use an old tent trailer to create a supreme mobile welding table that's easy to transport and adaptable to any environment while providing ample workspace. Because it is made of square tubing, this table can use as an outdoor workbench or indoor model. It also features rollers for easy mobility and the ability to adjust the height depending on your needs vertically.
How To Build A Welding Table From Scrap
This DIY welding table is a great home improvement project and can be done in the garage. You can use scrap steel or new materials to build this portable welding table. This is perfect for any welder looking to make their welding table while saving money! This video will show you how to make your adjustable welding table in hours. It's built from cheap materials and requires no welding expertise, so if you've ever dreamed of welding your projects, this video is for you!
How To Build A Simple Heavy-Duty Welding Table
This How To Build A Simple Heavy Duty Welding Table is a simple and easy-to-build project. You can make it easily in a very short period. You can use this table as a base for your welding machine, an anvil, or just about anything else you need a sturdy surface for. This welding table is very simple to build and strong enough to last. This video tutorial will walk you through the steps in constructing this table.
DIY Welding Table With Sliding Extensions
This welding table is great for any home hobbyist or professional needing extra workspace. And with its sliding extensions, you can expand your work and accommodate any project. This DIY welding table will allow you to move around the room easily and comfortably. It's easy to build, and you can put it together in hours. The frame is made from a standard steel conduit with sliding extensions that let you make room for your entire project without leaving the ground.
How To Make A Low-Cost Welding Table With BBQ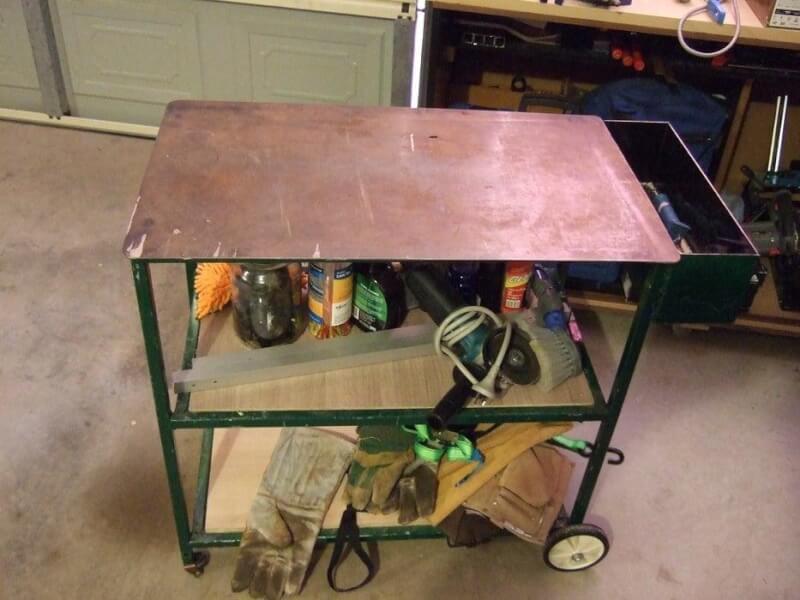 If you want to build a welding table that is easy to make, strong and sturdy, and affordable, then this video is a great starter for you. You can create a welding table that will be your companion for years with just a few simple materials. This project will help you to make a low-cost welding table. The materials are inexpensive and easy to get from your local hardware store. You can easily use this table for welding, grinding, or plasma cutting.
DIY Professional Grade Welding Table
Welding is an important skill for anyone who wants to create cool stuff. It allows you to use heat to fuse two different pieces of metal, which can make just about anything. Of course, welding isn't easy and requires expensive equipment like a welding table. This is a do-it-yourself welding table that you can make at home. It's all laser-cut pieces and a wood frame, so your welding table will outlast any other homemade tables. This DIY Professional Grade Welding Table project will take some time, but it's well worth it in the end for your own custom-made, durable welding table.