If you want to go camping but don't want to spend thousands of dollars to buy a new trailer, you can build your utility trailer. These DIY utility trailer plans contain an easy-to-read guide on building a simple yet effective utility trailer without spending too much money. They can carry your bikes and campers and offer good space for gardening tools, generators, or even a portable wood stove. And that's where these plans designed by DIY enthusiasts will help you to build one.
Free DIY Utility Trailer Plans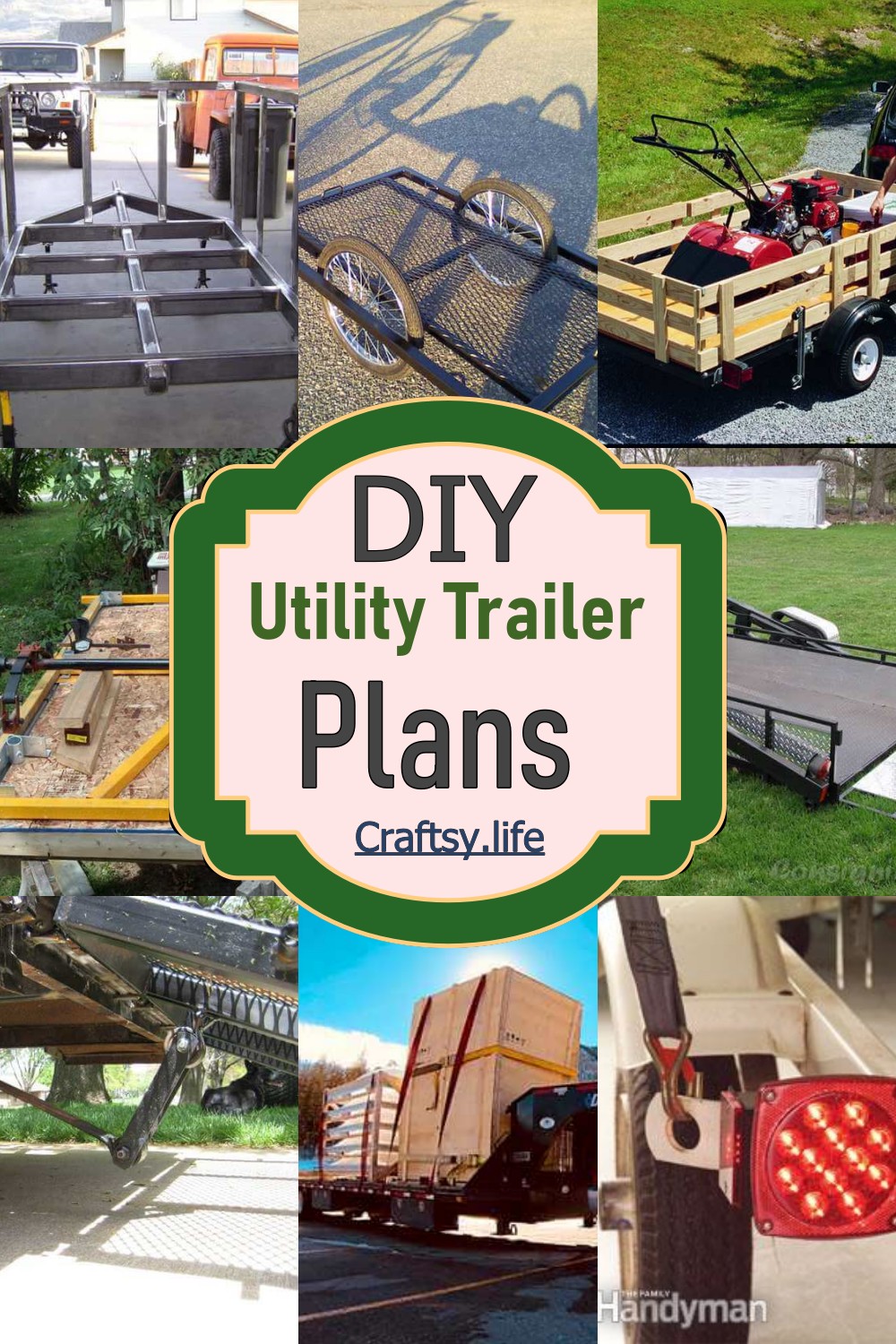 A utility trailer is an essential equipment for people with larger lawns, camping, and hiking gear too bulky to carry on foot or for other uses. And while there are plenty of trailers on the market that can be purchased for less than $1,000, and often even less than $500, it's still possible to build a quality trailer for much less than that and to save money by making it yourself. So, If you want to make your utility trailer, this is the place to start! We have gathered a list of some of our favorite DIY utility trailer plans. This is a terrific project for someone who has a little bit of experience with carpentry and welding. This may be an honorable project if you want something more complex and challenging!
DIY utility trailer plans are an excellent way to save money on purchasing a new trailer. They can also be a good way to get started in the business of building trailers.
See More: 14 DIY Camper Trailer Ideas To Enjoy
There are many benefits to making your utility trailer plans, including:
Saving money:

 You can save hundreds or even thousands of dollars by building your trailer.

-Building skills - You will gain valuable experience building a trailer from scratch and learning about the various aspects of creating one.

Control over design:

You will have control over every design aspect, including size and shape. You can also choose various materials and methods when building your trailer.

Customization:

If you like to customize things, then building your utility trailer is perfect for you! You can customize your design as much as you want, whether in size, shape, or material used for construction.
Motorcycle utility trailer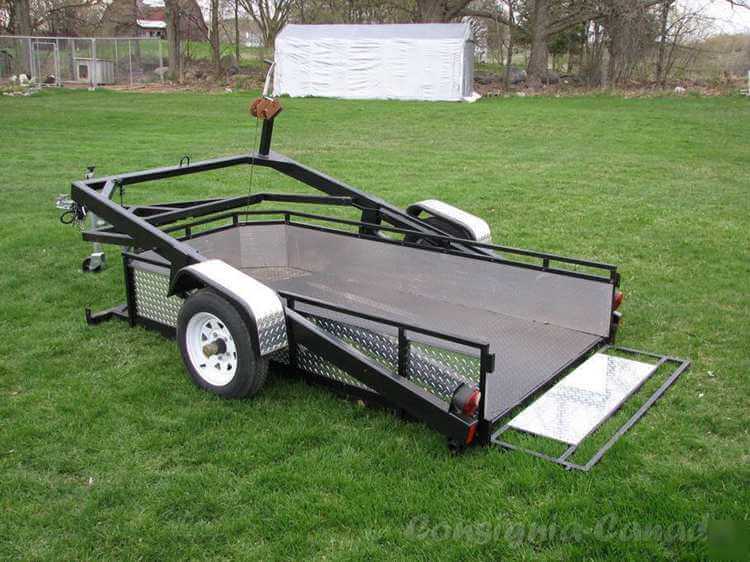 This motorcycle utility trailer can be easily assembled by following the instructions in this build. It can also be built off-site, making it easy to tow it home once it is finished. This trailer can use with a lawn tractor or an ATV despite its name. The build is not complicated, and you can make it easier if you are an experienced welder. All you need is the know-how and some sheet metal; the rest will be easy!
Heavy Duty Logging Trailer
A trailer is a way to go if you need to move heavy loads. This heavy-duty logging trailer will be your new favorite tool. The Logging Trailer is the ultimate for hauling logs and other heavy items. It's made from durable steel and features a bed accommodating multiple logs. Thanks to its multiple axles and sturdy platform, it can carry even the heaviest loads. This is the perfect mobile base for your next adventure! This logging trailer is the perfect project for a weekend.
Three in One
Whether you want to use it as a box, a car mover, or a flat top, the DIY Three in One trailer has been built to be versatile and easy to use. This trailer is built with all your needs in mind and comes with instructions on how to build it yourself. You can put this amazing trailer together with the right parts at home! Everything that you need to build this trailer is in the box. Our kit has all the parts and instructions necessary to create a versatile trailer. You will not have to worry about compatibility, as all the parts are compatible.
Homemade trailer with an enclose
If you're looking for a way to carry your goods, this is the DIY trailer. The bed is made with steel beams and a diamond-patterned steel plate, while the sides and top are made of the same material. The open area is connected to hinges so that it opens and closes easily. Construction an A-Frame Style Trailer with an Enclosed Body, you will learn how to build a sturdy trailer with a steel frame that can handle gravel roads and bumpy terrain. This trailer will be the perfect solution for hauling all your camping gear or extra freezer space in the backyard.
Bike Cargo Trailer
If you're looking for a bike cargo trailer, this DIY model is a good one to start with. It's cheap, easy to make, and has the benefit of being lightweight enough to be towed by a bicycle. Car bike cargo trailer is not only for your enjoyment but for practical purposes. You can transport bulky items if you live in the city or use it to promote your business. If you want to make a DIY bike cargo trailer, here are the instructions in this video to make one for yourself.
Heavy Duty Steel Trailer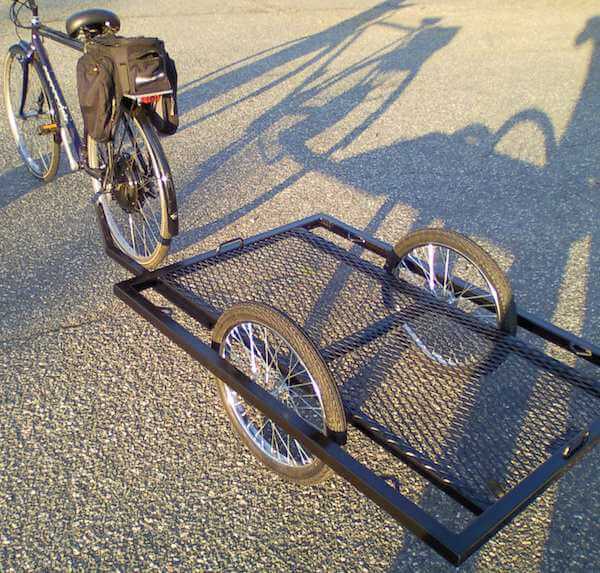 This DIY Heavy Duty Steel Trailer allows you to tow large loads easily. It's built from thick steel and features a bed for hauling extra cargo. This project requires welding and heavy-duty tools. This trailer build is made from steel and will last longer due to its minimal parts. This home project requires heavy welding, and hard mesh is used to create the trailer bed. After purchasing materials and tools, attach the bed to the wheels.
Harbor Freight Utility Trailer
A Harbor Freight utility trailer can be the perfect solution if you love working on a car or truck but don't have a trailer to carry your tools. Ready-made trailers cost hundreds of dollars. By rolling up your sleeves for an afternoon of work, you can build one for the cost of materials and some sweat equity. Assembling a utility trailer is an excellent way to save money and customize your cart to suit your needs. The basic materials used are wood, steel, and rubber. You'll also need an axle and bearings so that the wheels will turn smoothly. When you're finished building your utility trailer, you'll be able to haul gardening supplies or other materials in style.
Build from a kit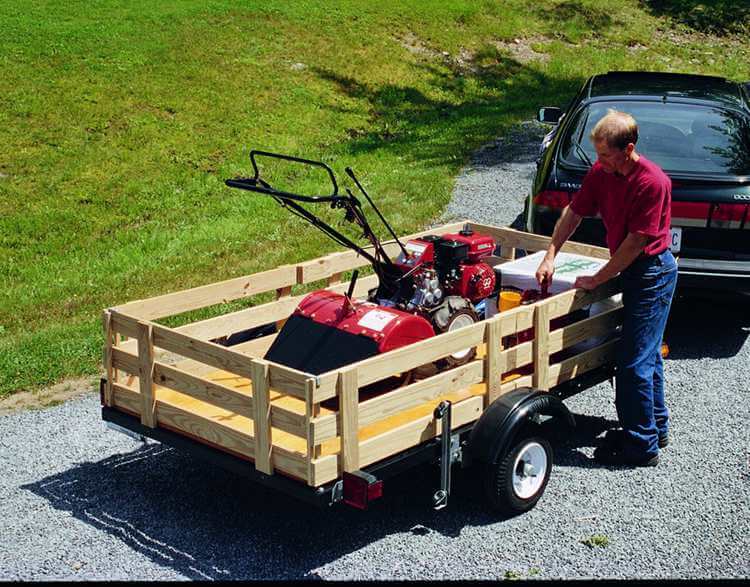 Creating a utility trailer from a kit is a great way to increase your storage space. With the right tools and time, you can easily build one yourself. This trailer kit has all the necessary parts to build a stylish utility trailer home. It includes everything you need, including the bed frame, electrical components, and wheels. Once finished, you can use it to haul heavy materials like plywood or lumber. In this easy step-by-step guide, you will learn how to build a utility trailer from a kit for your car.
An aluminum trailer
This DIY aluminum trailer is perfect for you if you are looking for a lightweight trailer that is easy to assemble. The light aluminum construction makes it easy to maneuver around your yard and in tight spaces, but it maintains the strength to hold all your garden tools. To assemble this trailer, use brackets and bolts. The trailer can transport materials and objects of various sizes across any terrain. This DIY Aluminum Trailer is a great project for experienced do-it-yourselfers or an introduction to beginning metalworking.
Affordable utility trailer
Utility trailers are a great investment if you plan to haul around heavy items such as lawn equipment, construction materials, and other large things that you need to have transported. They usually cost more than regular trailers but can save you money in the long run. This tutorial will show you how to build one for a low price. This trailer is not meant to be a one-of-a-kind showpiece. It's made to get the job done and save money simultaneously.
Trailer with a tie-down system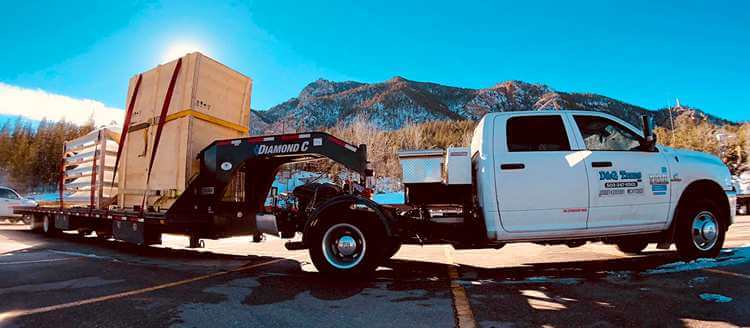 This DIY trailer with a tie-down system can help you secure your load while transporting it. It is easy to install and use. You're having a hard time securing your loads to the trailer because your trailer doesn't have enough tie-down points. To ensure that your trailer is well secured, it is important to use the hitch rings. These rings can either be mounted on the bed of your trailer or its sides. In this case, you can tie ropes from these rings to secure your loads. You need a good quality tie-down system that is easy to install and long-lasting.
Trailer with a self-lifting tailgate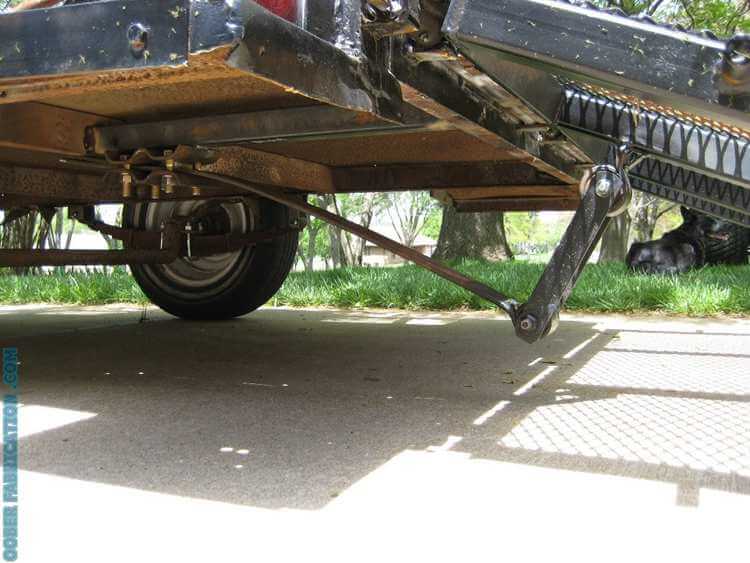 It is a simple step-by-step DIY trailer project that uses an old leaf spring as the main lifting mechanism. This DIY trailer also has a self-lifting tailgate to keep things interesting and make them more homely. It is straightforward, not too difficult to create, and surprisingly effective at getting the job done! Setup is quick and easy; attach the leaf spring and some scrap steel to the bottom of your trailer. It's also recommended in areas with heavy snowfall because this design utilizes one spring instead of two, like traditional types of trucks.
Homemade trailer made with bolts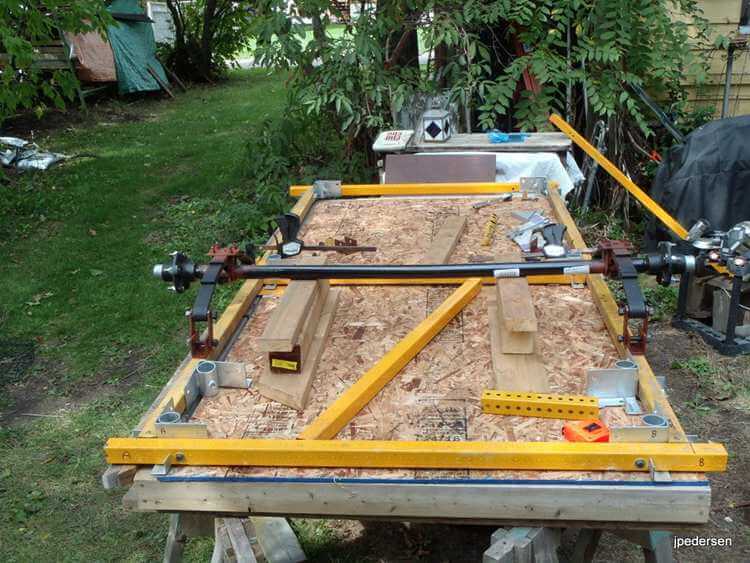 This is the perfect project for you if you want to build a trailer. This homemade trailer made with bolts is easy to do and will give you an idea of how to put one together. The steel trailer you can make in an afternoon has a simple design. It uses square steel rods to bolt together and makes the trailer's base fitted with a galvanized axle. You can use it for transporting items around your home or garden.
Simple 4*8 trailer
You've always wanted your trailer but have too little time and money to make it happen. This DIY simple 4x8 trailer project gives you a simple way to get a trailer with minimal cost and effort. Enjoy a hands-on experience making your trailer using steel blades and axles salvaged from an old minivan. This trailer is simple to pull and lightweight. You can use it as a dump trailer or transport tools and materials. The frame is made from steel beams and attached to the axle by welding. With this guide, you'll be hauling wood or other materials across town in no time.
Trailer with LED lights
If you've ever tried to tow a trailer at night, you know that the lights on the back can make a big difference. But what if your incandescent bulbs need replacement? With this DIY project, learn how to install LED light strips in your trailer so you won't have to worry about replacing burned-out bulbs. Adding LED lights to the back of your trailer will make it safer when driving. The increased visibility will help you avoid an accident, and they're also more resilient than incandescent lights, so they'll last longer.
Off-road utility trailer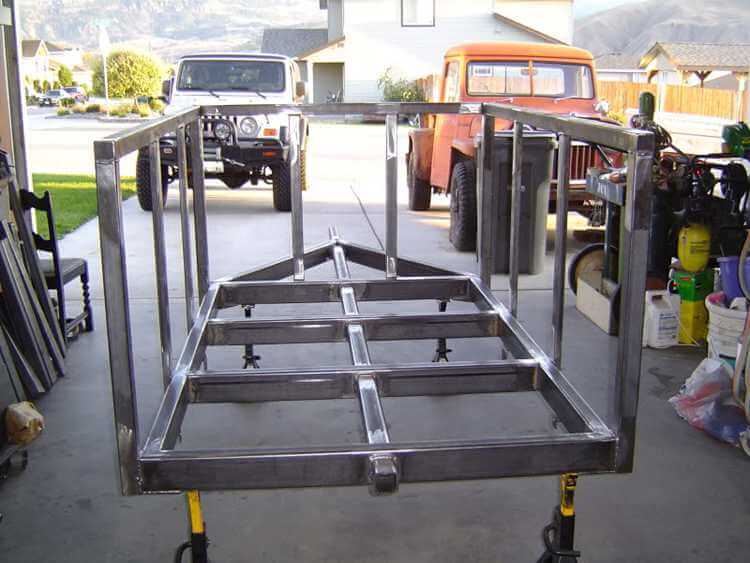 The DIY off-road utility trailer is a lightweight, rugged, versatile trailer that can handle all terrain. This is a great project for someone who likes to build off-road trailers and accessories. The instructions are easy to follow, and the materials are relatively inexpensive. This is a good project for beginners that want to learn more about building vehicles from scratch. With enough storage space to bring what you need on your trip and an easy-to-assemble design, this trailer has all the features needed for a successful build.
A kayak trailer
You can make your kayak trailer from steel and aluminum. The construction of the trailer does not need to be complicated; it's quite basic. The only most important thing about this is that you need to know your kayak weight and dimensions before designing the trailer. You can easily build your kayak trailer by looking at the design. It is not complicated, need a few tools and material. With a lightweight design and simple construction, this carrier is perfect for all your adventures.
Harbor freight trailer with removable sides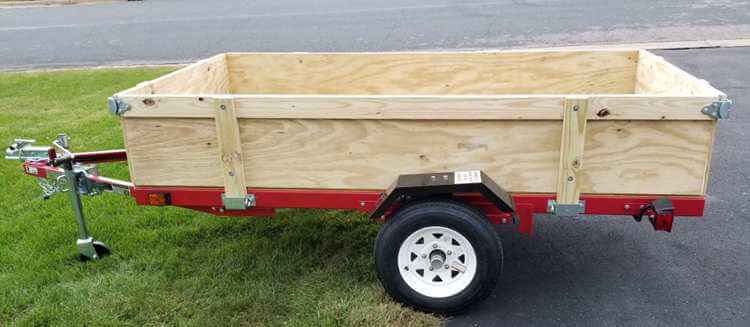 With this unique kit, you'll have a trailer that can utilize for many purposes. The removable sides are very useful, and the lights add a great touch. This DIY Harbor freight trailer is great because it can be modified to suit your needs. The beds and sides are made from plywood, while the sides can be taken off when you need to transport a forklift. It's also a good idea to add lights to the back of the trailer so you can see better at night.
Affordable bike trailer
If you love biking, you're going to love the bike trailer! Made with simple materials and easy-to-follow instructions, this practical trailer can be a great addition. In this video, the tutor creates a cheap and easy bike trailer out of things you can find around your home. This project is great for those who want to make their trailer quickly and cheaply using common supplies that can purchase new or secondhand. It's big enough to carry supplies when you're out on the run — or maybe even a child!
Basic Trailer

Here's a simple trailer you can assemble with basic tools and knowledge. It features a removable, wooden drop-down back panel and a simple frame of square steel rods. It's great for hauling lighter loads or as an inexpensive project to build with your kids. Build your trailer from the ground up. This basic design can be fitted with any material—wood, metal, or plastic—and customized to suit your needs.
Off-the-grid bike trailer
There are many reasons this DIY off-the-grid bike trailer is a great project, but none are better because you can have it done in less than a day. The best part is that it fits onto any bicycle. Check out all the helpful tips and suggestions given throughout the video guide to make your trailer as efficient as possible. This is a fully off-the-grid bike trailer that you can adapt to. If you need to be self-sufficient, this kit allows you to take everything you need in a bike trailer.