If your bedroom is anything like ours, keeping it organized under the bed can be challenging. Between laundry, blankets, and other knick-knacks that have no place else to go, the endlessly deep space beneath your mattress is a black hole of clutter. To organize this space and make the most of our storage options, we put together a list of 15 DIY under-bed storage ideas. These will help you organize your bedroom, and they'll all work with standard twin or full-sized beds.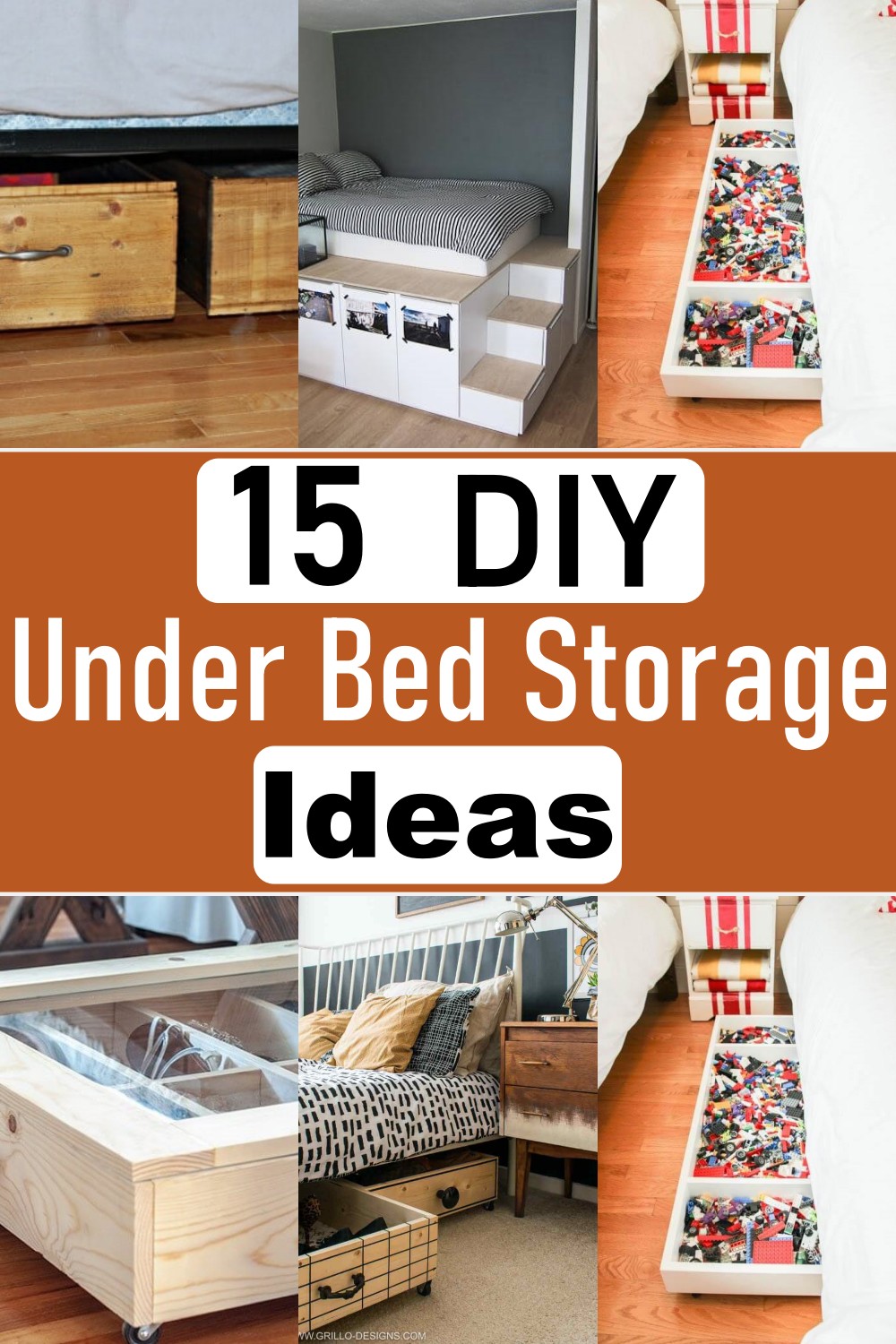 Building an under-bed storage unit is a great DIY project. It can be as simple or elaborate as you like, and it's a way to give your bedroom a custom look. You can store items like shoes and teddy bears or anything else you need at bedtime. Get the bedroom organized with fun, easy DIY under-bed storage ideas! Whether you use drawers, baskets, or boxes, we've got you covered! These inexpensive storage solutions are an easy way to get rid of clutter under your bed and give your room a fresh new look. You'll want to organize every inch of your bedroom with these easy DIY projects.
These storage ideas will help you to utilize the under-bed space in your bedroom without sacrificing style.
Tips To DIY Under Bed Storage Ideas
Here are some tips to help you make sure your DIY under-bed storage ideas are a success.
Use a hammer and nails or screws to fasten your storage boxes or trunks to the underside of the bed. If you're using screws, ensure they're long enough to go through the bottom of each box or trunk and into the bed frame.
Consider whether you want your storage containers visible or concealed by the bed skirt. If they're visible, consider using a material such as fabric or felt to cover them up so they match your decor better!
If your storage containers are stored under a platform bed with no headboard, consider adding one for extra storage space!
You Can See Also:
DIY Under bed Dresser
This under-bed dresser is a great space-saving solution for your small bedroom. The drawers are easy to use and pull out; you can keep different items in the two sections to know where to put things away. Constructed using a solid Birch hardwood frame and high-quality plywood shelving, this under-bed drawer is incredibly durable and offers twice the storage! Keep your clothes, shoes, or whatever else you have neatly tucked under your bed for easy access. They also have fast-spinning wheels so the whole thing can move around easily.
Underbed Storage Boxes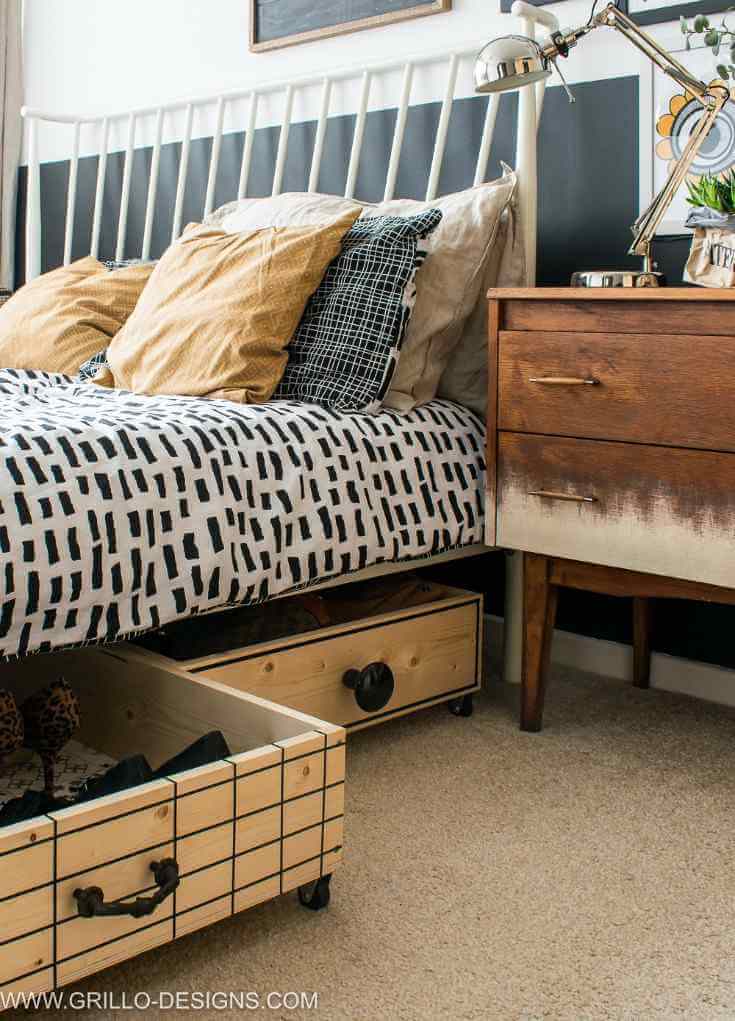 Looking for some storage solutions that don't eat up our precious floor space? This DIY project is a creative way to organize your space. This DIY under-bed storage box idea uses cardboard boxes made from cheap, easy-to-get materials. They're perfect for any house room and are the perfect DIY project to do over the weekend. Use them at your nursery or in the kid's rooms to hold toys, books, or clothes. The possibilities are endless.
DIY Under bed Storage With Wheels
Busy households need all the storage space they can get, and this simple DIY under-bed storage solution does the job. You can use it for anything you want to store under your bed, from clothes to toys; everything will get its own home in this bin. This is definitely worth a shot if you plan on doing some DIY. This is a super easy DIY storage idea with wheels. The added benefit of mobility makes it perfect for kids who might like to use the storage under their beds to keep toys or books.
How To Make Under bed Drawers
Under the bed, drawers are ideal for small spaces such as your bedroom and can double as a bedside table. They provide extra storage space and a place to keep books or other items you use at night. If you don't have built-in drawers under your bed, you may wonder how to install them. The steps for making these shelves are simple and can be completed in the afternoon, depending on the size of the drawer underneath your bed. You'll need basic tools and materials to build them.
How To Build An Underbed Rolling Storage Box
This quick and easy project adds a lot of storage space to your bedroom or even living room. You can make it with some plywood, four wheels, and some nails. First, use a tape measure to measure the length of your bed frame. Divide by 4 to find out how wide each side should be. Then cut two pieces of wood for the base. Try this cool DIY guide to make a rolling storage box for your clothes, shoes, and socks. Let's get started!
Underbed Storage Drawer DIY
So, if you want a storage option that is affordable and easy to make yourself, this may be the project for you. The best part is—it's made from items that are probably sitting around your house now. This reclaimed wood under-bed drawer is a great DIY project to use scrap wood and add extra storage space to your home! The only cost is $2 for the hinges so that you can complete this project for next to nothing.
DIY Underbed Rolling LEGO Storage Cart
The under-bed storage cart is great if you need more space to store your kid's toys. You can also use it as inspiration for your DIY projects. This DIY LEGO storage cart will make your kids' LEGO toys safer, more organized, and easier to find. It's easy to build (and much cheaper than buying one), and you can also use it for storing other toys. Kids can even pull it from under their beds so they can play in the room instead of on the floor.
DIY Storage Platform Bed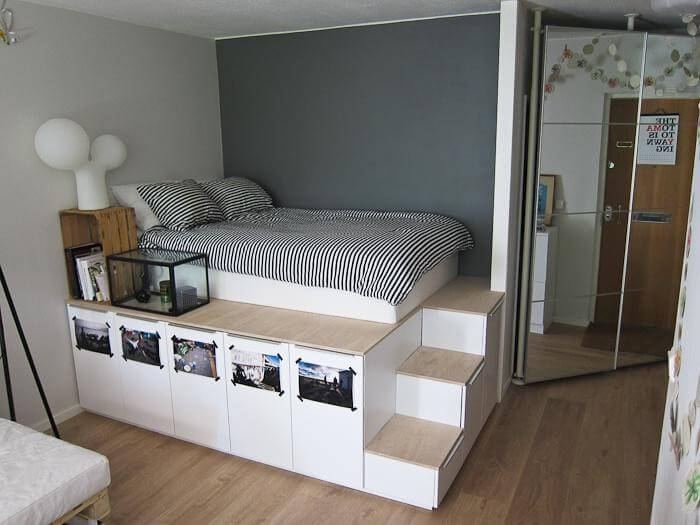 Making storage on top of a simple bed is an easy way to clean up the room and make it more organized. Whether it's for bags, clothes, or other essentials, you can have everything there at once. Remove the bed frame and make a drawing that comes closest to its original size - if you don't know anything about woodworking and carpentry, you can use this guide; it will show all the steps, so you don't waste money on unneeded material and save time.
DIY Underbed Storage Drawer With Wheels
If you want to keep your space organized, this DIY project is right up your alley. The creator provides a simple guide that helps you make a storage drawer with wheels. All you need is a power drill and some hardware, which you can get from your local hardware store or Amazon. This storage drawer is a simple and easy DIY project. It doesn't require special skills and can be completed in one weekend if you have the required materials.
Underbed Storage DIY
Slide the boxes under your bed, or stack a bunch together on top of your nightstands or dressers. You'll be amazed at how much storage area you can create with this simple hack! With this DIY, you can make your under-bed storage slides that will go under the bed; when not used, they will slide into each other. You can make many, depending on how much space you have under your bed.
How To Build An Underbed Storage Drawer
What's better than adding a little extra storage to your bedroom? The drawer is placed directly under your bed, so you can slide it out when needed and roll it back when you don't have enough space. A great place to keep your clothes, shoes, and other belongings is under the bed. It makes them more accessible and keeps your bedroom looking tidy. This how-to video guide will show you how to build a simple wooden box for your bed that requires only basic carpentry skills and some wood screws, glue, and stain.
How To Make Storage Under The Bed
The storage under the bed is a great solution to a common problem, "how to hide my clutter?". You need to know how to create it. It's not particularly difficult, and it doesn't have to cost a lot of money either. With the right tools, materials, and patience, you can make your furniture or closet storage racks out of wood paneling. It's a great DIY solution to turn your bedroom into a more functional space and make it look cute.
DIY Underbed Shoe Organizer
This bedside shoe cabinet can be a great shelf for your bedroom. Placing your shoes, cosmetics, or other storage items with the lid is convenient. This practical under-bed shoe rack is strong and durable. It can make solid materials like wood and metal. The main frame is covered with solid pine boards, which protect the interior from excessive heat or cold in your room while ensuring that it stays nice and dry. This DIY under-bed shoe organizer is easy to make in just a few steps.
Underbed Shoe Storage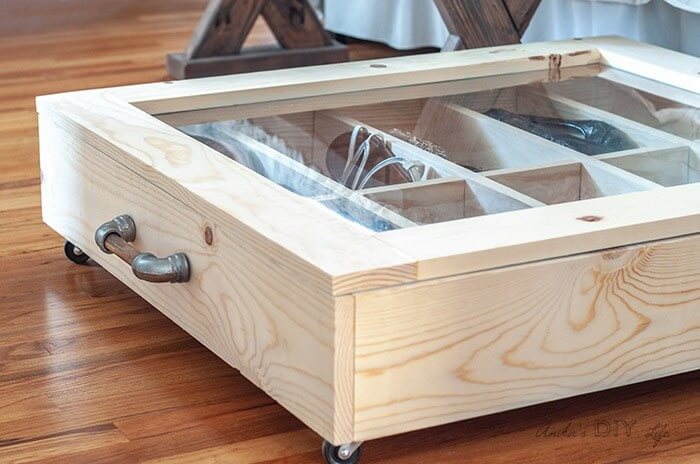 This is a super simple and easy-to-build DIY shoe storage system. Use it as a way to store your shoes directly under your bed. It will not only keep those pesky shoes organized but keeping them under the bed makes the room look super clean and organized. There are many ways to store your shoes under your bed, but here's one DIY option that's pretty easy to build. You could even make this a project for your kids.
DIY Rolling Underbed Storage Crates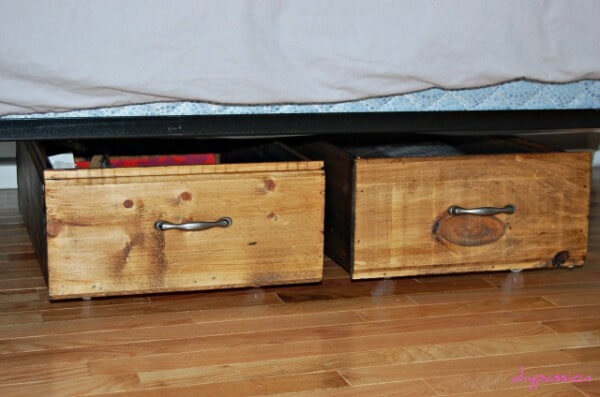 This DIY rolling under-bed storage crate is the perfect solution if your bedroom looks like a junk pile! No matter how much your bedroom is or how full of stuff, this idea will save you loads of time and space with easy access to all your belongings in one simple step. This project is super fun, easy, and effective. With some construction know-how and woodworking skills, these rolling under-bed storage crates can be made in just one afternoon!