If you're looking for a way to incorporate more exercise into your office routine, look no further. A treadmill desk is a great option for adding variety to your workday and burning calories at the same time. For those looking for an alternative to sitting at a desk, a treadmill desk provides the benefits of a walking workstation without the punishment of regular jogging. Many awesome DIY tutorials can be used to build your own treadmill desk, whether you want it on the cheap or prefer something more extravagant. These DIY Treadmill Desk ideas make working while you workout is possible. From expensive, elegant designs to simple and cost-effective options, we've found 21 great DIY options for anyone to build themselves.
Best DIY Treadmill Desk Ideas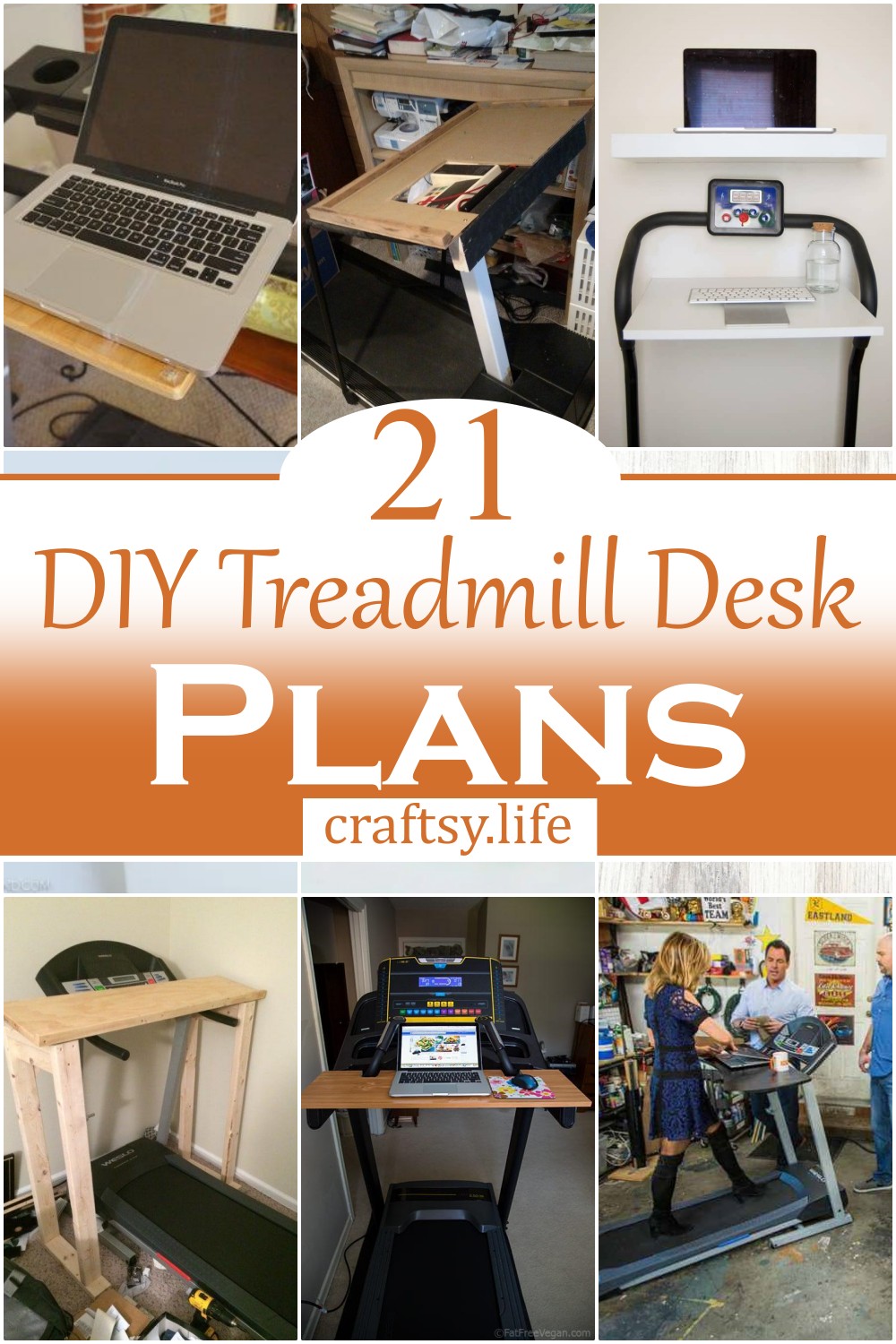 If the thought of sitting at your desk all day makes you feel like a hamster on a wheel, it may be time to consider a DIY treadmill desk. These clever contraptions are great ways to get some movement while you work and to break up the monotony of staring at your computer screen all day. And they're surprisingly easy to set up! If you're ready to take the plunge, we've rounded up 21 DIY treadmill desk ideas to help you get started. Whether you're looking to build a treadmill desk or need some ideas, this collection of DIY treadmill desk plans will provide you with plenty of inspiration.
Advantages Of DIY Treadmill Desk Attachment
The advantages of DIY treadmill desk ideas are many.
Treadmill desks can be expensive, but it's possible to build one for under $200.
You can make your treadmill desk portable to take it with you on the road.
If you like to work in different locations, a DIY version will allow you to create a treadmill desk that fits into any room or space.
You don't need special tools or skills to build a treadmill desk. You're all set if you can use a screwdriver and hammer!
Some Of The Precautions To Be Made:
You might have trouble finding the right materials at local stores (counters and cabinets). You'll probably have to order them online, but that shouldn't be too much trouble.
Assembling a DIY treadmill desk isn't as quick and easy as buying one assembled and ready for use.
How To Make A Treadmill Desk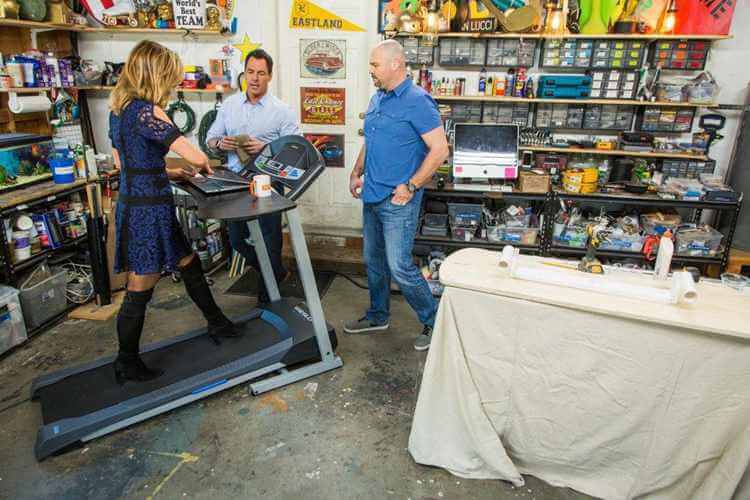 A treadmill desk can help you increase your energy and motivation by walking while you work. This treadmill desk is essential for anyone who wants to burn some calories while working or wants a convenient way to stay active during the day. The treadmill desk can be built with simple parts readily available at any local hardware store. You don't have to spend much money to get a treadmill desk. It's easy to make your own with a few simple tools and materials. While at it, take this opportunity to add flair by painting your different colors.
DIY Treadmill Desk
Are you looking for a treadmill desk solution? The DIY option involves attaching a storage shelf to the side of the treadmill and then adding some carpeting or mat on top. This creates a mini office space where you can work or study comfortably, even if you're on the go. The best part is that this treadmill desk idea uses materials commonly found around your house, such as tape measure, pencil, screws, storage shelf, and carpeting. It can easily be built with commonly found items that are inexpensive and easy to find, making it a great option for busy people who don't have a lot of storage space or want something quick to get started with a treadmill desk.
DIY Treadmill Gaming Desk
This DIY project is perfect for an avid gamer who loves physical fitness. Using plywood, you can make a shelf that attaches to the bottom of a treadmill, allowing you to play from the comfort of your gaming desk. The finished product has enough space for several monitors and accessories, making it a great addition to any home office. This DIY treadmill gaming desk takes a standard treadmill and turns it into a workstation with a shelf to hold the computer. It is made of plywood and can be customized to the user's lifting needs.
How To Make A Treadmill Desk
A treadmill desk is a great way to manage your time, add some variety to your training, and provide an opportunity for exercise at a standing level. If you don't have access to one, you can make your own by building it out of wood and attaching some hooks or clamps. Making a treadmill desk isn't difficult and can be very rewarding. There are some important things to consider when making your own desk, including the width of the treadmill, the size of your desk, and how to attach it to the treadmill. You must also put safety first by reading all safety manuals before using your new equipment.
Do It Yourself Treadmill Desk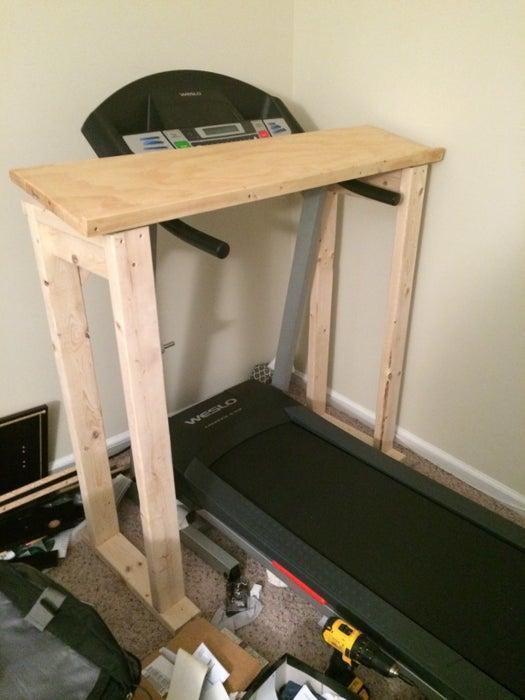 Do It Yourself Treadmill Desk is a DIY project with only the simplest tools needed. This step-by-step guide shows you how to create a treadmill desk for your home or office easily. A great choice for those wanting to be more active while working or watching TV. With no need for heavy machinery, you will have a complete and functioning setup in no time! It is a good idea to do your DIY treadmill desk. This project is for you if you like to take the risk of building things and save some bucks. It will allow you to make something your own and design it just how you like it. This can be your ultimate DIY project that adds value to your home office.
DIY Treadmill Desk In 60 Minutes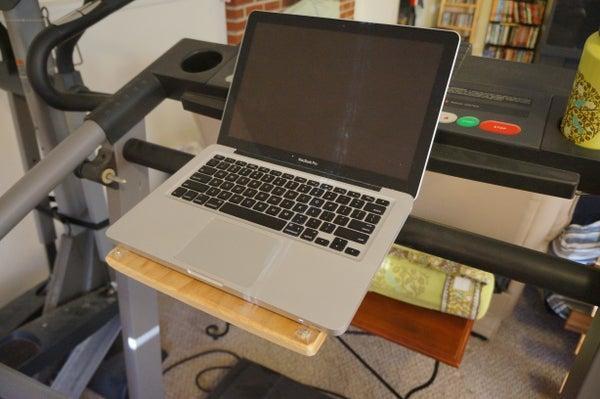 This DIY Treadmill Desk will take you 60 minutes tops to complete. Buying and setting up a treadmill desk can be pricy, but the benefits of the activity of working while walking or running are undoubtedly worth it. You will burn more calories and increase productivity while sitting at your desk! This one can be done in less than an hour, thanks to its simplicity. Just attach some PVC pipes through your treadmill as a supporting cross brace, then attach a rubber bumper to the board, so your laptop sits well.
DIY Treadmill Walking Desk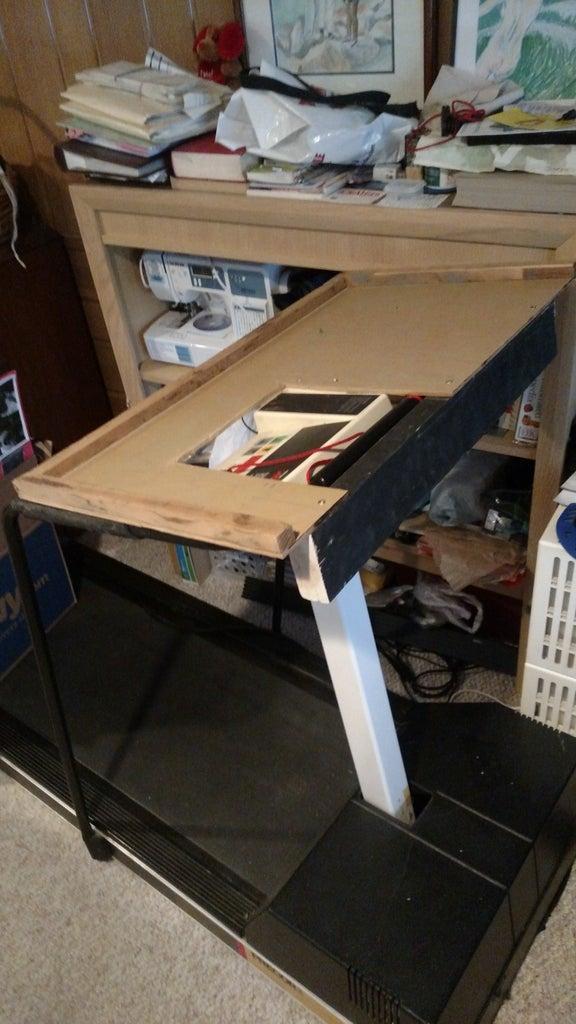 Are you looking to get healthier but don't have time to go to the gym? Build your treadmill desk and get fit while you work. Treadmill desks are a great way to stay in shape, but they can be expensive. Build your own DIY treadmill desk with our easy-to-follow tutorial. You can use this durable, compact, and affordable workout station for various fitness goals, such as burning calories during work or avoiding the sluggish feeling of sitting all day long!
$20 Treadmill Desk Conversion
This is a low-cost and easy-to-assemble treadmill desk conversion that anyone can do. The design uses wooden boards, PVC pipes, bungee cords, and screws to create the frame. The keyboard tray is constructed with 2x4s and plywood, then placed with additional wooden blocks. This treadmill desk will help you stay in shape while working. You can even use it as a standing desk for normal computer use. It's easy to assemble and very sturdy.
Inexpensive Treadmill Desk Setup DIY
This tutorial teaches you how to build a simple and inexpensive treadmill desk for your home office or gym. You can also easily move it from one place to another. This setup is very inexpensive and easy to do. It allows you to work while walking on a treadmill, which has been proven to burn more calories than sitting due to the small movements you make with your wrists and hands on a keyboard or mouse. Follow this guide, and you can start working on one of the most popular ways to work while walking around.
How To Build A Low-Budget Treadmill Desk
Suppose you want to build a treadmill desk but are not sure how; no worries! This low-budget option is ideal for someone with limited space or money. The materials needed are a wooden board, metal strut, tape measure, screws, scissors, and rubber bumper. To build a treadmill desk at home, use a wooden board and metal strut to support the handlebar and tape measure to mark it. Then cut the strut to size with scissors and screw it onto the board. Afterward, hang it from the handlebars with more screws.
Easy DIY Treadmill Desk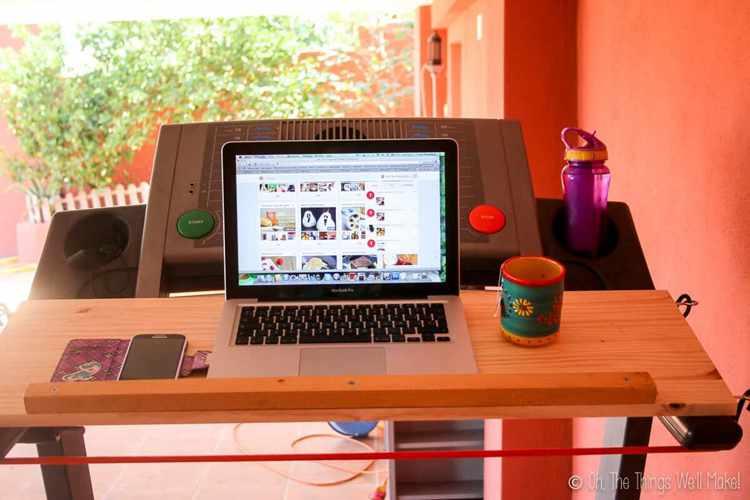 Working out while you work? Push the button and slide your treadmill under the wooden board and use your computer on a wooden shelf that happens to be in front of your treadmill. Create a DIY treadmill desk with this simple, cheap, and beautiful wooden board project. It's a great way to maximize your space while staying fit wherever you go! Perfect for adding extra movement to your day or just to avoid sitting at a desk all day without much movement. This treadmill desk is a simple DIY project that will transform your space and help you get more done.
See More: 25 DIY Computer Desk Ideas For Space Saving
Homemade Treadmill Desk Plans DIY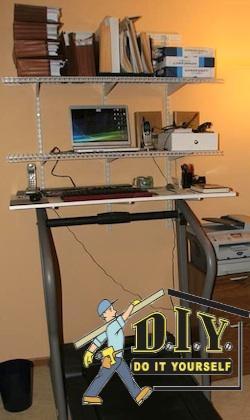 This project was easy to put together and took much less time than I thought it would. The initial build took me about 4 hours. The desk mechanism is compact and works smoothly so far; This project was very easy to put together and took much less time than I thought it would. The initial build took me about 4 hours. The desk mechanism is compact and works smoothly so far; This is a great way to get extra exercise while working. The treadmill desk is a unique and interesting alternative to sitting at a standard desk all day. By putting your body in motion while working, you will burn more calories, help with circulation and digestion, boost energy levels, and improve overall health.
How To Build A Treadmill Desk
This treadmill desk is designed to help you work while you walk. It's especially useful if you have a bad back or want to avoid sitting at the computer all day. It takes less than an hour and a few inexpensive materials to create this standing desk that installs on top of your treadmill, which allows you to stand throughout the day and keep an active lifestyle. Once built, you can use your treadmill for exercise or as a desk for other projects.
DIY Treadmill Desk
Want to get in shape while working? This DIY treadmill desk is the perfect solution. You can build this desk yourself and start adding steps to work out while you work, play games, etc. A great way to motivate yourself to move and stay active all day long! Treadmill desks allow you to burn calories and stay active even when sitting at your desk, but they can be expensive. Save money by building your own! Take your work on the go with this DIY treadmill desk. It's easy to build with simple tools and can be made from materials you may have around the house.
How To Make A Treadmill Desk
This DIY treadmill desk is a great way to add a workstation to your home office that doubles as a creative design for your home decor. The simple design of this desk is made from very inexpensive and easy-to-access materials, which makes it a great option for those looking to save money. This is a great way to start burning calories and exercising simultaneously. Make this treadmill desk using a few materials that you can find at home.
DIY Treadmill Desk Less Than $10
There are a lot of treadmills that come with console desks, but what if you don't have one? Or what if you want to build your own treadmill desk? This treadmill desk is easy to make and costs less than $10. You can easily make this by putting wood on top of the treadmill handlebar, then holding it with bungee cords. It's very simple, but it works well! You can even build your own homemade model that takes up less space than an office treadmill or turns any work surface into a functional desk with manual control.
DIY Easy Treadmill Desk
Did you know that the best way to burn calories is through walking? The DIY treadmill desk is an amazing way to burn more calories while enhancing your productivity. This easy-to-make treadmill attachment exerciser enables you to work on your projects while promoting better blood circulation and burning fat. You don't need to spend thousands of dollars on a treadmill desk; you can make one yourself! With these easy-to-follow steps and the right materials, you can create your own DIY treadmill desk that works just as well as the expensive ones.
Treadmill Desk DIY
Looking for something to make your life easier? How about a treadmill that you can also work on? A treadmill desk is a perfect solution. This DIY has all the benefits of a standing desk, but you can walk while working! Take a walk and get some exercise with your work. The treadmill desk will allow you to walk while sitting and continue your work. All you need to do is attach the shelf to the treadmill, drill the necessary holes, and knockout on it. This DIY project will help you increase the machine's life by using it differently.
How To Build A Treadmill Desk For $20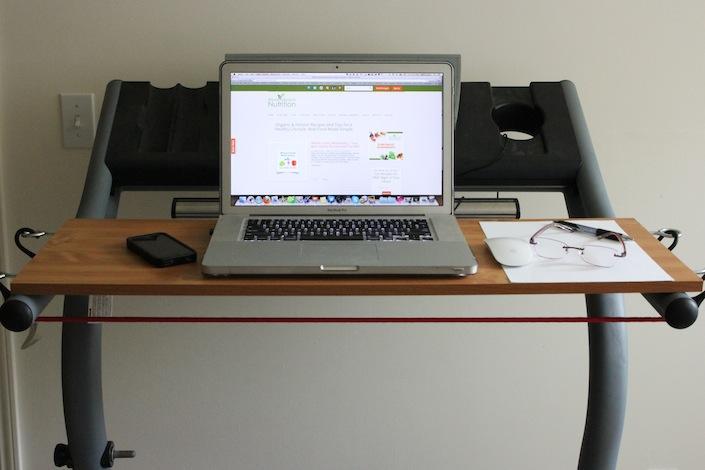 This DIY treadmill desk is easy to make and super fun to use. You'll need a wooden board, screw eyes (which you can buy at most hardware stores), bungee cords, and a drill. Place the board on the treadmill handle, then hold it down with bungee cords at both sides. Because the board must not be shaking or moving, this design uses only two pieces of bungee cord that attach to each end of the desk with screw eyes. You can adjust them to any tightness you prefer based on your comfort level.
How To Make A Treadmill Desk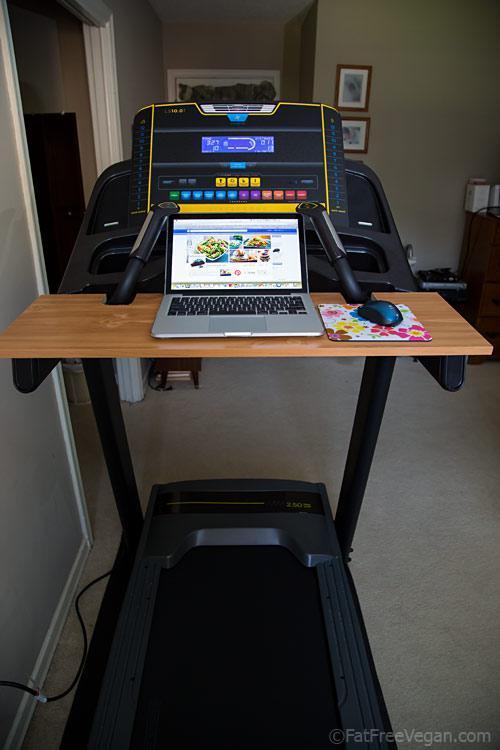 A treadmill desk is an efficient way of working while staying active. Besides being fun, it helps you burn more calories and improves your health. You can build your own treadmill desk with the right tools and a little elbow grease. This project takes a few hours to complete and costs under $100. Making a treadmill desk is smart and economical if you love to exercise while working at the same time. You can save yourself tons of money on gym memberships and keep healthy simultaneously. It's also a great way to save space in your house because it doesn't take up much room, especially if you can convert your existing treadmill into a desk.
DIY Walking Desk
Tired of sitting behind your desk all day? This DIY walking desk is the perfect way to incorporate physical activity into your workday. The treadmill is installed on the left-hand side, and a shelf with a keyboard tray sits to the right, allowing you to set up your monitor in front of it and reduce glare. The DIY Walking Desk is a low-cost way to get started with a walking treadmill desk. It's easy to use, looks cool, and your feet won't get tired since you're at waist height.