36 DIY Tomato Trellis & Cage Ideas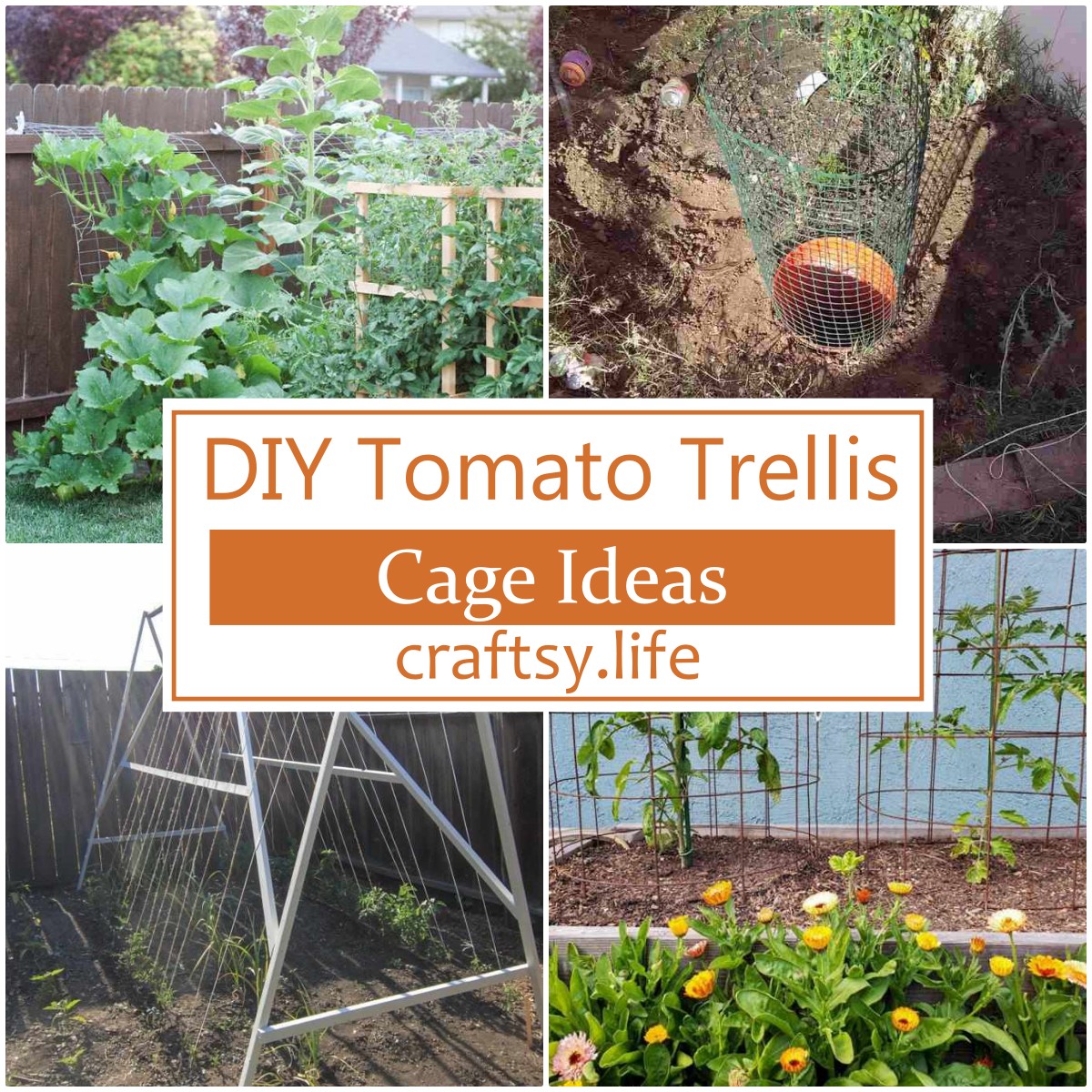 If you're growing tomatoes in your garden, you're probably looking for ways to add some structure to your plants. Tomato cages and trellises are essential for supporting the weight of the tomato plant as it grows and for keeping it off the ground so that you can easily access it for pruning, harvesting, and pest control. Many trellis and cage options are available at garden centers, home improvement stores, and online retailers. However, if you want something unique or don't want to spend money on new materials when you can find what you need in your backyard, here are 36 DIY tomato trellis & cage ideas that will help keep your plants healthy while adding style to your garden!
Best DIY Tomato Trellis For Pots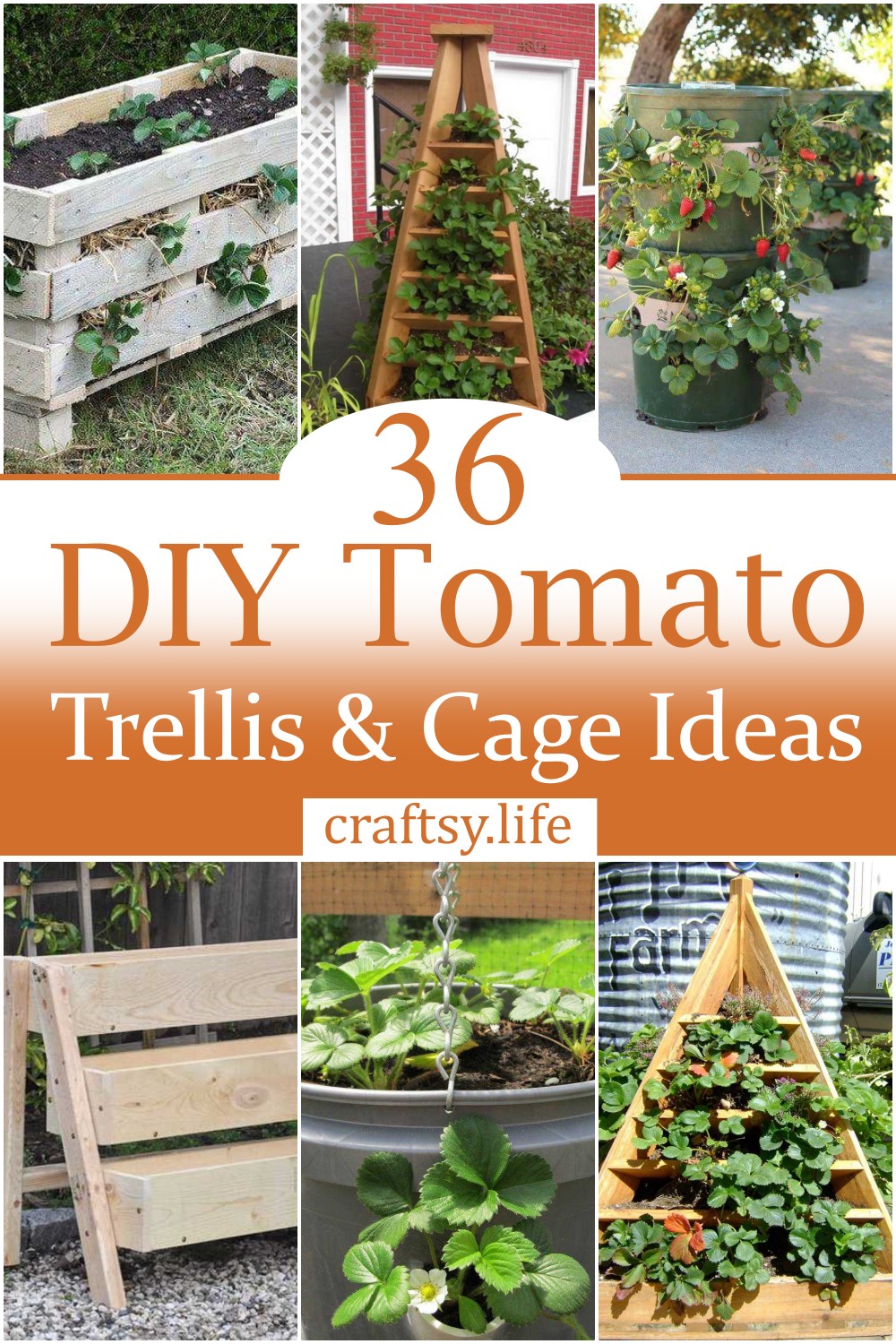 If you love fresh tomatoes, what better way to keep the plants upright and happy than a tomato cage? Not only do they hold up your tomato vines, but if you add decorative touches like lattices and paint them a bright color, you can even turn them into a beautiful part of your garden. Growing tomatoes can be a fun and rewarding experience. Still, when you don't have adequate space or vertical space to give your tomato plants the space they need, you may need to put some extra effort into vertical gardening. Tomato trellises are a wonderful way to use extra vertical space to grow more tomatoes than you could without taking over the entire garden.
DIY Tomato Trellis & Cage
A trellis or cage is an essential piece of equipment for growing tomatoes. It supports the tomato plant and helps it grow taller and stronger. You can buy a tomato cage from your local nursery or hardware store, but if you're looking for an inexpensive alternative, here's an excellent idea for making your tomato cage:
Why DIY Tomato Trellis & Cage?
Doing a DIY tomato trellis, cage, or support has several benefits.
You can customize it to your needs and tailor it to your garden size. If you have a small garden or want to grow one tomato plant, you can make a DIY tomato cage using PVC pipe. If you have a larger garden or want to grow many plants, the best option is to use a wooden frame and attach netting to it. You can also use an old window screen and attach strings on the top of that frame.
It is cheaper than buying them from the market since they usually cost between $15-$30, depending on the size and material used. You can build them in just a few minutes!
Advantages Of DIY Tomato Trellis & Cage
1. If you're handy with tools, this project won't take long! You can build one in just minutes using a few basic materials.
2. It's cheaper than buying a commercial tomato cage. A good quality commercial tomato cage can cost up to $30, which is more than enough to pay for whatever materials you need to make your homemade version!
3. Homemade cages are made from wood, so they're biodegradable and eco-friendly! They won't clog up landfills as plastic ones do!
4. Homemade cages are easy to customize based on the size of your garden or yard space! You can build them any size that suits your needs best!
How To Make A DIY Tomato Cage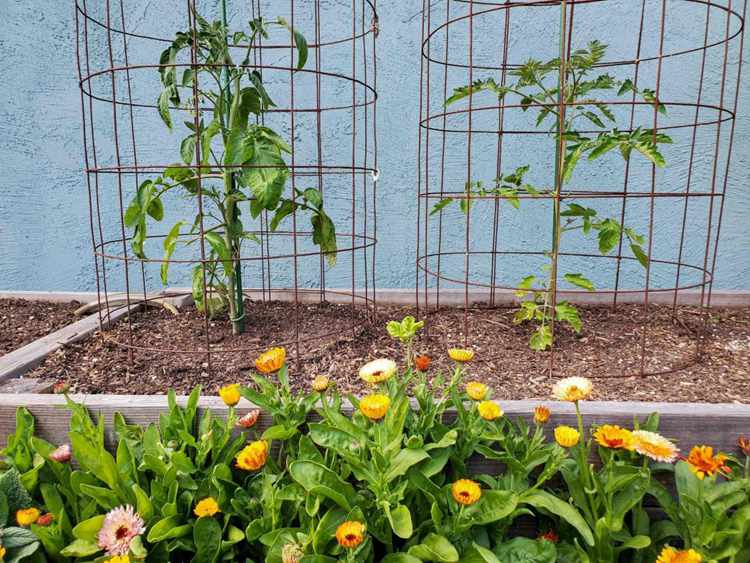 This DIY tomato cage is easy to make and will support your plants through the season. It can be built with only a few hand tools and simple materials like wire, mesh, and stakes. The build is time-consuming, but once it's complete, you'll have a sturdy tomato cage that lasts for years. This is an attractive, sturdy tomato cage that you can easily build yourself -This tomato cage is a simple and inexpensive way to keep your garden safe and healthy.
How To Build A DIY Tomato Trellis
Tired of dealing with your tomato plant growing in the wrong direction? This DIY tomato trellis is the perfect solution for plants twisting sideways. Tomato Trellis is easy to make and requires no power tools. A ladder shelf-like structure supports your plants but allows easy access to those delicious tomatoes! With this DIY tomato trellis, you can grow those delectable tomatoes without needing to stake them with expensive metal cages or worry about tying them to stakes.
DIY Tomato Cage Idea
It's time to plant your garden this season, and you can do it yourself! This video guide will help get you started. The cage is super easy to make, using minimal tools and materials. To make things easier on yourself, this DIY project shows how to make a sturdy tomato cage that is also aesthetically pleasing—so you can keep it up all season long. It doesn't require a lot of tools or complicated cuts; the materials are quite simple, and you can find them at your local hardware store. So let's get started!
DIY Tomato Cage
Want to grow tomatoes but don't have the space or want to spend an arm and a leg on fancy tomato cages that are supposed to last forever? With just a few simple steps, you can help your future garden produce more fruit and be much easier to manage. A good way to elevate your tomatoes is to raise them at eye level with plants planted in the ground. Try this easy DIY project. Made with wood and pieces you can source at your local hardware store — nothing special here!
DIY Tomato Trellis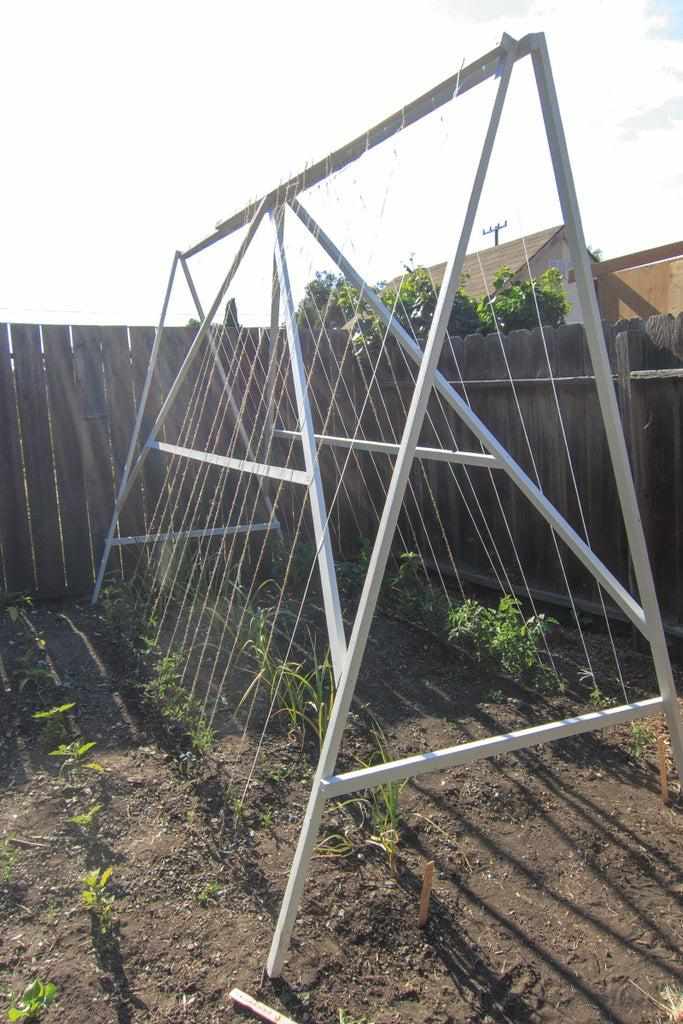 If you're looking for an easy way to get more tomatoes in your garden, this DIY Tomato Trellis is a great choice. You can use it to grow a vertical garden or train larger types of plants, such as beans and cucumbers, to grow a trellis instead of sprawling all over your yard. Build your tomato trellis using these simple instructions. Make a beautiful, durable, and sturdy trellis to help your tomatoes grow well.
DIY Bucket Tomato Trellis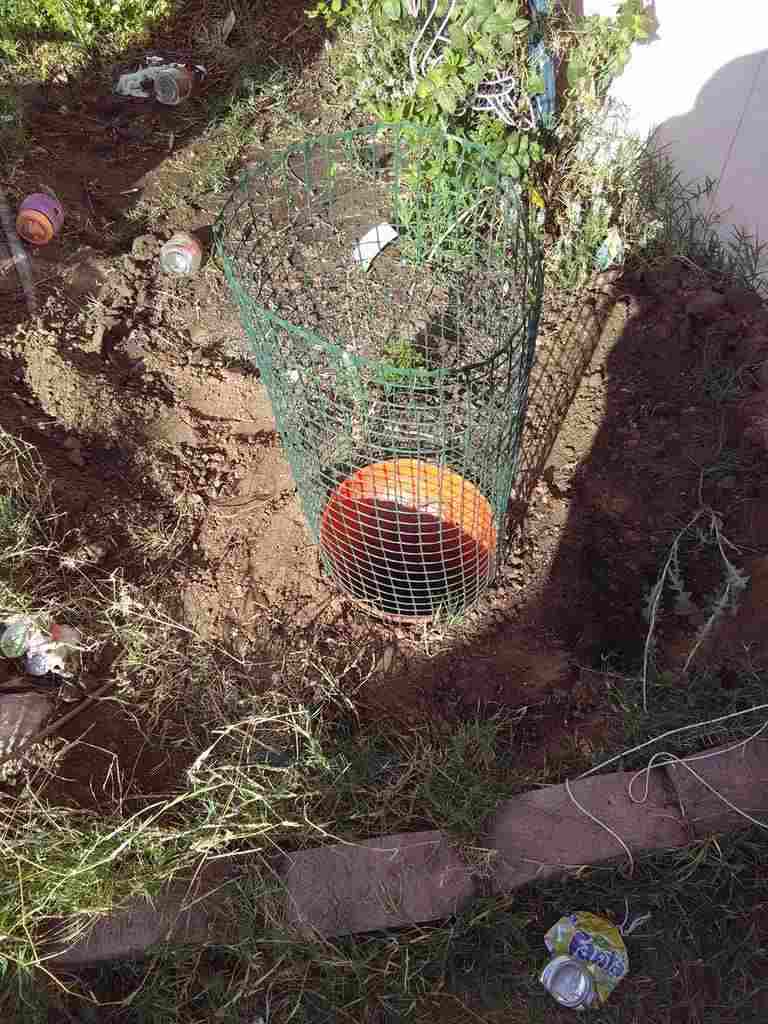 When growing your tomatoes, the key to making great-tasting tomatoes has the best plants. And one thing that helps you have the best plants is a trellis system to keep them upright and sturdy as they grow. This is a great idea if you want to grow tomatoes in smaller pots, as they require support. As with most simple projects like this, the cost of materials can vary widely depending on what you have around the house.
How To Make Folding Tomato Cages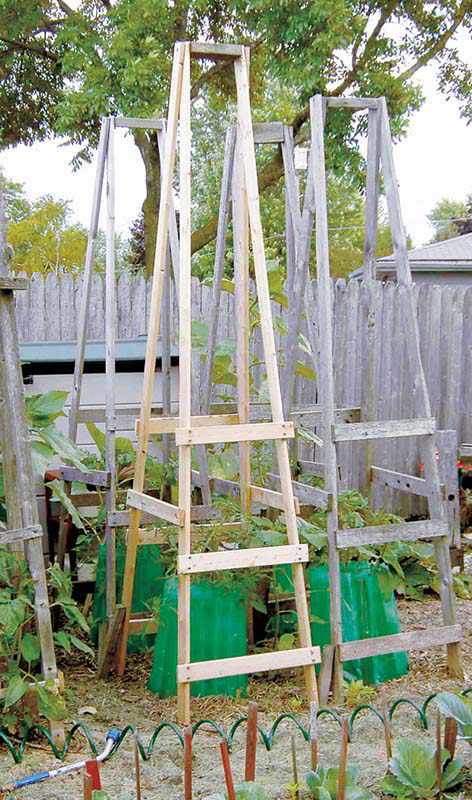 Make your tomato cages to help keep your plants upright and sturdy. These DIY tomato cages are made of wood and can be used in gardens, flower beds, or greenhouses. These sturdy tomato cages will give your plants the support they need during wind and storms while protecting them from drooping and breaking apart. This playful tomato cage is easy to make and will have your friends asking you where to buy it. Follow these step-by-step instructions for a great new garden helper or decoration.
DIY Indestructible Tomato Trellis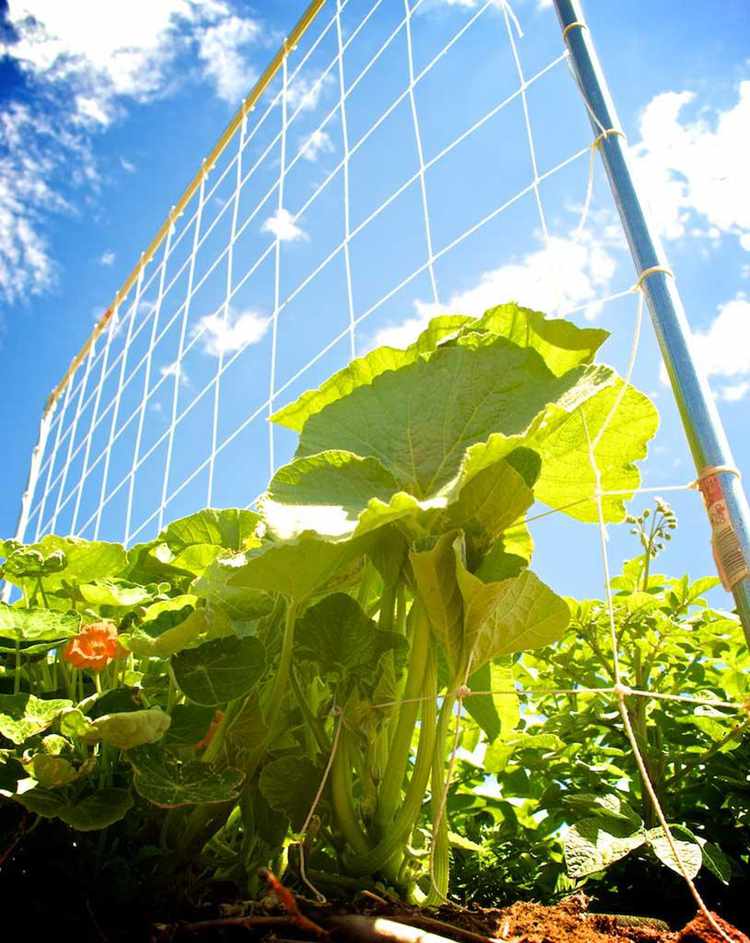 Are you looking for a new way to grow your tomatoes? This project works great for indoor and outdoor gardens but is especially useful if you live with limited space. It's made from simple materials that can pick up at any hardware or home improvement store. You will need conduit, elbows, rebar, string, and other common supplies. This tomato trellis is ideal for heavy winds and is especially useful when growing vine-style tomatoes. It's durable, strong, and easy to make.
How To Build A Tomato Trellis
Tomatoes are one of those plants you can't wait to see how they grow and look. The problem is often getting them to grow bigger and taller to produce more fruits. You need a trellis to support your tomato plant as it grows. But building a trellis is not only laborious but can also be expensive depending on the materials used. This guide shows one of the easiest methods for making your tomato trellis! With just a few basic woodworking tools, you can create the perfect spot for your tomatoes to grow up and free themselves from the ground.
Cheap And Easy Tomato Trellis
Gardening is a hobby that improves the quality of life and helps you save money. You can grow your food on a much smaller budget than you think. And if you have any space at home, try this project using cheap materials. You don't need tools or much experience, just a few bamboo sticks, strings, and a little DIY knowledge. This design is based on the most basic techniques to hold up your plants, with a few modifications for strength and aesthetics.
Easy Garden Obelisk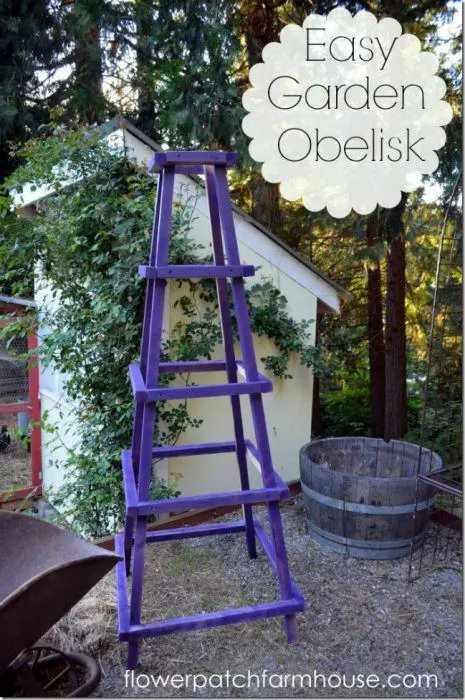 This is an easy-to-build garden obelisk for supporting plants, vines, and even trees. The basic materials will cost about $20, but you can probably find even cheaper wood and nails if you shop around. You'll only need a handful of tools to complete this project, which will only take about 2 hours from start to finish. This is an easy obelisk to make and can be increased or decreased in size if needed. This project aims to make your plants easier to maintain and keep them standing straight.
How To Build A Simple Bamboo Trellis
Is there something you want to grow in your garden but have trouble finding a trellis? This simple bamboo trellis creates the perfect place for plants, fruit, or vegetables to climb! A bamboo trellis can easily add height and interest to your garden. You can even make it at home! This tutorial teaches how to build a bamboo trellis in just a few minutes. With these basic skills and a few bamboo, you can create an attractive feature that will last for years.
Easy Tomato Trellis Setup
If you love having tomato plants and want to grow them in a compact space, then this video guide is just what you need. It will help you build a sturdy wire trellis that allows your plant to get more light and reach its full potential. The tutor used natural bent wire hooks, nylon cords, and others to construct this project. Place the hooks in your garden area and tie the nylon cord to create a lovely tomato trellis. Whether you want to grow tomatoes or other small fruits and vegetables, this video will help you set up a trellis.
DIY Inexpensive Tomato Trellis
Tomato plants are easy to grow but difficult to manage if you don't have a good trellis. Tomato Trellis is for all gardeners who want to produce a tomato plant in their backyard. The best way to watch tomato plants is to grow them vertically, giving your tomatoes better access to sunlight, air, and water. An inexpensive and easy-to-build tomato trellis can be used to produce organic tomatoes. Easy-to-follow instructions make this project beginner friendly. The materials needed are easy to find, too!
DIY Bamboo Tomato Plant Cage
It's surprisingly easy to set up a tomato cage – though it requires careful measurements and some materials. This video guide will show you how to make your tomato cage. With this tutorial, you'll only need a stand and some bamboo sticks to make one yourself. This DIY project will save you money and space, but the biggest benefit is that you'll eat healthier fruits and vegetables 365 days a year.
DIY A-Frame Tomato Trellis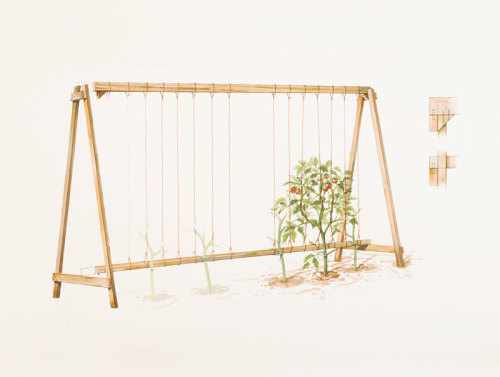 If you have a garden with some space and want to grow tomatoes, why not consider building a DIY A-Frame Tomato Trellis? This DIY plan shows you how to build a tomato trellis so that you can grow heirloom tomatoes that are healthy and delicious this season. It's just some wood, nails, and other materials you can buy yourself at your local hardware store. This tomato trellis plan is very handy and practical because it's easy to build, move, and dismantle.
DIY Upside Down Tomato Cage
Here's a great little project that will save you money and is easy to build. It's super efficient, simple, and fun to make, and you'll want to share it with your friends. All you need is a plastic bucket, rope, and a hammer. After reading this article, you can build your tomato support system. It will also show you how to turn it upside down, so the tomatoes hang lower for easier picking.
DIY Tomato Cage With Trellis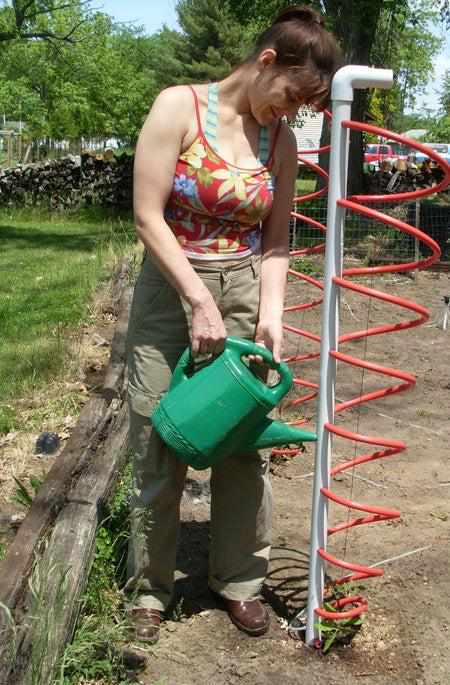 Make the tomato cage that you can use year after year! This tomato cage and trellis make growing a productive, healthy, and expansive garden easy. With a Build-it-yourself PVC tomato cage, you can have all the tomatoes you want without worrying about your plants falling over in the wind or being broken by an animal. You're going to love this super simple DIY tomato cage. It's quick, easy to make, and strong enough to hold even the heaviest tomatoes.
DIY Bamboo Tomato Trellis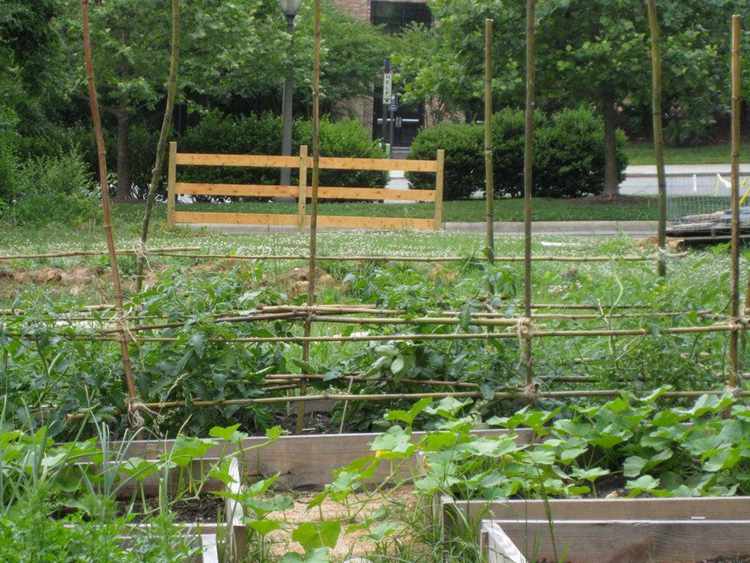 This DIY bamboo tomato trellis is a great way to keep your plants healthy and happy. It's easy to put together, and you can also make it taller by stacking more levels on top of one another. Use natural and unfinished bamboo reeds that are generally easier to work with than other types of bamboo (such as flooring), but any type will work as long as it has no finish or lacquer. Whether a novice or an expert gardener, this tomato trellis is easy to make and helps create a great-looking garden. It will last you for years to come!
DIY Quick Tomato Trellis Using Bamboo
Want to grow your tomatoes but don't have the space for a trellis? Bamboo is pretty sturdy, but it can be time-consuming and difficult to find the right size poles that fit your area. This tutorial shows you an easy way to make a great tomato trellis using bamboo sticks! You'll need several sizes of bamboo, a few lengths of rope, and some stakes for the ground. This project doesn't take very many supplies and yields great results.
How To Make Easy And Cheap Trellis
Everyone loves a tomato plant, yet regular tomato plants are very hard to grow. Not only do you have to worry about pests and proper watering of the soil, but you also need to make sure that your tomato plants get the sunlight they need to produce delicious fruits. If you do not have a garden, you will find it hard to give your tomato plants enough room to grow in an adequate amount of light. One solution is a wooden trellis made from reclaimed pallets. Build your trellis using this easy guide, and start planting those tomatoes today!
Building A Tomato Trellis
A tomato trellis is a structure that supports your plants as they grow upward, making it possible for them to fruit even against a fierce wind or up against a wall or fence. Building a tomato trellis isn't hard. You need some basic carpentry skills and the right materials, and you will create a beautiful structure that will last for years. This is a very helpful guide for those who want to start building their tomato trellis but are unsure of the process.
DIY Champion Trellis
Don't have time to mess around with weaving a simple pole trellis? No problem. This DIY Champion Trellis is a cinch, sturdy, durable, and will take less than one hour to build. This simple tomato trellis is an easy way to grow your plants vertically so they don't take up as much space in the garden. Made with scrap wood and some wire, this rugged tomato cage is inexpensive and easy to build.
DIY Tomato Trellis
Tomato plants are one of the most versatile and flavorful fruits to grow in a home garden. While some people enjoy growing their tomatoes on short cages or stakes, others prefer trellises like arching poles or teepees. Trellises keep your tomato plants off the ground so they won't have to compete with weeds. Upgrade your garden space with this DIY tomato trellis. With so many options, you'll never run out of places to plant tomatoes in your yard! Whether they are trellised vertically or horizontally, this guide will help anyone wanting to grow healthy tomato plants.
DIY Cheap Tomato Trellis
Tomato trellises are handy for keeping tomatoes off the ground. Tomato plants can grow up to a foot or more in a single day, so keeping them off the ground will help protect them from pests and diseases. Making a tomato trellis is easy, fun, and cheap. You don't need expensive tools to build one. Just use your own two hands and a few inexpensive supplies to make a sturdy structure that will support your plants and keep them loaded with fruit all season long.
DIY Folding Trellis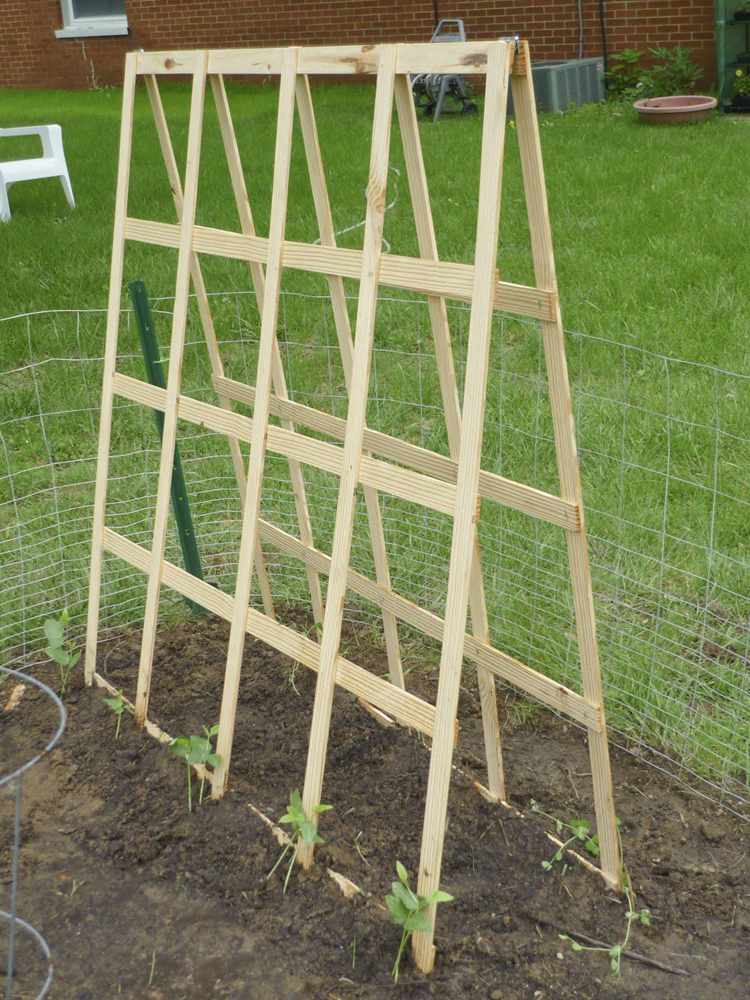 Do you love gardening but can't find the space to grow your favorite veggies? This DIY tomato trellis will have you on your way to fresh tomatoes, strawberries, and herbs in no time. Made out of wood and hinges, this trellis is designed for uncomplicated building and long-term durability. This trellis is easy to assemble, sturdy & versatile. It folds up like an accordion to use the minimal room on your patio or balcony but also can be extended as needed. Got lots of tomato plants growing? Keep them tidy & upright with this trellis!
DIY Tomato Trellis
If you're looking for a fun, easy, and budget-friendly way to support your tomatoes, this DIY tomato trellis is just what you need. It's so easy to put together that it can complete in less than an hour. All you need is lumber and a drill with specific bits to make holes that are just big enough for the tomato vines to grow. Once your plants start growing, tie them into an exact shape on your trellis.
How To Build A Tomato Cage
This tomato cage-building method is perhaps the most effective, space-saving, and a disease-fighting way to protect your tomato plants. Using an array of metal wires and buckets placed in a criss-cross pattern, this simple yet elegant gardening product will keep your tomatoes safe from the elements. You must assemble the parts and put them together in your garden. Here's how to build a tomato cage that is long-lasting, simple, and efficient.
How To Make Tomato Trellis
Tired of the same old tomato garden, or do you have a small space where you are growing your home-grown tomatoes? Try this simple and easy tomato trellis to fit in the corner where your plants can grow. This trellis is simple to make, cheap and quick! A tomato trellis is a support for your plants. Without a sturdy structure holding them up, your tomatoes will lean over and snap – or break through the earth. Here's how to make one that lasts season after season.
DIY Cucumber And Tomato Trellis
Enjoy the fruits of your garden with a cucumber and tomato trellis. When growing in small spaces, locating vertical support is a big challenge. The tried-and-true way to solve this problem is by building your trellis. Create your cucumber and tomato trellis to grow your favorite veggies. This design is easy to make, and this video has step-by-step instructions so you can do it yourself. With a few tools and some raw materials, you can create your garden trellis for next to nothing!
Easy String Tomato Trellis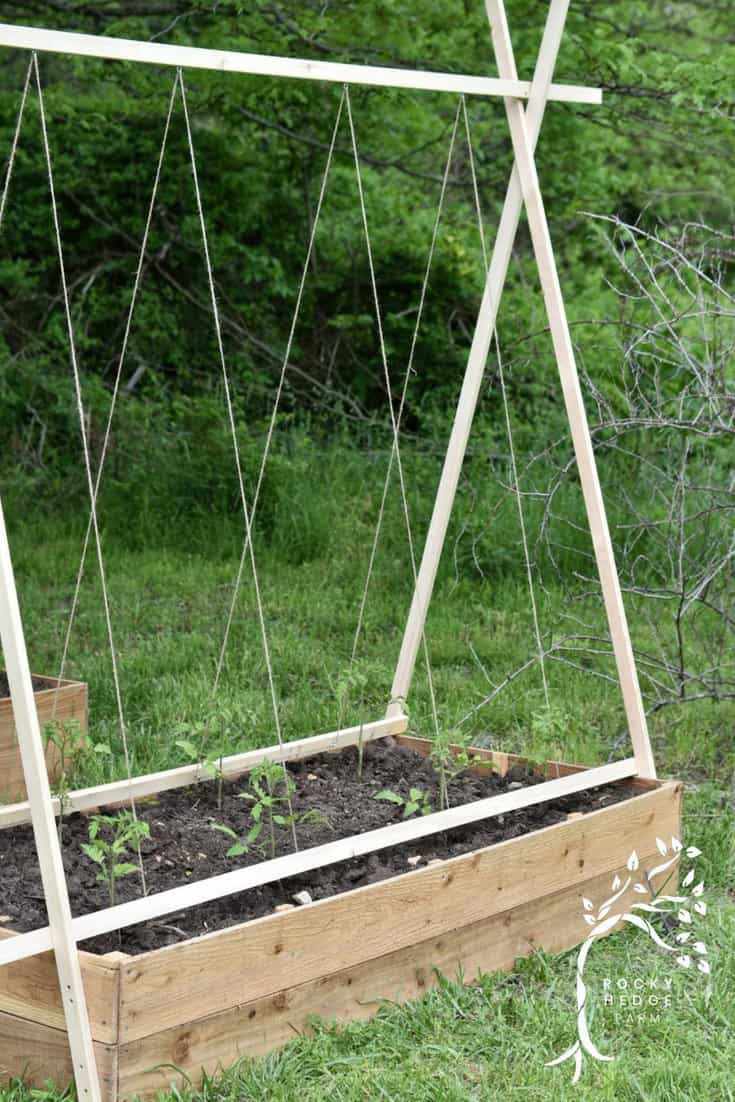 Don't waste space on your tomato plant by using a traditional trellis. With this easy string tomato trellis, you can grow more tomatoes than ever. The steps below will help you build your easy tomato trellis. It's made with just a few wood strips, and you can use any size or shape that fits your garden space. It is a project that anyone can do, regardless of their experience or skill level. The most important thing is to have fun with it, like any other project!
Tomato Trellis Idea
The tomato trellis idea is a great and simple way to grow tomatoes. The instructions provided in this article will help you build your own amazingly designed tomato trellis. The main ingredient required for this project is wood, which has to be cut into square pieces. A Tomato trellis is a decorative and functional way to give your tomatoes a little support. It's also a great way to make your garden more productive and prettier.
How To Build A Tomato Trellis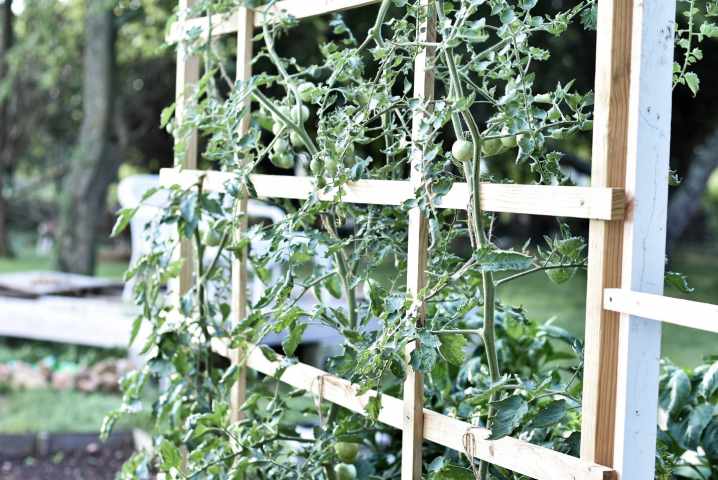 Add a little fun to your garden with a tomato trellis. It's a safe and healthy way to grow tomatoes that stretch them horizontally, so they don't sprawl out of control. This design uses inexpensive materials and is easy to build. Every garden needs a tomato trellis. It keeps plants off the ground, lets you manage the space efficiently, and saves a lot of time by providing easy access to the plant. Plus, it looks great!
DIY Tomato Cage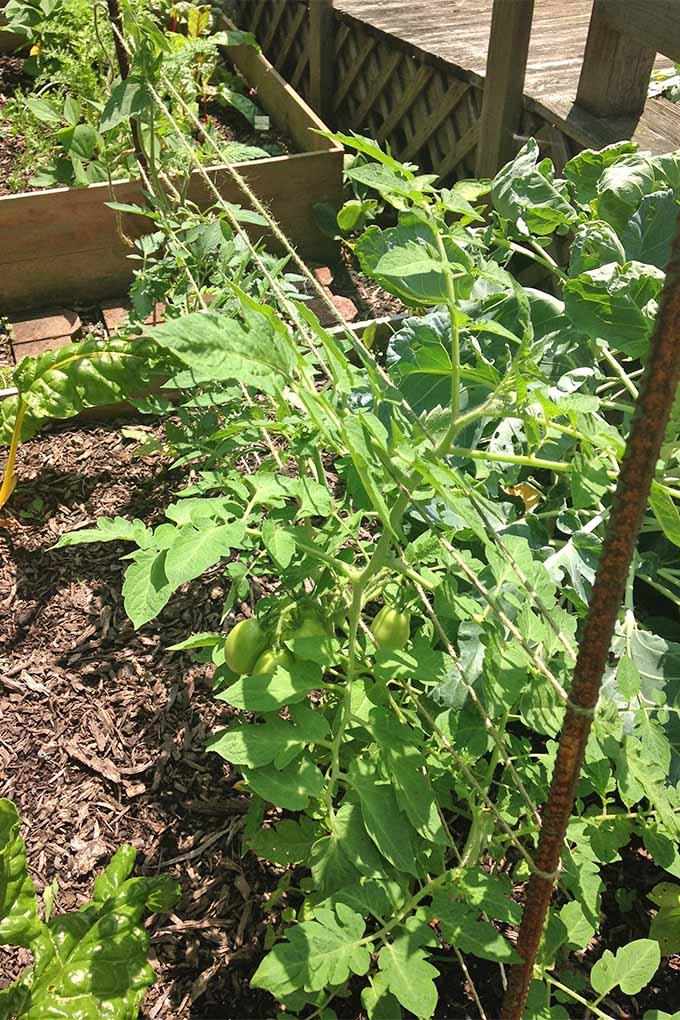 Tomato cages are a simple and classic way to support growing tomato plants. But why pay for them when you can make one yourself? This tutorial will show you how to create a sturdy tomato cage that can be used for years with cheap supplies from your local hardware store. A tomato cage is simply two pipe posts planted firmly in the ground next to each other, and then a string is stretched between them. You can use this simple setup to grow plants that need support, like cherry tomatoes and vining cucumbers.
DIY Tomato Trellis Build
Growing tomatoes? This simple DIY Tomato Trellis is a great way to give your tomatoes the support they need to reach their full potential. Made of metal wires, this trellis keeps your tomato plants growing and not all over the ground. Growing tomatoes can be tricky, but stay on track with a Tomato Trellis! This tomato trellis is a simple project to build and will bring your tomatoes up off the ground so you can easily see, pick and enjoy them.
How To Make A Bamboo Tomato Cage
If you love gardening, then these tomato cages will prove to be a great help. You can create sturdy cages that are easy to maintain by yourself. All the instructions are included, and you can make more than one tomato cage easily if you wish. This video guide will show you how to make a bamboo tomato cage from scratch. Tomato cages benefit tomato plants by helping the fruit grow more and maintain good yields.